We reported earlier about Land Cruiser 300 accessory developments from TJM and not to be outdone, our good friends at ARB have been beavering away on the design and fit of bespoke parts done their way, for the new Toyota Land Cruiser 300.
We hear that production on the ARB range won't commence in earnest until February and that's likely a good thing, as there are precious-few 300's in the country right now, something that'll likely remain the case for some time, going by the stop-start nature of production of the vehicle to-date.
ARB's next generation Summit bullbar has had a major overhaul with this release, but thankfully retaining the strengths that make this bar a supremo when it comes to collecting a hit from stray wildlife. That strength is further enhanced with side rail support and steps as another option to complete the upper body protection.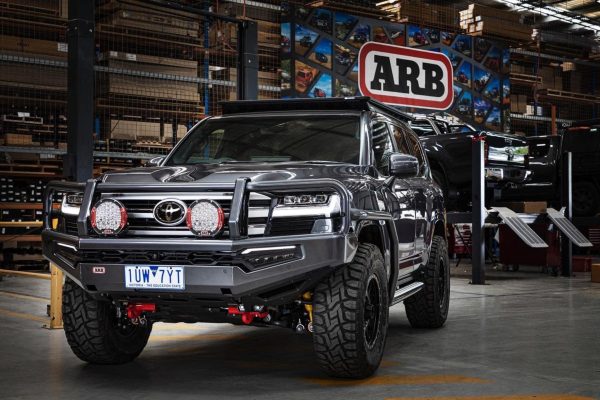 From an installation perspective it's got some smarts as ARB claim that grille and light inserts are done from the front rather than from behind, making for a less haste, more speed moment whilst it's in the shop for fitment. It also has incorporated the safety booty that comes with Toyota's ADAS (Advanced Driver Assistance System) allowing OEM standard integration of bumper sensors that'll keep the warranty claims for fiddling with things that shouldn't be fiddled with at bay we reckon.
Whilst TJM looked at the intercooler challenge and incorporated vents in the bumper wings, ARB has tackled it another way and placed its air inlets under the wings and in the windtray pan. Doing that allowed them to incorporate some very sexy looking DRLs in the bumper, styled in keeping with the new headlight array. Whilst we haven't seen how those vents have been pressed and the direction of the airflow, we've still got reservations about Toyota's placement of the intercooler radiators, sited forward and low. Likely, the vast majority of folk won't have a problem, but it's fresh in my mind after my D-MAX overheated the other day for this very reason. The bottom third of the radiator surface was covered in silt after a winter of cutting slow laps on my training track in a slurry of sandy sludge. In the coming week I'll be pulling it out for a thorough clean. I'd hate to be doing that (twice, that's left and right) on a regular basis.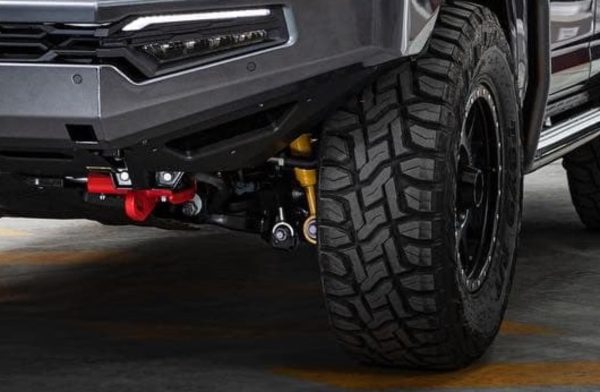 Both the bumper and the top loops will have the mandatory fixing points for lights and aerial mounts, the supplied workshop image showing a pair of ARB's new Solis spotties ready to turn night into day and running your eye below the fancy bumper you'll note a pair of super-tough ARB recovery points, still painted red and fashioned to align with chassis members in the strongest spot and likely with plenty of spare capacity.
The images also reveal suspension has been tweaked, ARB's OME-yellow shocks are visible so we should assume that Nitrochargers and compatible springs are ready to go and the BP-51s are in development for those who demand a sublime ride unfussed by corrugations and holes. GVM upgrades are a given. Probably worth noting that OME (Old Man Emu) is still a wholly Australian designed and manufactured suspension system and that provides plenty of Victorian and South Aussie folk with gainful employment.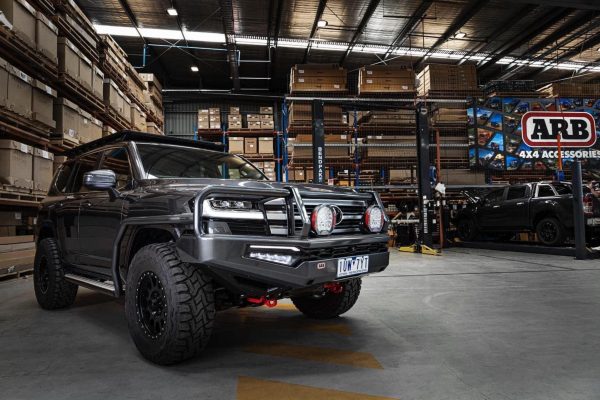 Additional kit incorporates the use of ARB's own Base Rack setup with its multitude of accessories to keep anyone with an interest in outdoors activities well and truly satisfied when it comes to transporting the gear upstairs.
We'll keep an eagle-eye out for more additions to the range and report back to you as it's released.
In the meantime have a browse through the many bits that ARB supply right here https://www.arb.com.au/