THE OWNER
Name: Chris
Lives: Newcastle
Profession: Fire Protection Systems Technician.
Chris grew up around the Central Coast, where the beach was never far away. He now lives with his fiancé, Nicole, in the bush behind Lake Macquarie, and weekend adventures are now a dime-a-dozen thanks to their synchronous work schedules. Regular trips to the Barringtons, Watagans and down onto Newcastle's numerous beaches all help to scratch the camping itch, but there are longer trips in the pipeline.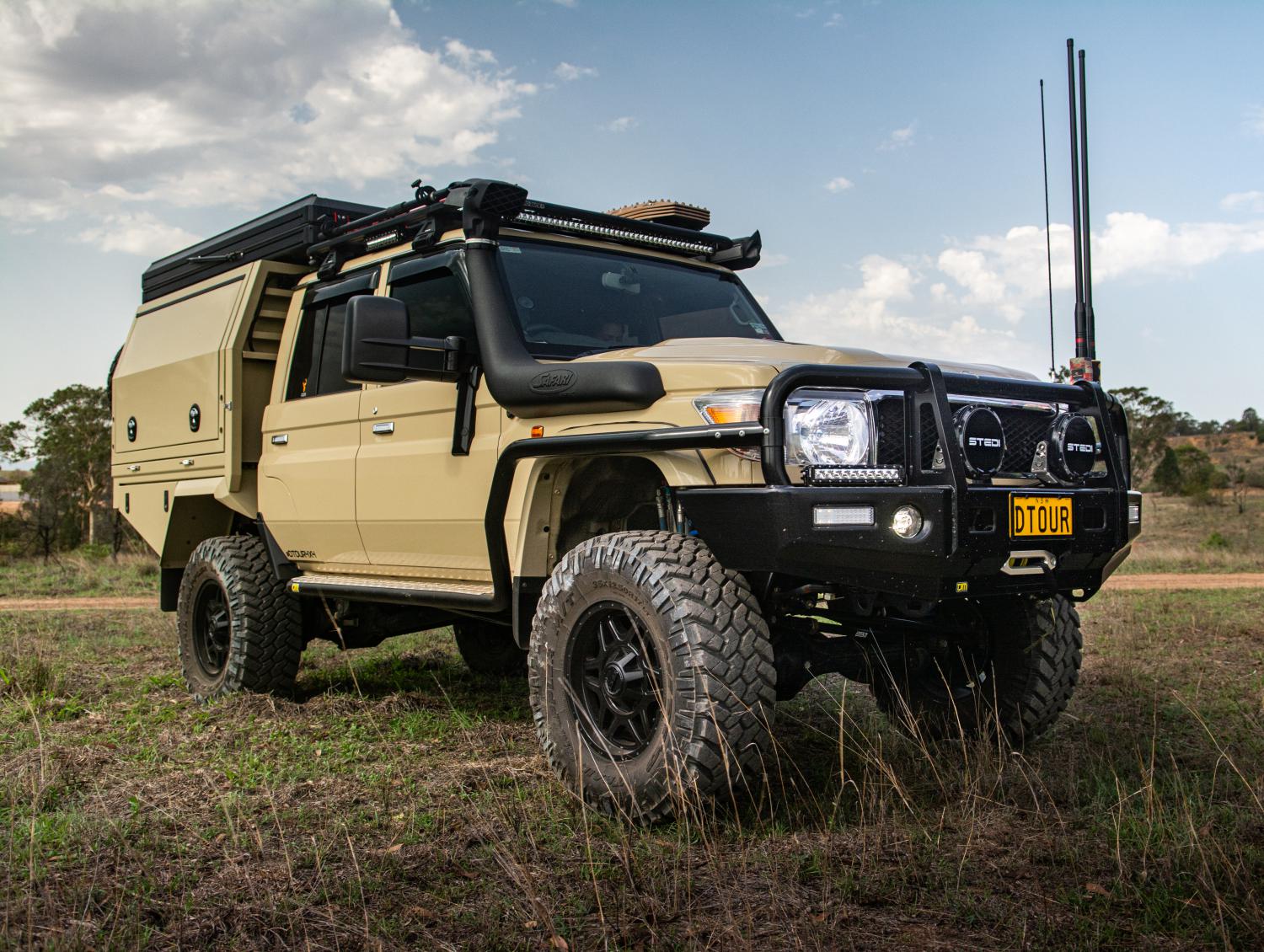 Chris and Nicole are always on the lookout for new off-road challenges and adventures. They've recently completed a whirlwind trip through outback NSW, down into the Flinders Ranges and back along the coastline via the Great Ocean Road. The next big trip will be a destination wedding on Daydream Island, with a four-week honeymoon traversing the Telegraph Track to Cape York, and we're now officially jealous!
THE VEHICLE
Make: Toyota LandCruiser 79 Series
Model: 2019 Dual Cab GXL
Engine: 1VD-FTV V8 Turbo Diesel
Chris isn't your stereotypical elitist LandCruiser owner. Prior to building this machine, he went through five (yep 5) Rangers before making the jump to the 79 in early 2019. Driving two of the Rangers to work and back meant he knew exactly how to modify the other three for his personal use, with each setup differently as his needs evolved.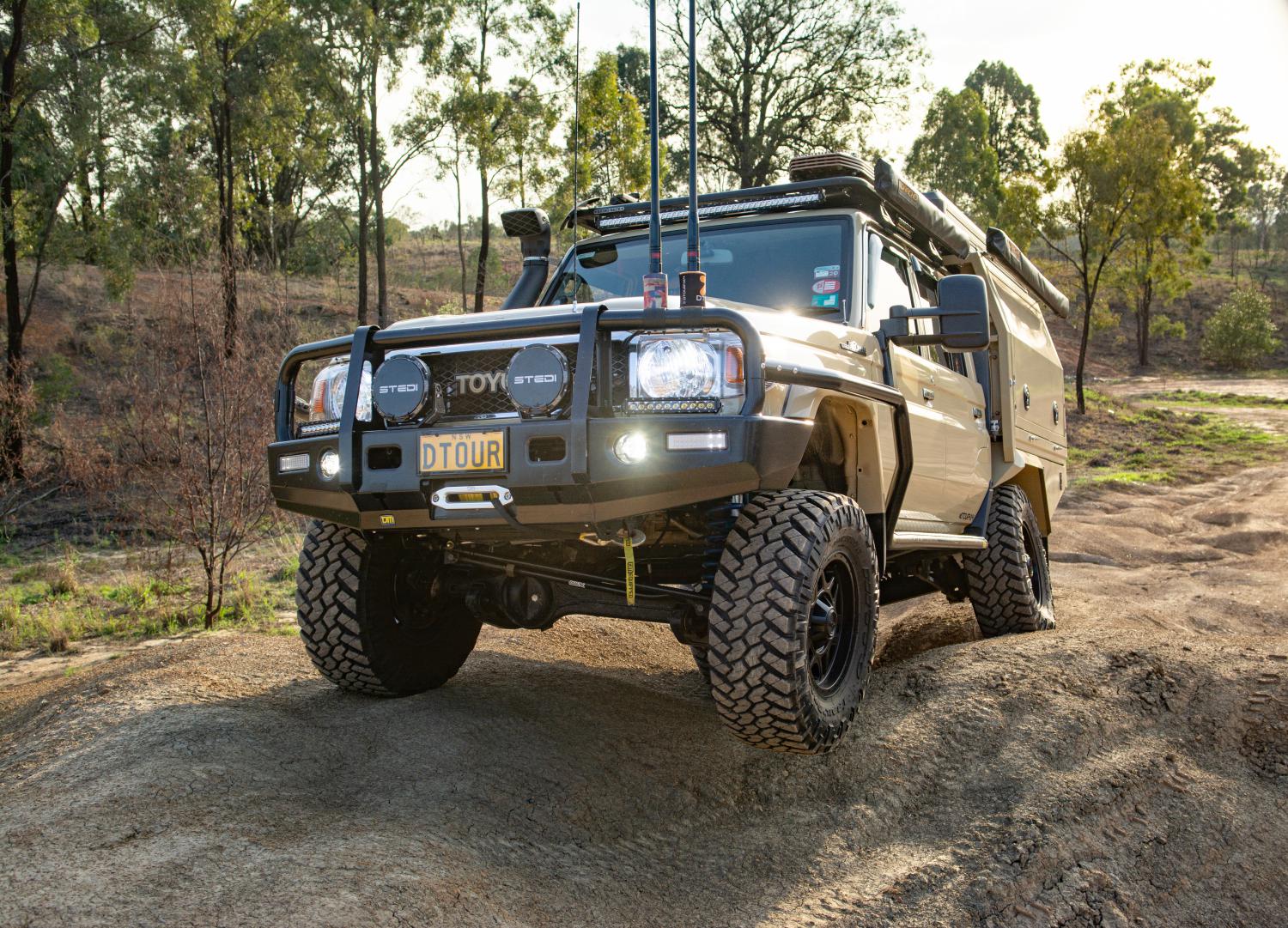 Going through various wheeling and towing oriented setups, the last Ranger also included some basic touring modifications. As the couples' focus shifted towards 4WD touring, they began taking the Ranger away on longer trips but kept running into electrical gremlins.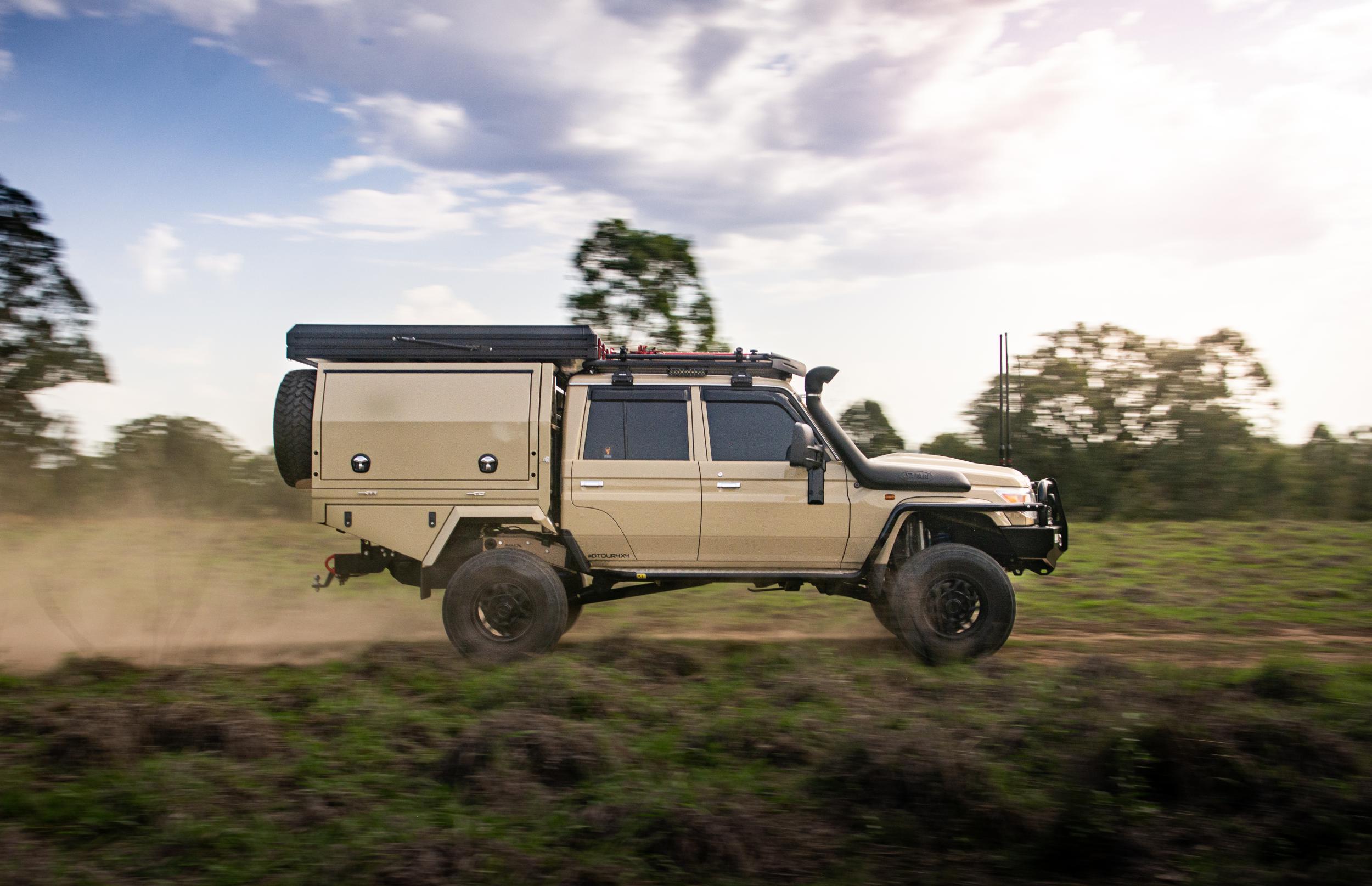 The final straw was a faulty adaptive cruise control sensor that resulted in a continuous alarm sounding and a plethora of dash lights staying on for the next two days, along a dead straight remote outback road. While Chris appreciates the technology in the Rangers, he decided to make the shift to a vehicle that was less complicated and better suited to remote touring.
Planning for the Cruiser build began two-years before he took delivery of the 79 at the start of 2019. From there, Chris's meticulous planning kicked in, and the 79 was loaded onto a tow-truck and sent straight to the team at TJM Hunter Valley where it spent a few weeks being kitted out with a range of upgrades and accessories.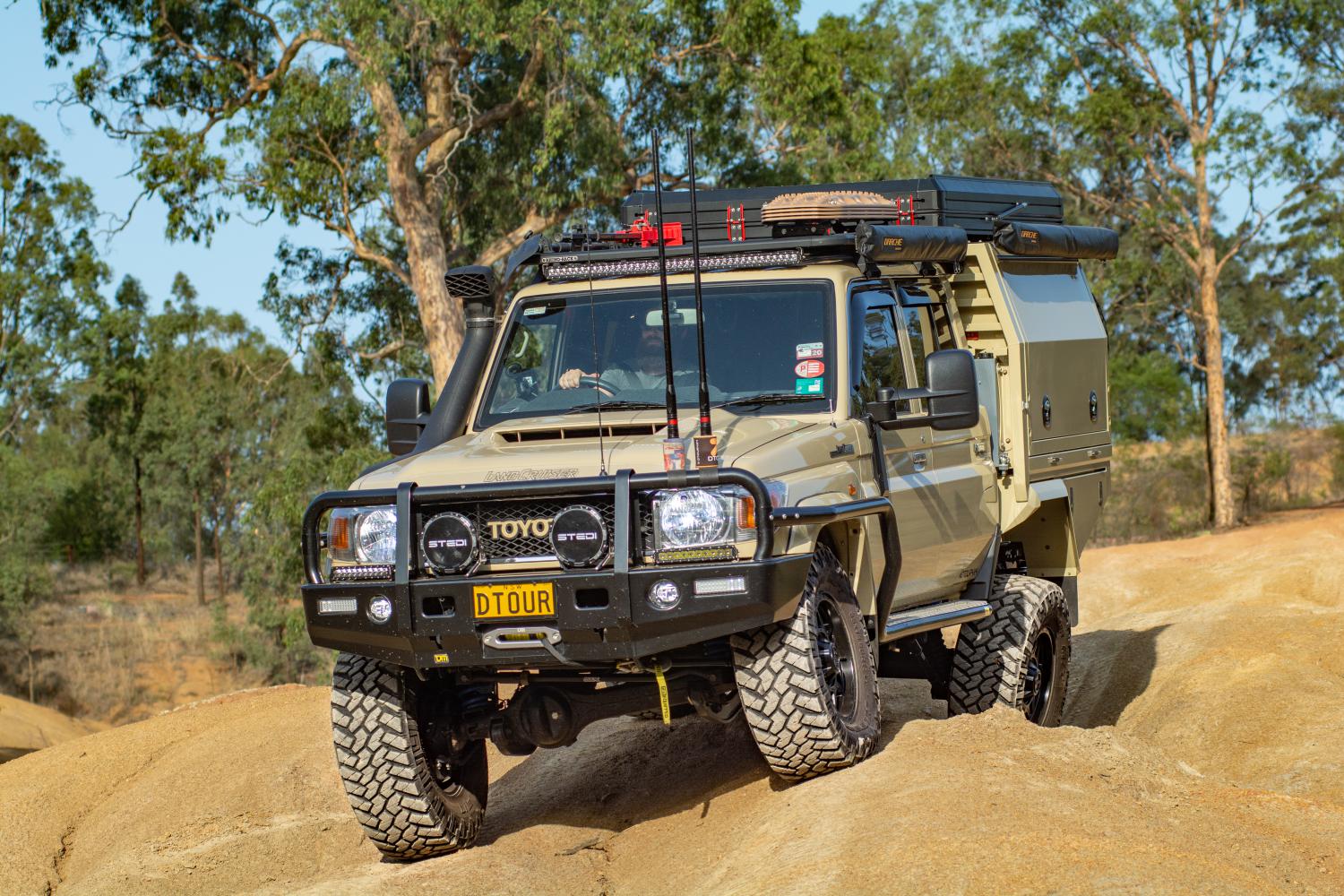 From there the 79 was whisked off to Mits-Alloy in Newcastle to receive one of their modular alloy canopy and tray setups. The next stop was the House of Sounds at Kotara where the Cruiser's interior was kitted out to Chris's specification before ending up back at TJM for the final fit-out. Thanks to some meticulous planning and project management, the entire process took a mere two months.
MODIFICATIONS:
TJM Outback bull bar paired with TJM side rails and side steps.
Dual-battery system under the bonnet.
Dyno tuned to unlock a safe amount of power from the detuned engine. Now runs around 140rwkw and 500Nm of torque with no performance bolt-ons.
4-inch JMACX coil conversion kit, including upgraded housing, 4T GVM upgrade, extended brake lines and brake booster upgrade.
Rear airbags, controlled via a TJM compressor with switches in cab.
Fully custom one-of-a-kind Mits Alloy jack-off tray and canopy package.
Brown Davis 185-litre long-range fuel tank, increases total range to around 1000km.
17 inch ROH Maverick rims wrapped with 35 inch Nitto Trail Grapplers (2 spares)
ACCESSORIES:
Stedi Type-X Pro driving lights and 2 x Stedi slimline LED bars.
TJM Torque 12000lb winch
2 x 6.6dB gain GME antennas paired with two GME XRS UHF units.
Safari Airtec snorkel
Tuneworks traction control cut-out switch
TJM solar charger under the bonnet
Dieselcare fuel manager and Taipan catch can
BT bonnet struts
Department Of Interior Centre Console
Dynamat sound deadening
Interior LED light conversion
Rhino Pioneer Platform with provisions for a Hi-Lift jack, shovel and Maxtrax. There was also room to slot in a 42 inch LED bar up the front.
The Bush Company alpha rooftop tent sets up quickly for those late-night arrivals at camp.
Enerdrive 200Ah lithium battery in the canopy.
Simarine smart marine battery monitoring system.
Clearview slide-out kitchen and Clearview drop-down fridge slide to suit the Waeco CFX.
Haymen Reese X-Bar with integrated tow and recovery points.
Dual Darche awnings to ensure coverage even when the canopy is at home.
Clearview towing.