WHAT TO LOOK FOR WHEN BUYING A USED LAND ROVER DEFENDER
Land Rover's now defunct Defender has been getting a lot of press lately and is riding a wave of popularity around the world.
The last Defender rolled off Land Rover's Solihull production line in January this year, ending a 68 year lineage that can be traced back to the original 1948 Series 1 Land Rover. Some people think that the Defender's retirement was well overdue but the reality is the idea of owning one, is now more popular than ever and the value of used Defenders is rising accordingly.
They might look simple, and mostly they are, but right from the start the Defender featured front and rear coil spring suspension, all-wheel-drive and selectable four-wheel-drive, four-wheel disc brakes (from 94 onwards) and segment leading low range gearing. They even had direct-injection turbo-diesel engines and 10 L/100km fuel efficiency back in the early 90s.
The overwhelming sense of utilitarian simplicity excuded by a Defender doesn't mean that buying one can be safely undertaken on a whim. They are the world's most complicated and needy simpleton.
Fixing a worn out Defender will require deep pockets and having to drive a worn out Defender that you can't afford to fix, would just be hard work. Worn out Defenders are pigs of things.
Unfortunately, the reality is that many of the older ones are just that, worn out. Most twenty year old vehicles have been crushed into a cube, so don't expect too much from a used and abused 20 year old Defender.
Sure they'll drive and they'll keep driving for quite some time, but they won't be a pleasant experience.
Near new, well maintained or restored Defenders on the other hand are absolutely unique and incredible fun to own, drive and work on.
Defenders come in three and a half flavours, the 200 and 300Tdi from the 90s, the Td5 which straddled the centuries and the Tdci which was the last of the breed.
Tdi Defenders (200Tdi and 300Tdi) – 1990 to 1998
The 200Tdi was the first Defender available in Australia. It featured an all-new version of Land Rover's ubiquitous and none-too-special, turbo-diesel engine. The new unit was 2.5 litres in capacity and featured mechanical direct injection. Unlike its predecessor, it proved to be both efficient and reliable and was eventually substantially upgraded to create the 2.5-litre 300Tdi, which became available in Defenders during the second half of 1994.
The 300Tdi Defender came with some useful upgrades, including the stronger R380 five-speed gearbox (a substantially upgraded version of the 200Tdi's LT77 five-speed), a noticeably lighter clutch, rear disc brakes and stronger 24-spline half shafts replaced the previous 10-spline items.
It copped a downgrade as well, as the CV size was reduced to allow for fitment of a smaller end cap and alloy wheels and the distance between the inner and outer wheel bearings was reduced.
Performance of the two engines was very similar, with the 300Tdi proving quieter and a little more powerful, due mostly to a moderate boost increase. The 300Tdi is said to be the less reliable of the two, but is cheaper to work on. Parts are readily available for the 300Tdi and getting more difficult to source for the 200Tdi. Both engines are wonderful little diesels if they are looked after.
The Tdi engined Defenders are popular and sought after in overseas markets and are commanding increasingly higher prices. They offer the diffinitive Land Rover experience, being completely mechanical in their operation and featuring tough, simple interiors.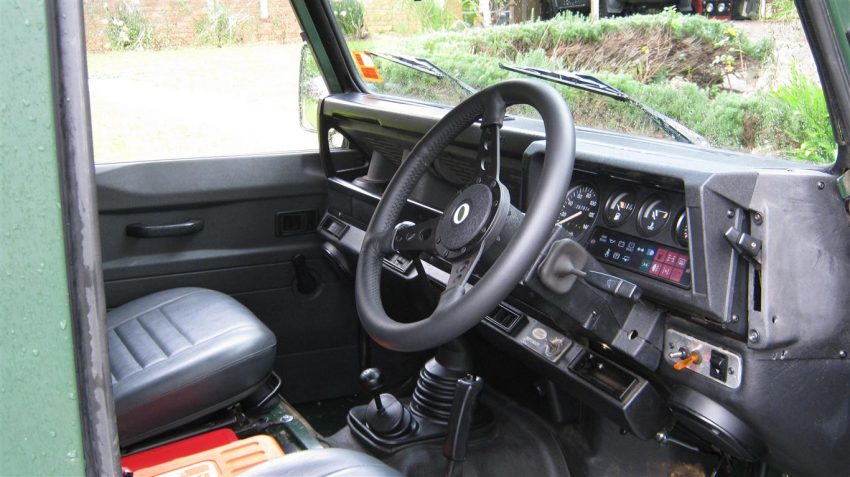 Australian enthusiasts are catching on and getting your hands on a genuinely good Tdi isn't easy.
Driving them is a lot of fun. A healthy Tdi will have no trouble keeping up with modern traffic and if set up right, offers a ride and handling experience that will shame plenty of current model 4X4s. Off-road they remain competitive with modern 4X4s but ride better than most.
The Tdi engine is a gem off-road, offering just the right mix of throttle control and 'feel', particularly in low-range, however the diffs at both ends if factory standard are 'open' and the big Salisbury rear diff hangs low.
Highway travel is where the Tdis show their age. They are low geared, there is next to no sound deadening, and if fitted, the air-conditioning is marginal at best, qualities that will put a lot of potential owners off of buying one, but their loss is your gain.
Td5 Defenders (1998 – 2007)
Engine aside, the Td5 Defenders are much like the Tdi Defenders with the addition of engine management electronics, and on all but a few early base model cars (and the 130 utes), ABS brakes, Traction Control and alloy wheels.  Power front windows and central locking made an appearance in some later (2002 onwards) Td5s as did a new dashboard centre section and improved instrumentation that included an electronic speedo and lighting bright enough to allow the instruments to be read at night.
In Australia you could for a time buy a Td5 Xtreme Defender, which came with ABS, TC, alloy wheels and a steel bullbar, although Land Rover neglected to upgrade the front springs to suit.
Australia received Td5 Defenders that were built in either the UK or South Africa, with the general consensus being that the earlier Td5s were SA built, although it's hard to pin the change back to UK built Defenders to a definite date. Seems to be somewhere between 2002 and 2004. Owners don't report any major differences in build quality between UK or SA built Defenders.
Sometime in 2002 the 110 Td5 Defender had the Salisbury rear axle replaced with the Rover P38 four-pin diff. All Td5s were fitted with a revised front propshaft with wider yokes to help prevent universal joint binding and these can be retrofitted to 300Tdis.
The rear door (Safari door) on Td5s is a one piece steel door, rather than an alloy skin over a steel frame, as per the Tdis. The Td5 version is superior. The other Td5 doors seemed to go through an evolution over the years, starting out as alloy skins on welded steel frames (as per Tdi), then moving to a pressed steel frame with alloy skins and then to an all steel door.
There were other detail changes but there isn't a whole lot that separates a Tdi and Td5 Defender aside from the engine.
The Td5 engine was a completely new design and the last Land Rover engine to power a Defender. As the name suggests it is a 2.5-litre five-cylinder unit, with camshaft-driven, high-pressure unit injectors, turbo-charger and a chain operated overhead camshaft.
On paper it only boasts a small torque advantage over the 300Tdi but the Td5 manages to offer more performance and a more refined driving experience. It is also considerably more 'tunable' thanks to its electronic engine management.
All Td5 Defenders are fitted with the final, and best "L Suffix" version of the five-speed R380 gearbox. They also received a revised version of the LT230 called the LT230Q, said to be quieter and more efficient.
Off-road, Td5s fitted with Traction Control have a distinct advantage over the Tdi Defenders in their ability to push on when traction is partially lost.
Unfortunately, air-conditioning in Td5 Defenders was just as marginal as it was in the Tdis.
The Td5 Defender is the underdog, often overlooked by those fearing the reliability and complexity of an early 'electronic' diesel. What they offer, is a wonderful compromise between the Tdi and Puma Defenders, being more refined than one and far less complicated than the other.
Ford Tdci Defenders (2007 – 2016)
The Ford powered or 'Puma' Defender (we'll refer to them as Puma Defenders) was introduced in 2007 and it's a legacy of the short time that Ford owned the Jaguar Land Rover Group back in the early naughties. They aren't a bad legacy, although shoehorning the Ford diesel into the Defender wasn't accomplished with a huge degree of engineering elan.  As a result there are some inherent and unusually sporadic issues (sporadic issues are indicative of Land Rover build quality in the Puma years), such as gearbox output shaft failures and driveline angles that won't tolerate even a mild suspension lift, not that the Defender really needs one.
Fitting the Ford lump required adding the 'Puma Bulge' which is a hump added to the Defender's bonnet to clear the engine. Most people like it, some traditionalists don't.
The Puma Defenders started out with a 2.4-litre Ford Duratorq Tdci engine which they shared with the Ford Transit van range. In 2012 the Defender was updated with a revised 2.2-litre version of the same engine, which also powered the Transit van and more recently the Australian Ford Ranger. Feed-back from people who have driven both suggests that the 2.2-litre is the nicer engine, but it's a close run thing.
All Pumas use the MT82 six-speed manual gearbox, hooked up to the LT230 transfer case and the same P38 diff in the rear that was introduced in the later years of Td5 production.
Anti-stall control is standard, as is traction control and ABS brakes. A lower first gear, thanks to the six-speed gearbox, means that Puma Defenders technically have the edge off-road when compared to factory standard Tdis and Td5s.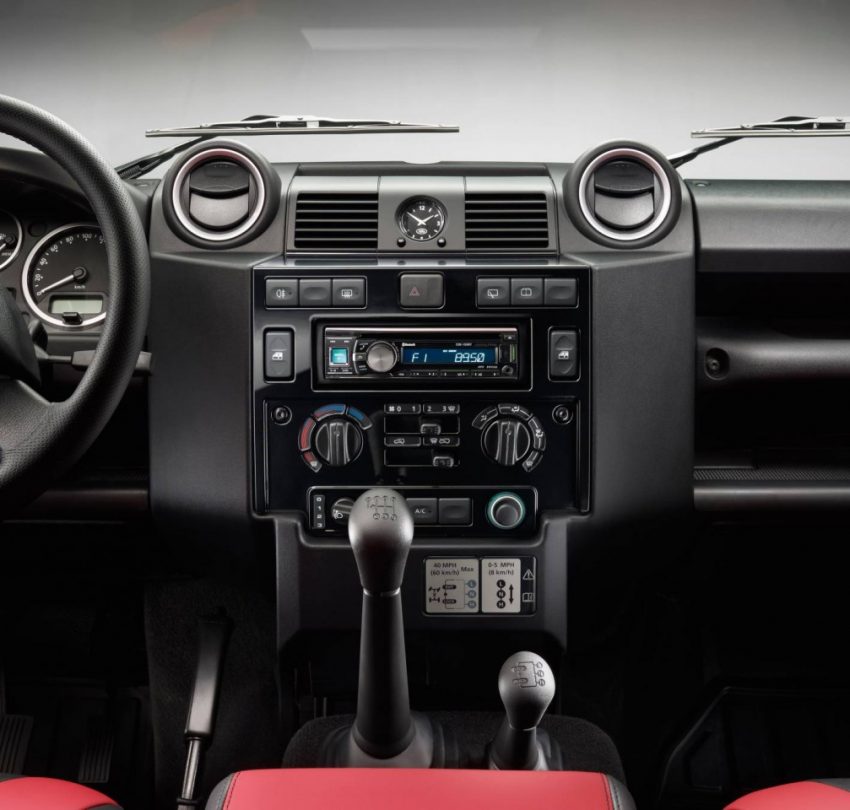 The move to the Ford powerplants corresponded with a major change to the interior of the Defender with an all new modern dashboard arrangement, in-part borrowed from the Discovery 3 and for the first time an effective heating and air-conditioning system but no airbags.
Unfortunately the ever popular Defender manual air-vents were abolished and the interior space up front was reduced by the new bulkier plastic dashboard and centre section, all changes considered controversial at the time.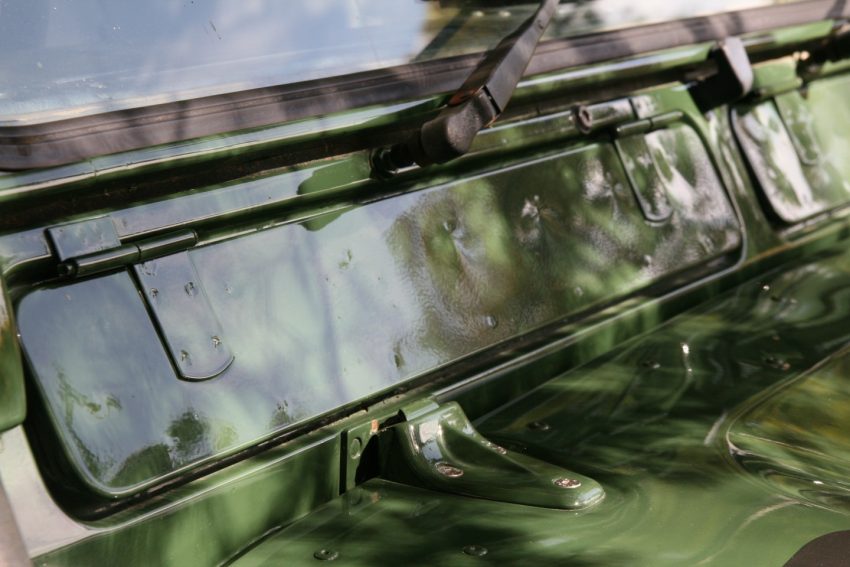 If you want a Defender with effective, modern air-conditioning and heating then a Puma Defender is the Defender for you.
All the doors and the bonnet are steel, but the body tub, rear side window section and roof remain aluminium.
The Pumas, despite their added complexity, aren't the fuel misers in this group, with good Tdis and Td5s generally getting a little further on a litre. They all do remarkably well given the Defenders somewhat flawed aerodynamics and will return from 10 to 13 L/100.
The Pumas do without question offer the best highway driving experience. They are quieter, faster and thanks to higher 1.2:1 high-range gearing considerably more relaxed at speed. They can even be, depending on which options were ticked by the purchaser, considered semi-luxurious.
Options available in more recent years have included a Cold Climate Pack, Convenience Pack and Leather Pack, which included such things as heated seats, front power windows, central locking, partial leather seats and a leather steering wheel.
Buyers could choose from a much larger range of body and roof colours, wheel types, tyre types and factory accessories. It all resulted in the Defender finding its 'cool' and a new type of buyer finding the Defender. New Defenders soon started to appear in swanky suburbs, mixing it with the BMWs and Audis.
The Puma Defenders might be more modern but some would argue that they are not as nice to physically drive as a good Tdi or Td5, but that's something to make your own mind up about.
Puma Defenders do seem to suffer from substantially more driveline slop than earlier models and seem to attract their fair share of warranty issues, although as previously mentioned, this can vary wildly between individual vehicles.
The build quality of the rear diff, LT230 transfer case and drive flanges all took a turn for the worse in the Puma years.
The Puma probably isn't the Defender that Chuck Norris would choose, but they are the right Defender for people wanting the look and most of the feel, with a nod to modern comforts and a 'blink and you'd miss it' wink at safety.
Buying a Defender
There is nothing more expensive than a cheap Defender.
Remember that line because if you buy a cheapy we want you to drop back and let us know how right we were in the comments.
Defenders, even the very last of the Puma Defenders, are an old-school 4X4. If they aren't greased, oiled, cleaned and generally well looked after, they will deteriorate rapidly and returning them to serviceable condition can cost a fortune.
Neglect is the biggest killer of Defenders.
It is important to understand that Tdi and Td5 Defenders weren't generally bought by inner-city types who thought they were cool. They were commercial vehicles bought by farmers, by businesses and by individuals who intended to put them to work, and with few exceptions they've had a life of hard graft. These are far from being new vehicles, and prospective buyers need to be aware that 10 to 26 years of hard work leaves its scars.
There are two ways to approach buying a pre Puma Defender. Be prepared to spend top dollar to buy a well looked after or restored example (both hard to find) or pay as little as possible for a solid car with the plan being to return it to full health.
Spending top dollar is the cheaper of the two options, provided you are actually buying a top quality Defender, but there is also something to be said for building up your own Defender, just how you want it.
Owners of seriously good Defenders rarely let them go. The majority, but not necessarily all of the older Defenders up for sale at any one time are worn out, rusty or both. Their owners are selling because they know they can't or don't want to part with the money required to fix them properly. That won't stop those owners asking ridiculous prices, with 300Tdi basket cases regularly being offered for $15,000 or more.
It's easier to buy a good Puma Defender. There are more to choose from at any one time, and the new owner demographic was quite different. With few exceptions (mostly the utes) they weren't working for a living. Finding a good, well looked after example should be straight forward and only governed by your budget.
The prices being asked for Defenders can vary considerably, but it's mostly a case of getting what you are prepared to pay for, although some current Puma prices will just get you ripped-off.
You'll find Tdi Defenders being offered from as little as $4,000 up to well in excess of $30,000. Td5 Defenders can be found for less than $10,000, with seriously good ones also topping $30,000.
Puma Defenders can range from $28,000 for a basic 2.4-litre 110 ex company vehicle up to $90,000+ for a massively over-priced, 'never driven' Limited Edition Heritage or Adventure model being sold by a wood-duck hunter.
Prices of Defenders are on the rise but it would pay to resist the over enthusiastic late model Puma Defender profiteers.
The following is a far from complete rundown on what to look for when buying a Defender.
The Engines
200Tdi and 300Tdi – 1992 to 1999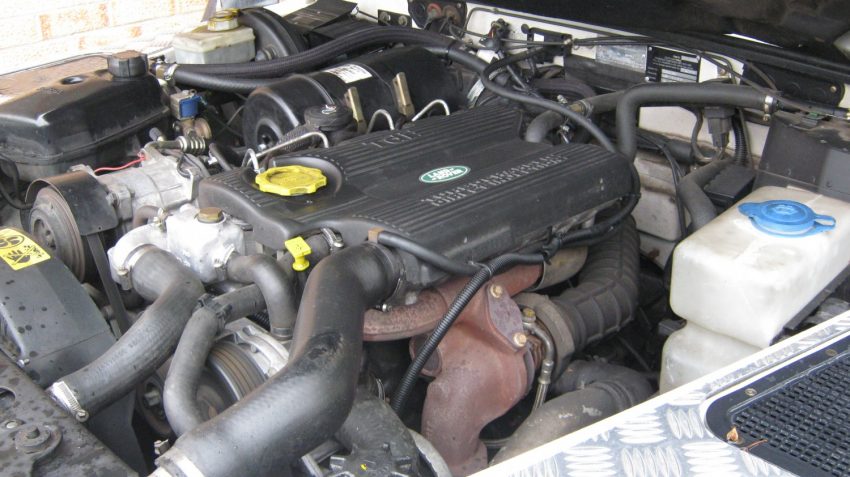 The Tdi engines are robust little units that will happily do well in excess of 500,000kms provided they are well maintained.
Tdis are famous for starting very easily, so easily you can unplug the glowplugs and never bother with them again. A big clue to their inner health is how easily they start. If they don't start first turn of the key, or have to be cranked over and over on the starter, then there are issues and the next step should be a compression test.
ALL Tdis will start with a puff of black smoke and this should be considered normal and not an issue, provided it's just one puff and clears quickly.
If the Tdi you are looking at is severely lacking performance and blowing excessive black smoke when driving, check the intercooler hoses. If they are genuine (black) hoses and look past their useby date, then there is a chance they have delaminated inside and are blocking airflow. Owners in the know replace them with silicone hoses.
Tdis aren't a quiet diesel and they have a distinctive direct injection diesel knock, but pay close attention to any excessive tappet noise. The tappets should be adjusted every 10 – 20,000kms and their correct adjustment is essential if you want a Tdi to run well. In recent years the genuine valve lash caps, which sit between the top of the valve stem and the rocker arm have been of very poor quality and wear prematurely. They can disintegrate or wear through the centre like donuts and result in huge tappet gaps and excessive tappet noise. Easily and cheaply fixed but can cause damage if left unchecked.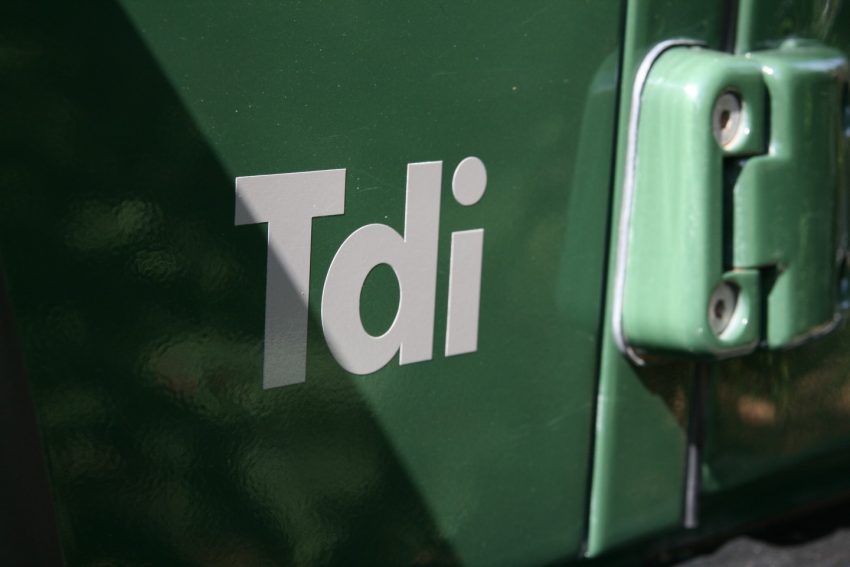 Timing belts should be changed every 80,000kms so check the service records of any vehicle you are looking at. If a belt change isn't shown then factor the cost of one in to your budget. A belt change should include the updated pulleys that fix an issue the 300Tdis had when first sold.
Tdi engines don't like being overheated and doing so is almost guaranteed to kill the head gasket and possibly the head. Head gaskets don't last forever either and should be changed every 150,000kms or so, as a precautionary measure. Check the records of the vehicle you are looking at and if it's done over 150,000kms look for work having been done on the head. If it's not there, factor it in. Changing the head gasket is a straightforward job and the parts are cheap. A new head will cost around $1000.
Some would argue that the Tdi cooling system is marginal, but if kept in good condition you'll never have an issue with it, even on the hottest days. The radiator should be removed and rodded every 2-3 years and coolant changed as recommended. The original black expansion tank is well known for splitting and should be changed for the improved version.
The 'p-gasket' that sits between the block and the alloy housing that contains the water pump is notorious for leaking, either due to poor fitment and sometimes warping of the alloy housing that bolts up to it. A leak here will result in coolant stains down the block at the front passenger side of the engine, in behind the alternator. The gasket is cheap and it's a DIY fix. When done correctly it is no longer an issue.
If you are looking to buy a Tdi Defender, look for/ask for evidence of cooling system maintenance. If there is none, then factor the cost of thoroughly going over the cooling system into your calculations.
A Tdi shouldn't leak oil but it probably does. Tdis usually leak oil from the rocker cover, the oil filter housing and fittings, the air/oil separator attached to the rocker cover and the hose that runs from the separator to the block, the rear main seal, the T-seals, the sump, the vacuum pump and from around the timing cover area.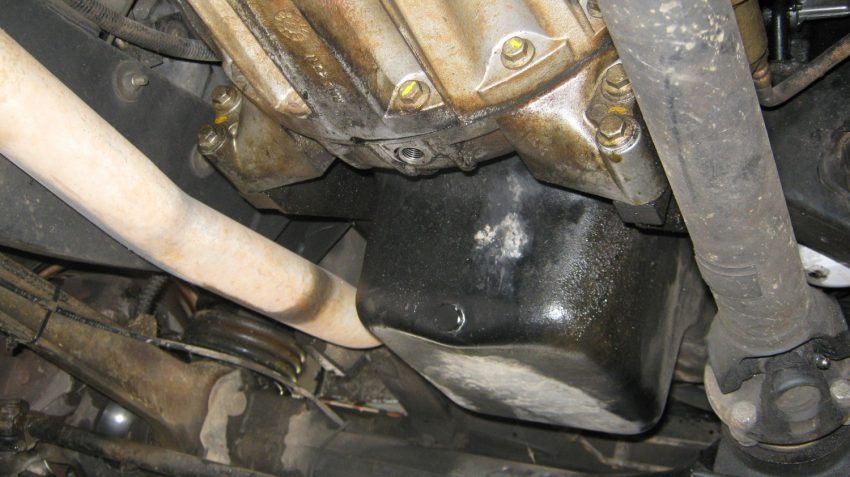 As the picture shows there is a drain hole in the bellhousing. If there is engine oil coming out of this hole then the rear main seal is leaking. If oil is running down the front lower face of the bellhousing then that is possibly T-seals (a 'T' shaped seal in the rear main journal block that stops oil exiting the engine) or a leak from where the sump seals against the block and/or any of the other leaks working their way down to the lowest point.
It's worth noting here that what might look like an oil leak could well be a diesel leak, either from around one or more injectors or from the Fuel Injection Pump (FIP). Don't discount this and have a good look around both. If the FIP is leaking, it will probably be sucking some air as well, the symptoms of which include a rougher than normal idle, exaggerated diesel knock that appears and then disappears shortly after first start-up and reduced performance.
A well maintained Tdi won't be leaking much oil as the owner will be maintaining it. Most oil leaks will be due to age and neglect and can be fixed fairly easily, but a new rear main seal and realistically new T-seals involves removing the engine. Resealing the sump can be done with the engine in-situ on a 300Tdi but is an engine out job for a 200Tdi. Fixing most other oil leaks doesn't require removal of the engine
Main bearing shells seem to last around 300,000kms so if you are looking at a Tdi around that mileage, find out if the main bearings have been replaced. Replacing the main bearings generally doesn't require removing or machining the crank.
Some 1998 build Tdis appear to have been fitted with faulty main bearing shells that can delaminate and cause catastrophic engine failure. It's rare and seems to only affect some 1998 Defenders but it's worth keeping in mind if you are looking over a 98.
200Tdi specifications
Layout: 4-cylinder, in-line
Block/head: Cast iron/aluminium alloy
Valves: OHV, belt-driven camshaft, push-rod operated
Capacity: 2,495cc
Bore × stroke: 90.47mm × 97mm
Compression ratio: 19:1
Fuel injection: Bosch VE rotary pump and Bosch two-stage injectors
Induction: Garrett T2 turbocharger
Power: 80kW @ 3,900rpm
Torque: 255Nm @ 1,800rpm
300Tdi specifications
Layout: 4-cylinder, in-line
Block/head: Cast iron/aluminium alloy
Valves: OHV, belt-driven camshaft, push-rod operated
Capacity: 2,495cc
Bore × stroke: 90.47mm × 97mm
Compression ratio: 19:1
Fuel injection: Bosch VE rotary pump and Bosch two-stage injectors
Induction: T25 turbocharger
Power: 83kW @ 4,250rpm
Torque: 264Nm @ 1,800rpm
Td5 1999 to 2006
The Td5 has proven itself to be a tough and reliable engine provided they are well maintained. It's a recurring theme with Land Rovers isn't it?
Just like the Tdi, Td5s do not respond well to overheating. Overheating can result in head gasket failure, head failure and/or head movement (sliding) if the original factory plastic locating dowels are still fitted (the factory moved to steel dowels in 2002). Steel head dowels can fix the sliding issue and many owners will have had these fitted over time.
It's imperative that you have a solid idea how the cooling system has been maintained or be prepared to start from scratch and go right through it when you buy the car.
Ask the owner to show you receipts for when the head gasket was last done. Head gaskets are a consumable with Tdis and Td5s so anything with reasonable mileage on it should have had a new head gasket at some point. New head bolts as well.
The exhaust manifold is prone to warping and fixing it properly requires removal and some machining.
The Td5 runs an EGR (exhaust gas recirculation) system and it is common for the EGR valve to foul in the open position due to carbon build-up. Cleaning is the legal way of fixing it but there are other not so legal ways of resolving the issue.
Oil can mess with inlet sensors and has a bad habit of migrating up the main ECU harness. This is a common issue, and most Td5s will have had one or more replacement harnesses fitted by now. If it's running rough then it could very well be oil in the harness or oil covered inlet sensors.
Then there is the famous "Oil pump bolt" issue. In simple terms, the oil pump is chain driven and the bolt holding the sprocket onto the pump's shaft can work its way loose resulting in zero oil pressure and a dead Td5. The issue is believed to be caused by Land Rover neglecting to use a thread locking compound on the bolt.
Again, it's a sporadic issue that seems to affect more Discoveries than Defenders and it's more than likely something that the seller has had checked or rectified, but be warned! If it's an unknown, it should be checked and checking it requires removing the sump to inspect the bolt.
As with the Tdi, look for oil leaks and work out as best as possible where they are coming from. The Td5 is a more complex engine than the Tdi but it's not necessarily more difficult to work on. If you are a DIYer then give the Td5 due consideration as they are considerably more tuneable, more refined and ulimately more potent than the Tdi.
Td5 specifications
Layout: 5-cylinder, in-line
Block/head: Cast iron/aluminium alloy
Valves: OHC, chain-driven camshaft
Capacity: 2,493cc
Bore × stroke: 94mm × 71.1mm
Compression ratio: 19.5:1
Fuel injection: Lucas Electronic Unit Injection
Induction: GT20 turbocharger
Power: 91kW @ 4,850rpm
Torque: 300Nm @ 1,950rpm
Ford Tdci
The 2.4-litre and more recent 2.2-litre four- cylinder Ford Duratorq Tdci engines are a well proven unit, and power tens of thousands of Ford Transit vans and more recently the Ford Ranger.
There have been a few issues with intercooler/turbo hoses blowing off, radiator hoses wearing through and vibrations in low range, along with the odd engine failure, but all in all these little turbo diesels have proven themselves to be largely reliable.
All of the usual checks are required when looking at one to buy, but in this case any engine oil or coolant leak should be viewed with suspicion and not brushed off as "just another Land Rover leak".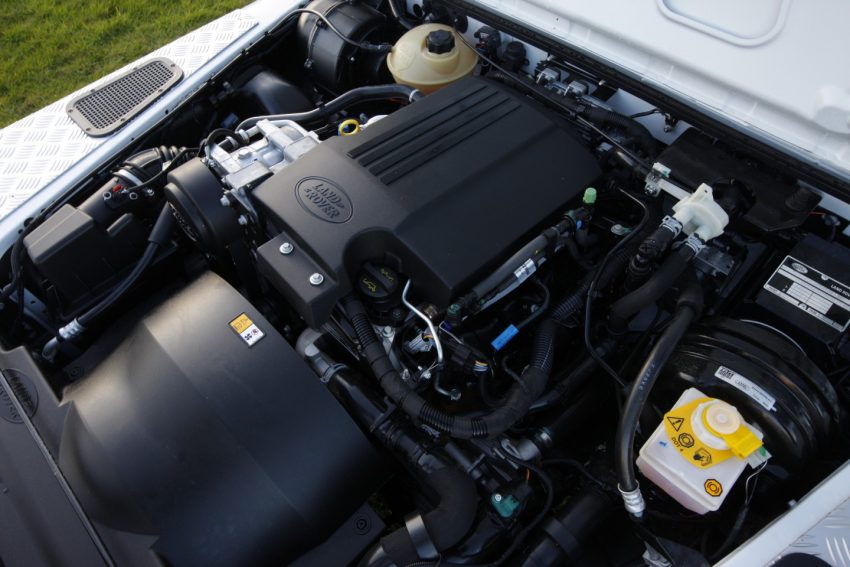 The oldest Tdci powered Defender is yet to have it's 10th birthday, so unless it's got super high mileage, expect it to be well serviced, with a complete service history and everything to be working as it should be.
The Tdci is a more complex beast than both the Tdi and Td5 and there will be a limit to what the average DIYer is prepared to attempt outside of regular servicing.
Given you'll be paying $30,000 or considerably more for a Puma Defender, running your prospective purchase past one of the independent Land Rover specialists would be money well spent.
2.4 Tdci specifications
Layout: 4-cylinder, in-line
Block/head: Cast iron/aluminium alloy
Valves: OHC
Capacity: 2,402cc
Compression ratio: 19.5:1
Fuel injection: Electronic Direct Injection
Induction: Turbo Intercooled
Power: 90kW @ 3,500rpm
Torque: 360Nm @ 2,000rpm
2.2 Tdci specifications
Layout: 4-cylinder, in-line
Block/head: Cast iron/aluminium alloy
Valves: OHC
Capacity: 2,198cc
Compression ratio: 15.5:1
Fuel injection: Common-rail Direct Injection
Induction: Turbo Intercooled
Power: 90kW @ 3,500rpm
Torque: 360Nm @ 2,000rpm
The Gearboxes
All Defenders are manuals, unless someone has retrofitted an auto (usually from a Discovery). The gearbox fitted to all 300Tdis and Td5s is the R380 five-speed, which is a substantially reworked evolution of the LT77 five-speed fitted to 200Tdis.
We'll concentrate on the R380 here as there are far more 300Tdis getting about, just keep in mind that the LT77 was developed into the R380, so it is similar in many ways, but isn't considered as strong or likely to be as long lived as the R380.
The R380 was introduced with the first of the 300Tdi engined Defenders in the second half of 1994 and like the LT77 before it, the R380 was improved over time with the final 'L Suffix' boxes being significantly stronger than the first 'J Suffix' boxes.  Td5 Defenders all come with 'L Suffix' R380s.
The R380 should shift smoothly and feel reasonably tight. They are not a 'sloppy' gearbox and if it is then this is an indication that the nylon bush the shifter sits in is worn or the shift mechanism needs adjustment.
Second gear syncro is the weak point as is the fifth gear bearing, particularly if the Defender you are looking at has done some towing.
Try to test drive from cold as this is when the syncro on second will be at its worst. Often a change to better oil can significantly improve or eliminate this issue. Listen carefully for bearing noise in all gears, especially fifth as mentioned.
The R380 likes regular 20,000km oil changes as they have a relatively small oil capacity and run hot as a result, particularly if being worked. Oil type and quality is crucial to smooth operation and longevity. Penny pinching owners and R380 gearboxes don't go well together.
It's not unusual for an LT77 or R380 to rattle when hot at idle, especially if a heavy duty clutch is fitted. This isn't something to be concerned about.
The R380 is a good gearbox but, like the rest of the Defender, it needs to be maintained.
A rebuilt LT77 or R380 can cost around $2,000 and it is possible to have the fifth gear bearings enlarged in the R380 so that towing in fifth is not an issue.
The Puma Defenders are fitted with the MT82 six-speed manual transmission. The extra gear allows a lower first gear and higher overdrive than the five-speed in earlier Defenders and that means increased control off-road and quieter cruising on-road. The flip side is that it's an indifferent gearbox and not as nice to use as a well maintained R380. The quirky throttle and clunky drivetrain that are features of Puma Defenders require a specific driving style to produce clean gear changes.
The MT82 seems to be largely trouble free aside from the adaptor shaft used to connect it to the transfer case. Bolting the Ford engine and transmission up to the LT230 required an output adaptor shaft and this can fail (strip) causing total loss of drive. Aside from being a suspect design, a lack of lubrication at assembly severely reduces the life of the adaptor shaft. It's a transfer case out job to fix, and there is a more permanent solution available from Ashcroft Engineering.
The Transfer case
All Defenders are fitted with the LT230 transfer case which for the most part is considered bullet-proof. The most notable change was the move from 1.4:1 high-range gearing as used by Tdi and Td5 Defenders, to 1.2:1 high range gearing for Puma Defenders.
The weak point is the centre diff which uses brass shims and a two piece cross shaft. Worn brass shims are one of the main contributors to driveline slop, while the two piece shaft can break in extreme circumstances.
The centre diff and hi/low range are selected via a shifter which operates a rather ordinary linkage setup. If it's adjusted correctly and well lubricated it will work a treat but any selection issues are likely to be caused by an issue with the selector linkages.
Unlike most 4X4s you can select low range without the centre diff-lock being engaged.
An LT230 can leak oil from the front and rear output seals (behind where the tailshafts bolt on) and from the input shaft seal which is located where the gearbox output shaft slides in.
Another very common oil leak is from the intermediate shaft, a shaft that runs from one side of the case to the other and locates through the sides of the case. Over time, pressure on this shaft can cause ovaling of the casing which allows oil to push past the o-ring on the end of the shaft. Sometimes it's just the o-ring that is the issue, something that can be fixed in-situ by a competent DIYer.
When inspecting a Defender, the input seal (and the gearbox output seal which will leak in the same area) can be checked by looking for oil in the drain hole outlined by the red circle in the image below.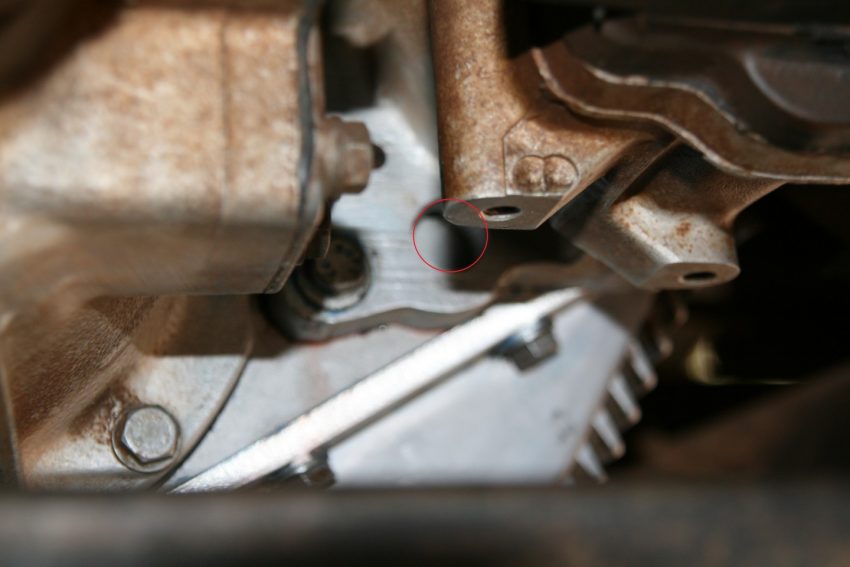 In exactly the same area but to the left and partially obscured by the gearbox is where the intermediate shaft is located. Get a torch in there and look for oil. A nice stainless ring around the shaft means that the case has been out and a stainless section pressed in to prevent the housing being ovaled. This is called a sleeved casing and is a good thing.
LT230s can also leak from the bolts that hold the lower inspection plate on, as most of these bolts go through the casing and if their threads aren't sealed, or they have loosened up, oil can find its way out.
Oil that sits under the handbrake drum which bolts up to the transfer case output shaft indicates an output shaft seal leak. It can also be caused by oil running through the threaded section of the shaft which can easily be fixed by replacing the felt washer and sealing it all with a suitable sealant.
If you are looking at a 200Tdi or early 300Tdi be aware that they suffered from failure of the transfer case input gear teeth (what the gearbox output shaft slides into). The failure was caused by a lack of lubrication and was fixed in later vehicles which were fitted with a cross drilled input gear that allowed oil to lubricate the teeth and splines. Ask the owner if the vehicle you are inspecting has had the later cross drilled input gear fitted. Most would have failed and been replaced by now.
LT230s can be quite variable in the amount of noise (whine) they make and can range from relatively quiet to being quite obvious. The Defender ratio 1:4.1 is known to be noisier than the Discovery 1:2.1 ratio. A different sort of whine will be quite obvious if the oil level is low.
Interestingly, the build quality of the LT230 became noticeably variable during the Puma years (that's according to Ashcroft Engineering in the UK).
A reconditioned LT230 will cost around $2,000 and there are options such as an Ashcroft ATB centre diff that eliminates the brass shims and cross shaft altogether.
Differentials – Half Shafts –Drive Flanges – CVs – Wheel Bearings – Swivel hubs
Tdi and early Td5 Defenders have a Rover front diff and a Salisbury rear diff. The two diffs are polar opposites, with the Salisbury being big, heavy and virtually unbreakable and the Rover being, well the opposite.
Neither diff should be leaking oil. If the Rover diff is leaking, look closely for cracks in the front housing, along welded seams or where it may have collected a rock or stump. Also look above the diff as it could be oil from the engine or even diesel from the FIP.
If the Salisbury is leaking it will most likely be from around the rear cover, which is relatively thin pressed steel and easily damaged when reversing. A blocked breather will force oil out from under this cover, so consider that a possibility if an obvious leak is present.
Both diffs can leak from their pinion seals. It's an easy fix on the Rover diff, and and most likely an easy fix on the Salisbury diff. The Salisbury diff uses a crush tube to set the correct pinion bearing pre-load and care needs to be taken not to over torque and further crush the crush tube.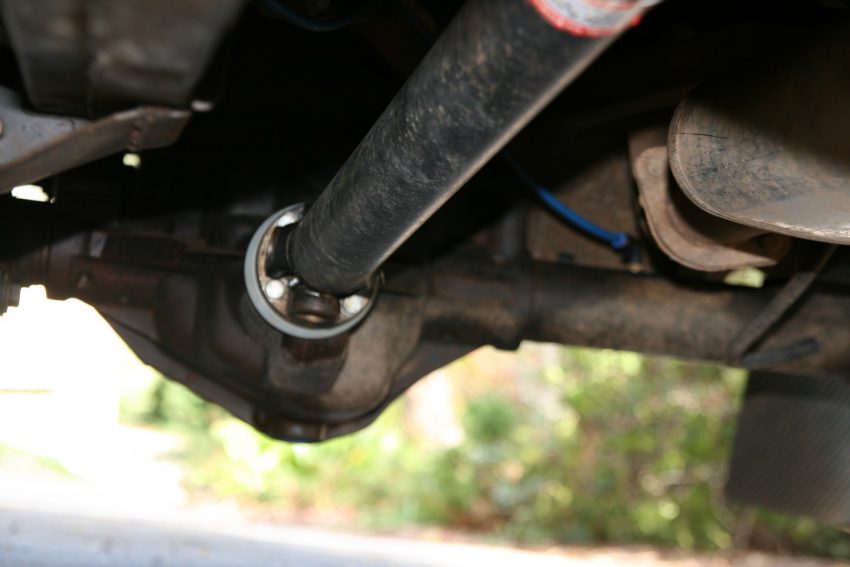 Both diffs should be relatively quiet at highway speeds, so any obvious whining should be considered an issue. It's not cheap rebuilding a diff, particularly a Salisbury.
If you're into rock hopping, then the Rover diff will need to be beefed up. This can be achieved by fitting one of the lockers or LSDs available. Pegging the crown wheel, a process that provides additional support for the crown wheel, is also possible.
The Salisbury diff can be 'shaved' to increase ground clearance and fitted with one of the nodular steel rear covers available from ARB, if serious off-roading is on the agenda.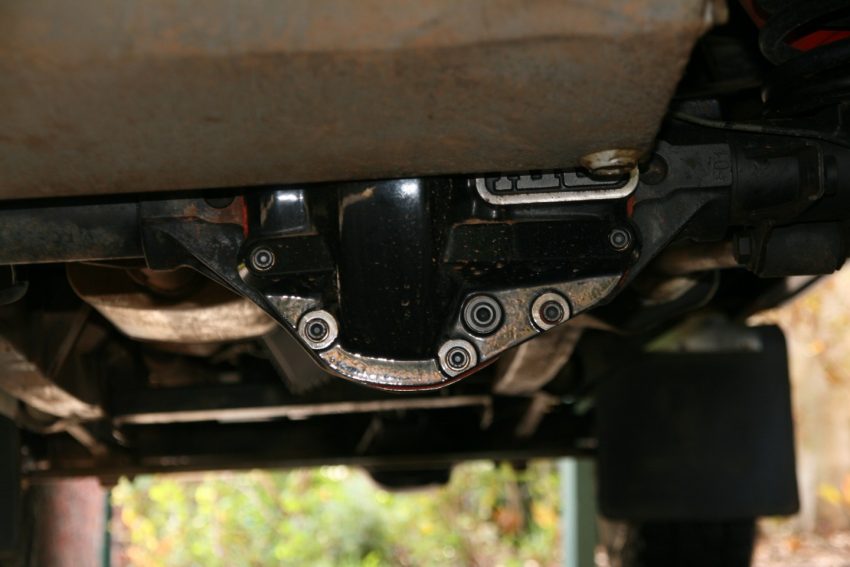 Puma Defenders and later Td5s have one major difference in that they run a Rover P38 rear diff not the Salisbury found in earlier models. The P38 diff has proven to be a real issue in some Defenders and many have been rebuilt or replaced under warranty. The issues (excessive noise and failure) have been blamed on the incorrect setup of the diffs when new.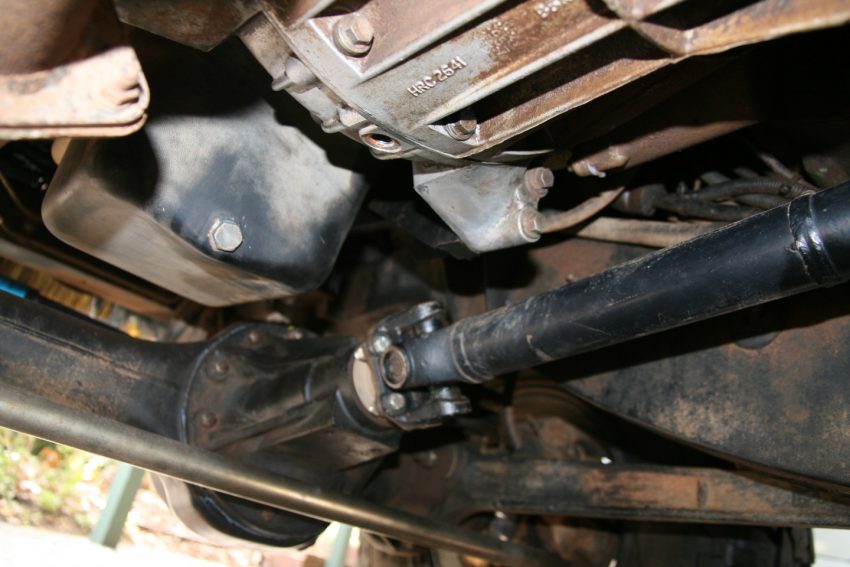 While the P38 diff isn't considered to be overly strong, once setup correctly they seem to last reasonably well. Before buying a Td5 or Puma Defender with the smaller rear P38 diff it would pay to confirm if it has been rebuilt or replaced under warranty.
If you are looking for a Defender 90, then they are a little different in that they have a Rover front and rear diff.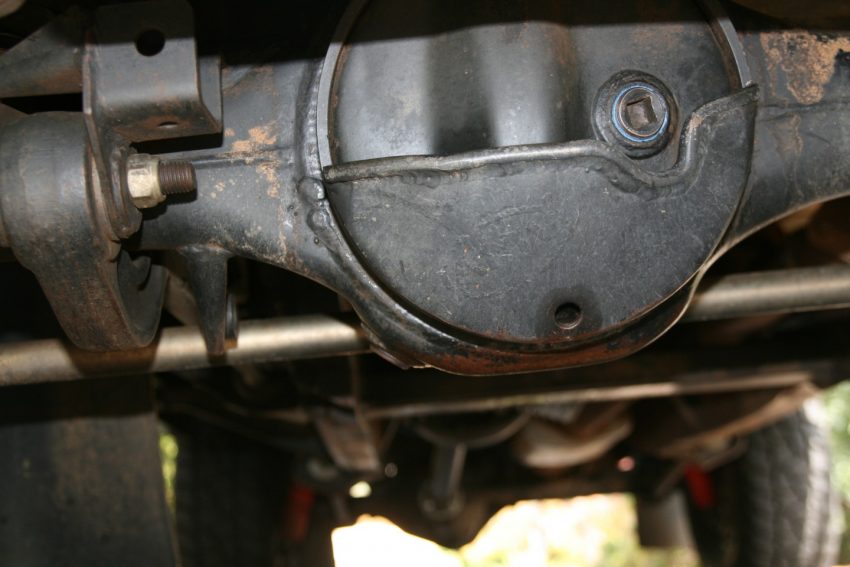 One benefit of the P38 and Rover diffs are that they provide a significant improvement in ground clearance over the physically much larger Salisbury fitted to earlier Defenders.
Over the years there were some significant changes to half shafts and the front CVs. The half shafts improved, while the CVs went the other way. Suffice to say, that well maintained standard half shafts and CVs in any Defender will be fine for most uses if the driver shows restraint. If you are an off-road enthusiast and hit the harder trails on weekends, then there are a number of aftermarket options available. Ashcroft Engineering for example, can supply CVs that they'll guarantee for five years running 35" tyres.
Pre-Defender Land Rovers ran oil fed bearings which in turn lubricated the half shafts, CVs and drive flanges but the Defenders all run grease. The change reduced the potential sources of oil leaks but required more regular maintenance. If the owner has skimped on regular maintenance then you can expect to find these components looking rusty and worn, a condition known as fretting, which results in wear, driveline slop and eventually failure.
The best way to check is to remove the rubber cap or large nut in the centre of the drive flange and have a look at the end of the half shaft or CV shaft.
It is possible and relatively easy to convert Defenders back to oil lubricated bearings, something that should be considered by new owners.
The standard check applies for wheel bearings. Jack each wheel off the ground in turn and check for movement by holding the tyre at 12 and 6 'o'clock and rocking the wheel. If there is any movement then the bearings are loose. Defender bearings are not fitted in such a way that movement should be present.
Loose wheel bearings will cause the brake discs to knock the brake pads back into the calipers, particularly on rough roads. This will be evidenced by the brake pedal requiring one pump to push the pads back against the discs and a second pump of the pedal to get the brakes working effectively. If you come across this on a road test, chances are it's the wheel bearings that are the issue not the brakes.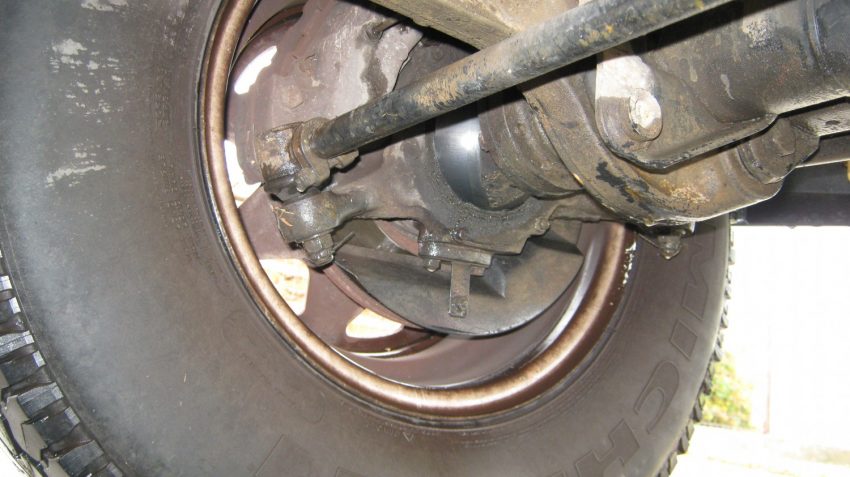 While each front wheel is off the ground the swivel hubs can be checked by having someone depress the brake pedal while you hold each wheel at 9 and 3 'o'clock and check for movement using a rocking motion. Any movement indicates worn or out of adjustment swivel hub bearings. Fixing this could be as simple as removing a shim or two, or could be as difficult as removing and rebuilding or replacing each swivel hub.
Incorrectly adjusted swivel hubs will result in overly light steering or overly stiff or notchy steering. If too loose, they can also result in "the death wobbles" an unnerving front end wobble usually experienced at higher speeds when hitting mid corner bumps.  Swivel hub fluid leaking from around the swivel hubs indicates worn seals or out of adjustment hubs.
Driveline clunks
The easiest way to pick a worn out Defender is to take it for a drive and see how much driveline slop is present.
A good Tdi or Td5 will have driveline slop in the 'some to almost none' range. If it clunks noticeably on take-off and on gearchanges then there is some worn out 'stuff' that needs to be given consideration.
It could be as easy as worn/rusty half shaft splines and drive flanges. If the owner hasn't kept them well lubed then the splines and flanges can fret and rust.
Alternatively, it could be the A-frame ball joint, which as the name suggests is a ball joint that is pressed into an A-frame. The open end of the A is attached to the chassis and the point of the A is where the ball joint is located. The ball joint shaft is bolted through a bracket on the rear diff and helps locate the rear axle. If this is worn out, it will be clunk city. Ball joints are cheap but it's a pain of a job and will likely require a press.
Then there are the three diffs. Both front and rear diffs will have some degree of backlash present. The transfer case centre diff uses brass shims which wear over time, especially if the centre diff isn't locked on loose surfaces. If those brass shims are worn or non-existent, clunking will be the result and if either diff is worn or has too much backlash, there will be yet more clunking.
Of course, it could be a combination of all of the above.
The degree of clunking or driveline slop is a key indicator of the condition of the Defender you are looking at. If you have to develop a driving style to keep the clunking to a minimum then there is too much. An excessive amount of driveline slop, could take an excessive amount of money to rectify and it could well be why the current owner is hoping he can sell it to you.
This situation is a little different for Puma Defenders, which seem to have excessive slop built in to their drivelines, something that (again) can vary dramatically between otherwise identical vehicles. Land Rover will tell you that it's "normal" but it shouldn't be.
Plenty of Puma Defenders have had diffs and transfer cases rebuilt under warranty, some multiple times, so be sure to check the history of any late model Defender you are looking at buying. A clunky Defender that is out of warranty could get expensive.
Corrosion
Defenders can suffer from rust and galvanic corrosion of the aluminium panels. Let's start with the rust.
Places to check include all of the doors, particularly underneath the door, where the steel frame is notorious for rusting, especially in Tdi and early Td5 Defenders. If the door skins are in good condition then rusty doors might be worth saving using repair sections that are available commercially. Secondhand doors start from around $500 and new doors can be sourced but they are even more expensive.
Check the back door carefully on Tdi Defenders, it is an alloy skin with a welded steel frame and prone to rusting. Td5 Defenders came with a one piece steel back door.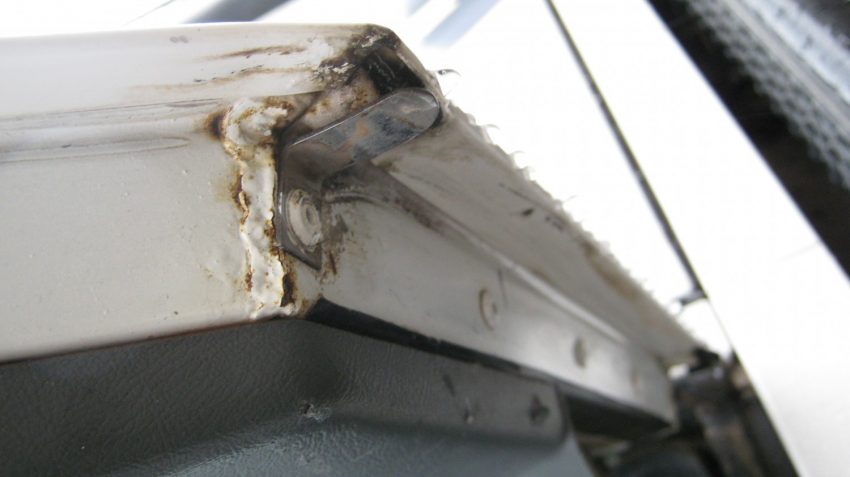 One piece pressed steel door frames with aluminium skins were introduced on Td5s sometime during 2002 and 2003 and featured drain holes to allow water to escape the frame. These doors are significantly stronger and more resistant to rusting.
The bulkhead, which separates the engine bay from the cabin is made from steel and can also get very rusty. It will usually show up around the mirrors and around the front air vents, but check under the bonnet, particularly under the heater box.
The front footwell section of the bulkhead also rusts and much like the bulkhead seems to rust from the inside out. Repair sections are available and in the case of the floor section, are easily welded in.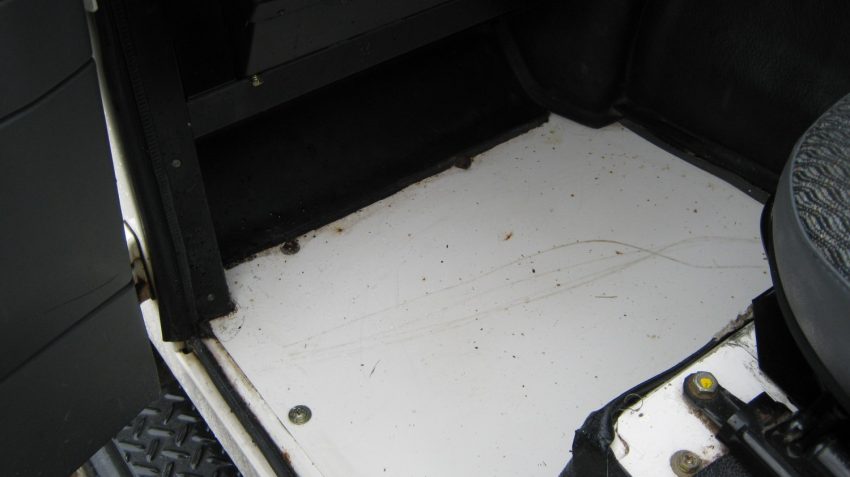 Last but not least is the chassis. It's a big mild steel box section with outriggers, suspension mounts and a rear crossmember. Rust seems to affect the rear of the chassis more than the front with rusty rear crossmembers being nothing unusual. Land Rover appear to have taken less care to rustproof (paint) the chassis in recent years and the only way to know you are looking at a solid one is to get under and take a close look at it.
New rear crossmembers and outriggers are available.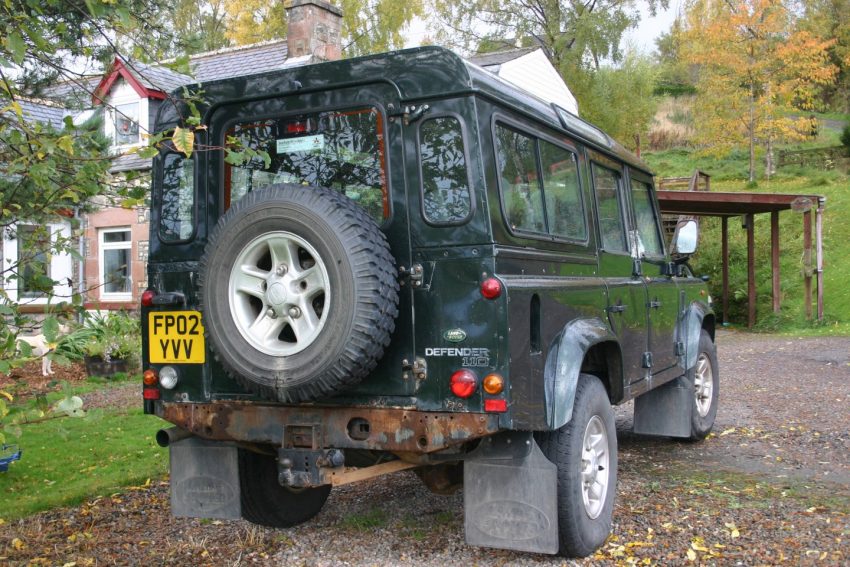 Galvanic corrosion is the other metal eating nasty that can ruin an otherwise nice Defender. Land Rover wasn't overly fussed about putting a barrier between steel door and bonnet frames and their aluminium skins, to prevent them reacting with each other. The result is galvanic corrosion which will bubble up under the paint on aluminium panels. It's almost impossible to stop and not real easy to fix the panels once it's there. The popular remedy is to pop rivet some chequer plate over the affected areas, or replace the panel/reskin the frame, which can get real expensive.
Inspect the bottom six-inches of each door skin and the flat section below the window for bubbling paint.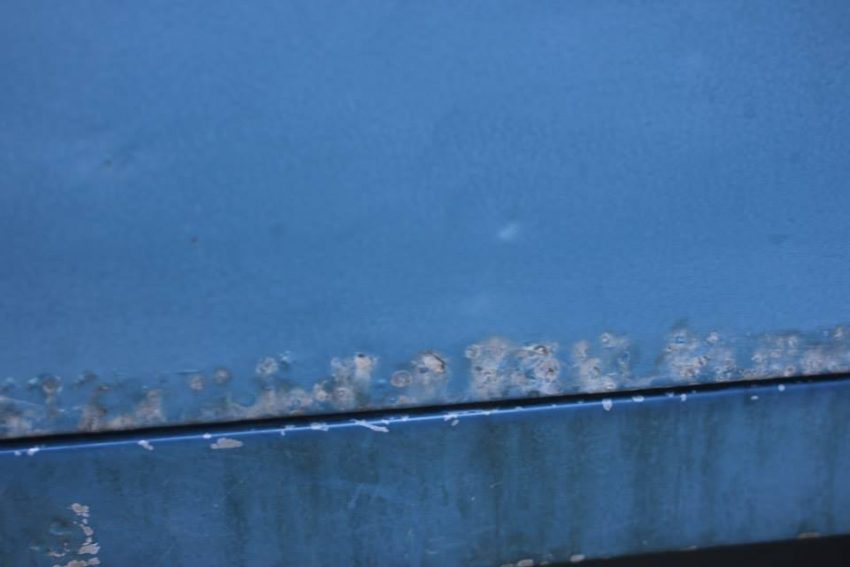 The capping that sits on top of the 'tub' (underneath the side rear window panels) is also steel and can react with the aluminium tub.
A distinct advantage held by later Td5s and all of the Puma Defenders is that the door frame and skin are both made from steel, not aluminium, meaning no galvanic corrosion issues with those panels. Puma Defenders also feature an all-steel bonnet.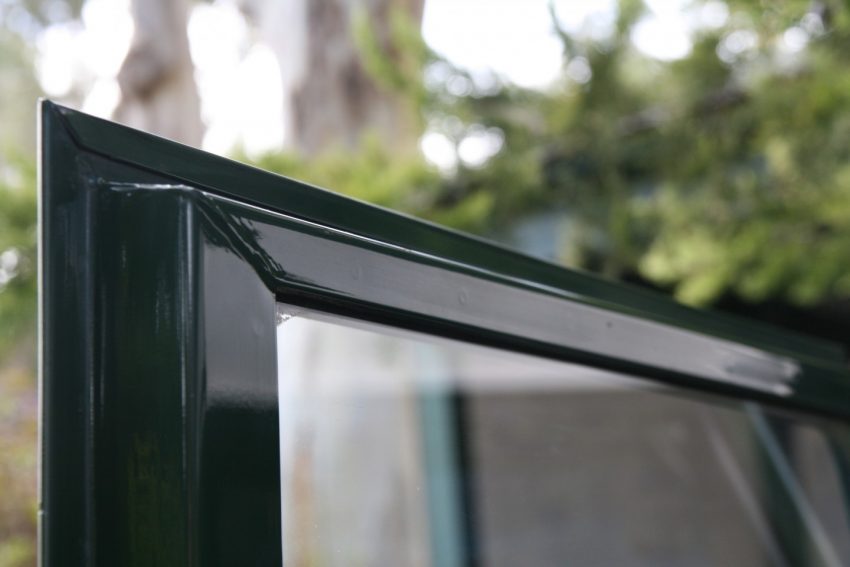 It's much easier fixing mechanical issues and for most buyers, finding a really good Defender means finding a corrosion free one.
The Suspension
Tdi and Td5 Defenders, unless they have been refurbised, will almost undoubtedly have worn suspension bushes. You'll notice this on the test drive as it will squirm under brakes, or try to steer itself when accelerating or braking. A Defender should track straight, not wander, and brake in a straight line.
Replacing the bushes in the radius arms, panhard rod and the A-frame is a good day's work for a DIYer and will require a decent sized workshop press. Stick with genuine rubber bushes or Australian SuperPro bushes. Fitting unknown durometer poly bushes will lead to further increased NVH levels and deterioration in ride quality, adversely affecting two qualities the Defender is famous for.
As with all cars, shock absorbers will wear out and springs will sag and you'll know fairly quickly if the Defender you are looking at is suffering from worn out suspension components. There are plenty of aftermarket options available in a variety of price and quality ranges.
Unless absolutely necessary, avoid fitting 'Heavy Duty' aftermarket springs as they destroy the Defender's ride characteristics. Places like Les Richmond Automotive can provide a variety of spring rates and lengths to suit Defenders, and don't discount the standard Land Rover springs. They are top quality, offer a great ride and are amazingly well priced.
If the Defender that you are test driving bucks like a mule over bumps, it will be because it's running springs with an excessively high spring rate.
Defenders don't need to be lifted to work well off-road. If you are looking at buying one that has been lifted above standard height, then road test it thoroughly at highway speeds, to determine if there are any vibration issues that might be caused by the lift.
Puma Defenders, thanks to the not quite right installation of their Ford engines and the changes made to the transfercase and propshaft angles, can react badly to any type of lift. If you are looking to buy a lifted Puma then be sure to investigate exactly what the owner has done and road test it thoroughly to make sure there are no vibration issues.
The earlier Defenders can tolerate a 50mm lift without too many issues, but anymore than that can result in vibrations caused by binding front propshaft universal joints. Slotted swivel hubs and/or double cardan propshafts can fix the issue, but be aware that seriously lifting a Defender involves more than fitting higher springs, and going beyond 50mm is going to cost you to get it right.
Other Defender Specific Issues
Headlight wiring – Defenders don't have relays in the headlight wiring which means full current passes through the light switching mechanism and burns them out. In addition to this their headlight wiring is inadequate and as a result headlight performance is restricted. There are kits available from places like Traxide that simply and easily fix these issues.
Loosening wheel bearings – Earlier Defenders can suffer from wheel bearings that work their way out of adjustment. This can often be fixed by replacing the adjusting and locking nuts, especially if previous owners have used a cold chisel or similar to undo them.
Oil leaks caused by blocked breathers – Defenders have factory breathers running from both diffs, the transfercase and gearbox. A blocked breather will cause oil to push past seals and is the first thing to be checked when trying to rectify oil leaks
Driveline vibrations – the biggest cause of driveline vibrations is the front propshaft setup on all Defenders. The driveline angles at the front really require a double cardan propshaft to avoid vibrations (as fitted to Discoveries), but the Defender being a 'commercial vehicle' received the cheap solution, a regular propshaft set out of phase.
The result is that the universal joints are given a hard time and if not regularly greased can fail prematurely. If there are driveline vibrations present the first suspect is worn universal joints.
The next suspect will be the suspension lift if fitted. A lift makes life even harder for the front uni joints and can cause them to bind.
From there the vibration's source could be any number of things. An out of balance flywheel/pressure plate in the Tdis, failing dual-mass flywheel in the Td5s, poorly fitted aftermarket steel rims, out of balance tyres, loose wheel bearings, a leaking FIP…and so on.
Leaking steering boxes – It's not unusual to see a Tdi with a leaking steering box. They leak due to a dodgy seal arrangement that was eventually modified by the factory.  A leaky one is best fixed by fitting a new or reconditioned box with the improved seal arrangement.
Worn through clutch throw-out forks – Another relatively common fault with the Tdis which have a pressed steel throw-out fork that wears through where it contacts the end of the slave cylinder piston rod. Takes a lot of years to happen, but when it happens it's a showstopper and is a gearbox out fix.
A beefed up throw-out fork is available and puts an end to the problem.
Leaking clutch master cylinders – The Tdi and Td5 Defenders have a very simple clutch master cylinder, pretty much the same ¾ inch one commonly used for trailer brakes. The theory is that the pushrod angle isn't quite right which can cause premature wearing of the master cylinder's bore and seals. Some people fix the issue by having new cylinders re-sleeved in stainless and others spend a bit more money to buy a top quality master cylinder, such as a PBR.
The different body variants
Defender 90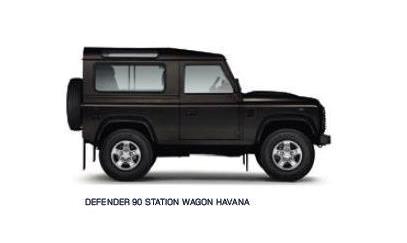 Not available in Australia during the Tdi years. A few Td5 D90s were sold in Australia but they are rare. Plenty of Puma D90s getting about.
Defender 110 wagon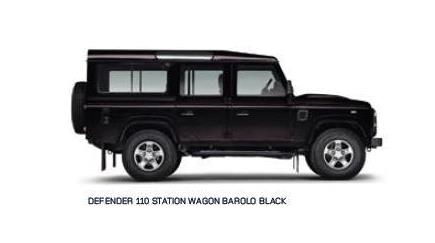 This is the popular body configuration and was sold in Australia right through the Defender years.
Defender 110 Hardtop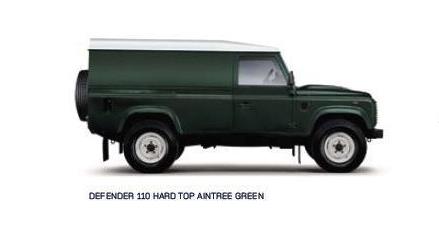 The hardtop is a two door, two seat version of the wagon, or in other words a van. A rare beast in Australia, it was available to order from Tdi through to Puma. It gets a larger rear load space and misses out on some of the wagon's niceties, like various bits of plastic interior trim and cloth seats.
Defender 110 HCPU Single Cab Pick-Up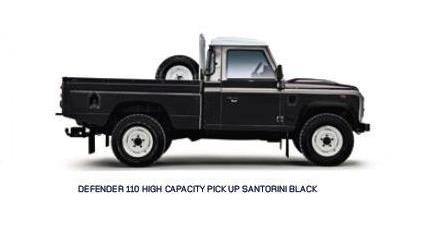 A single cab body on a 110 (110") chassis, the styleside utes are rare as hen's teeth.
Defender 110 Double Cab Pick-Up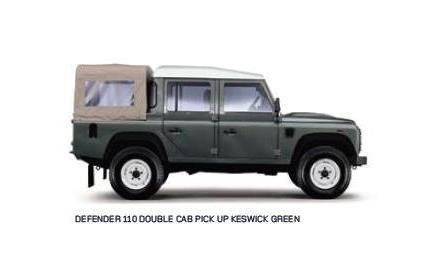 A dual cab body on a 110 (110") chassis, these Defenders are also quite rare and unique in that the ute section was only small. They look fantastic in the flesh.
Defender 130 Single Cab Cab Chassis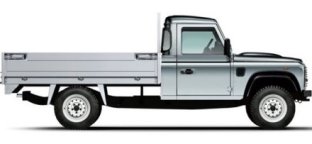 A single cab body on a 130 (130") chassis. Plenty of these getting around in Tdi and Td5 guise. Keep an eye out for the ones modified by Telstra that feature an extended cab. The only single cab Defender that has room for the driver.
Defender 130 HCPU Double Cab Pick-Up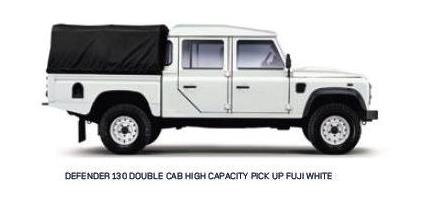 A dual cab body on a 130 (130") chassis. Also plenty of 130 dual cabs getting around and you can choose your favourite flavour as they were available in 300Tdi, Td5 and Puma model years.
Parts availability and modifying Defenders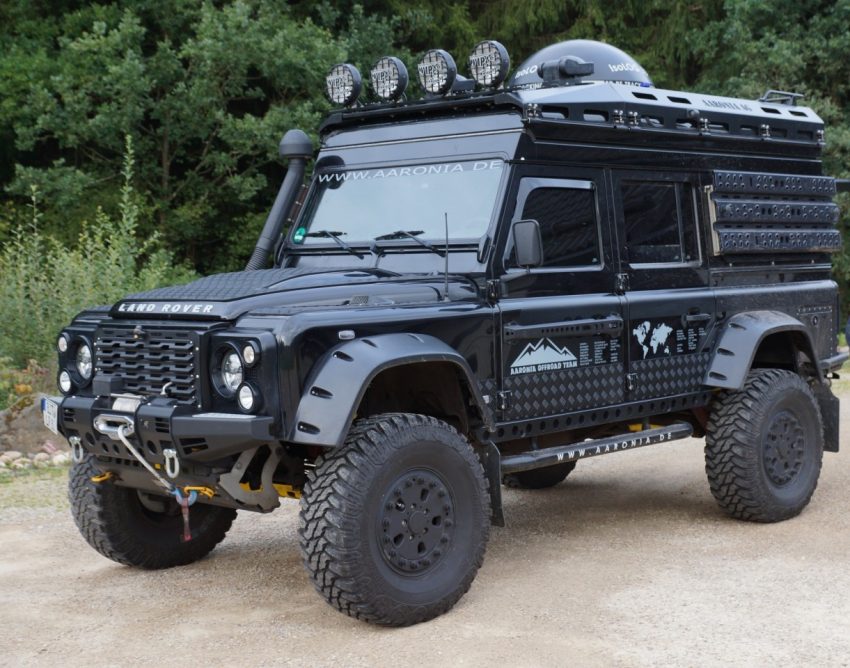 With a few exceptions, it is extremely easy to source parts for Defenders from local, UK and US suppliers. The 300Tdi has a distinct advantage as parts are plentiful, cheap and still being manufactured new.
The most cost effective pre Puma Defender to rejuvinate mechanically is the 300Tdi.
Most parts are still available for the 200Tdi if you know where to look but they aren't always as reasonably priced as 300Tdi bits.
Td5 parts are still plentiful but at a higher price point for big dollar items like heads and injectors.
The Pumas share an engine with the Ford Transit van so parts aren't likely to be an issue, and they aren't likely to be cheap either.
Many trim and interior parts for the older Defenders can still be bought new, the same is the case for some exterior panels, like doors.
There is a huge range of aftermarket parts available that will allow you to modify, or customise your Defender however you wish. From power-up kits, to engine chips, ECU remaps, suspension parts and kits, seats, wheels, barwork, full custom interiors. The list of parts available is almost endless.
Ashcroft Transmissions is a one stop shop for many driveline items, from competition grade half-shafts and CVs to fully rebuilt and modified transfer cases and gearboxes.
When it comes to Defenders, if you can imagine it, someone will be selling the parts to build it.
Which Defender should you buy?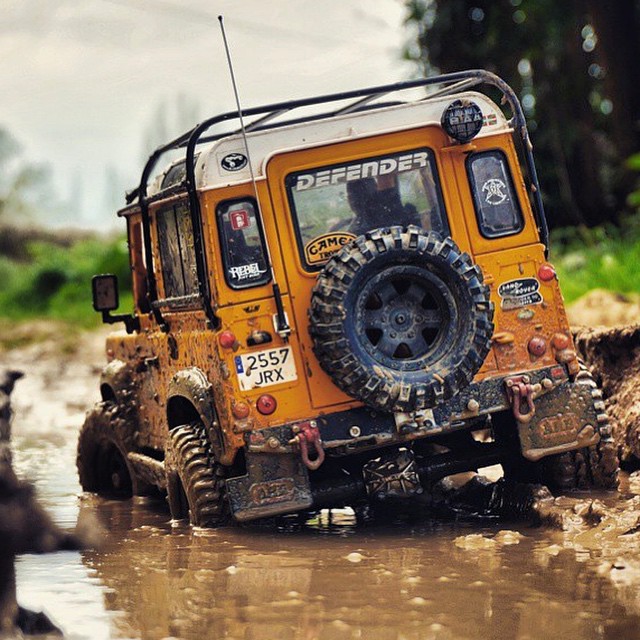 Well that depends on the type of 'Defender experience' you are looking for.
If you are chasing the raw, basic, hose it out, fix it with some fencing wire, tough as nails, open a vent to cool down, think I'll grow a beard type of experience then the Tdis are where it's at. They are a lot of fun to own and drive, simple to work on and once you get your hands on a good one, you are unlikely to let it go.
You can bet money that Chuck Norris owns one but they aren't for everyone.
If your preferences run to effective air-conditioning, the ability to easily tow a good sized van or camper, sitting on the speed limit and holding a normal conversation, ABS brakes, Traction Control and you have no desire to climb under the bonnet and belt something with a spanner, it's a Puma Defender for you.
If you find yourself caught between Scary and Posh, then check out the Td5s.
They are all, without question, very special 4X4s and there will never be another vehicle like them.