Plenty of you reading this will know me from Isuzu Ute Australia's I-Venture Club. As a brand ambassador and the lead trainer for this phenomenally successful driver training and customer retention program, I've had the pleasure of meeting and educating thousands of new D-MAX and MU-X owners right around the country since 2014.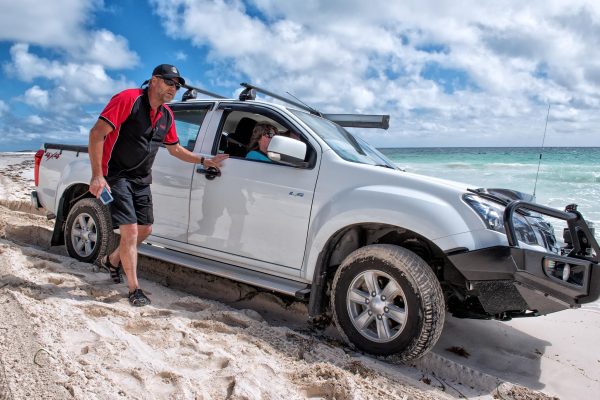 I'm also an Isuzu owner, having spent my own money on buying a 2014 D-MAX for my business Adventure 4WD and also an MU-X in 2016 for my wife Rose, and to provide for our family touring wants. We've also had plenty of time to get acquainted with the new model too, as we've nearly clocked up 40,000kms in our MY2021 D-MAX, and loving its new capability and refinement.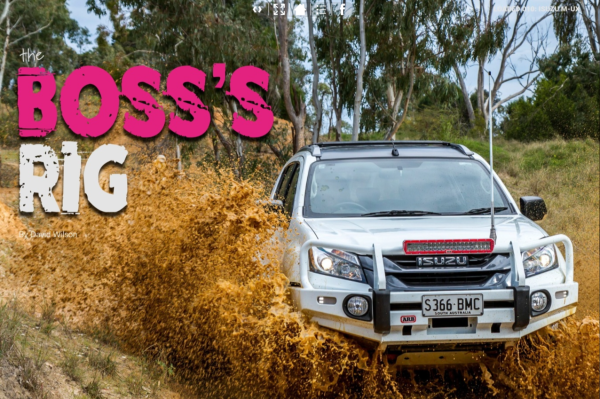 We all know the strengths of the Isuzu brand, especially that exceptional reputation for reliability and honesty. It truly is a vehicle that you can depend on. Now it's possible to accessorise your D-MAX (and soon MU-X) with a set of alternative genuine alloy wheels, from the Isuzu Ute Australia accessories brochure, that will offer the peace of mind of full factory warranty coverage.
Isuzu has selected Adelaide-based wheelmaker Mullins/CSA wheels for their supply. Mullins was founded in 1905 and the 117 years that have followed have seen the business grow to become a national and international wheelmaker of renown. The company make the Militant Shadow and the Predator Shadow to Isuzu's exacting requirements.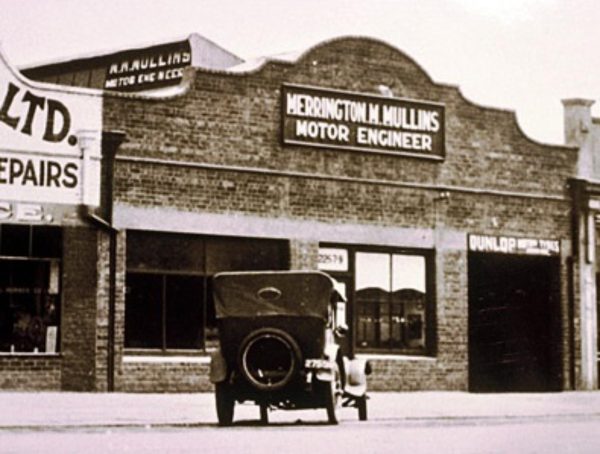 Every time I take delivery of a new vehicle, I'll change the wheels and tyres. Whilst some folk are fine with the standard fitment passenger car tyres, I've always wanted something different, as I like my vehicles to make a statement and be reliably enhanced for carrying heavier loads and going off-road.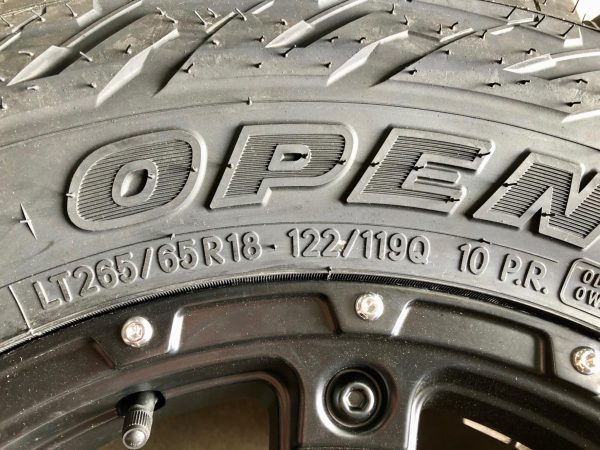 Isuzu's new Militant Shadow and Predator Shadow wheels are the sexiest things alive and will transform the look and appeal of your new MY2021 D-MAX (and the new MY2022 MU-X soon), with a bold new appearance.
From an aesthetics point of view, a new set of wheels will make your truck stand out from the crowd so you can really "Go Your Own Way", and in this case, the beautiful satin black finish complements the colour palette of the new models exquisitely. A Volcanic Amber D-MAX X-Terrain sporting a set of these is just stunning and as we recently discovered, so too a Cobalt Blue X-Terrain!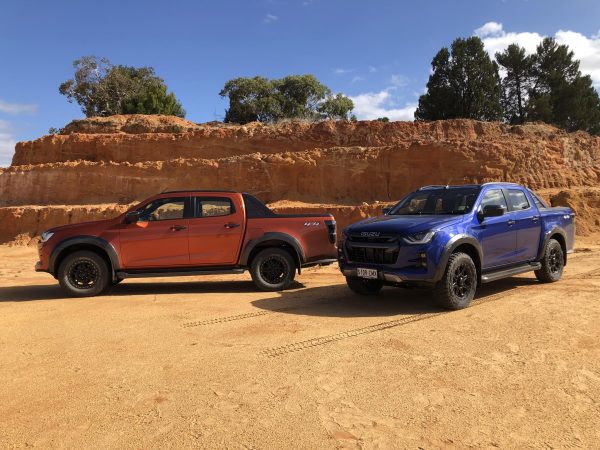 But there's more, because the Militant Shadow's six-spoke, double-webbed design just shouts "tough". The centre cap is chunky and with the faux-bead-lock accents on the circumference of the wheel there's a bit of extra sparkle. It's a combo that's just itching to have some mud thrown at it.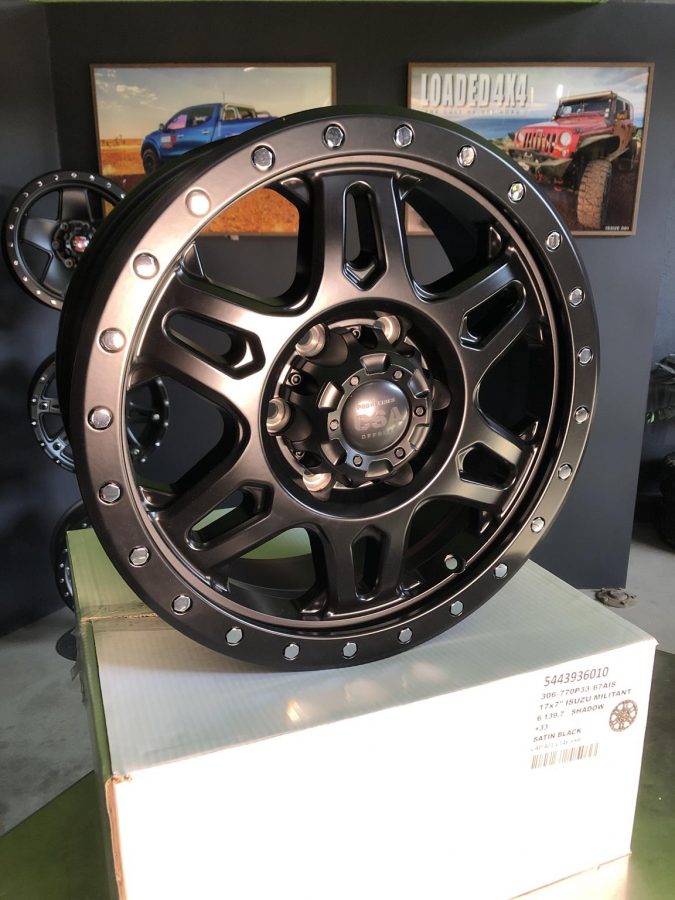 The specs on it are impressive, as it will carry a 1,250kgs load, making it very strong, whilst the fitment is perfect for an Isuzu hub, being a 139.7 six-stud PCD. There's a 33 POS offset that'll keep the wheel and tyre legal, with no poke outside the guard. Being a 17 x 7" size it'll accommodate plenty of light-truck tyre choices that'll make you puncture-proof with the right pressures.
We opted to fit our Militant Shadows with a set of Toyo's Open Country All-Terrains in an LT265/70R17 121S that roll out at 32" diameter and are nice and legal, with no poke outside the guards.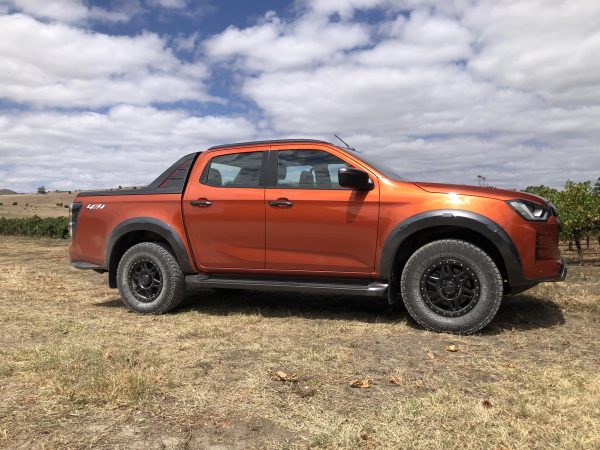 The Predator Shadow is equally equipped to get the job done and to make a statement about your Isuzu with its bold, eight-spoke, double-web design, it's a killer wheel!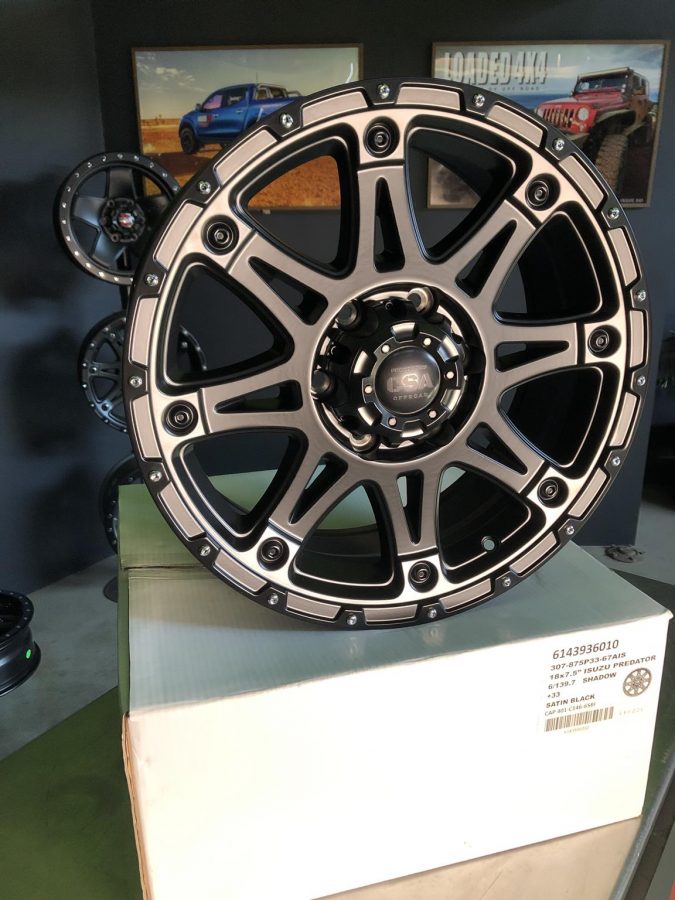 Predator Shadow comes in an 18 x 7.5" size, filling out the wheel arches just that little bit more. The wheel again is set up for an Isuzu fitment with a 139.7 six-stud PCD with a 33 POS offset and 1,250kgs carrying capacity.
Our Predator Shadows were fitted with Toyo's Open Country Rugged Terrain in an LT265/65R18 122Q, again rolling out at a legal 32" diameter and with no tyre poke.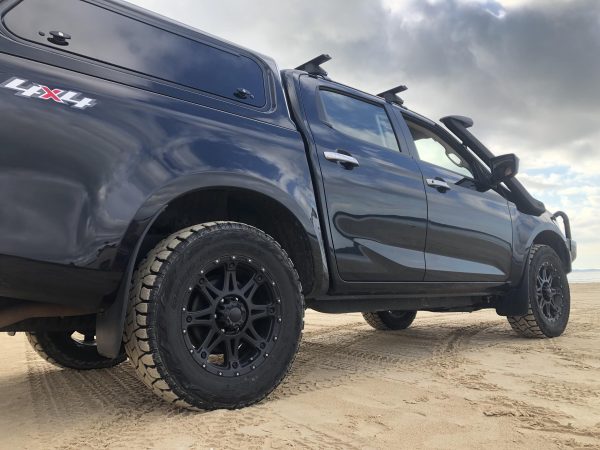 Whilst some potential purchasers might consider these wheels a little on the narrow side, there's some good reasons behind it. There's less wind and rolling resistance in these widths than a wider eight, or nine-inch fit, thus preserving Isuzu's legendary fuel efficiency. In these times of fuel prices approaching $2/litre you need all the help you can get! Additionally the wider you go, the more likely you'll pick up debris that could puncture the tyre, less tread face equals less risk.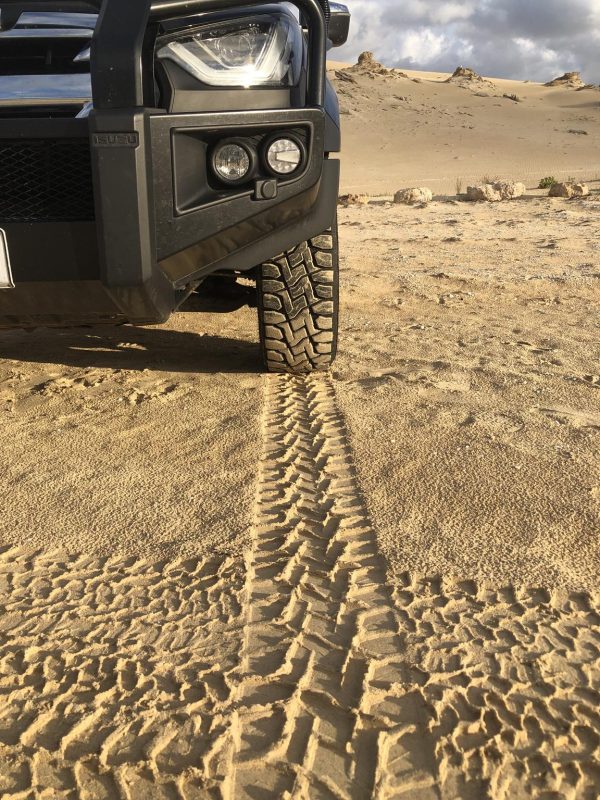 If you're a DIYer and intend fitting them yourself, or doing regular rotations at home to keep them round, the new Predator Shadow and Militant Shadow wheels use the same nut as the stock wheels, saving you carrying around an alternative wheel-brace or socket, as is often the case when purchasing aftermarket wheels.
If you had any doubt about the durability of alloy wheels on a 4WD, I think you can take stock in the fact that in the thirty years I've chosen to fit Mullins/CSA alloy wheels to all of my vehicles, I've never once broken one, and the places they've been to have been extreme.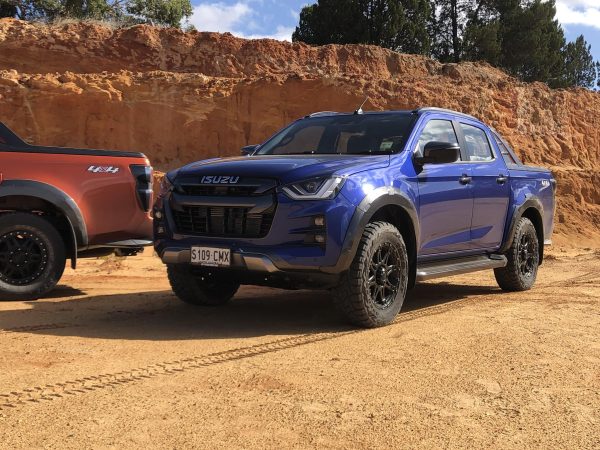 Another benefit that an alloy wheel has over a steel wheel is less mass. Unsprung weight as it is called, can upset the handling dynamics and the ride of a vehicle, in ways you might not have considered.
If you elect to fit a light-truck tyre (and you should), you'll benefit from a tyre construction that is more robust and puncture-resistant with greater longevity than a passenger car tyre, but it'll be heavier.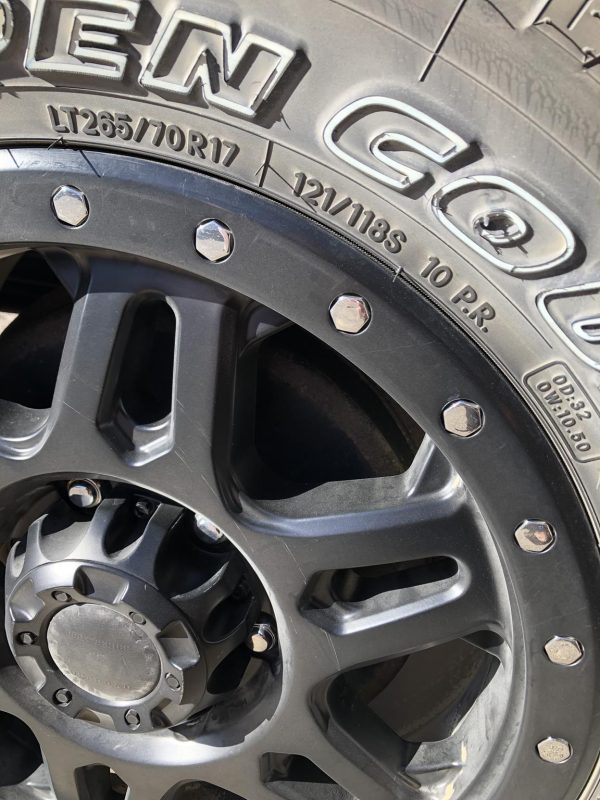 Fitting that tyre to a steel wheel will only add extra weight to your suspension assembly which it wasn't designed for, the bigger the fitment, the worse it becomes. Lifting that wheel and tyre up and down over all those corrugations and imperfections on broken bitumen or dirt, means more work to do. If the suspension is getting a bit tired, it'll fade sooner, and leave you with a very uncomfortable and potentially dangerous ride, reacting to the bumps, rather than floating over them.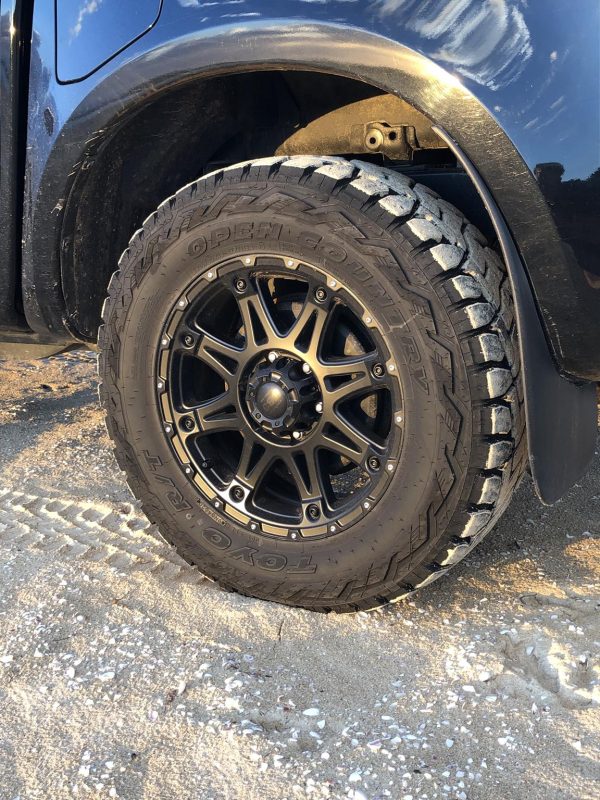 Staying with alloy keeps those unsprung mass weights closer to the designed specification of the vehicle.
Another point often overlooked is that proper 4WD wheels are designed with off-road elements in mind and particularly mud. The standard alloys and steel wheels found on many vehicles today are traps for sediments, mud squished up behind spokes and the wheel face, wedged in the inner rim and with no easy escape.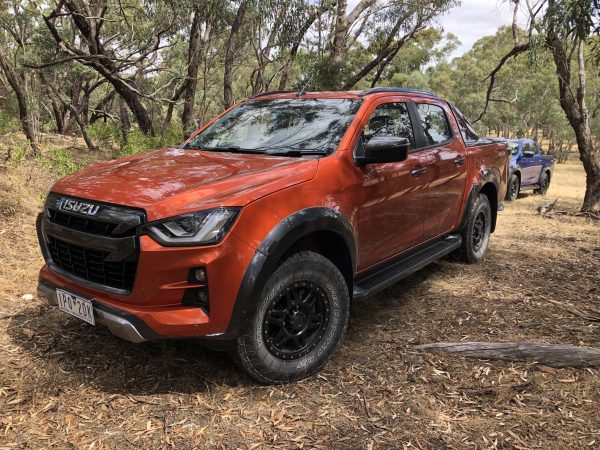 Militant Shadow and Predator Shadow wheels make trackside cleaning a whole lot easier to achieve and avoid the 80km/h death-wobble that you might experience with wheels that are badly clogged and now out of round thanks to the clay.
I don't think you need any more convincing, so get yourself down to your local Isuzu Ute Australia dealer and ask the spare parts department for a set right now. They're in-store around the country and if you're about to order a new D-MAX or MU-X why not ask to get the wheels changed in advance of delivery.
Isuzu Militant Shadow and Predator Shadow, available now from your local Isuzu Ute Australia dealer.