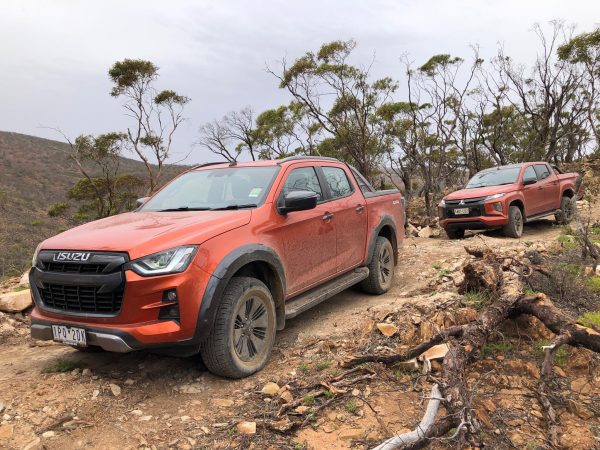 My fellow panellists and I on the Loaded 4X4 desk, Rose, Georgia and Steane, were equally split on their choices between the new 2021 Isuzu D-MAX and the current Mitsubishi Triton GSR after we'd driven them in Episode One of our new web-TV series of Loaded 4X4 in the stunningly beautiful and technically tricky Bendleby Ranges. We'd had the luxury of driving these two, bog-stock dual-cab utes up and down some challenging terrain that would have left others struggling to make the summits.
Along the way we got to make some astute judgments on their worth, both around town and at high speed on the highway and dirt roads en-route and those kilometres confirmed that both vehicles would make great platforms for a competent 4WD tourer. As much as I have admired the Triton now and in the past, the decision for me was pretty easy. I reckon the wait for the new D-MAX was definitely worth it.
Many of you who regularly read our pages will know already that I spend a lot of time in Isuzu's products so it's appropriate that I make a little disclosure here in the interests of being honest and upfront with you in case you missed it.
Yes, I am engaged by Isuzu to deliver their I-Venture Club around the country. In case you are unfamiliar with that, it is a customer retention and goodwill program focused on skilling owners of D-MAX and MU-X in the use of their vehicles. As a driver trainer, it's my job to inform those owners of the strengths and weaknesses of the vehicles so they can get maximum enjoyment from them.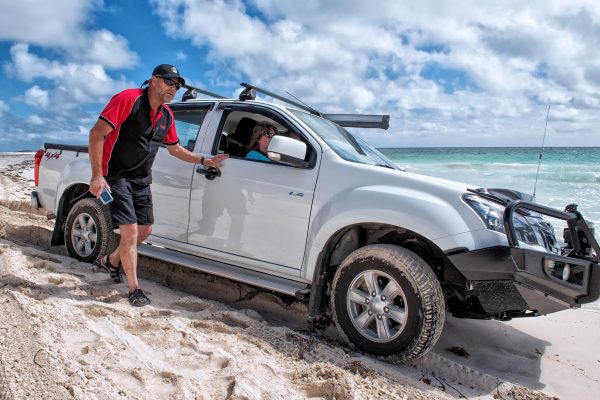 I also personally drive a D-MAX and an MU-X and here might be a point of difference to many other motoring commentators, as I paid my own money to buy those vehicles. That price was likely the same as any of you would have got driving a really hard bargain, so no sweetheart deals were really swinging. It was a conscious decision to purchase an Isuzu because at the time both vehicles suited the family's business Adventure 4WD and recreational purposes. For some additional context, we've run Nissan, Land Rover, Mitsubishi and before them, Isuzu products (wearing Holden badges) the mighty Rodeo and Jackaroo, twenty-odd years ago (the 2.8 litre diesel in the Rodeo was a glorious motor and likely set in stone Isuzu's durability reputation in LCVs).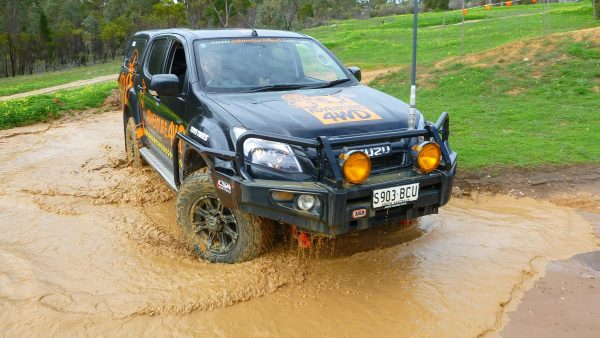 My existing D-MAX gets used daily at Adventure 4WD and the MU-X is Rose's personal truck, doing all the suburban roles a family vehicle might do and then taking us away on holidays when we've got some time up our sleeve. We have lots of experience with the brand.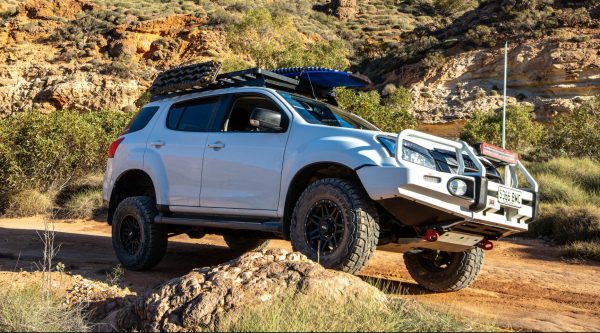 Because I've got skin in the game and because I've been brutally honest in my assessment of Isuzu's fleet in these pages and elsewhere before, coupled to driving every make and model at work on a near-daily basis (so many Hiluxes and so many Rangers), I think you can have some comfort in knowing that my opinion counts and is reliably reliable, so here it is.
I likely don't need to tell you that the previous generation D-MAX followed the same lead that every other Japanese vehicle maker subscribes to when building a 4WD vehicle and that is to provide a platform that satisfies the curiosity of 90% of buyers and they're the ones unlikely to be heading bush.
That's the great shame for the modern 4WD; suspension too soft and incapable of carrying a load and with barely enough stretch to clamber over things, traction electronics that are tuned for on-road rather than off-road, engines with just enough grunt to deliver the job but leaving nothing in reserve, interiors that are uncomfortable on longer distance drives and brakes that are frankly a joke (drum brakes in the back axle are beyond antique and whilst we're there, so too leaf springs). Doesn't matter who makes them, they all roughly follow this script.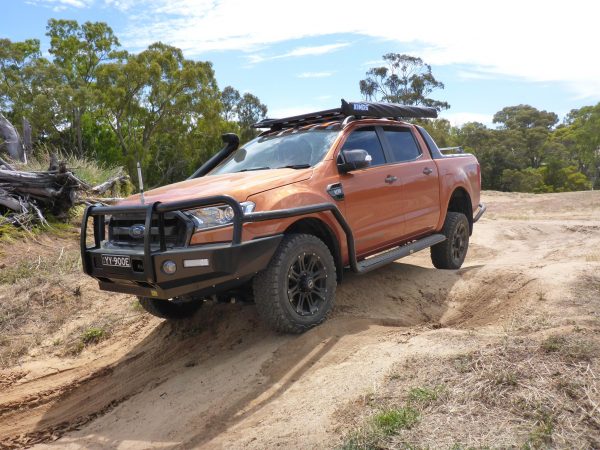 Instead of there being an evolution of 4WD capability, there's a devolution going on with the modern idiom of 4WD ute design except for Jeep's Gladiator and Jeep make no apologies for going down a traditional path and sticking to their guns. They sell like hotcakes in the USA and the brand could have done well here in Australia were it not for a previous management's mishandling and reputational spoil. It seems what I crave in the Jeep model as a benchmark, is successively being ebbed-away with the release of each new 4WD from elsewhere.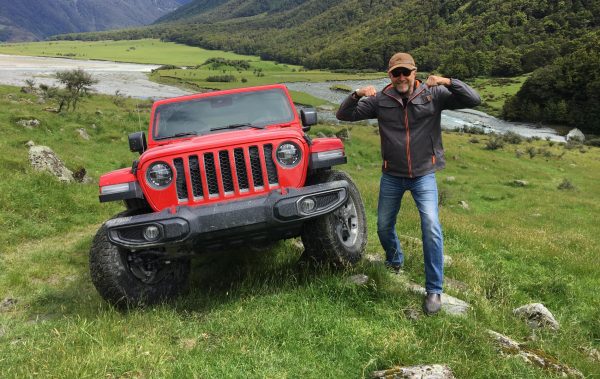 So, take this discussion as a commentary from someone who goes four-wheel-driving regularly and uses them day-in, day-out, rather than a journo who's just going through the motions of a cookie-cutter review and likely would prefer reporting on the latest VW Golf with Apple CarPlay. VW and Apple CarPlay… pfft!
There's big news all over the place with 2021 D-MAX. One of the biggest is the motor. I frankly thought the 4JJ1 wouldn't carry over here in Australia, a victim of future emissions requirements.
I fully expected the 1.9 litre twin-turbo RZ4E would be the donk for the future and made-ready for hybridisation and if you think that's a pipe-dream think again, as Aisin in Japan already has hybrid motors ready to drop in-between existing diesel/petrol and auto transmissions, slotted into the torque convertor housing for added boost and fuel/emission efficiency. All that's needed is some room for the battery pack in the floor. It is coming. There is no way Isuzu have designed this platform, with a life-expectancy of likely a decade, to not have a mid-life injection of mild-hybrid in mind. There's some news.
Reducing engine capacity would have followed the European lead seen in Ranger/Raptor and Amarok and before you cry foul, the Ford 2.0 litre bi-turbo offering fairly flies whilst the VW is, well, average. As they're getting into bed together next year, they better sort that out and you as a consumer should be ready to embrace smaller motors because they'll soon be the norm rather than the exception, albeit boosted with a hybrid package.
The Isuzu 3.0 litre diesel was rebirthed and renamed 4JJ3TCX and the magic wand waved over it is pretty amazing. The old 4JJ1 that was the stuff of legend (at least in terms of fuel use, durability and reliability, not-so-hot in power output or noise amplification stakes) is now a way-more sophisticated powerplant in its 4JJ3TCX form, with a new engine block cast in a way to make it more rigid, with new pistons and I'd assume a new piston crown and head/valve gear and injectors, electronic turbo, as it is much, much quieter.
I compared it in a recent article to sounding more like a diesel X5 Beemer than a TF Rodeo from the '90s. That's hugely important because the drone from under the bonnet in the previous generation was rowdy and I'm sure has contributed to my tinnitus. Now it's a much quieter space and dare I say it… quiet enough to hold a conversation and hear a reply in a softly spoken voice!
In the horsepower stakes, there's been a subtle improvement, a shift from 130Kw/430Nm to 140Kw/450Nm and all of that torque available between 1,600-2,600rpm has made a big difference (you'll find 400Nm everywhere else), but I think we might attribute the seat-of-the-pants improvement I'm noticing is not only that flat and linear torque delivery, but a combination of the new electronically controlled Variable Geometry System (VGS) turbocharger which spools up much faster and with no lag and the transmission tune. The neddies are using their carrots more productively.
Honestly, vehicles in this category should be running 500Nm minimum and Toyota struck a pre-emptive blow upon new D-MAX's release by announcing Hilux would offer just that. Driving the Hilux though is a little underwhelming. I expected more get-up-and-go and it's likely a failure of the auto gearbox's "Toyota tune" coupled to a less linear delivery of torque. The on-paper numbers suggest otherwise, but driving them only a day apart left me feeling the Hilux was missing some claimed extra fizz.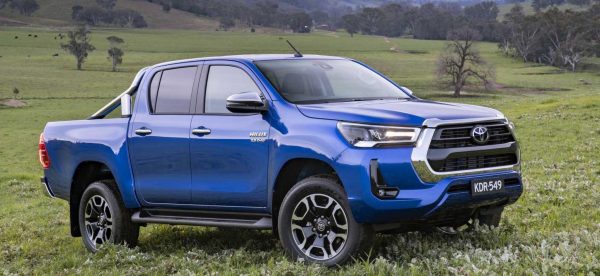 As a marketing ploy, you know Toyota was hoping to stem some market share loss with their early 500-reasons-to-buy announcement, but when you drive the two vehicles, you'll see that Isuzu has done a great job of masking that on-paper deficit, but it could have been better. You'll notice it when you tow.
You also won't have to worry much about diesel emissions because the reliability of Isuzu's Diesel Particulate Diffuser (DPD) is very strong, something Toyota had firmly in the forefront of their mind when they "revised" the previous problematic 1GD-FTV 2.8 litre to fix the DPF issues that culminated in a class-action lawsuit that's still rumbling through the court system. Oh what a feeling! The Isuzu system was first introduced in D-MAX and MU-X in 2017 and is reliable, but the new version is simpler in its operation.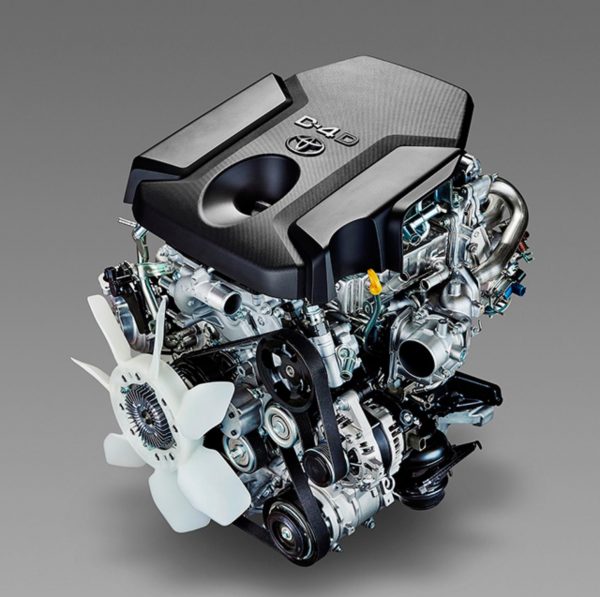 Time to mention Aisin again. They're the automatic gearbox maker to the stars when it comes to Japanese dual-cab utes and wagons (found in Mitsubishi Triton and Pajero Sport, Toyota Hilux, Fortuner and Prado, Isuzu D-MAX and MU-X, Mazda BT50). The six-speed AWR6B45 tranny in the D-MAX is now a sweet thing holding onto gears much longer and no longer scared of a gentle ascent.
It's also intuitive, nothing new there, but again the gradient/braking logic seems to work much better than before.  Getting it out of "D for dumb" and using the sports-shift function is a cinch for stirring the pot manually and essential for trails that take you into the hills and beaches where it's soft. But there are alternative methods that are worth copying.
The area that Triton kills most utes, D-MAX included, is in its use of Mitsubishi's Super-Select 2 (SS2) part-time/full-time transmission. Let's get this recorded now; SS2 and its predecessors are the best 4WD transmissions in the business (if it had an ability to unlock low-range it would be better than perfect). Only Jeep offers something of equivalent stature and called Rock-Trac, seen on Wrangler and Gladiator Rubicon. Bad luck if you buy a poverty-pack Triton because you'll get the part-time only Easy-Select. Spend a bit more and you'll cop SS2 and it's worth it and that was in the test GSR we had.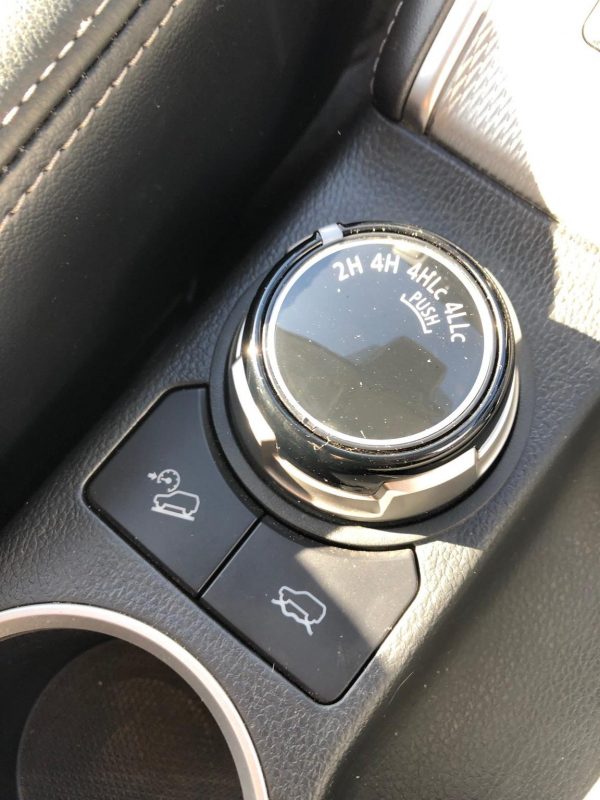 Now, my learned editor Steane, who punts TREV the Triton daily often is heard asking why it is that Mitsubishi offers a 2WD/2H position at all when the bitumen and low-risk dirt is best done in the AWD/4H position?
Those who've done their research know that's the best slot to be in in a Triton or a Pajero and offering the best grip on all forms of bitumen and good dirt and it won't fry the transmission. But Aussie males are dumb-bastards when it comes to embracing clever technology and 2WD/2H is their default setting anytime they're not bogged. Most of them have never experienced the benefits a full-time transmission can bring. Mitsubishi obviously doesn't want to offend them by removing that choice.
Coupled to that on the Triton are paddle-shifts, another brilliant idea that keeps your hands up on the steering wheel and eyes in front where stuff is happening, instead of looking down and dropping your left hand to the shifter.
These two considerations elevated our estimation of Triton considerably and I know influenced the thinking of both Steane and Georgia in their assessments of both vehicles.
But back to basics and Isuzu's part-time system is much improved over the old version and still has a place in the world.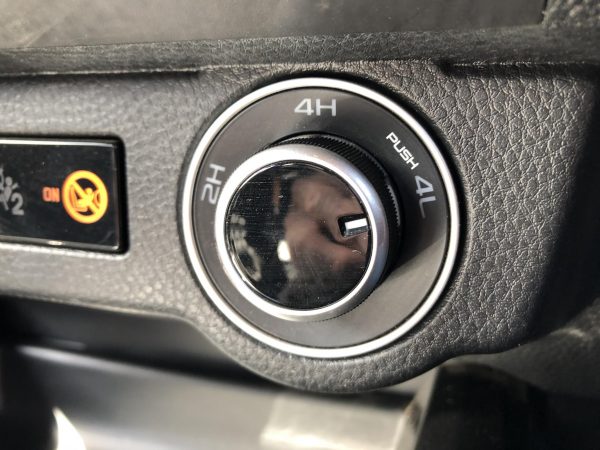 You had to be patient with the previous model, especially with the change into low range as it was slow and sometimes temperamental. The shift-on-the-fly engagement from 2WD/2H into 4WD/4H is a doddle and manageable at speeds up to 100km/h (but don't travel on dirt at 100km/h because one day it will kill you, a more sensible maximum is 80km/h), whilst low range you'll need to be stationary and in neutral with the auto. The audible clunk is now a distant memory and engagement done fast. The dash display is more obvious too and that's a good thing, especially for those of us with old eyes. Big plaudits on those changes.
Hmmm, where shall I go now? Let's tackle off-road.
This is an area of great improvement and also a great disappointment, depending on the terrain you're on. Sadly the world's safety Nazis are weaving their intrusion into the off-road world where once they dared not to tread.
If you're driving in a hard, as in a rocky/firm environment, you'll likely not be troubled because you'll want all the stuff on, but in the sand, it's not so easy.
So, here's the good news.
New D-MAX has finally got itself a Brake-Traction Control system that works in low range. The previous model suffered greatly from that omission. My own experience with my 2014 D-MAX was that having open diffs front and rear meant that as soon as a wheel lost grip and started to spin there was nothing a driver could do to counter the reaction other than to get off the accelerator pedal and beat a hasty retreat because waiting for traction control to kick in was worthless.
The problem was that the GM/Isuzu partnership forged pre-2012 was blighted by underfunding for R&D in this critical area, the traction system developed for the Colorado/D-MAX twins was dumbed-down to have only one state of tune… for the highway. With it set at around 2-2,500rpm on the clock, fine for a typical on-road loss of grip and it did work well there, but off-road and in low-range it is double the engine speed needed to offer a hapless driver any assistance. It was rubbish.
So what typically would happen is you'll blunder into a cross-axle inducing gully, a wheel will start to spin, you'll prod the accelerator thinking you'll get some assistance and it will spin and spin and spin until you hit the engine-speed activation point and the brakes are applied, too little, too late. Often the nett result will be a bogging (depending on the surface) or a shattered CV joint as the brakes are applied to a driveshaft that's copping a shit-ton of torque. Something's got to give.
On the new D-MAX, the engine speed algorithm has been changed, there are two states of tune. The previous highway mode has been retained to work in conjunction with Vehicle Stability Control and that's good, whilst the selection of low range sees traction control intervene now at around 1-1,500rpm and a much more-tidy result will be obtained. Add a new front end with revised CV joints that are considerably stronger should see plenty of owners driving out of situations like that blissfully unaware of what just went on.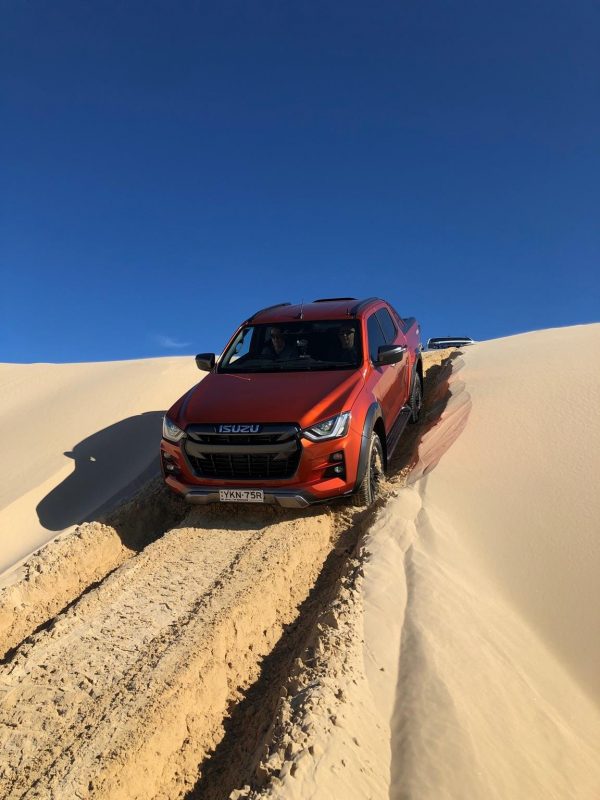 In the sand, I've noticed something else that's becoming increasingly difficult to duck across all manufacturers and that is once-upon-a-time you used to be able to turn all this stuff off. Everyone is making it more difficult to isolate certain systems because they are banking on their electronics being able to deliver in all conditions. They can't. Even those that have multi-terrain modes and change their state of tune for different surfaces often stumble at the last hurdle because they'll brake when what you really want is more momentum.
The new D-MAX is the same. The old model you could rely on that once you held down the stability control button in high-range for seven seconds as you could sequentially turn off traction control and then stability control. In low range stability control automatically disengages because it's a high-speed function of the car, but manual deselection of traction was desirable, so another button depress would fix that. You also needed to remember that upon restarting the car the vehicle would go back to its default settings and you'd have to disable everything once more.
The 2021 version sees that same button-depress in high-range seemingly disabling traction control as well as stability control being knocked on the head by the look of the lights. Go over around 40km/h and weird stuff happens, the engine speed seemingly trimmed and the brakes tapped to counter the inevitable wheel-spin on sand and momentum thus compromised.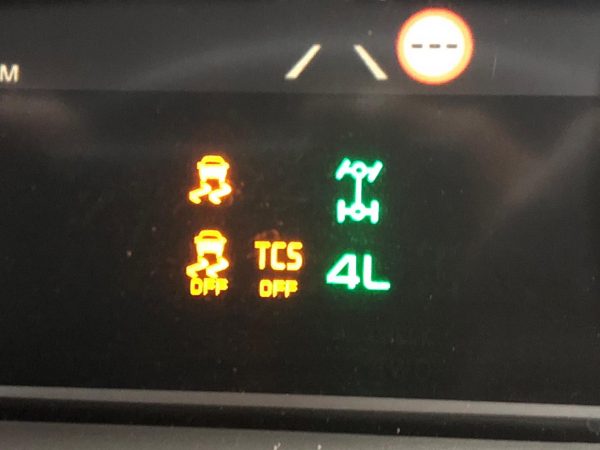 In low-range, you could be forgiven that the dash display is telling you that everything is automatically off as you'll see both stability off and traction off symbols, but buyer beware, because whilst the engine speed trimming function appears to have been disabled, the brake function of traction control is still lurking in the background and can't be manually disengaged.
Again there's a speed threshold where once you overstep that 40km/h mark the car will start to reimplement the safety systems as it perceives you're likely about to "crash". It's a frustrating time as a buyer because all makers are taking a different approach on this but it's pretty obvious as the years roll by there'll be a greater and greater intrusion.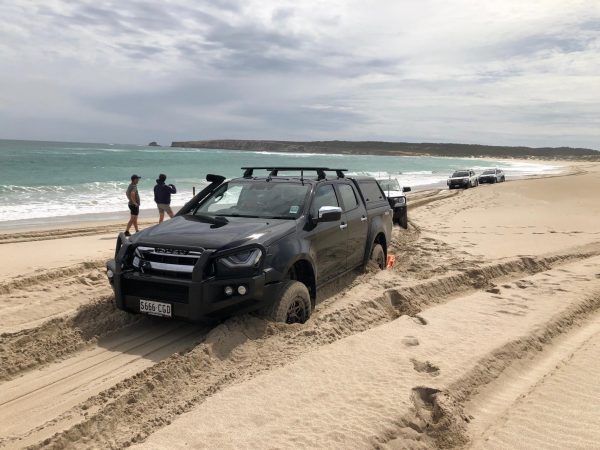 The other big take home for 2021 D-MAX is the back axle now houses a locking rear-differential (RDL) standard! Hallelujah!
This was a massive omission with the previous generation D-MAX as its inclusion would have given drivers some hope in overcoming the failings of the flawed traction control system.
Now you can identify that same gully, switch the diff-lock on before rolling into the obstacle (in low-range only) and it will activate and allow the ute to chug through with little drama. The activation of the diff-lock is a low-range only proposition and at speeds under 8km/h and it will deactivate at 30km/h. There's been more than a few times in the sand in the past when RDL use in high-range has been handy at a higher speed and just for a moment when traversing a likely cross-axle situation or when towing a boat out of the water or a camper across some loose material. Sadly that's not possible.
Isuzu has also gone down the same path as others in deactivating traction control once the diff-lock is selected, leaving the front wheels to do their open-diff-a-go-go thing once more. That could undo all the good work that's going on in the back end. Giveth with one hand, taketh with another.
What's really required here and all the Japanese makers need to take note of this, is that there's no such thing as a piece of terrain that is the same, day-in, day out, they're always changing. All these trucks need an off-road button and at the risk of sounding like I'm a Jeep apologist, both Wrangler and Gladiator Rubicon offer exactly that, allowing you to turn off all the dross, keep the brake-traction active in its specialist low-range mode and allow activation of both front and rear lockers. It can't be that hard, can it?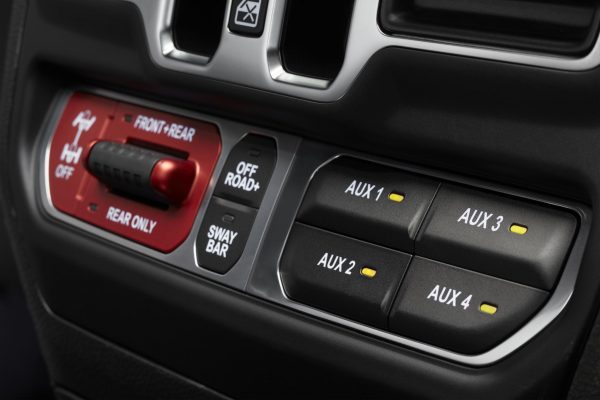 Hill-Descent Control (HDC) has been retained and commendably not fiddled with. Isuzu's version is pretty foolproof and intuitive as the speed at which it activates can be controlled via either a footbrake or accelerator application to decrease or increase the descending rate from the default speed of around 5 km/h to a slower crawl or up to 30km/h.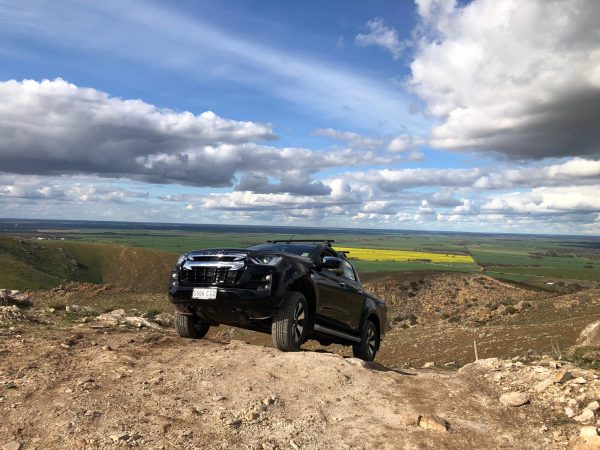 Whilst it's not something I use regularly, there's been a couple of times in seriously steep country where the low-range reduction in first gear hasn't been enough. Activating HDC can pull the descending speed under that gear/ratio threshold. A word of warning though. Repeated application of this tech will eventually run you out of brakes. In hilly country where HDC is tickling the brakes constantly, eventually, you'll get to the point where they overheat and then you'll have none.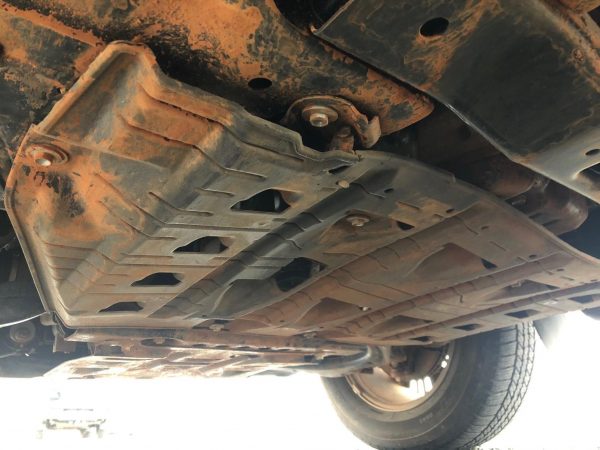 If you were to crawl under the vehicle, you'll notice that there's a sheet of ribbed composite material under the back half of the motor and transmission masquerading as a bash-plate. The MU-X has had a similar set-up since around 2017. Neither work as protection from the elements. Vehicle makers have never been too good at this stuff with previous efforts in steel barely adequate to cop a knock without crushing or tearing. Maybe it's an admission that those who go four-wheel-driving will replace it with something more serious anyway? And on that point, we here at Loaded 4X4 are in development of proper under-vehicle protection for D-MAX and others and likely available late-2021.

And then there is IDAS.
Intelligent Driver Assistance System they call it. Using the new Hitachi 3D safety stereo binocular camera setup (that's two cameras instead of one as everyone else is using), and positioned up high in the windscreen near the interior rear-view mirror and looking forward, IDAS leans heavily on the autonomous world that is coming. This is the combination of a whole bunch of existing safety systems and the introduction of a lot more and making the 2021 D-MAX the safest vehicle on Australian roads at the beginning of the year, as assessed in the new NCAP 2021 crash-testing regime.
A lot of folks will find it a right-Royal PITA, including my fellow panellists, in fact, it's what turned both Georgia and Steane away from the D-MAX when they cast their votes and had them opt for the simpler Triton. Rose and I however talked it up but with some caveats.
I think you need to have an open mind to it, as a crash is likely to occur when you're distracted or fatigued, usually not when you're fully alert to what's going on. IDAS will prevent crashes in those situations when you're off with the Pixies. If you're paying attention and the warnings are going off then you're likely driving too aggressively, trying to poke your nose into a gap that doesn't really exist, tailgating the vehicle in front or entering a corner or roundabout with too much speed and too many vehicles. In those instances, you'll likely be cursing the system as the Isuzu engineers are trying to make you learn a gentler, yet safer approach.
If you really loathe it, it is possible to disable the functions with a deep-dive into the car's menu, but it's not terribly practical because each time you turn the features off everything upon next start will be back on. What it needs is an ability to allow you to customise your own personal settings, so each time Rose gets in the car it says "Hello Rose" and remembers how she likes to do her driving.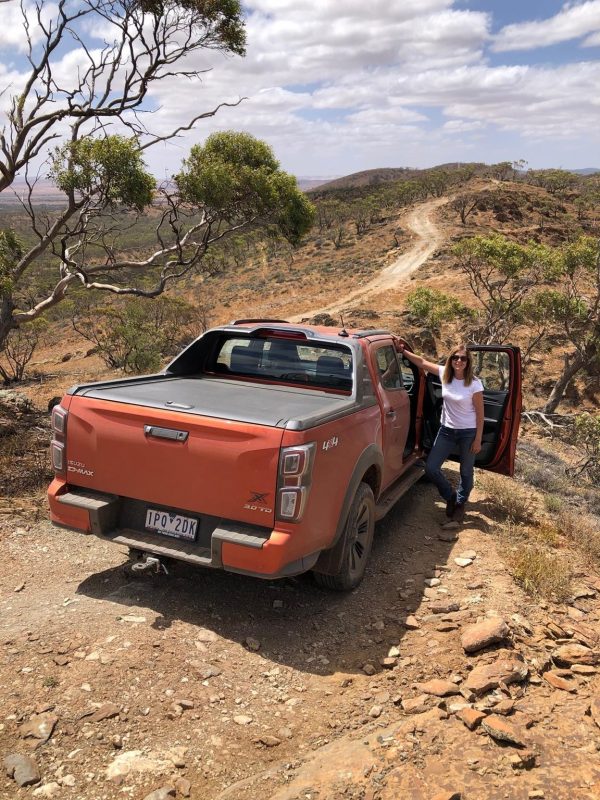 Here's a quick summary of the functions.
Active Cruise Control (ACC) is a cruise function where the vehicle's speed will adjust to match (at a discreet distance) the vehicle in front of you. So, if you've set it at 110km/h and come up behind someone doing 90km/h, the D-MAX will slow down to avoid a collision. In high traffic highways with plenty of different speeds being used you'll get frustrated with the cruise's response and likely turn it off. In an open road situation with fewer vehicles, it's much happier.
Attention Assist (AA) could be a reference for alcoholics anonymous, but its more to do with recognising the onset of fatigue, than indulging in too much tipple. If your path is more weaving than straight, AA will let you know that maybe you're near-asleep and gives you a buzz coupled to a dash display alert telling you to take a break. I know it works because I had a noddy moment on a recent long-distance trip and it likely saved me from an anxious departure into the scrub at speed. Thanks, Isuzu!
Autonomous Emergency Braking (AEB) is constantly calculating the distance to stop and if the system perceives a threat ahead it'll apply the brakes to bring you to a complete standstill if you missed it. I see the red flash at the bottom of my windscreen around three-four times a day which is the precursor to the brakes being applied so I must be missing a lot of threats (or driving too aggressively)???
Blind Spot Monitor (BSM) uses an array of sensors around the vehicle to alert you to the presence of other vehicles that might be in your, errr… blind spot. Great for avoiding bumps with motorcyclists or alerting you to the fact that someone's drifting into your space!
Emergency Lane Keeping (ELK), Lane Departure Warning (LDW), Lane Departure Prevention (LDP), Lane Keep Assist System (LKAS) works to keep you in your lane space. The camera is taking a look at the lane ahead and importantly the white lines and will actively steer you into the middle of that space. When the road has a curve in it and we steer a path we deem smooth and fluid you might find ELK has other ideas and will give you a little tap in the change of direction to maintain a central position in the lane. If there are no white lines it'll struggle and similarly on a recent wet day with water ponding at the roadside ELK mistook that standing water as my left-hand perimeter and because the shape was irregular was constantly steering me away. If it's really pissing down the system will deactivate because the constant sweep of the wipers coupled to the poor visibility won't give the cameras the true picture they need. It does offer a practical safety benefit on the clear days and when coupled to Attention Assist (AA).
Rear Cross-Traffic Alert (RCTA) does the job of saving your arse. Rear and rear-side facing sensors are on the watch for approaching obstacles or vehicles and will alert you when they deem things are close. That should stop a lot of inadvertent parking prangs at Woolies I reckon.
There's a footnote I need to alert you about the lane-keeping functions and it revolves around wheels and tyres. The stock rubber and size don't suit me so I had a set of wheels lying around and I'd I thought I'd see what difference they'd make. It was a twofold experiment, one to check on the improvement in steering and height/clearance gains and also to verify the increase in brake diameter.
I'm not recommending you do this because a 16" wheel, whilst it fits, is not legal, nor does it allow enough clearance around the front brake caliper in case of mud or stone impaction. A 17" is an easy fit and likely offers the broadest range of commonly available tyre size alternatives in light truck construction and still be legal. In fact, Isuzu dealers around the country can now offer you from the genuine accessories catalogue, alternate pattern wheels in both 17" (called Militant) and 18" (called Predator) and finished in a beautiful satin black. If you want to make a statement and stand out from the crowd this will work!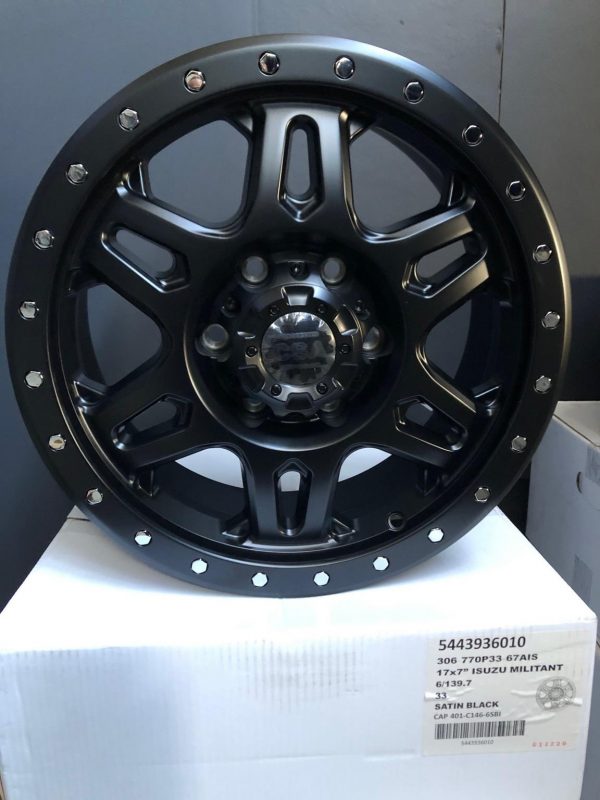 The first observation with the wheel change was there was less interference from the lane keepers, no steering assistance, no alerts and that had me baffled until I read the owners-manual where it stated "ELK may not operate immediately after the tires (sic) are changed or the tire air (sic) pressure is adjusted".  How on earth can that happen? Well after much investigation it appears the cameras rely on a certain ride height. They're aiming at points one metre, four metres, eight metres and up to a kilometre away and my legal height increase of 50mm was enough to upset the angles and therefore the values being measured. And if you took all that in, over-inflation might raise the height of the vehicle just enough to upset things (so stick to the placarded pressures and don't listen to the forum experts who use 40psi as their go-to pressure for everything)! So too overloading. If you tow you better get the balance right because the system is sensitive to attitude changes and a nose pointing to the heavens will likely upset things.
It seems those modification warnings manufacturers have been waving in our face over the years for likely no-good reason, suddenly have some validation. If you make big changes to wheels and suspension there will be an impact on this car and others using the same technology into the future. It may come to pass that accessory houses selling this sort of kit will have to undertake testing to validate their safety post-installation, but boy, that's a mountain of work!
I could go on because there are still plenty of safety gadgets to unpack but I need to canvas the other reasons why the new D-MAX is the best ute out there at the moment and a lot of that has to do with creature comforts.
The new interior is so un-Isuzu.
Gone are the hard plastics, the impossible to open dash-top hatch (replaced with one that opens), the flaky Bluetooth connectivity with the stereo and phone, the miserable navigation and in its place is something thoroughly modern and comfortable. I love the dash and its displays, the stitched faux-leather dash skin and the seats fit my posterior perfectly.
The location of the front seats is a little lower than before, so instead of being perched up high, you're now at what I'd describe as a passenger car existence height. Didn't trouble me too much but the girls noted it was more difficult to see over the bonnet in the scrub.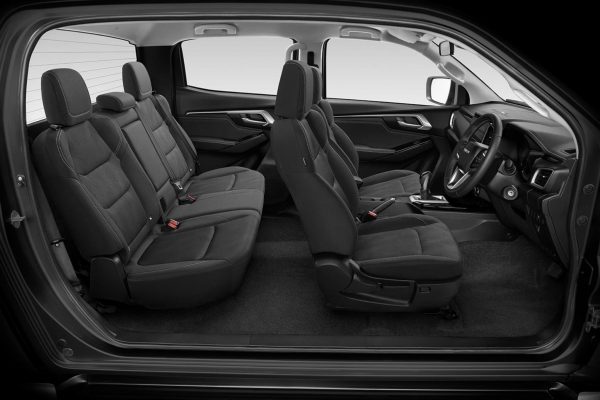 There's even Apple CarPlay and Android Auto for the musicians amongst us and boy can it pump out some noise as there's an abundance of speakers in that cabin. Using an Apple-style Lightning cable into the dash-mounted USB port the connectivity was a cinch and I had everything up and working in an instant. Bluetooth worked nine times out of ten, so that's mostly good. I had my ABC Conversations Podcasts up easily and keeping me entertained for hours on end and awake, that's good.
The new climate control is great as there are his and her settings for temperature changes to the half-degree! The vents are aimed nicely and Isuzu have retained likely their greatest selling point according to Rose… cupholders directly in line with the dash vents to keep your drinks nicely chilled in summer!
I need to bag the wipers, because whilst they might be clever with an articulating function to eliminate trapped debris along the blade length, the washer function is sub-par. Now the water is routed along the blade length there's barely enough wetness to keep the screen clean, again an "improvement" gleaned from the passenger car set. A D-MAX used in the field needs a vigorous jet of water to remove dust and bug grime as the older model could provide.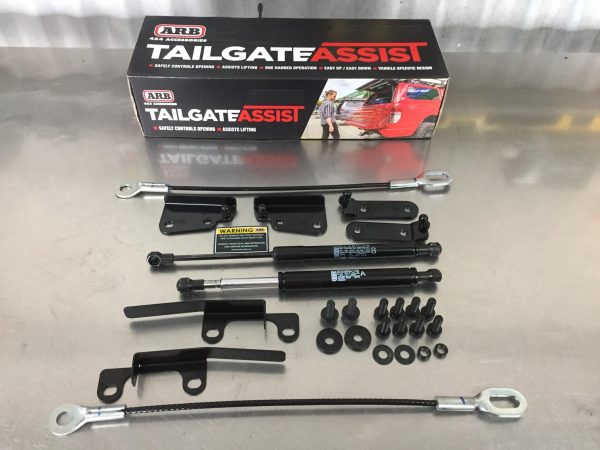 The ute tub is deeper and that's good for containing goods but it's left in a painted finish which won't last, so the standard default is a plastic liner which I loathe. Better would have been to have a spray-in bed liner like Ford have recently offered on the Ranger as it's durable, non-slip and doesn't promote rust. And whilst I'm talking ute tubs another plus would have been some gas struts on the tailgate (and bonnet) because it's heavy and a 12V power-point for the fridge. The aftermarket ARB Tailgate Assist package I've got on my old D-MAX is a breeze, probably the most practical accessory I fitted.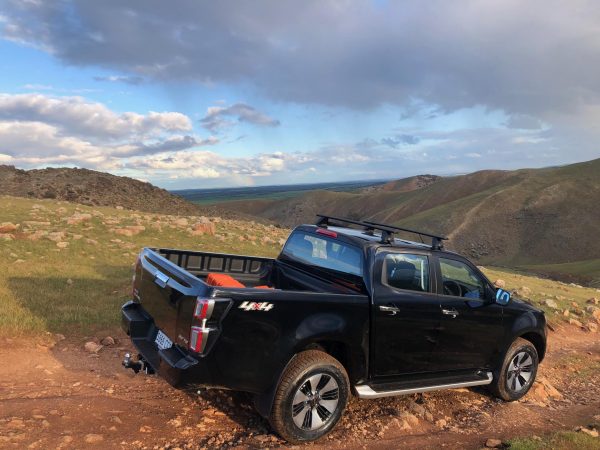 The brakes are better, beefed up in size over the old anchors but still relying on drums in the back. Drums are junk and the standard industry-issue and that needs to change. Used off-road they fill up with grit and that accelerates wear on the friction material. In the space of an afternoon in the mud, there might be precious little stopping ability left whereas a disc brake arrangement won't be flustered at all. Despite all that, in regular on-road service you'll likely find them serviceable.
Naturally, the Anti-Lock Braking System (ABS) works a treat on bitumen and dirt, ties in nicely with Electronic Stability Control (ESC) and is commendably more accurate than any ute in the Australian marketplace in swerve testing we call the "Wombat Test" here at Loaded 4X4. Isuzu also provide an electric brake controller for those of you who tow and for ESC-equipped vans/trailers, it'll allow seamless integration of those systems.
The new stock suspension, IFS up the front (shock/strut/coils) and leaf in the back are better than what came before with better fade resistance, better bounce control and better carrying capability but I wager you'll want more because it's too soft for me and at its current ride height you'll destroy the sidesteps on the first ramp-over test. I was having a whinge about drum brakes before, I'll also make the point that leaves belong on trees. It's about time rear ends were suspended by coils like current Navara, because you can make a coil carry a load, Land Rover proved it twenty-plus years ago with the 130 Defender.
I'm near the end and I've saved the best for last. Nothing steers better than a 2021 D-MAX!
The move to electric power steering was genius. It's not a new technology in passenger cars but it is in utes and what a difference it makes. It makes such a radical change and will encourage more people to dump their old clunkers and upgrade to 4WD from their 2WD existence. It's light and its direct and so, so, so good!
I'm getting the wind-up from my editor now so it's time to summarise. I love the new 2021 D-MAX. It might not have sounded like that with the (constructive) criticism I've levelled, but I'm a different kind of motoring writer guy because I'm honest. If I see something I don't like I'll say it.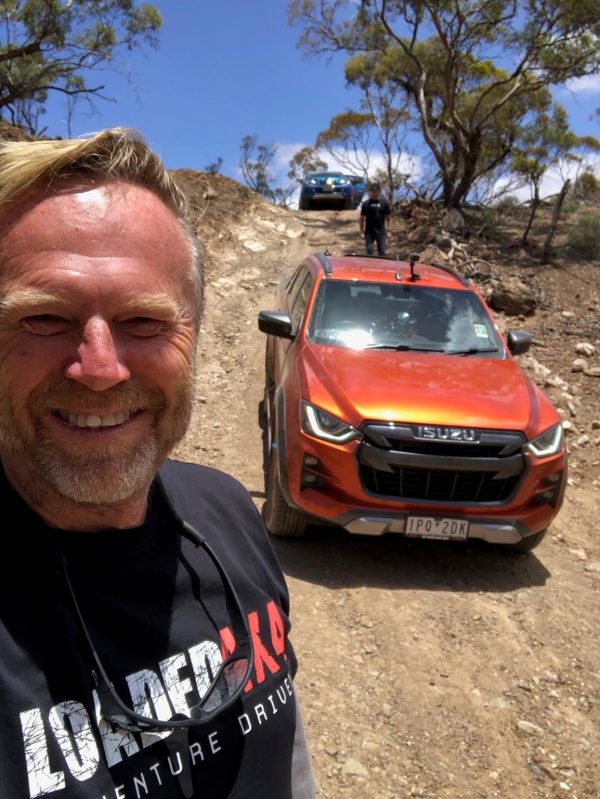 It's not perfect for me but it will be to a lot of folk wanting to dip a toe in the water of 4WDs for the first time and coming from their passenger car existence it'll make total sense as it's comfortable, quiet and totally safe. For existing ute owners there'll be some pushback on IDAS but I'd say to you try it and give it some time, because you'll begin to appreciate what it is doing for you on the most dangerous legs… the highway.
IDAS is a PITA off-road for sure, beeps and warnings from the proximity sensors alerting you to the presence of a twig or stone are annoying, but you can turn them off. On the other hand, Isuzu has listened and given the next generation of Isuzu off-roaders the kit they needed in the form of an enhanced traction system and a rear diff-lock.
It'll be interesting to see how the next-new ute platform reacts to the D-MAX. Isuzu has taken the lead by a nose. Next year's 2022 Ranger/Amarok love-child will want to be offering something pretty special. They won't have the legend of the 4JJ1 coursing through their engine inventory and adding more safety-tech might be an overload. If Isuzu can fix their Covid-shackled supply issues there's no reason why this vehicle shouldn't outsell Ranger and Hilux.