One of the few rays of light in 2020, was the realisation that Nissan was at it again, upgrading their Navara range, and having another crack at making the coil-sprung rear sussy in its higher-spec models work better. They also introduced us to the cool looking Navara PRO-4X, a new addition to the model line-up, confirmed that the 2.3-litre bi-turbo 7-speed auto or 6-speed manual drivetrain remains untouched and teased us with increased payloads, thanks to some rear axle strengthening. Then, just before Christmas, Nissan dropped the pricing, but it was too late, we'd already slipped into a state of Christmas befuddlement, with a sprinkling of WTF as we pondered the year that was.
So here it is folks! If the updated Navara fries your burger – and we think it might fry ours – then drive-away pricing starts at $32,990 (ABN Buyers) for the SL 4X2 manual cab chassis that we have absolutely no interest in. Our interest is piqued from $49,490 which will get you into the entry-level 4X4 ST dual-cab pickup, with the new range – not counting the N-TREK Warrior variant – topping out at $61,290 for an auto PRO-4X dual-cab pickup.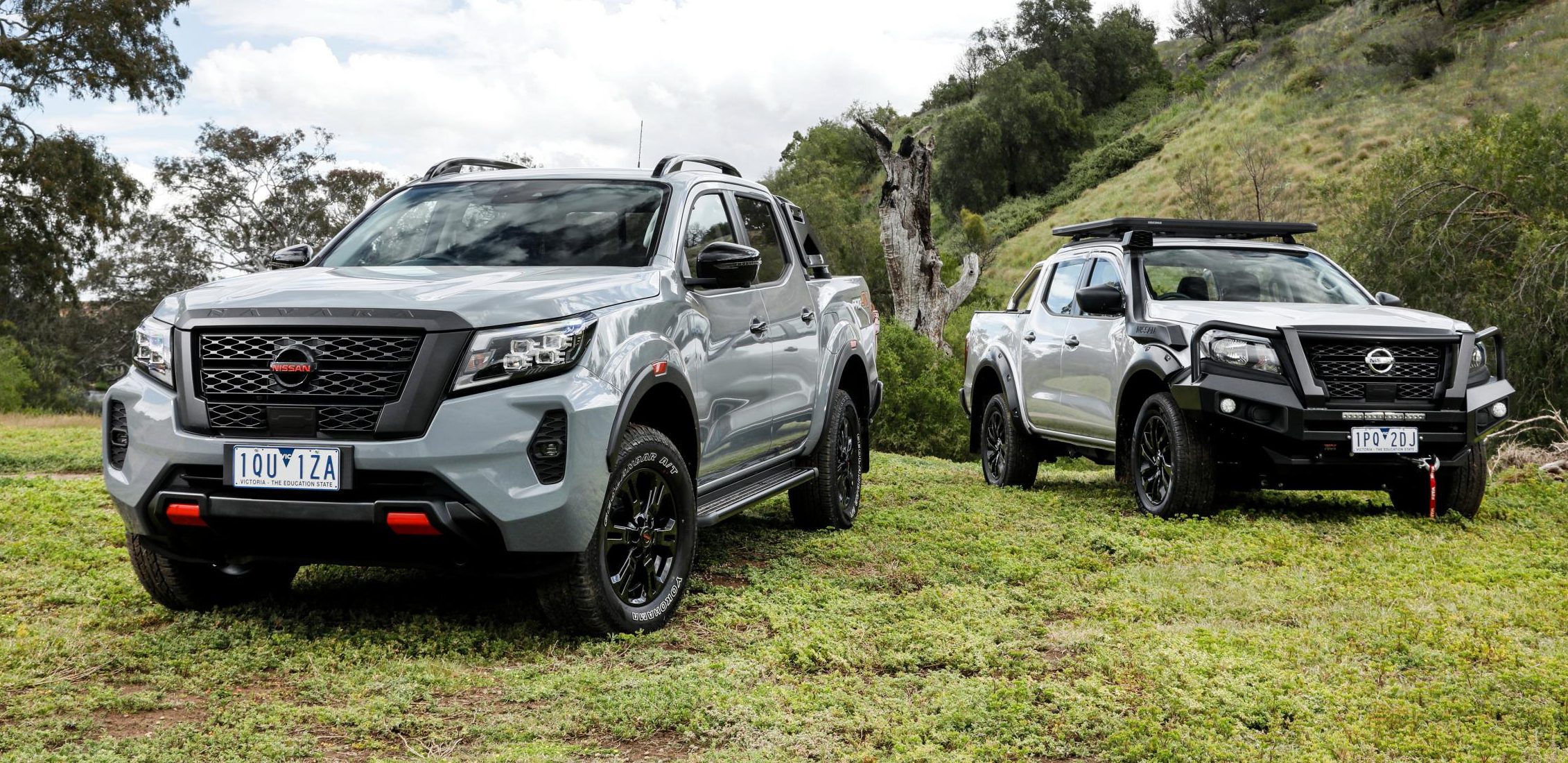 As mentioned, the majority of the range is set to be powered by the same 2.3-litre twin-turbo 140kW/450Nm Renault diesel that powers the current Navara, with the 2WD manual making do with a single-turbo 120kW/403Nm version of the same engine. Transmission choices remain unchanged and include the mildly dysfunctional, but oddly endearing, 7-speed automatic or a 6-speed manual, for folks that like a stick to shift.
Nissan has also retuned the suspension (again), bunged in a new steering rack and strengthened the rear axle, to increase payload to a minimum of 1,000kgs across the dual-cab range. The coil-sprung five-link rear-end will no-doubt continue to imbue the MY21 Navara with a ride quality that the leaf-springers can only dream about, and that's good news.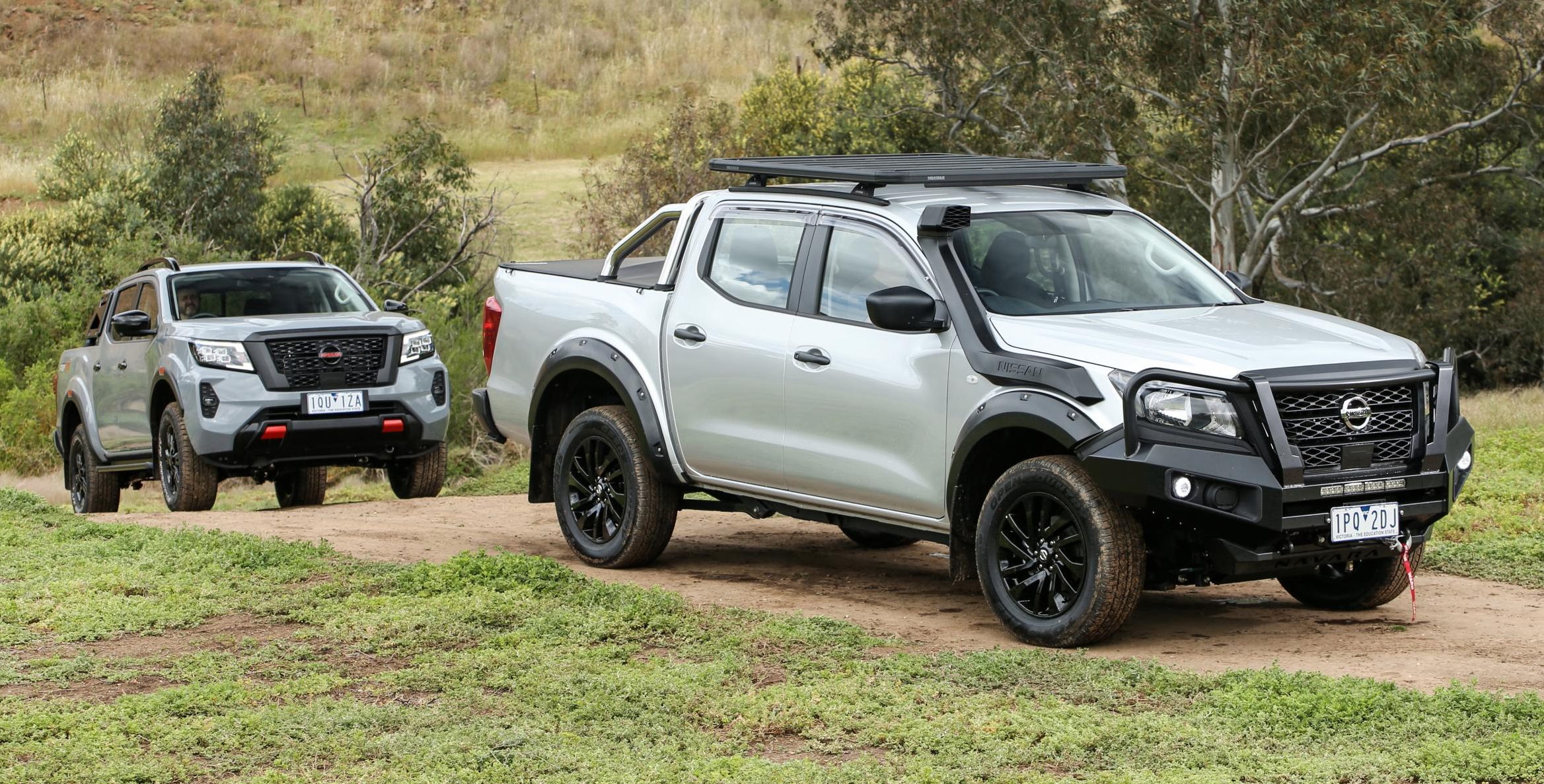 Safety features have been boosted with the introduction of AEB (Autonomous Emergency Braking), Lane Departure Warning, Intelligent Lane Intervention, Blind Spot Warning and Intelligent Forward Collision Warning, among other sticky beak safety technologies.
Inside, the MY21 Navara is said to be quieter, thanks to increased amounts of sound deadening insulation as well as a laminated windscreen and front windows. There's also a new steering wheel and improved styling of the instrument panel highlighting the 8-inch navigation screen and a 7-inch higher-resolution TFT screen, along with the latest Nissan Connect Infotainment software. More importantly, rain-sensing wipers with speed adjustment have finally made the included features list.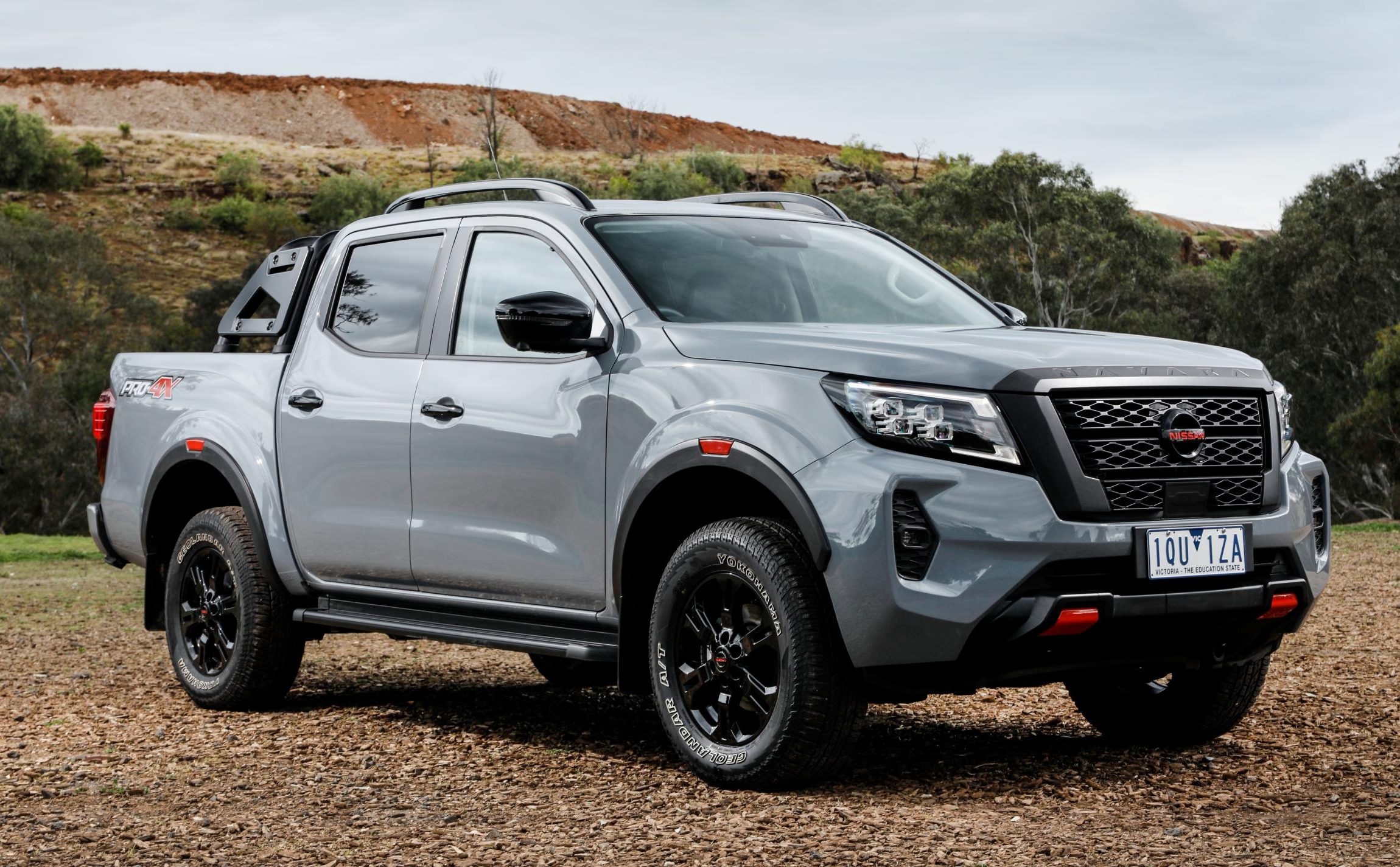 The other news from the unveiling is the introduction of a new PRO-4X dual-cab variant, that gets a bunch of the usual blacked-out stuff, like a black roof rack, black 17-inch alloys and black AT tyres. Inside there are some red trim accents that are said to have been inspired by the colour of magma and that's cool if a little random.
The Premcar tweaked N-TREK Warrior maintains its Top Dog status, sitting above the Navara line up for 2021. It remains one of the best driving 4X4 utes currently on the market, thanks largely to its well-sorted suspension and tyre package, that's good enough to overshadow the not quite right but not completely wrong either, drivetrain.
If you're keen, we'd recommend talking to your Nissan dealer NOW as locking down a new 4X4 in 2021 is going to be harder than driving a Tesla Model X on a beach.
2021 Nissan Navara Pricing
| | | | |
| --- | --- | --- | --- |
| Grade | Body style | Drivetrain | Drive-Away (ABN Buyers) |
| SL | Cab Chassis | 4X2 Manual | $32,990 |
| ST | Dual cab pickup | 4×4 Manual | $49,490 |
| ST-X | Dual cab pickup | 4X4 Manual | $55,790 |
| ST-X | Dual cab pickup | 4X4 Automatic | $57,290 |
| PRO-4X | Dual cab pickup | 4X4 Manual | $59,790 |
| PRO-4X | Dual cab pickup | 4X4 Automatic | $61,290 |