What are the three things that every tank-top wearing 4WDer in Australia wants more than anything else? It's got to be a slab of Bundy, an endlessly looping Leigh Kernaghan Spotify playlist and some 35s on their ute, er, I mean 'truck'.
Tell me I'm wrong!
Getting 35s onto your truck legally is always going to be a drama and making them work in real life, without changing gearing and breaking the bits that make them go round and round is an expensive challenge. But in the UK, if your pockets are deep enough, you can buy a 35" tyre equipped HiLux from your local Toyota dealer.
The Boys From The Bush would love that!
Arctic Trucks are the mob behind this big-footed HiLux and if this is all ringing some bells, think back to an old Top Gear episode where the three ol' boys used some Arctic Truck modified HiLuxes to drive to the Magnetic North Pole. Arctic Trucks has been around for 30 years now, and it's not just the Toyota product that they modify.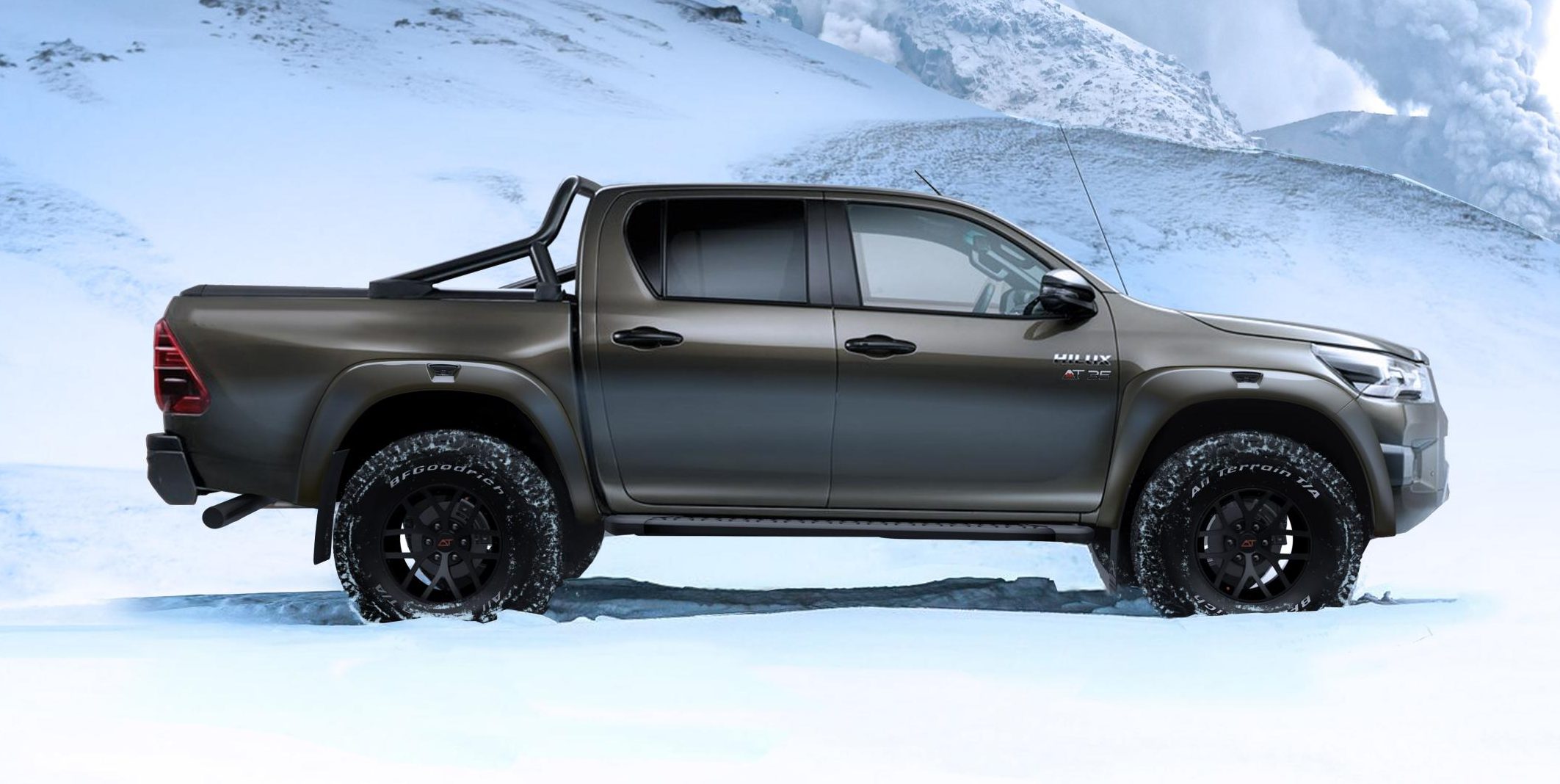 The new Toyota Hilux Arctic Trucks AT35 is based on the recently launched (in the UK) HiLux 2.8-litre Invincible X Double Cab and features extensive chassis, suspension, handling and styling upgrades. Those modifications increase ground clearance by 65mm and approach and departure angles by +9 and +3 degrees respectively.
Key elements include re-engineering of the vehicle's frame, inner arches and bodywork and the fitting of 17-inch Arctic Trucks alloys with 35-inch BFGoodrich KO2 All-Terrain tyres. The Arctic Trucks Bilstein performance suspension system, featuring front springs and dampers, anti-roll bar adjustment and rear dampers with extended shackles, has been updated, producing an extra 40mm of front and 20mm of rear suspension lift. Torque and drivability are optimised with re-gearing of the front and rear differentials.
The benefits include an elevated driving position, superior mobility from the wider front and rear tracks, wider tyres and a larger, 'lighter' footprint for more secure driving over soft and delicate terrain.
The larger tyres provide an increased suspension effect (David Wilson would love them), giving a smoother and faster ride over rough surfaces. They also have a greater range and flexibility for using lower pressures to gain better traction in challenging conditions. The HiLux's 2.8-litre turbo-diesel engine and 6-speed automatic transmission are unmodified.
The rear bar features an integrated two-inch receiver hitch for quick and easy deployment of tow balls, winches, steps, gear carriers or other accessories.
The Arctic Trucks styling features include the company's signature flare package for the front and rear wings, extended-profile side steps, AT35 badging and a 30th-anniversary decal. Each vehicle comes with an individual Arctic Truck's certificate of authenticity.
A range of fully fitted Arctic Trucks options is also available, including full underbody armour, Vision X grille-mounted light bar and Truxedo low-profile load cover. The tyre specification can be upgraded to BFGoodrich KM3 Mud-Terrain tyres and an onboard inflation/deflation kit can be installed, with a 12V performance compressor mounted in the engine bay.
Toyota's five-year/100,000-mile new vehicle warranty is retained, and the model is fully type-approved and retains commercial vehicle status, with no compromise in payload or towing capacity.
All you have to do, after you've moved to the UK, is buy a new Invincible X Double Cab automatic and order the £18,780 plus VAT Arctic Trucks Hilux AT35 conversion.
You'll then be a bonafide Truck Drivin' Man…or woman.