The Next-Generation Ford Ranger Raptor has arrived and here's the headlines for the ADD crew:
3.0-litre V6 Twin Turbo EcoBoost engine
292kW (392hp) at 5650rpm and 583Nm of torque
Reinforced chassis
Next-Generation electronically adaptive FOX 2.5-inch Live Valve dampers
Full-time 4×4 system with electronically controlled transfer
Locking front and rear differentials
Immediately, you'll notice two things. 'Next-Generation' is the latest catchphrase and Ford has listened to all of the noise, and there was a lot of noise, made about the previous generation Raptor's 2.0-litre Bi-Turbo diesel engine which was widely criticised by the press and die-hard fans as not being worthy of the Raptor badge.
Well, there's that and the fact that the next-gen Raptor will be sold into the North American market and the yanks don't do little diesels.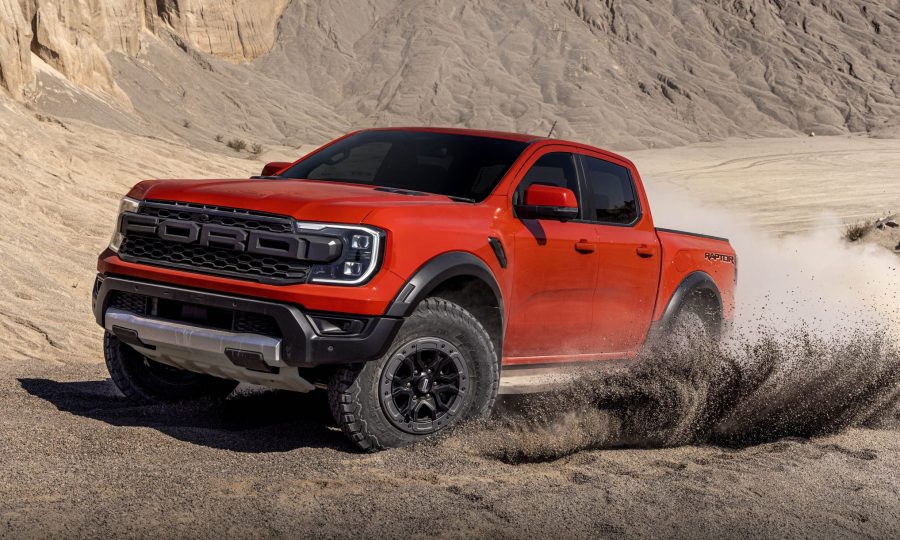 Raptor's new 3.0-litre petrol V6 292kW/583Nm Twin Turbo EcoBoost engine, has been pulled from Ford's North American parts bin, and boasts a compacted graphite-iron cylinder block, which is around 75 percent stronger and up to 75 percent stiffer than the iron used in traditional castings.
On the driveability front, there's a neat anti-lag system, available in Baja2 mode, that keeps the turbochargers spinning for up to three seconds after the driver backs off the throttle, which means its already carrying some boost when they get back on it again.
"The 3.0-litre brings a different dynamic to the Ranger Raptor that will satisfy even the most hardcore performance enthusiast," said Dave Burn, Ford Performance Chief Program Engineer for Ranger Raptor.
"It's significantly faster, looks incredible, is packed with new features, and is the strongest Built Ford Tough Ranger we've ever made."
The Raptor's new EcoBoost engine is backed by a 10-speed automatic transmission, a drive system that, for the first time in any Ranger, is a genuine full-time 4×4 system, a two-speed electronically controlled transfer case and locking diffs at both ends.
What Lies Beneath
You could be forgiven for thinking that this next-gen Raptor is all about what lies upfront, but when you're tired of paying the fuel bills, and it's going to happen, it's what lies beneath that'll keep you're Raptor love alive. The first gen Ranger Raptor was an amazing drive, thanks to its FOX suspension and this new one is sounding like it's a quantum leap forward.
So, it's going to be brilliant.
"The new suspension upgrades in the Ranger Raptor make the most of the new FOX Live Valve dampers. The suspension adapts in real time to enable exceptional on-road body control while absorbing corrugations and bigger ruts off-road ensuring maximum control and performance," said Burn.
Of course, there's the expected chassis reinforcing, and unique frames for the jounce bumpers, shock towers and rear shock brackets, because owners and their mates will see the marketing pics and head for the nearest dune to catch some air, but it's the suspension that's sexy.
All-new, lightweight aluminium upper and lower control arms, long-travel front and rear suspension and refined Watt's link equipped coil-spring rear suspension have been designed to deliver more control across rough terrain.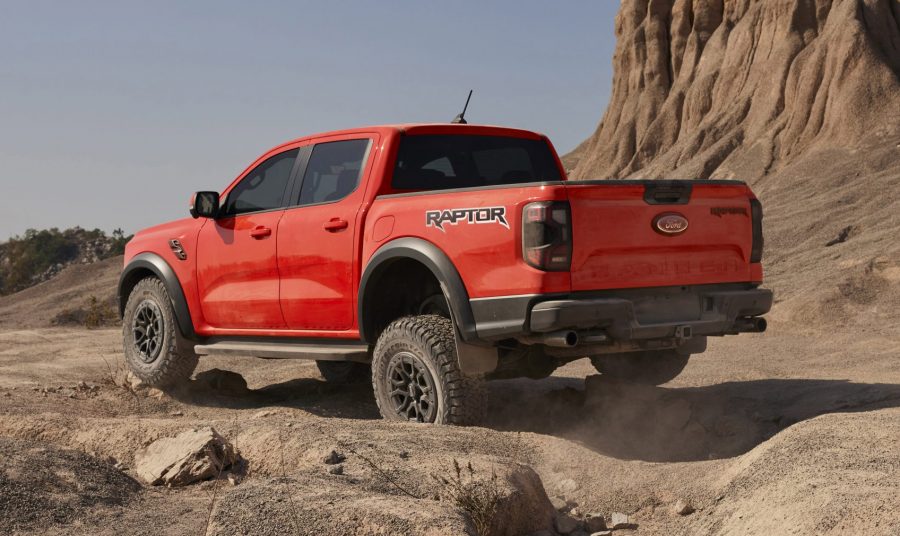 Soaking up those dune jumps are next-generation FOX 2.5-inch Live Valve Internal Bypass shock absorbers with cutting-edge control technology offering position-sensitive damping capability. These shock absorbers are the most sophisticated ever on Ranger Raptor and are filled with Teflon-infused oil that reduces friction by around 50 percent compared to those on the previous Raptor.
Linked to Ranger Raptor's revised selectable drive modes (more on those in minute), the Live Valve Internal Bypass system has been developed to provide better on-road comfort and off-road ride quality at all speeds.
In addition to working with the drive modes, the system works in the background to prepare the Ranger Raptor for different conditions. As the shocks compress, different zones within the bypass system give exactly the amount of support needed for the travel being used, and work in reverse as the shocks rebound back to full height.
To provide protection against severe bottom outs, FOX's race-proven Bottom-Out Control provides maximum damping force in the last 25 percent of shock travel. Likwise, the system can stiffen the rear dampers to prevent Raptor from squatting under hard acceleration.
All Terrain Modes
New Raptor boasts seven selectable drive modes designed to enhance it's performance both on and off-road. There are three on-road modes, Normal, Sport and Slippery and four off-road modes, Rock Crawl, Sand, Mud/Ruts and the high performance Baja2 mode.
Each mode adjusts a number of parameters from engine and transmission to ABS sensitivity and calibration, traction and stability controls, exhaust valve actuation, steering and throttle response, to best suit the conditions and terrain being tackled.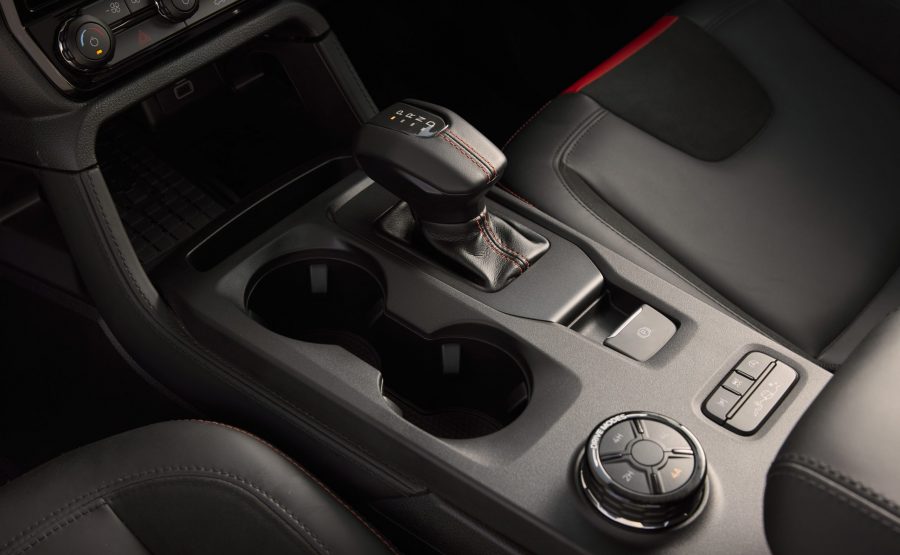 There's also an off-road cruise control system called Trail Control, that acts like an old-fashioned hand-throttle with speeds up to 32km/h able to be set by the driver.
"While Ranger Raptor was inspired by desert racing, it's also a supremely capable overlanding vehicle. Out of the box we've created an off-road vehicle that you don't need to modify to get you where you need to go and back again safely," said Burn.
This is true and was one of my lasting impressions from my review of the previous gen Raptor. It really was a 4×4 you didn't need to modify and this new one would seem to be much the same in that regard, although a long-range fuel tank could be the one 'must-do' mod. Ford hasn't released any fuel efficiency data yet, but you can't be big, fast, petrol-powered, and cheap to run. It just doesn't work that way.
Big Truck Design
The new Ranger has continued the baby F-Truck design that gets all the boys fizzing in Oz, or so it seems, and for Raptor its been ramped up enough to turn the fizz into a fire.
The flared wheel arches, Ford truck DNA C-clamp headlamps, and F-O-R-D lettering on the grille are going to fill Ford showrooms with salivating, cashed-up tradies.
Wheels are 17-inch alloys and fitted with BF Goodrich All-Terrain KO2s.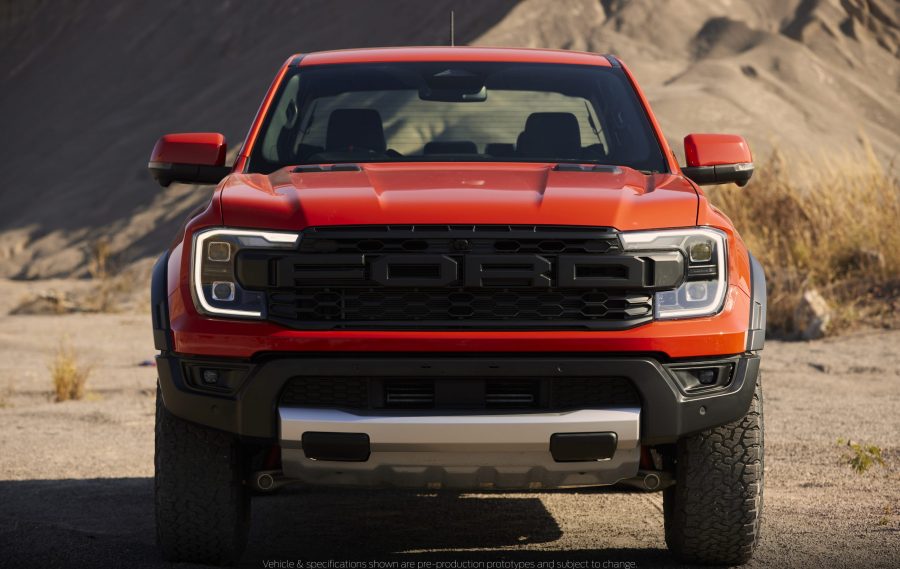 Inside there's jet fighter-inspired front seats, 'Code Orange' accents, a leather steering wheel, and magnesium paddle shifters.
There's also the high resolution 12.4-inch digital cluster found in the upper spec Ranger models and a 12-inch centre touchscreen incorporating Ford's SYNC 4A5 connectivity and entertainment system, which offers both Apple and Android6 wireless smartphone connectivity.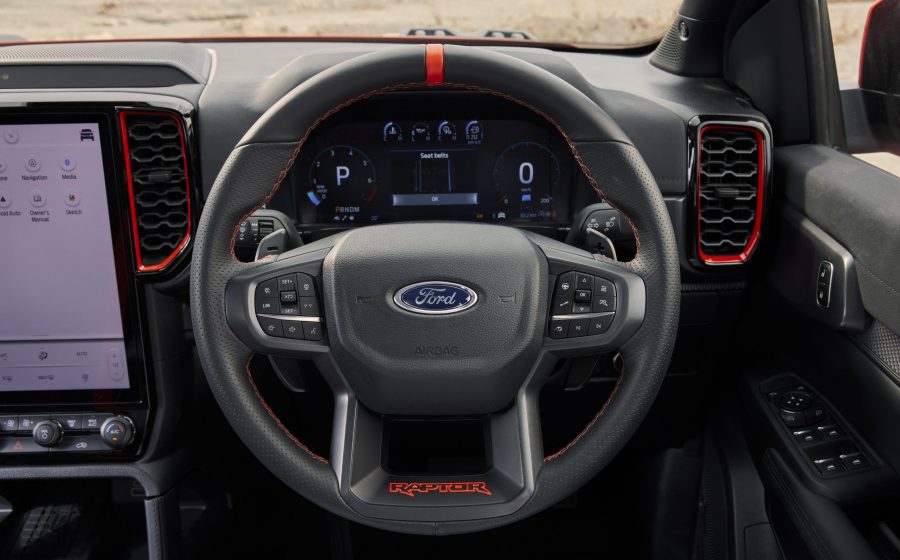 Price And Availability
Ford Australia hasn't released pricing for the new Raptor yet, but there's a very good chance that you're looking at a $100,000+ vehicle here.
We're also waiting for crucial specs data such as fuel consumption, fuel-tank size, payload, and towing capacity all of which will determine how useful this next-gen Raptor will be to anyone looking to do more than just go fast.
The new Ranger is expected to launch mid-2022, and our best guess is that the Raptor will follow shortly thereafter.