You would be forgiven for doing a double-take at that first image. Yes, that's a Daihatsu Rocky that's lifted, locked and ready to rock.
The owner
A fitter machinist by trade, Mitch has always been mechanically minded. That's lucky because this build has been a journey of mechanical ingenuity and determination. Getting home from swinging spanners and honing hydraulic cylinders for Hitachi in the afternoons, Mitch switches to working on his pride and joy. Once his Dad introduced him to camping, Mitch found himself on a slippery slope and now spends more time than ever preparing the Rocky and planning trips to the next destination. Together with his father, they ticked a long-awaited location off their bucket lists with a father and son Cape York adventure earlier this year. Mitch reminisced about the trip, "Just the experience, the people and the places you see were incredible… to do it in two fully custom Daihatsu's was even better and we can't wait to go back again."
That's right; Mitch's Dad Graham also has a Daihatsu Rocky. Graham knew he had to get one for himself as soon as Mick found his and started the build.
The vehicle
The first thing Mitch did when he picked up his farm spec Rocky from out past Goondiwindi was address the copious amounts of smoke it was blowing by ripping the motor out when he got it back home. Being an '89 model, it's running the DL52T 4 cylinder 2.8-litre which isn't a common engine, so he bought a workshop manual and got stuck into a rebuild.
The factory turbo motor has been rebuilt a second time since, and now pushes out a whopping 74kW and 300Nm at the wheels. That may not sound like much, but considering the Rocky left the factory on 27-inch tyres and is now rolling on 35's, that's very respectable. Mitch puts the 20 percent power increase down to the RA Rodeo turbo hanging off the side, as well as re-gearing the diffs to as close to factory spec overall gearing as possible to maintain drivability.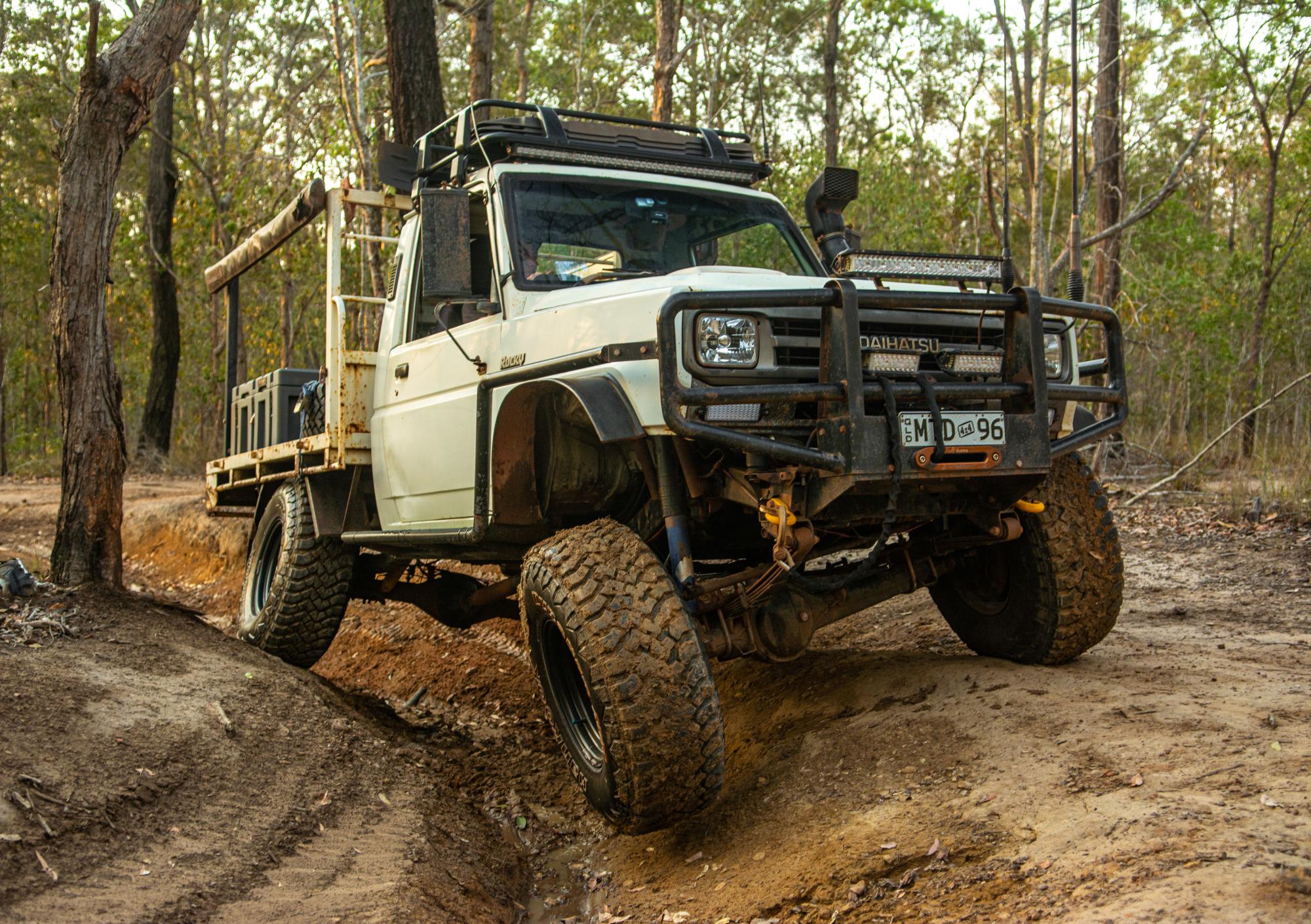 The modifications
The more you look at this Rocky, the more that jumps out at you. The bull bar was custom made at home, with provision for the first of two Runva 11XP Premium winches. Joined to the bar are some homemade brush bars and sliders which extend right up to the tray for maximum protection. Also fabbed up in the shed, the four-inch stainless snorkel and three-inch straight through exhaust allows the little engine some much-needed breathing room. Bolted to the bar are two antennas, one traditional 6.5DB antenna for all-round UHF performance and one to connect Mitch's CelFi unit to the outside world.
Mitch swapped out the factory diff housings in favour of HiLux housings because HiLux parts are a lot easier to find if something breaks. The front Hilux diff is running pre '90 Hilux axles, while the rear housing is a chopped IFS diff, to match the front track.
While the Rocky is sitting nearly a foot higher than factory, it still doesn't look out of place next to a two-inch lifted 79 series. Mitch completed a leaf-over-axle (LOA) conversion with three-inch EFS custom leaf packs to carry the additional weight. Daihatsu ran leaf over axle on the rear and leaf under on the front, so it was only a matter of matching the inverted rear shackles with the correct size leaf pack when the front was changed.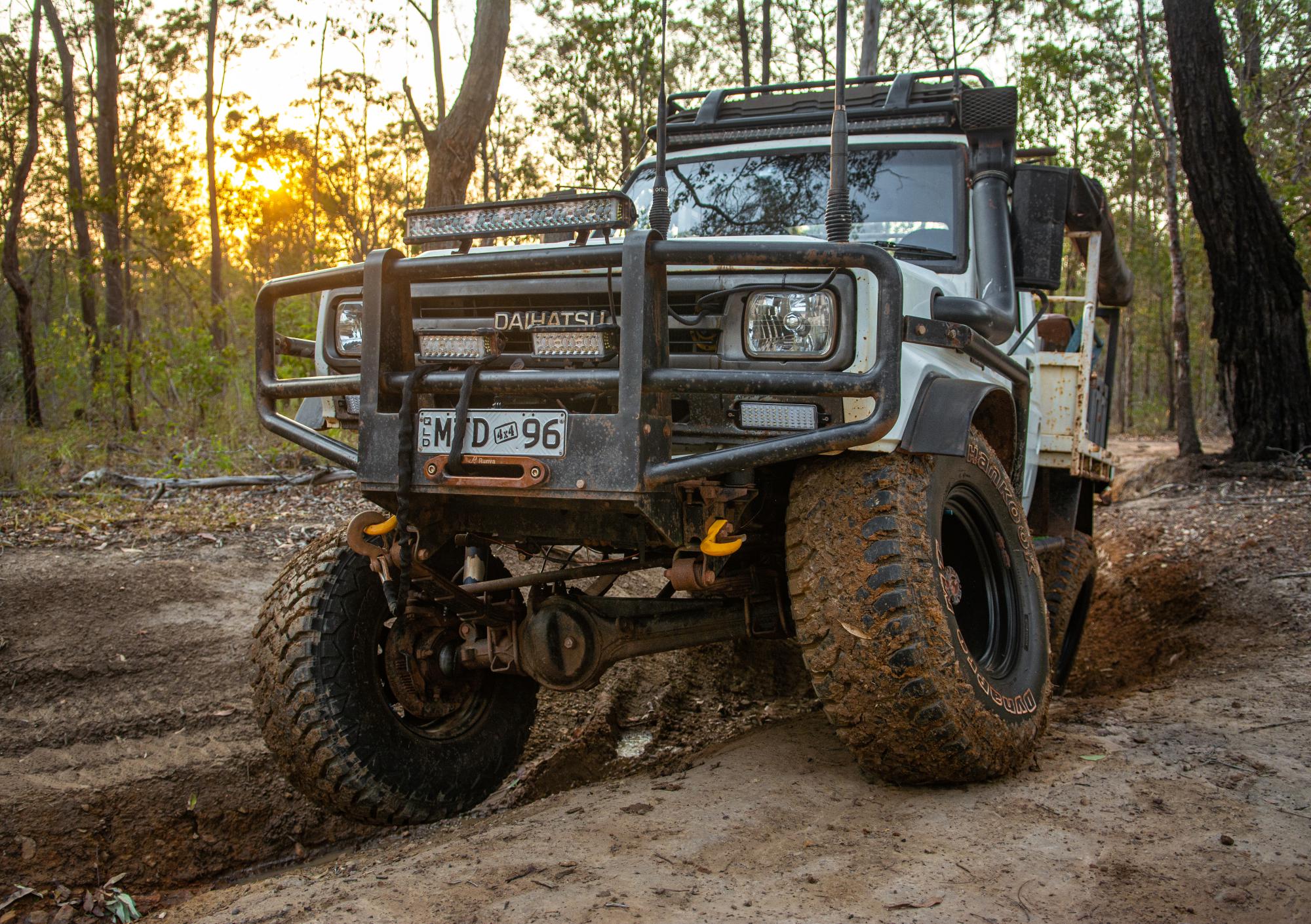 Four-inch Oztech MQ Patrol shocks bolt right in and allow well above standard articulation. With such a large lift, all steering angles and dynamics are drastically different, so Mitch cut down some 75 series steering arms and installed a dampener to return as much steering response as possible.
With storage space at a premium, the roof received a steel roof basket to get some items off the tray. An additional antenna, TRED Pro's, shovel and the Hi-Lift Jack are all mounted up high and out of the way. Providing wrap-around vehicle shade, Mitch has gone for the Darche 270 awning on one side and a standard 2.5m x 2.5m on the other. Opting to keep the tray setup practical, two large storage boxes contain his recovery gear and a simplistic 12V setup.
Powered by a Projecta Power Hub and a CTEK D250SA, there's plenty of power to go around thanks to the addition of an 80amp alternator from a 2H LandCruiser. When he's parked up at camp, chasing the sun with a folding solar panel, there is more than enough 12-volt juice to keep the Waeco CFX50 cool and all the devices charged.
The Rocky's cab is functional, but it was never going to win any prizes for storage space. Mitch has thrown in a set of XR6 seats and fitted a roof console to make the most of the limited room.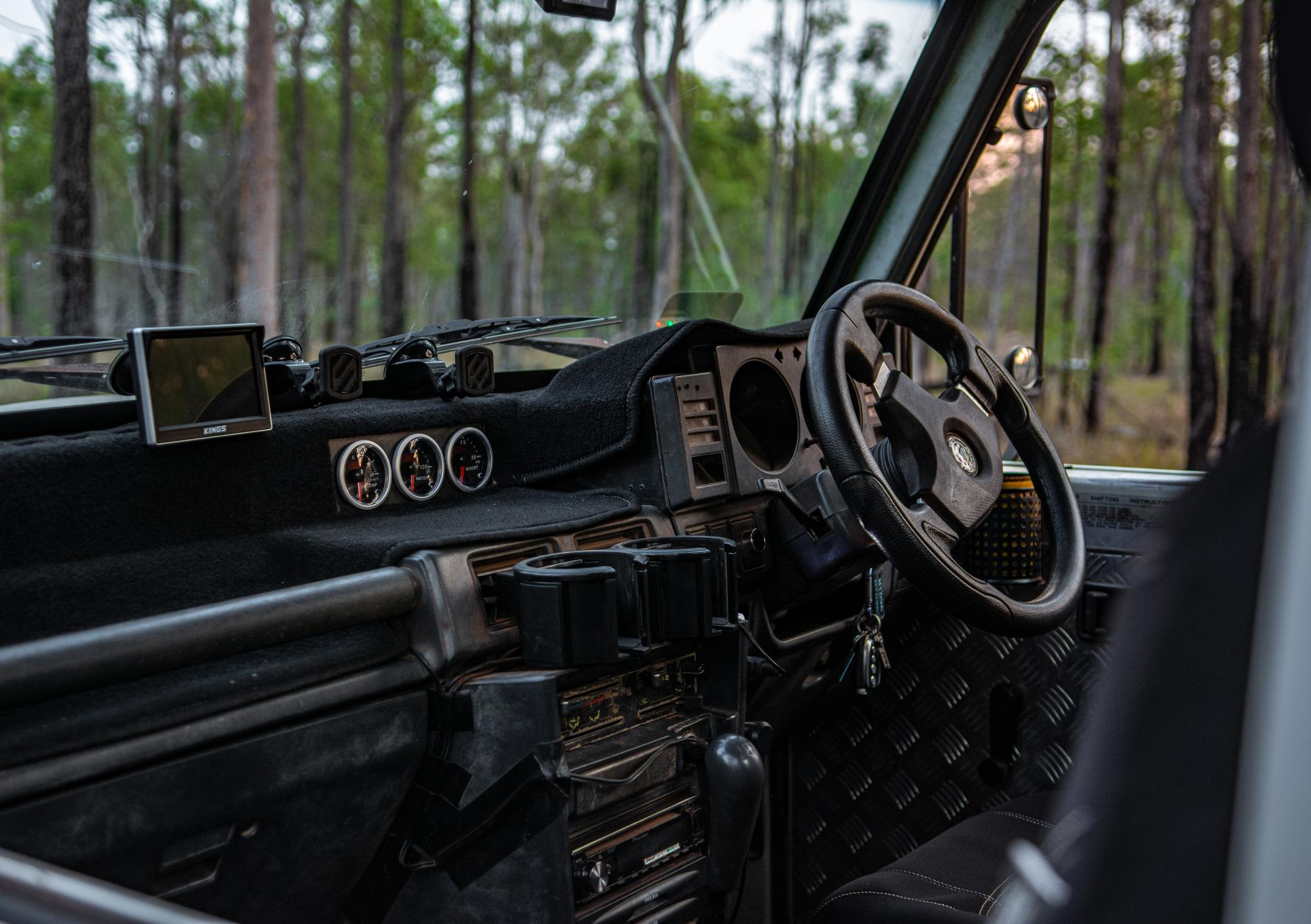 Final thoughts
Pretty much the only thing left for Mitch to do is give the old girl a lick of paint, something which he says is on the cards in the near future. Kudos to you Mitch, for taking the path less travelled and building the vehicle that you wanted to build!