I still don't know what to make of the pending release of Ford's new Ranger here in Oz in the coming months. I thought it was much ado about nothing and I'll have to crystalize that thinking soon and tell you why so. In the meantime I have no such problem when it comes to waxing lyrical about Ford USA's mental Bronco Raptor!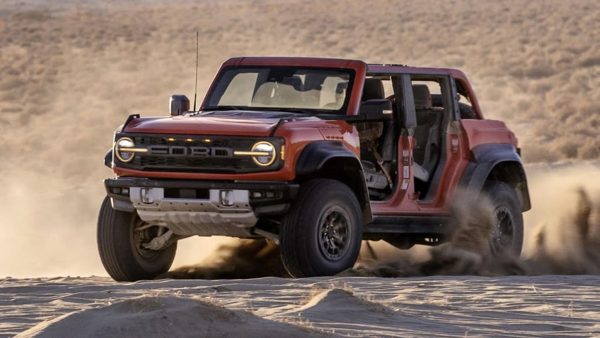 The USA doesn't do basic automotive particularly well, but when the engineers are relieved of stuffiness, man oh man, they create some newsworthy machinery.
This one is aimed squarely at the Rubicon 392, something we wrote about just as new Bronco was about to hit the showroom floors in November 2020. You see, Jeep could see new Bronco was going to be pitched squarely against Wrangler and Jeep/Stellantis needed a halo vehicle to steal some of the Bronco's pending airtime. So what do you do?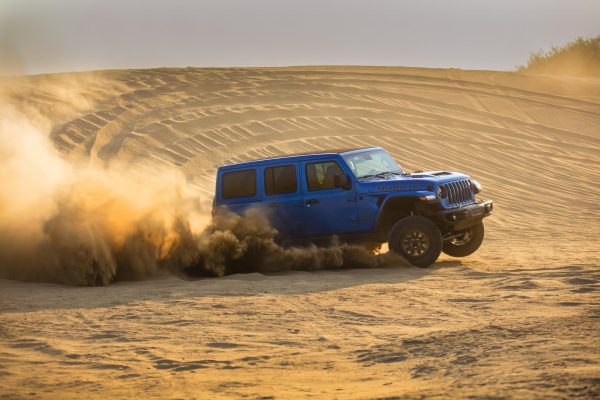 Well, you find the biggest crate motor you have on your shelves, then get the tape measure out and see if it'll fit, if not, find a bigger hammer! Jeep shoved a 6.4L Hemi V8 into that tiny engine bay and produced a 350kW/637Nm chassis-twisting monster that sounds like the Kraken at full noise and is capable of sending rooster tails of track debris into the orbit of jetliners!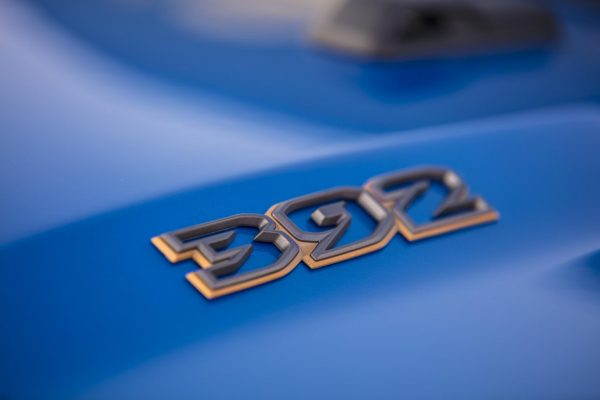 Bronco Raptor drops two cylinders, but that shouldn't trouble you, because the 3.0L V6 boasts twin-turbos and a state of tune good for 300kW! You know despite the numbers being less than the competition, that deficit can often be made up elsewhere, like the transmission and final drive, because gearing can fix a lot of things.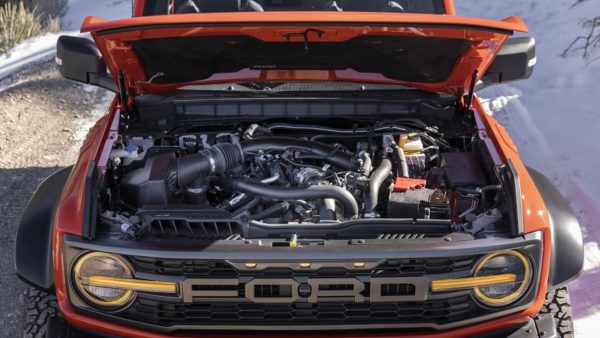 Bronco Raptors run a 10-speed auto trans through a full-time 4WD system that features the cheeky nick-name of G.O.A.T. = Goes. Over. Any. Terrain. Ford, I'm sure really mean, Greatest. Of. All. Time. I've seen vids of Broncos doing their thing on some pretty tough trails and for an IFS machine they're truly capable, in part due to the specification list they boast.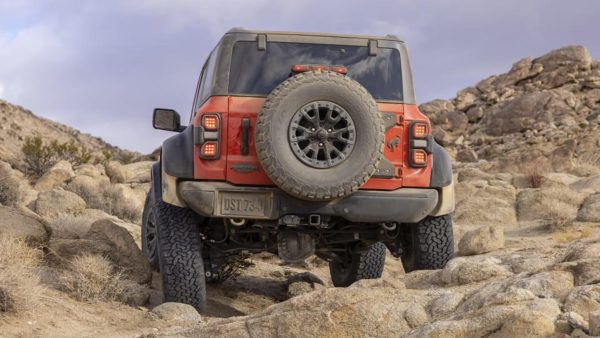 It's something Aussie 4WD owners can only dream about because Bronco Raptor comes with 37" tyres standard and fitted to 17" wheels (of course because anything larger is shite) that are bead-locked, so you can run them at near-zero pressure when you need to and not fear a dislocation.
They picked BFG KO2 to convert those kilowatts to the ground, aided with some quality suspension from Fox (the Raptor's vendor of choice) with adaptive shocks also seen on the Raptor F-150 ute. Apparently these make valving adjustments all the time, monitoring the terrain hundreds of times a second to give you the plushest ride on both big and little whoop-de-dos, so speed humps in town won't be a problem at 100km/h.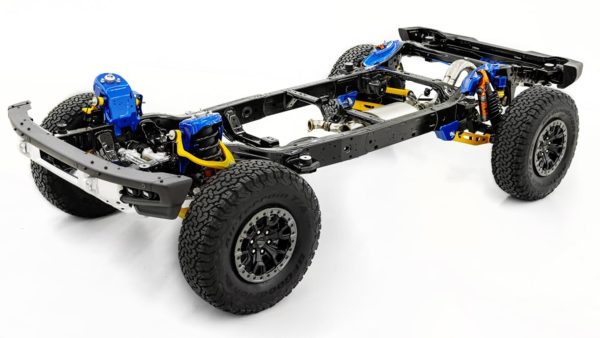 Needless to say it's got the angles all covered, the approach, ramp-over and departure degrees are all extreme, so it won't be dragging its nose, belly or bum on anything with clearance (only 333mm) like it's got.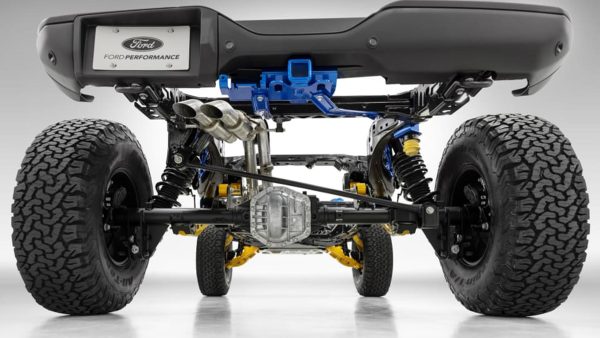 There's also one other newsworthy axle story with the Raptor version and that is an increased track-width, thanks to longer arms, adding 218mm to the already wide Bronco Basic in the steadies to go with the neddies. Stability is King at high speed on the dirt and a narrow skinny-arsed setup will reward you with a squirelly ride. Bronco Raptor wants none of that. Those same long arms afford wheel travel from a showroom supplied vehicle that will make you weep, 330mm front and nearly 360mm at the rear. Holy Moly. And that remember is with IFS!
How LOW can you go? Ford claim a 67.7:1 crawl ratio which will allow you to watch grass grow as you pick your way along your favourite rocky trail.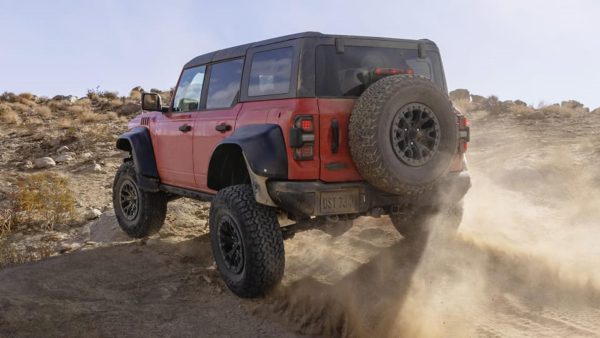 There's the obligatory bash-plates (have you read we're building bash plates for Mitsubishi and Isuzu 4WDs and they'll be out real soon in the Loaded 4X4 Store) for that all-important UVP (that's Under Vehicle Protection), along with proper recovery points front and rear and rock sliders.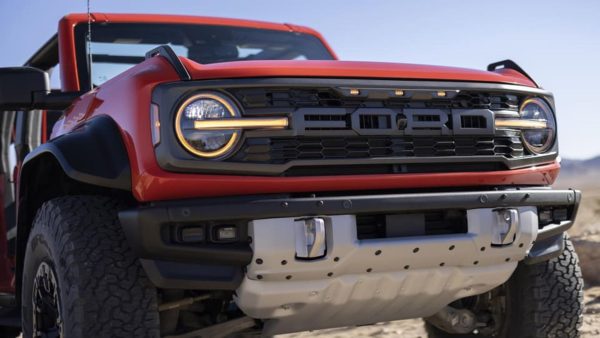 The interior is just how I like it, plain-jane rubberized vinyl floors and marine grade vinyl upholstery for the seats in standard spec. You can hose this sucker out and not rue the decision. If your want is for stupid leather, apparently you can option it. God knows why???
In a nod to Wrangler, Bronco Raptor and Bronco Basic feature removable body panels. You can take the doors off, remove roof panels and customise the guards. Uniqueness for personalisation never looked better than in a Bronco.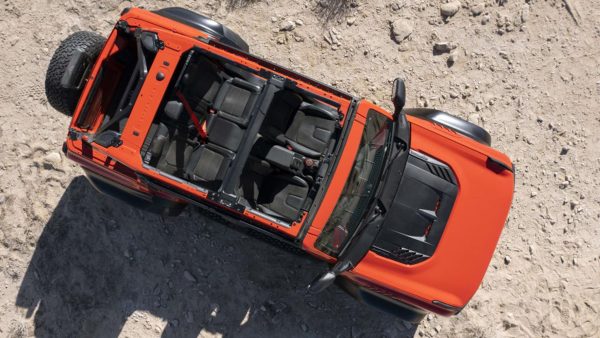 For the influencers there's also a rack built into the dashboard top that permits both GoPros and funky phones to find a home, mounted securely for recording that Moab-moment for posterity. Oh, and it'll keep them charged too, with an abundance of nearby and handy 12V outlets.
As we've noted of late, TV screens in dashboards seem to be getting a life of their own, bigger being better. Bronco boasts a 12" touchscreen with its own Wi-Fi hotspot!
None of this is cheap (is anything these days); Bronco Raptor will hit the USA market shortly for $65K USD ($90K AUD). But when you think about it, it's likely better value than a locally sourced dual-cab bumping in just under $70K Aussie, because Bronco Raptor has all the fruit already on it and waranteed!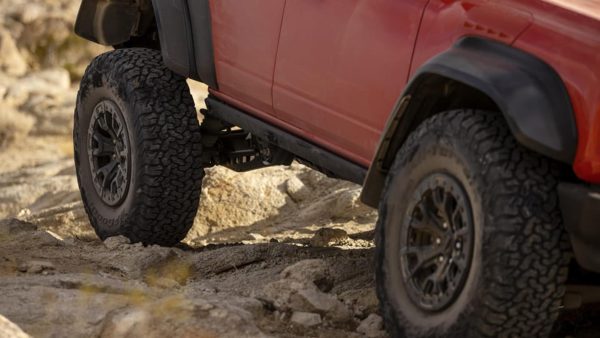 I'm not confident we'll see it here despite the fact it was built on the local Ranger's T6 platform. Surely RHD couldn't be that hard to deliver?
Big ball sacks have always been in short supply in Aussie vehicle-makers product management teams, where conservative judgment rubs out customer desire. Such a shame we're denied stuff like this.