2015 JEEP GRAND CHEROKEE REVIEW BY KARL PESKETT
Price: $78,000 plus options and on-road costs
Engine/Trans: 184kW/570Nm 3.0-litre V6 CRD / 8-speed Automatic
Fuel Economy claimed: 7.5 l/100km combined
Construction: Monocoque
Suspension: Quadra Lift Air Suspension
Payload: N/A
Towing: 750kg unbraked / 3500kg braked
Vehicle class: (MA) – not being an off-road passenger vehicle – this vehicle class has implications for owners wanting to legally modify their vehicle for off-road use, including upgrading tyres and suspension. 
If you had to pinpoint one car that almost singlehandedly turned around Jeep's fortunes in Australia, it would have to be the Grand Cherokee.
With its blend of space, comfort, off-road ability, safety features and quality for a decent price, it seems to have all bases covered, and buyers flocked in droves. It could, of course, be argued that a strong Aussie dollar a couple of years ago helped to get its price down to a more palatable level, which is why more than a few were shifted. But even with the dollar now lagging against the greenback, Jeep still has a line of people queuing up to buy.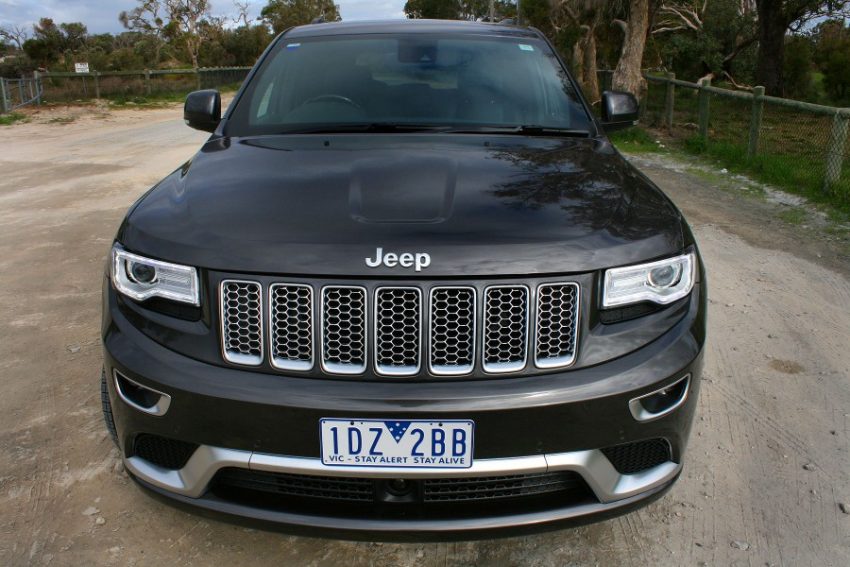 But there are plenty of owners who aren't happy. Half a dozen recalls for the current model and several more for previous models are just the tip of the iceberg. A quick search on Google reveals a plethora of issues common to the Grand Cherokee. So, is it really all it's cracked up to be? It was with some trepidation we collected our Summit Platinum edition, wondering how it would treat us in our week of ownership.
The Grand Cherokee Summit Platinum is basically a GC Overland with more goodies thrown at it. Panoramic sunroof, Bluray player with twin rear seat screens, heated and cooled seats, premium audio, illuminated door sills, driver aids galore – it comes comprehensively stocked.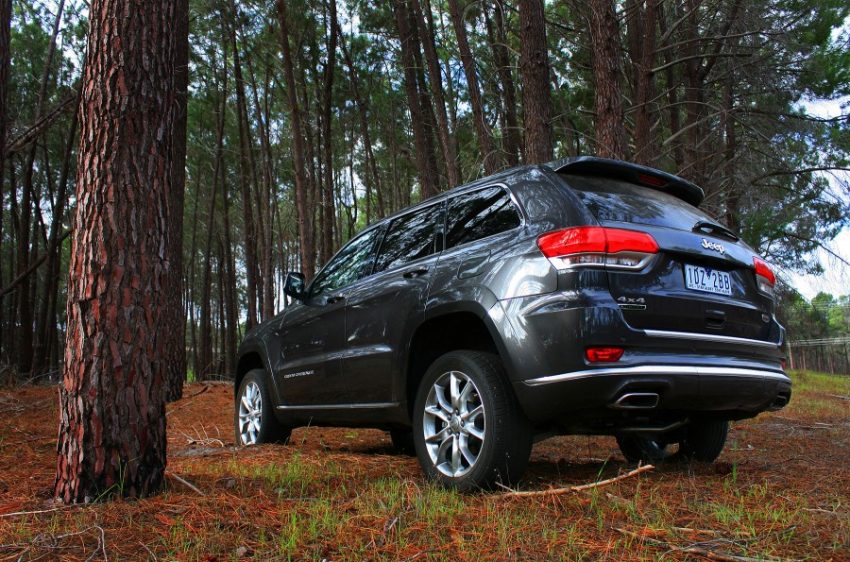 It's comfy, too, in the typical large, flat seat American way. There's space aplenty, and even getting three adults across the back seat entirely possible. The boot is huge and the seats fold flat to become effectively level with the boot floor; a trip to Ikea has never been easier. There's plenty of storage, the cupholders are illuminated, and the kids will be entertained by movies (phew!) on long journeys.
It's quiet, too. In conjunction with double laminated glass and more soundproofing, there's a series of microphones  dotted around the cabin which are linked to an active noise cancelling system (using the stereo's speakers) which, Jeep says, reduces cabin volume by up to 10Db.
But is it what you'd call good quality? Well, that's up for debate. Some of the plastics are far too hard to be keeping company in the sub-$80K bracket, and the matte champagne-gold finish that surrounds the air vents and swathes the centre console looks and feels cheap.
The instrumentation is very cool, however. With a configurable digital display that will show both an analogue-style or digital speedo, it can also display off-road information in the centre, so you can see how tyre pressures are, which wheels are lifted off the deck and their angle, plus suspension operation. This goes hand in hand with the Selec-Terrain dial that Jeep fits to the Grand Cherokee, and displays the terrain mode you've chosen.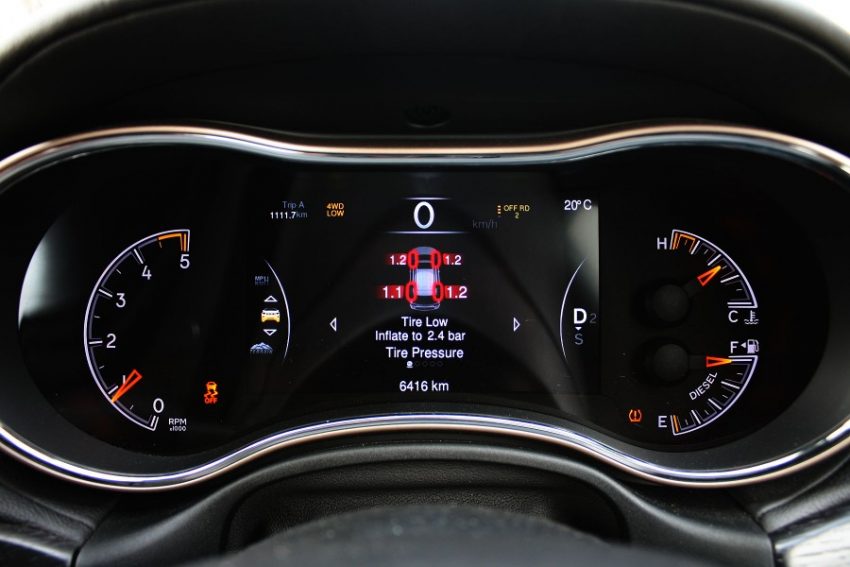 Like Land Rover's Terrain Response system, there are five modes to choose from: snow, sand, mud, rock and auto. Each alters the traction control levels to suit the grip levels offered by that surface, as well as suggesting gearing and suspension options. On the road, though, it's auto that you want.
Normally, 20-inch wheels would count against a car's comfort, with the lower profile contributing to a lumpy ride. But Jeep's done an admirable job in using the air suspension to absorb most of the imperfections in the road surface. Sure, the initial compliance is better on smaller wheeled versions of the GC, but it has a lovely loping quality that improves with speed; when covering the miles, the Grand Cherokee is up there with the best.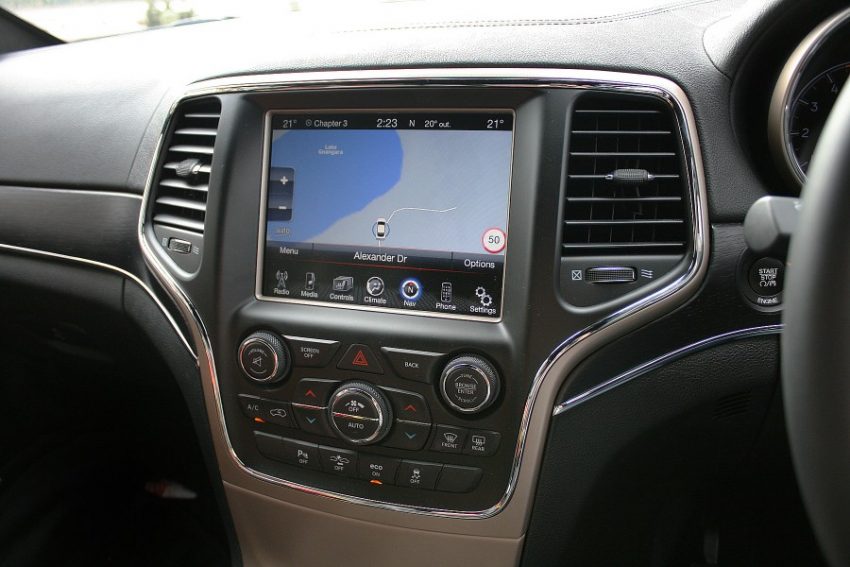 It's not always soft, however. When throwing it into a corner at speed, you can feel the air suspension doing its best to resist roll, which is initially disconcerting as it firms up on the outside springs. But once you get used to it, you realise you can lean on it, especially on long sweepers where it can carry some serious speed, speed courtesy of the excellent 3.0-litre turbo-diesel V6.
Press the start button and it kicks into life with a quick spin of the starter motor and a gruff idle, like virtually all diesel sixes. The outputs are decent; there's 184kW and 570Nm on offer, which is quite competitive in this category.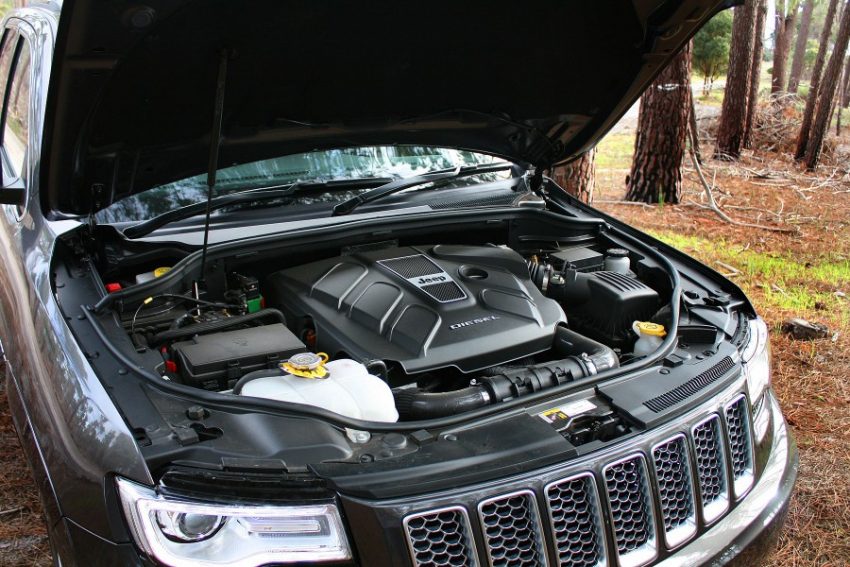 It'll hustle the GC from rest to 100kmh in around 8.2 seconds, which is fractionally quicker than the petrol V6, and thanks to a very smooth ZF eight-speed auto, it also makes for a swift overtaking machine. Unlike the Jeep Cherokee and its hesitant, indecisive nine-speed transmission, the Grand Cherokee eight speed matches well to its torque band, selecting the right ratio and using that twist to get up and pull hard. Yes, on the road, at almost any speed, it's a cosseting machine to steer.
But what about when the going gets tough?
Well, it is a Jeep. The standard height-adjustable air suspension comes into its own off-road. Press a button and the car quickly rises to liberate 287mm of ground clearance. But when it's at its highest, there's an issue. Every time you go over a hump, as the suspension decompresses there's an audible thump that goes through the cabin. It's even more obvious when going over a series of whoops or moguls, as the jolts come banging through. Apart from that, it's pretty hard to fault.
With such large wheels, it's a good bet that it would bury itself when hitting some boggy patches. So, we hooked up the compressor to the fitted terminals (conveniently located at the top side of the engine bay) and dropped the tyre pressures to 18psi. But on 20-inch rims, had we gone too far?
Switching the Selec-Terrain dial to "sand" backed off the stability control and requested the suspension be raised. Once that was done, we eased into the sand starting on the slightly softer areas and progressing to the deeper and hungrier sections. The deeper you go, you come to understand that the engine, as good as it is, has a fraction of lag that's exacerbated as the engine loads up, trying to pull itself out of those heavy areas. It can't quite recover quick enough from being slowed down and struggles in high range.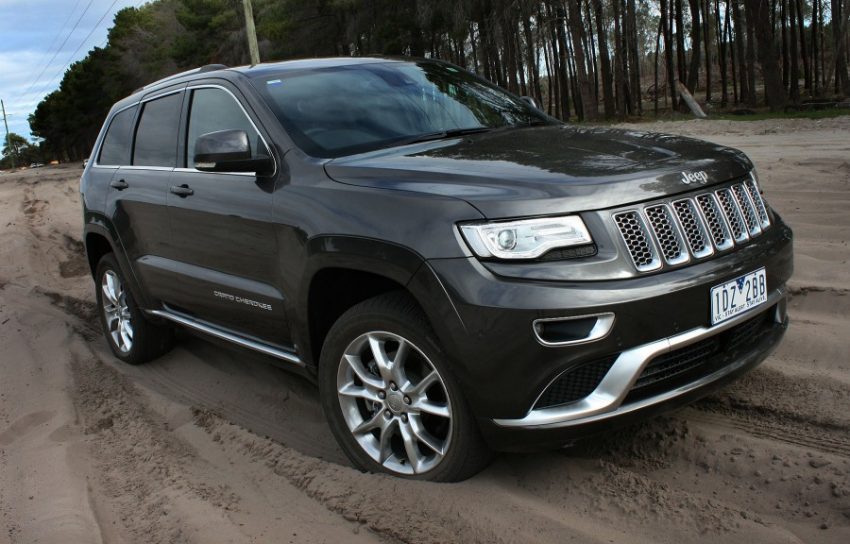 A quick switch to low range and the problem is completely eliminated. With the gearing shortened, the engine is able to spool up a lot quicker and no matter how deep the sand is, the Grand Cherokee just churns through. Even when stopped quickly, it never buries itself. As long as you're not exuberant with the throttle away from rest, it'll heave itself out of almost any hole.
Despite a slightly tarnished reputation, there were no glitches in our week of test, both on and off road. The Grand Cherokee proved itself a match for whatever was thrown at it, and it remained a very comfortable cruiser no matter the speed or surface.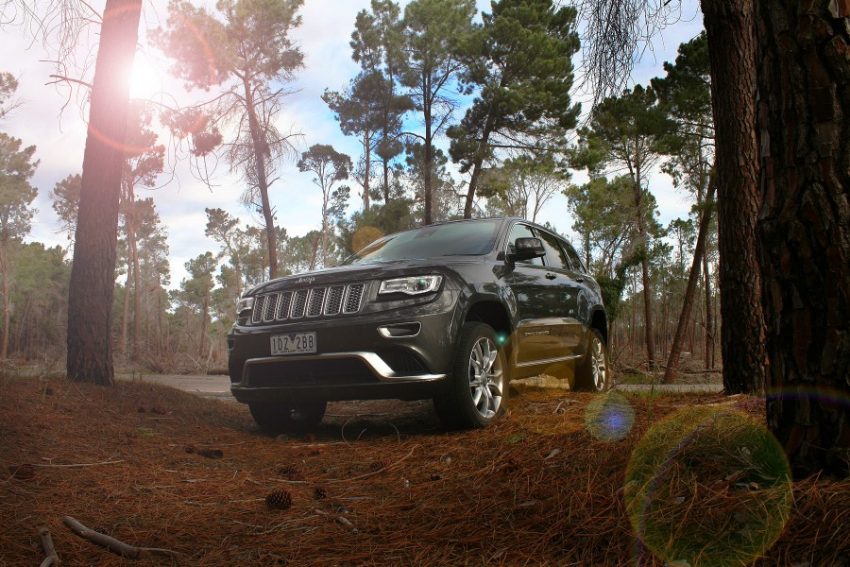 Whether you think it's worth the money, however, is a different proposition. Priced at $78,000, it's not exactly cheap. A Land Rover Discovery can be had for similar coin, and though it doesn't have as much kit, it's arguably as good both on and off-road and it can carry two more passengers in just as much (perhaps more) comfort. You could also have an X5 which has plenty of inclusions and justifies its price by providing a far higher quality interior.
As an all-round package, though, with a towing capacity of 3.5 tonnes, the Grand Cherokee Summit Platinum has a lot going for it. But it you can't quite stretch the budget to fork out for the top of the line model and you still want that space and ability, you could always opt for the Overland.
Either way, you'll be able to say "I bought a Jeep"…