Price: from $43,490 plus options and on-road costs
Engine/Trans: 133kW/430Nm 2.4-litre Turbo Diesel / 5-speed auto
Fuel Economy claimed: 7.6 l/100km combined
Construction: Body on chassis
Suspension: Independent front / Live rear axle
Towing: 750kg unbraked / 3100kg braked
Make no mistake, the Japanese make some seriously tough trucks. If you want a fourby to cross the Canning Stock Route reliably, or if you want to haul a boat, there's little doubt that a Japanese-built machine will be at the top of your list.
Mitsubishi, of course, wants a piece of the pie that's currently dominated by Toyota. Overcoming the HiLux's domination of the local market has been the mission for Mitsubishi's Triton, but so far it hasn't quite made the grade.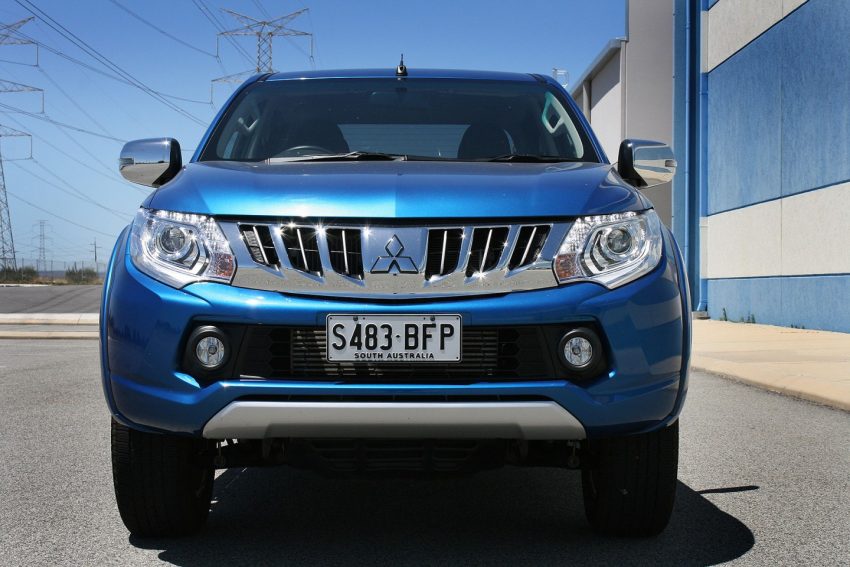 Do looks have anything to do with it? The previous Triton wasn't exactly pretty. The new one? Well, it seems like a lesson on how to make an ugly car even uglier. With a grille that apes Jaws from The Spy Who Loved Me, the Triton's front end won't be winning any beauty contests.
Whether it's the perception of reliability or the ridiculously massive network of Toyota dealers across the country, the Triton's penetration of the Aussie market has never been as strong.
But times are a-changing.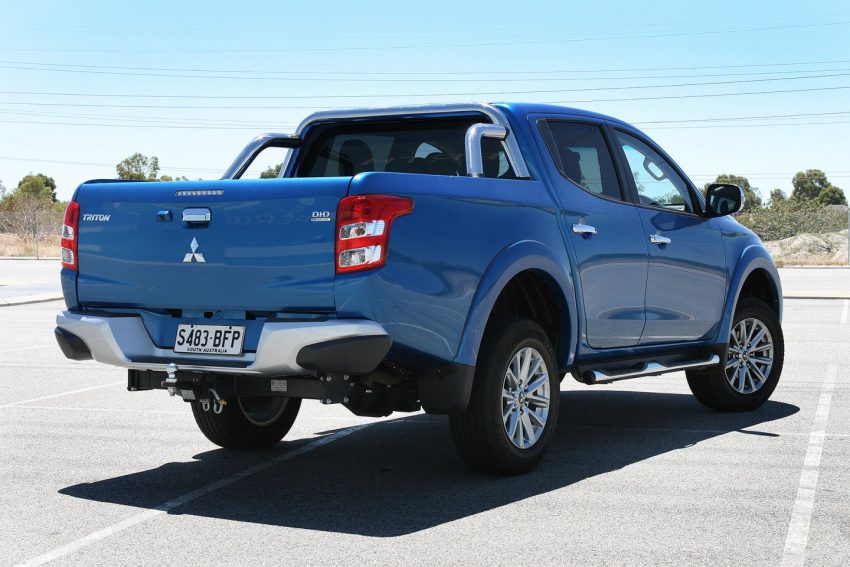 Last month, for example, HiLux captured 20 per cent of the market, but Triton managed a not-too-shabby 16.1 per cent, putting it firmly in third place in the segment. Clearly, the new model has helped. But what else has Mitsubishi done to get the formula right?
The Triton has never pretended to be as luxurious as an Amarok or as fancy as a Ranger, but when heading into the rough, it'll go toe to toe with the whole segment. Helping its cause is what's under the bonnet.
Thankfully, Mitsubishi has done away with the woeful 2.5-litre four-pot from its predecessor, and replaced it with a more refined 2.4-litre engine that – at 133kW/430Nm – has upped the power by 2kW and lifted torque by a massive 80Nm. That means towing on the GLS is now rated at 3100kg, while payload (including passengers) is set at 950kg. While the Triton it's demonstrably more refined, it's still not what you'd call quiet.
There was plenty of clatter from our test car, and while there's no doubt the NVH levels (particularly in the cabin) have improved from the previous car, and even the HiLux has a smoother engine these days, the Triton is still nowhere near an Amarok in terms of smoothness. It's not exactly quick, either – the 0-100kmh run happens a fraction under 11 seconds.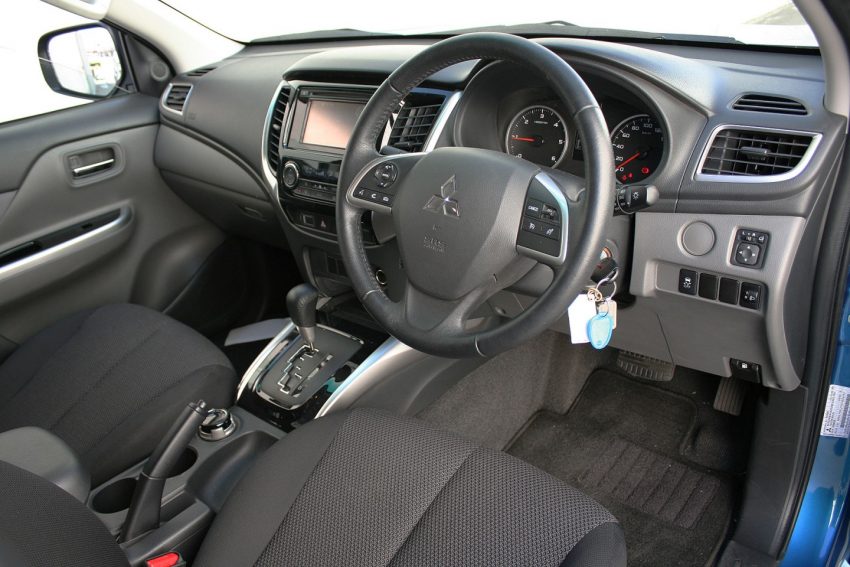 Also disappointing is the five speed auto, which – despite shifting quite smoothly – is at least one ratio short of the industry standard these days. With so many off-the-shelf autos available, a six- or eight-speed box would not only help revs stay lower (creating a quieter cabin) but also help fuel economy. So far, it's not sounding great. But delve a little deeper and there's a silver lining – fuel economy is really very good, rated at 7.6L/100km on the combined cycle.
Open the doors and there's relief when you see the interior; it's a fair whack nicer on the eyes. The sorely needed improvement removes the massive splash of silver that previously dominated the dash and the el-cheapo, hollow-sounding door trims have been consigned to history. Now, when you shut the doors, it actually feels like the Triton has had some money spent on it.
Gone is the ribbed dash plastic, replaced by a more traditional textured dashtop. The centre stack now has a more integrated infotainment system and a far more pleasing climate control setup. Below this is the diff-lock button and a USB input. Overall, the quality is far higher, the finish better and the presentation more appealing. But while it leaves the previous Triton feeling like it came from the 1980s, the Triton's competitors are almost all ahead in finish and quality.
Its interior space is also par for the course, with plenty of room for those up front and the rear uses a shaped seat-back to liberate more legroom. The rear seat-back is also reclined enough to be called comfortable, an area in which the Triton claws back some points over its main rival. The seat material is hard-wearing and easy to clean as well; a real boon for those considering this as a tradie's ute.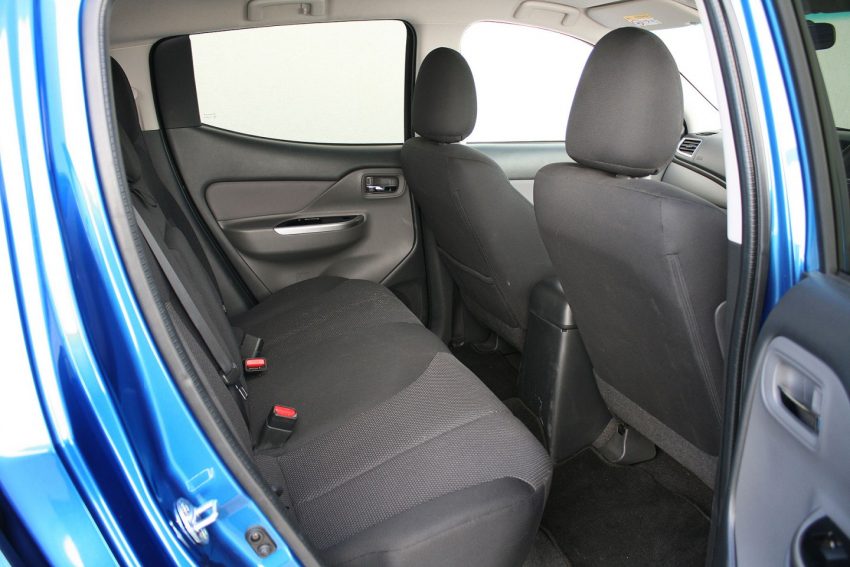 The seating position is still legs-ahead but in a first for the Triton, it now has a reach-adjustable steering wheel, something that should be on the Pajero as well. What you'll immediately notice is how much better the steering is. While the former Triton rivaled a bumper car for the amount of turns available, this newer truck is far more direct and has reasonable feel, despite being fairly light. As such, its turn in is far better and parking it is a lot easier, especially thanks to an 11.8m turning circle.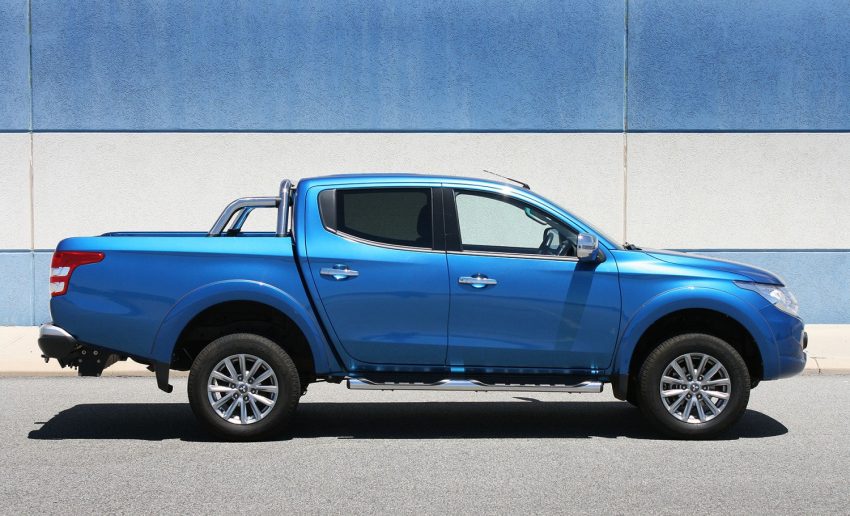 The suspension is okay, with a leaf-sprung ride that's more bouncy than the Navara and Amarok, and some suspension hits certainly cause a pronounced wobble through the whole car. Off road, though, it's far more comfortable.
Clearly letting down the tyres helps but the spring rates mean that large bounces or undulations are absorbed a lot better than short, sharp hits at speed. Its traction is quite good and it's happy to make forward progress in most conditions, but lift a rear wheel off the deck and you're grateful for the diff-lock button which stops any unwanted spin that isn't caught by the stability control.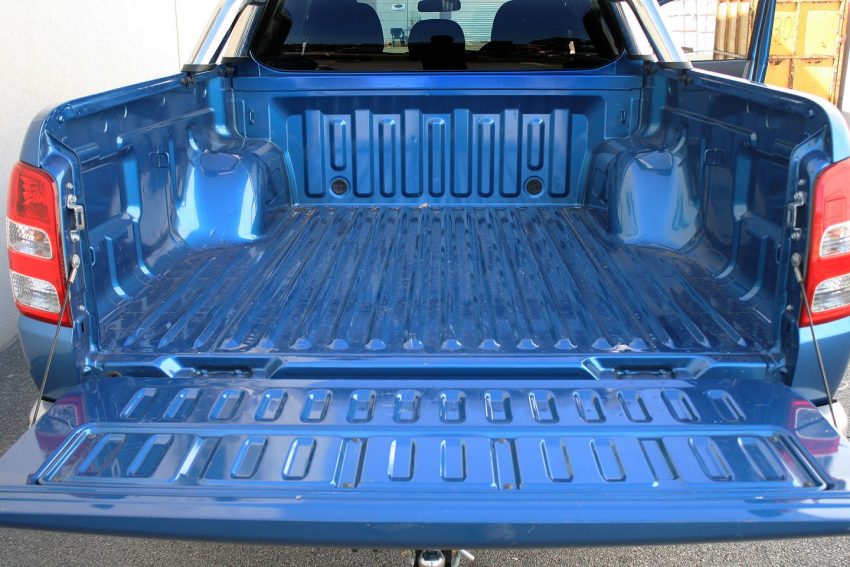 Its wading depth is 500mm, which is enough for most situations, but if river crossings will be a staple, then a lift kit will definitely been a consideration.
Overall, it's not a bad ute and one that doesn't struggle to be noticed in the current crop. Its looks, tractor-like diesel, ancient auto and lower towing capacity do hold it back in a pros and cons list, but if you've been a Triton owner previously, it'll definitely appeal with its quieter and nicer cabin, smoother engine and better steering.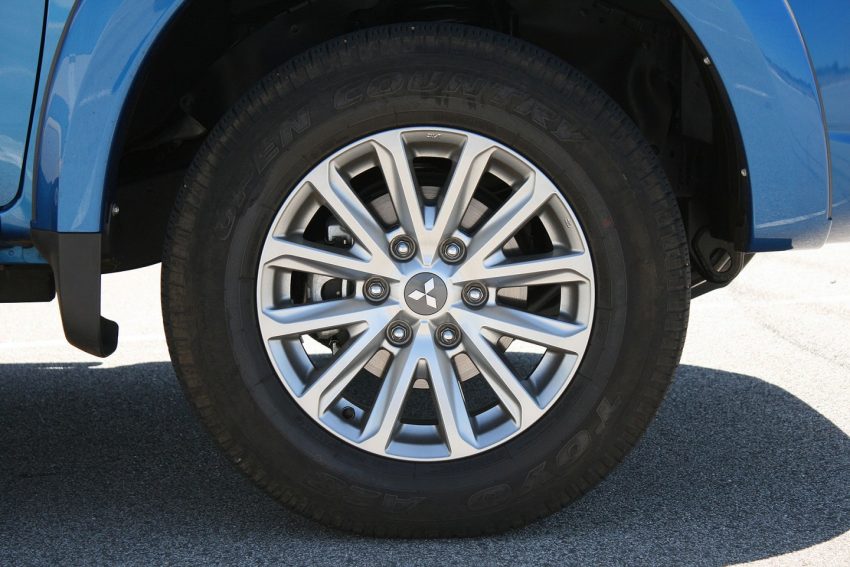 For those who aren't a Triton owner already, some back to back comparisons will be definitely needed. Does the HiLux have anything to worry about? Not in this generation. And on that basis, heavy discounting from your local Mitsubishi dealer will probably help to twist your arm.