ARB has confirmed that it now has an Alloy bull bar designed specifically to fit the increasingly popular Ford PX2 Ranger range.
ARB has endeavored to design strength into the Ranger's Alloy bar rather than adding otherwise unnecessary weight, and the result is a light but strong bar that they believe complements the Ranger's exterior styling.
The ARB Ranger Alloy bar features a wide centre grille section, with 4mm aluminium alloy used for the outer wings and centre pan for maximum strength, with the main hoops being made from 60mm alloy tubing. Press forming is used throughout the manufacturing process to increase strength and provide a OEM level of finish.
Three grades of aluminium alloy are used in the construction of the ARB Alloy bull bar, each specifically selected for maximum corrosion resistance and high fatigue strength. CMT (cold metal transfer) and TIG welding processes are utilised to ensure an optimum finish for the alloy bar, which is polished following final assembly.
Chassis mounts, initially developed for the PX Ranger Summit Bar, ensure that the alloy bar is securely mounted to the chassis and the crush rate characteristics of the air bag system are retained. The bar mounts have had extensive Finite Element Analysis (FEA) testing and destructive crush testing, to ensure that they do not deviate from the manufacturers chassis impact characteristics.
The steel mounting system uses high tensile bolts and being steel, ensures the bar is able to safely be fitted with an electric winch and withstand the loads a winch can place on the bar and chassis. It has been tested with winch loads up to 10,000lbs.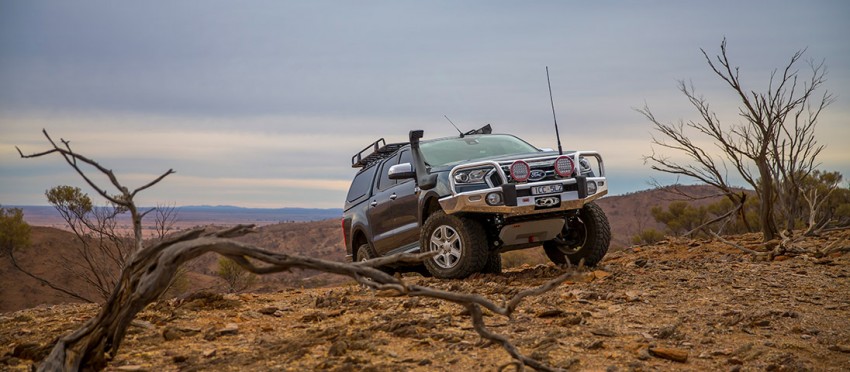 The bar's grille is home to an all-new winch clutch opening which reduces the need for cutouts in the top of the bar and allows a simple winch cover panel to neatly finish the bar off should a winch not be fitted.
If you are looking for frontal protection for your Ford PXII Ranger without the weight penalty of a steel bull bar, then head down to your local ARB dealer and chew their ear about their latest release.
Current ARB Alloy Bull Bar Applications include:
Toyota Prado 150 2015 on
Nissan NP300 2015 on
Ford Everest 2015 on
Coming Soon:
Toyota Hilux 2015 on
Toyota LandCruiser 200 2015 on
Mitzubishi Triton 2015 on