Isuzu Ute launched it's upgraded 2017MY D-MAX and 16.5 MY MU-X ranges this week – you can check out Stuart's review here – and the big news is more torque and six-speed gearboxes.
The truck tough 4JJ1 3.0-litre turbo-diesel can still be found under the bonnet but it's been significantly reworked to comply with Euro 5 emission requirements and is now referred to as the 4JJ1-TC Hi-Power.
This new engine is a world first for Isuzu. It was developed exclusively for the Australian market following comprehensive research and testing into the use and demands of existing Isuzu owners. No other Isuzu D-MAX or MU-X market currently features an Isuzu 3.0 litre Euro5 compliant engine.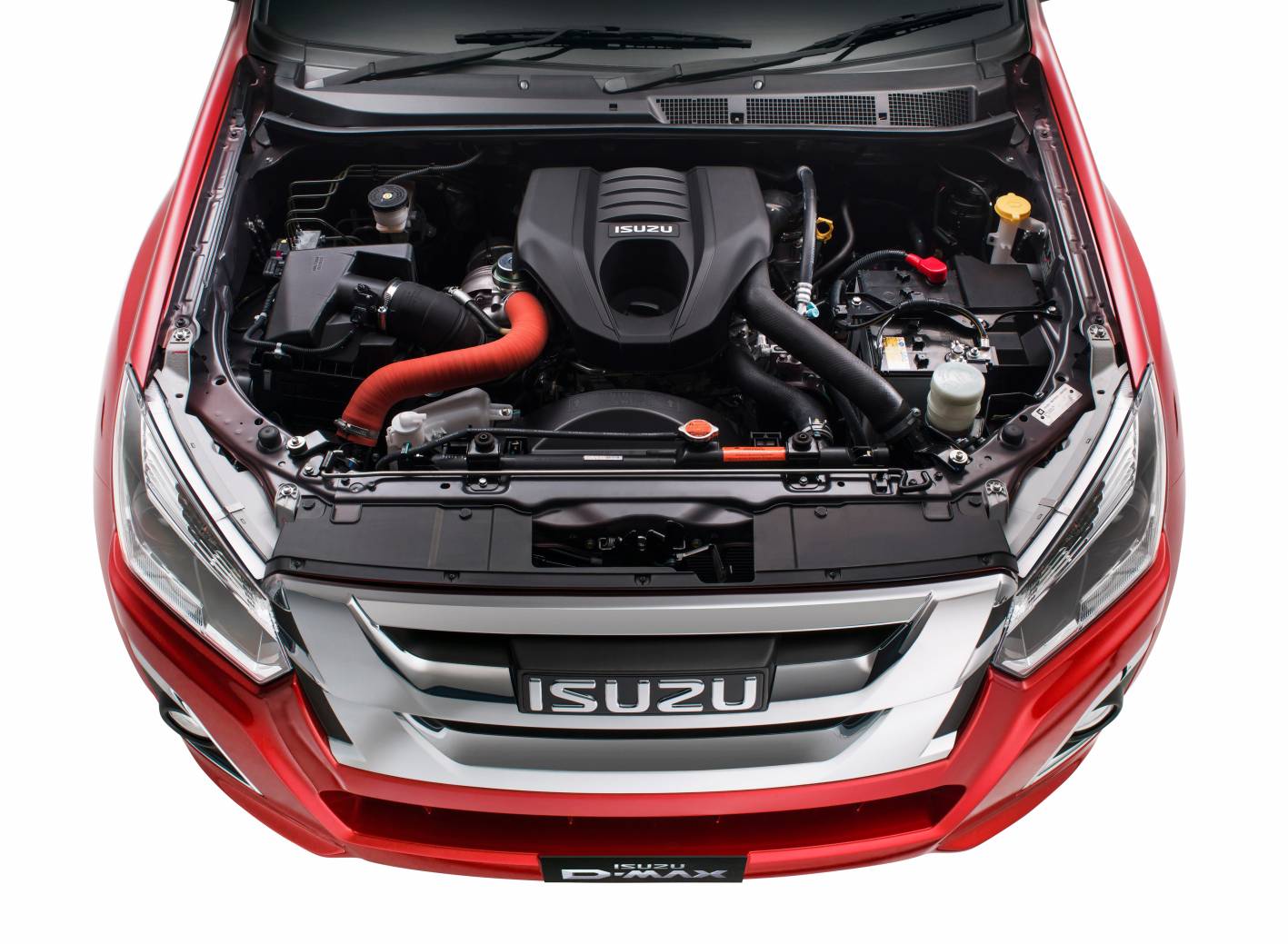 Maximum torque output has been increased to 430Nm from the previous model's 380Nm and is available from 1,700 – 3,500 rpm – a broader torque spread that will benefit towers and off-roaders.
Changes to the 4JJI include a new variable geometry turbocharger with inter-cooler, a new piston design, new injectors, ceramic glow plugs, larger EGR (Exhaust Gas Recirculation) cooler with a new design of bypass valve, an intelligent battery sensor and DPF (Diesel Particulate Filter).
The result is a cleaner and more fuel efficient engine, that Isuzu says retains the legendary reliability that the 4JJ1 has always offered.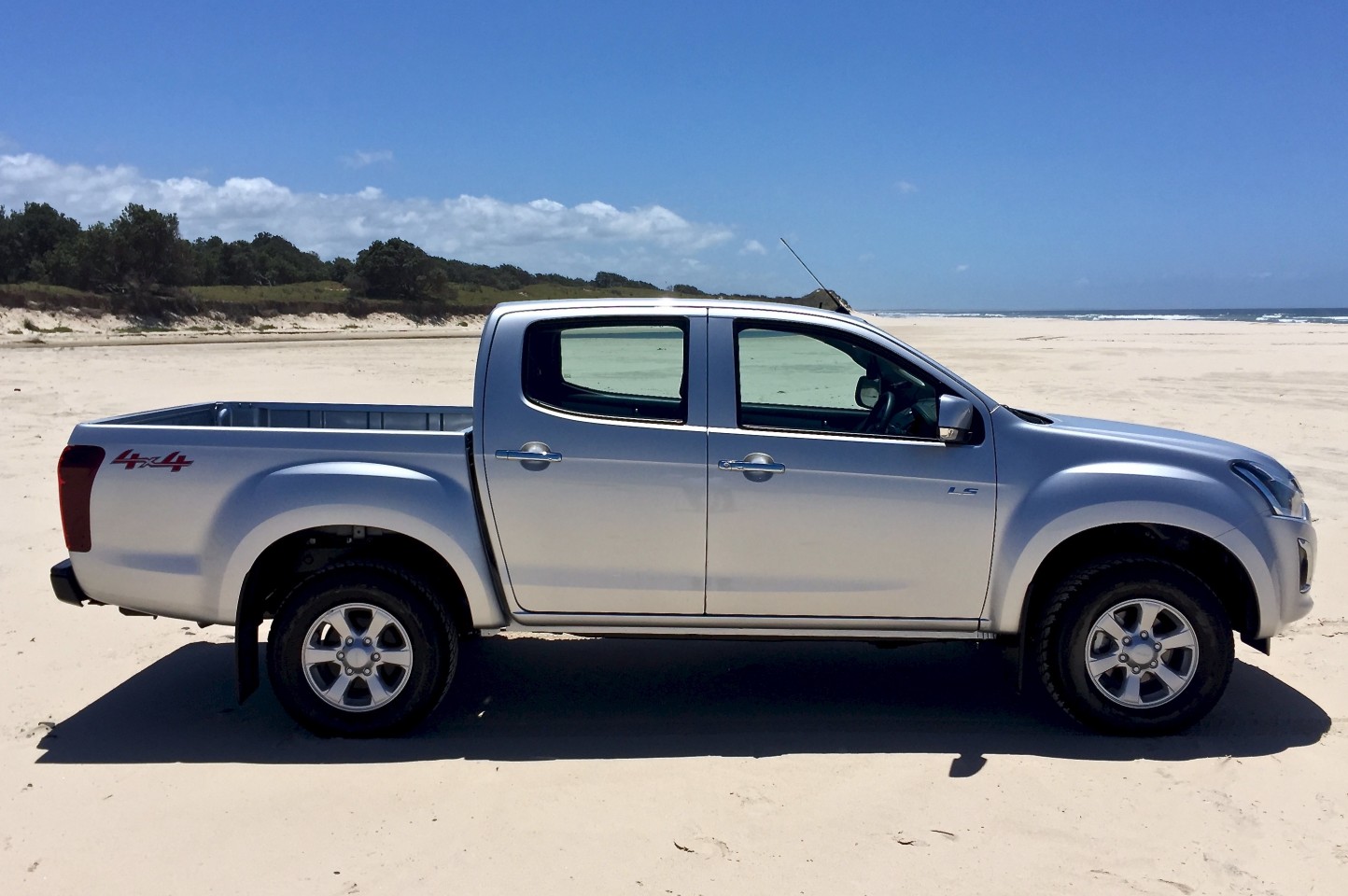 The new 6-Speed Automatic Transmission is an Aisin AWR6B45 with adaptive learning functionality and a sequential shift mode allows the driver to select gears on demand. An additional feature is the Slip Control System Lock-up Clutch (Lock-up Torque Converter) which raises transmission efficiency in the 2nd to 6th gears, and improves fuel efficiency.
Isuzu has developed its own 6-Speed manual transmission, which features triple cone synchros to provide easier gear selection and longer service life. The new 6-speed manual transmission is also linked to a Gear-Shift Indicator on the driver's instrument panel which displays the recommended gear position for optimum fuel efficiency.
Exterior changes for the D-MAX are subtle and include a newly designed bonnet, grille, redesigned fog lamps and projector headlights with LED Daytime Running Lamps for all LS models. EX and SX models make do with a new look halogen head lamp assembly.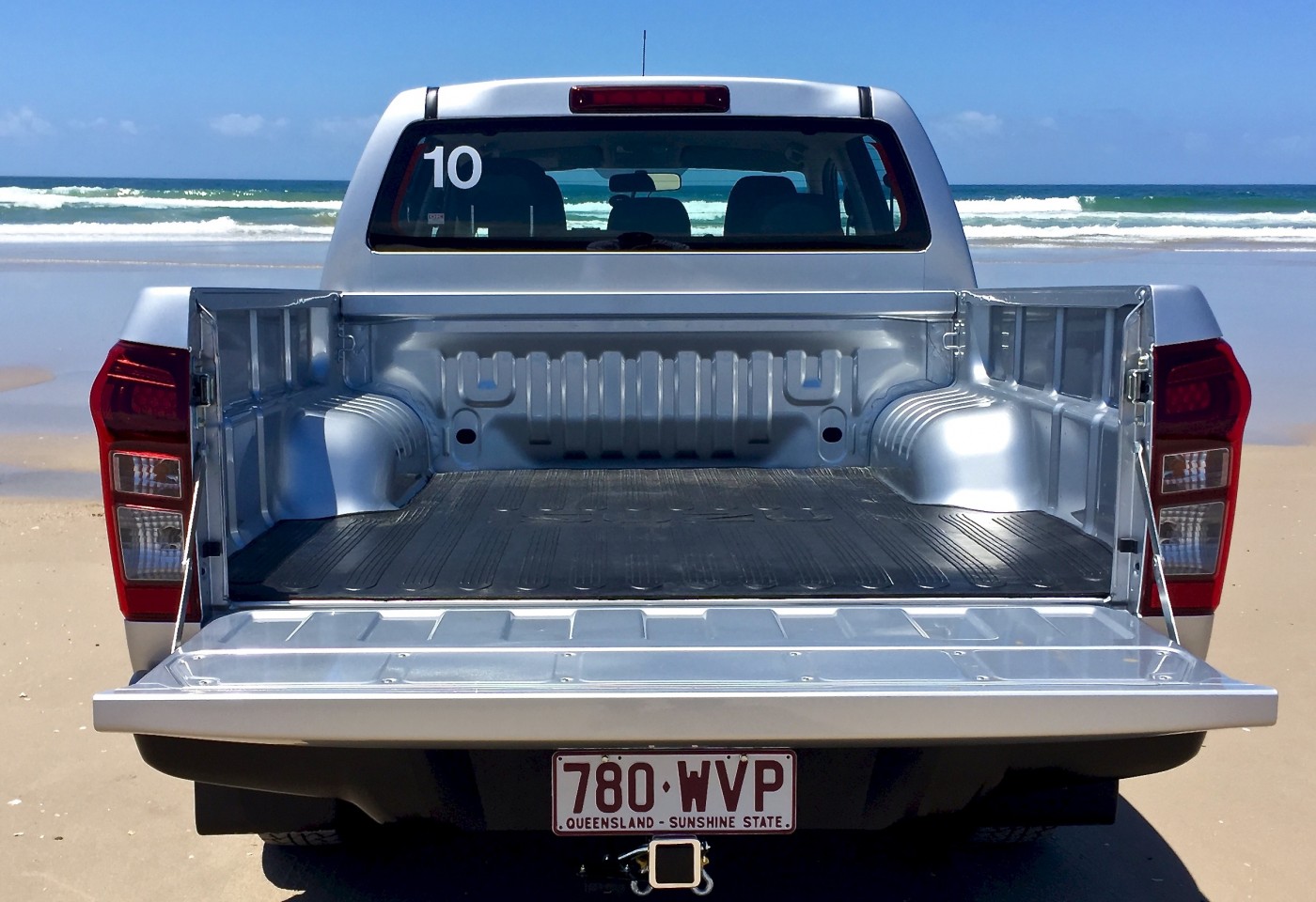 The LS-T variant D-MAX is the beneficiary of a new alloy wheel design.
Safety features get a boost with LS variants of both the D-MAX and MU-X being fitted with a reverse camera as standard. SX and EX D-MAX variants have an optional accessory reverse camera available.
Standard safety features for both the D-MAX and MU-X include six airbags (dual front, side and full-length curtain), 4-channel 4-sensor Anti-skid Brake System (ABS) with Electronic Brakeforce Distribution (EBD), Electronic Stability Control (ESC), Traction Control System (TCS) and Brake Assist (BA), Hill Start Assist (HAS), Hill Decent Control (HDC) and dual pre-tensioners with load limiters for the front seatbelts.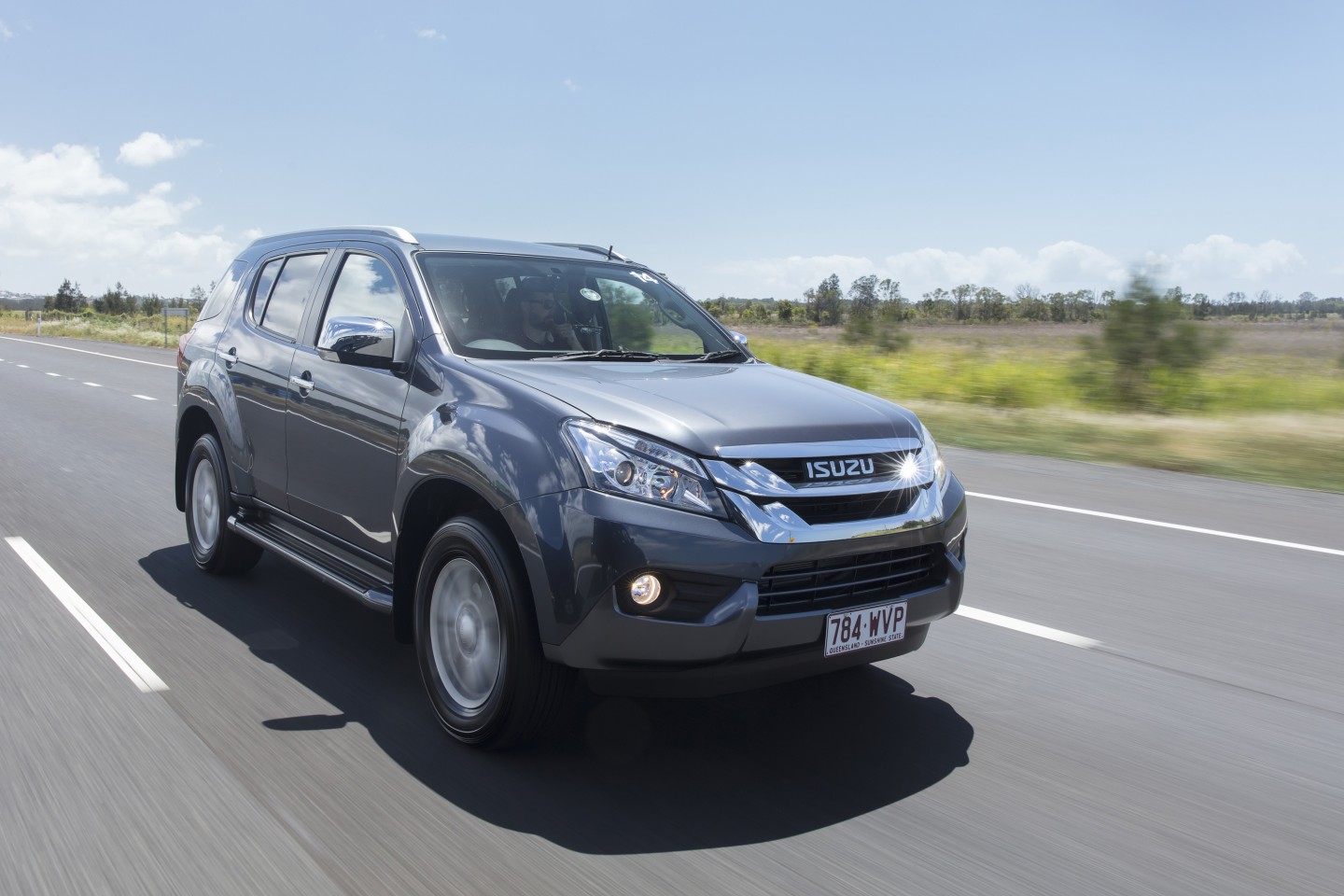 There are height adjustable head restraints for all occupants (excluding Space Cab variants), along with ISO-FIX child restraint points in both models.
Cabin comfort and convenience levels have received some attention, with the D-MAX and MU-X both being the beneficiaries of new sound and vibration insulation – an effort to mute the 4JJ1's mildly raucous (yet entertaining) nature.
D-MAX SX and LS-M variants are fitted with a 7-inch touch screen display audio system, while LS-U and LS-T variants get a larger 8-inch touch screen display audio system with in-built Sat Nav.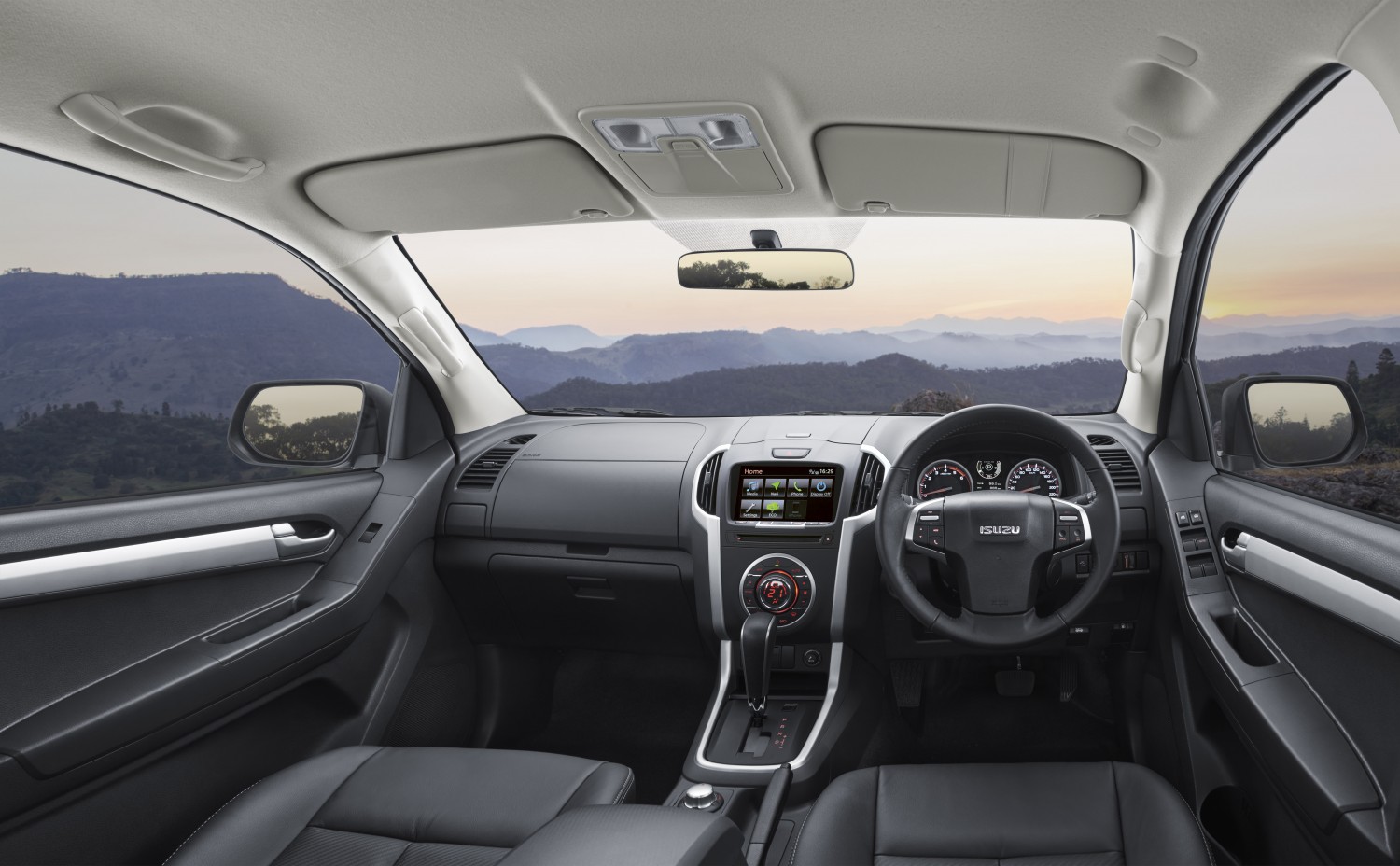 D-MAX Crew SX and LS-M models now receive eight speaker sound systems with two roof mounted speakers in addition to the two front door mounted speakers, two dash mounted tweeters and two rear door mounted speakers.
The MU-X LS-M variants are also equipped with the 7-inch touch screen display audio system, with the LS-U and LS-T variants getting the 8-inch touch screen display audio system with in-built Sat Nav.
USB ports now number three in all LS spec variants of both the D-MAX and MU-X. Two are located in the front dash and one in the rear.
All 4×4 variants of both vehicles are fitted with a steel front skid plate, steel sump and transfer case guards plus protection for the leading edge of the fuel tank when travelling off-road.
Hill Descent Control (HDC) is now offered on all Isuzu vehicles, including 4×2 variants.
New D-MAX X-RUNNER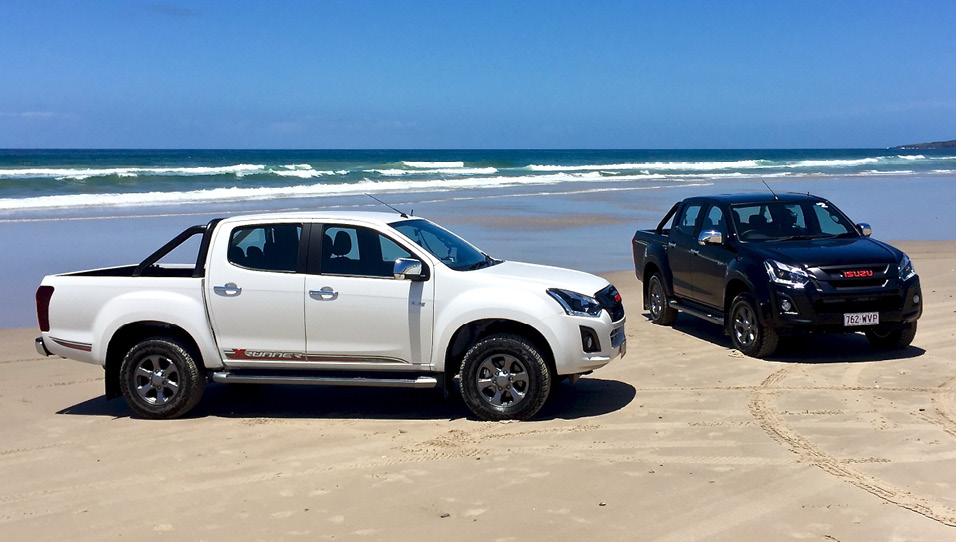 To celebrate 100 years of Isuzu automotive manufacturing, Isuzu has introduced a limited edition D-MAX X-RUNNER to its one-tonne ute line-up.
Based on the 17MY Isuzu D-MAX 4×4, the X-RUNNER receives customised interior features such as a dark grey trim with piano black accents, red steering wheel stitching and badge, and two-tone red and black seats. Auto climate control air-conditioning is standard, as is a reverse camera with Rear Park Assist.
X-RUNNER exterior styling is turned up a notch with red Isuzu badging – as well as a unique 100 years motif, gun metal grey grille, alloys and side steps and a black sports bar and under-rail tub liner.
Priced at $46,990 drive-away – only 600 X-RUNNERs will be available – in either pearlescent white or cosmic black metallic paint.
Service Plus 555
Every Isuzu vehicle is backed by the Isuzu UTE Australia Service Plus Program which includes a 5 year warranty, 5 year Roadside Assistance and 5 year/50,000 kilometre Capped Price Servicing program.
17MY Isuzu D-MAX RRP Price List
4 x 2 SINGLE C/C SX man – $28,500
4 x 2 SINGLE C/C Hi-Ride SX auto – $31,700
4 x 2 CREW C/C Hi-Ride SX auto – $37,300
4 x 2 SPACE Ute Hi-Ride SX auto – $35,500
4 x 2 CREW Ute SX man – $34,500
4 x 2 CREW Ute Hi-Ride SX auto – $38,000
4 x 2 CREW Ute Hi-Ride LS-U auto – $43,600
4 x 4 SINGLE C/C Hi-Ride EX man – $34,800
4 x 4 SINGLE C/C Hi-Ride SX man – $38,000
4 x 4 SINGLE C/C Hi-Ride SX auto – $40,100
4 x 4 SPACE C/C Hi-Ride SX man – $40,700
4 x 4 SPACE C/C Hi-Ride SX auto – $42,800
4 x 4 CREW C/C Hi-Ride SX man – $43,200
4 x 4 CREW C/C Hi-Ride SX auto – $45,300
4 x 4 CREW Ute Hi-Ride SX man – $43,900
4 x 4 CREW Ute Hi-Ride SX auto – $46,000
4 x 4 CREW Ute Hi-Ride LS-M man – $46,400
4 x 4 CREW Ute Hi-Ride LS-M auto – $48,500
4 x 4 SPACE Ute Hi-Ride LS-U man – $46,200
4 x 4 SPACE Ute Hi-Ride LS-U auto – $48,300
4 x 4 CREW Ute Hi-Ride LS-U man – $48,300
4 x 4 CREW Ute Hi-Ride LS-U auto – $50,400
4 x 4 CREW Ute Hi-Ride LS-T auto – $54,200
16.5MY Isuzu MU-X RRP Price List
4 x 2 7-seat SUV LS-M auto – $41,800
4 x 2 7-seat SUV LS-U auto – $43,800
4 x 2 7-seat SUV LS-T auto – $47,500
4 x 4 7-seat SUV LS-M man – $47,000
4 x 4 7-seat SUV LS-M auto – $49,100
4 x 4 7-seat SUV LS-U man – $49,000
4 x 4 7-seat SUV LS-U auto – $51,100
4 x 4 7-seat SUV LS-T auto – $54,800