This is my personal 4X4 and it was quite the build. Sure it's an old truck (1994), and it's a bit noisy, even slow on occasions and yep, it's about as clean as a lump of coal but I wouldn't sell it for any money.
In fact building this old bus was akin to therapy and probably saved me from going a bit mental a few years back.
So I'm going to tell you all about this particular 300Tdi Deefer. One mate said…"Steane it's a long story" and it is, but there might be something in it for you if you are ever planning to rebuild an old truck and a Defender in-particular.
I bought this Defender site unseen from a chap in Melbourne. That was my first mistake… Believing the previous owner when they said they'd happily drive it around Australia was the second mistake… By the time I arrived home I was fairly certain that I'd paid too much. Yep, that was my third mistake…
Mechanically it turned out to be a mixed bag. The engine was original and had done just on 300,000 kms. The transfer case and gearbox had been pinched from a Series 1 Discovery (the higher gearing made it feel really slow) and how the front wheel bearings hadn't welded themselves to the stub axles on the trip home was beyond me. Both front wheels had about three feet of travel when rocked!
I wanted to turn the old bucket of bolts into a strong touring 4X4 and with this in mind a four year rolling rebuild was started. At various stages during the rebuild, this Deefer crossed the Simpson twice, went to Alice Springs (the back way) twice, completed half a dozen high-country trips and wandered up and down the Birdsville track a few times.
Not once, despite being in various states of disrepair did it break down and leave me stranded. Even a dodgy (rebuilt) fuel injection pump that was pumping out as much fuel as it was pumping in, failed to sideline the old bus. Fuel consumption just went from 10L/100 to 20L/100 for the 900km drive home! Kinda like owning a Land Cruiser for a day…
Land Rover unreliability myth busted – touch wood!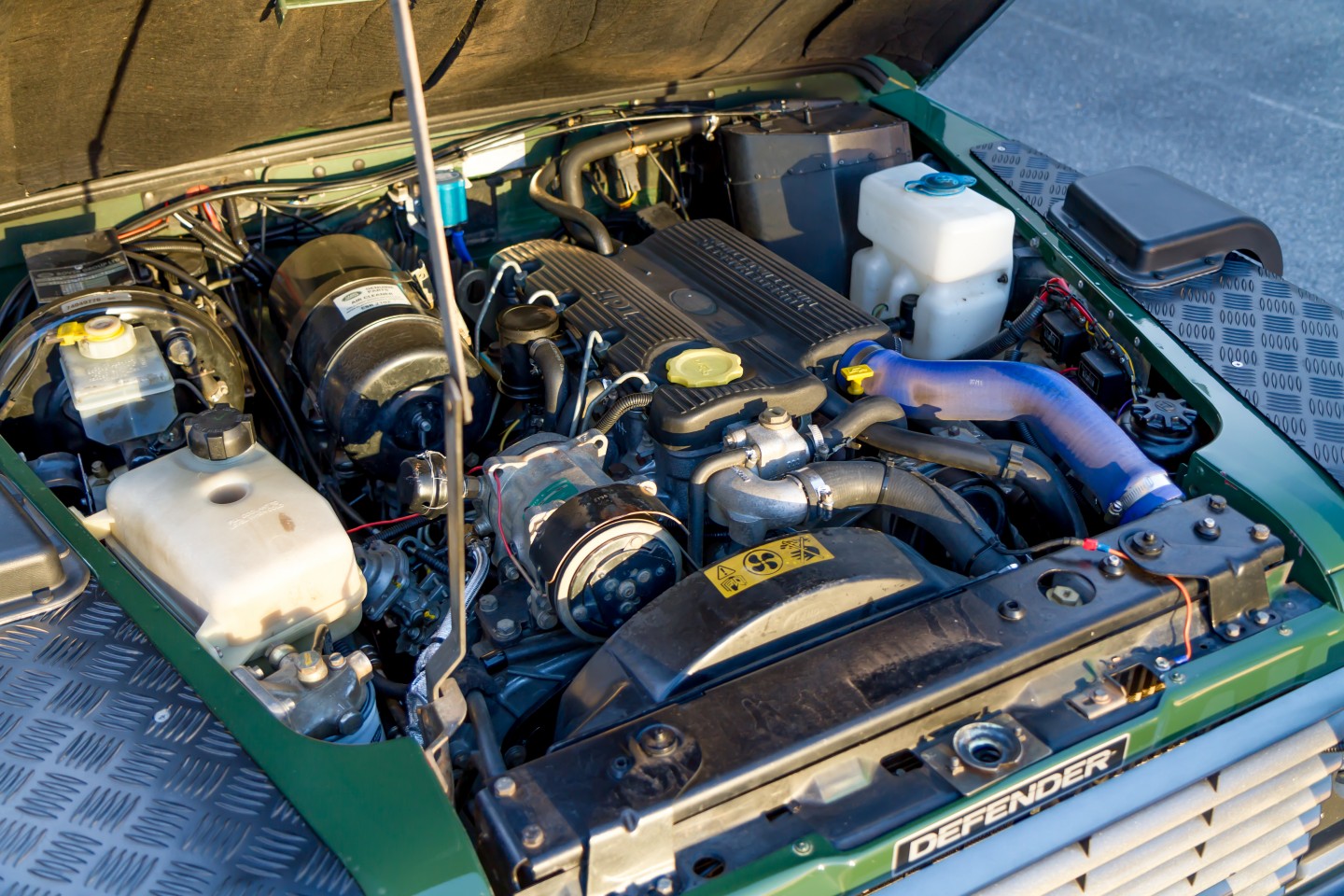 If you want a reliable 300Tdi then you have to have a properly functioning cooling system. I went a bit mad and actually removed EVERYTHING that bolted to the engine block – yep head as well – and replaced it all with new gear. With the old head off, the original honing marks were still evident in the bores, so aside from a new set of main bearings, the short motor was left as is.
A new Turner Performance head was imported from the UK and fitted, along with a new turbo, new larger intercooler, a rodded radiator, new water pump, alternator, power steering pump and box, brake vacuum pump and booster. While the engine was out a new Valeo Defender 130 clutch kit went in and a 2.5″ exhaust replaced the appalling straight-through system it was running.
A stronger late suffix rebuilt R380 5-speed gearbox with a larger 5th gear bearing modification was imported from Ashcroft Engineering in the UK. Ashcroft also supplied a rebuilt LT230 transfer case, with the correct Defender 1:4 gearing and this was fitted with one of their trick ATB (auto torque biasing) limited-slip centre-diffs. The ATB is much stronger than the standard LT230 centre-diff and cross-pins and allows torque to be transferred between the front and rear axles, making for a very predictable fast-dirt-road handler.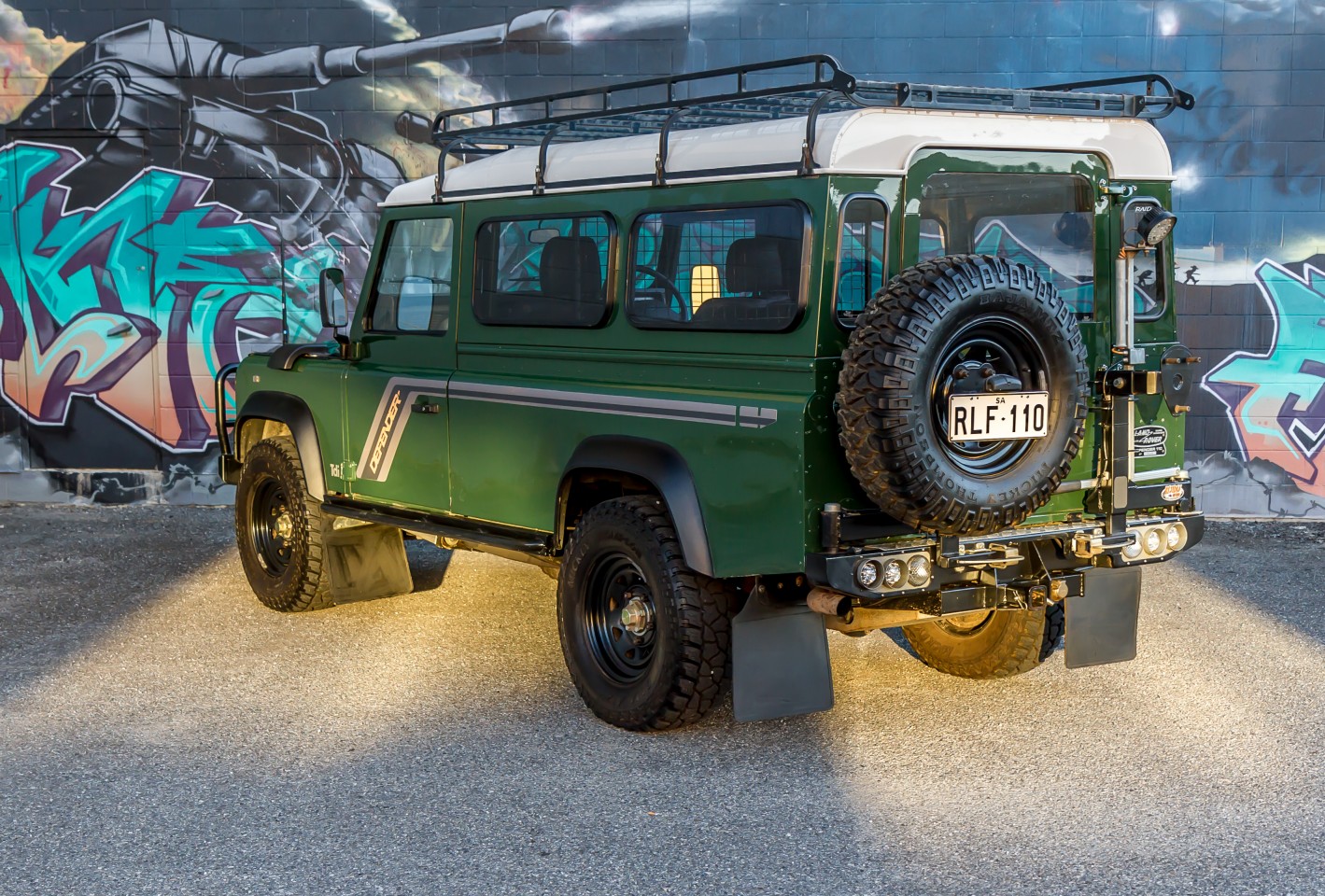 The front diff was also treated to an Ashcroft ATB limited-slip centre and the front drive-shaft was swapped for a Tom Wood's double cardan unit.
The 'soft as cheese' steering arms were swapped for solid Terrafirma units, the worn-out front half-shafts replaced with much stronger Ashcroft units and Ashcroft also supplied the CVs; they guarantee them for 5 years running 35″ tyres as well!
The rear diff came with an ARB Air-leaker…um…locker already fitted that has leaked air on and off during my tenure (but always worked). The rear diff's cover in standard form is only pressed steel and this was swapped for an ARB nodular-iron Dana diff cover. The rear half shafts are 'made in Australia', Hi-Tough Engineering jobbies.
All of the drive flanges were replaced with considerably stronger Ashcroft Engineering flanges. The bearings and front CVs have been converted to run in oil – and no, they don't leak, provided the front swivel hubs are set-up correctly.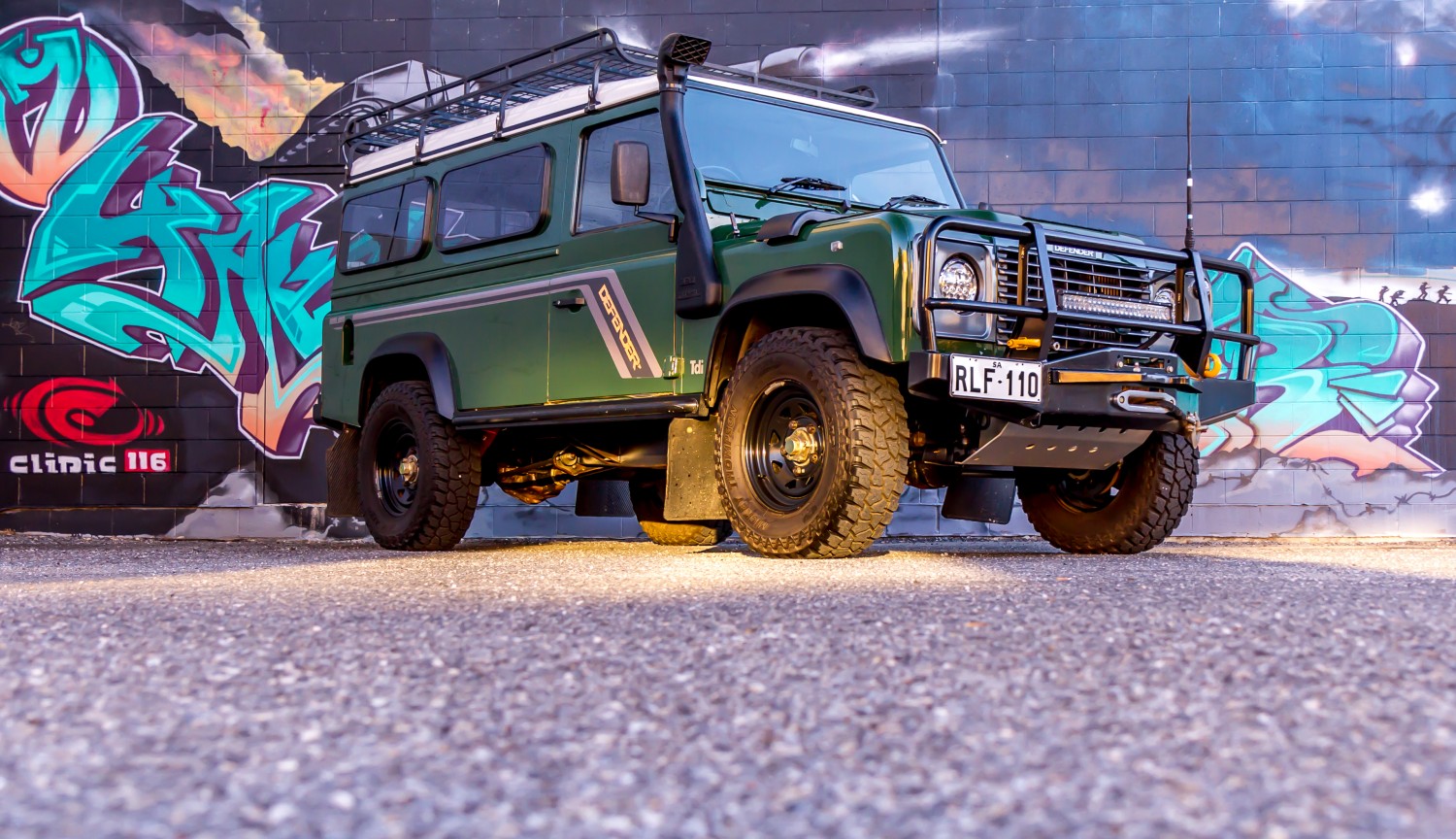 The most difficult part of the build to get right was the suspension and this is a lesson for anyone new to Defenders. Defenders should have a nice ride on-road and a sublime ride off-road, better than most modern 4X4s in fact. But, fit them with the wrong suspension bits and all of that goes out the window. The original 110s (in civilian form they are called the 'County' in reference to their trim level) used very light springs and a hydraulic load leveler in the rear. This was ditched when the 110 was renamed the Defender in around 1992 and heavier, but not ridiculously heavy springs were fitted to the rear.
If you go to a suspension specialist and ask for a 'heavy duty' suspension kit for your Defender – 'heavy duty' is a term that seems to be used to describe most suspension kits – you'll end up with a Defender that rides like a truck.
I binned two off-the-shelf suspension kits before ordering taller 180lb front springs and 320lb rear springs from Les Richmond Automotive. These taller and softer springs have been matched with a set of (admittedly expensive) Koni 90 Series Raid hydraulic shock absorbers, and the ride has been transformed. I've never been in a 4X4 that rides High Country roads better than the Defender.
My top tip for what it's worth – don't buy an off the shelf suspension kit for your Defender. In retrospect, the best buying is a set of standard factory springs (go 130 front springs if you have a bullbar and winch) and standard factory shocks. The price of this gear is incredibly appealing and Land Rover got it right to start with.
Speaking of suspension, every suspension bush was removed in the early stages of the build and replaced with SuperPro polyurethane elastomer bushes, the only bushes of their type on the market that offer the flexibility of rubber and the durability of plastic. People often steer clear of poly bushes thinking they are too hard and will increase NVH levels, but that's not the case with the SuperPro products. I'm not sponsored by SuperPro – sadly I'm not sponsored by anyone – and I make this endorsement having paid full tote odds for the bushes I used.
Add-ons include an ARB winch bar that came with the Deefer when I bought it, and a 'special' 12,000lb waterproof winch that I imported from the family run Chinese factory that makes the TJM winch range (my visit to their factory is a story for another time…). The winch is controlled from inside the cab and uses an Albright solenoid mounted under the driver's side front guard.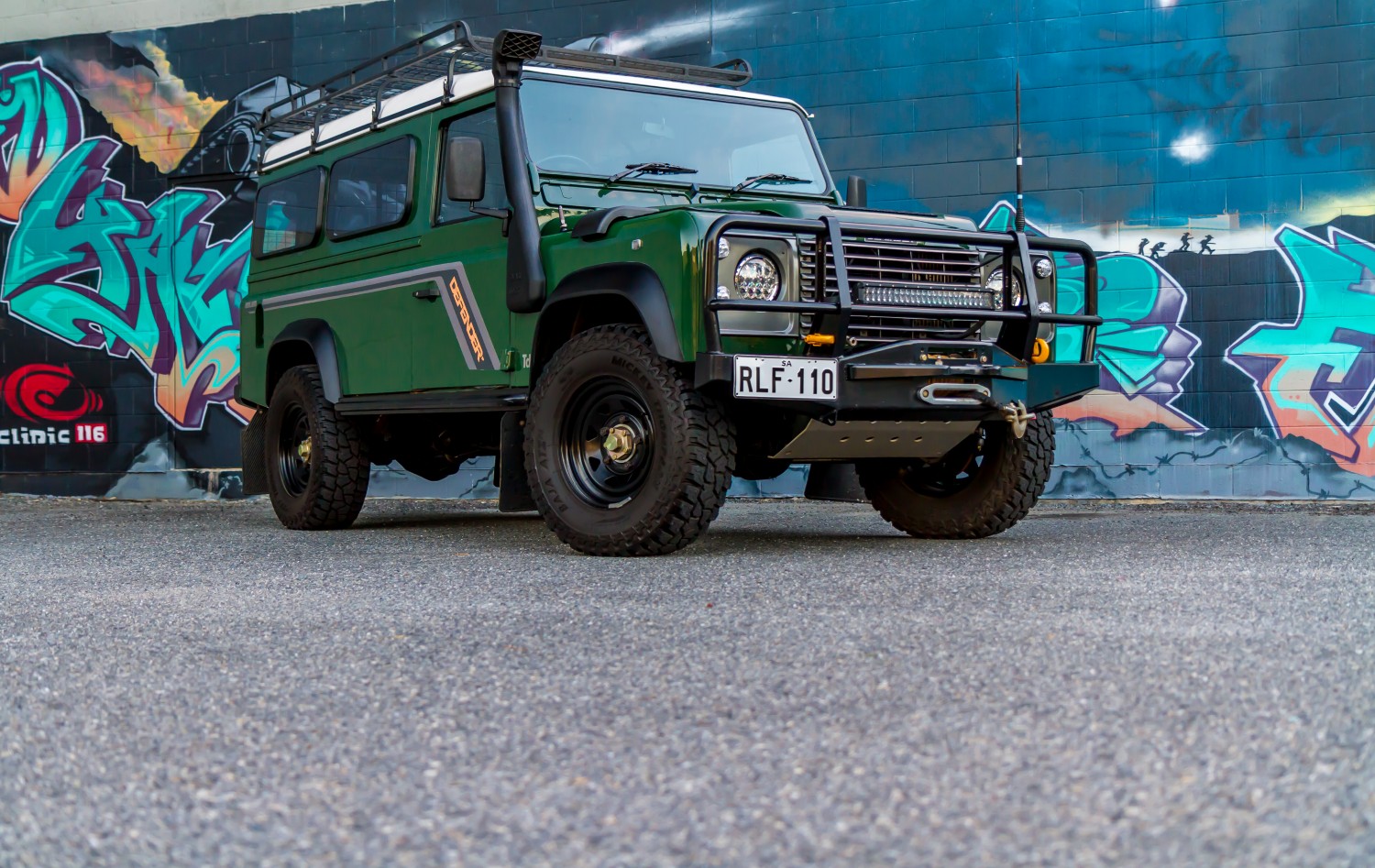 A Safari snorkel was already fitted to the Deefer when I bought it and is probably 15 years old, a testament to the quality of the plastic used in this great Australian made product.
Terrafirma supplied the rock-sliders, and Murray from Rijidij in Geelong built the rear twin-wheel carrier. Fuel range is extended thanks to a LongRanger 120-litre fuel tank.
Inside there's a Raptor aluminium dash centre section that houses the stereo, UHF and a range of switches. A Raptor aluminium dash replaces the Defender's plastic original and is fitted with an electronic speedo and VDO auxiliary gauges for fuel, water temperature and engine revs.
The bulkhead that sits directly behind the seats (this is a two-seater two-door hardtop – the wagons are different in this regard) has been removed and replaced with a bulkhead brace to allow the seats to slide further back.
An ARB 47-litre fridge is fitted behind the seats, along with a custom drawer unit with 60-litre water tank and a large centre drawer. This will be re-engineered in the not too distant future and will no-longer include the water tank…or the second battery that I don't use…
Wheels are 16″ Dynamic steel rims and I'm currently running Mickey Thomson ATZ P3s tyres in size 265/75/16.
As far as the bodywork is concerned, being a neglected piece of junk, my Deefer needed a new set of front guards, a new bonnet, two new doors and side window sections. Some nongs just don't understand that when you stand on aluminium panels they bend and dent…doh!
The front guards and bonnet were donated by an old red 300Tdi Defender while the doors and side window sections are off an ex-army TD5 Defender, quite a rare beast. If you are planning a Defender rebuild, buy a straight one! The panels are horrendously expensive, even the secondhand stuff.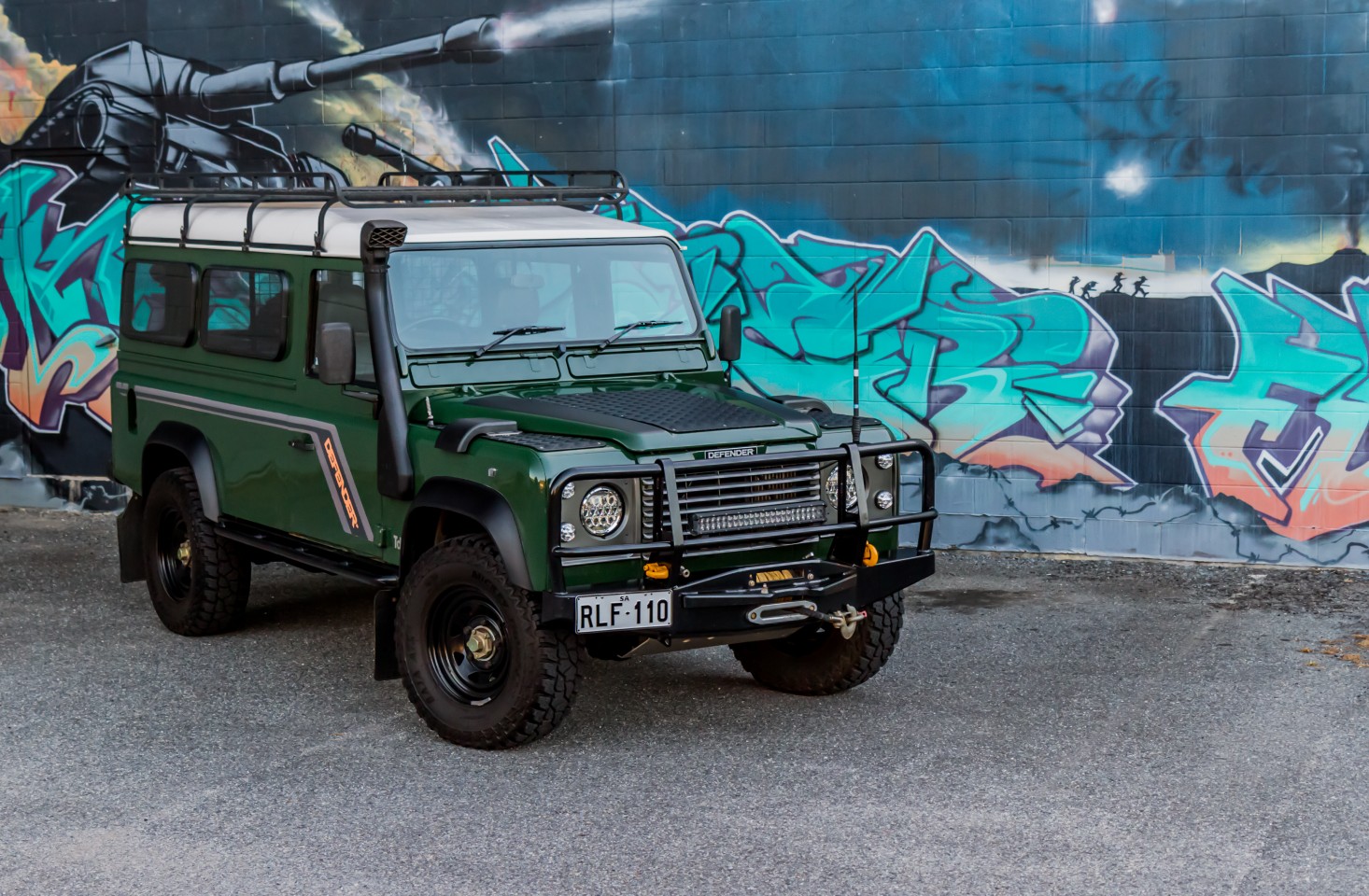 Paintwork is the original Land Rover Coniston Green with an Alpine White roof and black 4mm chequer plate now protects the bonnet and guard tops, although I've never been, and never will be, game enough to stand on them.
Old 4X4s like the Defender aren't for everyone, but for those that like them, they can be a real addiction. Rising prices will probably mean that this is the only Defender that I'll own, and I'm fairly certain my son will have his hand up to take it off me when I'm too old to do anything but look at it. By then it will probably be retrofitted with an electric engine and a suite of autonomous driving systems. Hell, there's a stack of room underneath for batteries…and stuff.