If you're looking at buying a 4X4 dual-cab ute then the Ranger is going to be on your list, right next to HiLux and if these two heavy hitters fry your burger, then you'll no-doubt find them vying for the number one position in your head, just as they do on the monthly sales chart; brand snobbery aside of course.
Put simply, on a monthly basis, the Ranger is often Australia's favourite 4X4 ute and when it's not, it's only trailing the HiLux by a whisker.
Designed in Australia and built in Thailand, the Ranger is considered by many to be the class leader in on-road dynamics, safety, comfort and styling and there's a swag of awards to back this up. Not that we take much notice of motoring awards; they are a bit like that hole in your bottom…everyone has one and they tend to be full of crap.
Especially when it comes to 4X4 dual-cab (double-cab) utes.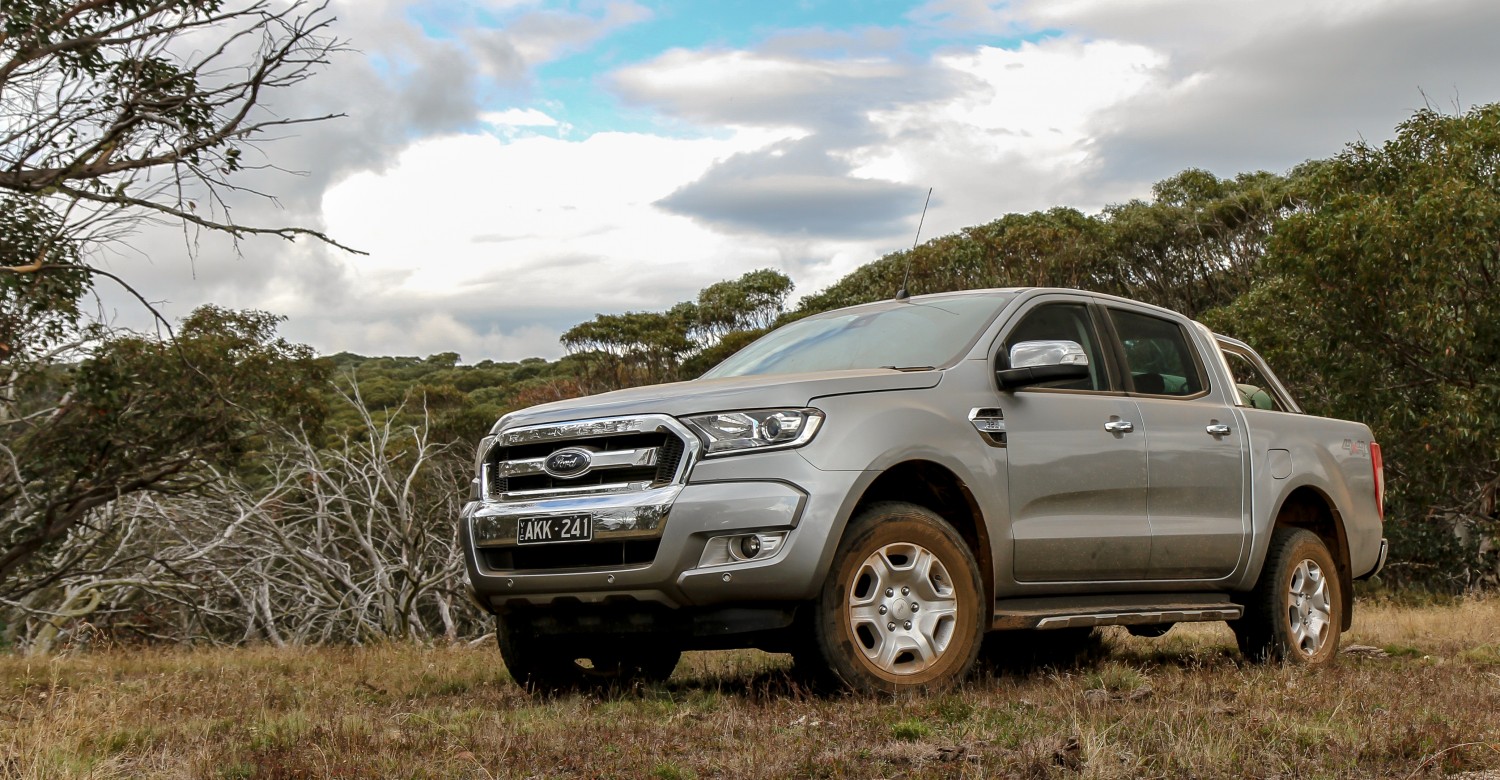 None of these utes are 'quite right' off the showroom floor – here's a rant I prepared earlier – and they'll all need to be upgraded if you want them to handle continual hard graft or regular semi-serious off-roading or touring, which makes comparing brand new ones superfluous on some levels (ride and handling spring to mind).  The manufacturers aren't fitting load-ready or off-road-ready suspension, and if they do, it's generally of a quality that won't last far beyond the first year of ownership. Factory fitted tyres are usually rubbish, chosen because they are quiet and fuel efficient, which means they have poor grip in the wet, no grip on a trail and are a size or two too small, compromising ground clearance, driveability and safety.
Then there's the rear drum brakes, the shitty factory sidesteps, the out by up to 10km/h speedos, the…well, you get the picture. End rant, I promise!
So, with a bit of attitude already on-board (my bad one) we picked up our test Ranger XLT on the outskirts of Melbourne and pointed it towards Mansfield in Victoria, our dinner stop on the way through to the Victorian High Country.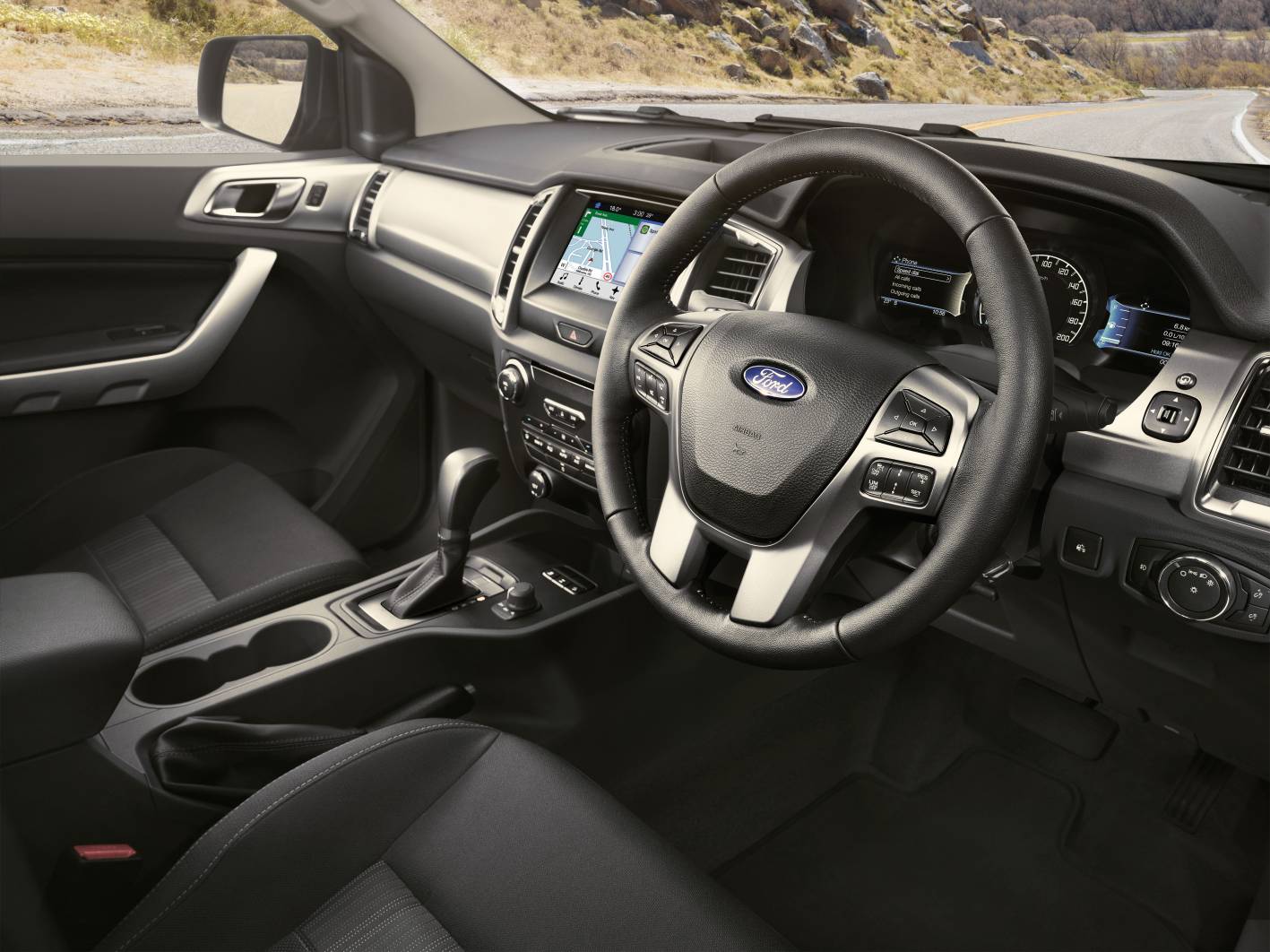 The first thing you notice about the Ranger is how big it is compared to the Triton we were getting around in the week before. It's a big unit, with a huge expanse of dashboard and plenty of room for the beefy Farmers Union Iced Coffee set. That huge expanse of dash has the same 'Aussie Ford' feel that the Falcon used to have, albeit more 'Fisher Price' than 'Melbourne Taxi' in the case of the Ranger. It's rugged, functional and well thought-out.
On the subject of 'function' our test XLT was fitted with the optional ($800) XLT Tech Pack, with its full complement of electronic safety aids, including adaptive cruise control, lane departure warning, forward collision alert, reverse camera and driver impairment monitoring. A tech posse that guarantees any stoner behind the wheel more 'bongs' than they'll know what to do with.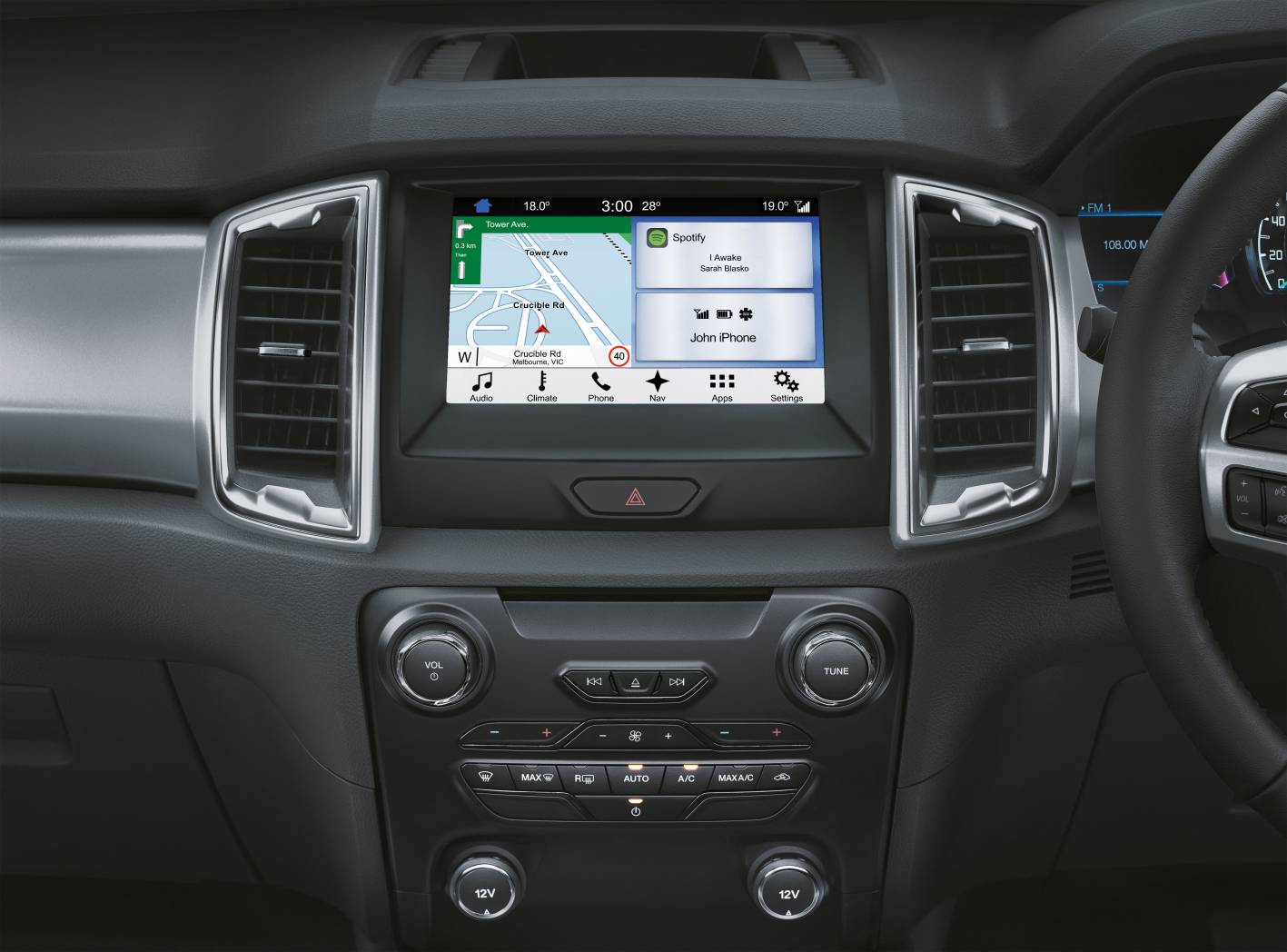 Front and centre is an 8" colour touch-screen, and the XLT now comes equipped with Ford's latest Sync 3 infotainment system, one of the easiest to use that we've come across. A full complement of steering wheel controls and two separate 4.2" instrumentation screens, set either side of a central speedo, put every electronic gizmo that the Ranger has at the driver's disposal. It almost reaches the point where there is too much information, too much to respond to and too many choices to make. You might feel foolish having an accident while you fiddle about trying to clear the latest message the Ranger has pinged at you as it confirms the tyre pressures are too low (yeah, we know you can set the alert level lower for off-road pressures), or that you should stop right about now, for a steaming hot cup of coffee.
Perhaps I'm just showing my age.
If all you desire is the ultimate in infotainment and electronic wizardry and you need a car that'll keep you on the straight and narrow (you know…the road) then the Ranger is without doubt the bus for you, until of course the main centre display goes dark… It happened to us once on the trip and required a restart of the vehicle to bring it back to life.
Are the electronic gremlins that long term Ranger owners talk about in hushed tones, really for real?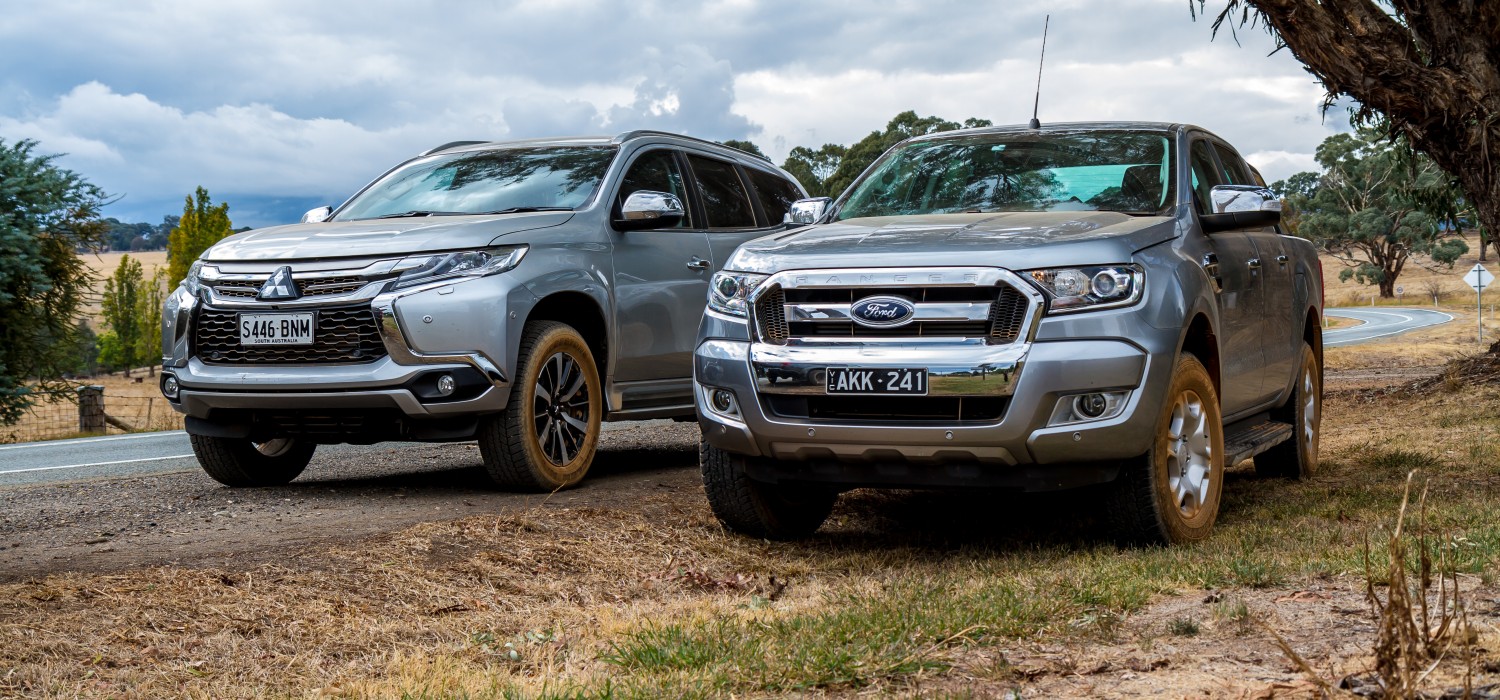 Jumping between a Pajero Sport and the Ranger as we did, showed up the Ranger's slightly inferior Adaptive Cruise Control, which on its closest setting, was quick to lose the car in front on corners and just as quick to try and accelerate to the set speed when it did so; the Paj Sport was considerably more progressive in its approach on both levels.
But that's small beer in the scheme of things, and the Ranger really is a nice place to sit while you put some miles under the wheels. We knocked the tyre pressures back from 40psi to the recommended 36psi shortly after hitting the road, and for the most part the on-road ride is best described as 'well resolved' for a stock 4X4 ute. In comparison Triton feels harsher and D-MAX more wooden. While the HiLux SR5 is let down by some unfortunate rear suspension harshness, it remains my pick for on-road driving. In my opinion it feels dynamically superior and is the closest to being 'car like' in the way it handles and thus, only has the Amarok to answer to.
Unladen and running highway tyre pressures the Ranger (as you'd expect) bounced around on the corrugated track into Sheepyard Flat just as badly as any other ute would, but reduce the pressures down to 25psi and the front end does a good job of soaking up corrugations and pot holes. Drop 250kg of firewood in the tray (as we did) and the rear suspension gets its groove on as well and punting the big Ford on a winding road becomes a bit of fun; if you choose to ignore the intermittent rattle from the steering wheel's horn pad.
For a bit of fun, on day two we tossed the Ranger's keys to a couple of the 'support crew' drivers. They jumped out of older dual-cab 4X4s with regular aftermarket suspension, and into the Ranger on No. 3 Road. Nothing special as far as High Country tracks go, but sufficiently bumpy to give suspension compliance a good test. Both drivers returned the keys less than impressed with the Ranger's ride, with one trying to work out if it was the Ranger's dashboard or bonnet that was dancing a jig during the drive – it was the bonnet.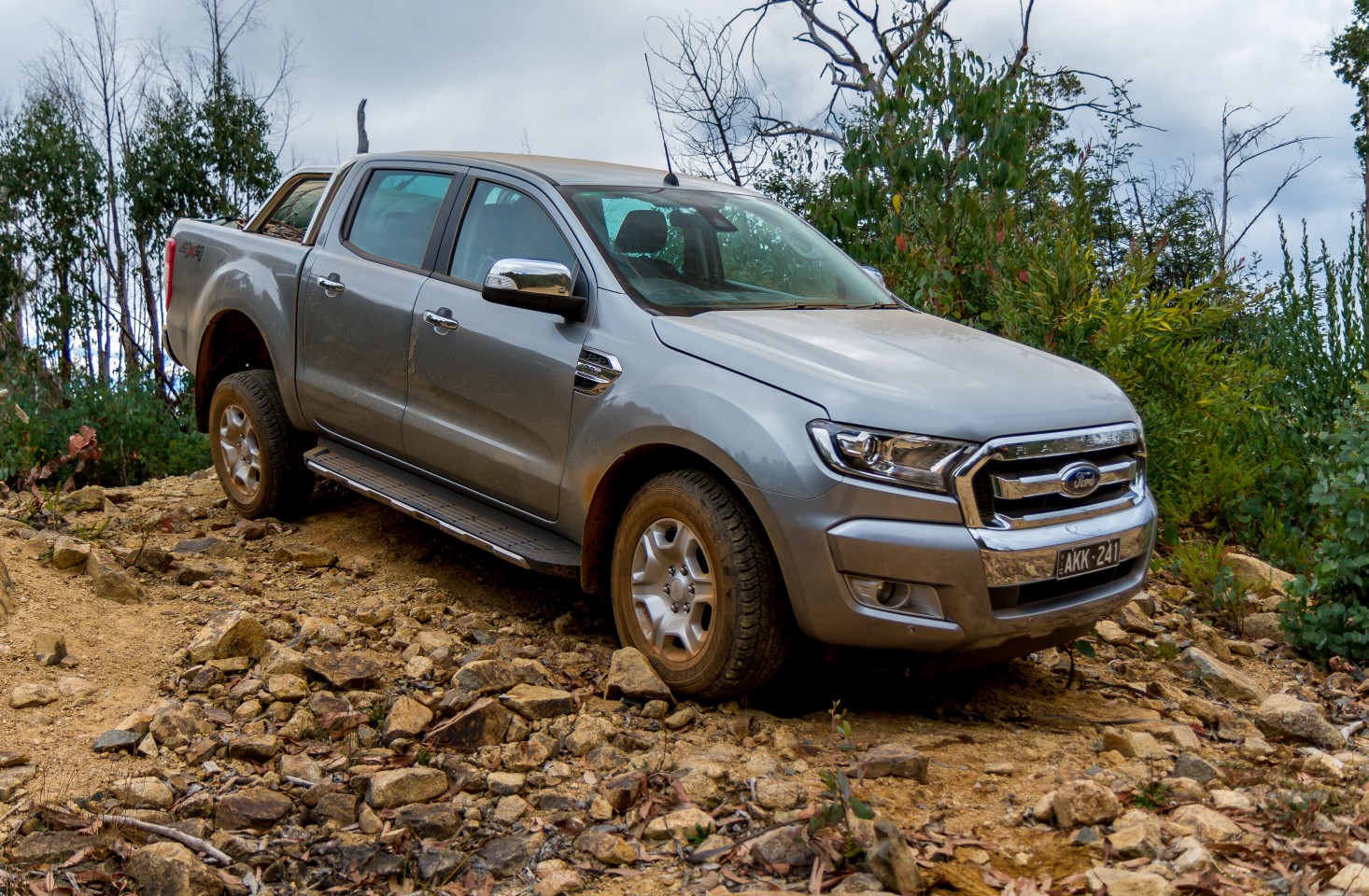 It's fair to say that the Ranger is at the pointy end of a range of 4X4 utes that as a rule have relatively ordinary stock suspension, making it one of the better of a mediocre lot… The Pajero Sport showed the Ranger up all weekend in this regard, thanks mostly to its multi-link coil rear-end.
The main event that put the Ranger in its place was the weather. An unseasonably ferocious cold snap descended on Victoria and dumped around 20cm of snow on our merry band, camped out at Hut no.3. The weather hung around all the next day, with rain, sleet and snow-melt leaving the tracks sodden and you don't punt press cars on HT tyres up or down seriously wet High Country tracks. Round one, two and three were taken out by Mother Nature.
Fortunately, we'd managed to get a modicum of off-roading in before the weather smashed us, including a river crossing followed by the steep, wet and rutted entrance into Pineapple Flat camp ground. Both were dispatched with ease in low range with the PXII's recalibrated traction control taking over when the tyres ran out of purchase. The TC is smooth and progressive, engaging promptly when wheel spin is sensed, all very reminiscent of the traction control systems we've recently experienced in the HiLux and Triton and a noticeable improvement over the original PX Ranger.
The other ace up the Ranger's sleeve is an excellent Hill Descent Control system, that works with the rear diff-lock engaged and can be adjusted down to just 2km/h via the cruise control controls.
The Ranger also boasts an impressive 800mm wading depth – something we didn't get close to challenging on our drive – but I'd still be fitting a snorkel if your brand of off-roading includes regular forays into water.
Ground clearance is everything off-road, something that Mitsubishi seems to have lost sight of with the current Triton range, as David attests to in his recent review. Ford are clearly aiming the XLT at the 'suits in utes' brigade, as they've also forgotten that more ground clearance is a good thing in a 4X4. The Ranger's diff pumpkin clears the ground by a very reasonable 237mm, but the XLT's sidesteps take that advantage and trash it.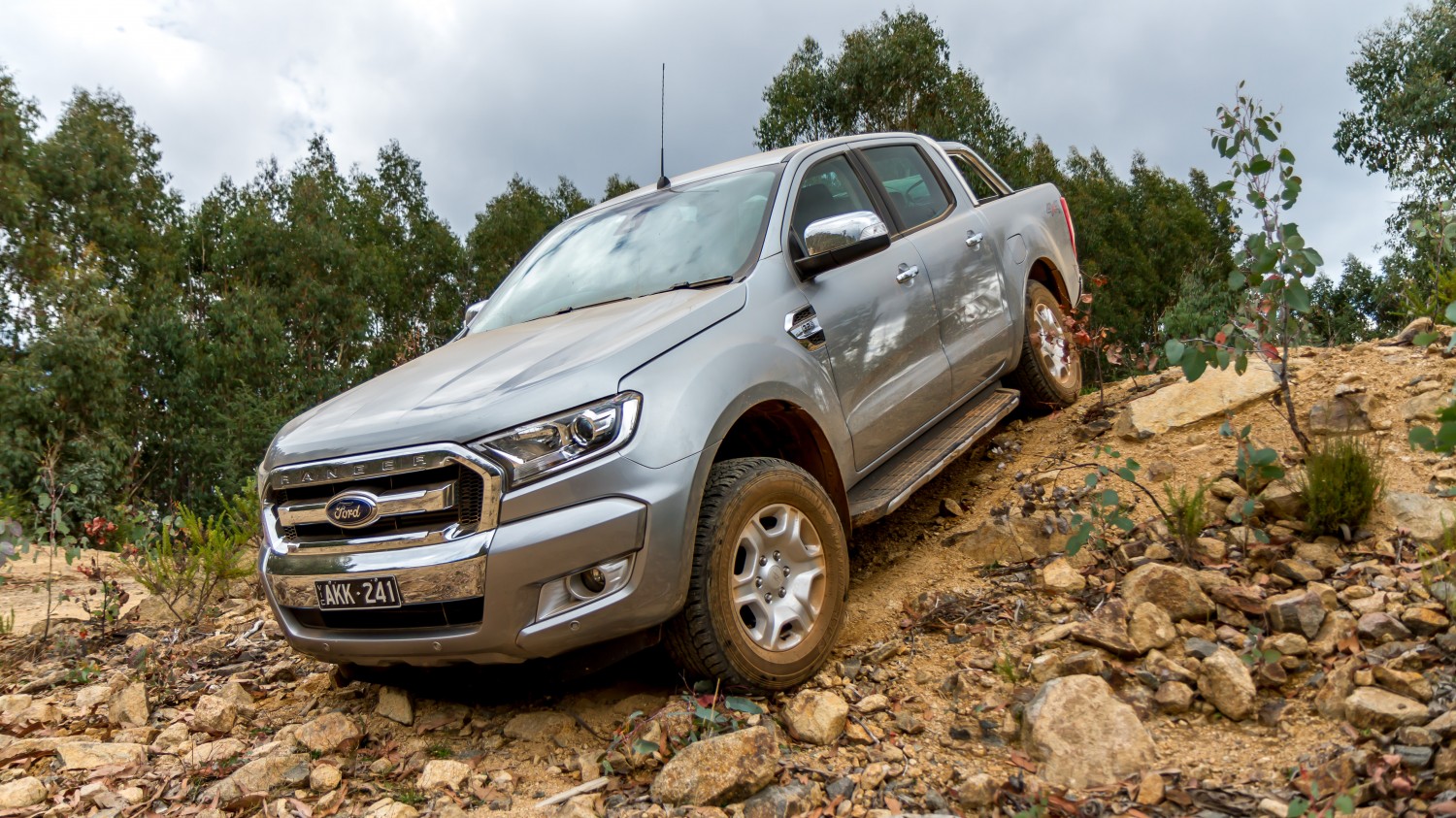 The damn things hang so low (they'd have to reduce ramp-over clearance by 100mm) that we were struggling to get the Ranger up relatively simple tracks, simply because it didn't have the clearance to straddle many of the numerous water diversion banks. Adding further frustration to the experience was the continual 'bonging' from the front position sensors, that were incorrectly predicting that the front of the Ranger was going to collide with the ground on the way down many of the steeper banks.
Have I mentioned that the Ranger enjoys the odd bong?
There was probably a setting to dial back the sensors sensitivity, but we didn't find it in time and crossed other similar tracks off our list due to the previously mentioned clearance issue.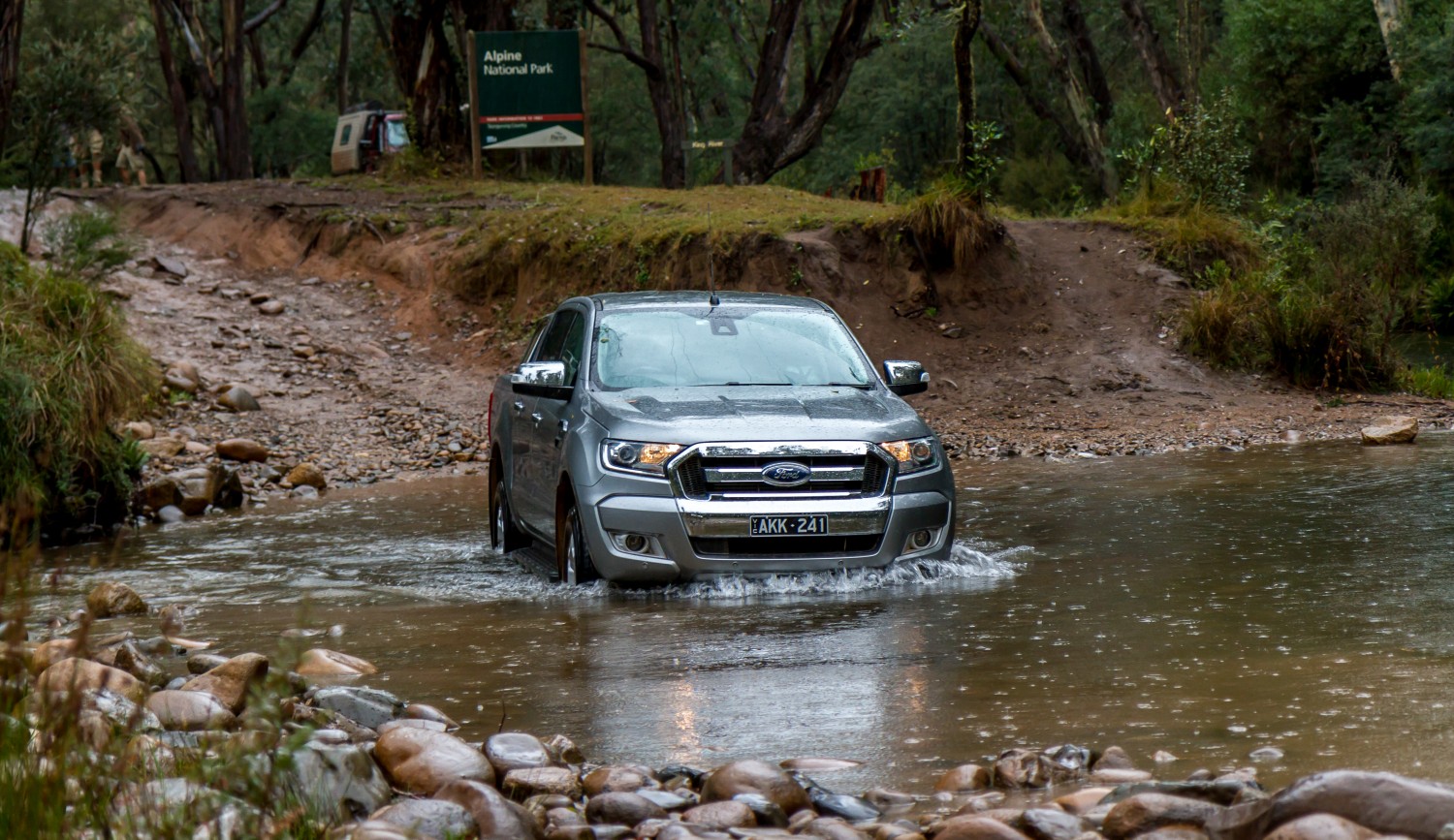 The other overwhelming sense that you get with the Ranger on High Country tracks is that it really is bloody big. While the electric steering is very good and at low speeds lightens up nicely to make manoeuvring as easy as it can be, there is no getting around the fact that the Ranger is long and wide. On a couple of occasions the Ranger needed two bites at a bend the Pajero Sport whipped around in a flash. And that big flat wobbly bonnet doesn't help the driver 'feel' where the front corners are. We 'practiced' a few too many mid track three-point turns (don't ask…) and the Ranger doesn't shrink around you and ever feel smaller than it actually is.
Speaking of big, arguably the Ranger's most coveted attribute is its up-sized 3.2-litre five-cylinder turbo-diesel engine. Punching out a healthy 147kW and 470Nm, it is the largest capacity engine in the segment and stands resolute in a sea of shrinking donks; for plenty of Aussies, size still matters. In the Ranger's case the 'big-five' produces the goods in an off-beat, throaty and relaxed manner, once you've worked out that the accelerator pedal is a bit lazy and needs a decent shove if you want to kick things in the guts.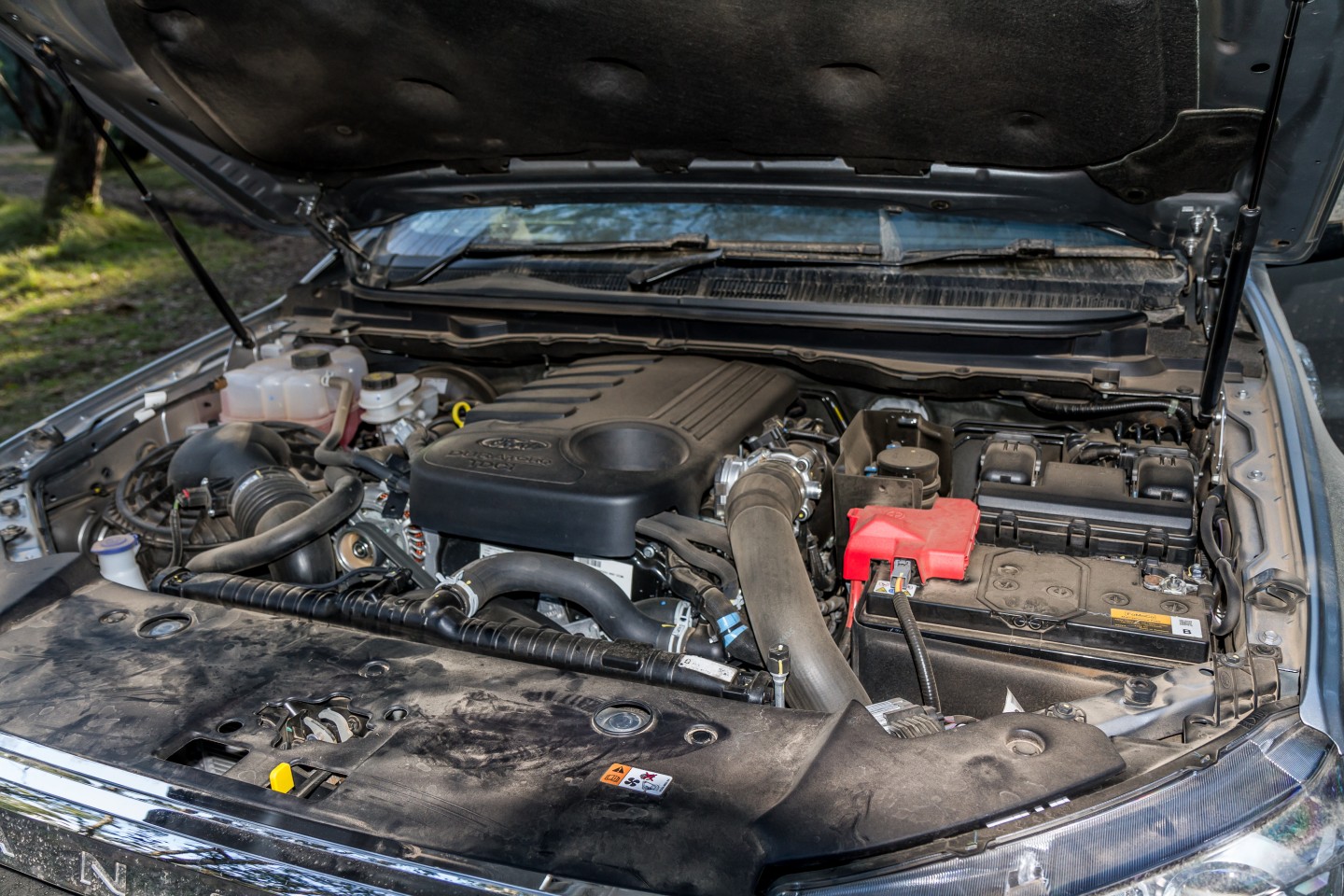 Cleverly, when you select 4X4 low, the throttle calibration is changed, making the accelerator pedal less sensitive to bumps on rough tracks.
The six-speed auto was smooth and intuitive, if a little clunky at low speeds and like most six-speeds is setup to improve fuel efficiency, with two over-drive ratios. I've promised not to rant further, but it's interesting to note that the six-speed manual available in the Ranger, only has one overdriven ratio (6th), with 5th being 1:1. That gives you a better spread of ratios and lower gearing for towing and mountain climbing (or descending), which is, you know, handy in a 4X4 ute. It's meant to be a relatively sweet shifting box in the PXII as well.
Still, the auto with its two overdrives helped the Ranger return an admirable 9.1 L/100km over our five-day trip that included a good mix of highway and off-road driving, as well as some low-range work.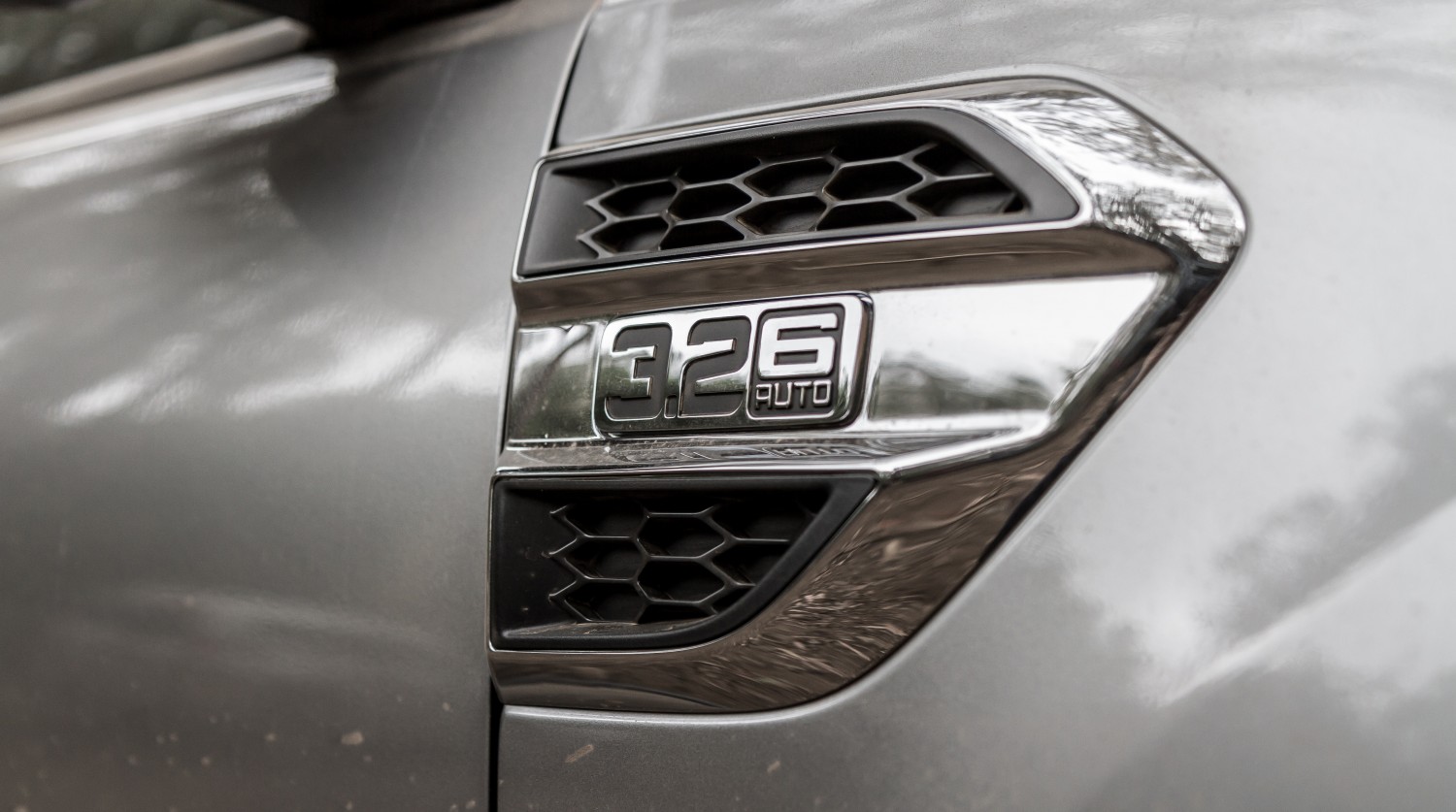 Oh, and by the way, the Ranger's five-cylinder diesel is a direct development of Land Rover's TD5 engine, just one of the pieces of technology 'borrowed' during Ford's short lived custodianship of Land Rover earlier this century.
LOADED 4X4 VERDICT:
The weather beat us, so this can't be considered the penultimate off-road review, but I did get to know the Ranger enough to know where I feel it slots into the current crop of 4X4 dual-cab utes.
For many, the boxy, slab-sided styling and North American F-Truck inspired PXII front-end will stand-out as the appealing option amongst the more radically styled offerings from the Japanese manufacturers. They all look a bit naff to my eyes and the lack of imagination used by Ford's designers has the Ranger firmly dropped into the 'bland' bucket. I don't see the 'on-road presence' that others bang on about but styling is subjective so you can make your own mind up about that one.
It's big, it's loaded with entertainment and safety tech, it has a characterful and purposeful engine, it rides nicely when the tyre pressures are set correctly and you can while away the on-road hours very comfortably in it's well equipped cabin. Just as importantly it handles well on both bitumen and dirt and has the electronic smarts to keep you out of trouble on both surfaces.
Off-road, with its improved Traction Control calibration, highly effective Hill Descent Control and locking rear-differential, the Ranger would seem to have the wood over the competition, provided you drop the XLT's useless side steps in the bin on the way to your first track.
The Ranger doesn't feel as well finished as the HiLux, but it's on par with the rest of the Thai 4X4 utes. There seems to be a never-ending procession of 'bongs' and information messages for the driver that require clearing and for me at least, it just asks too much of a driver that just wants to drive. You know, watch the road, check your own blind spot, drive in your own lane, avoid driving into the car in front, steer around corners, accelerate and brake as required – that sort of thing.
A question mark hangs over the Ranger's long-term reliability and build quality, which is nothing new with these utes. Driving one for a week in no way compares to a few years of ownership and in the Ranger's case, a long-term relationship can mean that you'll encounter the odd electrical glitch, just as we did during our few short days at the wheel.
Long term Ranger owners have reported a variety of electrical gremlins over the years – some of which appear to have no known fix and range from minor to major on the inconvenience scale. There have also been reports of inferior quality paint, easily dented exterior panels and interior trim items that wear prematurely.
The Ranger is also expensive. While writing this review the cheapest Ranger XLT on Carsales was available on the road for $53,000, with most dealers asking considerably more. Full retail is a heady $57,690 before you add premium paint, the $800 XLT Tech Pack or on-roads, making it one expensive ute.
Yes, it's got a cupboard full of trophies and yes, it's selling up a storm, but I don't think it's THE BEST 4X4 ute out there, in fact I don't think there is such a thing. It's more a case of which 4X4 ute BEST suits your requirements.
Let me explain.
If it's all about getting the best value for money (and don't mistake that for cheap and nasty) along with an excellent off-road platform that includes Mitsubishi's Super Select II drivetrain (2WD/AWD/4WD) then the Triton is hands down the best buy. The top-of-the-range Exceed is a full $10,000 cheaper than the Ranger XLT. You can check out what David had to say about the Triton earlier this month here.
If you covet rugged dependability and unflappable reliability, then the Isuzu D-MAX is the only choice. Second only to Lexus in the customer satisfaction stakes, the D-MAX appears to have few issues that will manifest in the long-term. Stay tuned as we'll be on Moreton Island with the new D-MAX in the next few days and we'll be sure to let you know what we think of it.
For those that don't mind paying a premium and in return expect the best build quality and arguably the best driving 4X4 ute in stock form, then as much as I hate to admit it, that's the HiLux or the Amarok. You can read my thoughts on the SR5 HiLux here and David's somewhat more reluctant but nonetheless mostly positive thoughts on the same truck here.
If you are regularly towing, want the best infotainment and safety equipment, an amped up 'bigger than the rest' drivetrain, serious off-road potential and you're happy to pay top-dollar for it, then it's the Ranger XLT (or Wildtrack) that's got your name on it.
As it happens, I'm currently in the market for a 4X4 dual-cab ute, one that we'll use as a project vehicle at Loaded4X4, with the aim being to build a tough but legal off-roader and tourer. Right now the choice sits squarely between the Triton Exceed and the Isuzu D-MAX as value and reliability are the overriding factors in this particular decision and that means that the big Ford doesn't make the cut.
On the other hand, your specific requirements for one of these 4X4 utes might have the Ranger sitting solidly in the number 1 spot and that would be a more than reasonable position for it.
PRICE AS TESTED:
Ranger XLT double cab: $58,490 plus on-roads
COMPETITOR PRICE COMPARISON:
Holden Colorado Z71: (auto): $57,190; (man): $54,990
Mitsubishi Triton Exceed: (auto): $46,580
Mazda BT-50 XTR: (auto): $51,700; (man): $49,700
Toyota SR5 HiLux: (auto): $56,390; (man): $54,390
Volkswagen Amarok TDI420 Highline: (auto): $56,990; (man): N/A
Specifications:
Engine: 3.2 litre five-cylinder turbo-diesel
Power/Torque: 147kW/470Nm
Transmission: 6-spd automatic or manual
Suspension: Front: independent; rear: solid axle with leaf springs
Steering: Electric assisted rack-and-pinion
Brakes: ventilated front discs | rear drums
Fuel consumption claimed: 8.7 l/100km combined
Wheels and tyres: 17×8.0 alloy wheels / 265/65 R17 tyres
Approach/departure:  approach 29 degrees; departure 21 degrees
Ground clearance/wading depth: 237mm
Tow rating: 750kg (unbraked); 3,500kg towing (braked) and carrying capacity of 1095kg; gross vehicle mass is 3,200kg
ANCAP rating: 5 stars
Vehicle class:
NA category – "light goods vehicle"
Key features: 
Ford Ranger XLT double cab
12V Socket(s) – Auxiliary
17″ Alloy Wheels
240V Socket(s)
6 Speaker Stereo
ABS (Antilock Brakes)
Air Cond. – Climate Control 2 Zone
Airbag – Driver
Airbag – Passenger
Airbags – Head for 1st Row Seats (Front)
Airbags – Head for 2nd Row Seats
Airbags – Side for 1st Row Occupants (Front)
Alarm
Alarm with Motion Sensor
Alarm with Tow Away Protection
Audio – Aux Input USB Socket
Audio – Input for iPod
Audio – MP3 Decoder
Bedliner
Bluetooth System
Body Colour – Bumpers
Brake Assist
Brake Emergency Display – Hazard/Stoplights
Camera – Rear Vision
Cargo Tie Down Hooks/Rings
Carpeted – Cabin Floor
CD Player
Central Locking – Remote/Keyless
Chrome Bumpers
Chrome Door Handles – Exterior
Chrome Door Mirrors
Chrome Exterior Highlights
Chrome Grille
Control – Electronic Stability
Control – Hill Descent
Control – Park Distance Front
Control – Park Distance Rear
Control – Rollover Stability
Control – Traction
Control – Trailer Sway
Cooled Compartment – Front
Cruise Control
Cup Holders – 1st Row
Diff lock(s)
Door – Rear Tailgate
EBD (Electronic Brake Force Distribution)
Engine Immobiliser
Fog Lamps – Front
GPS (Satellite Navigation)
Headlamps Automatic (light sensitive)
Heated Door Mirrors
Hill Holder
Leather Gear Knob
Leather Steering Wheel
Memory Card Reader
Mudflaps – front
Mudflaps – rear
Multi-function Control Screen – Colour
Multi-function Steering Wheel
Power Door Mirrors
Power Door Mirrors – Folding
Power Steering – Electric Assist
Power Windows – Front & Rear
Radio – Digital (DAB+)
Rain Sensor (Auto wipers)
Rear Step bumper
Rear View Mirror – Electric Anti Glare
Seat – Drivers Lumbar Adjustment Manual
Seatbelts – Lap/Sash for 5 seats
Seats – 2nd Row
Seats – Bucket (Front)
Side Steps
Smart Device App Display/Control
Smart Device Integration – Android Auto
Smart Device Integration – Apple CarPlay
Speed Limiter
Sports Bar
Storage Compartment – Centre Console 1st Row
Tinted Windows – Extra Dark/Privacy
Tow Bar
Trim – Cloth
Tyre Pressure Sensor
Vented – Guards Front
Voice Recognition
Wireless Hotspot