Isuzu UTE has had enormous success in Australia, thanks to some smart marketing (getting their product out on the tracks) and a tough as nails product that has proven itself to be durable and reliable. When it comes to reliability the D-MAX and MU-X have an enviable reputation, so much so that if you want to have the best crack at a trouble free 4X4 experience, you should be shopping at Isuzu dealerships.
But it's not just the notion of reliability that sells cars. New 4X4 buyers are increasingly looking for that elusive 'car like' experience from their new 4X4 and that has manufacturers putting more effort into Noise Vibration and Harshness (NVH) engineering and kitting their 4X4 products with the latest in safety, comfort and convenience features.
The pre-update MU-X would take you anywhere and get you home again, but compared with the likes of the newer Pajero Sport, Everest and Fortuner, it has been outclassed in the NVH and comfort stakes for a while now.
Enter the considerably updated MY17 Isuzu UTE MU-X. Launched late last week, with a raft of changes designed to meet Euro 5 emissions standards and improve fuel efficiency, comfort, capability and drive-ability. You could call it a subtle maturation of an already accomplished vintage – if you were a wine wanker – and you wouldn't be far from the mark.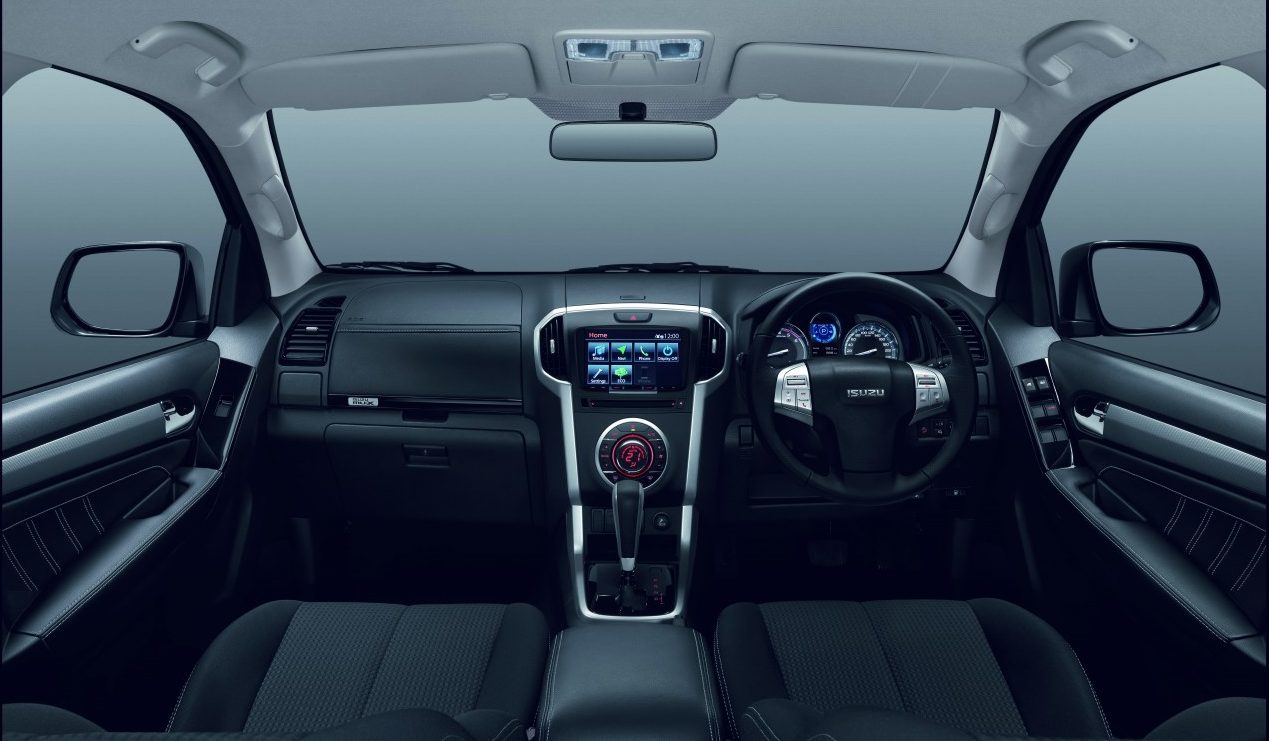 Prior to development of the updated MU-X, Isuzu UTE spent time talking to its dealers and current owners and it's their feedback that shaped the development process. As a result the MU-X's interior has been upgraded with the addition of soft-touch areas to the dashboard, door trims and armrests, improved leather seating in the LS-T, as well as additional sound deadening on the floor pan and around the firewall. Isuzu claim a 3db reduction in interior noise.
A new range of alloy wheels has been introduced, with both the LS-U and LS-T getting 18-inch alloys as standard (we know…not great for off-road), while the entry level LS-M sticks with 16-inch wheels.
The drivetrain has received a substantial work-over, with the rock-solid Isuzu 4JJ1 3.0-litre diesel being reworked to meet Euro5 emission requirements, while at the same time producing an additional 50Nm, raising peak torque to 430Nm, albeit over a narrow band between 2000 and 2200rpm. Fuel economy is a claimed 7.9 L/100km for the automatic. We managed to achieve 9.1 L/100km over the course of three days, including sand driving on Moreton Island and expect that Isuzu's claim is on-the-money.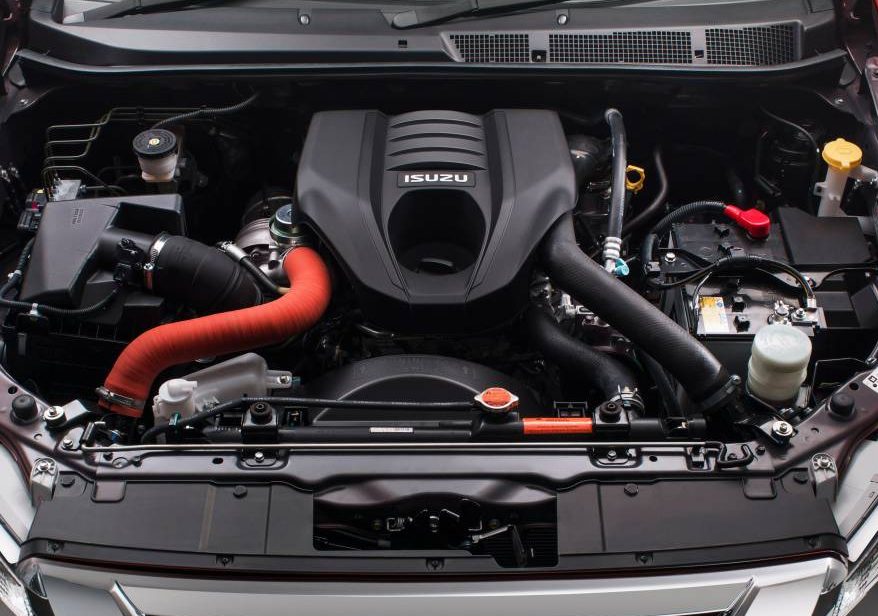 There is two years of development time and 100,000km of Australian testing invested in the reworked 3.0-litre. It should be noted that Isuzu UTE Australia fought to keep the 3.0-litre, with all of their other export markets moving to smaller capacity (down to 1.9-litres) turbo-diesels.
An Aisin six-speed automatic transmission replaces the previous model's five-speed and is expected to account for 95 per cent of sales. An Isuzu designed six-speed manual is available as an option for the first time with the MU-X.
One glaring omission is the continued absence of a locking rear differential that is now either a standard feature or available as an option on many of the competitors off-road biased SUVs. Isuzu fitted a new rear differential to the MU-X as part of the update – to deal with the increase in engine torque – but elected not to add a locker. With Isuzu UTE actively marketing the off-road ability of their products this is a disappointment. There are unconfirmed rumours that the next all-new D-MAX and MU-X will rectify this issue.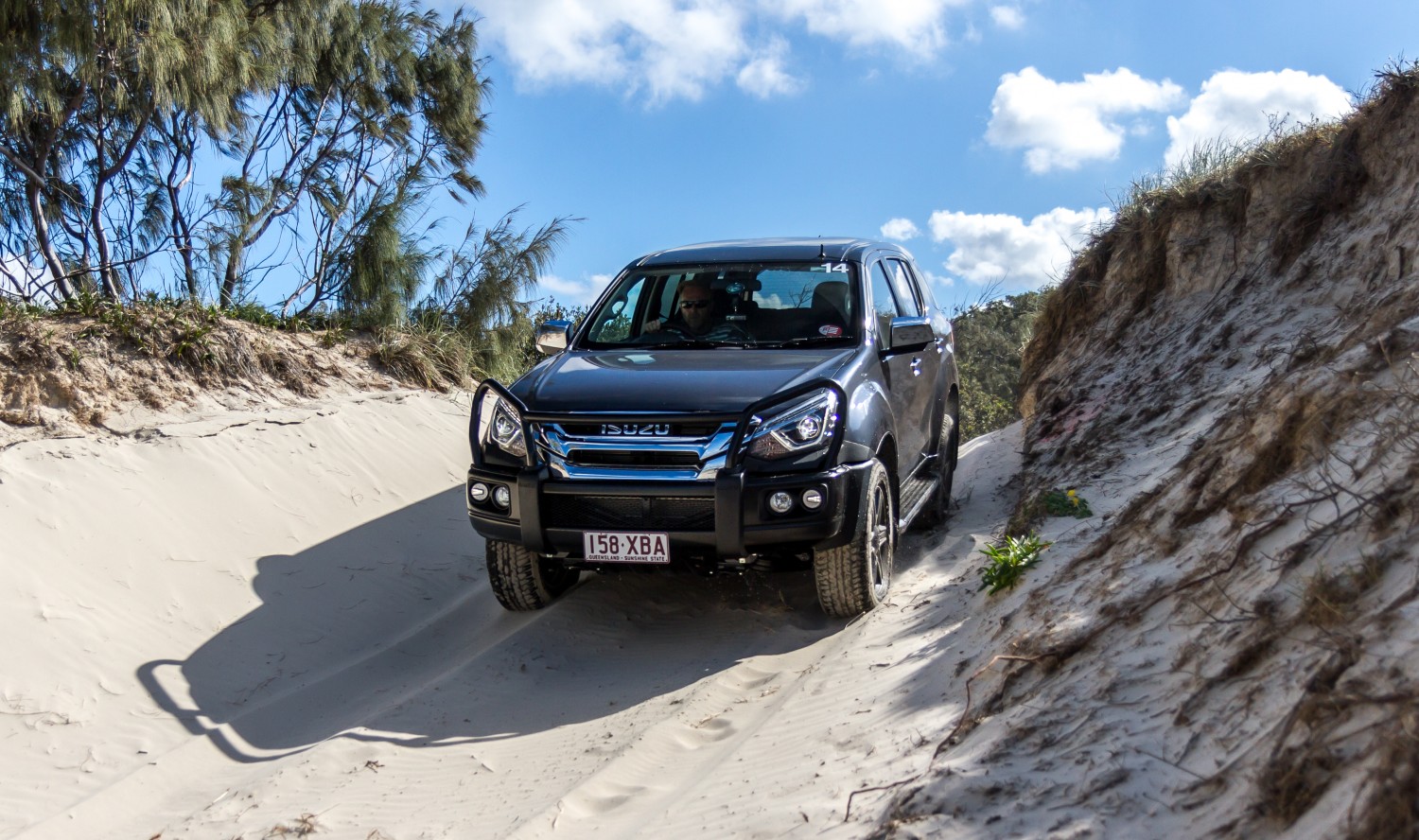 Down-hill descent control is now a feature, although not one that can be adjusted via the cruise control controls. Our limited testing of this feature (controlled via the brakes) was that it was effective and unobtrusive in its operation.
Isuzu has capped the cost of the MU-X's first five services to $1500. Commendably, Isuzu is one of the few manufacturers that has stuck with 10,000km service intervals, although for MY17 they have increased the time frame from 6 to 12 months. Extending a vehicle's service intervals, especially one that may be used off-road, to lower perceived running costs is one of the biggest jokes getting around right now.
Log book serviced second-hand D-MAX and MU-X are smart buying.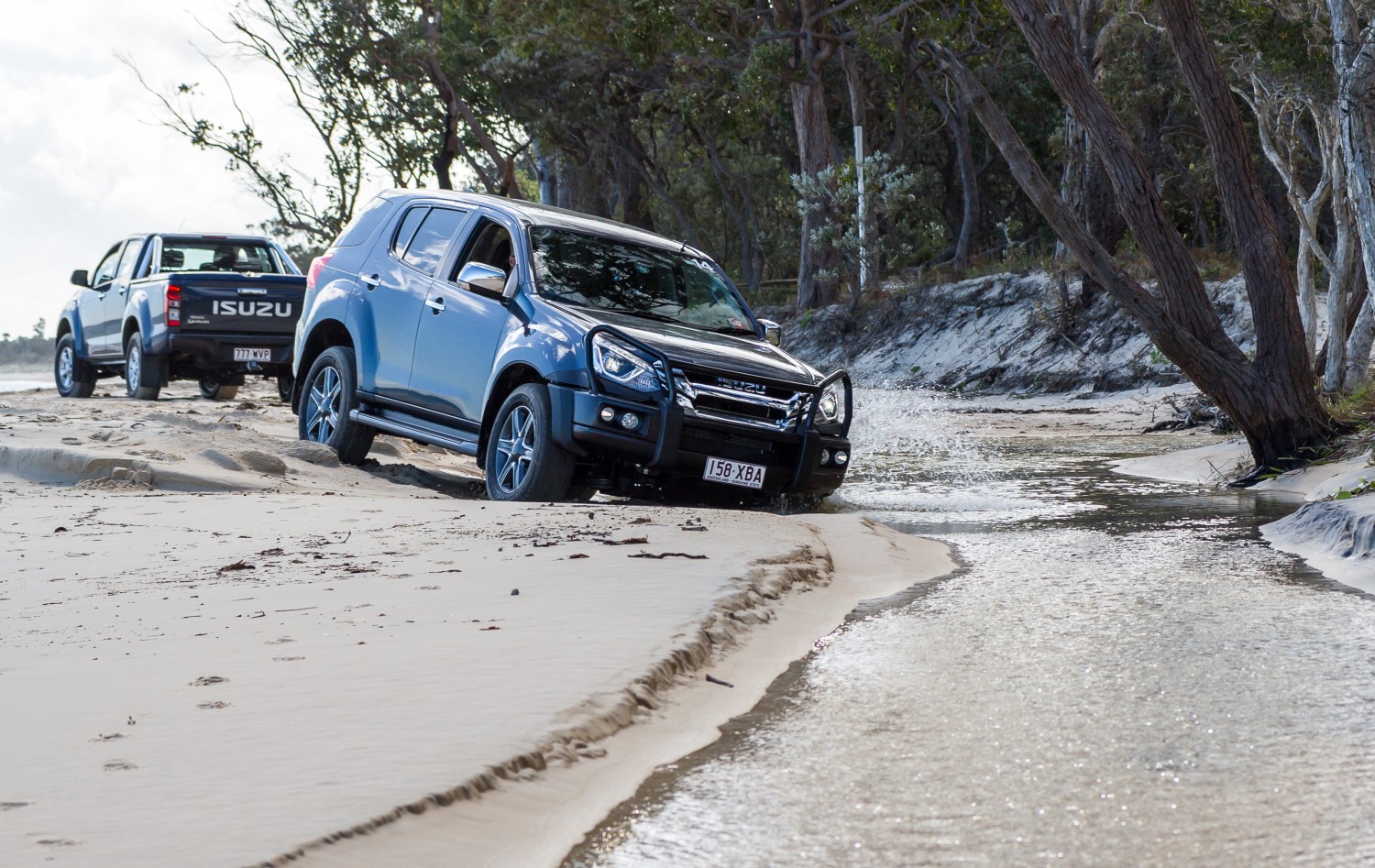 Isuzu's official recommended retail pricing is hard to fathom and has the MU-X LS-U auto that we've tested here priced at $52,400 and the top-spec LS-T at a hefty $56,100. Real world pricing via Isuzu's website tells a different story and you can, with no haggling, expect to pay $48,990 on the road for the LS-U and $52,990 on the road for the LS-T. Check the online pricing before heading to the dealer.
On the road
Our car for the trip from the launch in Noosa, down to Brisbane and across to Moreton Island was the mid-spec LS-U with the six-speed automatic, in my opinion, the pick of the three spec levels.
The interior changes introduced with this update have boosted the appeal of the LS-U's interior, which now feels more upmarket thanks to the addition of 'soft-touch' areas on the dashboard and door trims. Sure, underneath it's the same old Colorado interior and even Holden has moved on from that, but it's functional, feels robust and is now a little classier than it used to be. It's also extremely practical with excellent cup holders a double glovebox and plenty of well thought out storage nooks.
The LS-U comes with that old-fashioned ignition key for starting the engine (only the LS-T gets push-button starting) and to be honest, I prefer it. The seats are comfy and manually adjusted, while the steering wheel remains adjustable for tilt only, although this didn't seem to hamper finding a comfortable driving position.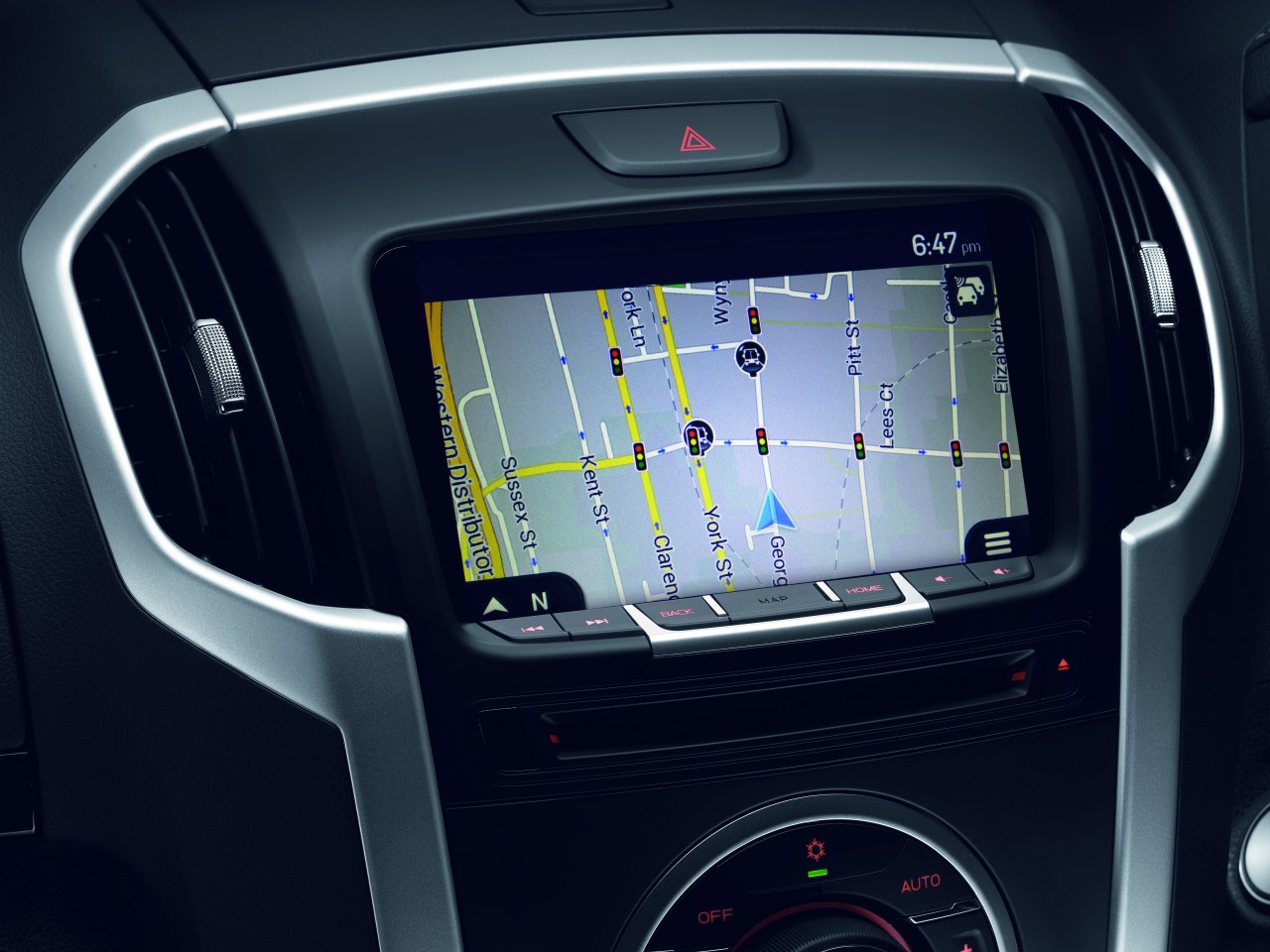 The new 8-inch touchscreen infotainment system isn't at the cutting edge of this type of technology and doesn't feature Apple CarPlay or Android Auto, but it proved to be easy to use and that is just as important. The SatNav was intuitive regarding destination entry and was flawless in guiding us from Noosa through to a Brisbane address. Infotainment nerds will be left feeling a little deflated by the MU-X offering but the rest of you will find it more than adequate.
That 4JJ1 turbo-diesel has plenty of character. It pulls strongly from standstill with little to none of the turbo-lag experienced when driving some of the smaller capacity competitors and when you need it there is plenty in reserve. It's not as smooth as Ranger nor as quiet as Triton but it gets the job done, delivering its torque in an unruffled manner, an Isuzu hallmark.
Interior noise levels are lower but you'd need to drive the MY17 back to back with an older MU-X to really get a feel for the changes that Isuzu has wrought. My initial take is that the engines pronounced 'diesel clatter' when under load is now more muted, and wind, tyre and engine noise at highway speeds has been noticeably reduced, to the extent that you now notice the wind whistling around the rear-view mirrors more than anything else.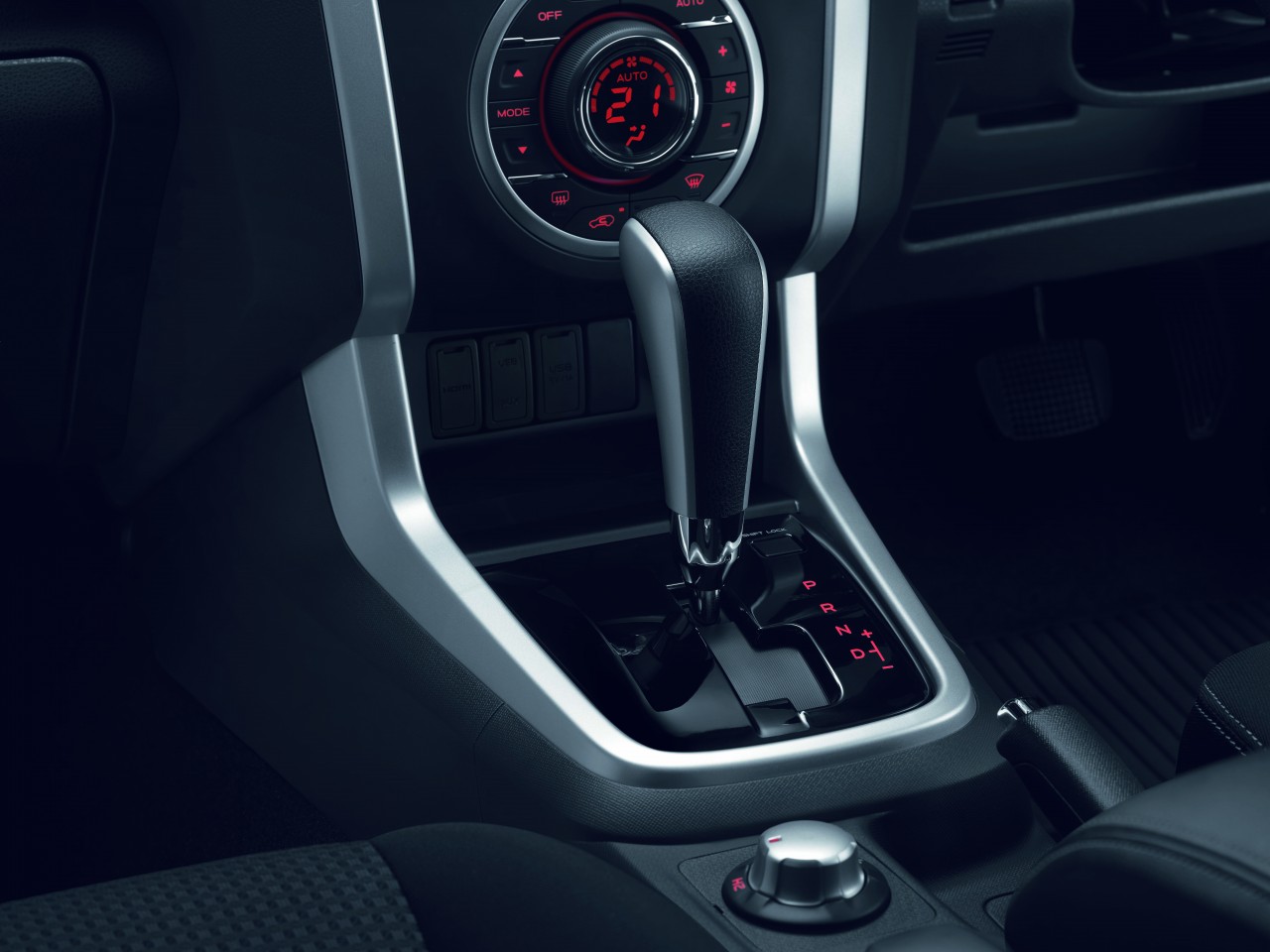 The Aisin six-speed automatic shifts cleanly and is quite intuitive in the way it down changes under braking. It features two overdrive ratios (5th and 6th) and I'd rather see these 4X4 vehicles getting an extra ratio down low – ideally a lower first gear ratio – than a higher overdrive. It would make more sense when towing or off-roading and the difference in fuel used would be negligible. It would also remove the transmissions tendency to change down from 6th to 5th at the first hint of any additional load on the highway. I'd prefer one sensible overdrive that the vehicle can hold at speed without issue. The Ranger manual – for example – has one over driven ratio and five ratios up to and including 1:1.
There's a manual shift mode that is ideal for off-roading, allowing the driver to select the desired ratio for steep descents and while it won't change up on you going downhill (thankfully), it will override your gear selection on ascents and change down a gear when it feels the need. This happened on several occasions as we traversed erosion humps and in my opinion wasn't warranted and could potentially result in lost traction on slippery tracks.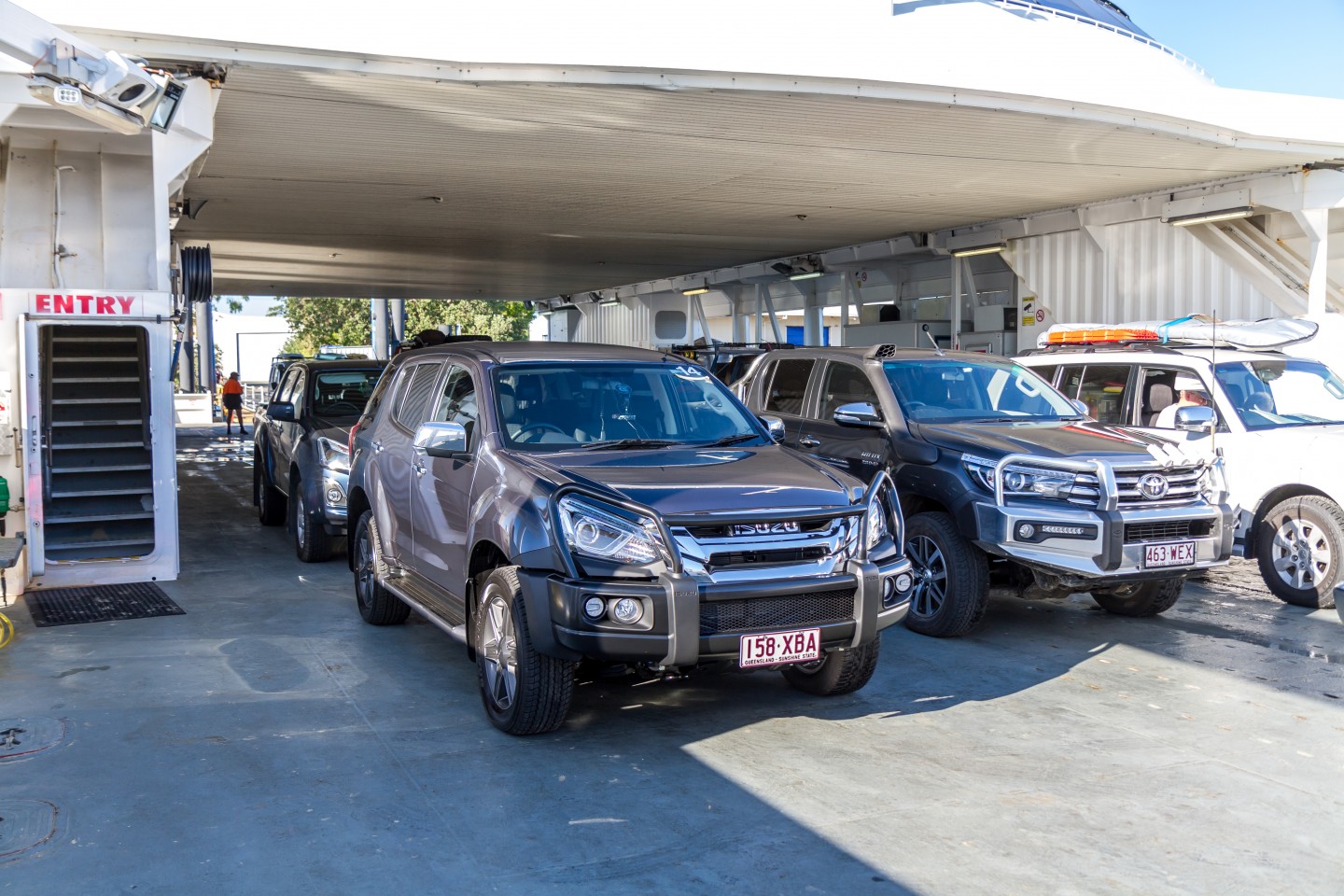 On the road, MU-X hides its ladder frame chassis construction commendably well, with only a hint of 'separate chassis shudder' making itself known over some of the rougher sections of broken bitumen. It's better than the Pajero Sport in this regard and the Sport is a solid feeling jigger.
With tyre pressures set at 29 psi per the tyre placard, the MU-X has a comfortable ride both on and off-road, although steering feel and weight aren't quite a match for its main rival, the Pajero Sport.
Moreton Island – Off-road
If you haven't previously experienced Moreton Island, you need to get yourself over to Brissie and booked onto the MICAT. Moreton Island is incredibly beautiful and great fun to get around in a 4X4. If you get the chance to visit, book a few nights stay and make the most of what is an island paradise. There's a variety of accommodation options, ranging from camping in amazing looking campsites, glamping in permanent tents, cabin and even hotel accommodation. For more information, head over to the Moreton Island Aventures website.
Unfortunately for us, it was a day trip (I only sound bummed because a longer stay would have been better) and one that started with us boarding the MICAT at 7:30am. First job was airing down and we dropped tyre pressures down to 20 psi. You could go quite a bit lower without issue but we wanted to see what the sand was like before making that decision. Turns out it was bang on for the conditions we experienced.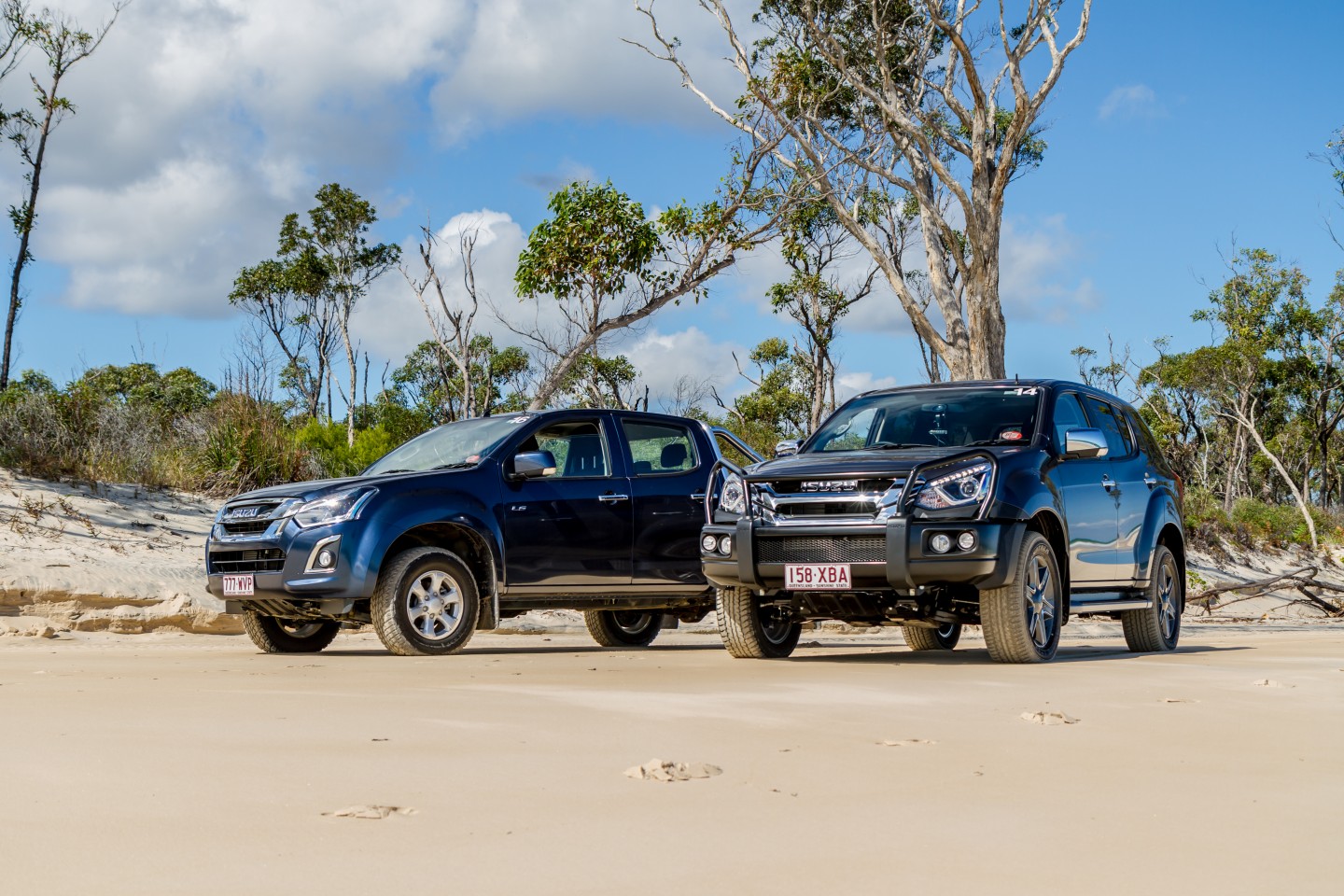 In the MU-X it's then a case of using the dial in the centre console to select 4H (4WD high range) and holding the ASC button down for around 7 seconds, which initially switches off traction-control (TC) but also disables ASC if held down long enough. The dash confirms when both electronic aids are disabled. You don't want to drive on sand with either TC or ASC engaged as there's a reasonable chance you'll end up digging a couple of holes and needing a recovery. Doing that just as you've driven off the ferry – with an audience on hand – wouldn't be the best way to start your Moreton Island adventure.
On the subject of traction control, previous MU-Xs have lagged behind the competition, with a system calibrated to be effective on-road and no specific off-road calibration when 4H or 4L is selected. There was no mention of any changes to the TC system at the launch, and we couldn't test the TC on Moreton Island.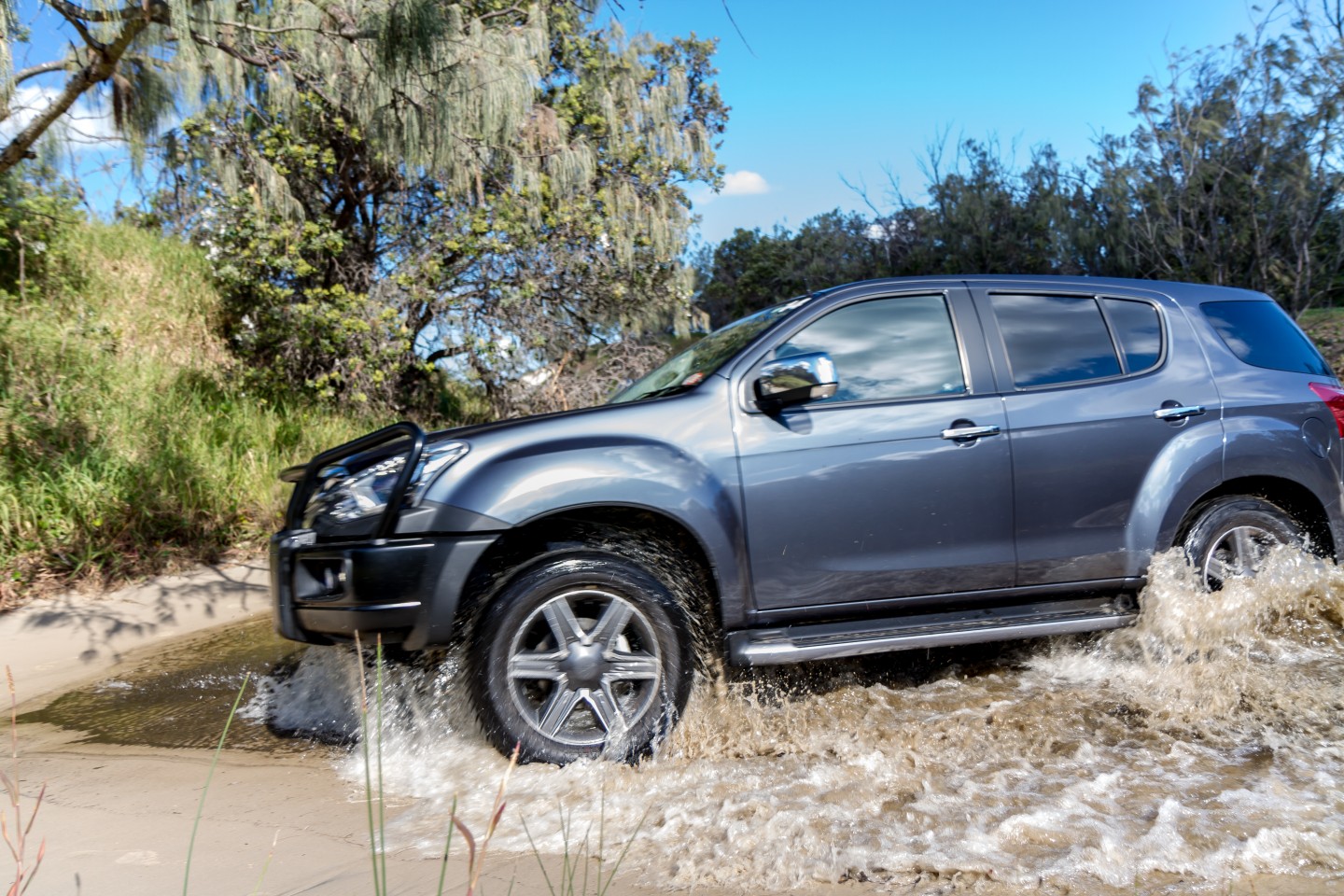 After disembarking the Micat we headed North up the beach and spent the day following the course mapped out for the iVenture Club training days – which means we got to see and experience a bit of everything the island has to offer – including some moderately challenging and in some areas, bloody rough inland tracks.
It's in this sort of terrain that the MU-X shines. Even when fitted with highway biased 18-inch rims and Dunlop Grandtrek AT22 tyres (referred to as an all-terrain but there is nothing 'all-terrain' about them) the MU-X took Moreton Island in its stride, including the rough as guts inland tracks, but sand is easier on tyres than outback tracks. If you were taking your new MU-X out the back of Bourke, some 17" rims and real light truck (LT) rated ATs would be the way to go.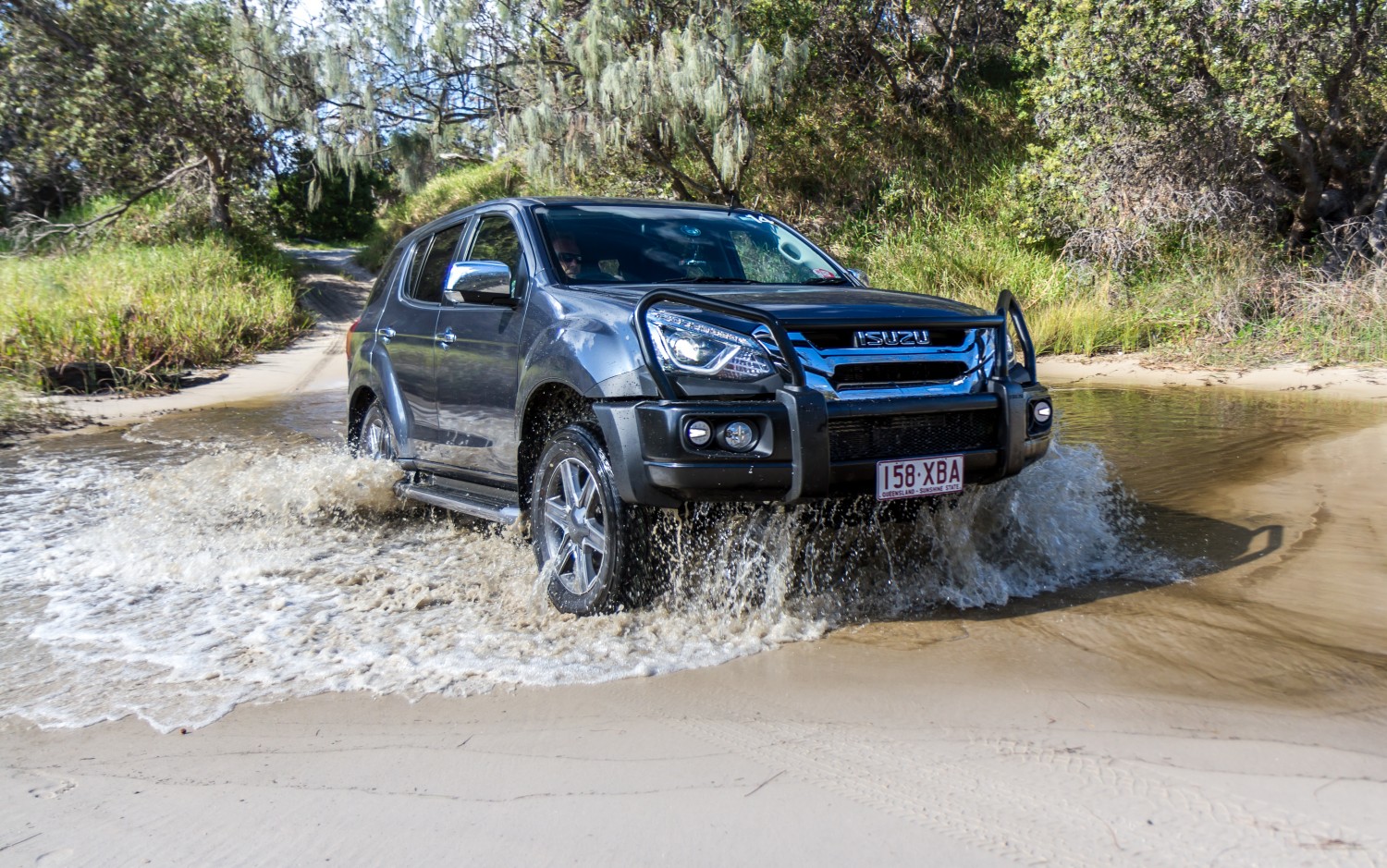 David is a regular to Moreton Island and he can't recall sections of the inland tracks ever being as bad as we experienced them in the Isuzus, so it was a great test of suspension travel and compliance. We found the MU-X's bump stops on plenty of occasions and regularly heard the paint being stripped off the bash plates on high sections of the tracks but backing off the pace would have required a recovery. The MU-X made a decent fist of the job, keeping it's cool on the roughest of tracks and easily catching some of the older solid axle vehicles that were struggling to deal with the conditions. Most notable was the compliant off-road ride – thanks in part to lower tyre pressures – and the excellent suspension control that kept 'pogo sticking' (that feeling that the vehicle is bouncing up and down on the spot) to a minimum.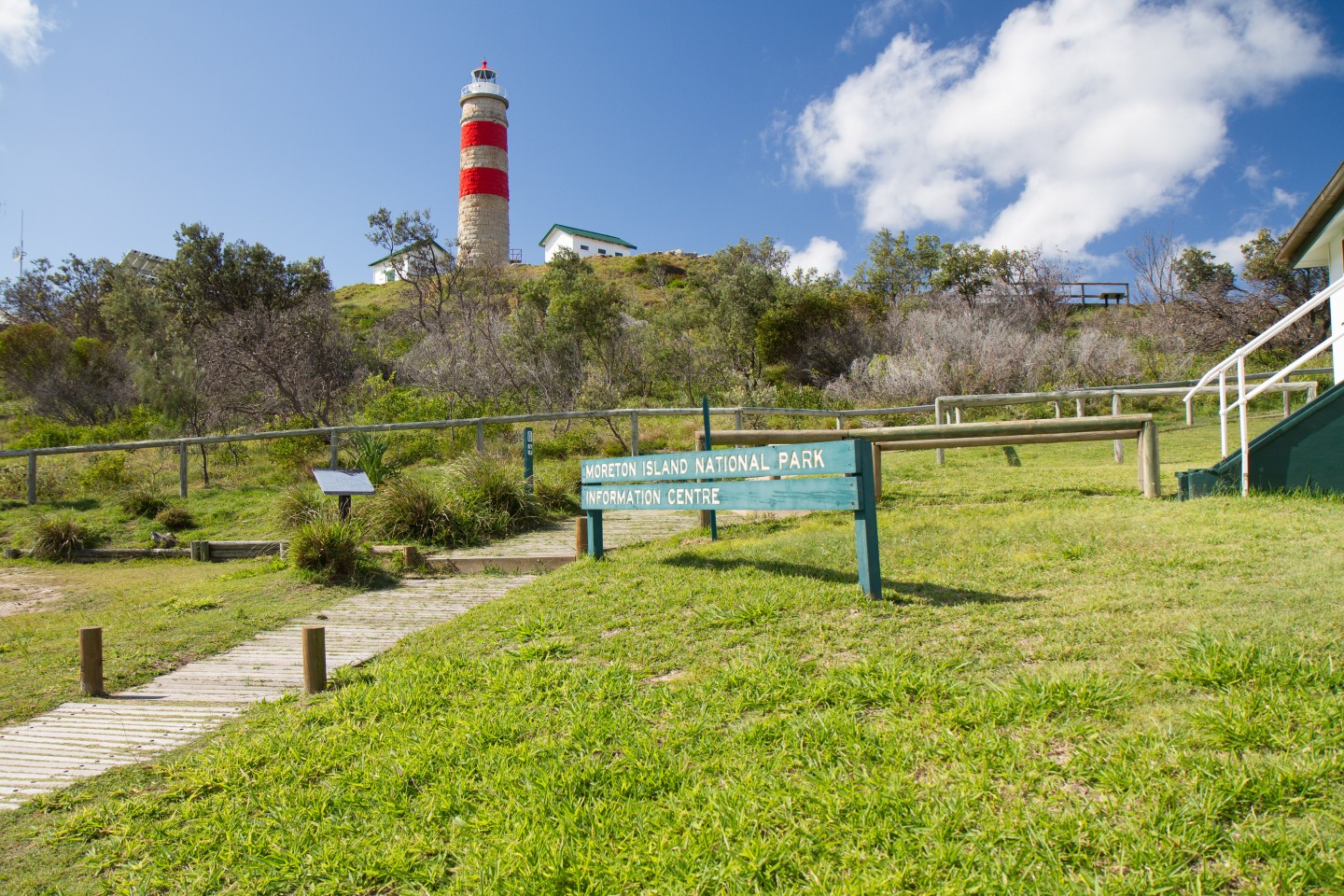 The MU-X, like all new 4X4s, would benefit from a decent aftermarket suspension kit and a mild lift but to be fair, Isuzu has the MU-X dialled-in quite nicely. Change the wheels and tyres and you could head to your favourite outback off-road destination straight from the showroom.
LOADED 4X4 VERDICT:
The updated MU-X is a good thing. Isuzu has successfully improved the MU-X formula, with noticeable improvements to NVH levels and passenger comfort and convenience. It feels as solid as ever and I have no doubt that the legendary 4JJ1 turbo-diesel engine, will prove to be as reliable as ever. There are compelling reasons to make your next 7-seat 4X4 SUV an MU-X, particularly if you plan to use it for touring or off-road work.
It's not the quietest nor the best equipped option among the current 4X4 ute based 7-seat SUV brigade, but I reckon it's the most honest and I'd put money on it continuing to be the most reliable. It's a better (roomier) 7-seat option than the Pajero Sport and offers considerably better value than either the Fortuner or Everest.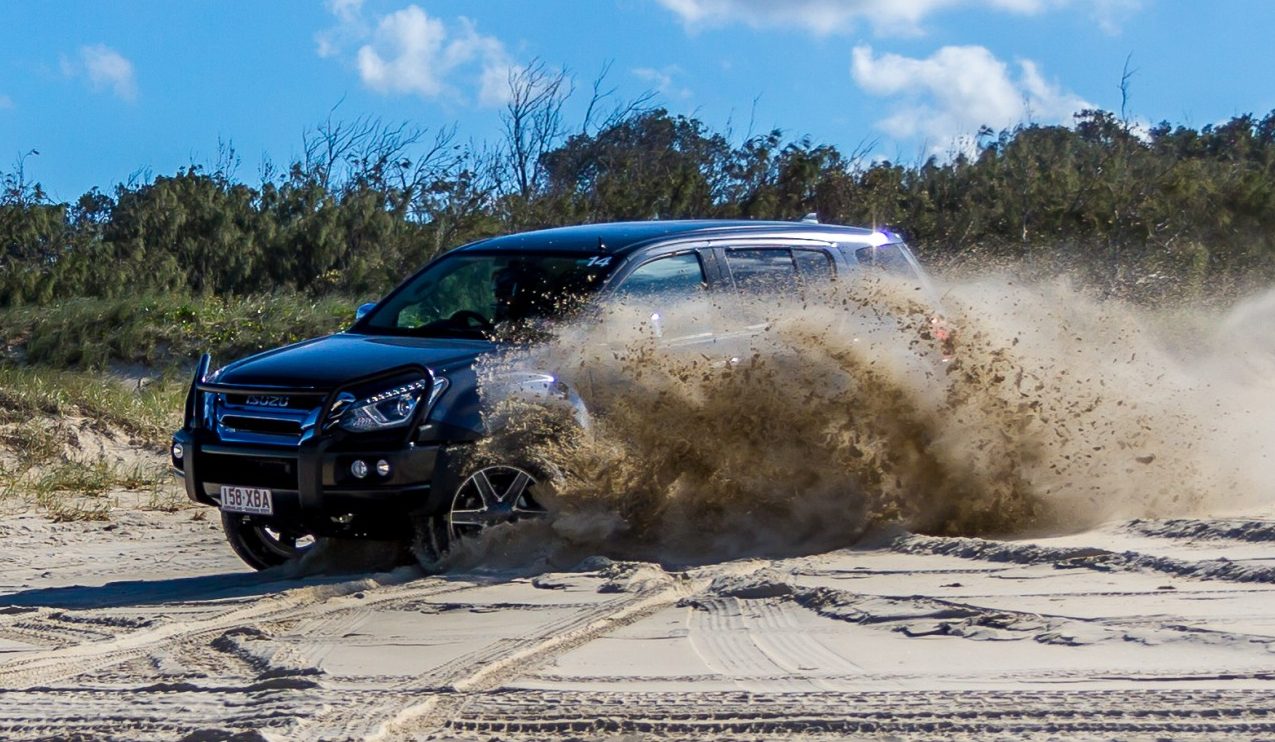 The Isuzu faithful won't be disappointed by the 2017 MU-X and the improvements should be enough to attract the attention of buyers that might otherwise have been making eyes at the Pajero Sport.
PRICE AS TESTED:
ISUZU MU-X LS-U: $48,990 on the road (per Isuzu UTE website)
COMPETITOR PRICE COMPARISON:
Toyota Fortuner GXL: (auto): $54,990 + on road costs
Mitsubishi Pajero Sport GLS: (auto): $48,500 + on road costs
Ford Everest Trend: (auto): $60,990 + on road costs
SPECIFICATIONS:
Engine: 3.0 litre 4JJ1 four-cylinder turbo-diesel
Power/Torque: 130kW/430Nm
Transmission: 6-spd automatic or manual
Suspension: Front: independent; rear: solid axle with coil springs
Steering: Power assisted rack-and-pinion
Brakes: ventilated front discs | rear discs
Fuel consumption claimed: 7.9 l/100km combined
Wheels and tyres: 18×7.0 alloy wheels / 255/60 R18 tyres
Approach/departure:  approach 24 degrees; departure 25.1 degrees
Ground clearance/wading depth: 230mm
Tow rating: 750kg (unbraked); 3000kg towing (braked) and carrying capacity of 628kg; gross vehicle mass is 2750kg
ANCAP rating: 5 stars
VEHICLE CLASS:
MC category – "a passenger vehicle with special features for off-road operation"
KEY FEATURES: INTERIOR/EXTERIOR
Isuzu MU-X LS-U
Control – Hill Descent
Control – Park Distance Rear
Control – Traction
Cruise Control
Cup Holders – 1st Row
Cup Holders – 2nd Row
Demister – Rear Windscreen with Timer
Disc Brakes Front Ventilated
Disc Brakes Rear Solid
Door Pockets – 1st row (Front)
Driving Mode – Selectable
DVD Player
EBD (Electronic Brake Force Distribution)
Engine Immobiliser
Fog Lamps – Front
GPS (Satellite Navigation)
Grab Handle – Drivers Side
Grab Handle – Passengers Side
Grab Handles – 2nd Row
Headrests – Adjustable 1st Row (Front)
Headrests – Adjustable 2nd Row x3
Headrests – Adjustable 3rd Row x2
Hill Holder
Independent Front Suspension
Intermittent Wipers – Variable
Leather Steering Wheel
Map/Reading Lamps – for 1st Row
Multi-function Control Screen – Colour
Multi-function Steering Wheel
Power Door Mirrors
Power Steering – Speed Sensitive
Power Windows – Front & Rear
Rear Stabiliser
Rear View Mirror – Manual Anti-Glare
Rear Wiper/Washer
Seat – Height Adjustable Driver
Seatbelt – Adjustable Height 1st Row
Seatbelt – Load Limiters 1st Row (Front)
Seatbelt – Pretensioners 1st Row (Front)
Seatbelts – Lap/Sash for 7 seats
Seats – 2nd Row Split Fold
Seats – 3rd Row Split Fold
Seats – Bucket (Front)
Side Steps
Skid Plate – Front
Skid Plate – Middle (Transmission case)
Spare Wheel – Full Size Alloy Wheel
Storage Compartment – Centre Console 1st Row
Sunglass Holder
Sunvisor – Vanity Mirror for Passenger
Tinted Windows – Extra Dark/Privacy
Trim – Cloth
Trip Computer