2017 G-Class Professional Launch Drive
Price: from $119,990 plus options and on-road costs
Engine/Trans: 135kW/400Nm 3.0-litre Turbo Diesel V6 / 5-speed auto
Fuel Economy claimed: 9.9 l/100km combined (quoted for the wagon)
Construction: Body on chassis
Suspension: Coil sprung live axle
Towing: 750kg unbraked / 2210kg braked
Vehicle class: off-road passenger vehicle (MC)
Function over form has a new standard-bearer in the 4WD realm, particularly if you're wanting to get all the way to the end of an unbeaten track.
German giant Mercedes Benz has given the G-Class ute its marching orders into Australian civilian life and although its likely to pick up much of its work in the emergency services sector, there's scope for private buyers – hard-core off-road campers and those looking to carry a lot of tools – to get their hands on them.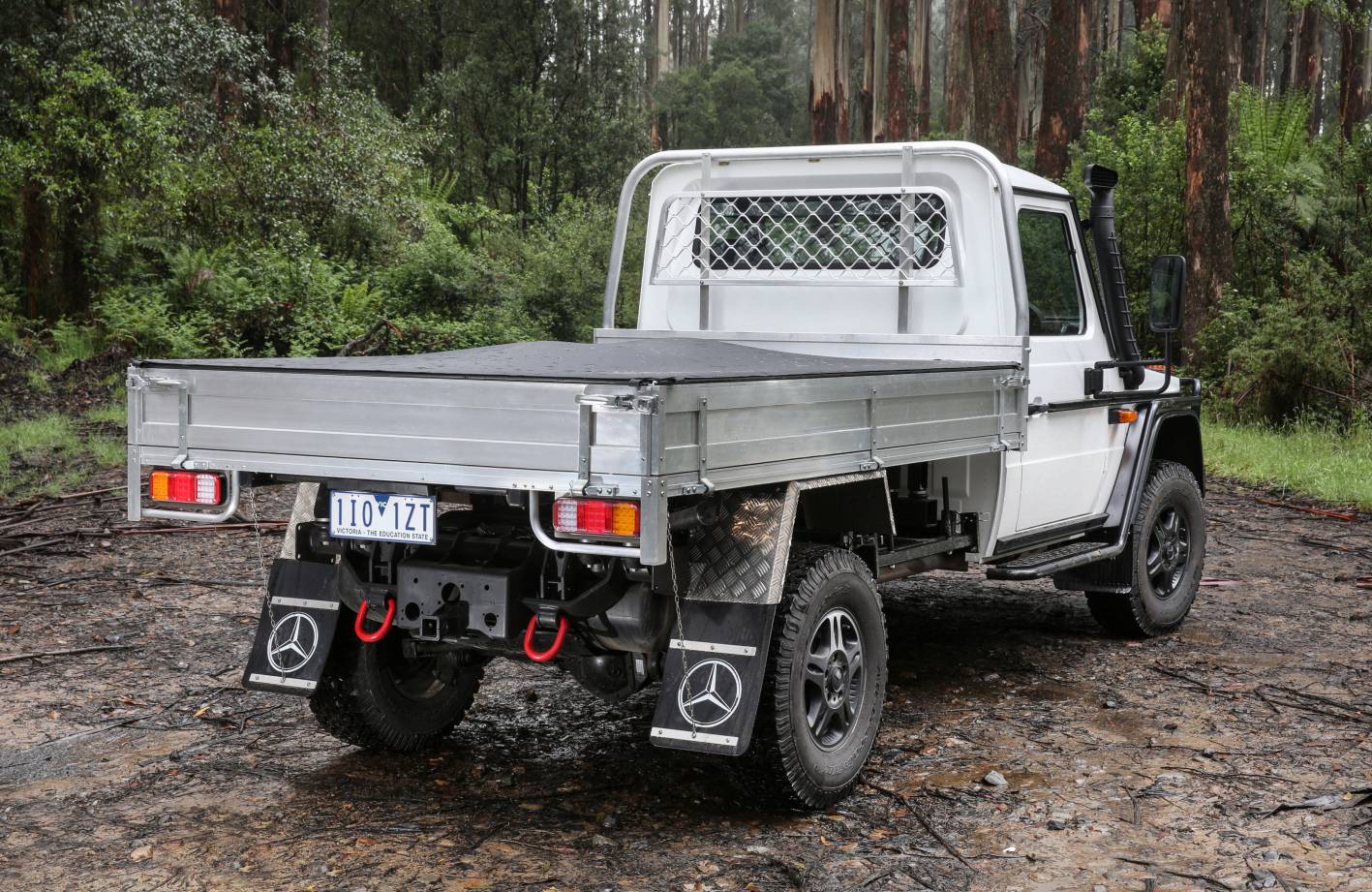 Wearing a price tag starting from $119,900 – for the G 300 CDI Cab Chassis as the 'G-Pro' is also known, the two-seat cab-chassis ute has been stripped of its military bits but retains the payload prowess.
Mercedes-Benz public relations and product communications manager Jerry Stamoulis said some fleets had already taken delivery of around 100 units, putting them into service in forestry and emergency service roles, with the private market uptake likely to be small.
"The G Pro, the number of private buyers will be quite small, we don't see this as more than about 10% private buyers, we don't expect many farmers buying it to carry hay..
"We have one here set up for a customer who has a fleet order, we've delivered just over 100 already to fleet customers," he said.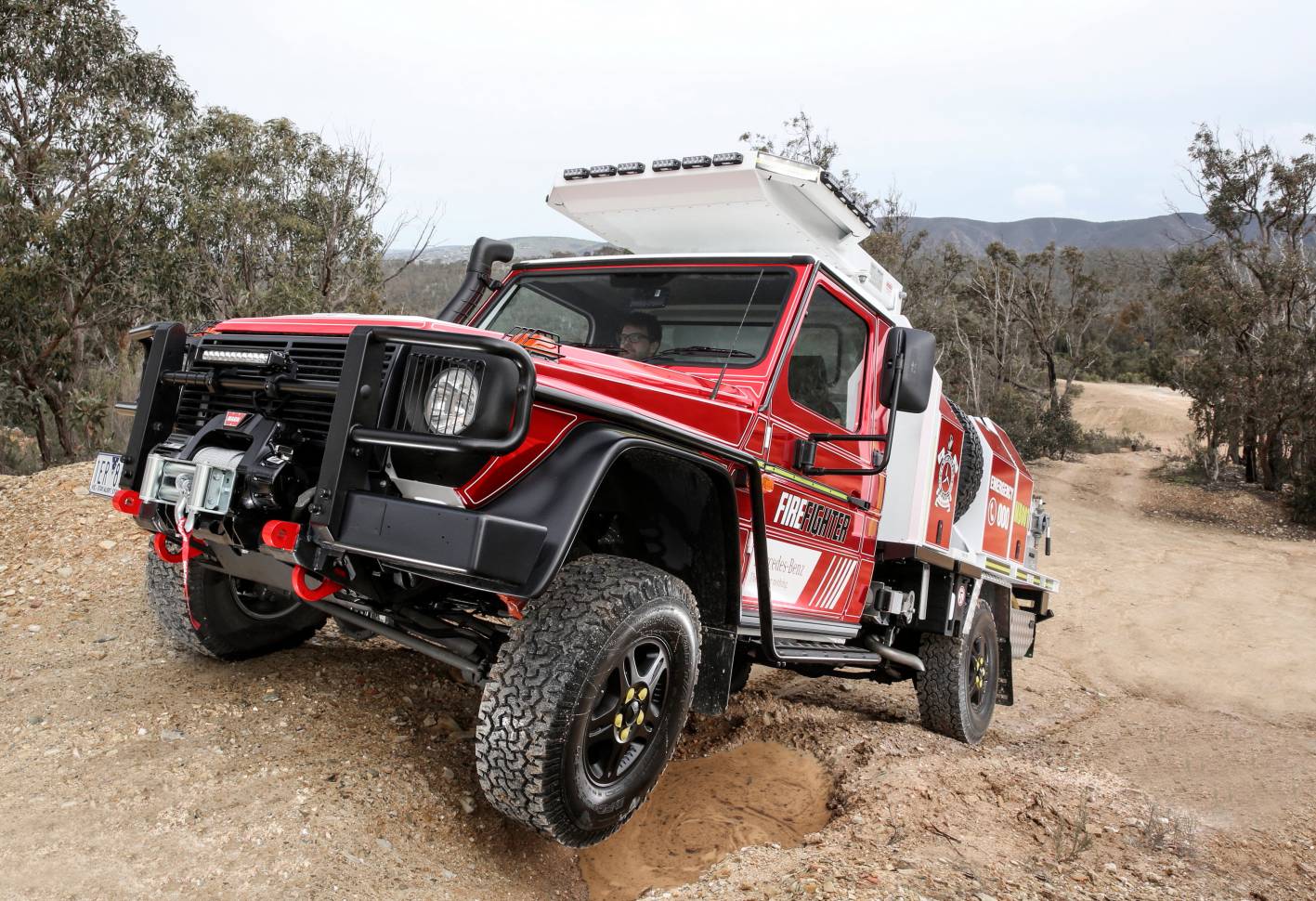 The addition of a four-seater wagon variant mid next year will add to the choices in the workhorse range but Mr Stamoulis said there was no high volume expectation.
"We're not expecting huge volumes, we're expecting around 200 vehicles per year but realistically who knows?
"Once the wagon arrives mild next year, where that will go, at this stage the wagon looks like being slightly less than the cab chassis but we'll announce that early next year," he said.
Only one drivetrain is on offer here, with no manual and no 6×6 in the pipeline – the familiar three-litre direct-injection turbodiesel V6 and five-speed auto 4WD combination, delivering 135kW at 3800rpm and 400Nm of torque from 1600 to 2000 rpm.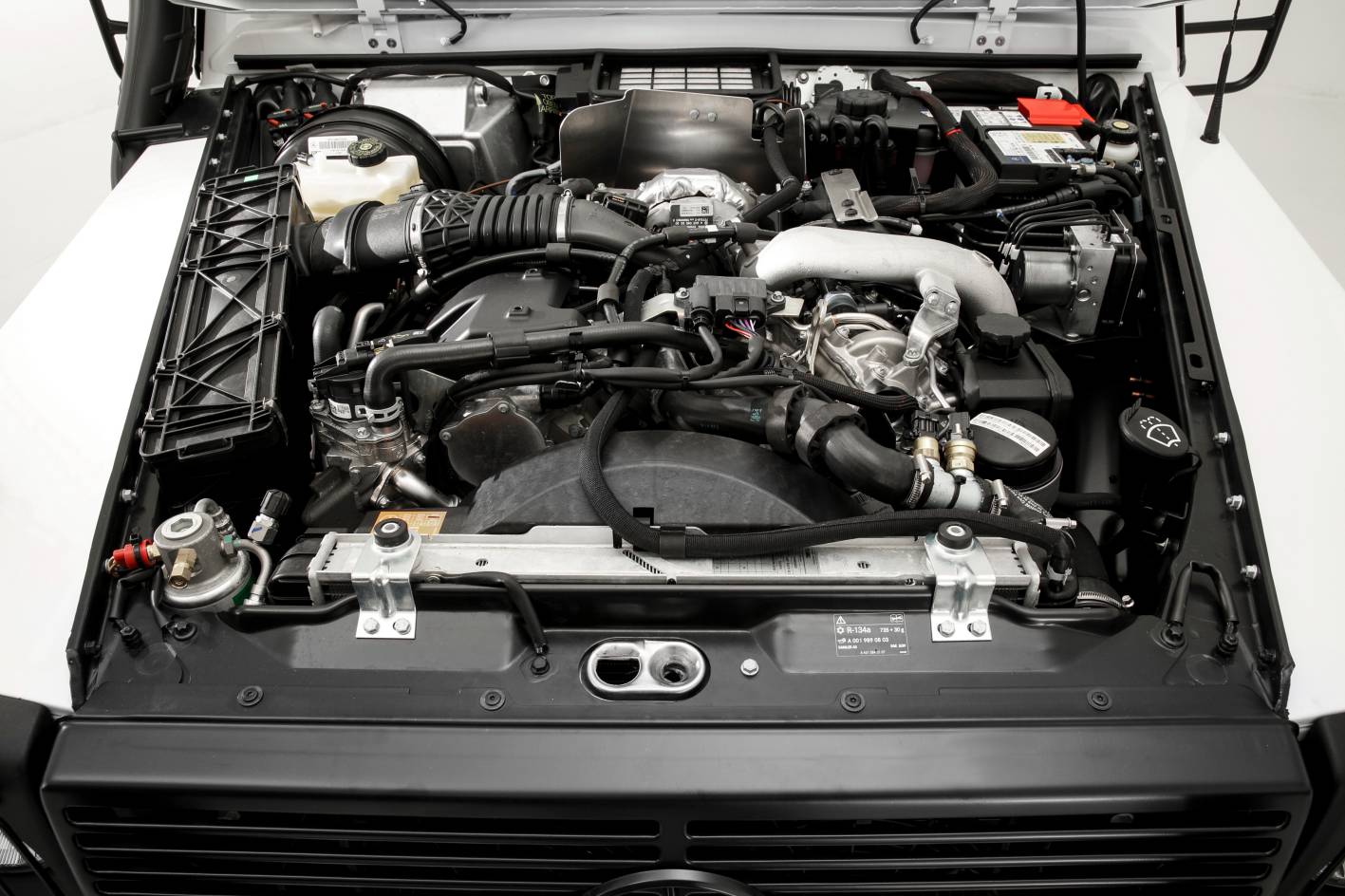 The 2085 kg payload is a highlight of the 2346kg tare weight (GCM is listed at 6700kg) G's specifications – within a 4490 kg gross vehicle mass – but that's prior to the fitment of any aftermarket tray (there's no Benz factory tray on offer) atop the 3428mm wheelbase.
Overall length minus tray is 5192mm, width including the mirrors is 2500mm (1850mm minus mirrors) and overall height is 2090mm.
Braked towing capacity however falls short of much of the smaller competition – 2210 kg or 750 kg without trailer brakes, with a 150kg ball download rating, below the likes of Ford's Ranger, Toyota's 70 Series or the Holden Colorado (to name a few) 3.5-tonne braked towing capacity.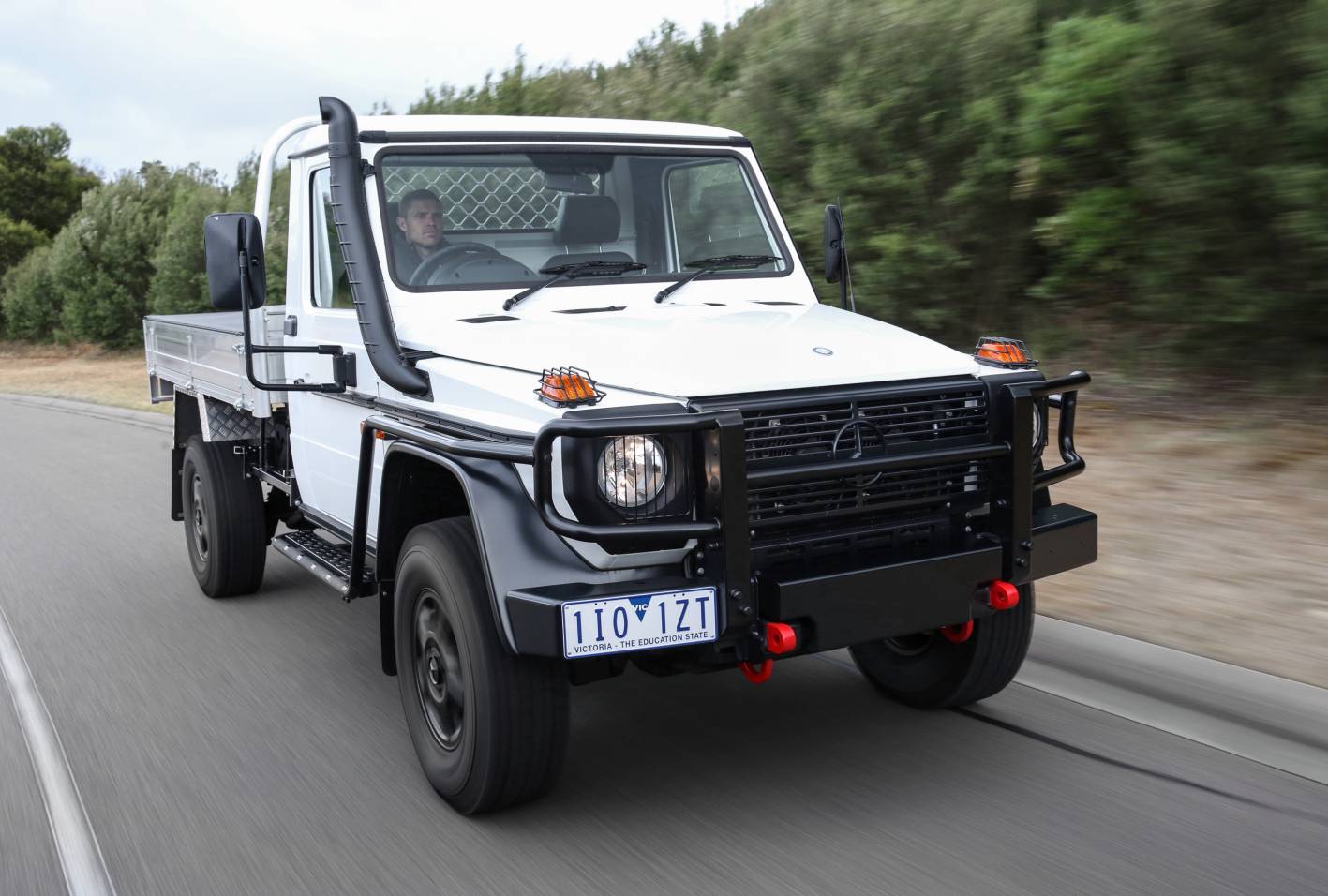 The off-road side of its CV is a little more impressive – 245 mm of ground clearance, a 650 mm fording depth, three differential locks and a low range transfer case (all operable while on the move) and 4.5-tonne rated tow hooks front and rear.
It runs full-time all-wheel-drive split evenly front to rear, coil springs front and rear, with an approach angle of 38 degrees, a departure angle of 35 degrees and a ramp-over angle of 22 degrees.
There's also a standard snorkel, extended rear vision mirrors, bull bar, light and underbody protection, all sitting on a 16-inch all-terrain wheel/tyre package.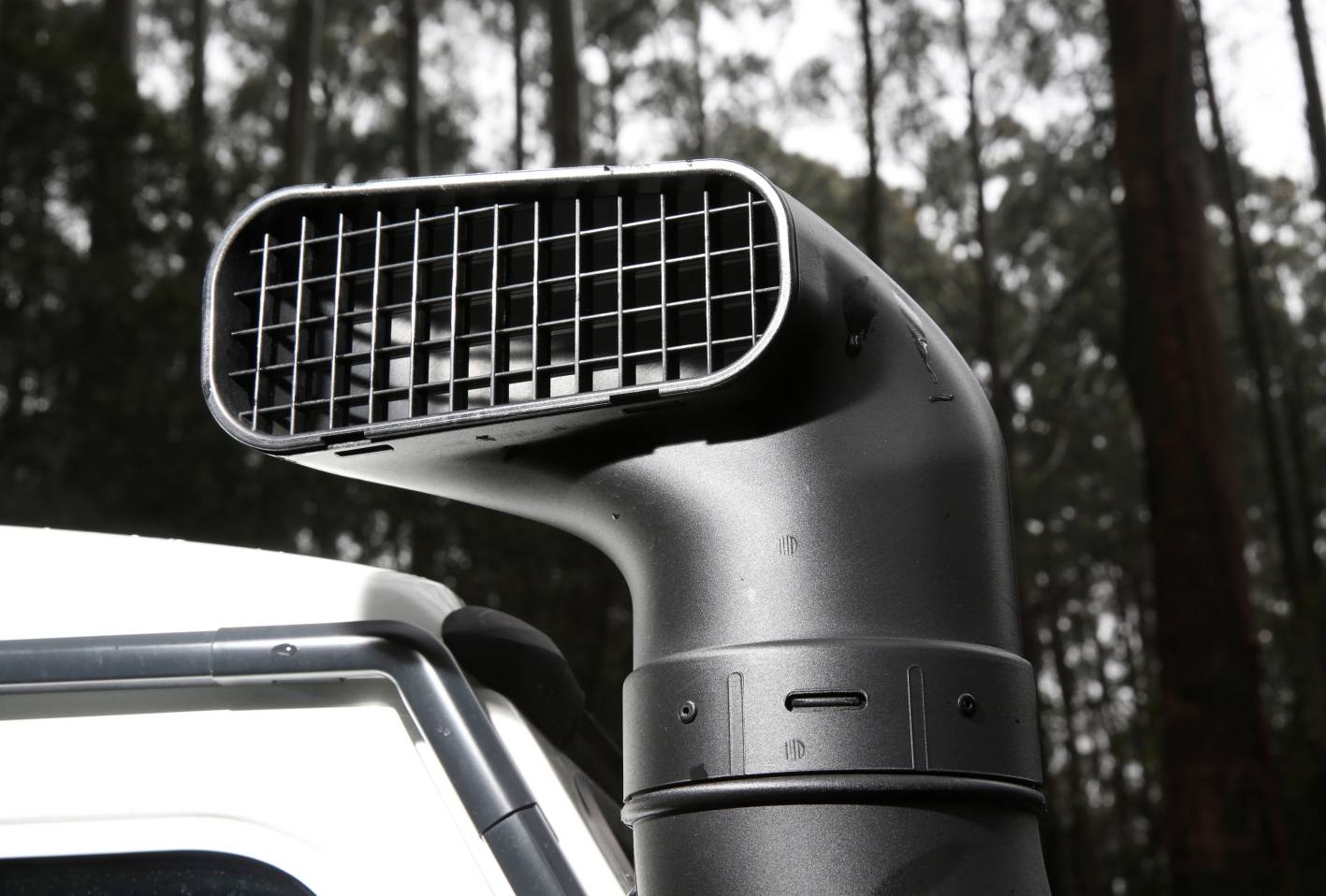 There's also an optional (for $500) cyclonic air filter system which the Benz team likened to a Dyson vacuum cleaner.
It is designed to minimise dirt and dust intrusion through the intake system, with a clear case to keep an eye on the build-up.
Among the other options are preparations for a winch at an extra $1900, a non-slip 100kg-rated walk-on bonnet also for $1900 and heated front seats for $900.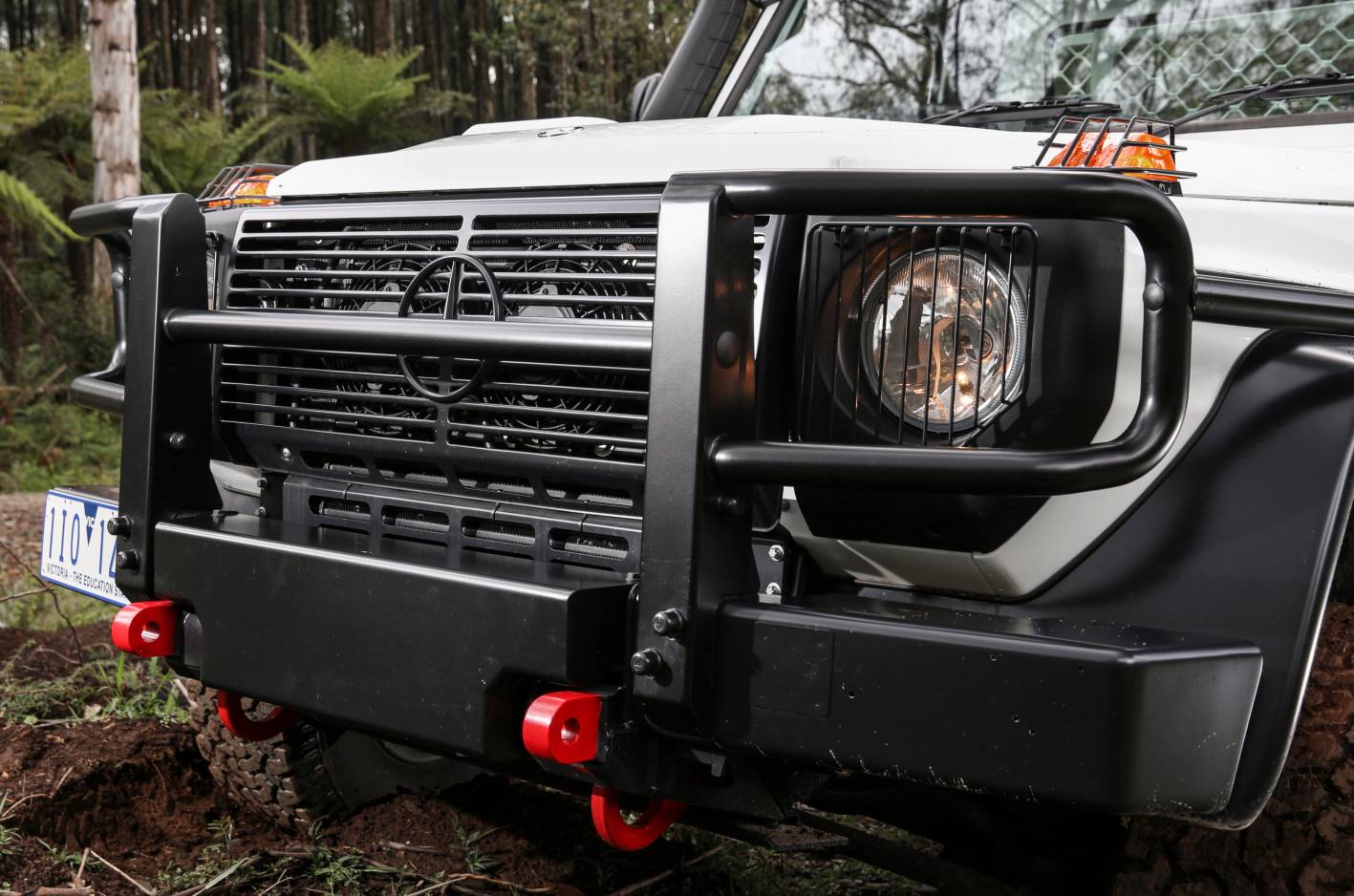 The default colour is white but there are a number of no-cost option colour finishes – black, as well as Desert Sand, Deep Orange, Flame Red or Fir Green.
Mercedes-Benz said the G-Professional utilises decades of dedicated off-road experience developing the "Geländewagen" which roughly translated means cross country vehicle.
It wouldn't be a Benz without at least some safety gear and the big LCV has stability control, anti-lock brakes with brake assist and electronic brake force distribution for the front disc/reaar drum brakes.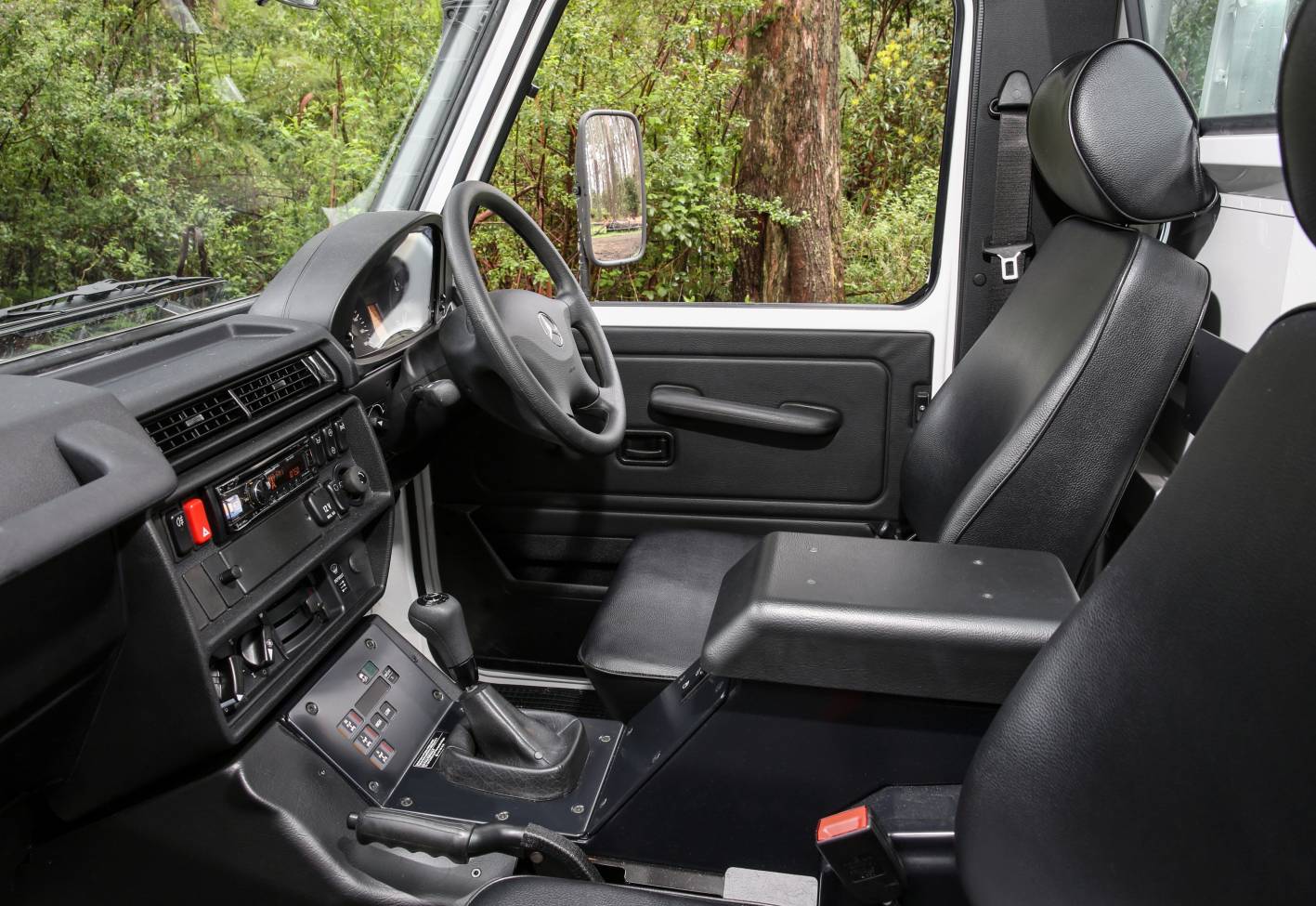 There are two front airbags but because it's an LCV there's no requirement for an ANCAP rating.
A 96-litre fuel tank is unchanged for the cab-chassis over the existing G-wagons, and seems on the small side for such a vehicle.
But the workhorse is fitted with a dual battery system (and facility for a third if needed) and a tyre pressure warning system, a spare wheel and two wheel chocks, but there's no factory-fitted tray.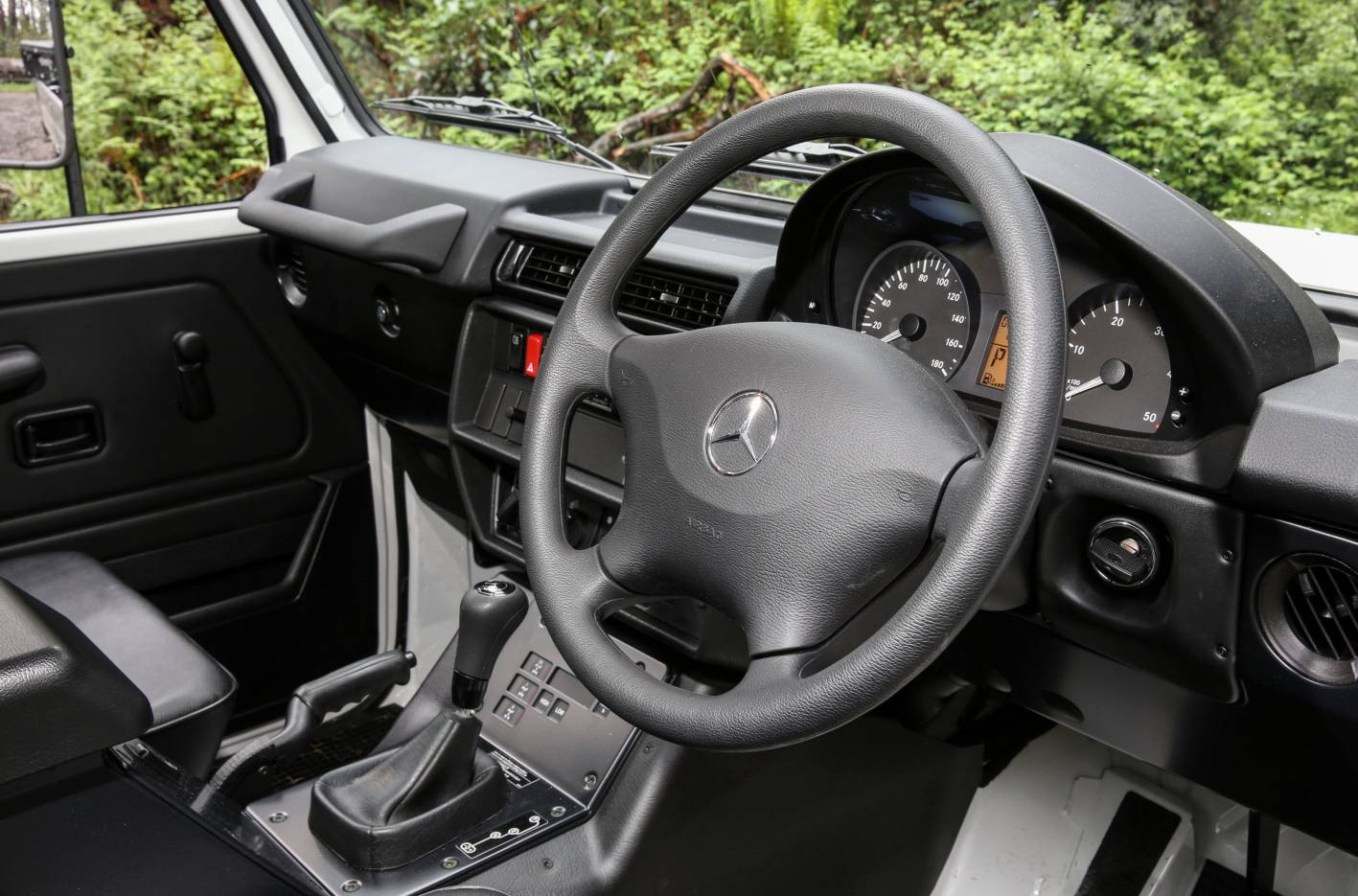 The interior is all business, with wind-up windows, sliding vent controls, vinyl seat trim, rubber floor matts on painted metal, a small amount of under-seat storage, a locking glovebox and plastic steering wheel.
There's even water drainage points for the aftermath of deep water crossings or hosing out the cabin.
The G-Professional is backed by a three year/200,000km warranty and has maintenance schedules of 20,000km for general purpose use, or a "commercial" use interval 10,000km if its under a heavier workload.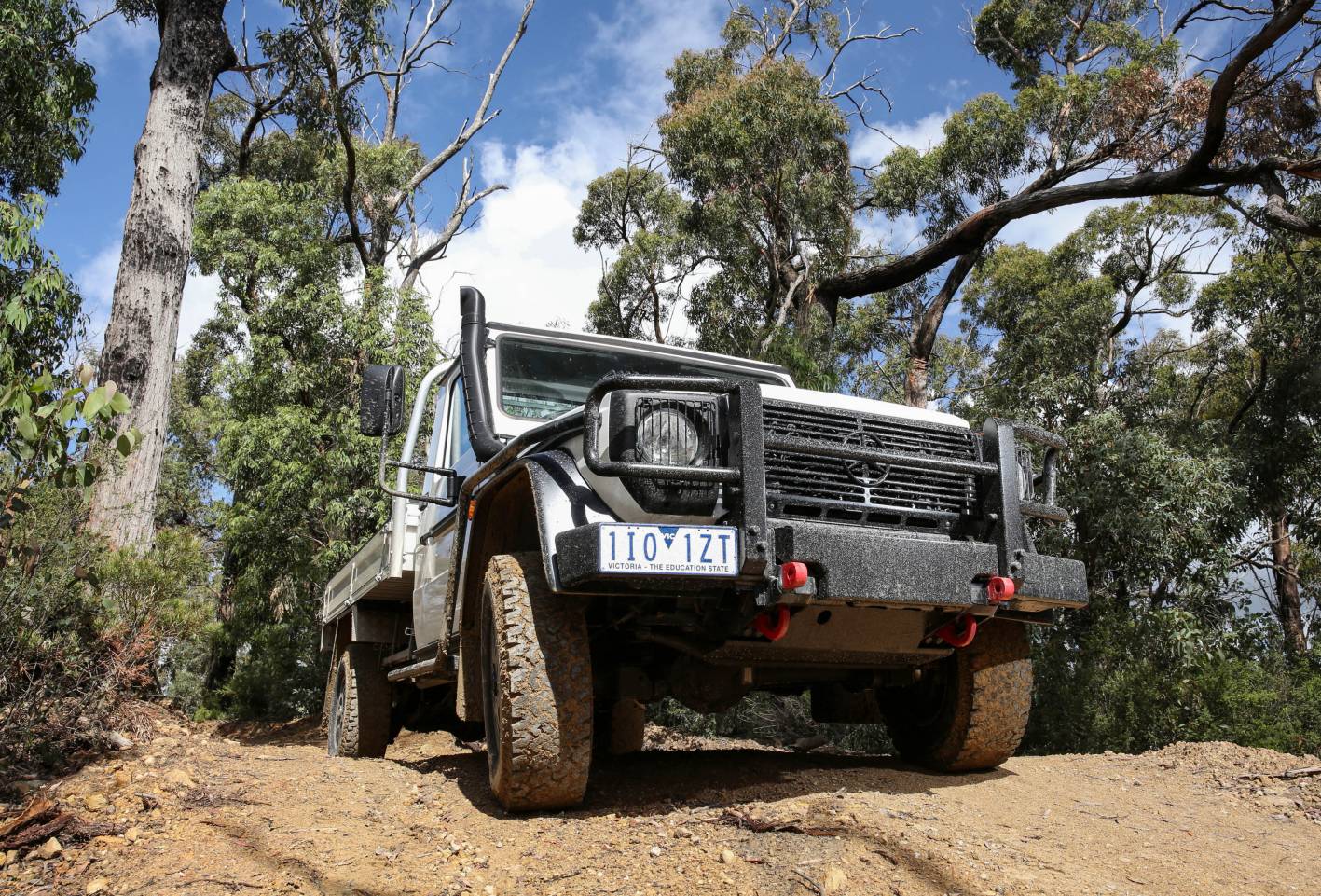 The new cab-chassis model's abilities were sampled in an off-road drive only, within the bounds of a 4WD park on the outskirts of Melbourne.
Climbing up into the cabin, the spartan interior is something of a time warp aside from the late-model sound system from which the Bluetooth signal is sent.
Everything is meant for functionality over form, including the slightly off-set plastic steering wheel behind which I've managed to get a reasonable driving position despite limited adjustment of helm and seat.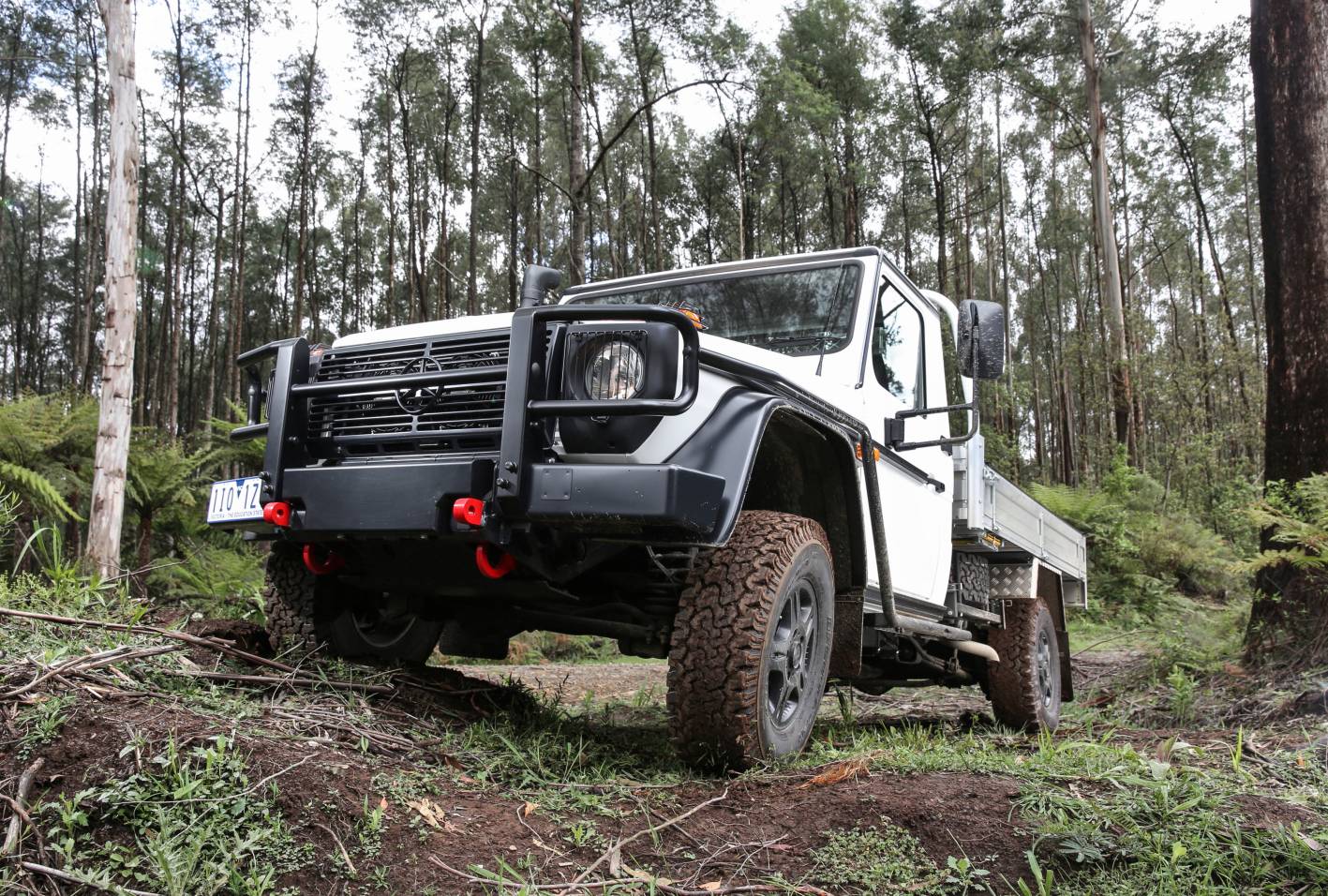 The vinyl trim isn't uncomfortable but the seats themselves could be a little larger in terms of available cushion, but again, this is a vehicle all about the work.
First sampled in unladen form, the G-Pro is rough and rugged of ride, but later journeys in vehicles with half a tonne in the tray are far less brutal on the backside.
A track that takes the convoy through the nearby Werribee River demonstrates the wading depth ability, augmented by the snorkel, as well as the considerable traction it possesses.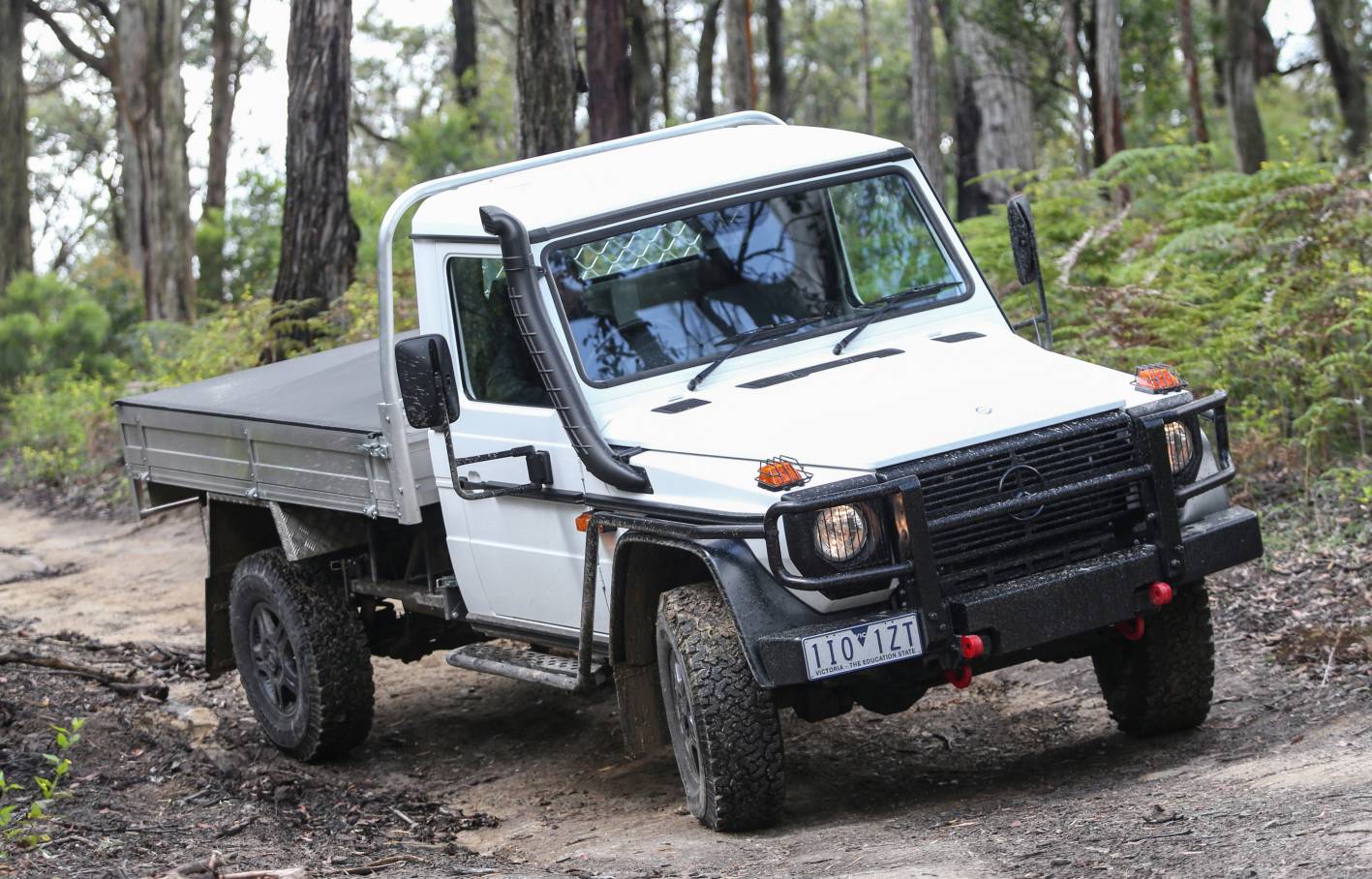 The shift from high to low can be made while underway, as can the implementation of all three diff locks, but the auto requires a slip into neutral to achieve the gear reduction.
The front diff lock takes the already-solid steering effort to a fairly considerable level; the desire to self centre with front diff lock engaged is fairly intense and tight turns are not the vehicle's forte with all three locked.
That said, it does not let much stop it, maintaining contact by way of the coil-sprung suspension that offers half-decent wheel travel – but it's the diff locks that keep it going.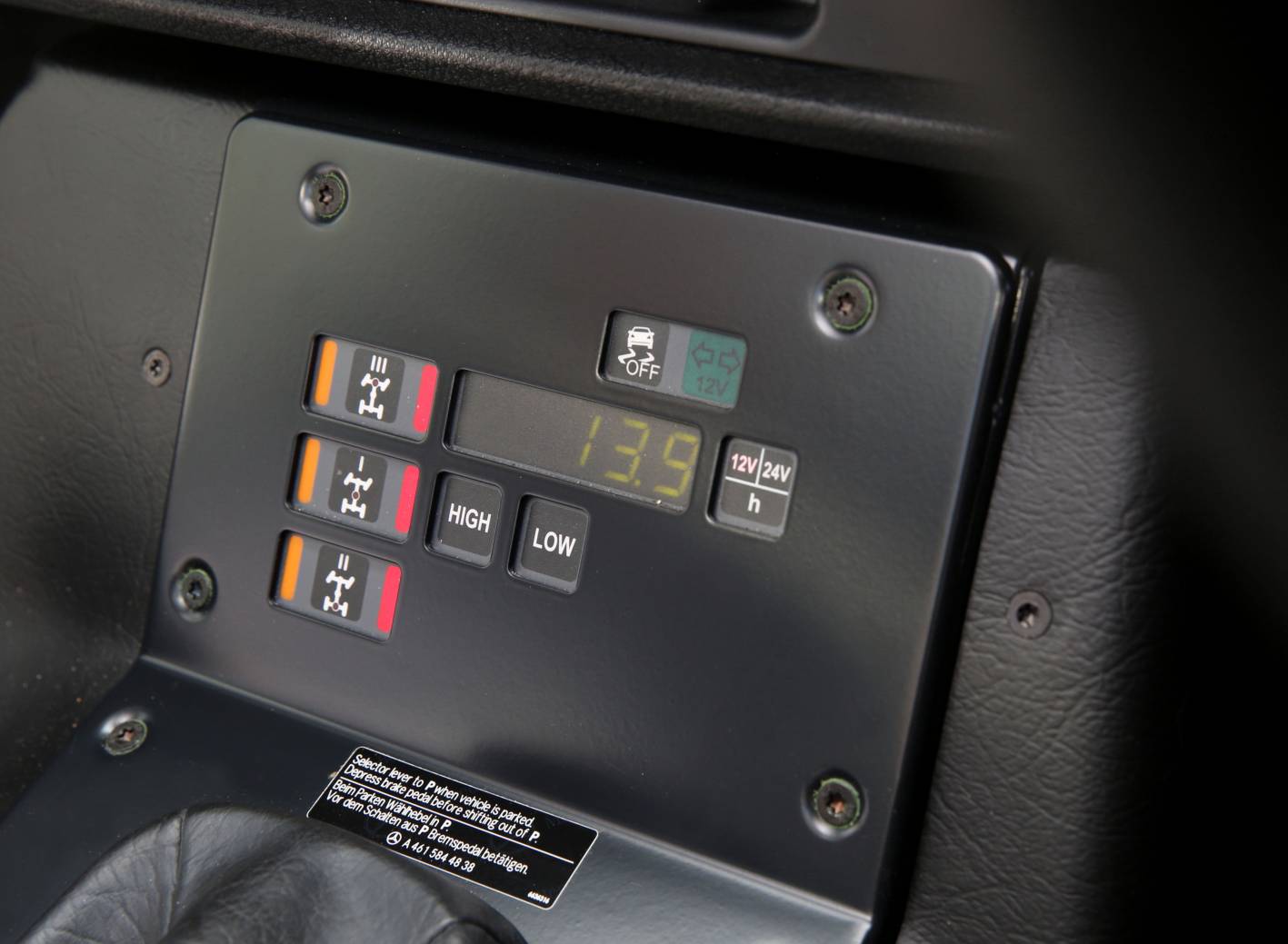 Low range first gear offers reasonable engine braking but it's by no means a snail down steep descents, requiring brake pedal intervention as well; perhaps a manual would offer a little more.
The behemoth from Benz – fitted with a basic alloy tray and tonneau – looks long in the tail and it is, with a wheelbase just over 3.4m.
Switchgear is rudimentary even by comparison to some of the Benz vans but the key features – the diff locks and transfer case – are push button operated and sit on the LH side of the centre stack, as does the rotary light switch.