THE D-MAX, ISUZU UTE'S WORKHORSE UTE RANGE, HAS BUILT A REPUTATION FOR BEING TOUGH, FUNCTIONAL AND RELIABLE. It features an understressed 3.0-litre turbo diesel engine, five-speed manual or automatic transmission and an electronically selectable 4X4 drivetrain with a dual-range transfer case.
On-road the D-MAX is rear-wheel-drive, with electronic stability control to keep things in check, while off-road the driver can engage 4WD high or low with torque being split 50:50 between the front and rear drive wheels.
Isuzu's 4JJ1 3.0-litre turbo-diesel produces 130kW and 380Nm – figures that are now some way off being class-leading – but it's an engine that has earned a 'built to last' reputation.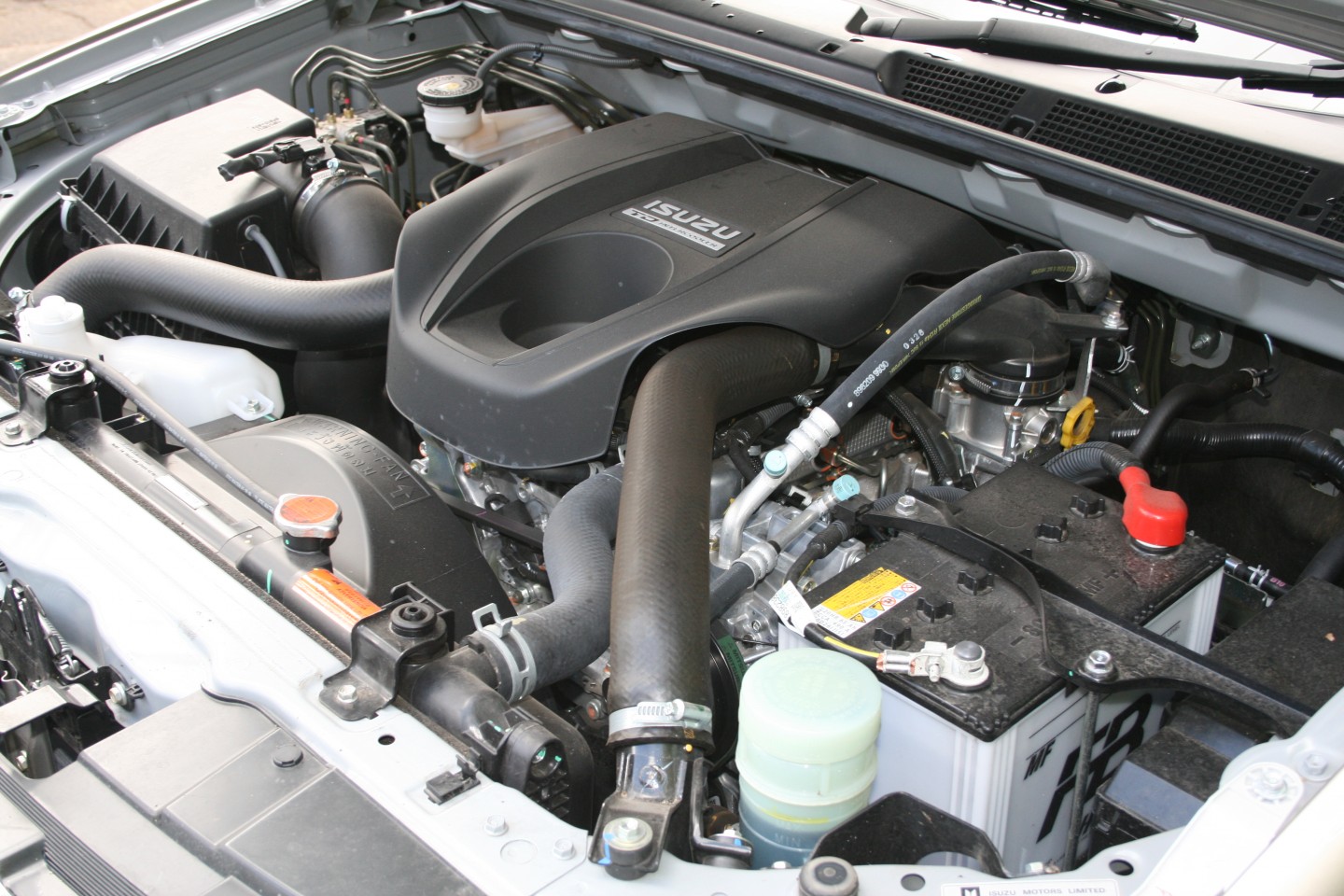 If you ever find yourself in a room full of Isuzu owners (as we have), they'll all happily tell you that they bought their 'truck' because it's an Isuzu and Isuzu has a reputation for making vehicles that last.
The current D-MAX was first introduced in 2012 and while its execution is no-longer cutting edge compared to its more recently upgraded rivals, it remains a genuine consideration for buyers looking for a workhorse or touring vehicle that is comfortable, capable and can cop a beating without turning to water.
Jump to SPECIFICATIONS
Jump to KEY FEATURES
Jump to ON ROAD & OFF-ROAD PERFORMANCE
Jump to VERDICT
Jump to RATINGS
MODEL OVERVIEW
THERE ARE FOUR MODELS IN THE D-MAX RANGE, BEGINNING WITH THE ENTRY LEVEL SX, THEN LS-M, LS-U (AS TESTED) AND THE RANGE TOPPING LS-TERRAIN.
Each share the same 4X4 drivetrain combination (described above) mated to either a five-speed automatic or manual gearbox. The higher-specced LS-U and LS-Terrain sit on larger 17-inch alloys, the SX on 16-inch steel wheels and LS-M on 16-inch alloys.
The D-MAX is rated to tow 3500kg (braked) and carry from 1005kg to 1025kg depending on the trim level and gearbox fitted.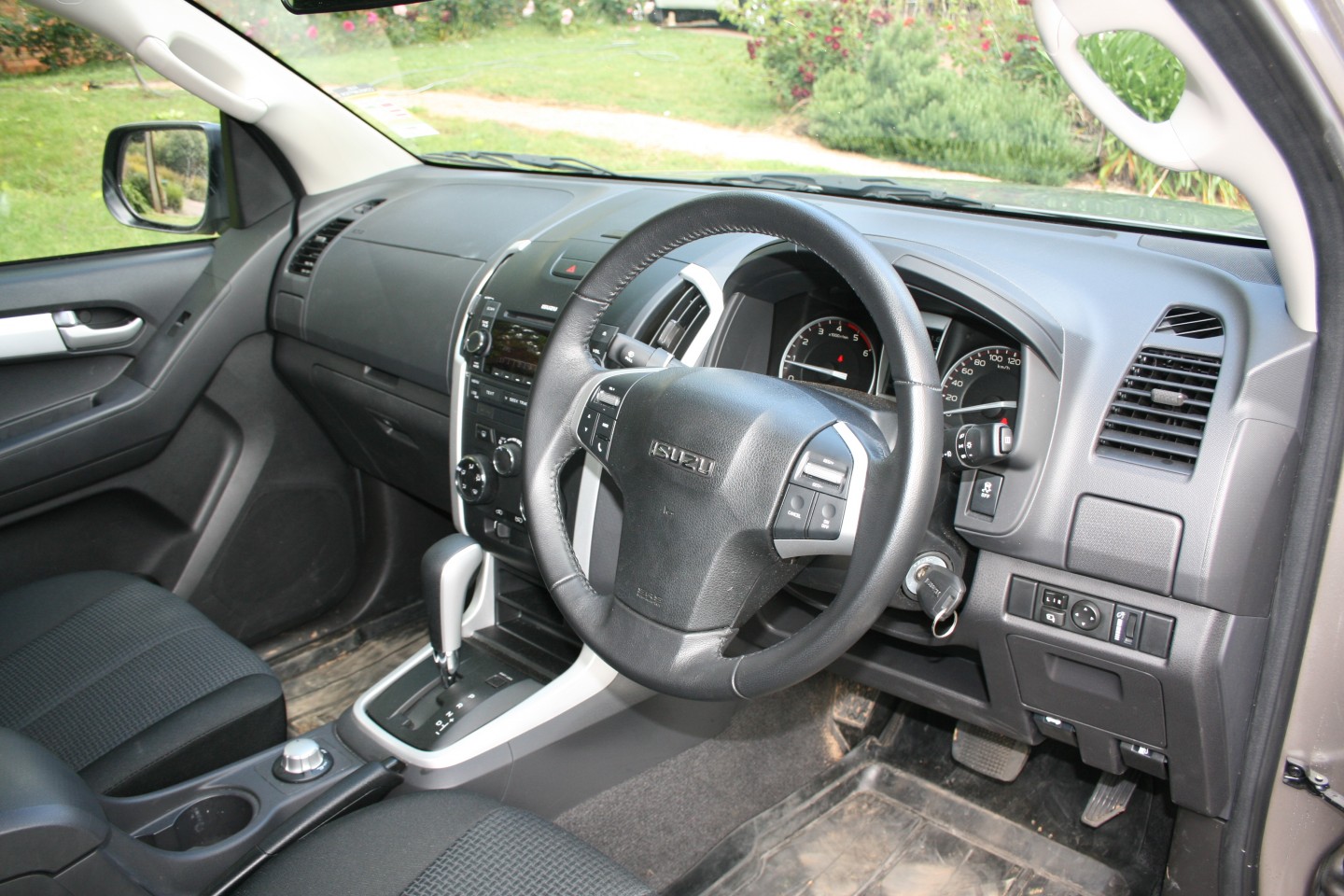 All D-MAX models come with the same suite of active and passive safety features including six airbags, electronic stability control, traction control, brake assist and electronic brake force distribution – enough to give the D-MAX a 5-Star ANCAP rating but not quite enough to compete with HiLux, Ranger or Colorado that are now equipped with trailer sway control, and hill descent control in their D-MAX LS-U equivalent models and an even greater array of driver aids in their top spec models.
The D-MAX LS-U that we tested appears to be the best value spec-level with standard features that include carpet (lower spec levels get washable vinyl flooring), climate control air-conditioning and a multi-function control screen with reversing camera and side-steps. Stepping up to the LS-Terrain costs an additional $4700 and adds niceties like proximity key central locking, push-button start, an electric driver's seat and partial leather trim.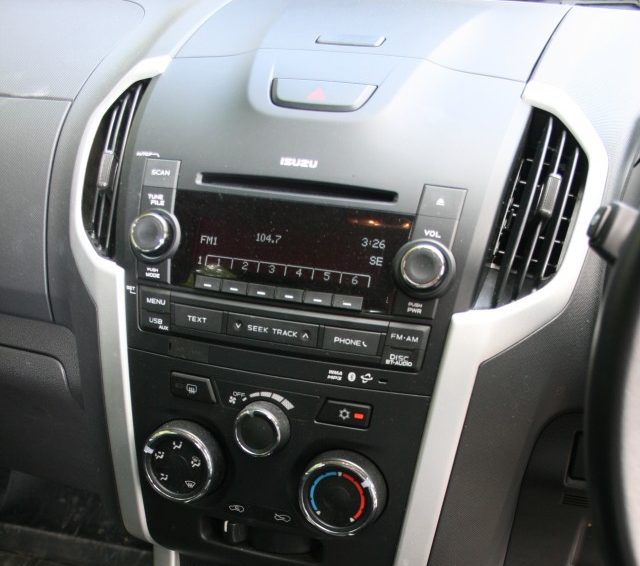 A six speaker stereo system with CD player and Bluetooth is standard in the SX and LS-M, which is upgraded to include a multi-function control screen and DVD player in the LS-U and an additional two speakers in LS-Terrain. Satellite navigation isn't packaged into any of the D-MAX range – including most notably the $54,000 LS-Terrain – which adds further weight to the fact that from an infotainment perspective, the D-MAX is a generation behind many of its competitors. Our guess is that you'll have to wait for the all-new D-MAX that is being developed jointly with Mazda, before seeing Apple CarPlay and Android Auto make an appearance.
But focusing on what the D-MAX lacks in up-to-the-minute electronic niceties is to lose sight of what the D-MAX is all about.
(A full list of features follows below.)
2016 D-MAX recommended retail pricing (price includes GST but excludes on-road and dealer costs):
D-MAX SX: (auto): $45,000; (man): $42,800
D-MAX LS-M: (auto): $47,800; (man): $45,600
D-MAX LS-U: (auto): $49,300: (man): $47,100
D-MAX LS-TERRAIN: (auto): $54,000; (man): N/A
COMPETITOR PRICE COMPARISON (base model 4X4 crew cab pricing shown):
Toyota HiLux Workmate: (auto): $45,990; (man): $43,990
Mitsubishi Triton MQ GLX: (auto): $39,490; (man): $36,990
Mazda BT-50 XT: (auto): $46,615; (man): $44,615
Ford Ranger XL 2.2DT: (auto): $47,265; (man): $45,065
Volkswagen Amarok TDI400 Core: (auto): $45,990; (man): $42,990
Holden Colorado LS: (auto): $47,190; (man): $44,990
ON ROAD and OFF-ROAD PERFORMANCE:
WHAT YOU GET WITH THE D-MAX IS HONESTY. IT HAS HONESTY IN SPADES AND IT SHINES THROUGH IN BOTH THE ON-ROAD AND OFF-ROAD DRIVING EXPERIENCE. That said, when you first sit in the D-MAX it's the early noughties feel of the cabin that first gets your attention. Yep, it's looking a bit dated but it's only really going to bother Ranger and HiLux buyers and they're busy buying Rangers and HiLuxes.
What it continues to offer is a level of practicality that is slowly being lost as these utes become more 'car like'. The D-MAX is a 4X4 ute you can jump into with mud on your boots, scuff the trim, soil a seat (not that sort of 'soil'), dirty the dash and at the end of the day, wipe it all clean. Try that in your Wildtrack.
It's that level of practicality and on some levels even simplicity, which has helped establish the D-MAX's reputation and popularity in Australia.
Out on the road, the D-MAX is an honest toiler (there's that word again). With the correct tyre pressures – 30psi all round when unladen per the placard – there is some fore and aft jiggling that is a hallmark of 4X4 utes with cart-sprung rear-ends. If you've got a tray full of air and you are running tyre pressures around the 40psi mark – it's the Australian way you know – you'll be "bobble heading" your way to a headache.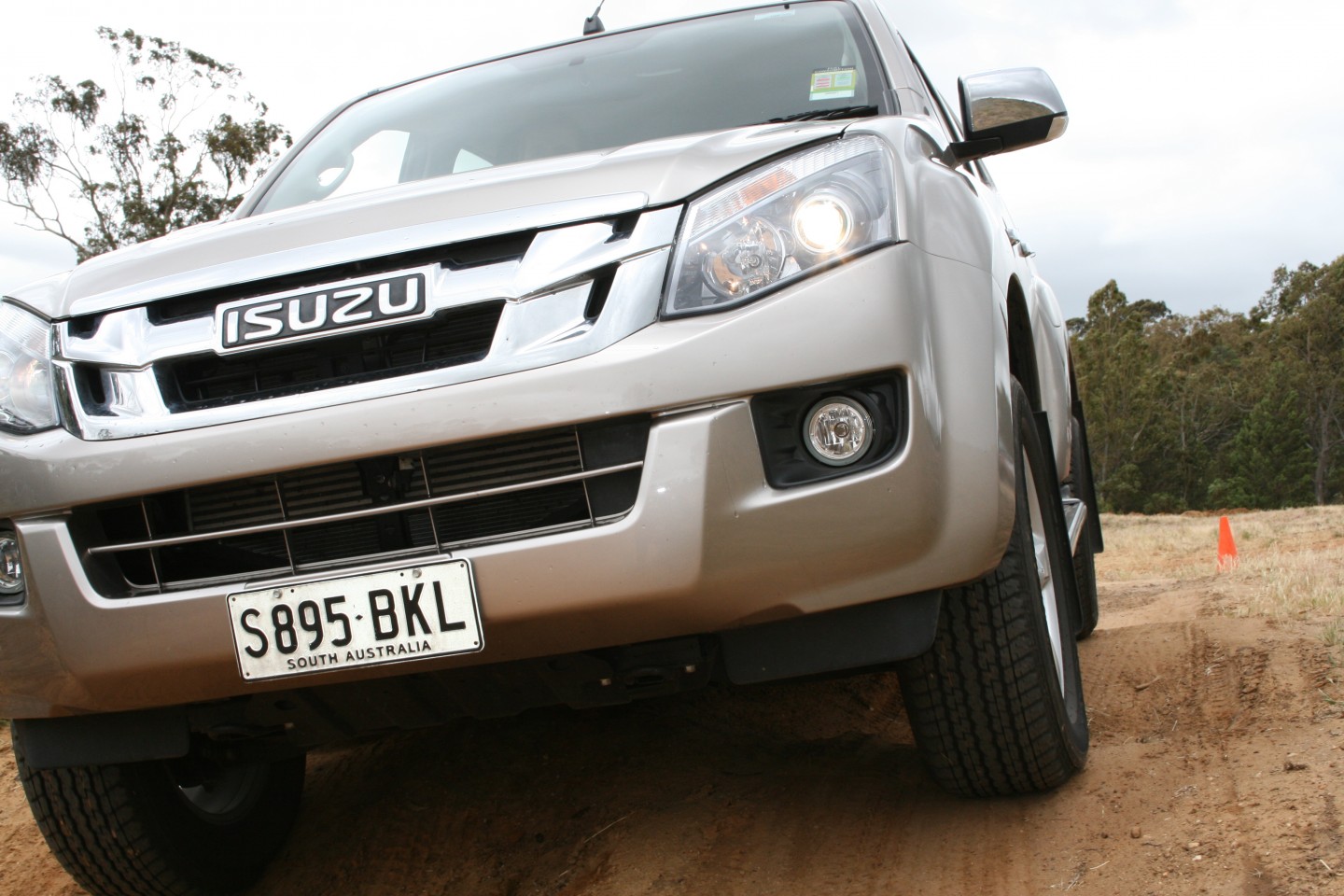 The steering lacks feel and the handling is more 'truck-like' than the competitors, making the D-MAX harder to place in a corner and more fidgety when it gets there (if the road is less than smooth) – but we're talking 4X4 utes here and none of them really drive like a car. All of the 4X4 utes can have their driveability – both on and off-road – improved with the fitment of quality aftermarket suspension and there are plenty of brands supplying gear for the D-MAX.
The 4JJ1 3.0-litre diesel is a little noisy and reminiscent of the Mitsubishi 4M41 (3.2-litre found in the current Pajero) – both engines can boast about their truck heritage and their reputations for being unkillable. In the D-MAX, diesel clatter (a combination of injector and ignition noise) is most noticeable when on the throttle – but it is not uncomfortably intrusive and adds to that truck-like appeal that the D-MAX wears like a badge.
Power and torque (130kW and 380Nm) are now well down on what the competition is offering – for example the Colorado's 2.8 turbo-diesel outputs 147kW and 500Nm – but that doesn't take away from the unruffled manner in which the 4JJ1 rolls out its torque and gets the job done.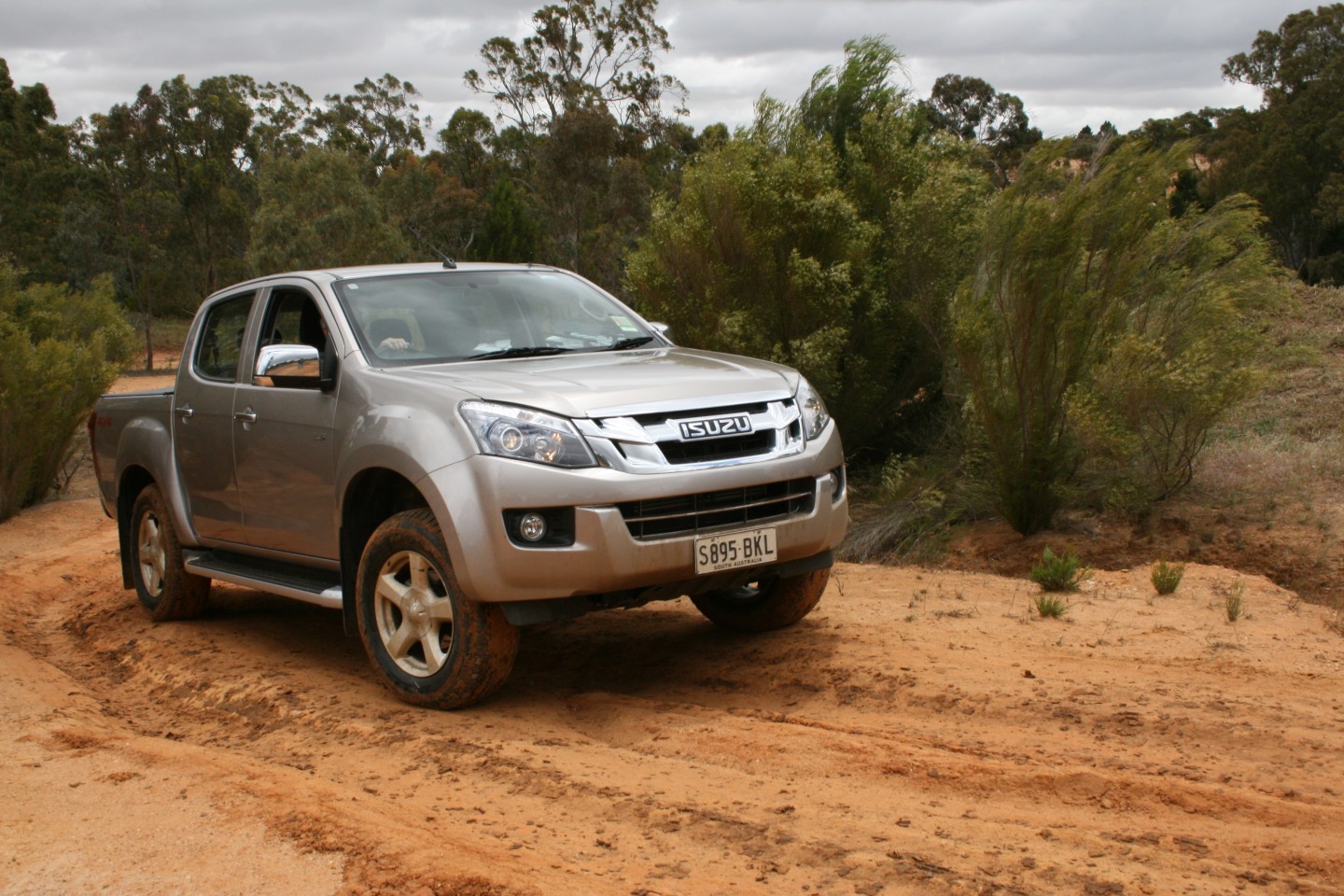 In standard form it's going to wince a little at the thought of towing your 3.0 tonne Jayco, but it's so under-stressed that a trip to your local diesel tuner will liberate a good dose of additional willingness without raising a sweat (Bruce Garland races D-MAX's and with some basic tuning extracts a reliable 180kW from the 4JJ1 without an issue). If the rumoured 2017 D-MAX update makes an appearance, we'd be expecting the 4JJ1 to have been given a bit of a tickle.
The auto is only a five-speeder but it's an Aisin AW TB50-LS unit and a good one, with sequential manual shifting that allows the driver to make the best use of the engine's torque on-road and select individual gears in low-range when off-road.
Yeah, but how does it go in the dirt we hear you ask?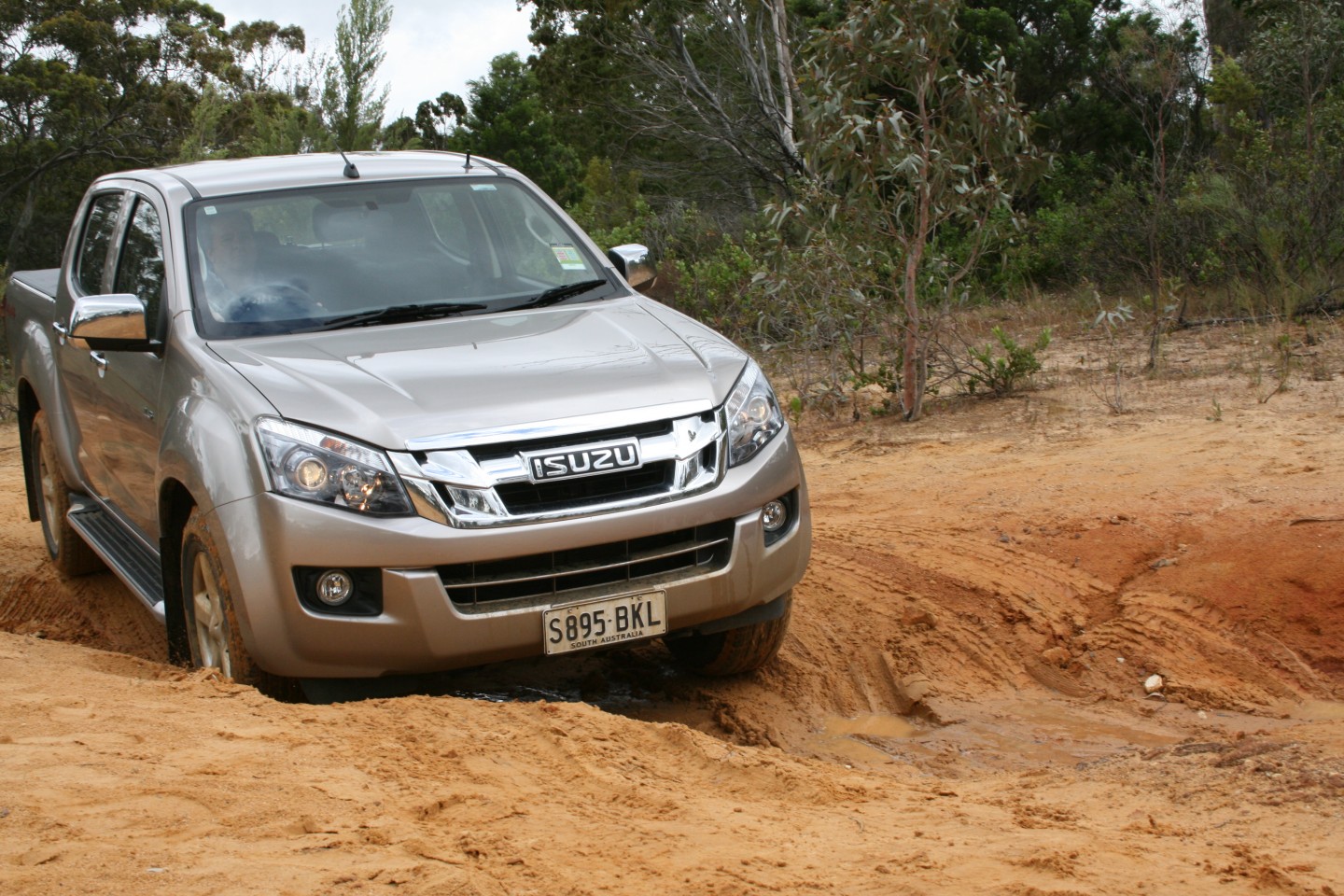 We took the LS-U up to the Adventure 4WD test track in the Barossa Valley and came away impressed for the most part. Selecting 4WD high or low is easy enough using the rotary dial and it's best to turn the on-road biased traction control off.
That's right – off. The D-MAX's traction control is tuned for on-road use and is too slow to respond in low-traction off-road situations to be really useful. The D-MAX has no factory diff-lock or rear LSD option, which means with the traction control switched off it relies solely on open diffs to maintain forward progress – but don't worry, it will still impress you with what it can do.
Drop the tyre pressures down into the low 20s, suss out the right line through an obstacle and dial up just the right amount of momentum (if needed) – that's the D-MAX driver's modus operandi. They key is to avoid a 'cross-axle' situation with open diffs – they are inherently lazy and push torque to the wheel with the least traction. Lifting wheels is to be avoided.
Getting it right is straightforward and the D-MAX will reward you by happily trudging its way over and through most of the obstacles you point it at, and that's exactly how it performed out on the test track. Note to future owners – swapping the rear diff centre for a locking unit will turn the D-MAX into a 'weapons grade' off-roader.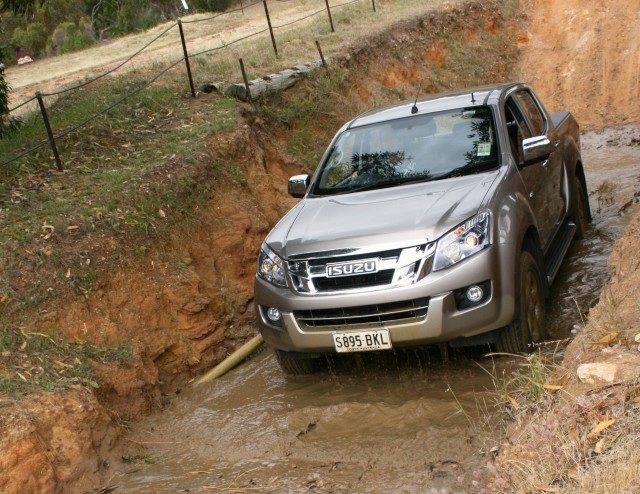 The D-MAX's auto allows manual selection of gears in low-range and has the smarts to hold the gear on steep uphill and downhill sections. On downhill runs it allows the driver to use the D-MAX's engine braking to maintain a controllable speed – which unlike a true downhill descent control system – is somewhat dependent on the steepness of the descent.
Isuzu expects D-MAX buyers to take them off-road and has fitted them with a full compliment of steel bash-plates providing protection for the engine sump and the transfer case, as well as the leading edge and base of the fuel tank.
Fast dirt roads should be tackled in 4WD high and doing so – as you would expect – adds a degree of balance to the way the D-MAX goes about things. That kinda 'wooden' on-road feel translates well on the dirt, with the D-MAX handling corrugations and rough sections of road with no sign of bumpsteer or unwanted feedback through the wheel, at least not on our drive.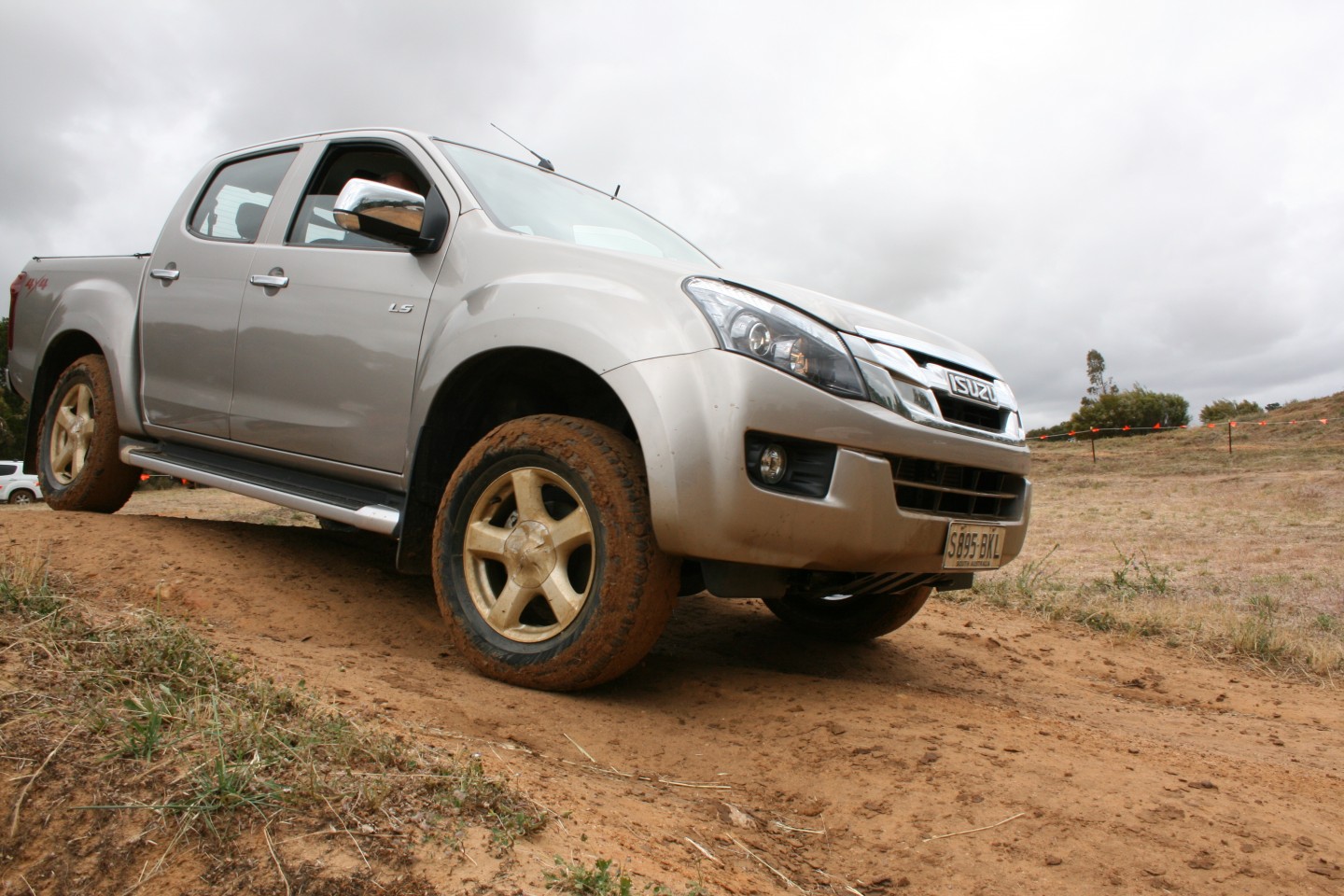 It'll take a long highway in its stride for sure, but where the D-MAX is really at home is off the bitumen and working hard.
LOADED 4X4 VERDICT:
It's simple really, if you want a tough 4X4 ute that will work hard on and off the road, and do so year-in year-out with nothing more than regular servicing, then the D-MAX is your next 4X4 ute. It's the 'working dog' of the 4X4 ute world – tough, capable, reliable and honest.
We keep an 'ear to the ground' when it comes to 4X4s and what counts the most to us is actual ownership experience. Turbo-diesel powered vehicles aren't without their issues, from carbon build-up in inlet systems (thanks to really crappy emission control systems) to design faults that can and are resulting in total engine or fuel system failures.
If it's a good shot at a pain-free ownership experience that you seek, then your pre-purchase research should include hunting down genuine ownership experiences – via the many forums dedicated to the specific 4X4s models that interest you – and finding out how they perform over the long term.
Do your research on the D-MAX and you'll see what we're banging on about here and why – despite it's cosmetic shortcomings – it is the sixth best selling 4X4 ute in Australia, ahead of the Volkswagen Amarok and Mazda BT-50.
Got a D-MAX or MU-X? Tell us what you think of it.
SPECIFICATIONS: 
Engine: 3.0 litre DOHC turbo-diesel with electronic sequential fuel injection
Power/Torque: 130kW @ 3600rpm /380Nm @ 2800rpm
Transmission: 5-spd manual or 5-spd automatic (with sequential manual shift)
Suspension: Front: independent; rear: solid axle with leaf springs
Steering: Power assisted rack-and-pinion; turning circle: 12.6m
Brakes: ventilated front discs | rear drums
Fuel consumption claimed: 8.1 l/100km
Wheels and tyres:
SX: 16×7.0 rim | 245/70 R16 tyre
LS-M: 16×7.0 rim | 245/70 R16 tyre
LS-U: 17×7.0 rim | 255/65 R17 tyre
LS-Terrain: 17×7.0 rim | 255/65 R17 tyre
Approach/departure: SX: approach 29.4 degrees; departure 27.4 degrees; LS-M | LS-S | LS-Terrain: approach 30.0 degrees; departure 22.7 degrees
Ground clearance/wading depth: 465mm
Tow rating: 3,500kg towing (braked) and carrying capacity of 1,025kg; GCM (gross combined mass) is 5,950kg; gross vehicle mass is 2,950kg.
VEHICLE CLASS:
NA category – "light goods vehicle"
KEY FEATURES: INTERIOR/EXTERIOR
D-MAX SX
12V Socket(s) – Auxiliary
6 Speaker Stereo
ABS (Antilock Brakes)
Adjustable Steering Col. – Tilt only
Air Conditioning
Air Conditioning – Pollen Filter
Airbag – Driver
Airbag – Passenger
Airbags – Head for 1st Row Seats (Front)
Airbags – Head for 2nd Row Seats
Airbags – Side for 1st Row Occupants (Front)
Armrest – Rear Centre (Shared)
Audio – Aux Input Socket (MP3/CD/Cassette)
Audio – Aux Input USB Socket
Audio – MP3 Decoder
Bluetooth System
Body Colour – Bumpers
Body Colour – Exterior Mirrors Partial
Bottle Holders – 1st Row
Brake Assist
Calipers – Front 2 Spot
Cargo Tie Down Hooks/Rings
CD Player
Central Locking – Remote/Keyless
Control – Electronic Stability
Control – Traction
Cruise Control
Cup Holders – 1st Row
Cup Holders – 2nd Row
Decals
Disc Brakes Front Ventilated
Door Pockets – 1st row (Front)
EBD (Electronic Brake Force Distribution)
Engine Immobiliser
Gloveboxes – Upper & Lower
Headrests – Adjustable 1st Row (Front)
Headrests – Adjustable 2nd Row x3
Hill Holder
Independent Front Suspension
Intermittent Wipers
Leather Steering Wheel
Multi-function Steering Wheel
Power Door Mirrors
Power Steering
Power Windows – Front & Rear
Rear View Mirror – Manual Anti-Glare
Seat – Height Adjustable Driver
Seatback Pocket – Front Driver Seat
Seatback Pocket – Front Passenger Seat
Seatbelt – Adjustable Height 1st Row
Seatbelt – Load Limiters 1st Row (Front)
Seatbelt – Pretensioners 1st Row (Front)
Seatbelts – Lap/Sash for 5 seats
Seats – 2nd Row Split Fold
Skid Plate – Front
Skid Plate – Middle (Transmission case)
Skid Plate – Rear
Spare Wheel – Full Size Steel
Storage Compartment – Centre Console 1st Row
Storage Compartment – Under 2nd Row (Rear) Seat
Vinyl – Cabin Floor
D-MAX LS-M adds:
16″ Alloy Wheels
Chrome Grille
Fog Lamps – Front
Intermittent Wipers – Variable
Map/Reading Lamps – for 1st Row
Over-head Centre Console – Front
Rear Step bumper
Sunglass Holder
Sunvisor – Vanity Mirror for Passenger
Tail Lamps – LED
Trip Computer
D-MAX LS-U adds:
17″ Alloy Wheels
Air Cond. – Climate Control
Camera – Rear Vision
Carpeted – Cabin Floor
Chrome Door Handles – Exterior
Chrome Door Mirrors
DVD Player
HDMI input for Audio/Video
Multi-function Control Screen – Colour
Side Steps
D-MAX LS-Terrain adds:
8 Speaker Stereo
Central Locking – Key Proximity
Electric Seat – Drivers
Leather Seats – Partial
Power Door Mirrors – Folding
Roof Rails
Starter Button
Storage Compartment – Overhead Console 1st Row