2017 Toyota 79 Series LandCruiser Road Test
With the demise of the Y61 Patrol, the 70 Series range is the only semi-affordable, properly heavy-duty 4X4 available in Australia. 
Perhaps the first myth to dispel here is the idea that the average dual-cab 4X4 is 'heavy-duty' – they're not. Sure, they all come with stupendous tow ratings, but that's more a measure of the manufacturer's optimism, than any accurate measure of robustness.
And yes, the recently released 'down-under', Mercedes-Benz G-Class Professional is – on the spec sheet at least – similar to a GLX 79 Series cab-chassis, but have you seen the price? One hundred and twenty gorillas (!) guarantees the very sexy G-Pro a limited audience, leaving the 70 Series LandCruiser with the heavy duty 4X4 market all to itself.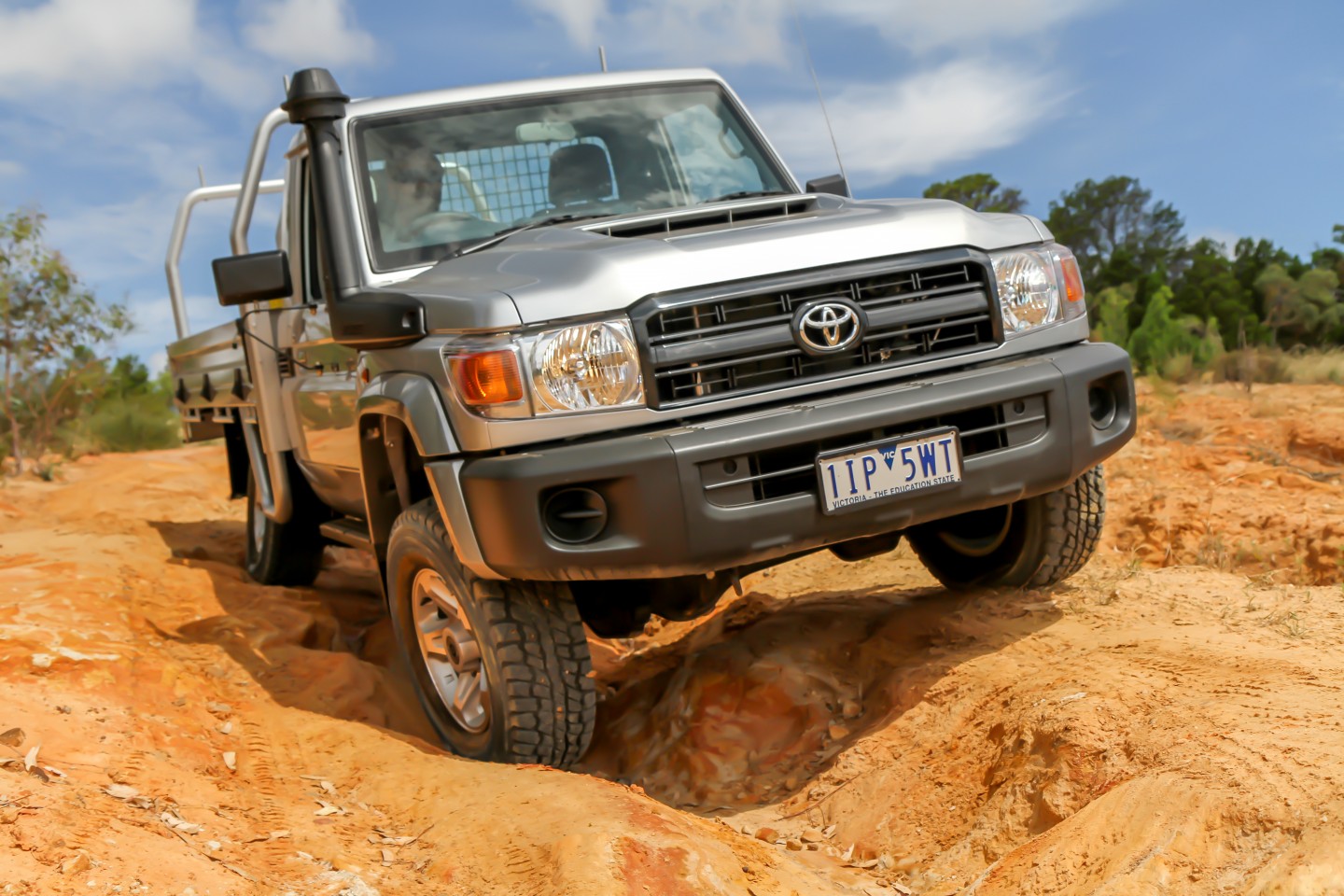 TOYOTA LAUNCHED AN UPDATED 70 SERIES RANGE IN OCTOBER 2016 WITH UPGRADES TO IMPROVE SAFETY, EFFICIENCY AND COMFORT.
You can read our article on the 2017 70 Series LandCruiser updates and pricing here.
The Toyota 70 Series range includes the 76 Series wagon, 78 Series Troop Carrier and the 79 Series single and double-cab cab-chassis variants.
Toyota admirably made the decision to make the updated 2017 70 Series range safer by adding a full electronic safety package that includes vehicle stability control (VSC), active traction control (A-TRC), hill-start assist control (HAC), brake assist and electronic brake-force distribution in addition to the existing anti-skid brakes.
70 Series whisperers will note the bulky new bonnet. It's muscled up to improve pedestrian safety by creating a larger gap between the bonnet and the top of the engine.
In what has proven to be a controversial move – mostly controversial with people who'd never buy one – Toyota also made the decision to chase a 5-Star ANCAP rating for the single cab-chassis only. The logic being that the single cab-chassis is the bread and butter model purchased by commercial buyers and they for the most part are losing interest in any vehicle that isn't 5-Star safety rated.
Achieving the 5-Star rating for the single cab-chassis required significant re-engineering that includes a thicker, stronger and more rigid frame with an additional cross-member, and importantly three additional airbags; one for the driver's knees and two side curtain airbags.
Safety aside, the entire 70 Series range is now running a Euro-5 compliant upgraded version of Toyota's 1VD-FTV 4.5-litre V8 single-turbo diesel; including piezo-electric injectors and a diesel particulate filter. Outputs remain unchanged at 151kW and a very lazy 430Nm of torque. Notably the diesel particulate filter can be left to its own devices on auto regen or manually switched to burn mode.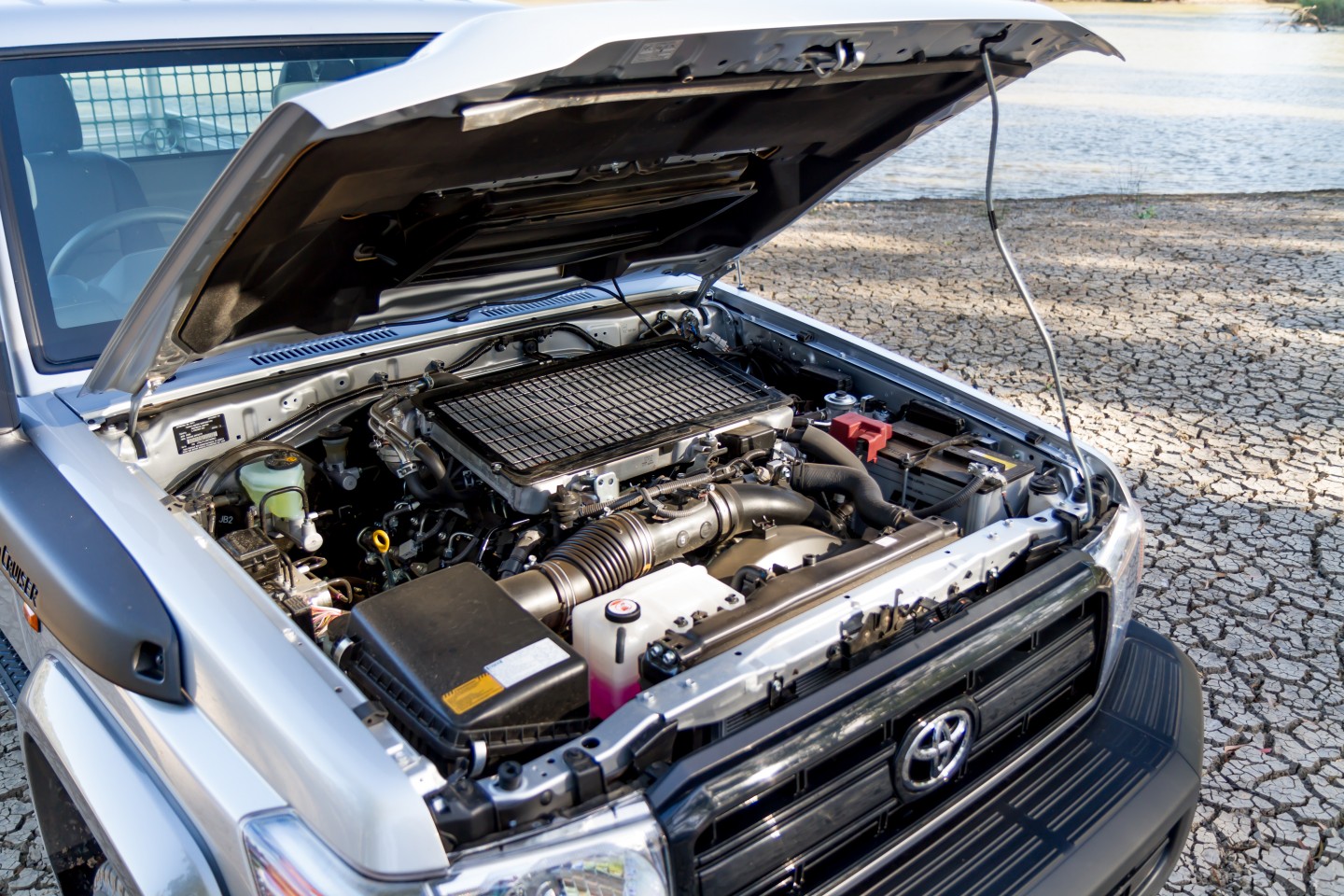 The old style two-piece steel rims that were fitted to the base-spec Workmate and the GXL Troop Carrier have been turfed and replaced with wider single piece steel rims and tubeless tyres.
The other big news is a taller second and fifth gear, auto-locking front hubs with a manual option and cruise control is now standard across the range!
What's that? You want to know if the rear track has been widened? No, sadly it hasn't – which didn't bother us during our testing in a sand quarry – but we have heard reports from rural users who reckon it can make life a bit interesting on rutted tracks.
In base-spec Workmate trim, the 79's wheels are 16" steelies, the floor and seating are vinyl, the windows have manual winders, you use the key to open the door and start it, the intermittent wipers aren't adjustable and the door mirrors are mounted on a bent piece of steel (otherwise known as a bracket) and require manual adjustment. None of which I have a problem with and, in many ways, prefer… but it kept me thinking about that $65,251 (including air-conditioning) plus on-roads price tag.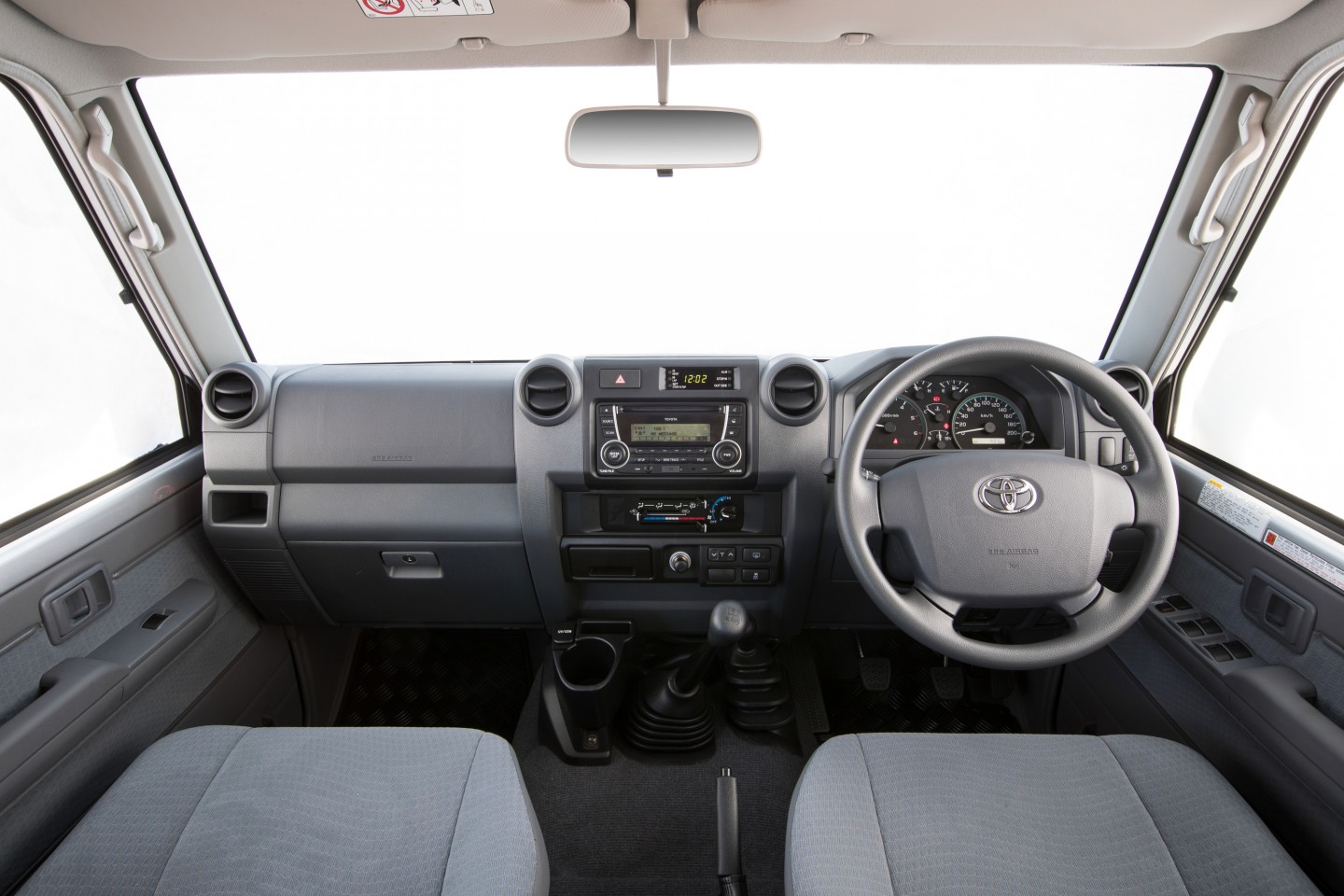 In mid-spec GX trim (as tested), the stakes are raised with the addition of 16" alloy wheels and a digital clock. The price (including air-conditioning) jumps to $67,251 plus on-roads.
The top-spec GXL is a $2,000 premium over the GX and adds a pair of diff-locks, carpet, cloth trim, central locking, power windows (front only), first row door pockets, a chrome grille and a power antenna. The diff-locks alone are a $1,500 option on the GX (which is an absolute steal) making the GXL the bargain buy, if you don't mind getting mud on ya carpet.
(A full list of features follows below.)
2017 79 Series Land Cruiser single cab-chassis range recommended retail pricing (price includes GST but excludes on-road and dealer costs):
Workmate: (man): $62,490 plus $2,761 for air-conditioning
GX: (man): $66,490 plus $2,761 for air-conditioning
GXL: (man): $68,490 plus $2,761 for air-conditioning
COMPETITOR PRICE COMPARISON:
Mercedes-Benz G-Class Professional (auto): $119,900; (man): N/A
ON ROAD and OFF-ROAD PERFORMANCE:
THE 70 SERIES LANDCRUISER ONLY EXISTS BECAUSE THERE IS DEMAND IN SOME COMMERCIAL SECTORS FOR A PROPERLY HEAVY DUTY 4X4.
It's been designed and built to offer a narrow range of end-users a durable and effective working platform and that's about it.
It hasn't been built for grey nomads to tow 3.0-tonne vans around the country (although it could) and it hasn't been built for the recreational off-roader (although it'll impress them); it's been built to work in mines, on farms and outback properties and it's been built to last in those environments.
Up to about 90 km/h it all makes sense. It'll tow anything you hook up to it, it'll carry any load you stuff in the tray, and it will handle the constant punishing duty-cycle that mine work will put it through, longer than most.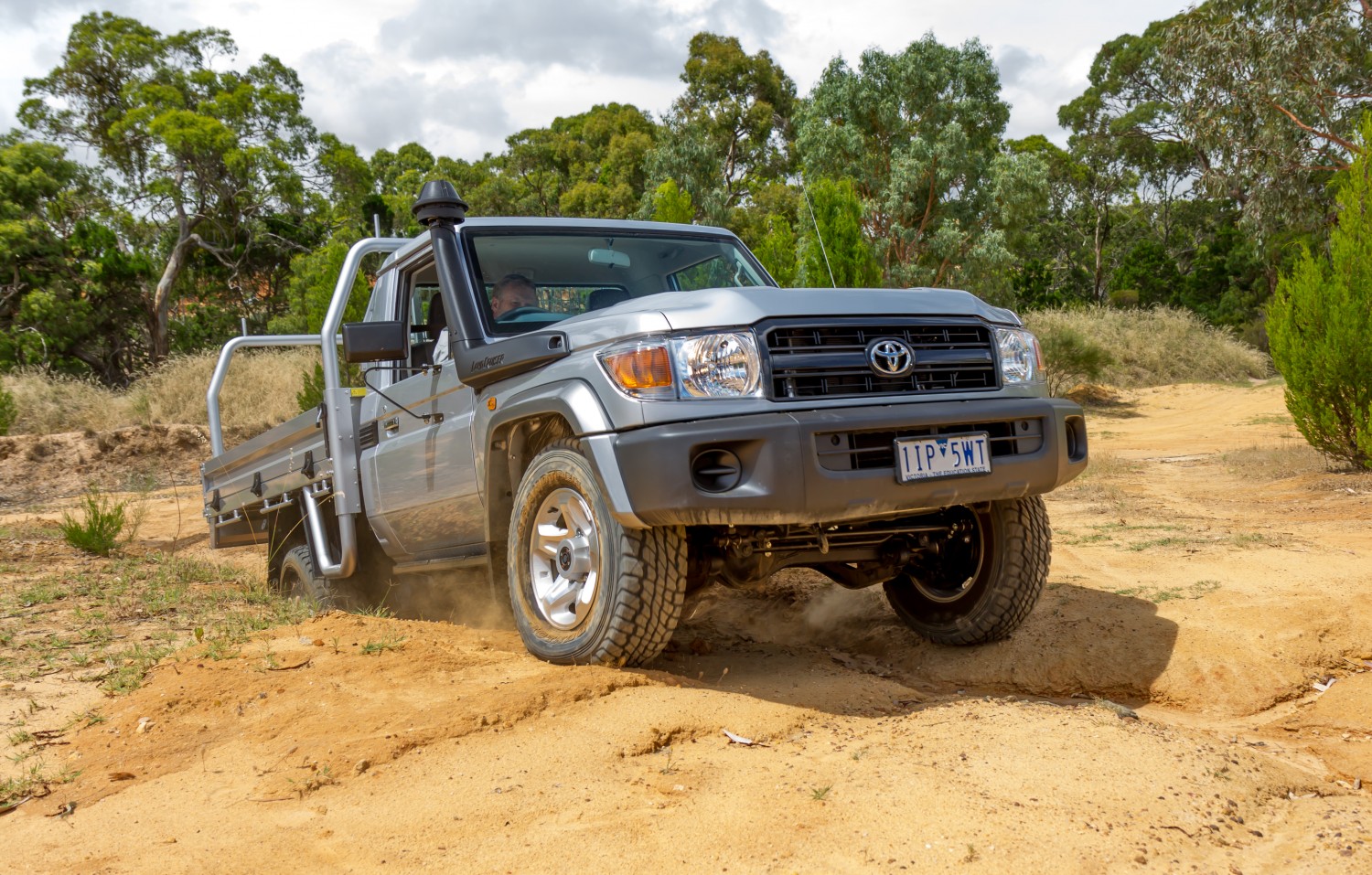 But even with the revised 5th gear ratio, the open road and national speed limits are not the 70's sweet spot. It'll do 110km/h relatively easily, but the increased noise levels and the kick in the pants the fuel consumption cops, combine with a general sense that it'd rather jog than run. Drop back to 100km/h or a touch less and all is well again.
Where it excels is in it's flexibility at low to moderate speeds. That 4.5-litre V8 is nearly as lazy as I am, and only manages to produce 430Nm, but it's geared to make the most of it, and it feels bloody strong. The gearbox has a wonderful mechanical feel to its operation, which makes changing gears a pleasure, but you can keep the changes to a minimum if you choose to – highway touring for example doesn't involve gear changes through 60 km/h town zones, you can glide through those in 5th and drop the hammer on the other side without issue.
The stock factory suspension is surprisingly good; Toyota has the 70 Series riding better on the blacktop than the HiLux. There's barely a hint of the fore-aft 'jiggle' you find with cart-sprung utes, and it soaks up bumps and broken bitumen very nicely.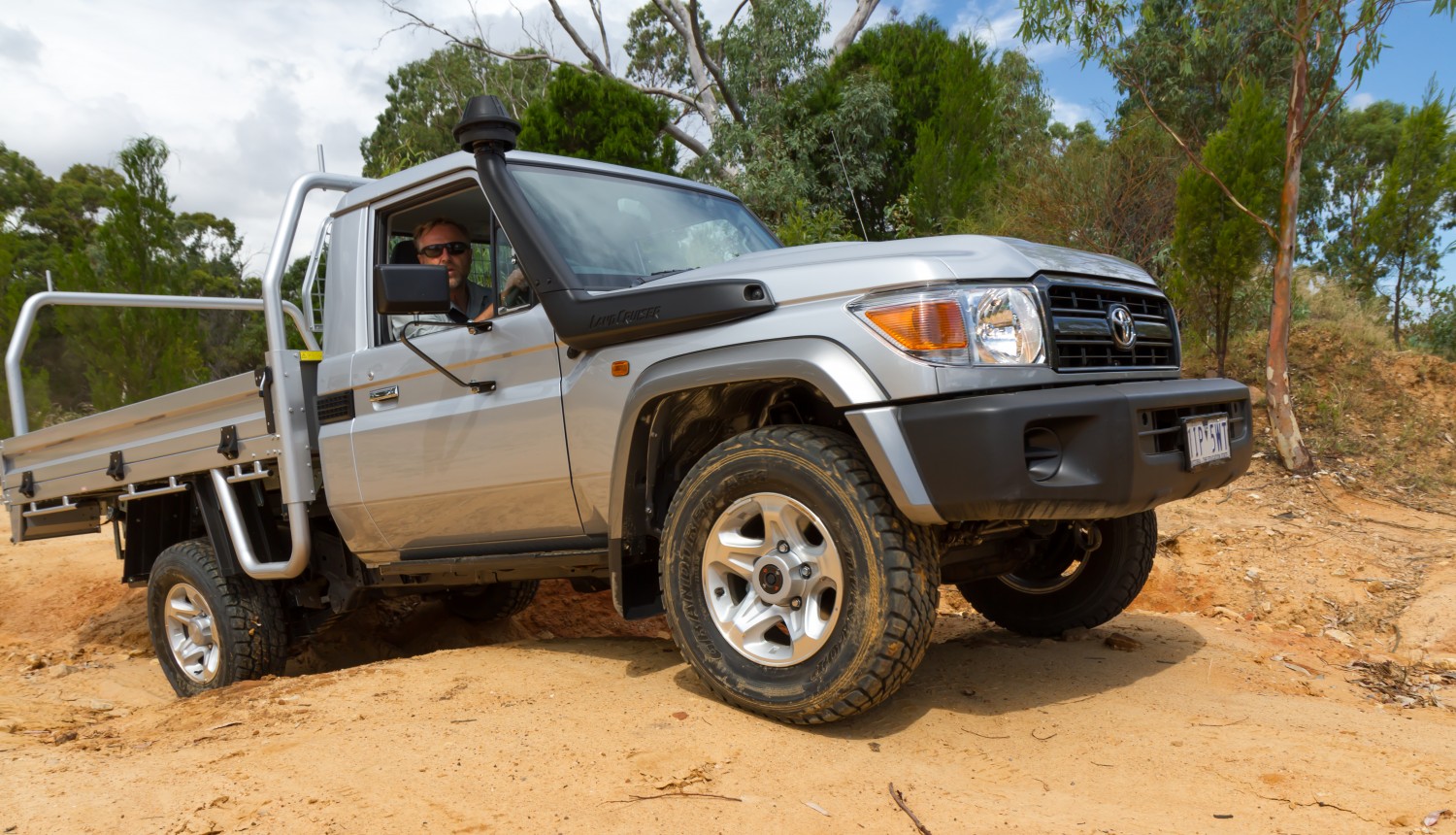 It's a live axle front-end with recirculating ball steering so yeah, it's a little woolly on the dead-ahead and lacking in feel, but I personally don't mind that – it's more truck than car, and clipping those apexes just right isn't a huge priority. The turning circle is a massive 14.4 metres, which means U-turns require plenty of forethought and three point turns are worth practicing.
Inside the cab, it's basic but not uncomfortable. The new seats in the 79 are good things, the steering is tilt and reach adjustable, the air-conditioning is icy cold and the sound system is gloriously simple. The only thing it's 'connected' to is a good old fashioned telescopic aerial (they work seriously well) and a nice tune is just a button push away – it'll even play a CD for you if you ask nicely. It's all a case of function over form, something that used to be the norm with 4X4s.
David Wilson piloted the 79 around his Adventure 4WD test track in the Barossa Valley, and I'll leave it to David to go into detail on its performance in that environment, suffice to say (and this surprised me given its on-road ride) it wasn't quite as nice to ride in as the SR5 HiLux in the slow going rough stuff.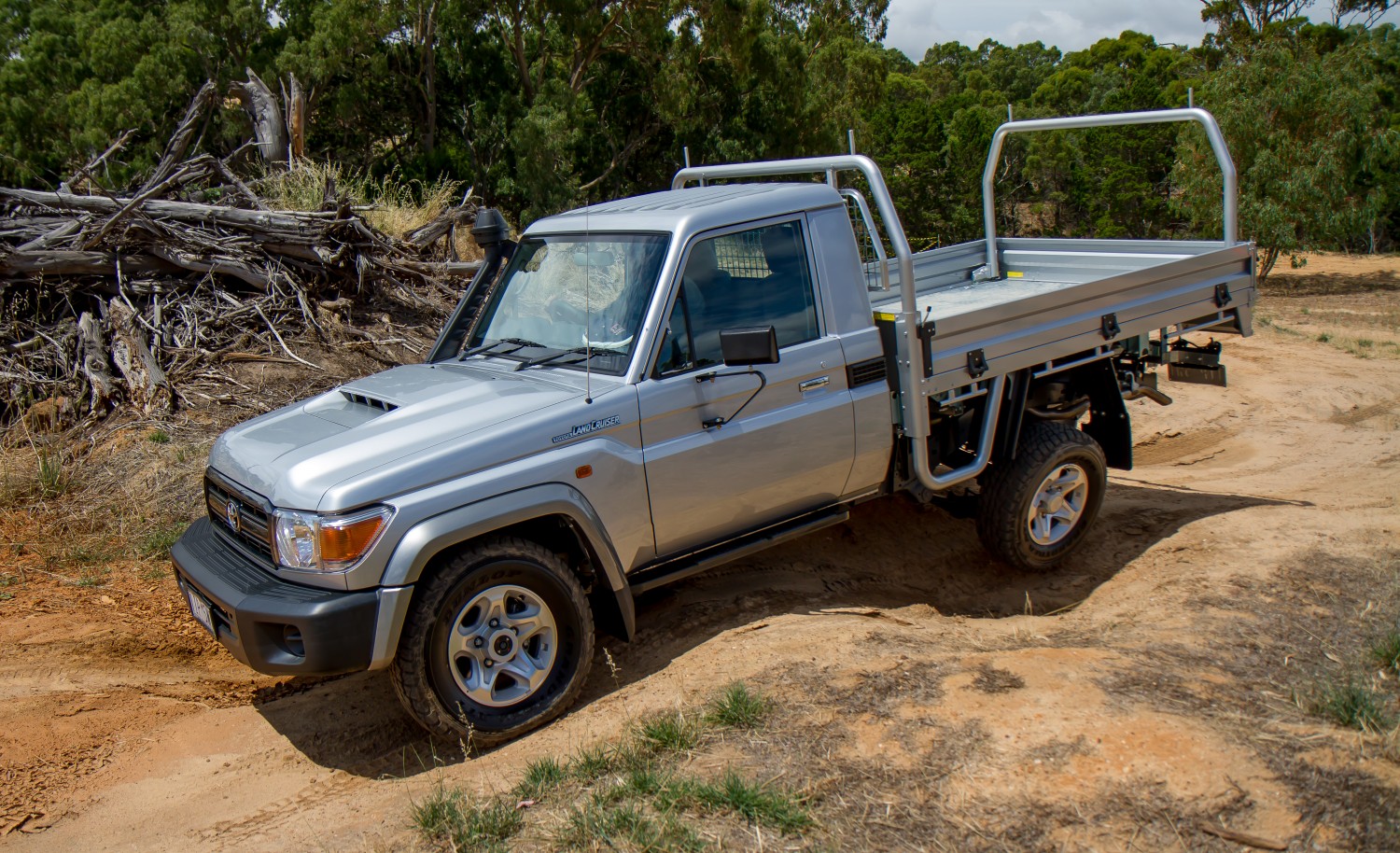 The now standard traction-control looks to be very well tuned for low-range work, and the optional diff locks (that's plural) are still the best traction aids money can buy; have I mentioned that they are a super cheap option on the GX at $1,500. Aftermarket lockers would cost double that and then some.
I tested the 79 up around the Riverland in South Australia and on corrugated dirt roads it's a class act. I also know that off-road in Alpine country, they are one of the better riding 4X4s on that undulating rocky ground, the sort of terrain that can get some not-so-well set-up IFS utes all out-of-sorts.
Rounding out the test was a 300km drive from the Riverland to Adelaide with around two-tonne of speed boat in tow. It behaved true to form and up to about 90km/h you wouldn't know there was a boat following you. It would sit on 110km/h with the cruise control on no worries, but you could almost see the fuel gauge moving. Sitting on the limit comes with a sense that you were just being a little bit irresponsible.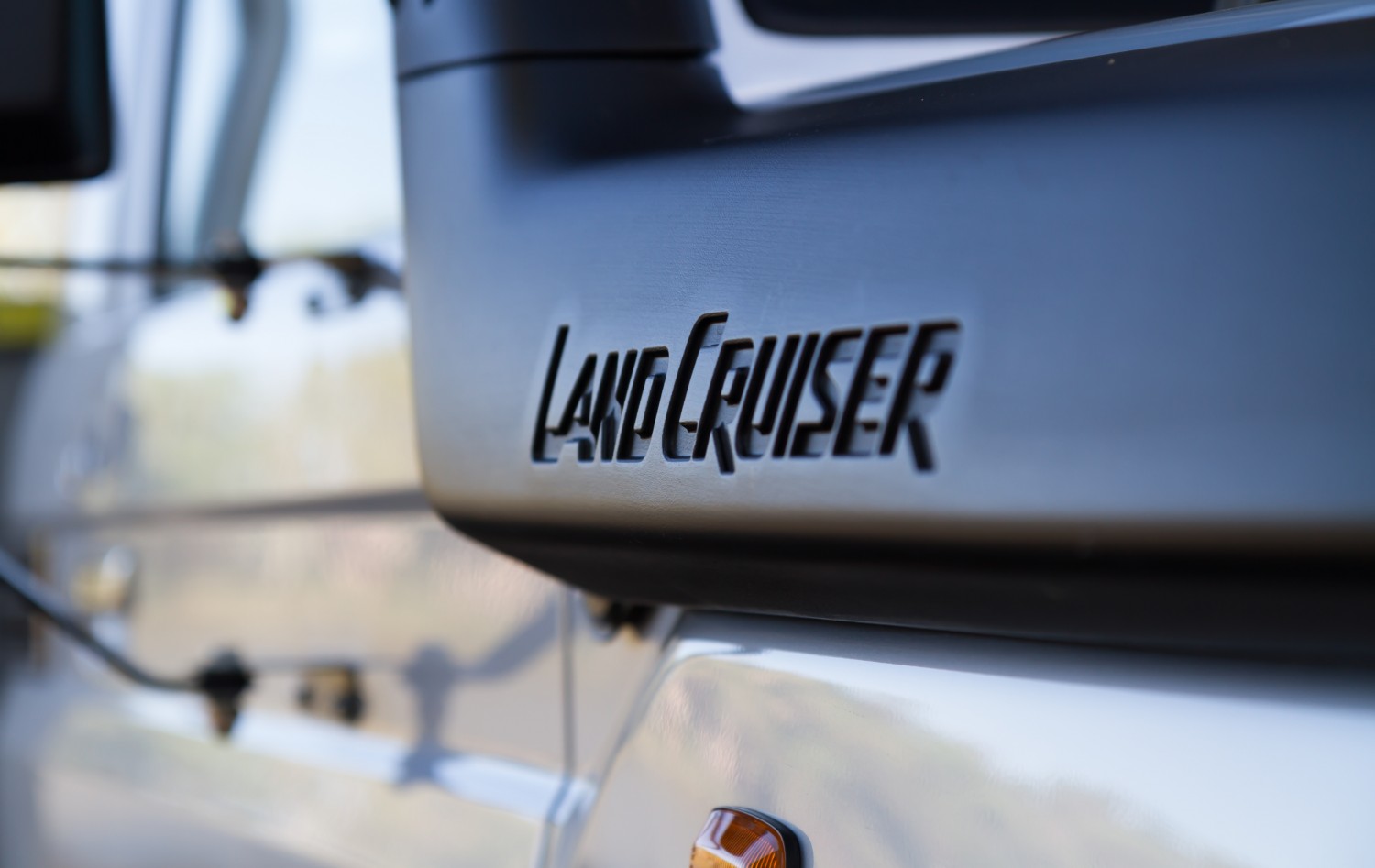 A good compromise was 100km/h and Accommodation Hill – just North of Truro – was an ideal way to test the 79's resolve at that speed. It's a long, hard, grinding hill that knocks the stuffing out of plenty of tow-barges and as I suspected, the 79 was no exception. The cruise control very quickly lost control of the situation as fourth gear became a requirement and once selected, we sailed up relatively unruffled at, you guessed it, 90 km/h.
You don't get a fuel economy readout in a 70 Series, so plucking that number from the dash and presenting it here as fact isn't possible. According to the fuel gauge it used just over half of its 130-litre fuel tank in half a day, that included pick-up in Adelaide, a drive to the Adventure 4WD test track in the Barossa, a couple of hours of low-range work and then a (mostly) 110km/h trip through to Berri in the Riverland. All up a total of around 350kms.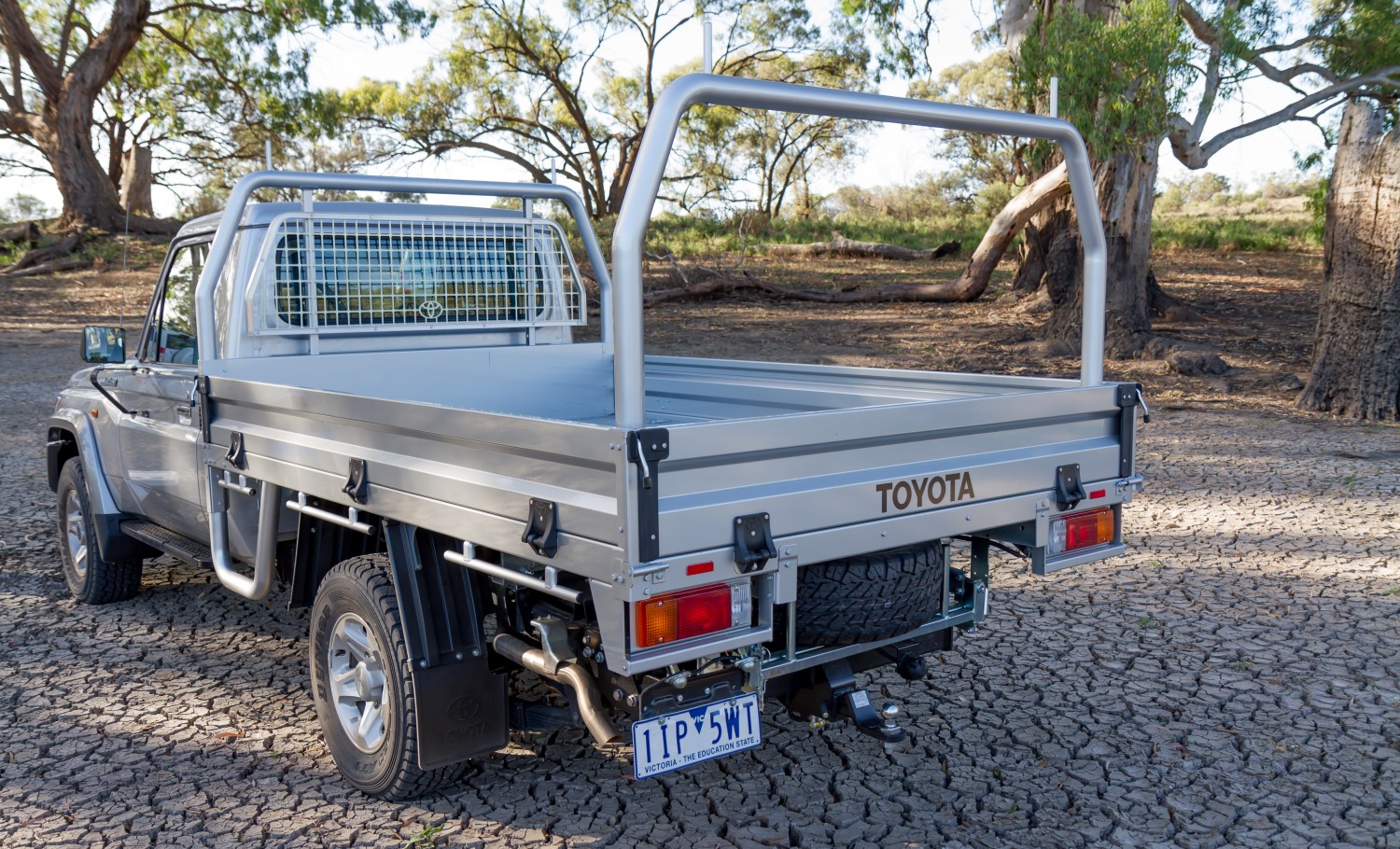 The trip back from Berri with the boat in tow was 260km and saw another half a tank (per the gauge) used, sitting on 100km/h for the most part.
There are too many variables in this less than scientific approach (yes, we should have topped the tank off shortly after pick-up and filled it just prior to return) to put a number on it, but I'd eat my ARB cap if it was anywhere near the claimed 10.7 L/100 combined cycle figure.
'Thirsty' feels like an appropriate adjective and as I've said a few times now, this is one bus that gives you it's best, up to but not much over 90km/h.
LOADED 4X4 VERDICT:
If we're going to be realistic about this, our opinion isn't going to matter diddly squat to any of Toyota's commercial clients. The miner, the cocky and the outback property owner will buy the 79 (or 76 or 78) because it's the only 4X4 platform out there that is geared to work hard and durable enough to last in extreme environments. The only choice they have to make, is whether to go with white or silver. They'll say the price is right because it'll last twice as long as lesser 4X4s that aren't – truth be told – all that far away in price anymore anyway.
For the rest of us 'recreational off-roaders' the 70 Series range is a compromise. The gearing is still too short, and as David said soon after taking the wheel, "I wish they'd put a 6-speed in it!" A 6-speed with a higher overdrive that allowed comfortable and efficient cruising at highway speeds would make all the difference, and cut down on in-cab noise, which jumps noticeably in volume once you get up to 100km/h.
Equipment levels are best described as sparse and it challenges you to see the value in that circa $70,000 on-road pricing.
As far as safety is concerned, it's a mile ahead of the pre-update models, but the double-cab, wagon and troopy are untested by ANCAP and will never (in their current form) achieve a 5-star rating like the single cab-chassis. And that's a fact that gets up some people's noses.
In-spite of the shortcomings, I can honestly see the appeal. It's quite possibly one of the last modern vehicles with a modicum of character; it's fun to drive, built like a Panzer tank and it would make a surprisingly comfortable and durable tourer.
In the right configuration, say a 79 double-cab or a 76 wagon, it's possibly the best 4X4 touring platform this side of an Iveco Daily and imminently more useable.
If you buy one and want to make the most of the experience, remember that this old girl doesn't like to be rushed. Set the cruise somewhere between 90 and 100km/h and smell the roses.
Got a 70 Series LandCruiser? Tell us what you think of it.
SPECIFICATIONS: 
Engine: 4.5 litre V8 turbo-diesel with Common-rail fuel injection
Power/Torque: 151kW @ 3400rpm /420Nm from 1200rpm
Transmission: 5-spd manual H152F
Suspension: Front: solid axle with coil springs; rear: solid axle with leaf springs
Steering: Power assisted recirculating ball; turning circle: 14.4m
Brakes: ventilated front discs | ventilated rear discs
Fuel consumption claimed: 10.7 l/100km
Wheels and tyres: 17 x 7" alloy wheels / 265/70 R17 tyres
Approach/departure:  approach 33 degrees; departure 27 degrees
Wading depth: 700mm
Tow rating: 750kg (unbraked); 3,500kg towing (braked) and carrying capacity of 1,235kg; gross vehicle mass is 3,400kg.
VEHICLE CLASS:
NA category – "light goods vehicle"
KEY FEATURES: INTERIOR/EXTERIOR
79 Series GX Single Cab-chassis
12V Socket(s) – Auxiliary
16″ Alloy Wheels
2 Speaker Stereo
ABS (Antilock Brakes)
Adjustable Steering Col. – Tilt & Reach
Airbag – Driver
Airbag – Knee Driver
Airbag – Passenger
Airbags – Head for 1st Row Seats (Front)
Audio – Aux Input Socket (MP3/CD/Cassette)
Audio – Aux Input USB Socket
Audio – Input for iPod
Audio – MP3 Decoder
Bluetooth System
Bottle Holders – 1st Row
Brake Assist
CD Player
Chrome Door Handles – Exterior
Clock – Digital
Control – Electronic Stability
Control – Traction
Cruise Control
Cup Holders – 1st Row
Diff locks (optional on GX tested)
Disc Brakes Front Ventilated
Disc Brakes Rear Ventilated
EBD (Electronic Brake Force Distribution)
Engine Immobiliser
Flares
Free Wheeling Hubs – Auto-locking
Free Wheeling Hubs – Manual locking
Front Stabiliser
Hill Holder
Intermittent Wipers
Mudflaps – front
Power Antenna
Power Steering
Seatbelt – Pretensioners 1st Row (Front)
Seats – Bucket (Front)
Side Steps
Snorkel
Spare Wheel – Full Size Alloy Wheel
Storage Compartment – Centre Console 1st Row
Tacho
Trim – Cloth
Vented – Bonnet