2017 HiLux SR5 Double Cab
Review by DAVID WILSON
Let's get this over with quickly… I HATE HILUXES! There, I feel much better now.
You see I come to this opinion because I'm over hearing rusted-on Hilux lovers crow on about how good their truck is. They aren't, they weren't and there's always been better in the marketplace. Let's look at two moments in time.
Lots of people I know go all gooey about what I think from memory was the 6th generation HiLux, released in 1997, when Toyota realised the value of the emerging recreational sector to 4WD sales. In a quest to make it more comfortable, the previously leaf-sprung front and rear design was ditched for an IFS (independent front suspension) arrangement which the purists hated. Power was either a four-cylinder 2.7 litre petrol (in later years a 3.4 litre V6) or a 3.0 litre four-cylinder diesel. The diesel powertrains were pathetic, asthmatic indirect-injection and initially naturally aspirated. Both turbo and non-turbo models were as slow as a wet-week and fuel efficiency was average, indirect-injection ensured that.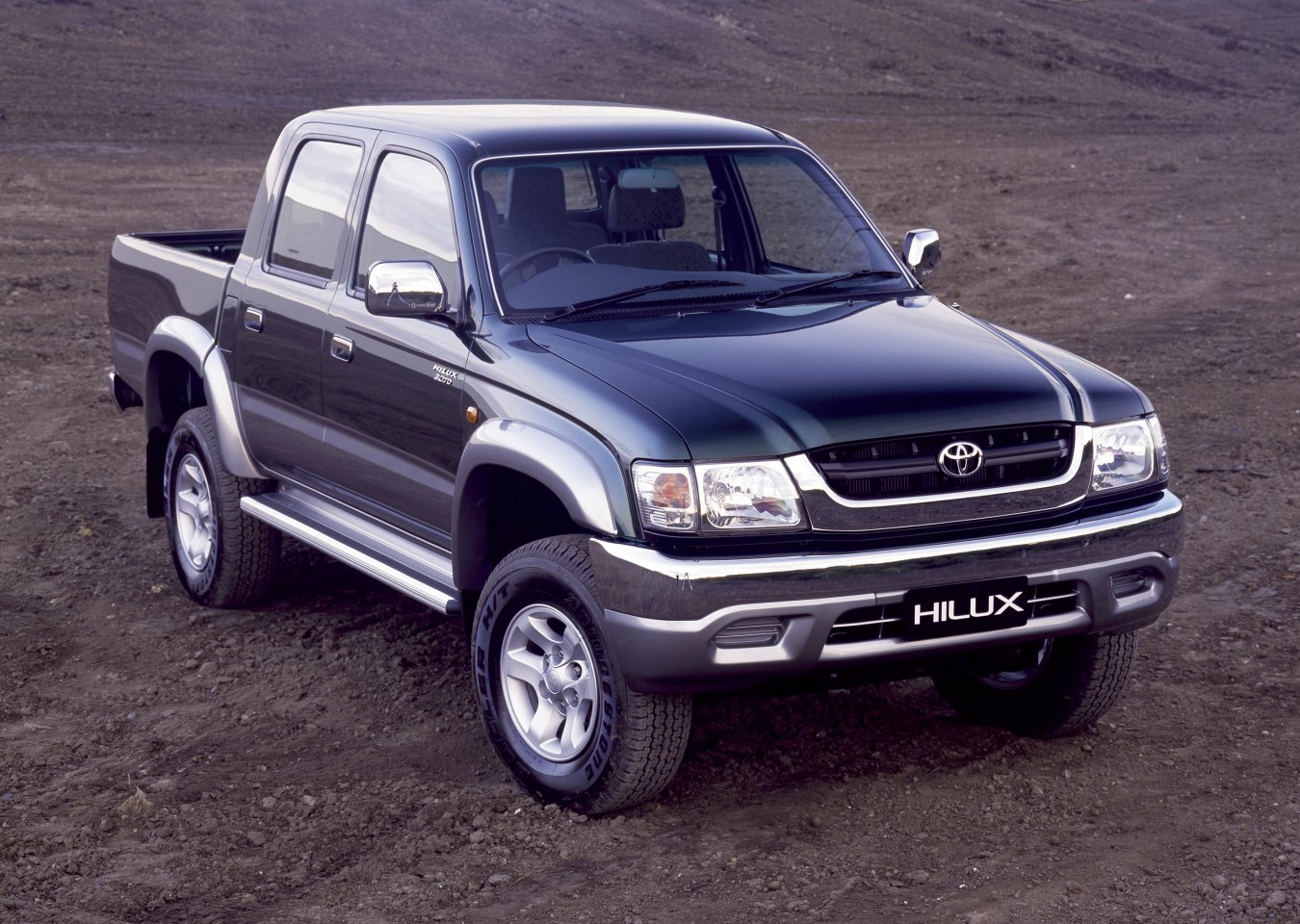 The star ute of that era was an Isuzu product, the Holden badged TF Rodeo. Its 2.8 litre direct-injection and turbocharged diesel was a better power-plant in every respect. It had great power (for the day), incredible fuel efficiency and could be tweaked easily to get more grunt. The motor's longevity was extraordinary. Isuzu's truck heritage clearly influenced the design. It too had IFS but in the form of a torsion bar system, that had off-road limitations, but I can remember getting my Rodeos into places where the Hilux guys reckoned I didn't have a chance.
Jump to 2011 and both Ford and Mazda introduce the Ranger/BT50 in its new 5 cylinder diesel form with 6 speed transmissions. This pair absolutely smoked the opposition. The 7th generation Hilux came with the 3.0 D4D (direct-injection), a much better motor (although durability-wise you'd have to wonder with the injector woes at low kays a lot of folk have suffered) because finally it became a direct-injection motor. But at a still average 343Nm compared to the Ranger/BT50's 470Nm it was laughable. Still the lemmings lined up to buy the Hilux, even the D40 Navara was a better truck and this will really hurt, the Triton was a better spec and vehicle to drive with all the safety fruit Mitsubishi applied to it ex-Pajero.
When Steane asked me to evaluate the new Hilux I thought to myself "yep just another bland Toyota 4WD offering and there'll be nothing of merit". I was wrong.
Firstly the drivetrain is SIGNIFICANTLY improved… did you get that – SIGNIFICANTLY.
Holy-moly look at that, a six speed manual and automatic and they've even got some smarts. The iMT (no not In Melbourne Tonight – sorry an old dad joke) function on the manual had me going for a while there trying to understand why the engine speed did a little blip on downshifts, but the feature makes gear changes very precise.
The 2.8 litre 1GD-FTV four pot diesel claims 130kw and 420Nm in the manual form we drove and whilst the numbers are down on the previously mentioned Ranger/BT50 147kW and 470Nm, the Hilux uses them well. I'll put that down to the gear combo, well-spread and plenty of them (note to Toyota – the 79 series still needs a six-speed gearbox thanks).
I didn't get a chance to tow with it, which is a shame as I would have loved to try a trailer and bobcat on the back to see how the suspension coped with the load and how well the motor pulled with near maximum tow capacity hanging off the rear bumper. It'll wait for another time and I'll report back on this page.
The on-road dynamics are almost good. The brakes worked a treat as Steane and I found out when I did an abrupt stop at 100km/h to test out the Hilux's ABS straight line abilities. It pulled up quickly something the previous generation didn't do, so that was good (why is it that we still have to suffer drum-braked rear axles?).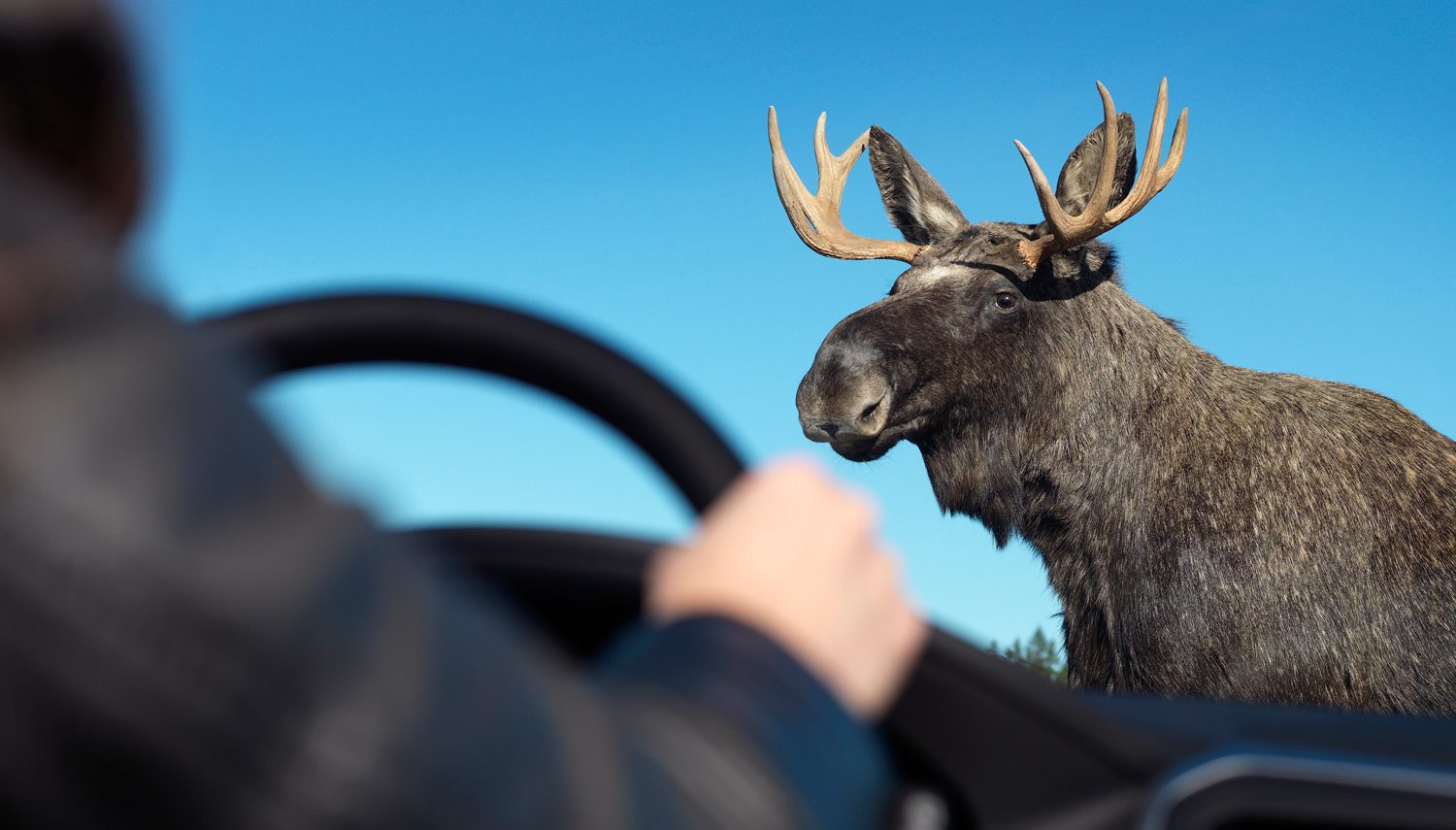 However the Moose test wasn't so good. Steane and I were driving along the Barossa Valley Way (a bitumen road in good condition) at 80km/h when I decided I needed to find out how reactive the VSC (Vehicle Stability Control) was. So I pitched it hard to the right, then left, then right again before VSC went to work… hmm that wasn't very good.
Other contemporary vehicles I've used the same test on will commence decelerating and selectively braking almost from the get-go in the same aggressive manoeuvre, yet the Hilux needs three big steering inputs. I would hate to think Hilux is once more going to be nick-named Rollux after finally improving its safety standing of late.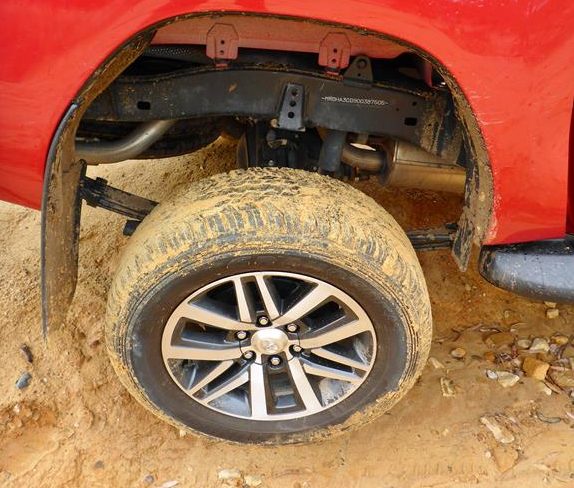 Off-road this thing might be a weapon. Never thought I'd say that about a Hilux!
On our test day it rained, which on my track makes things easier as it's predominantly sand. On the harder stuff in LOW range the traction control intervened early (very Prado-esque) and corrected any unwanted diagonal wheelspin on the sandstone gullies. Nice. In the same situation plenty of other utes I've driven would have needed a mountain of engine speed to tickle their brakes to get going again, but the Hilux had barely 1,000-1,200rpm on board and up and over she went.
The same diagonals had the suspension stretched big time and it was obvious that the articulation Toyota offer now is much better than before. If you can keep wheels on the ground longer you'll go places with little fuss. The IFS is still limited, but the back end has longer springs and it showed.
One of my hates with the previous Hilux was how close they sat to the ground and especially the bash-plates covering around the lower wishbone/front differential area. They always copped a hiding out in the sticks. This one, despite its prominent Karl Malden schnoz, is much cleaner underneath and wasn't touching down in the same places, so the approach angle is better.
Just for shits and giggles I took Steane up our "Sandy Drop". Usually this is impossible and especially so in summer, but there was a fair bit of moisture in the sand. First run was at a leisurely speed in LOW range and second gear. Just short of the summit and in the middle of a major diagonal hang-up we ran out of steam and stalled. No problem, back to the start. Second go, same gear but a freckle faster and OMG, we made it to the top!
Now the import of this is worth reflecting on. Usually traction control on sand is crap. Momentum is the key with sand driving and if the brakes are being applied every time a wheel does a whoopsie, progress will be interrupted.
To prove it wasn't a fluke Steane tried the same technique with the same result. We repeated it with the rear axle diff-lock too. With the RDL engaged traction control turns off and it was an easier summit, all this too at placarded road pressures. So my score for its off-road prowess is commendable. I'd like to see what ARB could do with the suspension too and how that would enhance the situation even further.
So what would I change?
The wheel/tyre combo is rubbish. Yep they're passenger car tyres designed for the 90 percenters who don't go bush, nothing new there, but 18" wheels are useless. The tyre industry hasn't devoted much attention to 18" light truck all-terrains, so you'd be better off with the SR model's 17" wheel size as there's plenty of choices. I reckon a set of Toyo's brilliant OPAT2 in LT265/65R17 120R would be a killer combo for this vehicle.
I'd want to install some breather hoses for the rear differential (and I suspect the front if it doesn't have one) and as Steane noted, there is a plastic electrical connector atop the rear diff housing that looks vulnerable. It needs protection.
The six-speed manual I drove was a great gearbox but I would have liked a lock-out for reverse, either a collar on the stick or a detent to separate it from the rest. I kept picking up first, so a deliberate throw to reverse would be more positive. With more kays it might loosen up and become more obvious so I'll reserve my judgement on that.
Another gearbox gremlin for me is clutch-enabled starts. Big shout-out to manufacturers, being able to START a car in gear in LOW range (called a stall-start) is pretty essential off-road and a BIG advantage with a manual transmission. Stop pandering to the safety Nazis!!! Having to push the clutch in to get things running is BS.
The seats were comfy and the adjustability on the steering wheel was awesome, anyone with or without a big tummy will be able to squeeze in there. The surfaces of the plastics were comfortable too, so my preferred right elbow on the armrest and left on the console lid felt good. Leave all that alone, but sorry carpet in a ute doesn't work. A couple of hours in and out of the vehicle left a trail of sand that'll never come out no matter how competent you are with a vacuum.
As for the infotainment screen, it'll be hard to read in certain light with reflection one issue and dust and greasy fingerprints the other. It's a dominant feature on the dashboard and if it's hard to read it kind of defeats the purpose of it being there, even for old eyes like mine.
Would I buy one? Nope.
Toyota's pricing is still silly and whilst finally there's some safety and fittings fruit in this generation's offering which makes it more attractive, the three year warranty isn't good enough if you're going to trumpet that you're "Unbreakable". You're not!
That glorious five cylinder diesel is still available in the Ranger/BT50 pairing and whilst the Ranger is getting exxie on price like Hilux, the BT50 is better value. I haven't yet driven the revised Colorado so I can't comment on that, but I do know a significantly revised DMAX is just weeks away and at their price-point, will make attractive buying.
PS – A quiet word to the Hilux aficionados I've just upset. Don't hang me with my historic recollection of the evolution of your earlier models, it was 20 years ago and my memory is full of many important things and Hiluxes of that era weren't. If you managed to read this far you won anyway, because I've admitted the new version is a good 4WD. Never thought I'd say that about a Toyota!