2017 Amarok V6 Launch Drive
by STUART MARTIN
Price: Highline from $59,990, Ultimate from $67,990 plus options and on-road costs
Engine/Trans: 165kW/550Nm 3-litre Turbo Diesel V6 / 8-speed auto
Fuel Economy claimed: 7.8 l/100km combined
Construction: Body on chassis
Suspension: Independent double-wishbone front / Live leaf-sprung rear axle
Towing: 750kg unbraked / 3000kg braked
Vehicle class: off-road passenger vehicle (MC)
German giant Volkswagen has reset the bar for power plants in the LCV 4×4 segment with the new V6 Amarok.
The VW ute – long seen as a benchmark for refinement, quietness and ride quality – has been given the punch to back the panache, inheriting the turbodiesel V6 from its cousin Audi.
The new powerplant is auto-only for now and available at a starting price (before on-road costs) under $60,000 – $59,990 for the Highline, or $67,990 for the Ultimate, pricing which VW believes keeps it attainable for buyers.
The 90-degree three-litre turbodiesel V6 has 24 valves, a variable geometry turbo, high pressure direct-injection (using multiple injections per stroke) for 165kW of power between 2500 and 4500rpm and peak torque of 550Nm from 1500 through to 2500rpm.
Among its other highlights are exhaust gas recirculation (EGR), a catalytic converter and diesel particulate filter (DPF), as well as selective catalytic reduction to reduce NOx emissions using AdBlue.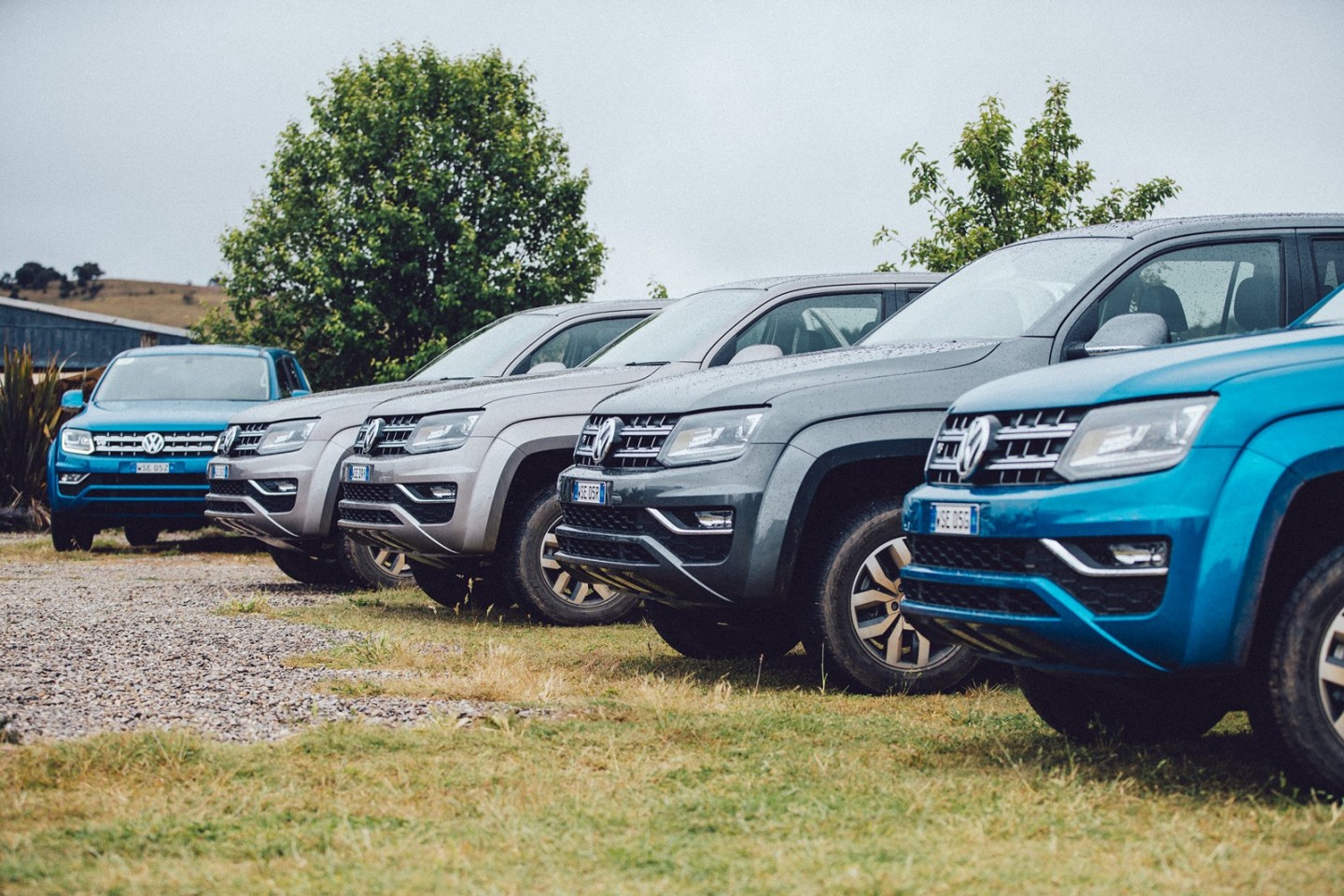 The engine has been upgraded for duties in a light commercial utility, with a larger-capacity sump, honeycomb inserts to prevent surging, redesigned pistons and cylinder linings and the vibration damper – previously made of a light-alloy – now steel.
It lays claims to an ADR fuel economy figure of 7.8 litres per 100km, as well as the availability of an additional 15kW from its 10-second overboost function when more than 70 percent throttle is been employed.
Volkswagen says the overboost function is ideal between 50-120km/h, with a 5.5 second run between 80-120km/h. And, with a 0-100km/h sprint time of a claimed 7.9 seconds,  that's on par with Passat and well ahead of the segment average.
The new VW drivetrain has been accompanied by a nosejob (a new-look grille featuring twin chrome bars), as well as a cabin and features upgrade, adding the touchscreen-controlled satellite navigation system, digital radio reception, full smartphone integration, power-adjustable front seats, leather trim, dual-zone climate control and heated front seats.
The entire upper dash panel is new and the cabin trim choices include Nappa leather for the first time in the segment.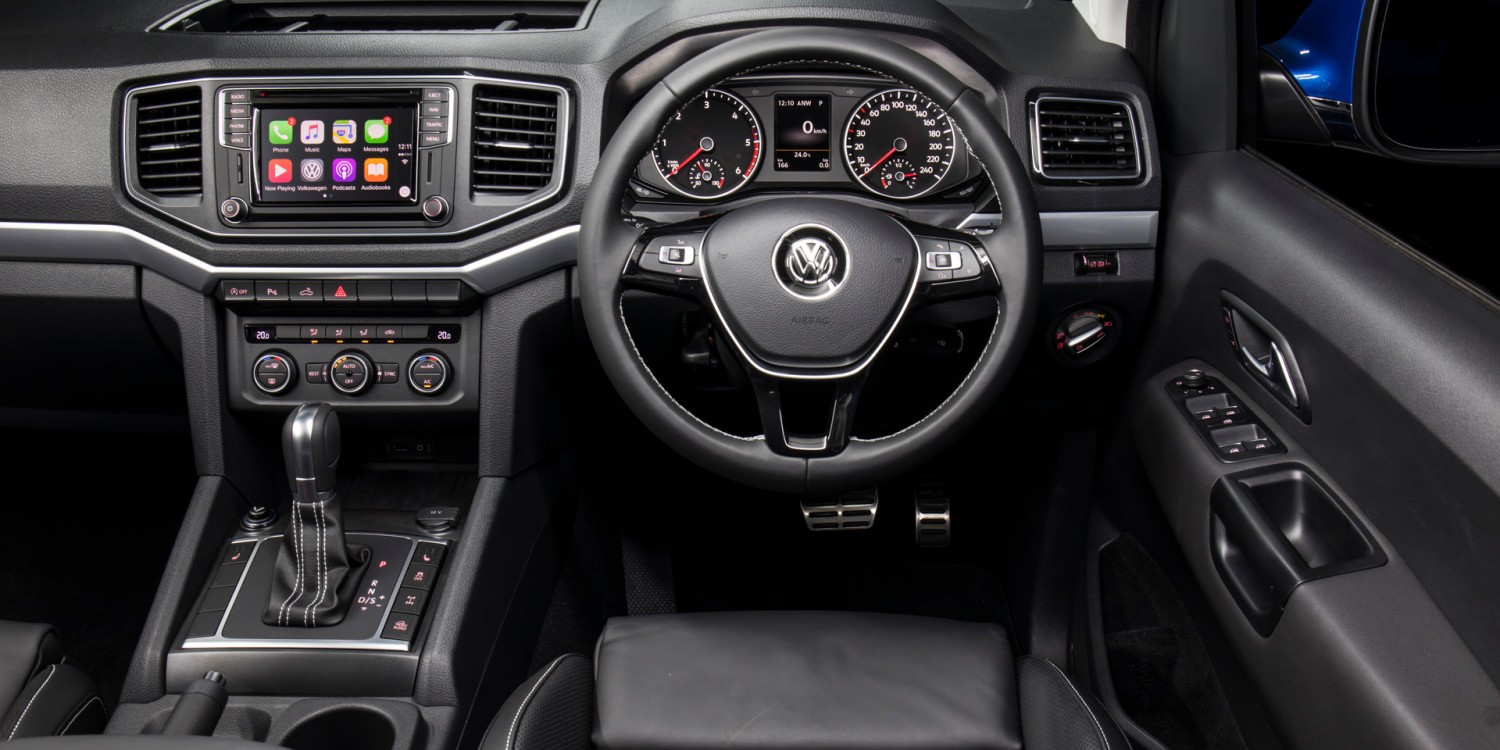 Safety features now include tyre pressure monitoring and the brand's staple multi-collision brake system, added to the six airbags, reversing camera, auto wipers and headlights (bi-xenon), parking sensors front and rear and six airbags from the previous high-end models.
But no curtain airbags nor adaptive or active impact prevention systems have been added to the Amarok's arsenal, which is disappointing given its ability to add them to sub-$20,000 passenger cars.
It is now at least fitted with four-wheel disc brakes – 332mm up front and 300mm at the rear, which is reassuring given its pace – an uncommon feature among twin-cab competitors.
Thus far discs all round have only been seen on the revamped Great Wall Steed, but the Chinese ute is not viewed by VW as a direct competitor.
For now there only transmission available is the eight-speed ZF auto (and crawling gears instead of a transfer case). The torquey V6 however is set to appear late next year with a six-speed manual and transfer case.
Manual or auto, the problem facing Volkswagen for now will be fulfilling pent-up demand.
Only around 400 of the Ultimate and Highline models with the V6 are headed for our shores, as production is yet to ramp up in the brand's South American factory.
The first of the V6-powered Amaroks will come from Hanover in Germany, which is also under pressure given strong demand for the new T6 Transporter range.
The brand is expecting a waiting list well into 2017, according to commercial vehicles director Carlos Santos.
"We're landing 400 here this year, we have more orders than that already," Mr Santos said.
Registrations of interest on the website has topped 7300, with almost three-quarters registering for a test-drive of the new V6 – unprecedented interest for a Volkswagen model.
"With 70 percent of the leads being for test drives, we think based on normal conversions from a test drive being one in four, given we have supply, the challenge is delivery times and we're looking at three or four months wait – we get more consistent supply later in the year," Mr Carlos said.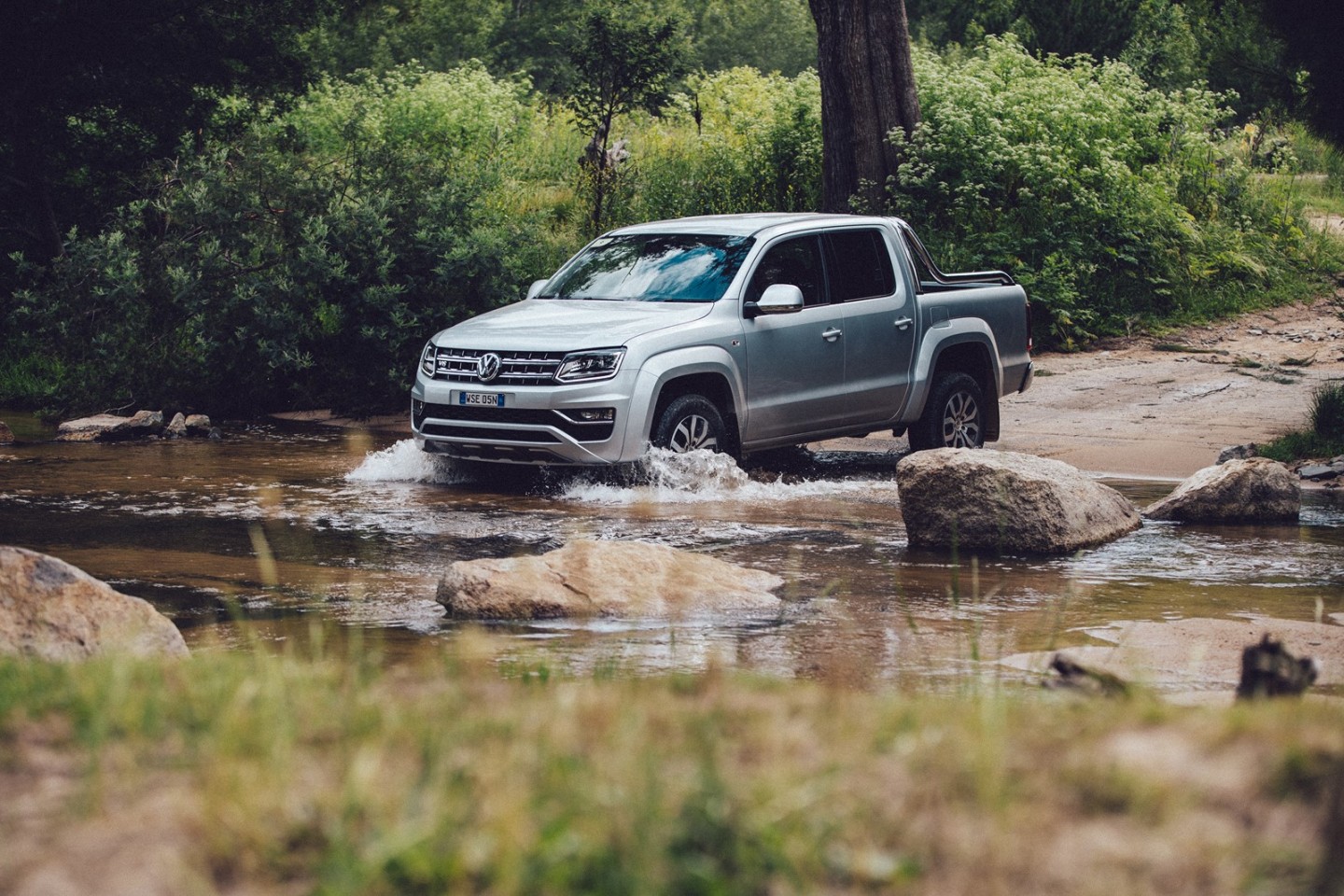 The updated drivetrain puts the Amarok well ahead of its predecessor's 132kW/420Nm twin-turbo four-cylinder, as well as the revamped Holden Colorado's 147kW and 500Nm, Nissan's 140kW/ 450Nm Navara, the 130kW/420Nm offered by HiLux and the 147kW/470Nm five-cylinder in the Ford Ranger and Mazda BT-50.
The VW offering will have the prestige ute high ground on its own until Renault and Mercedes-Benz bring versions of the Navara to market – the Benz X-Class is not due here until 2018 but it will reportedly run a 195kW/620Nm turbodiesel V6.
VW has left the braked towing capacity unchanged at three tonnes but the gross combined mass has risen to six tonnes – which VW said puts it close to those with a 3.5 tonne capacity in real world terms.
"If you load it to the maximum of three tonne, and it has a GCM of six tonnes, with a tare mass of around 2.2 tonnes, the residual payload is around 800kg, some of our competitors have a larger towing capacity but the payload is much lower."
"What we also have to remember is the tare mass is one driver and 10 litres of fuel, not passengers or other equipment, it's a useable payload for practical applications," said VW's product marketing manager Nick Reid.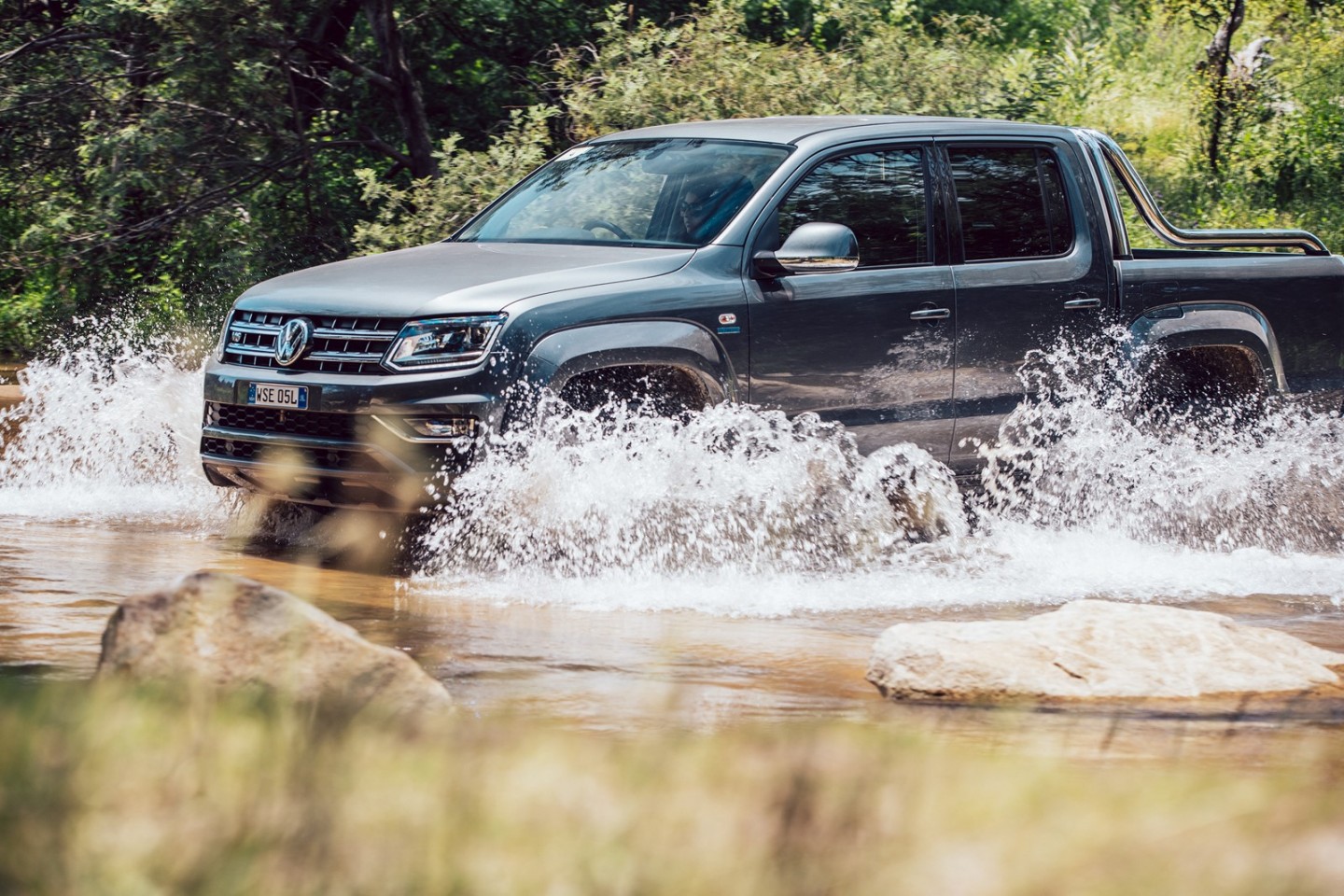 Serious workers will be pleased to hear the rear tray of the 5.3m long, 2m wide ute remains largely unchanged, retaining the 1222mm width between wheel arches to take a pallet, something it remains uniquely able to do in the class.
So, how does it drive?
First impressions of the V6-powered VW ute are good, with the ride quality remaining comfortable and cabin noise minimal; just a little wind noise apparent, more noticeable perhaps because the quiet operation of the V6 power plant.
The launch drive included some off-road work, which Volkswagen had prepared for by removing side steps and changing the wheel/tyre package from 19-inch to a 17-inches, meaning a definitive verdict on the ride quality (which was firm but reasonably compliant) will have to wait for a standard-specification vehicle.
The test vehicles were a little skippy in the rump but some were laden with around 260kg of ballast, which settled any nerves of the tail.
Cabin refinement remains remarkably good, thanks in part to the quiet powerplant that remains unobtrusive even at the rarely-required full throttle.
The sensational surge of torque was a highlight, particularly the part-throttle gush of in-gear grunt that didn't need overboost to make an impression.
The four-wheel drive section wasn't ridiculously arduous but showed the absence of a transfer case doesn't preclude it from getting some dirt and dust in its wheelarches, with a 28-degree approach, 23.6-degree departure and 23-degree rampover angles, but a low 500mm wading depth and 192mm of ground clearance below the segment's best.
It does rely on the off-road mode, teamed with a rear diff-lock and a group of electronic safety systems deploying off-road mapping, to maintain easy forward momentum.
Despite the off-road driving sections and some high-speed twisting and steep roads, there was some open-road cruising which helped keep the launch vehicles in the region of 11 or 12 litres per 100km at the conclusion of the day, no doubt helped by the long-legged eight-speed ZF auto and its ability to hold 8th gear on steep climbs.
The over-assisted power steering is the only complaint – a carry-over concern from the preceding model – dropping it short of the best in segment (Ford and Mazda) for steering feel and prowess.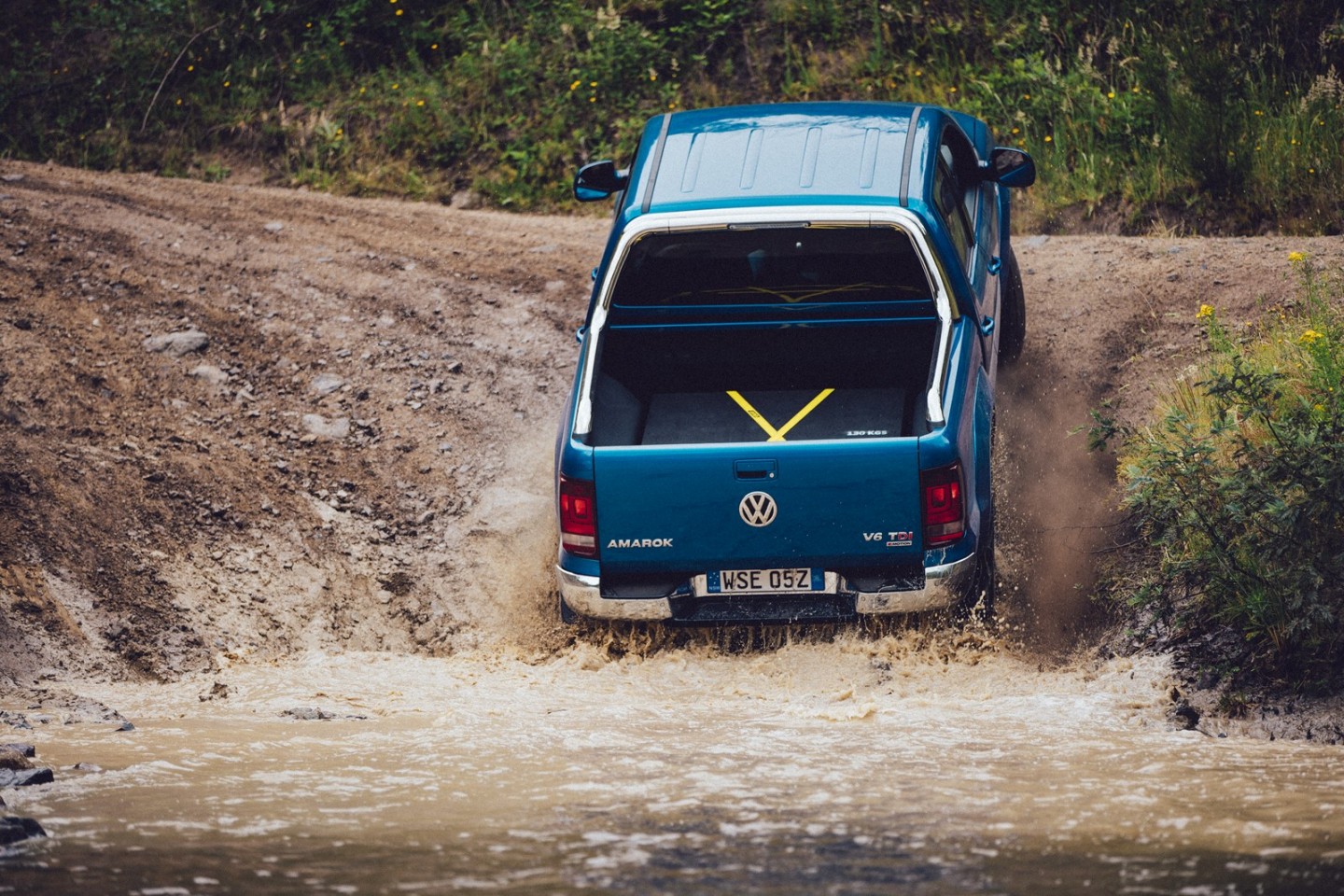 Some of the interior plastics feel a little hard – but look decent – and there are still no rear vents.
Rear passengers won't want to be freakishly tall, but the overall impression of the spacious cabin is of a well-designed functional space.
The addition of the potent V6 has fixed a chink in the Argentine's armour and has put the Amarok firmly back at the top of the LCV ute list.
It is pricey, but sits nonetheless within spitting distance of the top-spec Ranger Wildtrak, which is selling well for Ford. Importantly, the V6 Amarok now has the power plant – if not the active safety features – to take the Australian-developed Thai-built Ford head-on for segment supremacy.