When our friends at Fiat Chrysler Australia suggested I take a Jeep Compass for a week of testing, I said to myself, "why would I want to do that"? That sanitised response was largely due to my prior love of Jeep's small twins, the earlier Compass and Patriot which were not only the ugly kids on the block but also a full waste of space, from a manufacturer just trying to cash in on the AWD/2WD/SUV segment but coming up short against the Euro, Japanese and Korean offerings.
But we've been living in interesting times this last decade and when the joining of what should have been an odd couple – Fiat and Chrysler/Jeep happened, so too did it spawn some R&D on vehicles better engineered and thankfully much better looking than their predecessors. When you can amortise the costs of a new vehicle across a couple of brands, a project that might have been marginal now has a chance of making a profit and us consumers might end up with something halfway decent.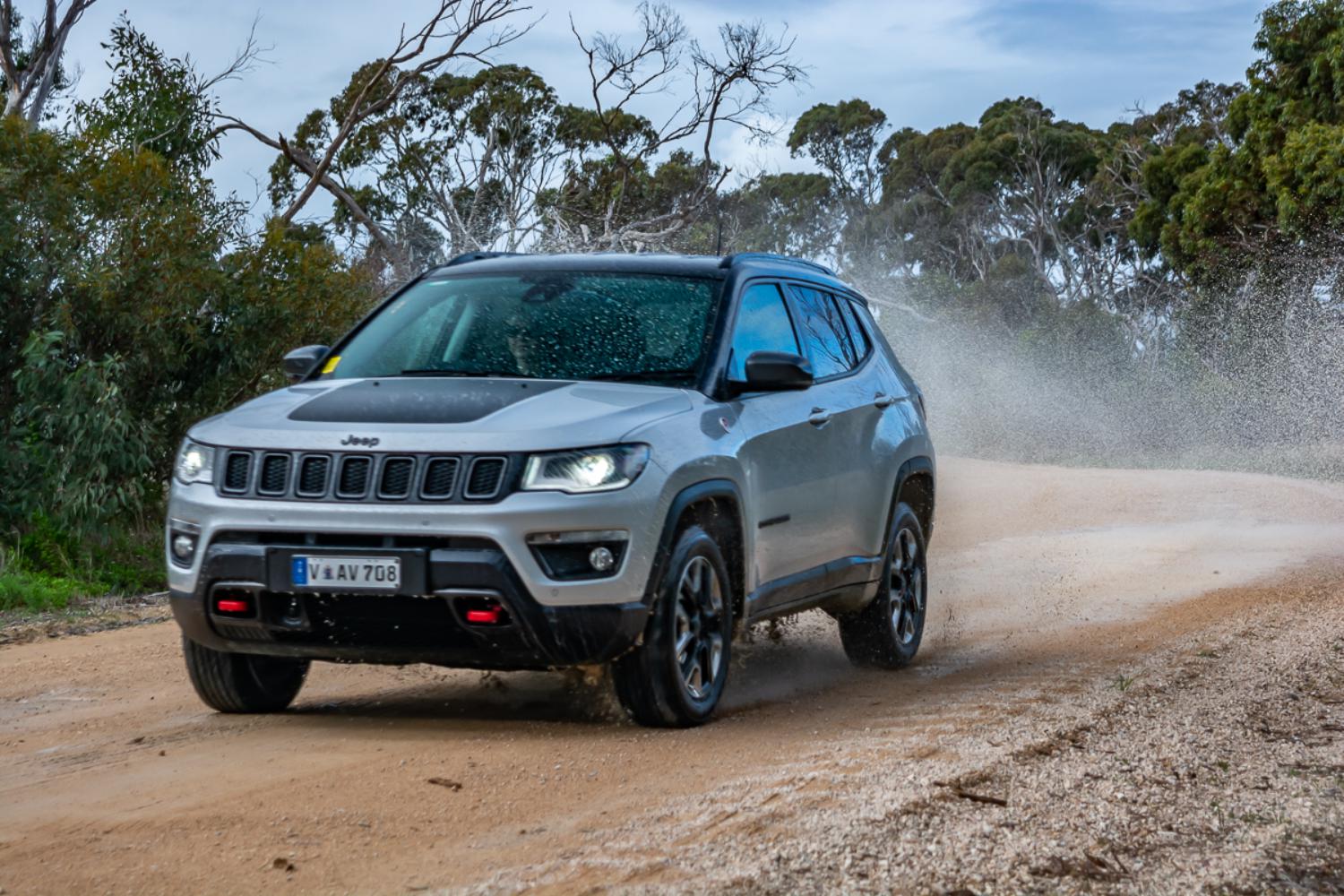 And that my friends is what we have with the Jeep Compass Trailhawk. It's a vehicle whose twin might well be the Fiat's 500L or 500X (I drove a couple of these recently in Italy, and there was not only a lot of switchgear on the inside carried over to the Jeep, but also a smaller variant of Fiat's 2.0L Multi-Jet diesel as well, which offered great economy and decent torque). Now some of you might cringe at that thought, immediately conjuring up issues of reliability and manufacturer commitment, but the Jeep of today is trying really hard to ensure buyers have confidence in their cars by offering a generous warranty of 5 years with a similar length capped-price service regime. So what we have now is a pleasant-looking AWD wagon that's fully featured and has surprising capability and likely more off-road potential than any other vehicle in its segment.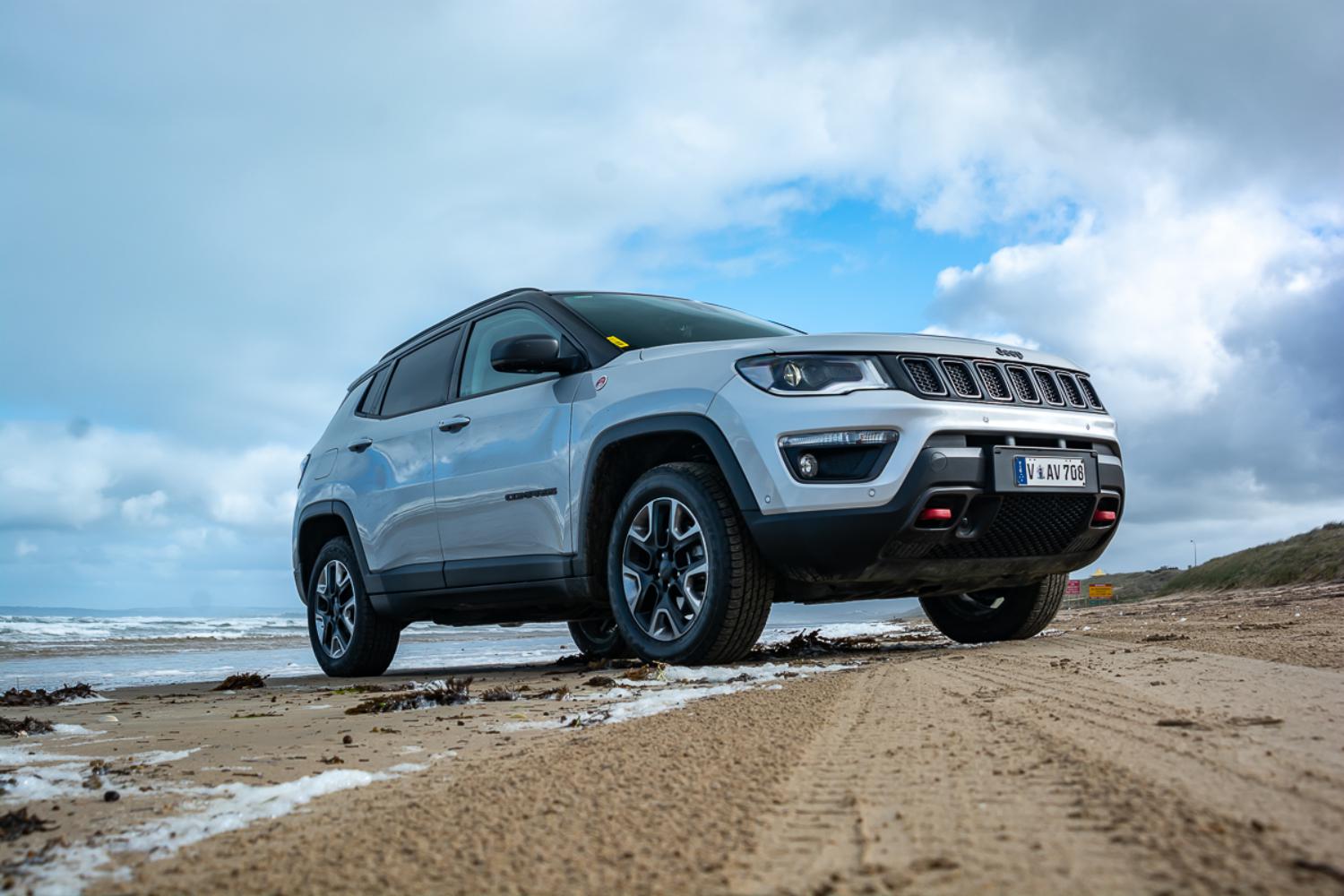 Here's the detail.
Starting with the engine, we have a four-cylinder diesel producing 125kW and importantly 350Nm of torque and at a reasonably low 1,750rpm. Now, what's the importance of that torque figure? If we used a contemporary wagon (albeit larger) comparison, an MY16 Isuzu MU-X, it should give you an idea of the urge the Jeep's Multi-jet has got. The MU-X weighs in at 2,110kgs in LS-T trim and produced then 380Nm pushed through a five-speed transmission. The Compass weighs 1,621kgs, produces 350Nm and delivers it through a nine-speed auto. Being 25 percent lighter, it's telling.
Now the MU-X gets along reasonably but the Compass fairly flies, and it has a gear for every moment, keeping the best torque window close to its chest all the time. It'll also do that with decent efficiency, something Jeep claim at under 6.0L/100kms and I can verify that with the tank of fuel I replaced in the vehicle during my week of ownership, telling me there's potentially a near 1,000kms range out of one 60L tank! That never happens in the real world, but if you're light on that gas pedal, you might find this has the potential to drive you a long, long way in a day. I'd really like to test it driving from Adelaide to Coffin Bay at the bottom of Eyre Peninsula, a drive around 800kms long with a good mix of roads and conditions and put that economy to the test.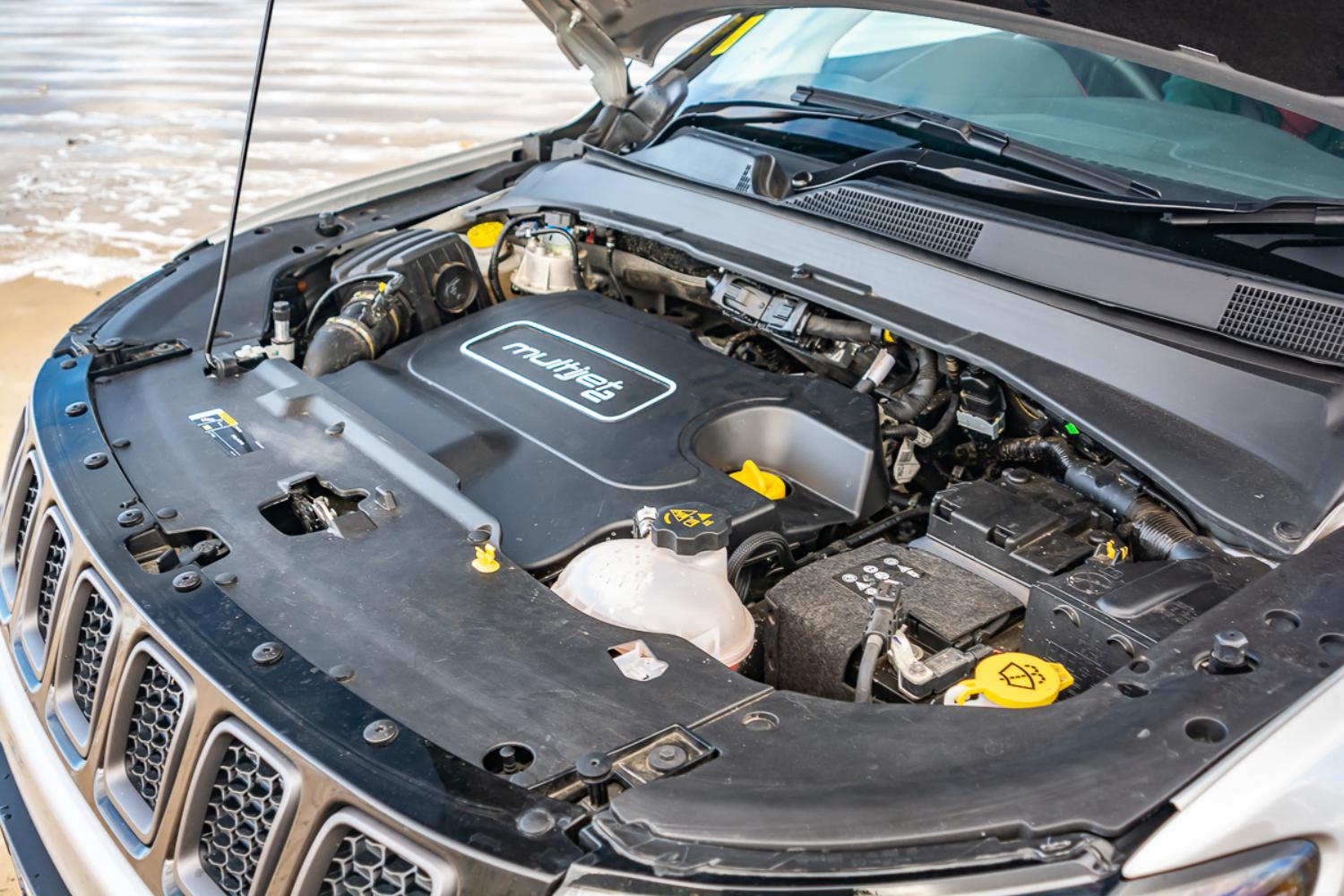 I mentioned the transmission is a nine-speed auto, it's made by ZF, the German mob who supply gearboxes for lots of Euro vehicles. First gear is low, at 4.71 and that's what gives the Compass some off-road cred when coupled to the traction control and torque vectoring systems employed in this Trailhawk model. Jeep calls their 4WD system in this vehicle "Active Drive Low".
Volkswagen does a similar thing with the Amarok offering in their eight-speed auto a first gear ratio of 4.714, so it gets a degree of off-road mobility without carrying a transfer case with a traditional LOW range. That baggage equals extra weight in a vehicle that doesn't need it.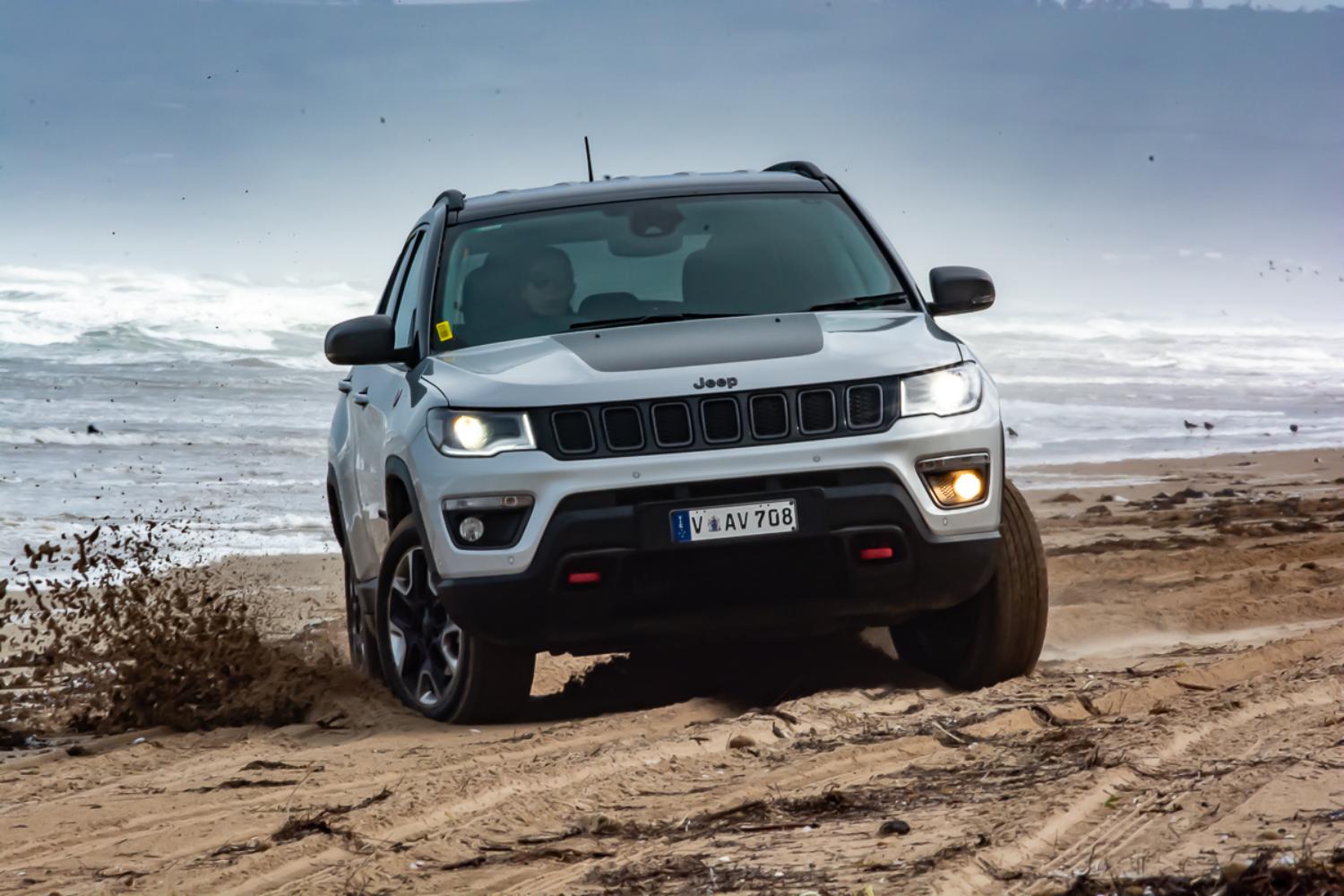 It's well-suspended using a monocoque or unitary body construction (no chassis), so the body carries the engine, driveline and suspension components like a passenger car does and uses independent suspension front and rear, just like a Pajero, to provide a car-like ride.
I found the rear suspension fascinating as the Jeep catalogue called it a "Chapman Strut". Could that mean Colin Chapman of Lotus fame??? Yep. So the design of this style of IFS is to incorporate the driveshaft as one of the key components in suspending, in this case, the back end. Use fewer components, and you save weight, which has always been the Lotus mantra. I like that.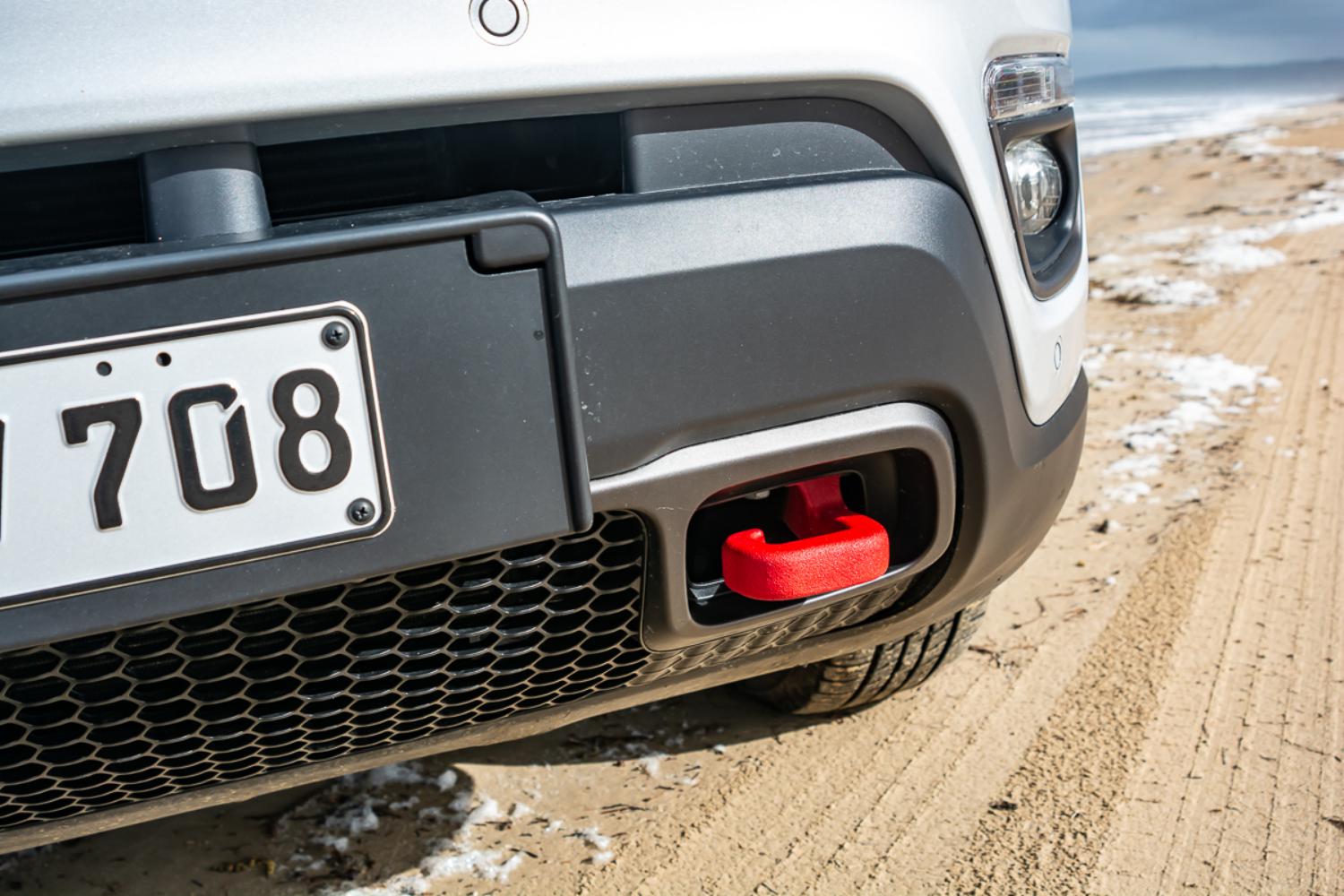 It steers well using an electric rack, but something that was messing with my head was the lane departure system. This old numpty and techno-cretin doesn't sample new safety technologies like this too often because 4WDs often don't get that sort of kit until years after everyone else has. So imagine if you will, negotiating a corner and midway through getting a mild sensation of resistance or jamming of the steering, telling me with what I know now, I've approached the white centre-line or overstepped it. I learnt a lot from that exercise, and I see the merit in the system. It can be turned off too.
In the comfort stakes, this is a pleasant place to be in, quite generous dimensions inside and even for a tall bloke like me. The driver's seat had plenty of adjustment, coupled to tilt and telescope on the steering wheel. If you're a skinny or a fat bugger, I reckon you'll find a comfy spot no drama. The surfaces all looked to be high quality, much better than I remember the previous Compass trim fit and finish. Those of you who like your media mumbo-jumbo will love the infotainment display, and yep it'll do the Apple and Android song and dance easily. The steering wheel volume controls remained a mystery to me until I consulted Uncle Google, who told me to reach around behind the wheel's spokes to find the said buttons to do the up and down business.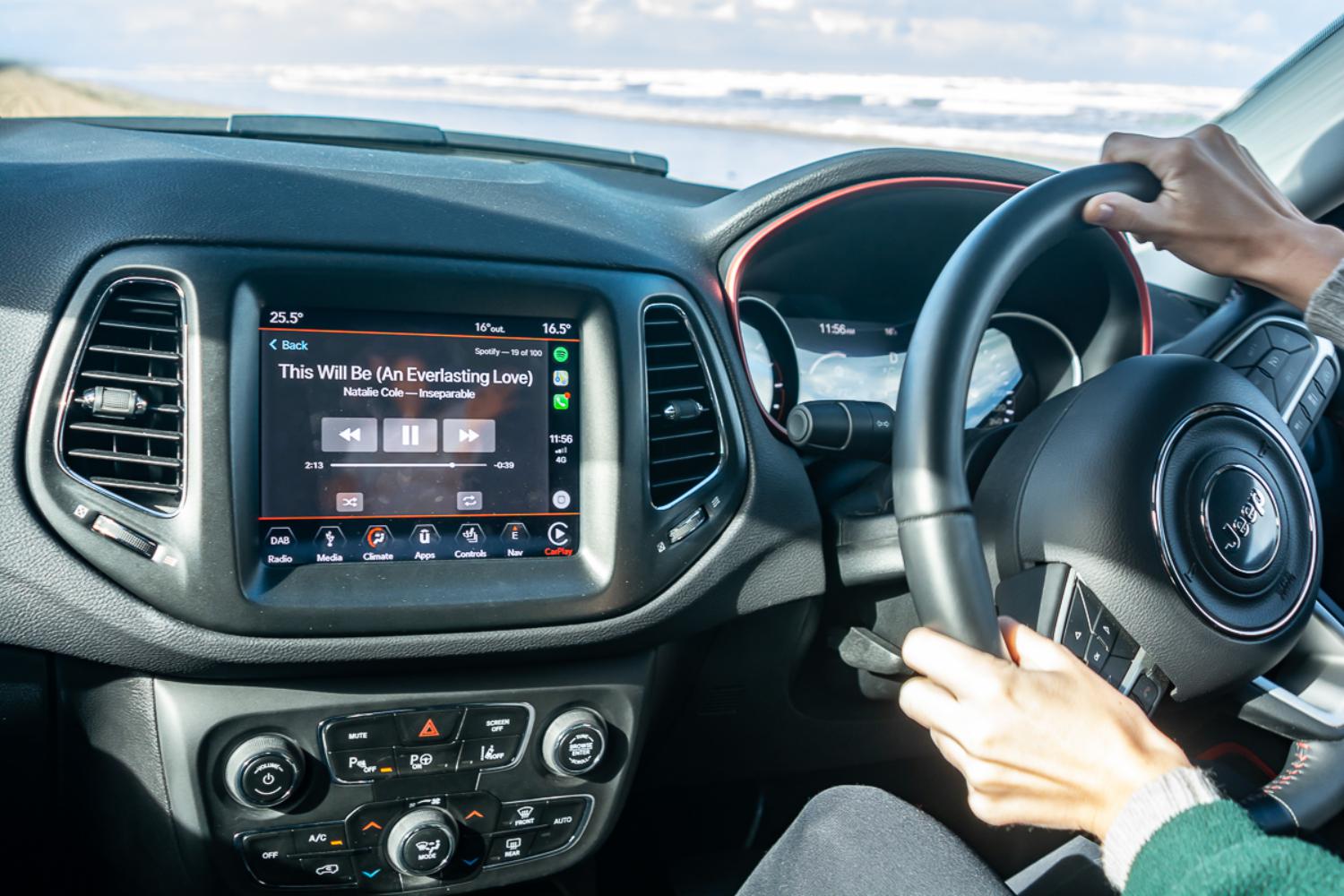 Being a five-seater, I thought I better spend some time in the back seat and see how comfy the rear was and especially the middle. I can report it all seemed fine, and we even took a spin with a bum on every seat and can report back there were no complaints even after a three-hour drive.
The other thing I noted was that it had big brakes, the front rotors measure 305mm and the rears 278mm so that should tell you straight up it'll pull up in a hurry. I put it to the test at 80km/h and coupled to my Aussie version of the "Moose Test" I can say that it pulls up short and that stability control does what it should do, decelerating the engine and applying the brakes discreetly to keep the car under the driver's control. Visibility was good down the flanks with the mirrors telling me what was going on around me. As I don't look over my shoulder I can't comment on a view out the rear quarters, but I reckon it could be a little restrictive as the rear roof and pillar lines are squashed up in the current gangster "low-rider" fashion. The camera display in the centre of the dash was big, but picture quality wasn't too sharp. It'll even park itself if you're incapable of that basic skill (sorry but I think being able to park on your own and on the first try is a pretty fundamental part of vehicle control).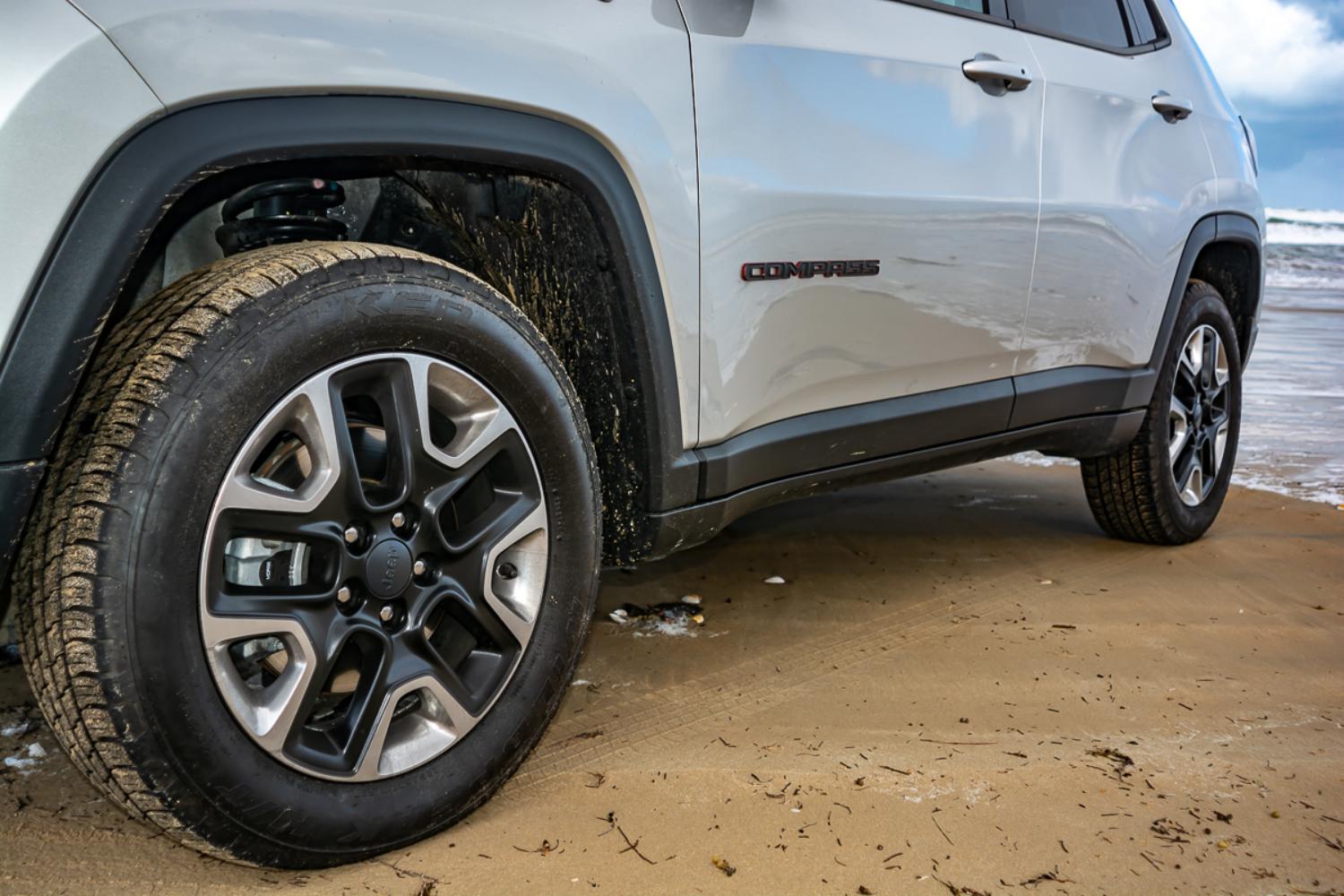 Are you ready for the safety gizmo list? Take a pinch of Stability Control and mix that with Anti-Lock Brakes, Anti-Roll Mitigation, On and Off-road focussed Traction Control, Trailer Sway Control, Rain Brake Support (???), Hill Hold, Hill Descent Control, Brake Assist, Blind Spot Monitoring, Park Assist and View, Collision Warning, Tyre Pressure Monitoring, and Rear Cross Path Warning. Just about every conceivable safety gadget known to modern auto mankind was on this vehicle; some were options though so you'll need to speak to your Jeep dealer to work through the cost.
So I'm going to give it the thumbs up around town and on the highway. I couldn't tow anything with it as it didn't have a towbar, but I don't think this is the sort of vehicle you'd be using to lug a big tandem caravan anyway! The maximum braked towing capacity is 1,500kgs, so maybe a light camper trailer would be OK.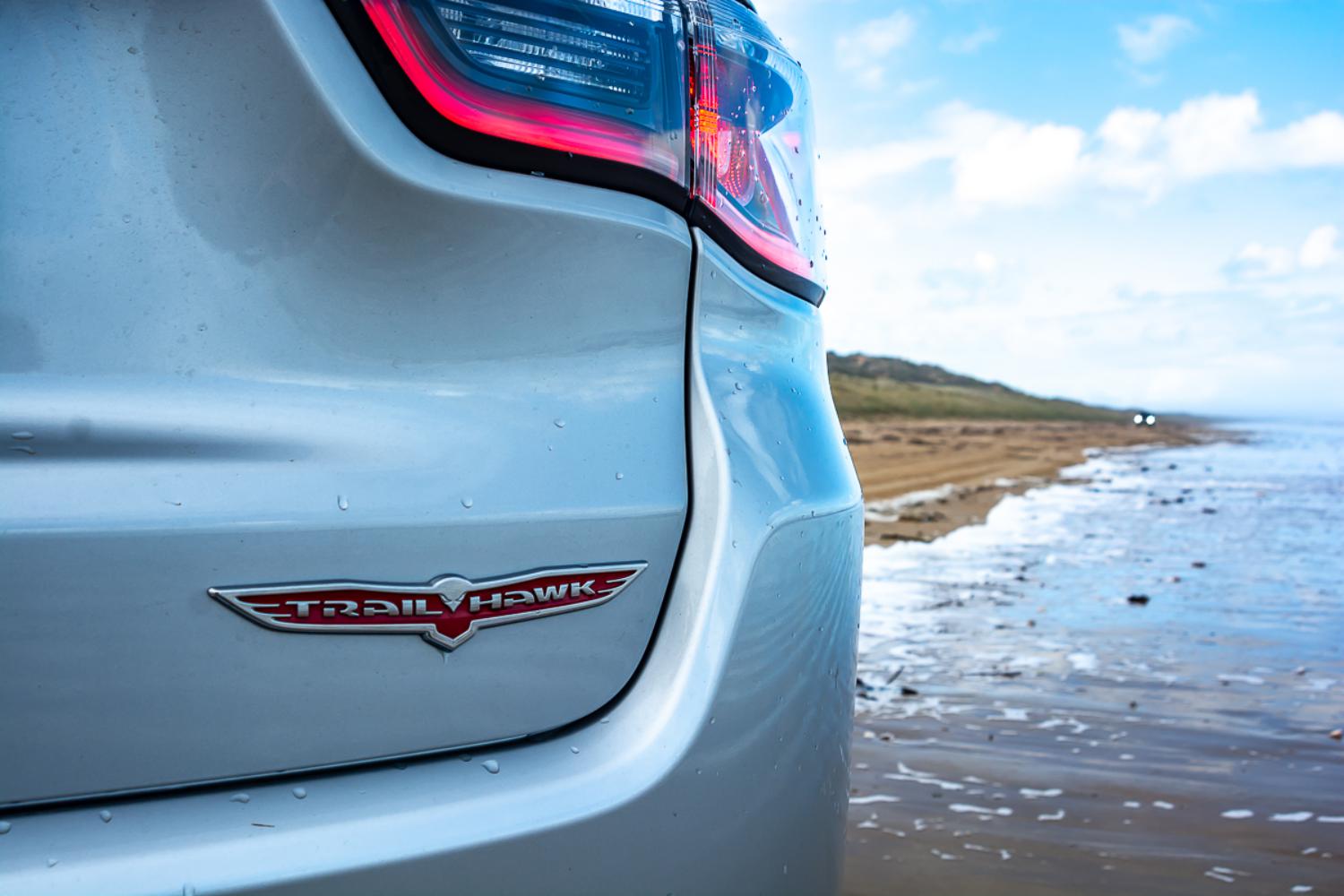 Off-road the Compass is a surprise package.
The previously mentioned Jeep Active Drive Low offers decent mobility. I took the Compass down to the Murray Mouth on a particularly nasty mid-winter day on a big tide and fully expected we'd struggle. On the early part of the drive, it's usually pretty predictable, but as you draw closer and closer to the mouth it gets churned up, and the fore-dune to low-water mark gradient increases the side-slope, all the common bogging moments. The Compass sailed over it and with road pressures. I tried all the Selec-Trac settings, and you can notice subtle shifts in the engine and brake/traction control management, so it does actually respond to different environments.
Clearance is good too at 225mm, a number plenty of bigger 4WDs come with, but more would be nice as I've had current Cherokees struggle in the harder sands on the Coorong down around Tea-Tree Crossing when high-crown moments grab the underbelly and bring things to a halt. Thankfully the underside of the Compass is well-protected by decent plates made of steel, rather than the stupid plastic offerings other makers like to call "protection"! I even took it up to the Adventure 4WD track I use for my driver training courses in the Barossa and ran it over the tracks there and in the rock setting it chimed in with positive traction control responses to diagonal hang-ups, driving the car out of peril where others just sit there spinning.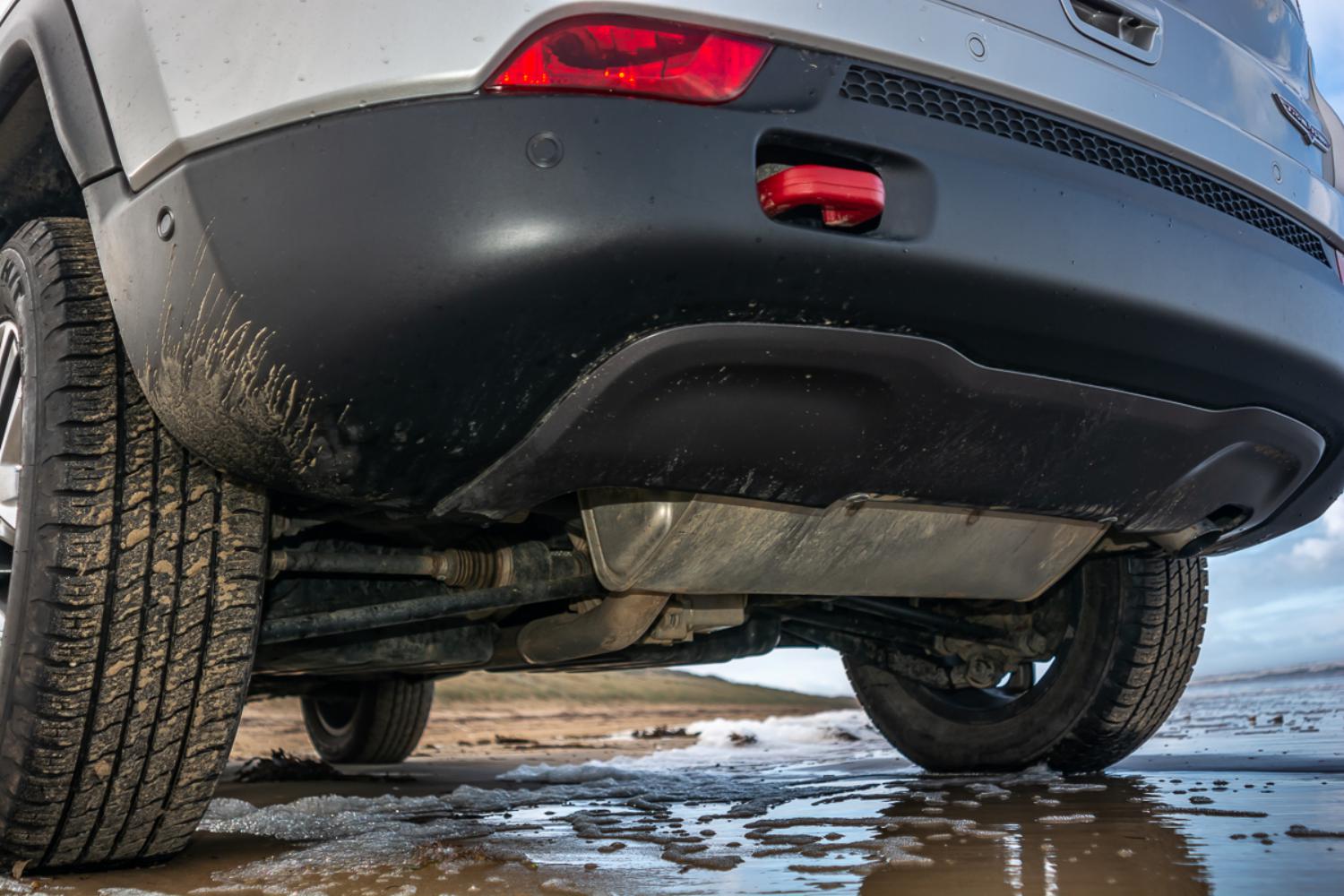 The approach, ramp-over and departure angles were all commendably generous, and I have to say the fitment of the red recovery hooks, two on the front and one on the back were welcome and confidence-inspiring. If Jeep will sign off on those, right from the showroom floor, then you've won me over on the idea of an AWD being sent into battle. Look I'm not going to overstate its capability.
There'll be some places where you won't want to take the Compass and let's face it a passenger 225/60R17 tyre isn't going to reliably drive over sharp gravels on a scree-slope in the Flinders Ranges without risk of compromise. However, if you don't want a full-size 4WD wagon, yet you still retain an inquisitive and exploring mind for places off the beaten track, the Compass will likely take you much, much further than any comparably sized AWD that's currently available and that's a good thing.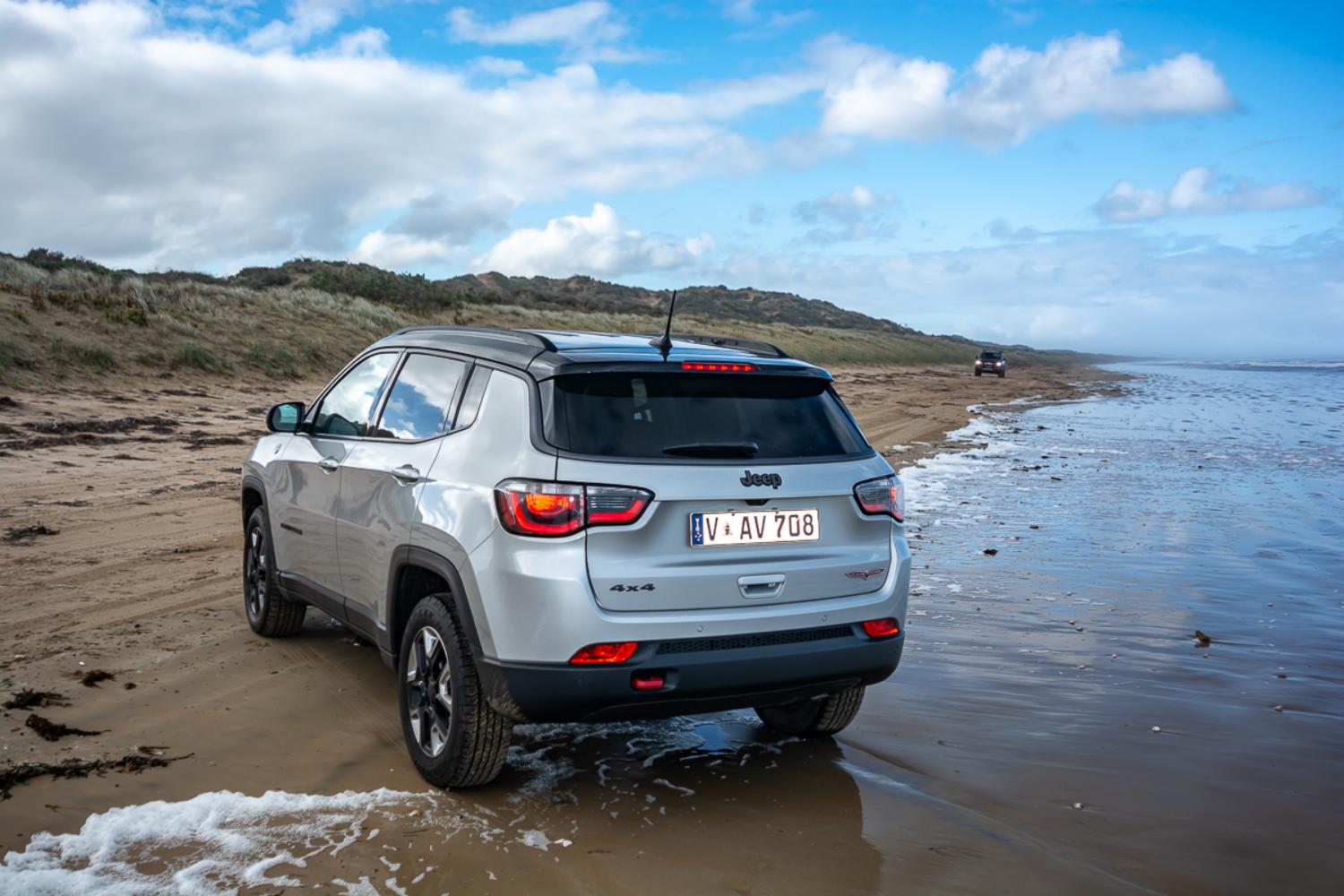 Oh, and on the spare's size, you'll be pleased to know it's a full-size wheel in the back, not a dopey space-saver!
A lot of AWDs or their useless 2WD variants that the media like to call SUVs are exactly that, useless. They are merely a cynical grab at a burgeoning sector of the auto marketplace that really shouldn't be there, with pretensions of being able to go anywhere when the reality is quite different. In my time I've come across plenty of folk who've been caught out, haven't done the research and bought one of these on the recommendation of the sales folk at the dealership that they are off-road ready. They're not and being stuck on a beach with a rising tide or halfway up a steep slope and running out of steam and traction is a moment you will dread. There's a pretty good chance the Compass might make your skills look pretty bloody good, and you'll get to see some fascinating parts of Australia in comfort and economy!