While we are a magazine that is most interested in off-road vehicles and using them off-road, I'll confess to having a real fascination with the HSV SportsCat, or more accurately, the SportsCat concept. Taking one of these dual-cab 4X4 utes, understanding how the majority of owners use them, and modifying it to suit, seems so bloody obvious, you'd think all of the manufacturers would have similar offerings, but they don't, yet. It'll come though.
I've heard whispers of a similar style of vehicle being developed by one of the other ute manufacturers, and if course, there's the Ranger Raptor that has only recently hit showrooms. We can't comment on how the Raptor drives yet (we've got one booked in Adelaide in December), but it's raised the bar, adding a coil-sprung rear-end, rear disc brakes and a ten-speed paddle-shifted auto, to the 'let's make it drive better' mix.
The Tickford Ranger offerings are arguably, closer to the SportsCat concept – we drove one of those earlier this year and liked it – but I think the SportsCat+ has the edge in execution, sporting a more functional wheel and tyre package and a suspension setup that feels like there were more R&D bucks floating around during its development.
If we're honest, and we are, the SportsCat concept is the inspiration behind TREV our Project Triton and the similarities are remarkable, from suspension setup to wheel and tyre sizes. TREV is an example of what can be achieved bolting on aftermarket gear, and I'll compare the SportsCat to TREV from time to time in this review.
So, let's take a closer look at just what I'm banging on about with this oddly named, tricked up version of Holden's Colorado. Yes, behind the HSV styling lurks a Z71 Colorado, and I'll confess now that I'm not a huge fan of the Colorado. Don't misunderstand me here, it's a decent looking 4X4 ute following its most recent design update, and it packs some decent heat under the bonnet. I can see the appeal. It's just that driving it has always left me with a lukewarm sense of like, and that's not a good start to any serious relationship.
In stock form it feels 'wooden' on the road, the 6-speed auto is a bit of a clunker, and I loathe the way it's all been tuned. The gearbox varies between slurred changes and on occasions rough downshifts and always seems to be running a gear higher than you'd like it to, making light throttle driving a painful experience as the engine labours and NVH levels are pegged artificially high as a result. If you're a lead-foot, you won't notice this so much, as it'll quickly drop a ratio if you gas it, but for the rest of us, it's shake, rattle and roll, as the GM boffins chase fuel efficiency at the expense of driveability.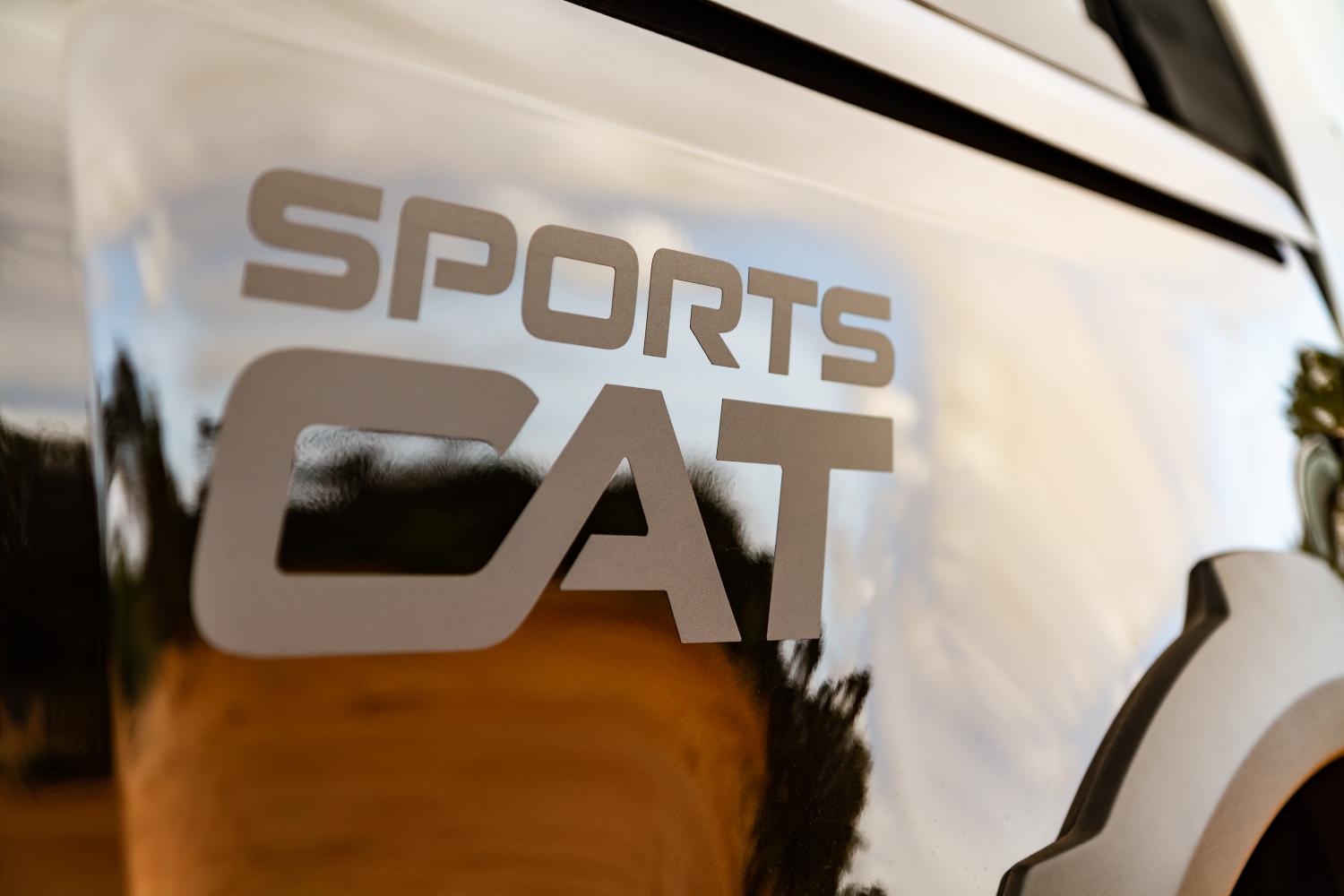 Then there's the auto's Grade Logic Braking, which is meant to assist driving downhill by selecting a lower gear to add some engine braking to the equation, but there's no apparent 'logic' to its operation. Sometimes it'll pick a lower gear and other times when you really want it to; it ignores the situation completely. There is the option to manually shift the auto and select a lower gear, so why you'd want a half-interested electronic acquaintance picking gears for you; I don't know.
It should come as no surprise, that this gearbox harks back to the VE/VF Commodore era, where it did time behind the incredibly boring V6. In contrast, the simpler 5-speed in the MQ Triton – for example – features none of the histrionics and returns almost identical fuel economy figures. It comes with paddle-shifters in the Exceed as well, and they change the way you can drive the Triton, for the better.
Then there's that US of A interior. It's certainly a vast improvement over the pre-update interior, but it's all a bit upright and a little Fischer Price in its execution. The dashboard is all rough textured hard plastics, the instruments can be difficult to read (if your eyes are less than perfect) and the steering wheel harks back to a bygone era. Why manufacturers insist on making the interiors of these utes an unfriendly and tactile-less experience for the humans that drive them, remains a mystery.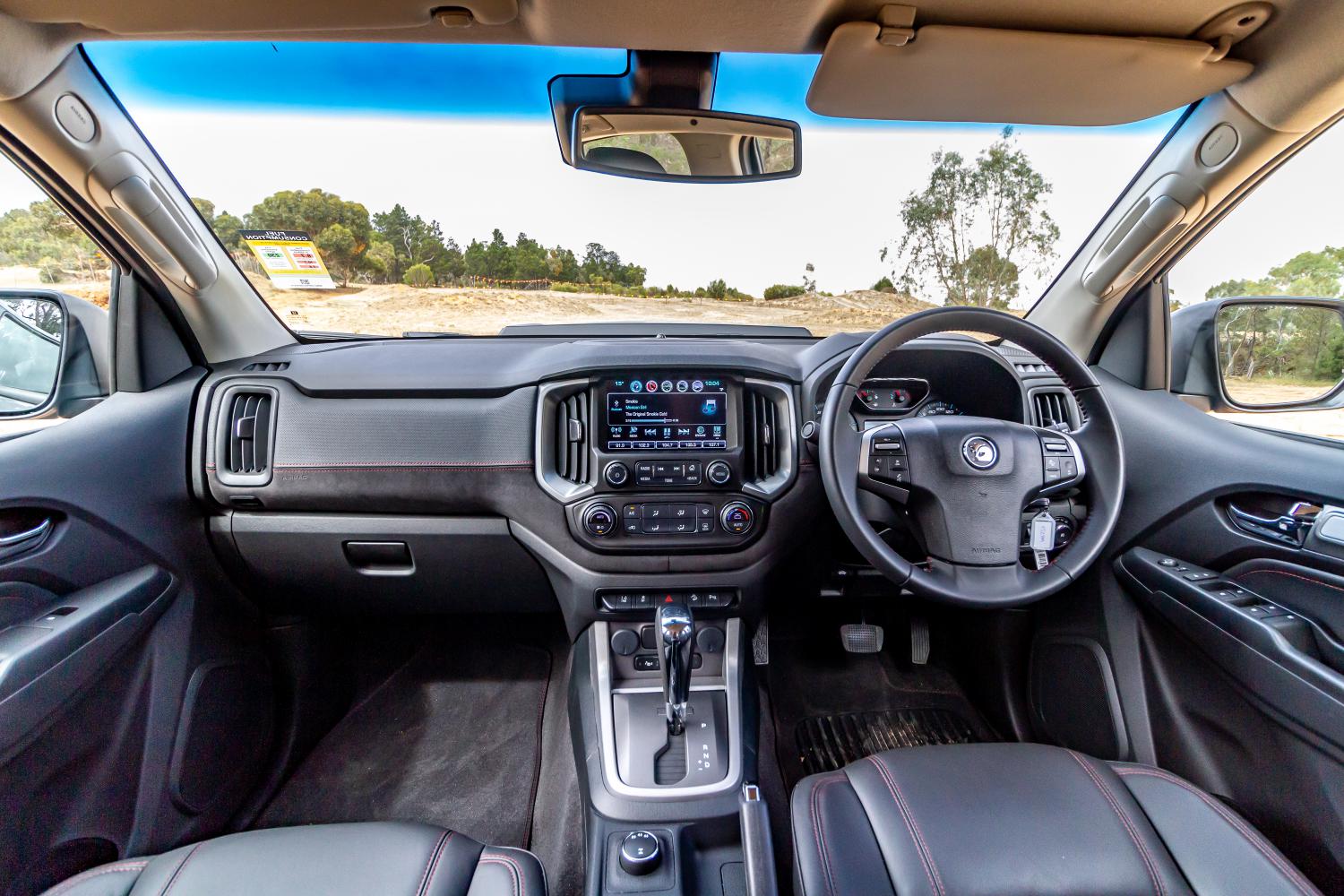 That's the bad news with Colorado, from my point of view at least, and why I wasn't overly sad to return the previous Colorado that we had on loan. This SportsCat by HSV is a different beast though, and while it doesn't fix all the issues that I have with Colorado, it adds enough HSV goodness to turn lukewarm into something that'll potentially fry my burger.
Let's get the engine out of the way. I've read review after review where the author can't understand why HSV hasn't swapped Colorado's 2.8-litre VM Motori diesel for a six-point-something Chev V8 or a least given it a tune, cos that's what HSV does yeah? Really? When you've got a stock diesel poking out 147kW and 500Nm in a high-riding 4X4 dual-cab ute, you don't need more grunt; you need the bugger to go around corners and stop better. Besides which, our draconian speed limit laws, make getting the most out of your 'eight' a risky and socially irresponsible challenge.
In stock form, Colorado is already at the pointy end of engine outputs in the dual-cab ute arena, and you notice it behind the wheel. When it comes to low-down grunt and in-gear acceleration, it'll smoke our MQ Triton. It's also a little noisier and less refined, but that's not to take away from the butt-kicking it dishes out in pure performance terms. It certainly doesn't need to be tuned for more performance, so I'm not going to bust HSV's chops for not going there.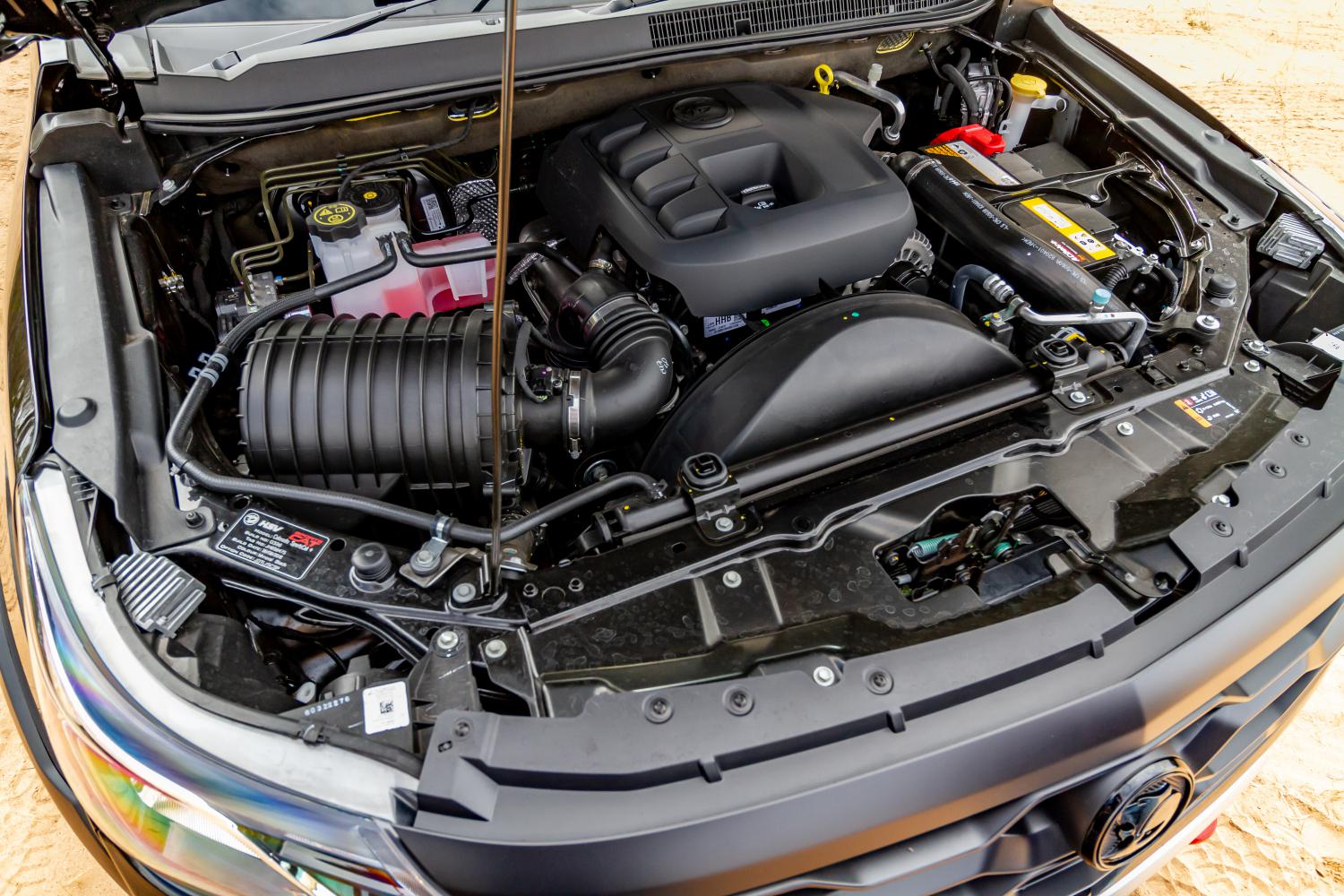 The SportsCat+ is all about the drive, and that rings true both on and off-road. Increasing clearance and adding some decent tyres, will always benefit off-road capability, it's the starting point for any 4X4 build. Throw in some decent suspension bits and the on-road drive can be transformed as well.
In the SportsCat's case, HSV has taken the top-shelf Colorado Z71 and fitted uprated front springs while dialling in a 25mm lift to reduce the stock car's abundant rake. Stock shocks have been replaced with a full set of HSV's MTV items and the wheels have been upsized to 18 x 10 alloys with an offset that increases track width by 30mm.
Tyres are an expensive looking set of Cooper Zeon LTZ all-terrains in a relatively wide 285/60 R18 size, coincidentally, exactly the same size as the excellent Bridgestone Duellers on our Triton. The rolling diameter of the Zeons is 40mm larger than the Z71's stock tyres, so there's another 20mm ride height increase, which equates to a 45mm increase in ride height up front and a 20mm increase in the rear, where the stock Colorado leaf springs have been retained.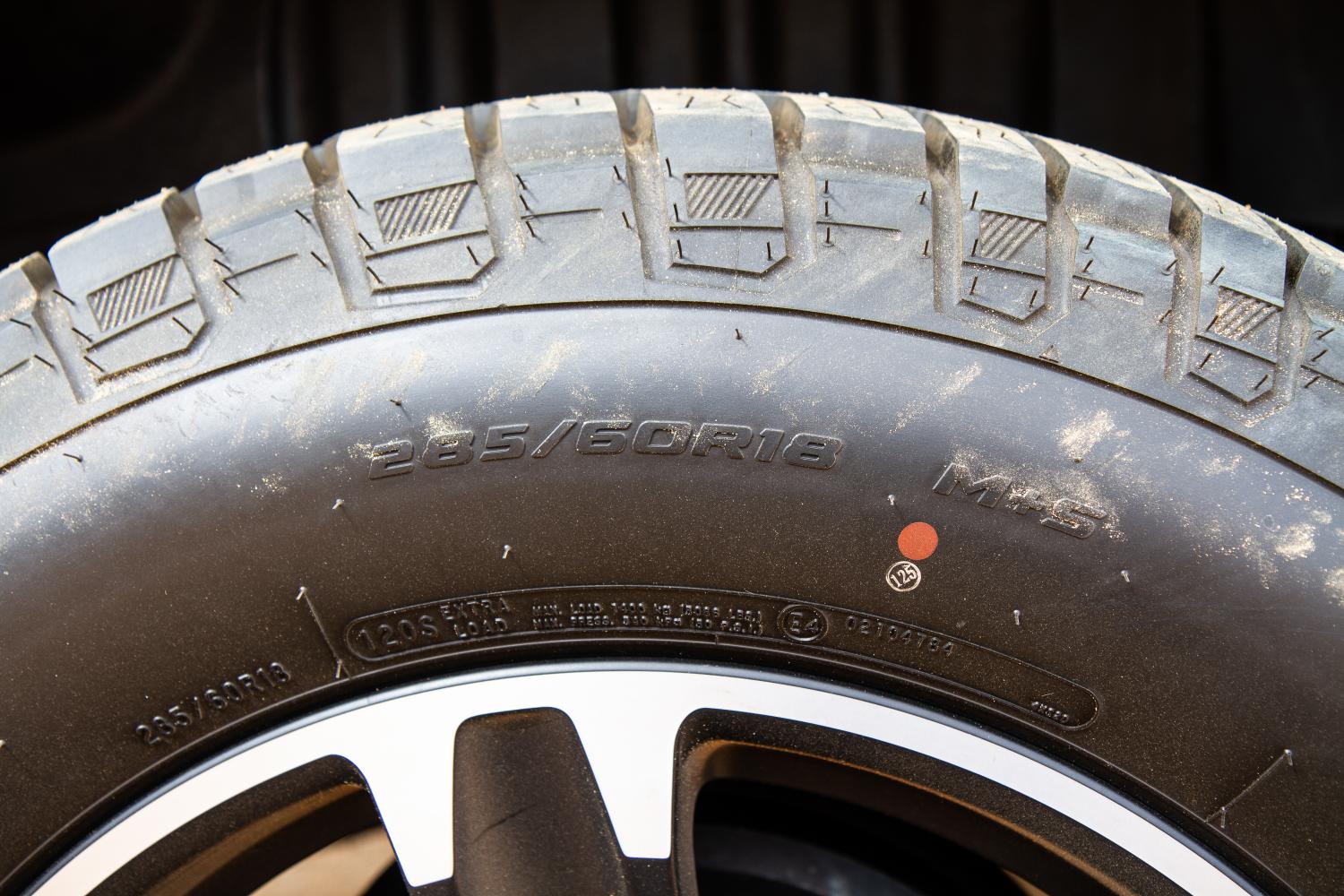 Our SportsCat+ – the SportsCat comes in two flavours, the SportsCat and the higher specced SportsCat+ – also benefited from a rear de-coupling anti-roll bar that as the name suggests, disconnects itself when low range is selected, so as not to inhibit rear-axle articulation when off-road. If you don't go the 'plus' you don't get any rear anti-roll bar.
The other 'plus' plus is the addition of a pair of AP Racing brakes upfront.
Cosmetically for the 'plus', its HSV staple stuff, like a cool (yeah, I like it) bonnet bulge, beefed up wheel arch flares, revised grille treatments and splash guard with integrated recovery points and a hard-tonneau with an optional Sail Plane, that takes its inspiration from wakeboarding boats. That there clues you right into the market that HSV is pitching the SportsCat towards and explains the unusual and boatie sounding 'SportsCat' name, well at least it does for me. Personally, I'd leave the $1,300 Sail Plane box unticked. Besides being overpriced, it does nothing and sits too far back from the front of the tub to look cool. HSV should take some inspiration from the well thought out, steel sports/roll bars that Toyota developed for the Hilux Rugged-X and Rogue.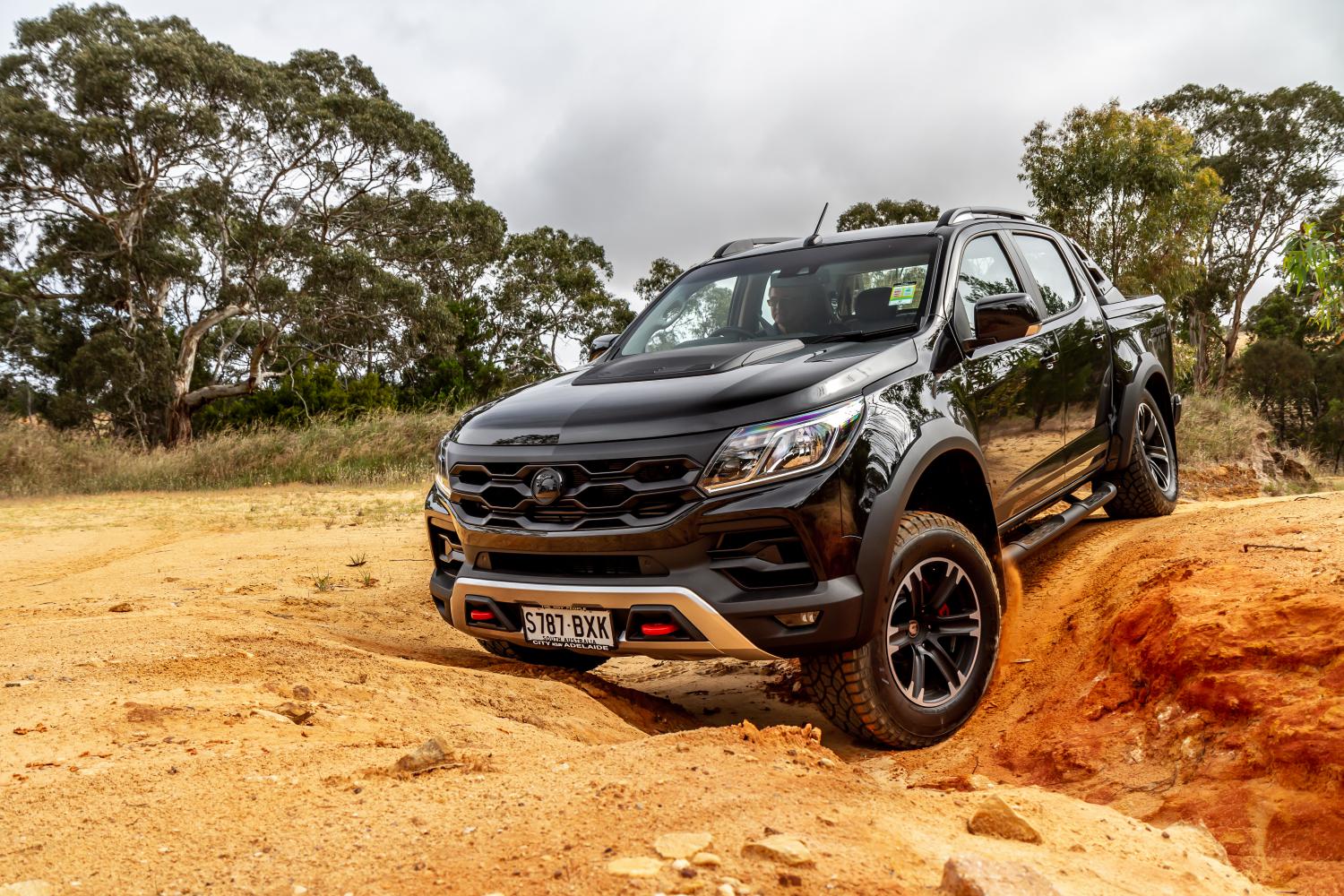 The cosmetic niceties continue inside with a pair of fully electric HSV front seats (rear seats have been trimmed to match) and some more upmarket coverings for the dash pad, door inserts and centre console cover. The front seats are decent things, but I found I couldn't adjust the seat low enough (I'm 6 feet tall), or the steering wheel high enough, to achieve a properly comfortable driving position. I honestly can't remember if this is a Colorado 'thing' or that the electrics in the HSV pews have them sitting higher than stock seats. While I adjusted to the driving position that was forced on me relatively quickly, I much prefer the way you sit 'in' the Triton.
The steering wheel gets leather and some red stitching to match the seating, but that's, unfortunately, not enough to make it special. What's that saying about turning a sow's ear into a silk purse? It's an old-looking and feeling steering wheel, and if HSV had replaced it with something special, it would have lifted the driving experience significantly. Steering wheel aside, there is no question that HSV has succeeded in making the stock Z71 interior a nicer place to spend your drive time, and in my opinion, given what they had to work with, that's a decent effort.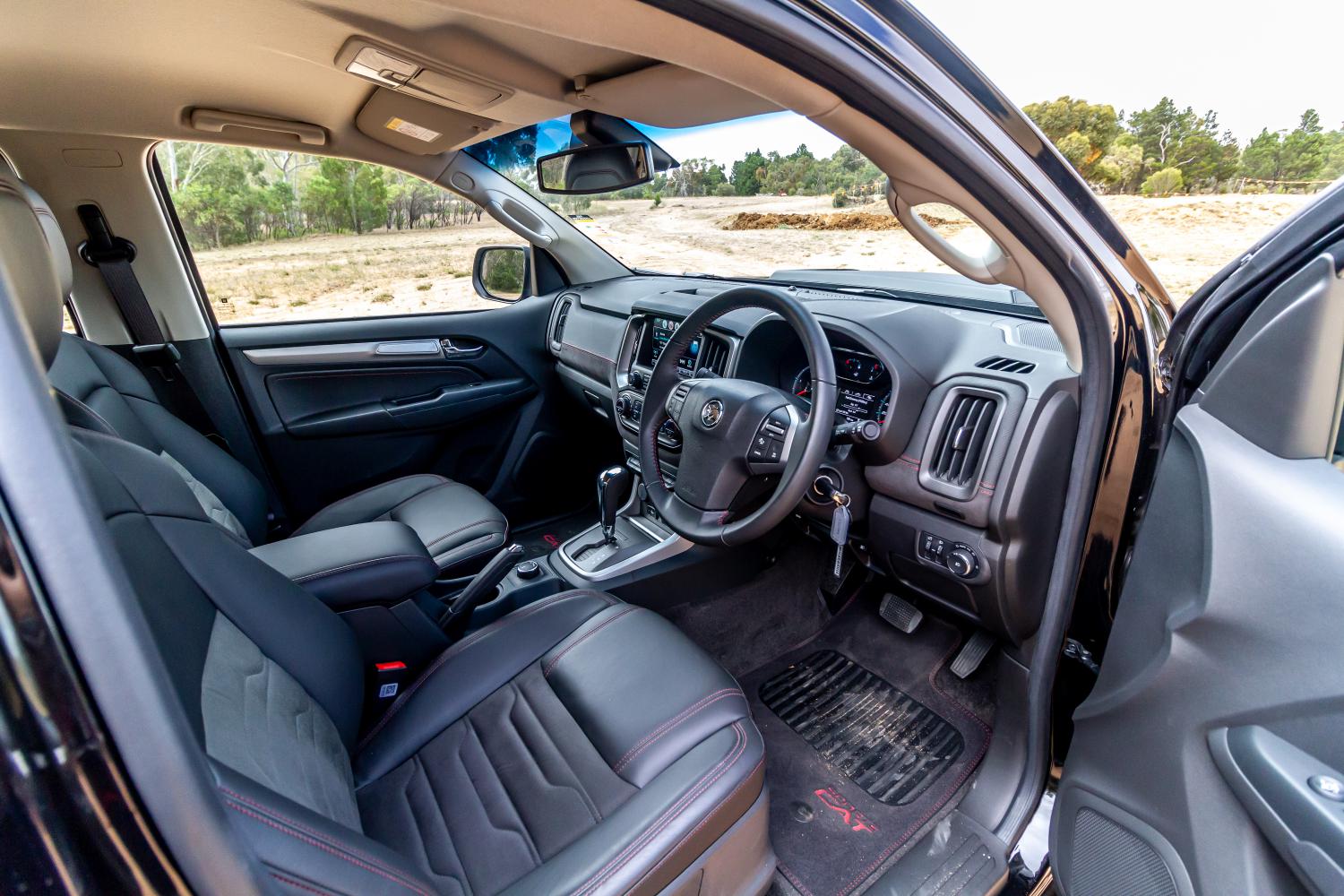 For the infotainment nerds reading this, the SportsCat+ retains the Z71's MyLink system, which paired with my Android phone without issue, played my Spotify playlists and sounded pretty damn decent as it did so. I mucked around with it all just enough to realise I much prefer Android Auto. It may just be a case of what I'm used to with the Triton, but I'm sure most new car buyers would want the Google/Apple infotainment solutions if they had a choice.
NVH refinement isn't a SportsCat strong suit. Compared to the MQ, which isn't the best-in-class for NVH refinement either, there is a degree more road and engine noise at all speeds, but unlike the Triton, there is a subtle and to be honest, pleasing, burble from the 2.8-litre diesel. It's only just there, and I liked it.
Out on the road is where the SportsCat+ really starts to make sense. At 'urban area' speeds the suspension feels noticeably firmer than a regular Colorado, and while there can be some jiggly moments over sections of broken bitumen, it's a small price to pay for the quantum leap achieved with wheel and body control.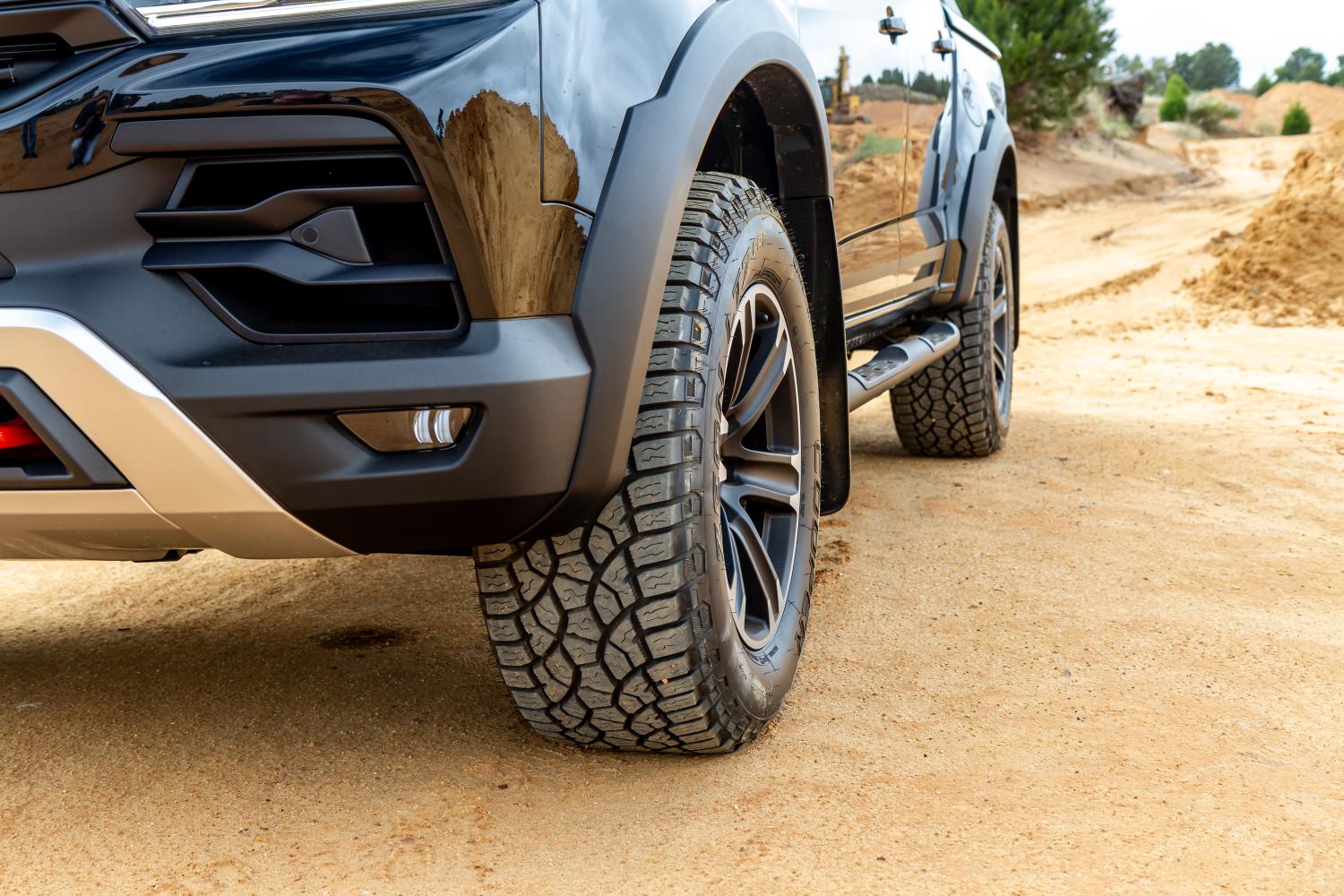 The SportsCat+ feels solid and alive, turning in instantly, tracking with precision and cornering with a noticeable absence of body roll, or any tendency to be jolted off the chosen line by road imperfections. The drive improves with speed, and it's between 80km/h and the legal limit where the SportsCat+ gets its shizzle properly together. This is a big, high-riding ute and it shouldn't be as much fun to drive as it is.
We thought we got our Triton right, but it won't catch the Cat on a fast winding Adelaide Hills road. The SportsCat+ sits too flat, turns in with more precision, and smooths out rough sections of road too effectively, for the aftermarket monotube shock equipped Triton to challenge it.
The SportsCat+ should seriously out brake the Triton, what with those AP Racing front brakes and all, but I don't think it does. Sure the SportsCat+ ultimately stops more effectively, but the brake pedal is firmer, has less feel, and you've got to stomp hard to access the added braking ability. And that braking ability doesn't seem quite as profound as you might logically expect, given the equipment. I think HSV has missed an opportunity with the SportsCat's brakes; more on that a little later.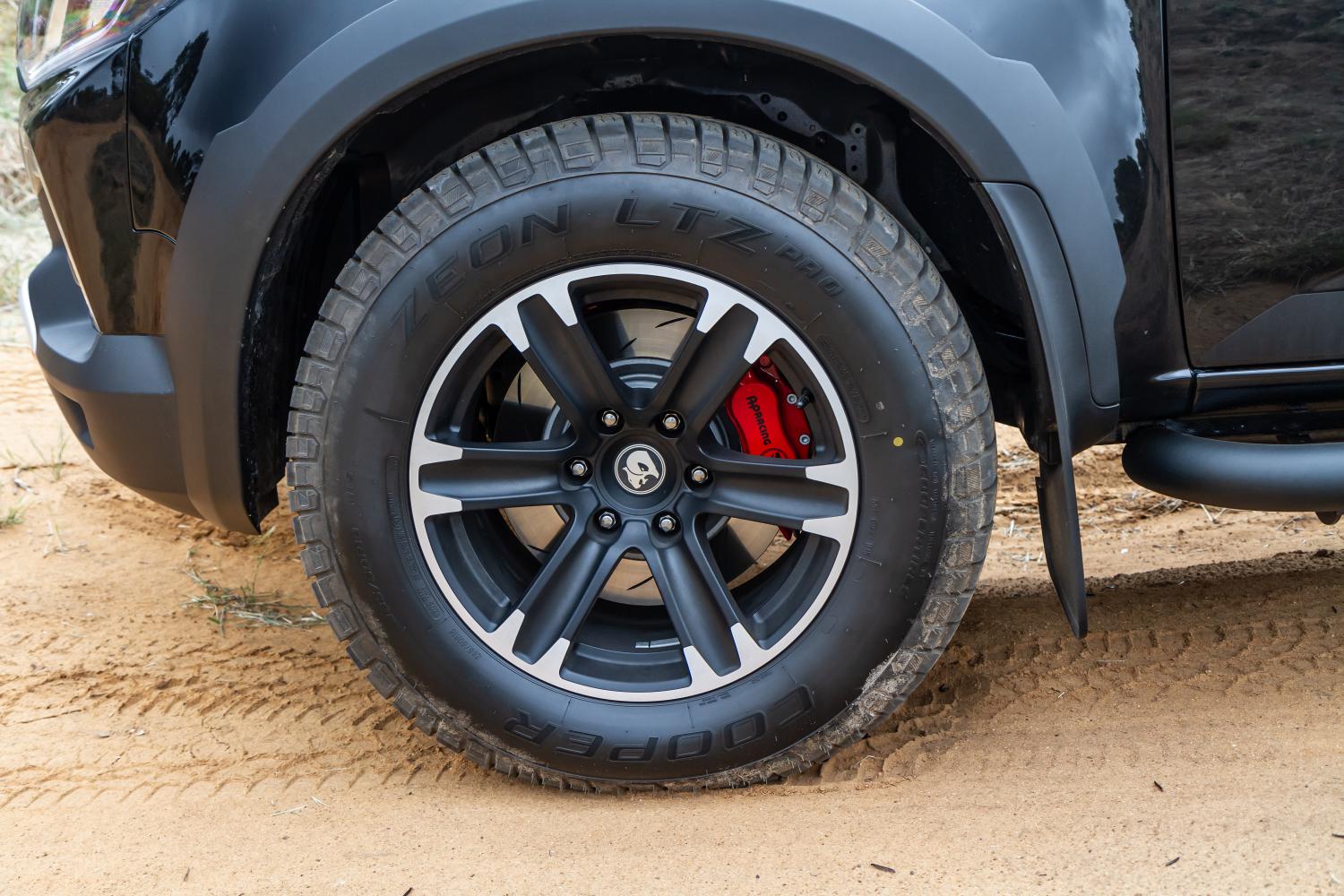 Fast dirt roads see the SportsCat+ in its element. Not only does the suspension work a treat, the geeks at HSV HQ have hooked the SportsCat's ASC up to a nice slow morphine drip, just enough to take the edge off the resident party-pooper's attitude, and that means a 'livelier' drive for the wheel-smiths out there. In comparison, our Triton pulls the reigns in at the first hint of any fun or err trouble.
Properly off-road, in low-range country, our modified Triton has the edge over the SportsCat+; a stock Triton wouldn't. For starters, the Triton's sloping bonnet means you can see what you are doing, while the SportsCat's big flat expanse of American styled steel, has you taking regular punts with your wheel placement. Triton's traction control activates earlier, more smoothly and allows better vehicle control and in the case of our Triton, which also has a 25mm lift in the front and well tucked up rock-sliders, there is less front overhang and noticeably more clearance when crossing obstacles.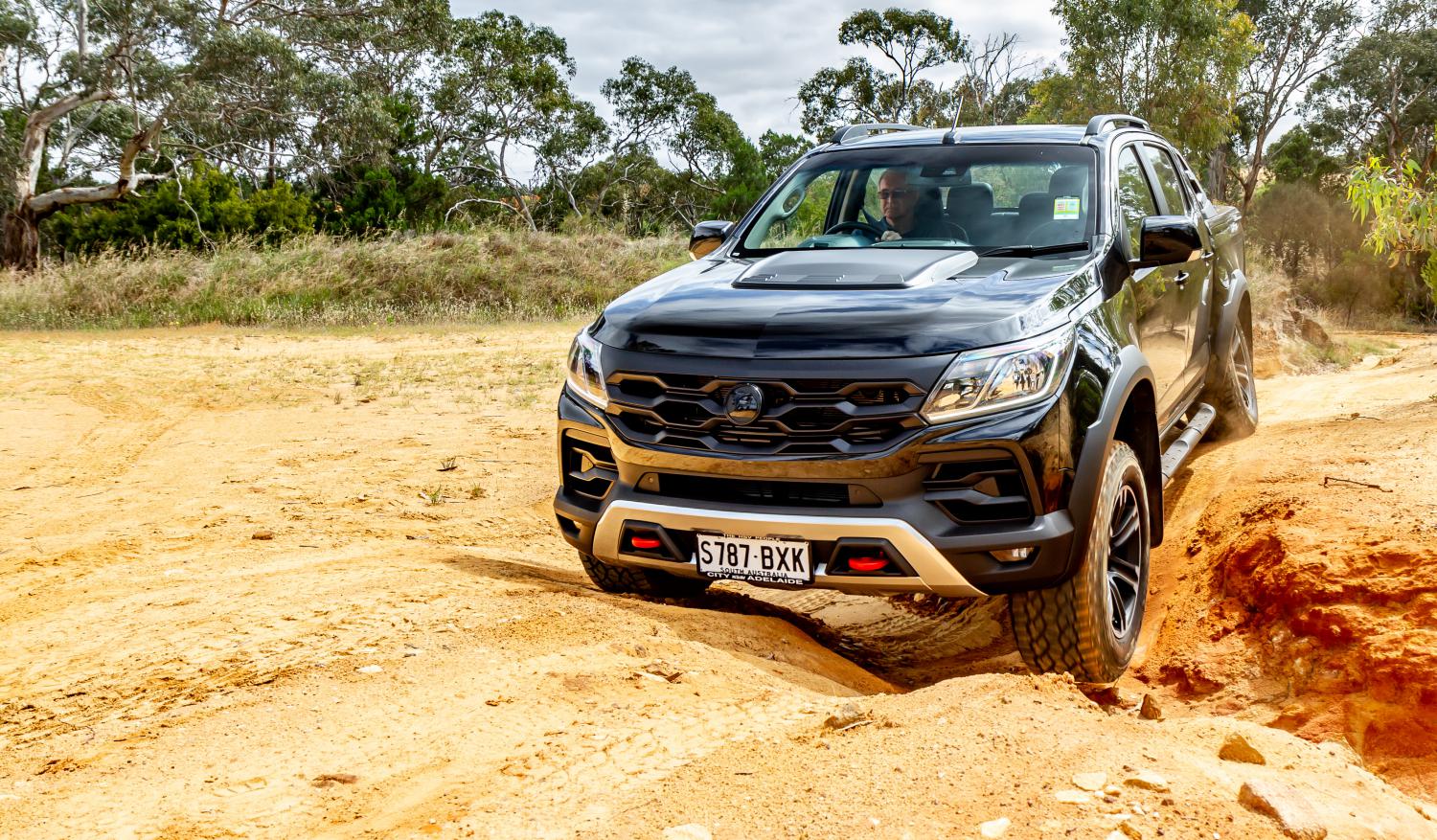 That said, the SportsCat+ went everywhere the Triton went, it didn't scrape the front splash guard or – to my surprise – the low hanging side steps, it just wasn't as easy to drive through the trickier bits.
The Triton also has a factory diff lock and this, as we've proven time and time again, works better than traction control in all situations, and no, we still don't care if there are 'experts' out there that disagree with us.
Which brings me neatly to what the higher-priced and admittedly sexier SportsCat+ is missing for the money. There's no rear diff-lock, and again, that points to the fact that HSV expects that most of their Cats will be towing speedboats, not negotiating steep High-Country fire-trails. I'd argue, that a 4X4 of this calibre, should just bloody well have one. The Colorado Z71 should have one as well.
Then there are the brakes. All 4X4 dual-cab utes should have four-wheel disc brakes, and a tricked-up HSV version should have them by default. As much as I'd like it to be the case, we aren't living in the 80s anymore. It's nice that there's a beefy pair of AP Racing discs up-front, but retaining the rear drums was a mistake. I'd argue that changing the rear drums for discs and leaving the front discs stock, would have returned better braking performance. In fact, I'm sure of it. Four-wheel discs brakes should be standard on both SportsCat variants, with the 'plus' getting the upgraded AP Racing brakes upfront.
One other piece missing from the SportsCat in auto guise is a set of paddle shifters. Add these, along with that much-improved steering wheel I've mentioned previously, and boom, you've not only got a great handling vehicle, but you've also got the driver involved and feeling a bit special about it all.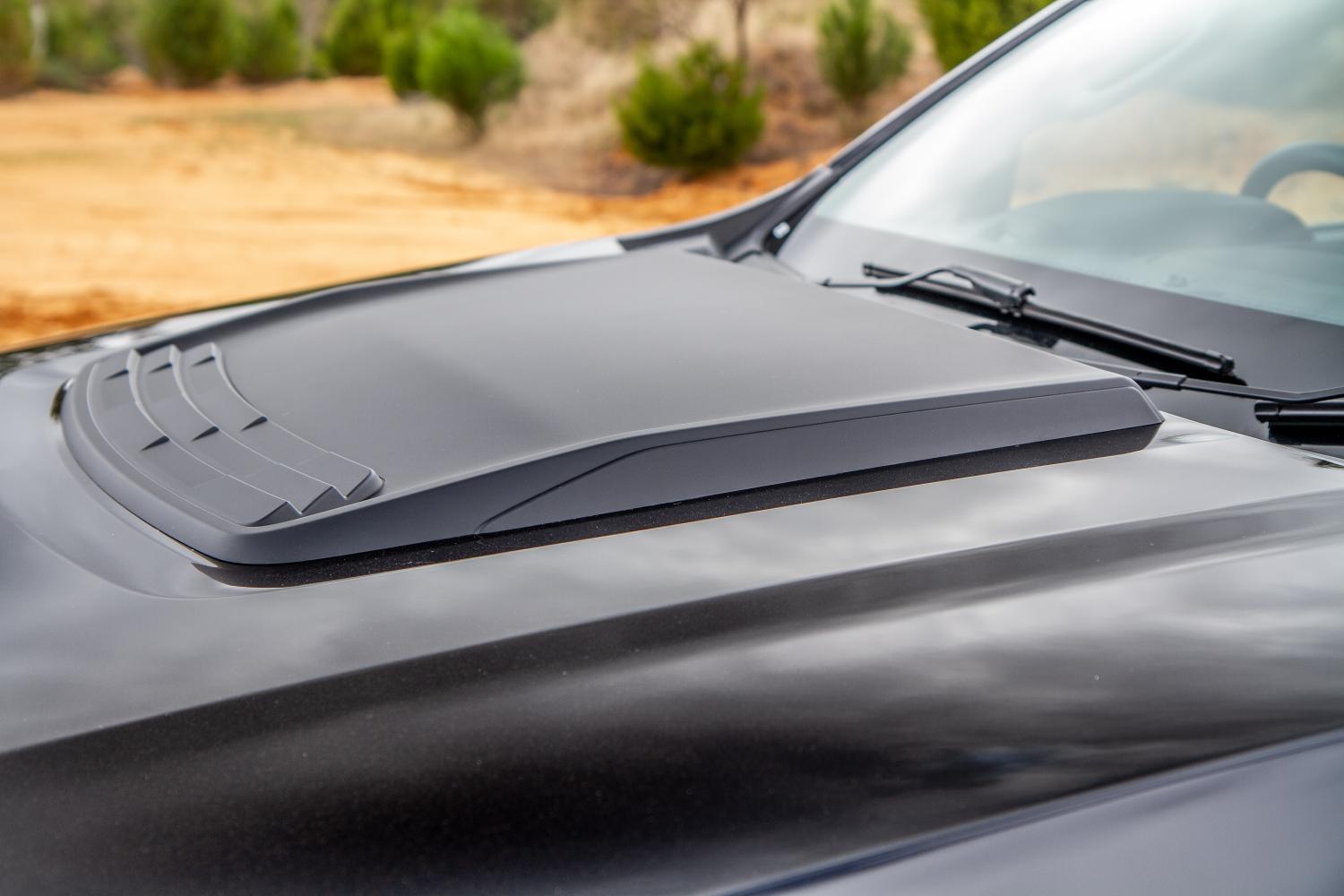 That being said, I'd happily park a SportsCat+ in my garage, and I'm genuinely missing the vehicle we reviewed. It offers a vastly improved drive experience both on and off-road, and the cabin has been given enough of a makeover to lift it above what is otherwise a lacklustre interior. It outdrives our aftermarket modified MQ Triton on-road, and compared to a Tickford Ranger; it feels like there is more R&D behind the mods.
Is it worth the $11,800 premium it's $68,990 price commands over the Colorado Z71?
Well, that price is getting up there, but if you try and build your own version of the SportsCat+, you'll have spent more than $12,000 by the time you have 18" wheels and tyres, a set of high-quality aftermarket front seats, a retrim for the rears and some trick, properly sorted suspension all bolted in, and it'll still look like a Z71. No 'HSV-ness' either, so kiss the bucks you spent on the mods goodbye when you eventually sell it.
There is, of course, an elephant in the super-ute room called Raptor. With a retail price of $74,990, it's just $6,000 more than the SportsCat+ and comes with a 10-speed gearbox (with paddle-shifters), rear disc brakes, a coil-sprung rear end and a bespoke FOX monotube suspension system.
You could move the SportsCat+ closer in spec to the Raptor by opting for the optional HSV SupaShock suspension, which gets you big bore, remote reservoir monotube shocks – similar, in theory, to the Raptor's FOX shocks – but at $3,600, that has you real close to Raptor pricing, but still missing the rear discs, coils and four gears.
Yes, it seems there is a tow limit penalty to pay in the move to coils, but I reckon the Raptor's 2,500 kg braked towing limit would deal with most – for example – wake boats and frankly, I don't want the unpleasant experience of towing anything around the 3,500kg mark with any of these 4X4 utes.
If I were shopping for a super-ute right now, as much as I don't want to admit it – hey, my colour has always been red – I'd be hanging around down at the local Ford dealer, trying hard not to buy a Raptor.
Wouldn't the Trailblazer's coil-sprung, disc-brake equipped rear-end bolt up under Colorado's tub HSV? I think we'll see HSV up the ante with its SportsCat in the coming years. It's a vehicle concept that deserves to be evolved.