Ah, the X-Class.
My previous review of the X250d in this magazine, the one with the Nissan derived 2.3-litre turbo-diesel drivetrain, has been one of our most read articles and one of the most contentious it would seem.
There was 'that guy' who worked at a rival brand (had a bit of a stiffy for the Ranger), who took umbrage, told me that liking the X-Class was a mistake, cos it's crap, and sent in a video of an X-Class on a dealer's lot having a piece of trim peeled away, by himself. There's half a chance he's holed up in a Juvenile Detention Centre somewhere, but if he's not, I'm sure I'll be hearing from him around the time this issue goes live.
Then there were the 'it's just a Nissan' haters who when standing shoulder to shoulder, would have reached from Adelaide to Alice Springs, maybe even Katherine. That's a bloody long line-up of people that only read headlines, and what's with all the hate?
Yes, I liked the baby X-Class. It rode, handled and braked like these utes all should in 2019, because it has real springs and brakes in the rear, rather than that horse and cart crap most of the other 4X4 utes run. The interior was a cut above the rest in Power trim, and it raised the bar for refinement in the 4X4 ute world. It also looks great, in my opinion, of course.
The mid-spec 'Progressive', is $53,950 + on-roads and has everything you, well me, would need, and I'd buy it over a top-spec Navara, all day long. It's even named to appeal to the growing band of left-leaners out there. What more could anybody want outside of an election victory?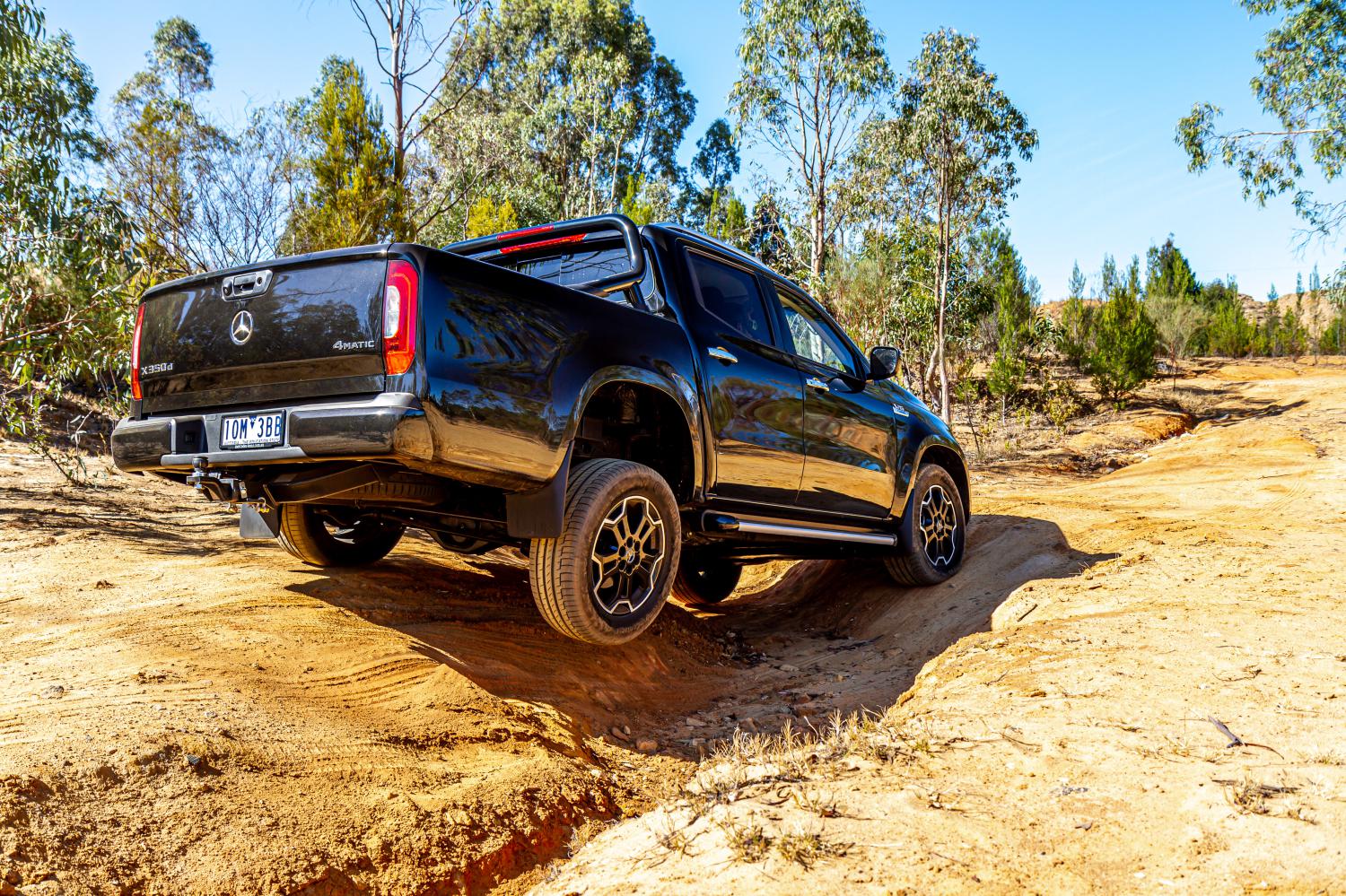 More 'Mercedes-Benz' must be at least part of the answer to that question because 4X4 ute buyers haven't rushed to embrace the X250d. I mean, who'd want a Mercedes-Benz ute with a four-cylinder Nissan engine besides me? Not many, it would seem.
Enter the X350d. This is the Mercedes-Benz 4X4 ute with more Mercedes-Benz and less of that other brand. Under that curvy bonnet is a Mercedes-Benz 3.0-litre V6 turbo-diesel that's good for 190kW and 550Nm, and it's hooked up to a real, Mercedes-Benz, 7G Tronic seven-speed automatic transmission. Permanent all-wheel drive is part of the deal, so that 4-MATIC badge on the back of the X350d has substance, unlike the empty promise slapped on the tailgate of the X250d. All of which is good, very good as it turns out.
Grunt, poke, mumbo, power, well, there's plenty of all of that, although I have to confess that I don't understand the overwhelming 'bigger is better' fascination that we have with engines and their outputs in this country. Sure, I don't, and never will tow a van and I've kicked the 'let's pack everything and the kitchen sink' mental disorder that is running rampant through the 4X4 community as I write this.
Perhaps it's because I'm old enough to have worked my way through a range of powerful high-performance cars, realised that their party trick is for the most part, illegal or foolhardy to enjoy on Australian roads, and despite my best efforts, lived to make better decisions. I've also discovered that modern performance car ownership comes packaged with a level of permanent dissatisfaction and dare I say it, eventually boredom. Once you're used to the abundance of power and performance, well, that's it. There is nothing left besides exorbitant insurance, high running costs, and a police chase ending in an adrenalin-fuelled grisly death.
James May is right, you know, cars that have less of everything, particularly power, are more engaging to drive and that ultimately makes them more interesting.
But if your heart's desire is more cubes, more cylinders and more oomph when you punch the throttle, then, when it comes to 4X4 utes, the X350d has your name writ large all over it.
If your standing next to the X350d while it's running, there is no mistaking that there's a diesel banging its drum under that bonnet, but the driving experience is more akin to what you'd expect from a large capacity petrol engine.
It's quiet, smooth, refined and there's a serious amount of shove on tap that in many ways reminds me of the LS2 powered HSV Maloo I once owned. There's the same 'hewn from a solid lump of granite' feel to the drivetrain, and the same naturally aspirated, large-capacity petrol engine performance, except of course it's neither naturally aspirated, or petrol powered.
There's also a pleasing underlying mechanical gruffness to the way the X350d goes about its business. It's barely more than a tingle for the occupants of its well-insulated cabin, but this subtle nuance was one of my favourite characteristics of the X350d.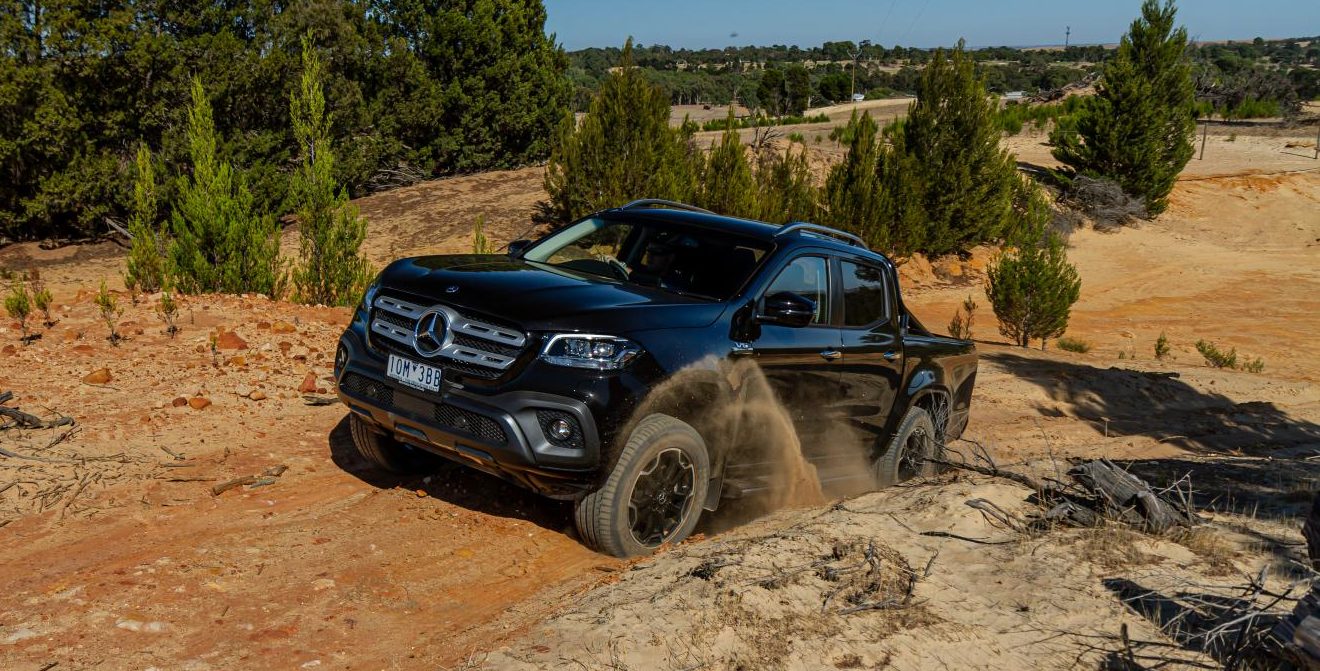 Mercedes-Benz could teach all of the Japanese brands a thing or two about how to design and build a diesel engine. Compare the X350d's ball-tearing, fuel-sipping (we saw under 10 L/100 on average), 3.0-litre V6 to that thirsty and underpowered 4.5-litre turbo-diesel V8 that powers the ute the Youtube blokes with bad hats and tatts are buying, and well, there is no comparison. Where the Merc V6 hammers like a petrol V8 that considerably larger Japanese V8 turbo-diesel has more in common with that loud, lazy, piss guzzling drunk who lolls around down at the local; an idiot full of sound and fury, signifying nothing, to paraphrase Bill.
If you give a toss about 0-100km/h times, then Mercedes-Benz claims the X350d will stop the clock at 7.9 seconds, which is a little slower than the 190kW/580Nm V6 TDI580 Amarok Ultimate's 7.3 seconds, but in the real world who cares about a split-second? What do you want to drive a Merc or a Volksy? On-road costs aside, the X350d on test retails for $73,270 and the Amarok Ultimate TDI580 for $72,790. Pat's paid to choose the Amarok, but that doesn't mean you have to.
Out on the road, the X350d is a refined and fun drive. With peak torque available from 1400 rpm, the seven-speed auto has no trouble making the most of what the V6 has to offer. In comfort mode, gear changes were, for the most part, seamless, although there were occasions when there was a disconnect between putting your foot down and getting the expected result. Switching to sport mode sharpened the boxes responses to a degree and banished those occasional 'dead zone' experiences. I'm lazy and left the auto to its own devices around the burbs and pressed the paddle shifters into service as soon as the road turned interesting.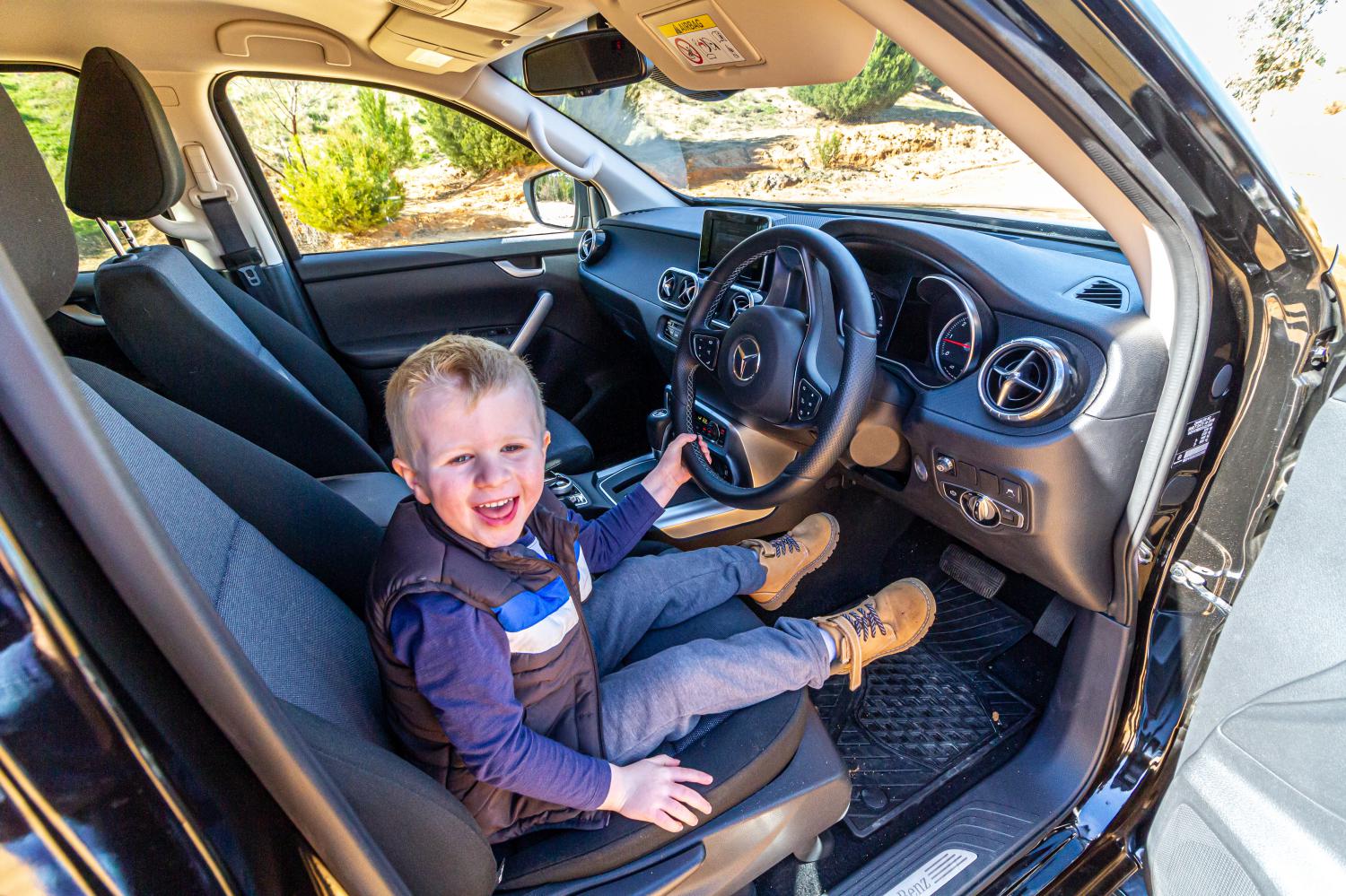 As mentioned, unlike the X250d, the X350d is a genuine Mercedes-Benz 4Matic drivetrain, which means its running permanent all-wheel drive, in this case with a 60 percent torque bias to the rear wheels, but with constant electronic variability available, depending on road surface conditions. Or in other words, it'll push more torque to the front wheels if and when the electronics call for it.
If you select 4H (high range 4WD), the torque split is set to 30:70. Move to 4L (low range 4WD), and you get what we're all used to when locking the centre differential, a 50:50 torque split.
The X350d's 70mm wider stance, compared to the Nissan donor car, imbues it with a level of stability you don't get in a Navara. This thing drives like a performance sedan, and it's easy to forget, on good roads, that you're driving a ute. When the surface deteriorates, or you're pushing down a corrugated dirt road, reality returns as you feel a little chassis shimmy and tub thrumming over the rougher sections. Brakes are decent sized discs all round, as they should be, and they work very nicely. At no stage do you second guess the fact that you're driving a Mercedes-Benz. The X-Class in V6 guise goes about its business with a sense of solidity, ease and refinement that you won't find in any Navara and this, more than anything, separates it from the X250d.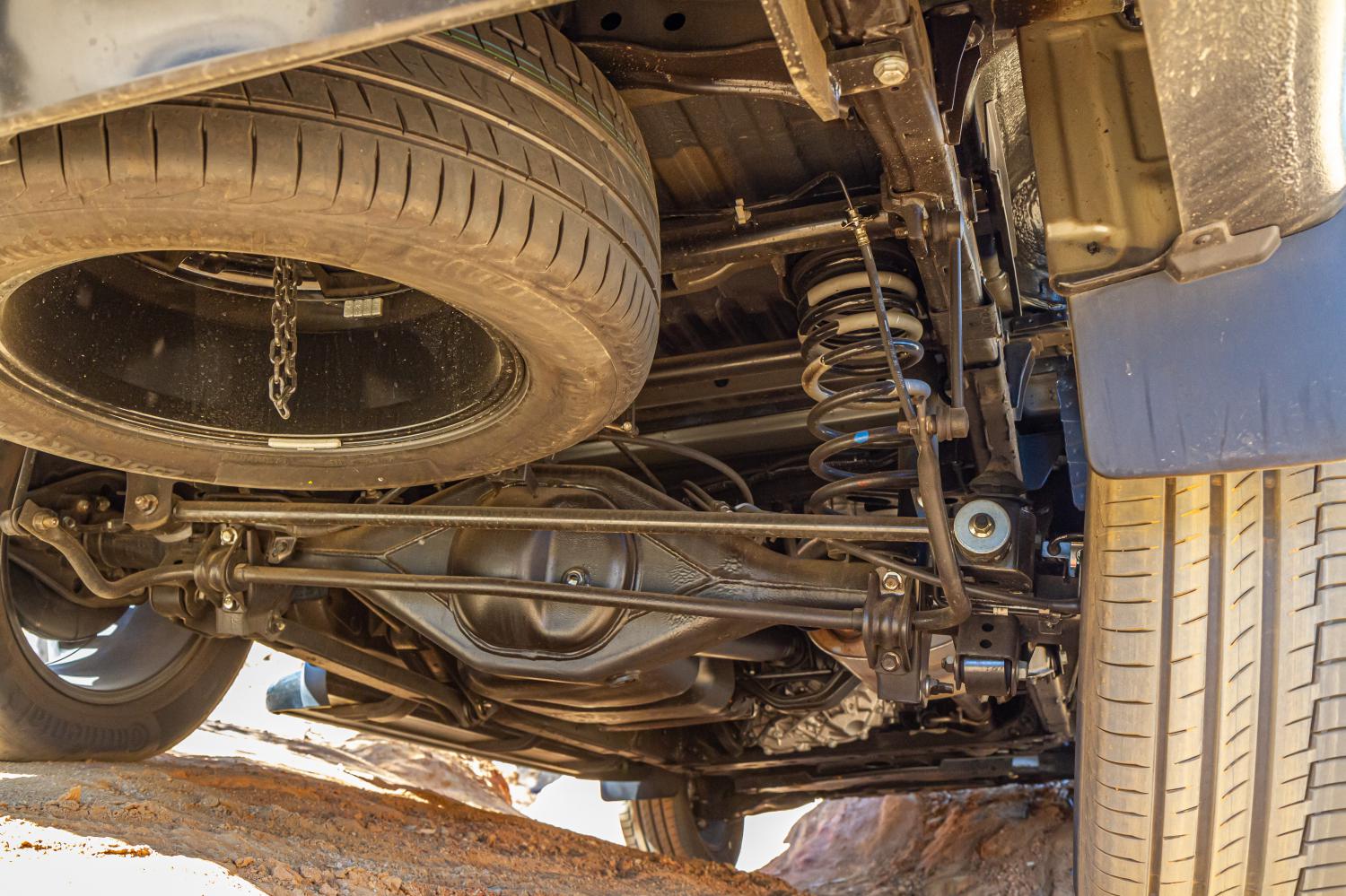 The X350d's suspension is tuned with the bias set firmly towards handling on bitumen roads, which is where you'd expect it to spend most of its time, and the result is a fine handling ute. But I'll confess that its ride quality wasn't as refined as I think it deserves to be. It's a difficult one to describe, but at urban speeds, the X350d's front suspension lacked a degree of initial compliance, that had it thumping through manhole covers and potholes more than I would have liked. It might be quicker in a straight line than a Ranger Raptor, but it's not a match for the Raptor's impeccable on and off-road ride. Oh, and the Raptor retails for $74,990, a $1,720 premium over the X350d, assuming you're silly enough to pay retail.
Inside the X-Class Progressive's cabin, there's an interesting mix of Mercedes-Benz style, Nissan mediocrity, hard plastics in the wrong places and some missing electrical bits. On-the-road, and assuming you've avoided ticking any options boxes, the Progressive V6 is a circa $80,000 car. I still believe that the X-Class has the most stylish looking cabin you can get in one of these 4X4 utes. It's clean, uncluttered, the leather-clad steering wheel is close to perfect, and on the face of it, it all looks upmarket. But there's a lack of storage spaces, particularly for larger phones, and hard scratchy plastics used for parts of the dashboard and in Progressive trim the door armrests, and there shouldn't be hard plastic on any armrest in 2019, especially in a vehicle that is purporting to be premium. The fabric covering the seats is Mercedes-Benz, but the seats themselves are straight out of the Navara, which means they are too flat and start to numb the bum after an hour or so, and unbelievably, the driver's seat requires manual adjustment, which I'll confess offended me at this price point.
The floating tablet screen is a nice touch, but where I once found the Mercedes-Benz Command rotary dial system to offer a reasonable user experience, I've become used to using Android Auto and voice commands. Fluffing around with twirling and clicking is now nothing more than an exercise in frustration. Mercedes should fit its very cool MBUX voice-controlled AI system to the X-Class, it is, after all, fitted to the less expensive Sprinter van.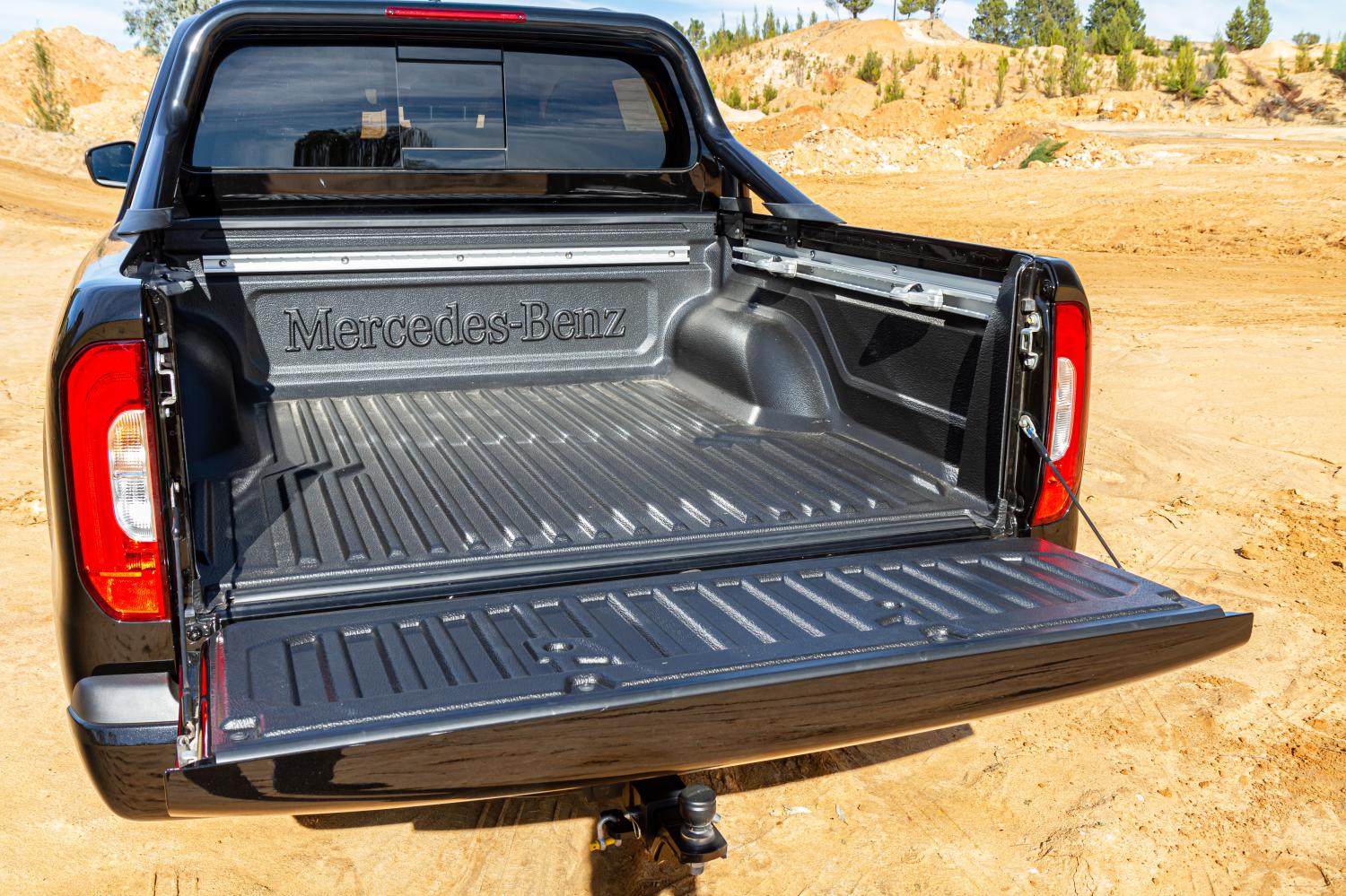 Rear seat room is as per the Navara, which means it is adequate, but not class-leading and if you want our test car's opening rear window, then you'll have to fork out for the $3,350 Style Pack that also includes, side steps, privacy glass, LED headlights and partial LED taillights. I wouldn't bother, myself, but I can see it being a popular option pack for cashed-up X-Class buyers. Speaking of options, they're a real easy way of ramping up the price of your X-Class. Our test car, in addition to the Style Pack already mentioned, featured Black metallic paint ($950), a bed liner you don't want ($899), a very expensive black styling bar ($1,551) and a full tow kit ($2,063). Price, as tested, is $82,083 plus on-road costs. That's a lot of loot for a base-spec ute, with manually operated cloth seats. My local dealer had a nicely optioned example of the top-spec Power X350d in the showroom priced at an eye-watering $95,000!
The X-Class range has a five-star ANCAP rating, with safety feature standouts that include seven airbags and Autonomous Emergency Braking. There's also a tyre pressure monitoring system and a rear-view camera.
Off-road, and yes, we gave it a go, the X350d acquits itself well enough. You don't get the fancy 360-degree camera system that is standard in the Power and said to be useful when crawling over rough terrain, but if you need assistance like that when you're off-road, you should probably think about staying on-road.
The X-Class's brake-traction control system is adequate. If you maintain a constant light throttle through a challenging section of track where a front wheel is being lifted, the TC pulses strongly and you'll likely make forward progress, albeit in a two steps forward, one step back kind of a way. Put a Prado through the same section of track, and you'll find its traction control is creamy smooth and well calibrated in comparison, and doesn't two-step shuffle like the X-Class.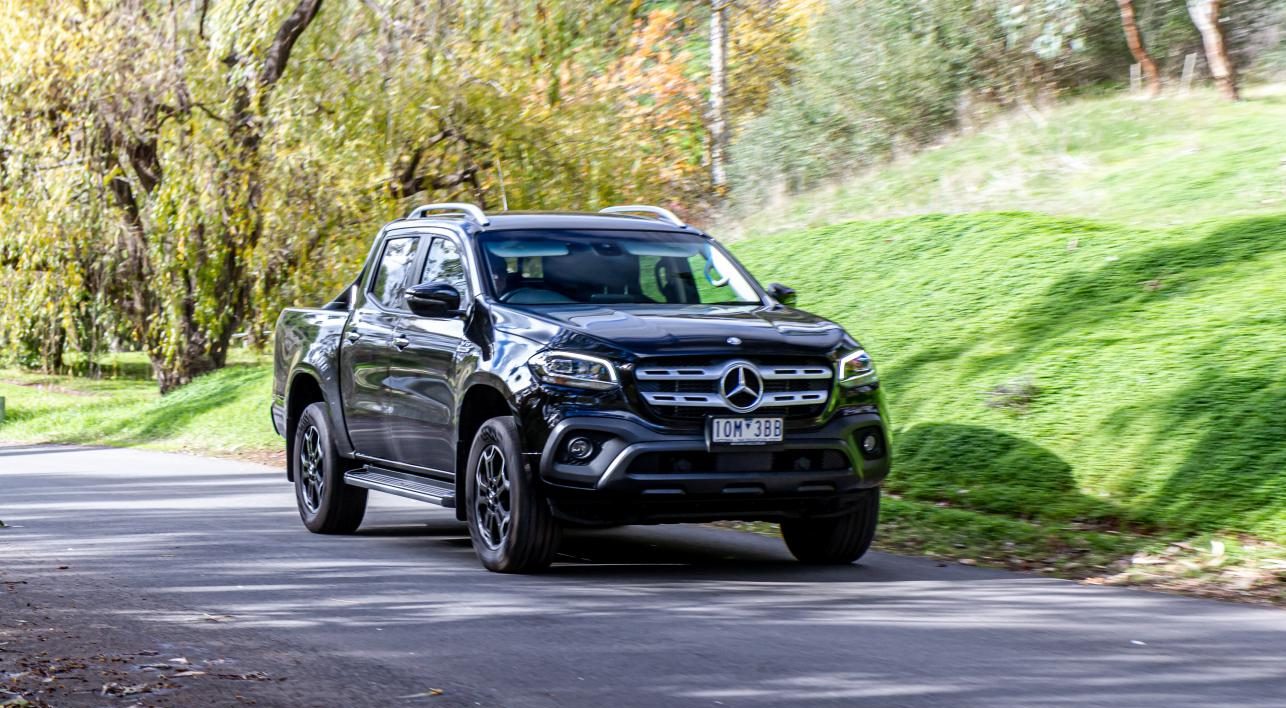 Still, the X350d made it through our test track sections; it's just smoother and more capable with the rear diff-lock engaged. Ground clearance and a lack of serious underbody protection are the limiting factors for the X-Class off-road, and in this regard, it's not a whole lot different to most of the other utes, besides the Raptor.
Would I buy an X350d? Well, no, but I'll qualify that. If I were looking to spend around $80,000 on a new 4X4 ute, I'd buy a Raptor because it's been built to go off-road, its suspension is a masterpiece and regardless of what the Facebook peanut gallery has to say, so is the drivetrain. I guess what I'm saying is, that for the way I like to use a 4X4 ute, I see significantly more value in the Raptor than I do in the X350d.
I have no desire to blast from one traffic light to the next, and I've never sat next to a V6 Amarok in traffic and thought, 'yeah, I'd like to get me a piece of that…', as a point of fact, I mostly think the opposite. If I bought an X350d, or a BMW M3, or one of the thousand AMG Mercs you can currently choose from, I'd be acclimatized to the magnificence of its drivetrain within a matter of weeks, and then I'd be bored. Remember, I know this from experience.
But if you've got the bucks, must have a ute, need, like or want the grunt of a V6 turbo-diesel and demand class-leading refinement, then you've got a choice to make between a Mercedes-Benz and a Volksy.
I'd go the Merc.