Dear readers, I'd like to apologise in advance for assaulting your sensibilities once more as I'm about to write a Toyota story that owes much of its existence to Mitsubishi. Huh? How can that be? Stay with me please for more than the first paragraph.
So, I got the guernsey to write about something I've believed to be a little beige in this issue of Loaded 4X4, and that beige has been around in its current 150 form for quite a while now. Toyota's Prado is the LandCruiser you want to have when you can't afford a LandCruiser, so some middle ground was created by Toyota, and that was largely in response to Mitsubishi's ridiculously successful Pajero, a 4X4 that caught Toyota napping time and time again.
If we go back to 1982, Mitsubishi revealed the NA Pajero in its original boxy form, and two years later Toyota pitched the Bundera as an alternative. There was a subtle difference in specification, the Pajero going IFS with torsion bars while the Bundera was live axles front and rear and both ran four-cylinder petrol and diesel powerplants. From the start, Mitsubishi offered both SWB and LWB variants in Australia while Toyota denied us the LWB version that first appeared in 1990 and was called Prado, keeping it for Japan and other international markets. That was dumb because Aussies don't usually buy SWB in any numbers.
That LWB model has been seen here in grey-import form, and it's a pretty good thing. Think LC70 wagon, as they are near-identical apart from the V8 diesel and some twenty-odd years.
Now the big challenge for Toyota was when Mitsubishi rewrote the rules for the whole off-road SUV sector and introduced the NH Pajero in 1991, a 4X4 wagon with car-like ride and handling, some creature comforts and a look that didn't suggest you'd bought the vehicle from Army surplus. It was positively curvy and svelte, compared to its boxy competitors back in the day.
It was also a big upgrade in driveline specifications. The petrols were now V6s, and the diesels were intercooled and turbocharged. For the first time, we saw what I still consider to be one of the best 4WD transmission in the business, Super-Select, a part-time/full-time 4WD system that was light-years ahead of anything else at the time. It even offered a rear-axle diff-lock instead of LSD and on the GLS and Exceed versions adjustable shock absorber settings. It sold like hotcakes.
I remember my father, who sold Mitsubishi vehicles at the time, recalling how they walked out the door and dragged in a whole new breed of buyers, all hooked on the appeal of 4X4s and the lifestyle that comes with them, but without the negatives of a vehicle that was harsh and truck-like.
Toyota watched the Pajero lead the sales race year-after-year until they responded with the Prado 90 in 1996. It was a decent thing and copying as you know is one of the more sincere forms of flattery. The Prado looked like a Pajero, was specced like a Pajero and it drove like a Pajero and but it had a Toyota badge on the grille and for many buyers, that added real value.
Mitsubishi, on the other hand, took the Pajero in a different direction with the introduction of the NM in 2000. It was the first Pajero to be built using a monocoque chassis design rather than the more traditional, and still common with 4X4s, body on chassis arrangement. That was when the tide turned, at least in Australia because we liked our tough ladder-frame chassis 4X4s and the Pajero no longer delivered the goods in that respect. In 2002, Toyota released the new 120 Prado, built the proper way, and the Prado has been outselling the Pajero ever since.
The current incarnation of the Prado, the 150, first hit the road a decade ago and has benefited from full-fat LandCruiser tech, in a trickle-down kind of way ever since.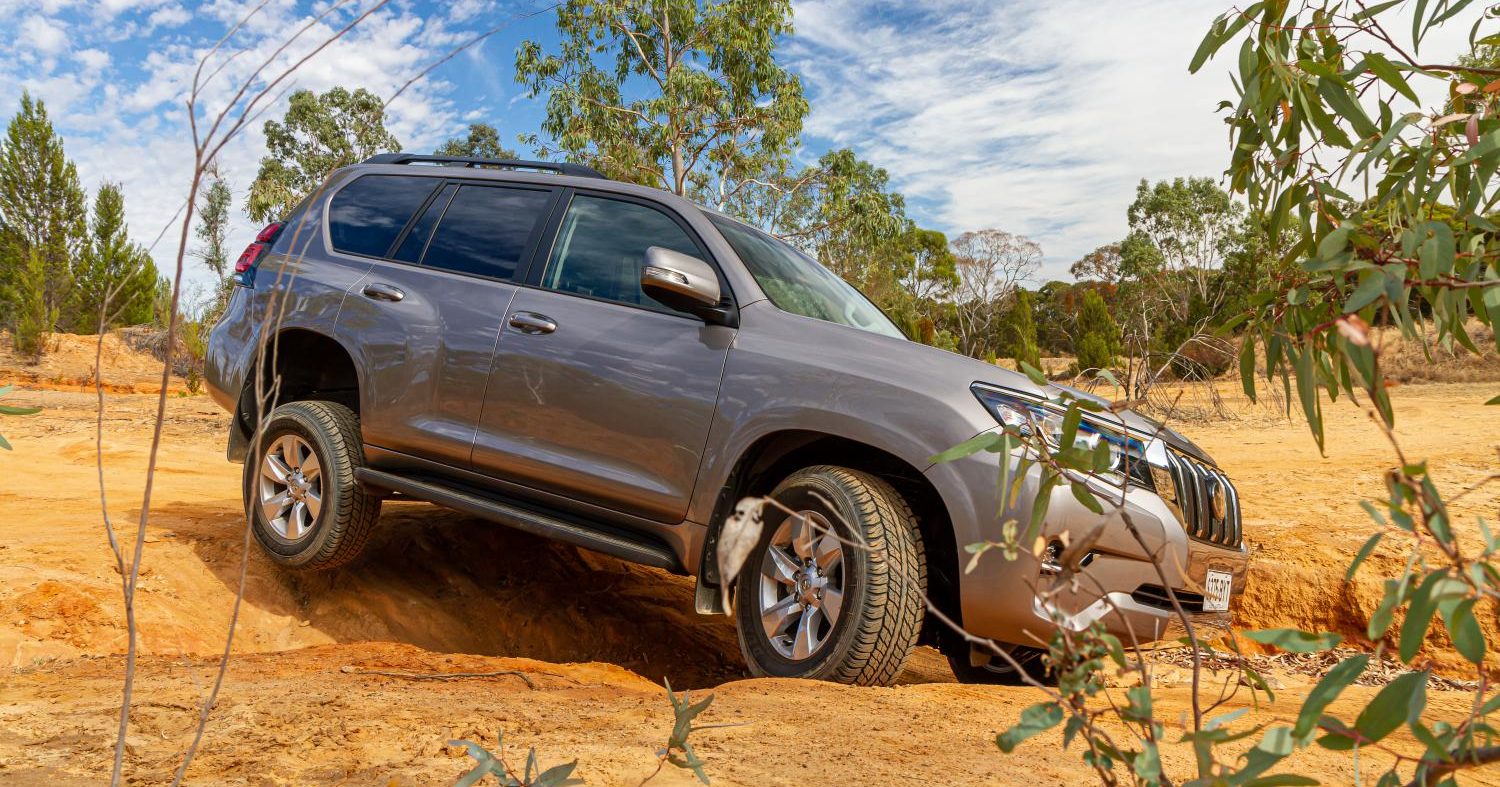 Our GXL automatic press car was finished in metallic Dusty Bronze. It's a colour I could live with because it's not beige, or white! Step inside and everything is there and in the right place, and there's plenty of bells and whistles even in this mid-spec form. The universal Japanese grey and black interior colour palette is easy on the eyes, the plastics fit nicely, and the lid on the centre console isn't hard, so my elbow didn't get sore. That's important if you intend to clock up some big kays and a little luxury missing from many four-wheel-drives (mostly the utes), for no really good reason.
The seats are big and comfy, a bit like a favourite lounge chair and at this level, you can option in leather accents, although I prefer fabric because it stops you sliding around off-road and getting your bum burnt in summer.
As you'd expect the seats extend into both middle and third rows and they have plenty of foldability. The climb into the third-row seats is only possible from the passenger side of the Prado and is restricted by the way the middle seat folds. Kids and very flexible adults won't have any issues, but I'm neither, and getting into the back row was a bit of a chore. I do like the way the middle row can be reclined and adjusted fore-aft.
You'll also find the obligatory ISOFIX points for the kid's seat installation in the middle row, so if you must carry them, you'll find a spot for the capsule or booster seat.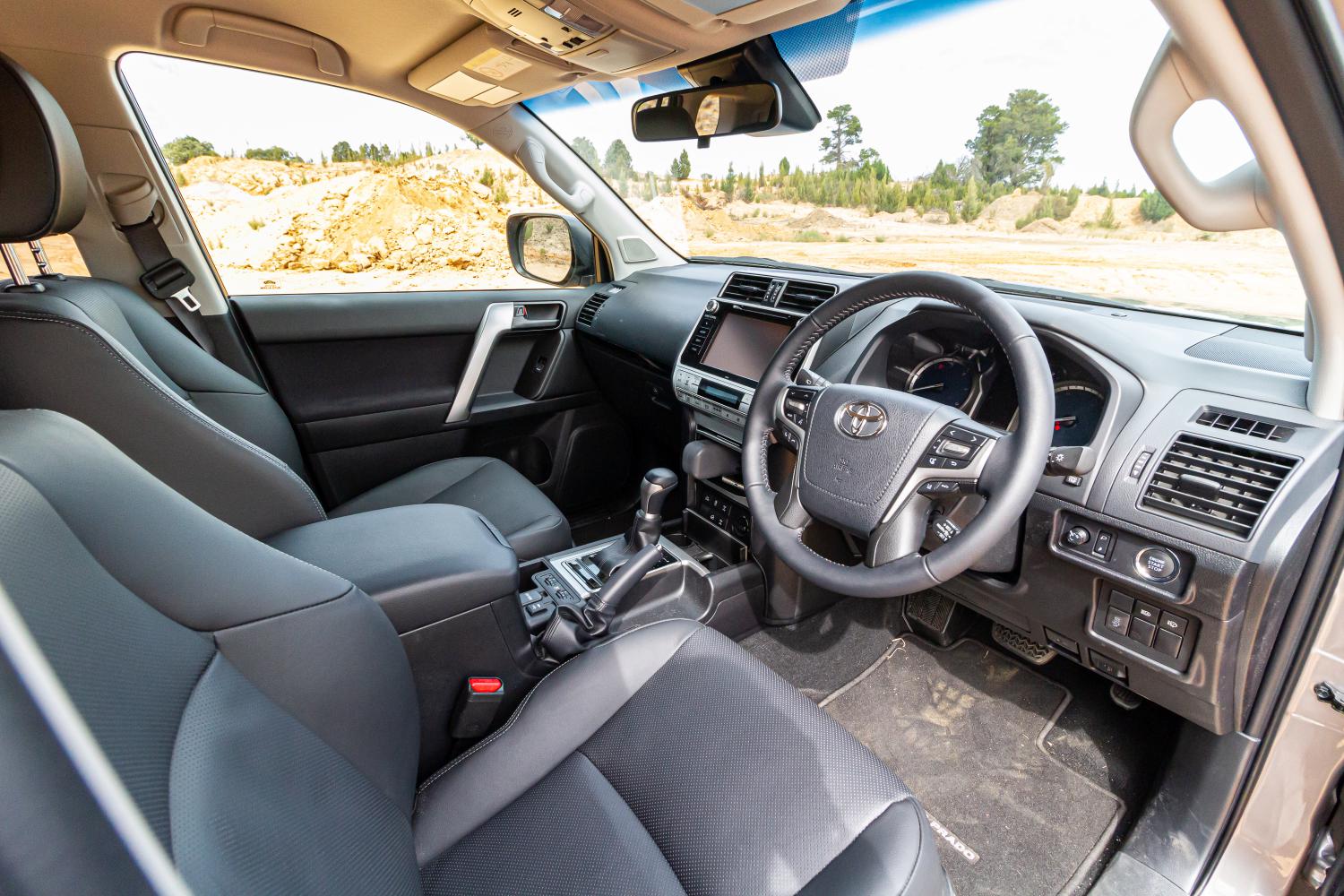 The dash features an eight-inch screen that's got the touch activation business going, so you can work your way through all the connectivity and entertainment functions and no, for those who crave Apple Car Play and Android Auto, neither is present. The audio system will manage MP3 hook-ups in addition to the single-disc CD player (how 1993) and the AM/FM tuner. There's also Bluetooth connectivity, and I had my phone tuned in pretty quickly and was able to listen to music and podcasts. The GPS seemed reliable enough and reasonably fast at calling out the corners, and the reversing camera was bright and crisp with its pictures.
There's a collection of power-points in the car, a 12V outlet in the centre console in front of the cubby box along with a USB and another 12V on the reverse side of the box for the middle row passengers. In the rear cargo area, there's another one on the left-hand side, and in case you wanted to run your hairdryer there's a household plug point on the RHS!
Speaking of things in the back this was the first time I'd seen a Prado with a back door without a wheel assembly hanging off the back. It's an option to address an often-heard complaint that the door is too heavy to open, especially on less than flat ground. If you've got an armful of groceries and a bunch of screaming kids, you want to be able to get into the car quickly. It's still hinged on the right-hand side, but the top half is like a glass hatchback that pops up on struts so the shopping can be stuffed inside with a push of a button on the remote.
The spare is underslung in the same fashion as the 200. Is that a good thing? Well, it works on a ute because it sits up high, while on a wagon it's a little low, but not likely to turn itself into a skid-plate in all but the boggiest of situations.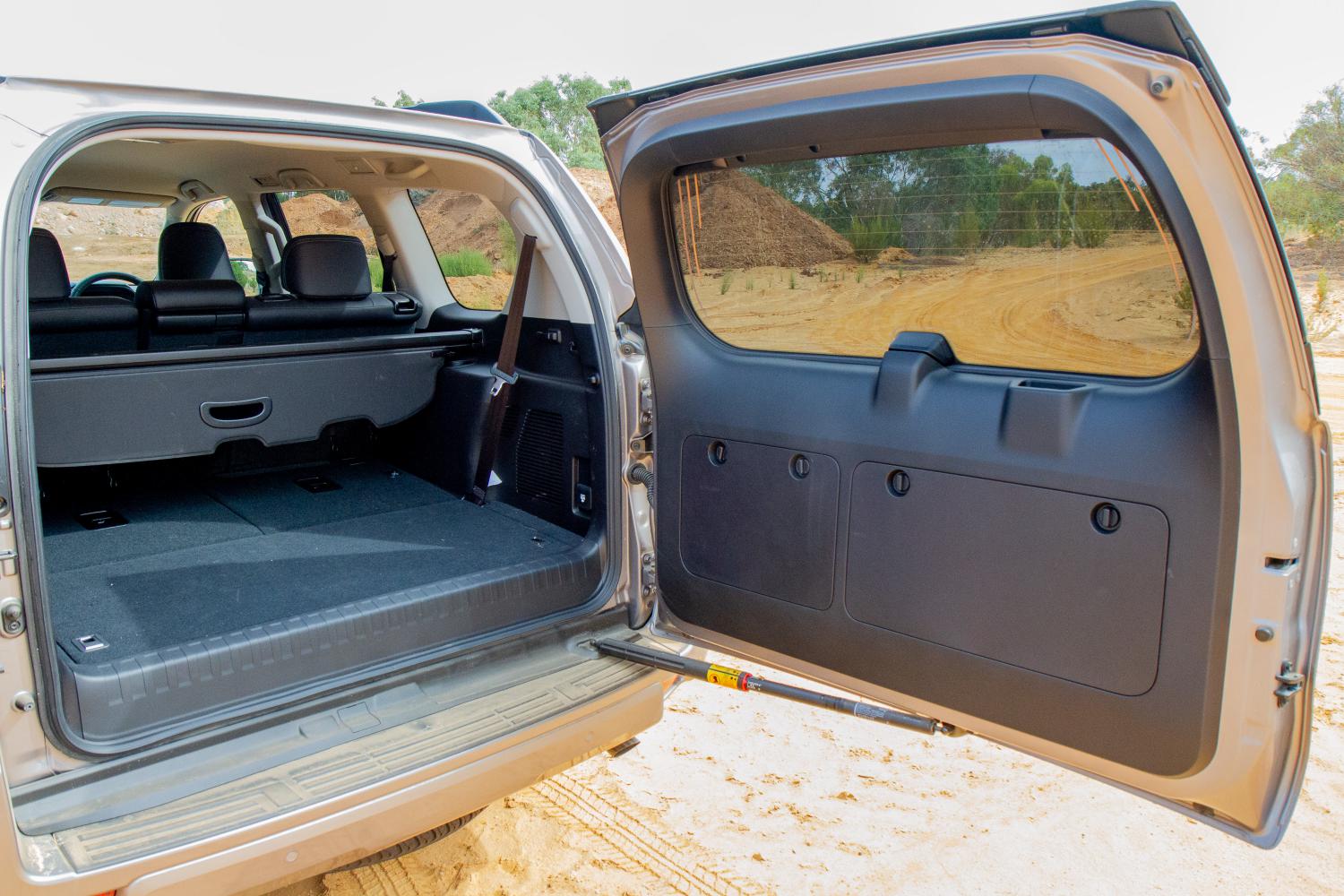 But there is, in my opinion, a big price to pay for getting that spare off the rear door and that is that it occupies the space that the Prado's standard secondary fuel tank would normally occupy. One of the great Prado strengths has been standard fuel carrying capacity, with the 150 Prado previously good for 150 litres across a main tank and a secondary tank that is placed where the spare tyre now sits, if you choose the underslung spare option. Losing the smaller tank still leaves you with a single tank holding 87 litres, but that's well down on what Prado devotees are used to.
One upside of the drop in fuel carrying capacity is that there is a corresponding increase in the official payload figure. The Prado has become a bit of a porker, and its official payload has suffered accordingly, and this is why I wouldn't buy the top of the range Kakadu with all of its bells and whistles. Toyota state a Kakadu kerb weight of 2,455kg while the GVM is 2,990kg, leaving a payload of 535kg. The GXL we drove with the underslung spare and no second fuel tank, tips the scales at 2,265kg and as a result, has a far more useable 725kg payload. If I were buying a Prado for towing this would be the model I'd be seeking out because every bit of payload you can preserve will be gold once you start adding accessories, passengers and their gear.
On the subject of towing, the Prado's 2.8-litre 1GD-FTV turbo-diesel churns out a modest 130kW/450Nm in auto form. Around town, the Prado will waft along with traffic, but it won't win any traffic light challenges, and I know from experience, that the Prado isn't in its element towing a 2,200kg trailer. It'll do it, but the old, and it really is getting on now, Pajero, is a more accomplished load-lugger. The Prado will also struggle in the suspension department thanks to its softly sprung, slightly rolly-polly factory suspension settings. Perfect for mum and the school run, but not so hotsy when pushing the payload boundaries or towing a couple of tonnes.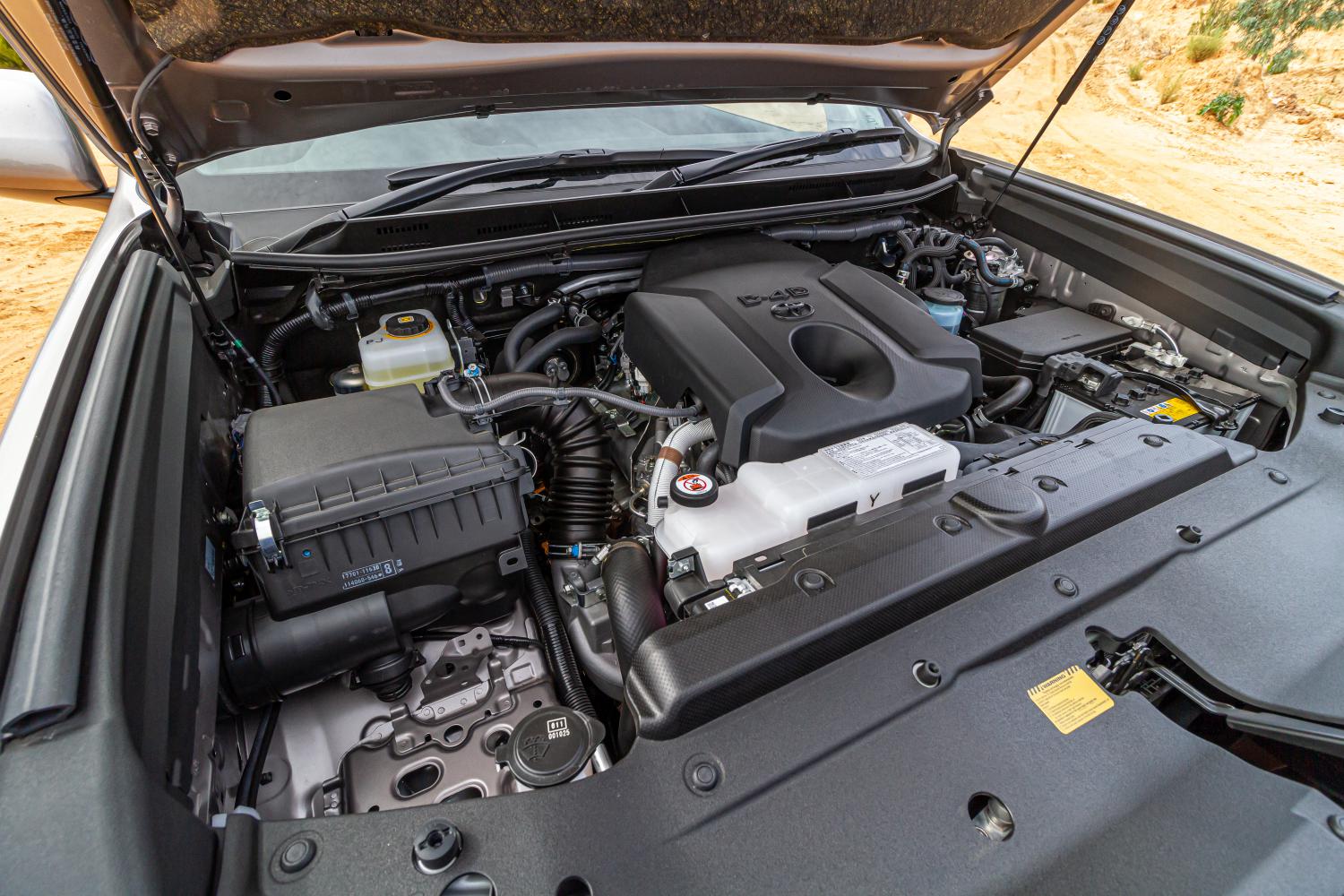 The Prado's 2.8-litre four-cylinder is a big step down from big brother 200's V8 and in my opinion, too big a step-down. An engine with around 170kW/500Nm would be the starting point for an ideal setup in this sized wagon, and those are the numbers all manufacturers should be aiming for, as a bare minimum in this and the ute segment.
Despite the lack of grunt, the Prado is a nice driving wagon and an easy place to spend an hour or three. It's a plush riding motor in stock form, and there is little in the way of road, engine or wind noise. It's easy to understand why so many are bought by mums and dads looking for an easy to drive, comfortable and safe family truckster.
I'm guessing the Prado's transmission has been recalibrated in recent years because I remember earlier 150 Prados with the 6-speed auto used to hunt up and down through the gears like a croc chasing a dead-chook on a fishing pole in the Territory; this one was considerably more settled. The autos semi-automatic mode allows you to manually select gears when needed, particularly handy when off-road, if you want to pick a gear for a hill-climb or want to dial in some engine braking.
There's plenty of electronic safety mumbo-jumbo with Lane Departure, Pre-Collision Safety System (forward autonomous braking), Trailer Sway and Blind Spot Monitoring. I was pleased to see that it passed the Wombat test although the body roll was a little disconcerting and steering ponderous, which may have more to do with the stock tyres than anything else. Every incarnation of Prado has run Dunlop Grandtreks, and they steer badly, corner with a lack of poise, and puncture with gay abandon in off-road environments.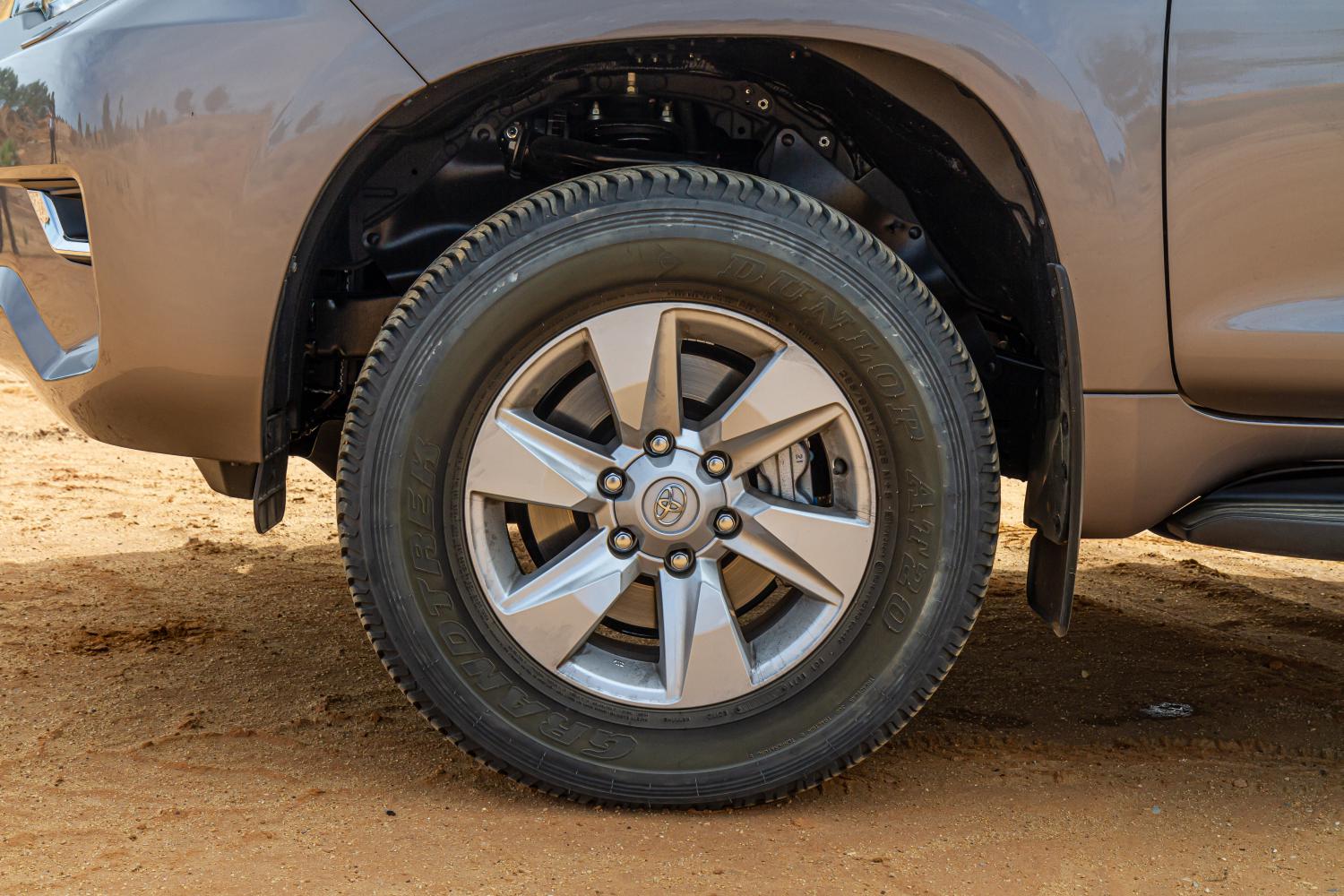 I hire plenty of Prados for my clients when they drop in for a driver training course and my mate Rob Davey at Complete 4WD Hire in Adelaide who supplies them solved his Prado tyre problem by fitting Toyo OPATII in an LT265/65R17 size. All the prior tyre-related issues just melted away.
So how does the Prado perform off-road? Well, I've been saving the best until last.
Let's reel off the assets; there's Traction Control (A-TRC), Hill Descent Control (DAC), Hill-Start Assist (HAC) and hallelujah a rear-axle diff-lock (RDL) on top of a full-time 4WD transmission with a centre diff-lock. If you opt for the Kakadu, you'll also get a bunch of 200 Series tech, including Crawl-Control (a very clever bit of kit), air suspension in the rear (will eventually fail and be expensive to repair), as well as Multi-Terrain Select (MTS) and Kinetic suspension (KDSS), neither of which I'm completely convinced are worth having.
For a long time now, I've been advocating that both Prado and 200 Series owners lock the centre differential as soon as they venture onto the dirt. Both vehicles use a torque-sensing Torsen centre-differential that reacts to loads and can bias the energy a lot like an old-fashioned LSD. In a system like the Prado's full-time or all-wheel-drive mode, torque is set up with the bias to the rear wheels, and if one slips at the rear or up the front, the centre-differential will send torque to the wheels that have traction. If both wheels on the one axle lose traction, the Torsen centre-differential doesn't have the ability to redirect the torque and drive will be lost, which forces the traction control to attempt to correct the situation, none of which is ideal.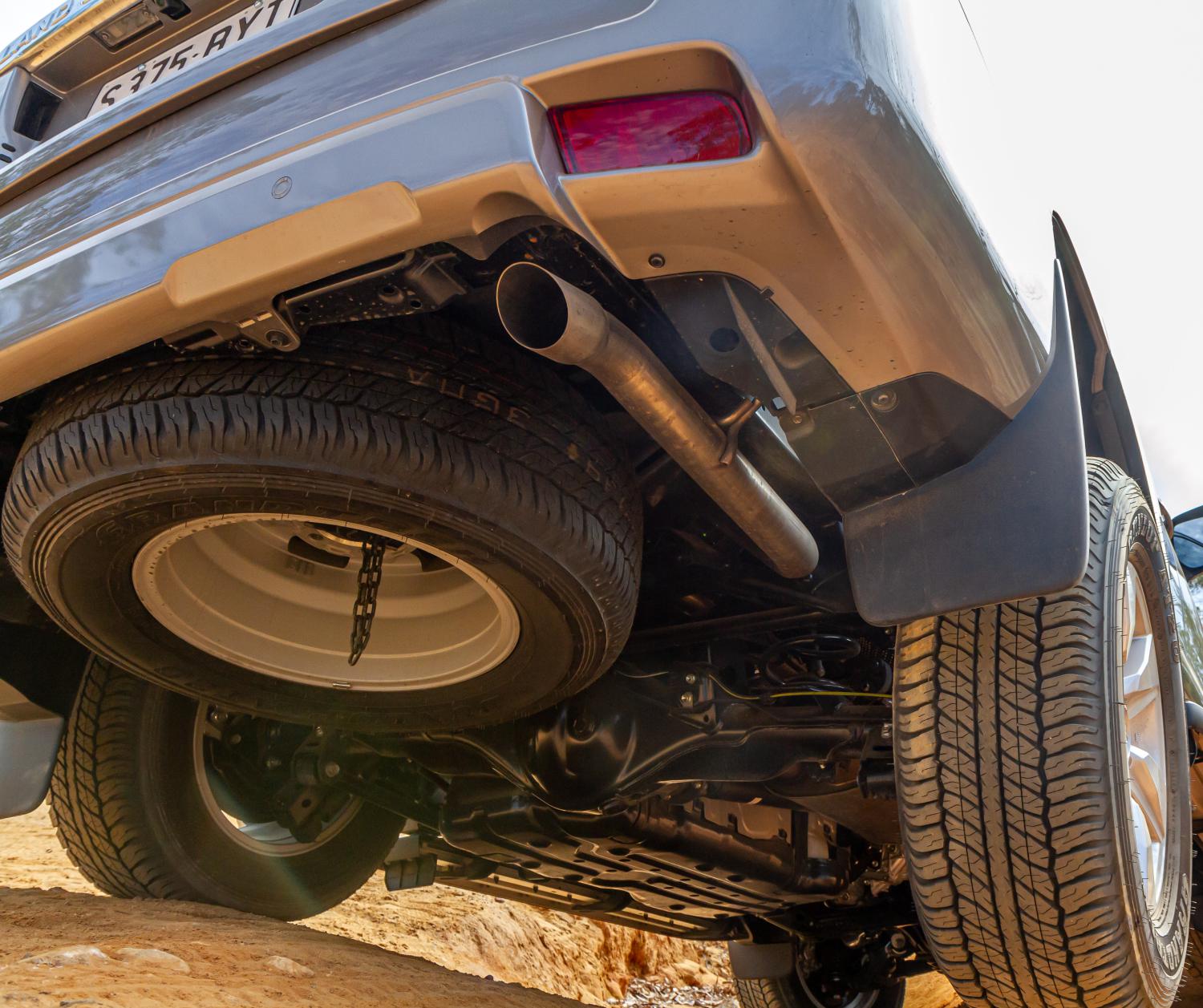 Locking the centre-differential on a full-time machine makes it behave like a part-timer in 4WD, with a 50/50 split of torque to the front and rear axles. The benefits are improved handling, shorter braking distances and less wear and tear on tyres. I also think it helps deny an awkward situation from developing in the first place rather than relying on the electronics to chime in after the event because inevitably there's a delay.
Now for those of you who tow, an added feature is the ability to choose to engage the centre-differential in low range, or not. If you're skull-dragging a massive boat up a slippery concrete ramp or reversing your caravan into a slot on a concrete pad, you can do so at a snail's pace in low range and in the knowledge that you won't wind-up the transmission because the centre-diff is open. Sure, you could do this in a Land Rover decades ago, but there aren't many current 4X4s that offer this ability today.
Another highlight is the Prado's traction control, which is very well tuned and especially so for low-range off-road work. At Adventure 4WD HQ in the Barossa, we walked the Prado through gullies with ease in an impressive display that shames most of the competition.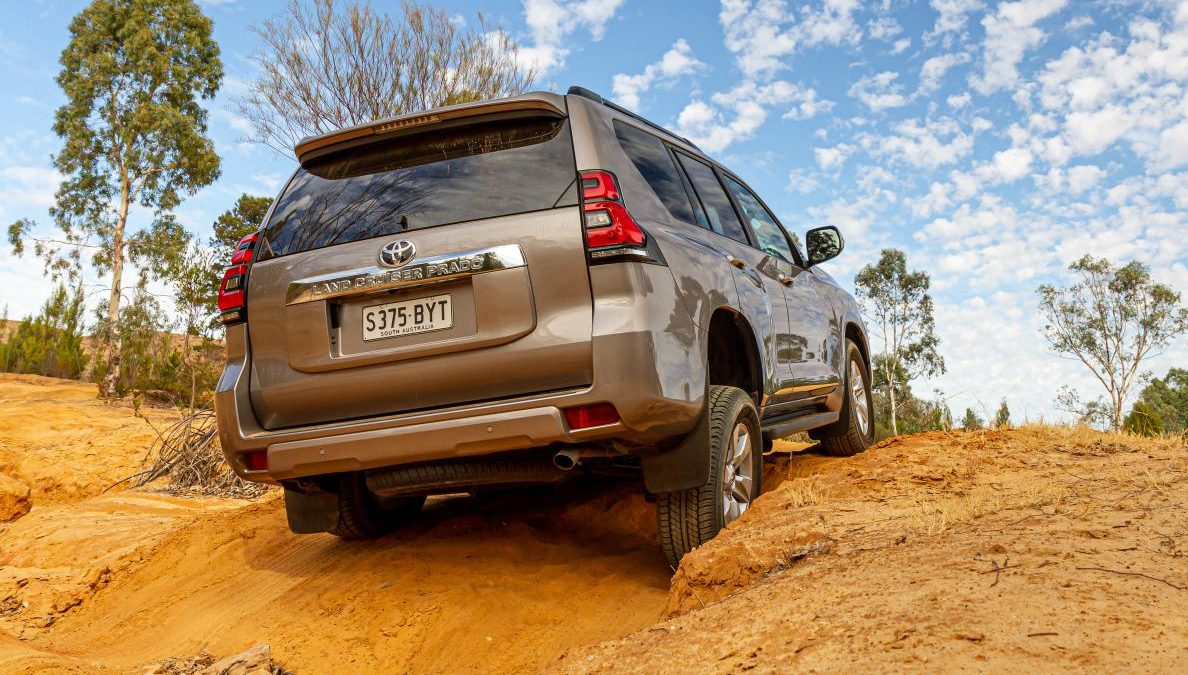 To lessen the need for traction control (because in some situations you'll eventually overheat the brakes) activating the standard rear diff-lock makes the going even easier. Line up a nasty gully or rocky step, select the locker, grab either first or second in low range and simply drive through. Interestingly traction control is still accessible on this MY19 model when the rear diff-lock is engaged, something that wasn't the case in the past, and that is a welcome change.
There's one piece of this jigsaw I haven't considered yet, and that is the price because man these things have never been cheap. The RRP for this GXL Prado is around $65,000, and a Kakadu purchase will lighten your wallet by $91,000. Compare that against a couple of the ute based, Thai, built 4X4 wagons, like the Pajero Sport GLS ($53,000) or an Isuzu LS-U MU-X ($50,000) and there's a premium to pay to step up to the Prado. You could argue that the full-fat Pajero is better value than the Prado, and while it certainly costs less (anywhere from $47,000 to $60,000 depending on spec and your ability to cut a deal), it's well overdue for replacement and can't compete with the Prado on quality (just ask Steane about that one). The Prado is one of the best 4WD setups straight out of the box, and that's simply going to cost you more. Besides, every Toyota propeller head out there will tell you that the Toyota might cost more, but it'll hold its value better than any of the other brands, and there's plenty of evidence of that being true. But $15,000 leaves a lot of chequebook for accessories if the Toyota badge means nothing to you.
Beige it might be, but in typical Toyota fashion, the Prado does everything well. It's like the Richie Benaud of 4X4s. It can bat, and it can bowl, and if you're on the hunt for a medium-sized 4X4 wagon, it'll probably be a Prado that you'll be buying.