Ford has announced a range of packaged options for the Ranger XL, XLS and XLT.
The upgrades include a new all-terrain tyre option for Ranger XL 4X4, a new Heavy-Duty Pack on selected XL 4X4 Models, a Tough Bed Spray-in Bedliner option and a new 17-inch black alloy wheel option for Ranger XLS. The changes are joined by the return of the Ranger XLT Fully Loaded pack.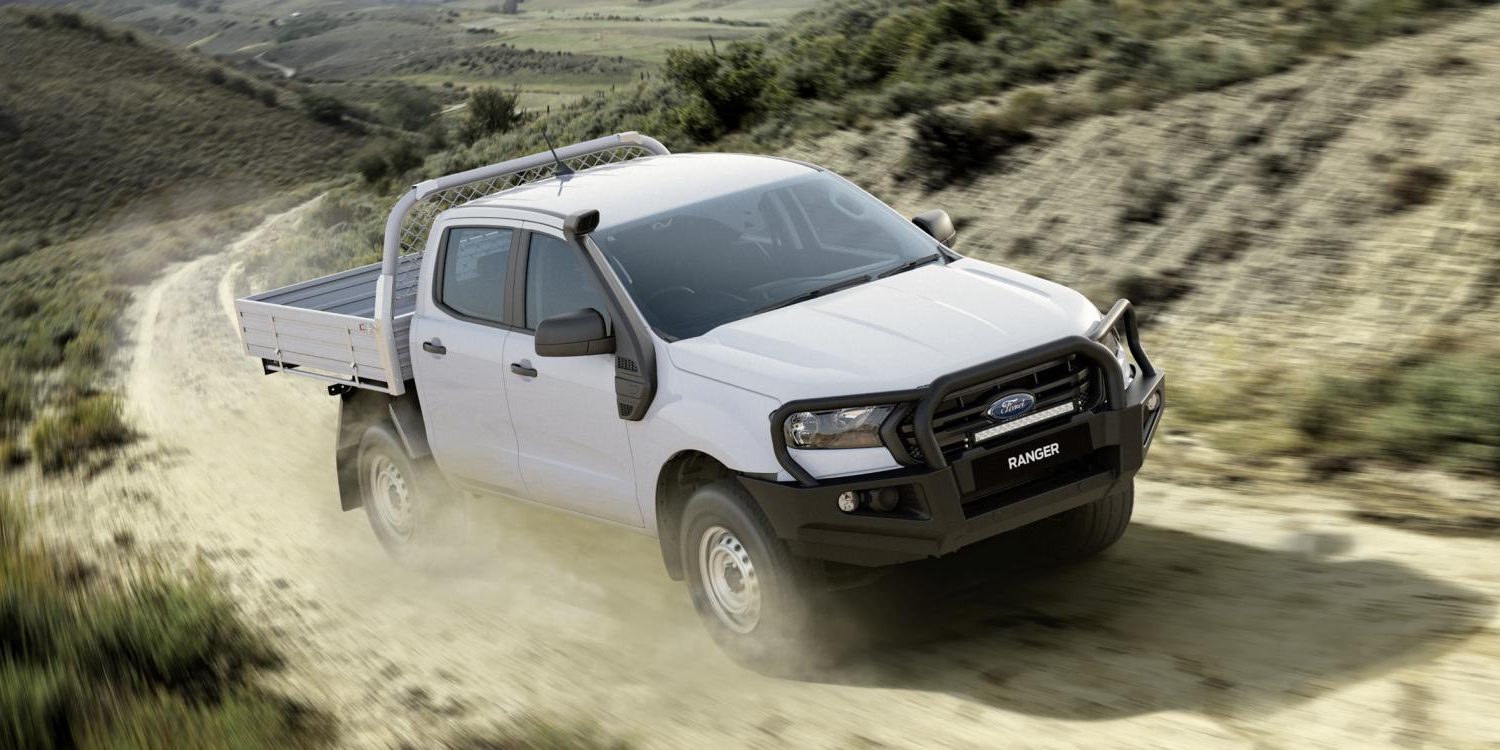 Ranger XL 4X4 Special Edition
Based on the Ranger 4X4 XL Double Cab Chassis 3.2L Auto, the XL Special Edition is launching with a $49,990 recommended drive-away price.
The 'Special Edition' gets the following equipment over and above the XL:
A factory-fitted steel bull bar, covered by Ranger's five-year, unlimited-kilometre warranty. The Genuine Ford Steel Bull Bar meets Ford's engineering and safety standards and has been crash-tested for compatibility with vehicle safety systems.
The bull bar also features integrated mounting points for lamps and UHF antennas, with the Ranger XL Special Edition including an LED light bar. The Light Bar brings greater visibility, as well as adding to Ranger XL's practicality on the worksite, campsite or weekend adventure.
A Ford Genuine fixed-head snorkel.
Optional tyre upgrade
Ranger XL 4X4 buyers can now choose, for an additional $500, an optional Continental ContCrossContact All-Terrain tyre that is fitted to larger 17 x 7.5-inch steel wheels. Unfortunately, these aren't Light Truck (LT) rated tyres but they'll be a step up from the standard rubber.
Optional Heavy-Duty Pack
The Heavy-Duty Pack combines Heavy Duty Suspension and an All-terrain tyre package.
The Heavy-Duty Pack is available across a range of Single Cab, Super Cab and Double Cab body configurations in both Cab Chassis and Pick-Up, with a cost of between $1,600-2,000 (including G.S.T.) depending on the specific variant. The pack includes:
Heavy-Duty suspension
17 x 7.5-inch black-painted steel wheels
17-inch Continental ContiCrossContact A/T tyres
Solid wheel nuts
Black side steps (excluding Single Cab Chassis)
Rearview camera kit (Cab-Chassis models only. Already standard on Pick-Up models)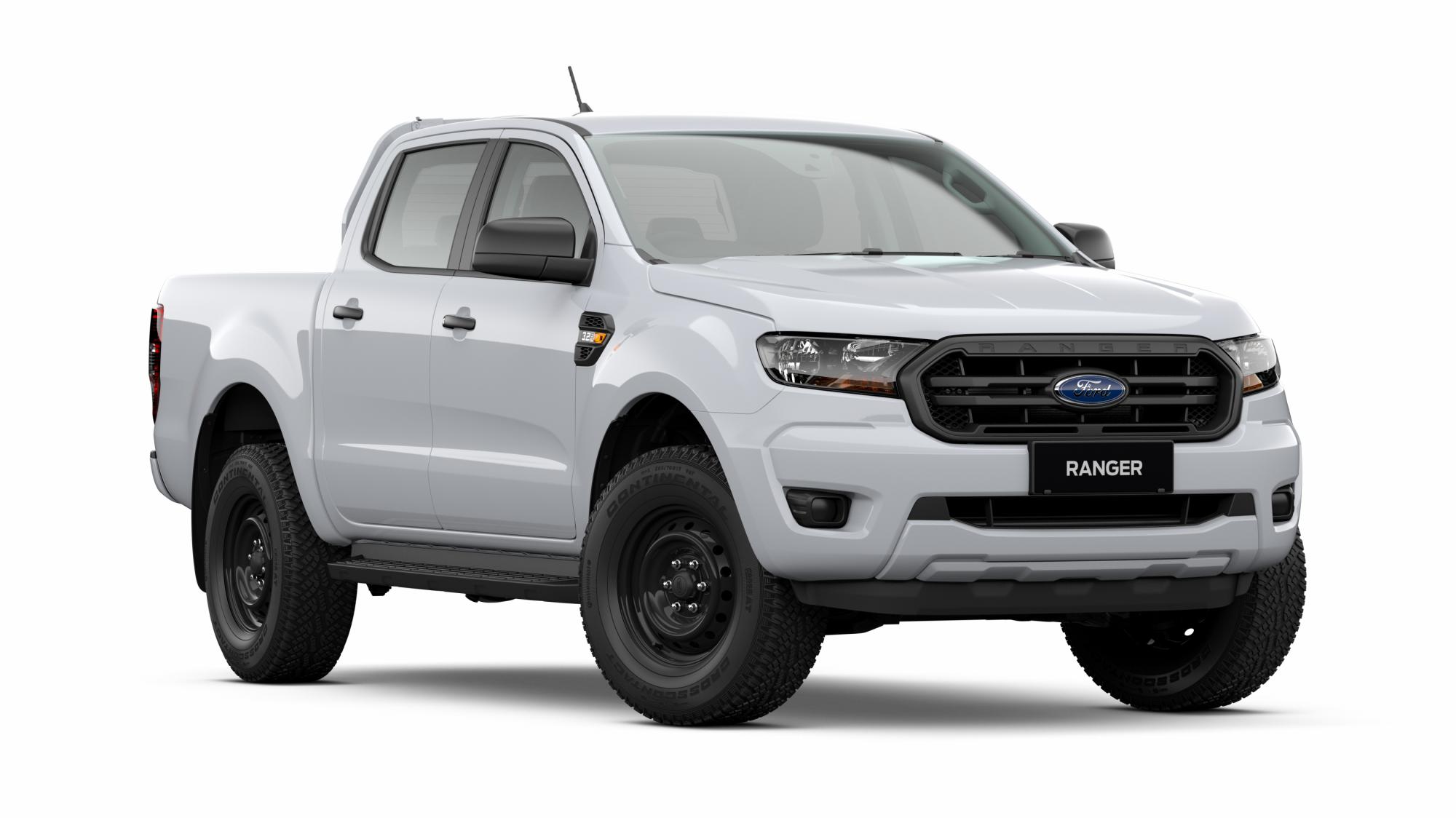 Optional Tough Bed Spray-in Bedliner

A factory-applied Tough Bed Spray-in Bedliner is now an option on all XL, XLS, XLT Double Cab Pick-Up models, and offers the following:
Industrial-strength, two-part coating for long-lasting protection
Factory-applied with automated precision to ensure a smooth, even coat
Uniform, high-grip textured surface helps minimise load slippage, gouging and scratching
Restricts moisture between the liner and the bed
Meets Ford engineering specifications, including impact testing
Retains Ford's standard five-year, unlimited-kilometre warranty
Ranger XLS
The Ranger XLS 4X4 now offers greater personalisation with a choice of black-finish 17-inch alloy wheels that provide an increase in size over the standard 16-inch Ranger XLS alloy wheels.
Ranger XLT Fully Loaded
The 2020 Ranger XLT 4X4 Fully Loaded double-cab arrives in showrooms in September and includes a suite of optional design, technology and convenience options. Offered as an option for the XLT 4X4 double-cab only, Fully Loaded features include:
Larger 18-inch alloy wheels finished in gloss black
Adaptive Cruise Control
Leather-Accented Seat Trim
Semi-Automatic Parallel Parking
Available with either the 3.2L automatic or Bi-Turbo 10-speed powertrains, the 4×4 Ranger XLT Fully Loaded is available with a recommended drive-away offer of $1,500 over the equivalent XLT double-cab.
Ford Ranger 4X4 Pricing
Recommended Manufacturer List Prices for Ford Ranger and available options:
Ranger 4X4

4×4 XL Single C/C 3.2L MT

$43,090

4×4 XL Single C/C 3.2L AT

$45,290

4×4 XL Super C/C 3.2L MT

$45,590

4×4 XL Super C/C 3.2L AT

$47,790

4×4 XL Super P/up 3.2L AT

$49,190

4×4 XL Double C/C 2.2L AT

$47,290

4×4 XL Double P/up 2.2L AT

$48,690

4×4 XL Double C/C 3.2L MT

$47,590

4×4 XL Double C/C 3.2L AT

$49,790

4×4 XL Double P/up 3.2L MT

$48,990

4×4 XL Double P/up 3.2L AT

$51,190

4×4 XLS Double P/up 3.2L MT

$50,290

4×4 XLS Double P/up 3.2L AT

$52,490

4×4 Sport Double P/up 3.2L MT

$53,540

4×4 Sport Double P/up 3.2L AT

$55,740

4×4 XLT Super P/up 3.2L AT

$57,440

4×4 XLT Super P/up Bi-Turbo AT

$58,940

4×4 XLT Double P/up 3.2L MT

$57,240

4×4 XLT Double P/up 3.2L AT

$59,440

4×4 XLT Double P/up Bi-Turbo AT

$60,940

Ranger XL/XLS/XLT Options

  Prestige Paint

$650

  Tough Bed Spray-in Bedliner (XL / XLS – Double Cab P/U only) (new)

$800

  XL Heavy-Duty Suspension

$500

  XL 4X4 17-inch Continental A/T Tyres (new)

$500

  XL 4X4 Single Cab Chassis Heavy-Duty Pack: (new)

Heavy Duty Suspension
17-inch black finish steel wheels
Continental A/T Tyres
Solid wheel nuts
Rear camera accessory

$1,600

  XL 4X4 Super Cab/Double Cab Chassis Heavy-Duty Pack: (new)

Heavy Duty Suspension
17-inch black finish steel wheels, solid wheel nuts
Continental A/T Tyres
Black side steps
Rear camera accessory

$2,000

  XL 4×4 Double Cab Pick-up Heavy-Duty Pack: (new)

Heavy Duty Suspension
17-inch black finish steel wheels, solid wheel nuts
Continental A/T Tyres
Black side steps
(N.B. Rear camera already standard)

$1,600

  XLS Premium Pack

Chrome grille and door handles
SYNC 3 with built-in satellite navigation
DAB+ Digital Radio
Dual-zone Climate Control
Smart Keyless Entry with Push-button start
Dual 4.2-inch instrument cluster

$1,500

  17-inch black finish Alloy Wheels for Ranger XLS (new)

$750

  Tough Bed Spray-in Bedliner (Sport/XLT – Double Cab P/U only) (new)

$300

  XLT Tech Pack

Adaptive Cruise Control
Semi-automatic Park Assist

$800

  XLT Leather-Accented Seats

$1,500

  18-inch Black alloy wheels for XLT

$750