Toyota has announced new and significant changes to its HiLux range, along with a hefty price increase to match (see pricing at end of this article).
The big news is a styling revamp and a substantial reworking of the HiLux's familiar 2.8-litre 1GD turbodiesel engine that now produces 150kW and up to 500Nm with a recalibrated six-speed electronic automatic transmission. Torque with the six-speed intelligent manual gearbox is 420Nm and fuel consumption is said to have been improved by as much as 11.1 per cent.
Toyota engineers improved performance and fuel economy simultaneously by adopting a larger, heavy-duty turbocharger with a ball-bearing cartridge, and a new common-rail injection system with a higher maximum fuel pressure of 250 MPa.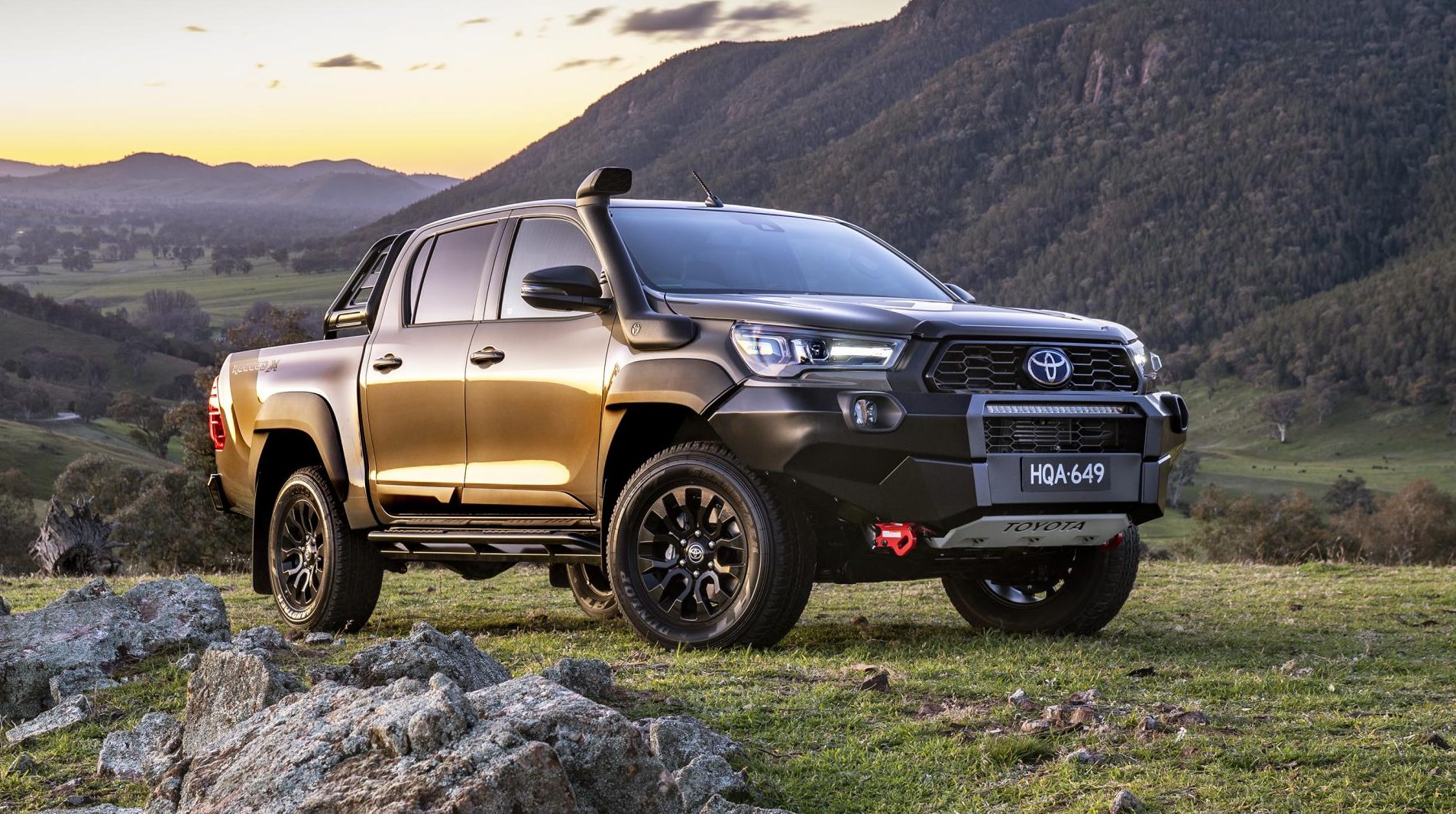 The higher outputs have been supported by improvements that include a coated cylinder-head gasket, revised higher-rigidity cylinder block and new exhaust manifold and gasket materials. Further cooling measures include a reshaped water jacket, revised cooling fan and fan coupling.
Toyota's engineers have revisited the HiLux's chassis and revised the spring rates, shock absorbers, suspension bushes and cabin mounts, claiming a reduction in the transmission of vibrations and a more compliant unladen ride.
Revised leaf spring bushings enhance ride comfort on rough roads and steering response when cornering and changing lanes. Self-lubricating rubber is adopted on the rear shackle bush for increased ride comfort.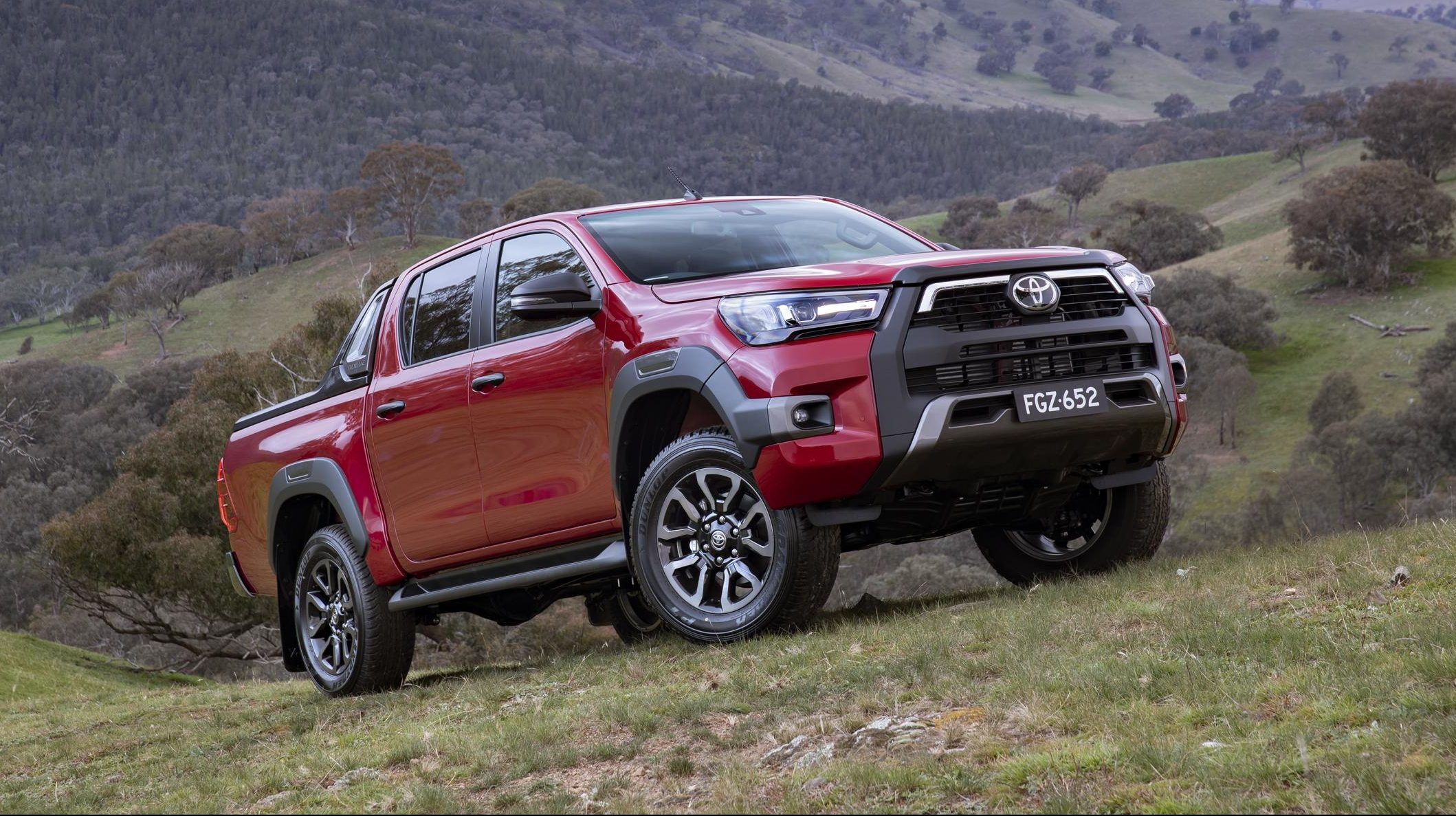 The steering has been revised to make parking easier and to produce a more connected and confident feel at speed. All diesel variants benefit from a new variable-flow control power-steering pump that improves fuel economy while delivering a more natural driving feel that varies depending on the driving conditions. There is also a specific mode for off-road driving in low range.
The changes have allowed for an increase in the Hilux's official braked towing capacity, which is now 3500kg for all 4×4 variants.
Equipment levels have also been expanded, including an 8-inch display with control knobs rather than touch-screen operation for easier use. The multimedia system has enhanced voice recognition and, thankfully, now includes Apple CarPlay and Android Auto functionality.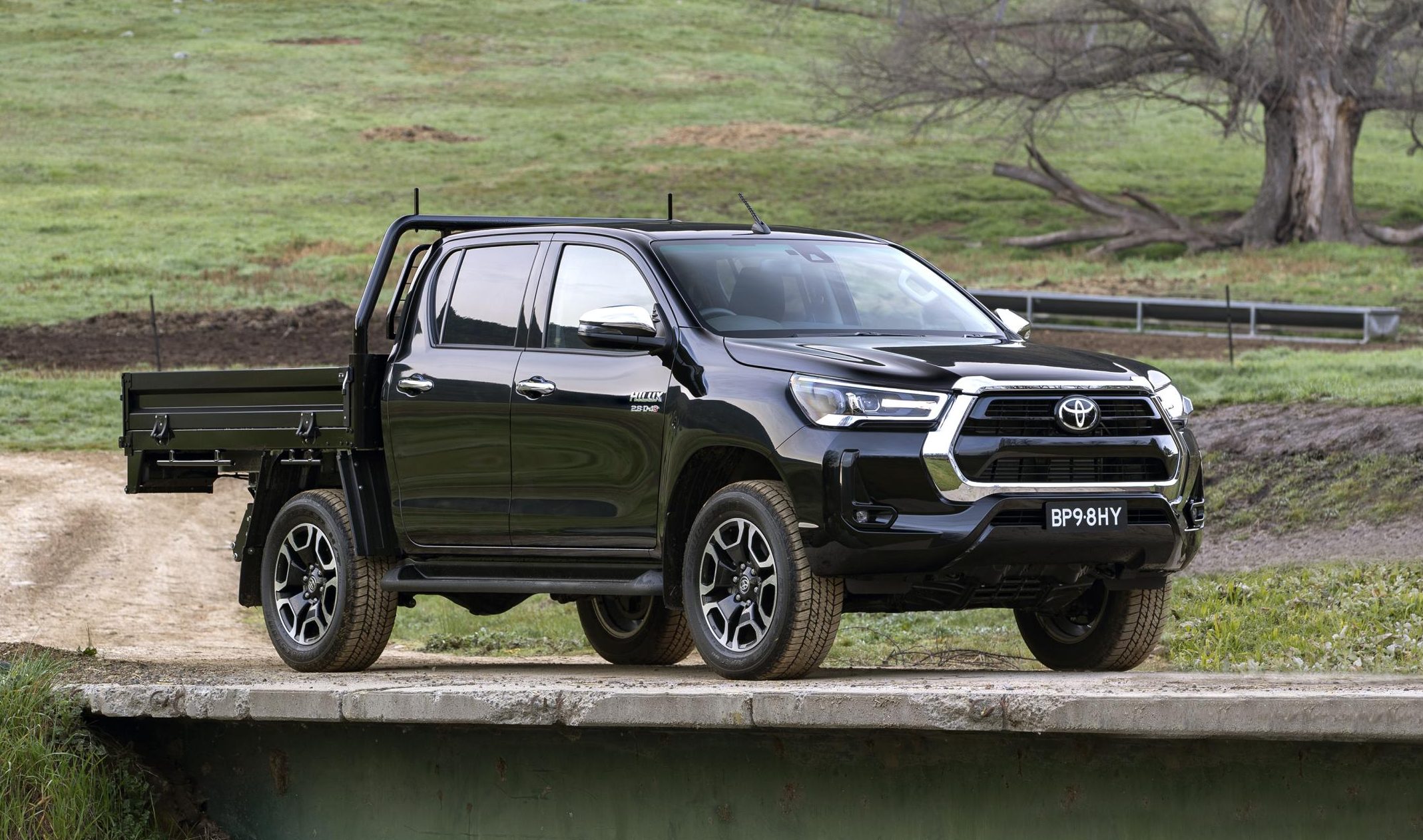 New-look instrument dials sit either side of the 4.2-inch multi-information display, which incorporates a digital speed readout, among other new functions.
Externally, the Hilux looks similar but different, thanks to a large trapezoidal grille and new headlights. Grille surrounds are black for Workmate, grey for SR and chrome for SR5.
Wheel arch flares are now integrated into the body and there's a new feature line running from front to back. Side steps are standard on SR and SR5.
Safety features remain unchanged, which means the HiLux retains its range of electronic braking and traction-control technologies, emergency stop signal (hazard lights), reversing camera (pick-ups), seven airbags, and seatbelt reminders for all seats. On double-cab variants, the rear seats have two top tether anchors and two ISOFIX points.
Downhill Assist Control is standard on all 4×4 SR5 variants and 4×4 automatic SR double cabs (including cab-chassis).
Toyota Safety Sense technologies in HiLux include a pre-collision system, high-speed active cruise control, and lane-departure alert that offers steering assist (via the brakes) to prevent unintended wandering into another lane. Road-sign assist can now recognise speed limit signs.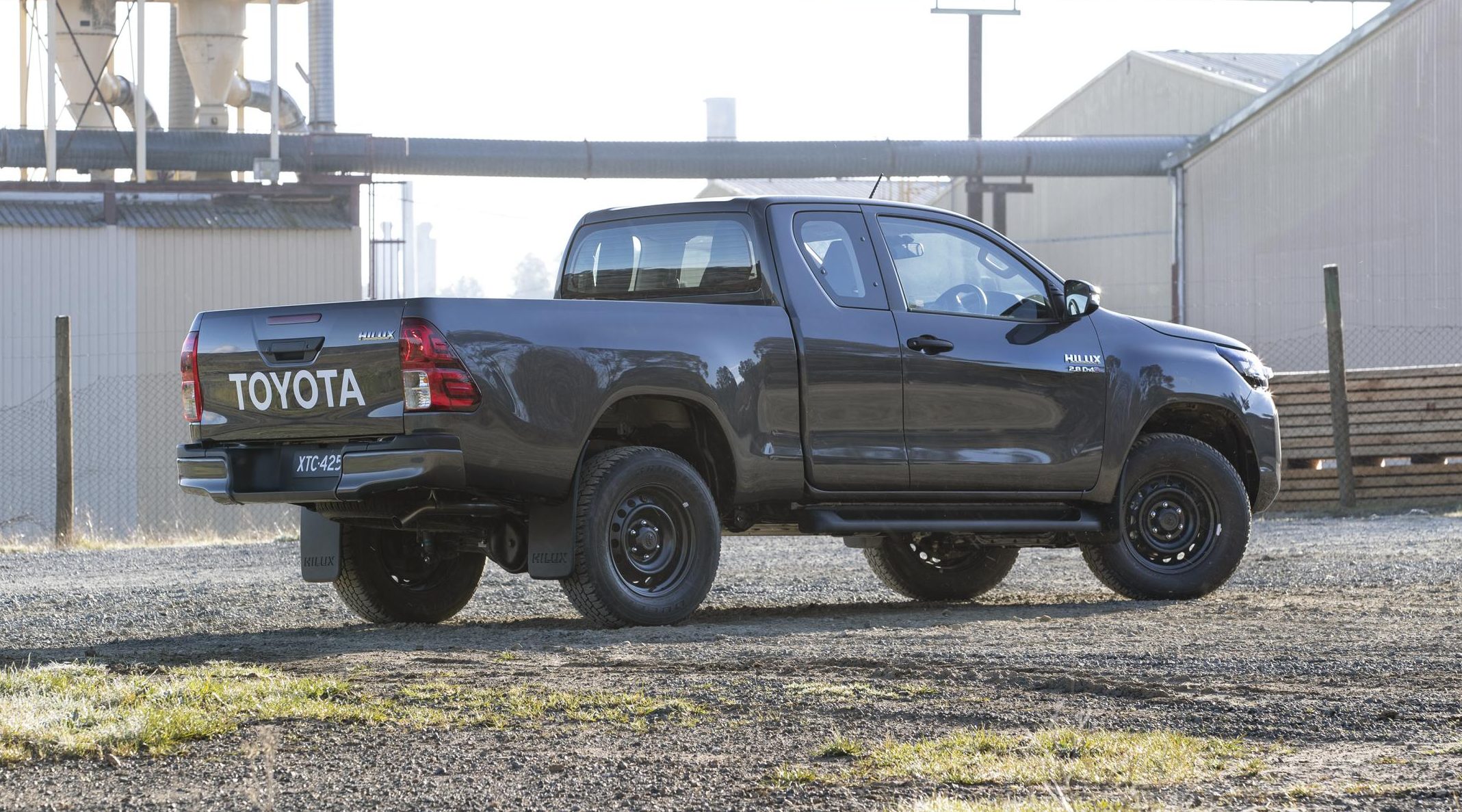 New for SR5 double and extra-cab pick-ups are two front and four rear sonars to support parking. When the system detects objects, it alerts the driver with a buzzer and a message in the multi-information display.
All vehicles from WorkMate to SR5 grades will go on sale from 27 August.
2021 HILUX PRICING
GRADE – ENGINE – TRANSMISSION – TOWING CAPACITY – PAYLOAD – PRICE
4×4 Single Cab (cab chassis)
Workmate, 2.4 TD, 6M
3500kg
1275kg
$39,520
SR, 2.8 TD, 6M
3500kg
1250kg
$42,590
SR, 2.8 TD, 6A
3500kg
1250kg
$44,590
4×4 Extra Cab (cab chassis)
Workmate, 2.4 TD, 6A
3500kg
1150kg
$45,220
SR, 2.8 TD, 6M
3500kg
1200kg
$46,250
SR, 2.8 TD, 6A
3500kg
1195kg
$48,250
4×4 Extra Cab (pick-up)
SR5, 2.8 TD, 6A
3500kg
1045kg
$58,400
4×4 Double Cab (cab chassis)
Workmate, 2.4 TD, 6A
3500kg
1125kg
$47,290
SR, 2.8 TD, 6M
3500kg
1085kg
$48,510
SR, 2.8 TD, 6A
3500kg
1085kg
$50,660
SR5, 2.8 TD, 6A
3500kg
1105kg
$58,420 (new)
SR5+, 2.8 TD, 6A
3500kg
1105kg
$60,920 (new)
4×4 Double Cab (pick-up)
Workmate, 2.4 TD, 6M
3500kg
995kg
$46,790
Workmate, 2.4 TD, 6A
3500kg
980kg
$48,790
SR, 2.8 TD, 6M
3500kg
990kg
$50,010
SR+, 2.8 TD, 6M
3500kg
1005kg
$52,010
SR, 2.8 TD, 6A
3500kg
995kg
$52,160
SR+, 2.8 TD, 6A
3500kg
1005kg
$54,160
SR5, 2.8 TD, 6M
3500kg
1000kg
$57,920
SR5+, 2.8 TD, 6M
3500kg
1000kg
$60,420
SR5, 2.8 TD, 6A
3500kg
995kg
$59,920
SR5+, 2.8 TD, 6A
3500kg
995kg
$62,420