Who doesn't love a ute?
Clearly the best vehicle on the planet for carrying people and goods, it's an Aussie staple; a fact made obvious when you track the sales of new 4WD vehicles in this country. But if you've ever craved something a bit out of the ordinary (the ordinary being a typically bland Japanese ute) and something with some true 4WD capability, there've been bugger-all choices since the departure of the Defender 110 and 130.
Mid-2020 Jeep will have their new Wrangler-based Gladiator ute on sale in Australia. Now I want you to forget about all the Jeep reliability jibes and think beyond a diet of Hiluxes and Rangers that you might have been used to because Jeep is on a mission, a mission to sell a tonne of product in the coming years.
With a new MD in Kevin Flynn directing the affairs of the Australian distribution office, a renewed focus on quality control, a five-year warranty, a huge take-up in the USA (the JL series sells like hotcakes in America) and total belief in the product suiting our lifestyle, there's a compelling argument to at least take a closer look.
With my ticket and passport in hand, I jumped on a QANTAS bird bound for Queenstown in New Zealand, the land of the Long White Cloud. Jeep had selected the Wanaka region for the international release of the Gladiator because… well, it's stunning!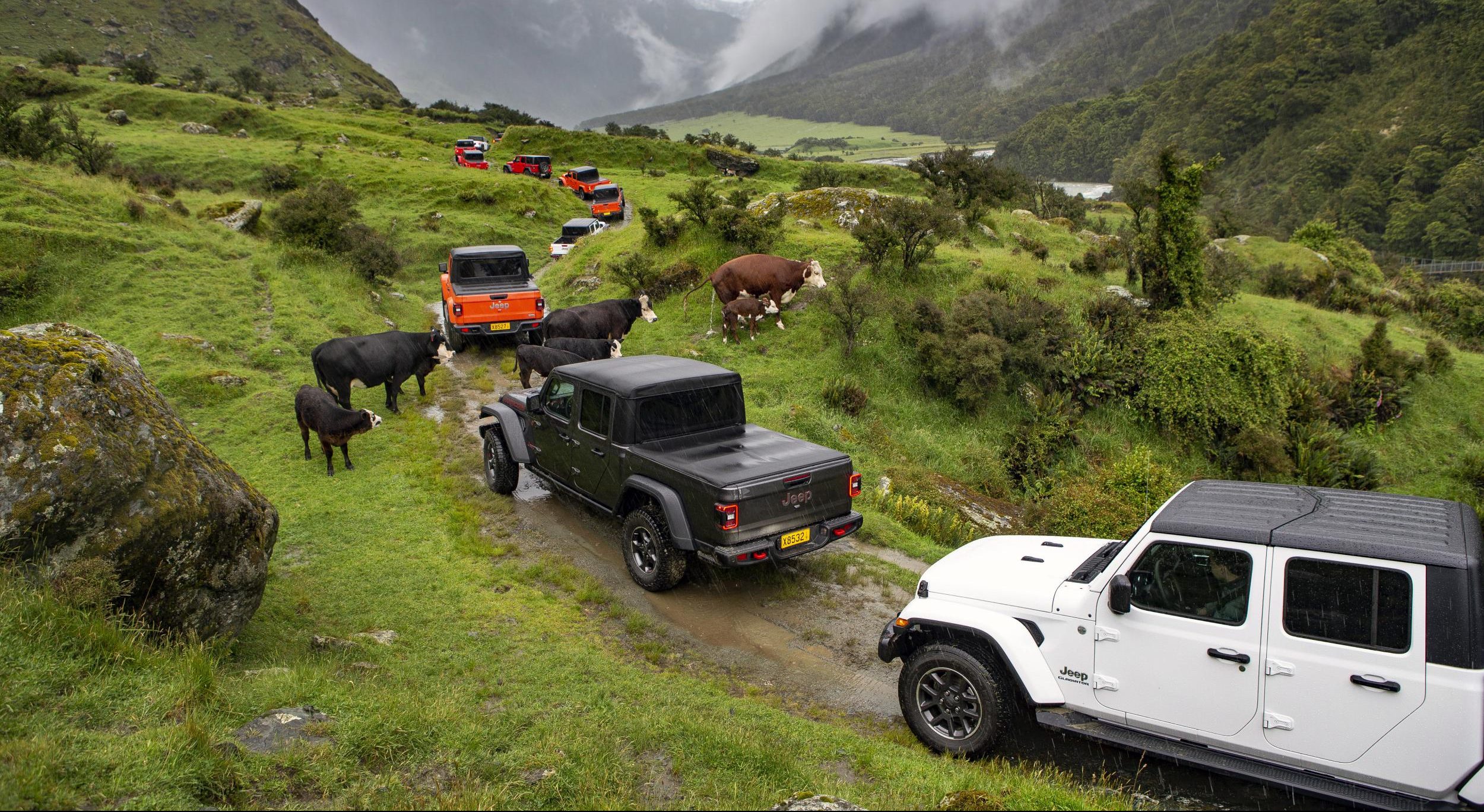 Think of the Swiss Alps but better and so much water! That was a bit of a sticking point because there were three waves of journalists invited to the gig. Before the Aussie contingent came the folk from North and South America and after us the Asian brigade, those from the Americas arrived in a massive storm that dumped nearly 800mm of rain and wreaked havoc on the drive legs and the grand reveal upriver from Queenstown. Never mind, because the Jeep team know a thing or two about adversity and realigned the routes and the activities so no-one really would have noticed.
Following a Maori greeting that was typically full of fear and challenge with plenty of screaming chants and chest-beating (didn't help them in the test series here did it?), we were introduced to the engineers responsible for the Gladiator's creation, and that was insightful. It's not uncommon to attend a new vehicle launch and come away wondering how the project was conceived and scratching your head at how they could have missed their brief by such a wide mark, but that wasn't the case here.
Jeep's Taylor Langhals and Elizabeth Krear are far removed from your typical engineering stereotype. Taylor's family have been knocking out Jeeps in Toldeo since forever, and he gets his kicks riding dirt bikes and snowmobiles and using Wranglers to get them to where they can be used. 
Elizabeth has family who are long-time Chrysler employees, and she designs Dodge RAMs in her spare time when she's not attending to the chassis and suspension of the Gladiator.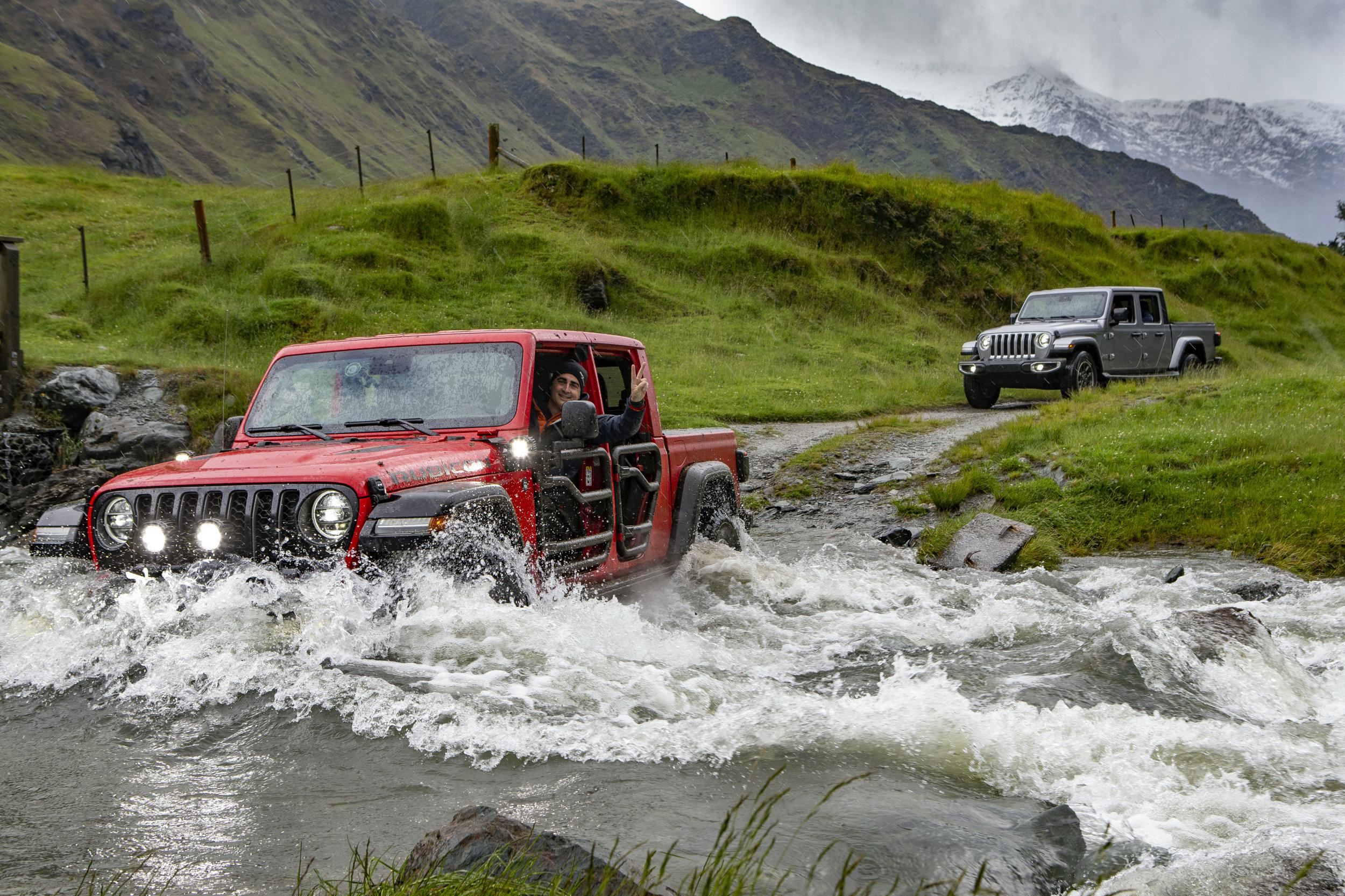 MOPAR man Bill Harry looks more like the journeyman, but get a couple of beers into him and start swapping yarns about Chrysler muscle cars in the '60s and '70s, and you soon realise this MOPAR-Meister is a car-guy to his roots.
In case you're wondering MOPAR stands for Motor Parts and while the original term referred to antifreeze sold through Chrysler dealers as far back as the 1920s, it went on to become popular vernacular for Chrysler performance parts in NASCAR and drag racing circles, back when Hemi engines ruled the roost. Now in Jeep terms, it refers to the catalogue of accessories made for Wrangler and Gladiator and sadly the Aussie fun-police are making life difficult, with Bill facing a few hurdles in getting a complete and super-cool range of products to our shores.
The Gladiator itself is one BIG truck, measuring five and a half metres tip to toe and it packs plenty of presence as a result. The wheelbase is a long 3,425mm, which explains why the ramp-over angle is only eighteen degrees. Trust me, when you're punting a Gladiator up a bunch of rocky steps you'll be thinking of the underbelly and you'll likely hear it scraping from time to time as well.
And while it may be a big unit, the Gladiator isn't an intimidating vehicle to drive. Surprisingly for a vehicle with live-axles front and rear (you beauty), tallish off-road all-terrain rubber (on the Rubicon) and raised suspension, the Gladiator made the Loaded 4X4 'Wombat Test' look easy. Vehicles set-up this way not so long ago would baulk at being chucked sideways at 80 km/h, yet despite my best efforts the Gladdie steered precisely where I pointed it with nary a squeal from its tyres and maintained a relatively flat stance while doing so, so it's safe when the chips are down. Brakes are discs all round, as they should be in all dual-cab utes and they offer up plenty of stopping power and a firm pedal feel.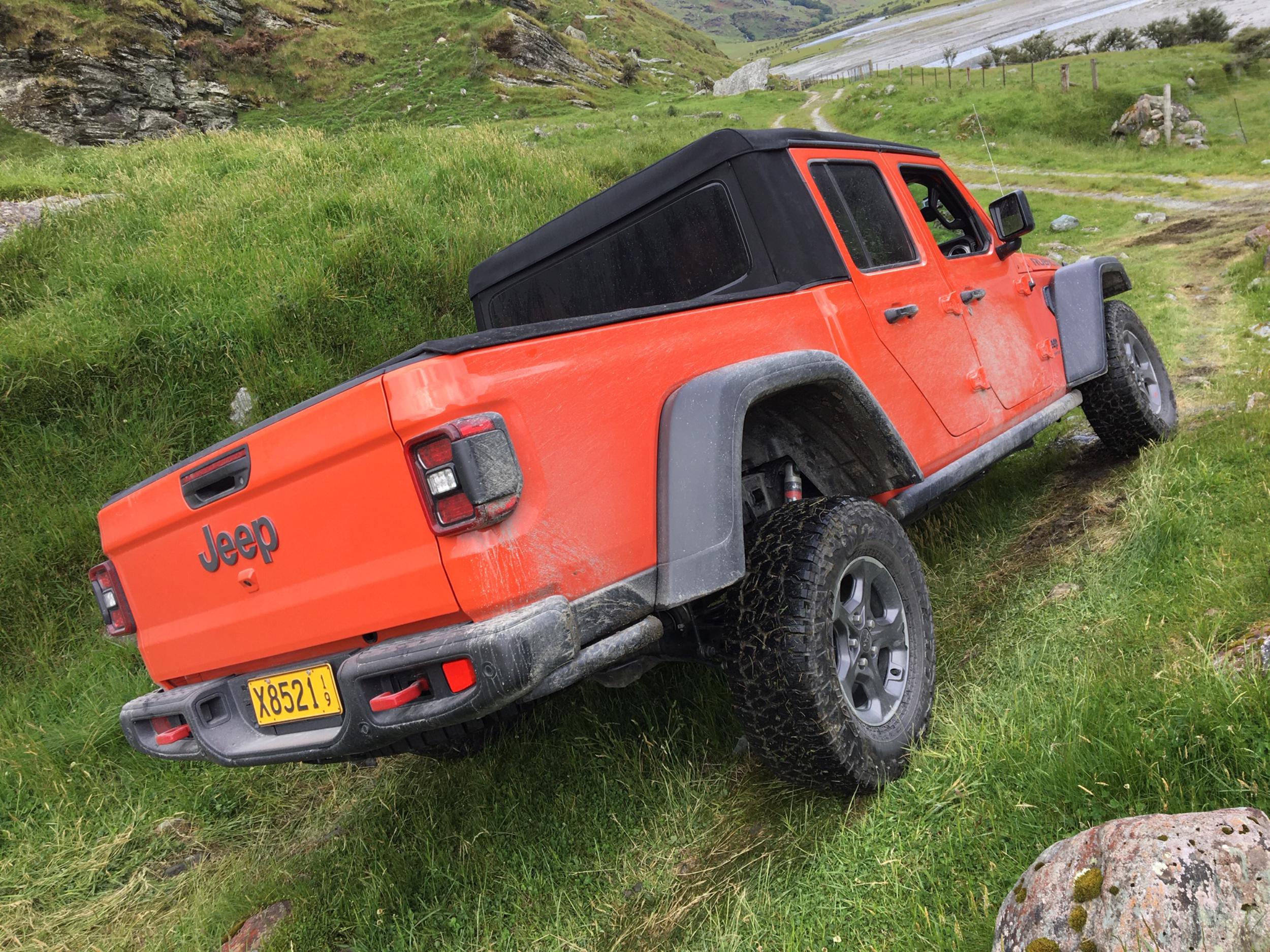 In a straight line, the Gladiator requires constant small steering inputs to keep it on the straight and narrow, and there's the odd jiggle through the wheel on less than perfect surfaces, but that's life with a live-axle front-end and you adjust surprisingly quickly. In the scheme of live-axle things, the Gladiator is very well behaved.
Under the Gladiator's hood is a 3.6-litre Pentastar V6 petrol engine that produces 209kW and 347Nm and boasts VVT (Variable Valve Timing) and ESS (Electronic Stop-Start). With a kerb mass of nearly 2,300kgs empty, the Gladiator is no flyweight, and the V6 provides adequate but not spectacular off-the-line performance. 
A diesel option would no-doubt be well received by many of the Aussie's looking at buying a Gladiator in the next year or three, particularly the US market Gladiator's 190kW/660Nm 3.0-litre V6 diesel, but for now, Gladiator is petrol-powered, and that might mean that it's a thirsty proposition in the field under load.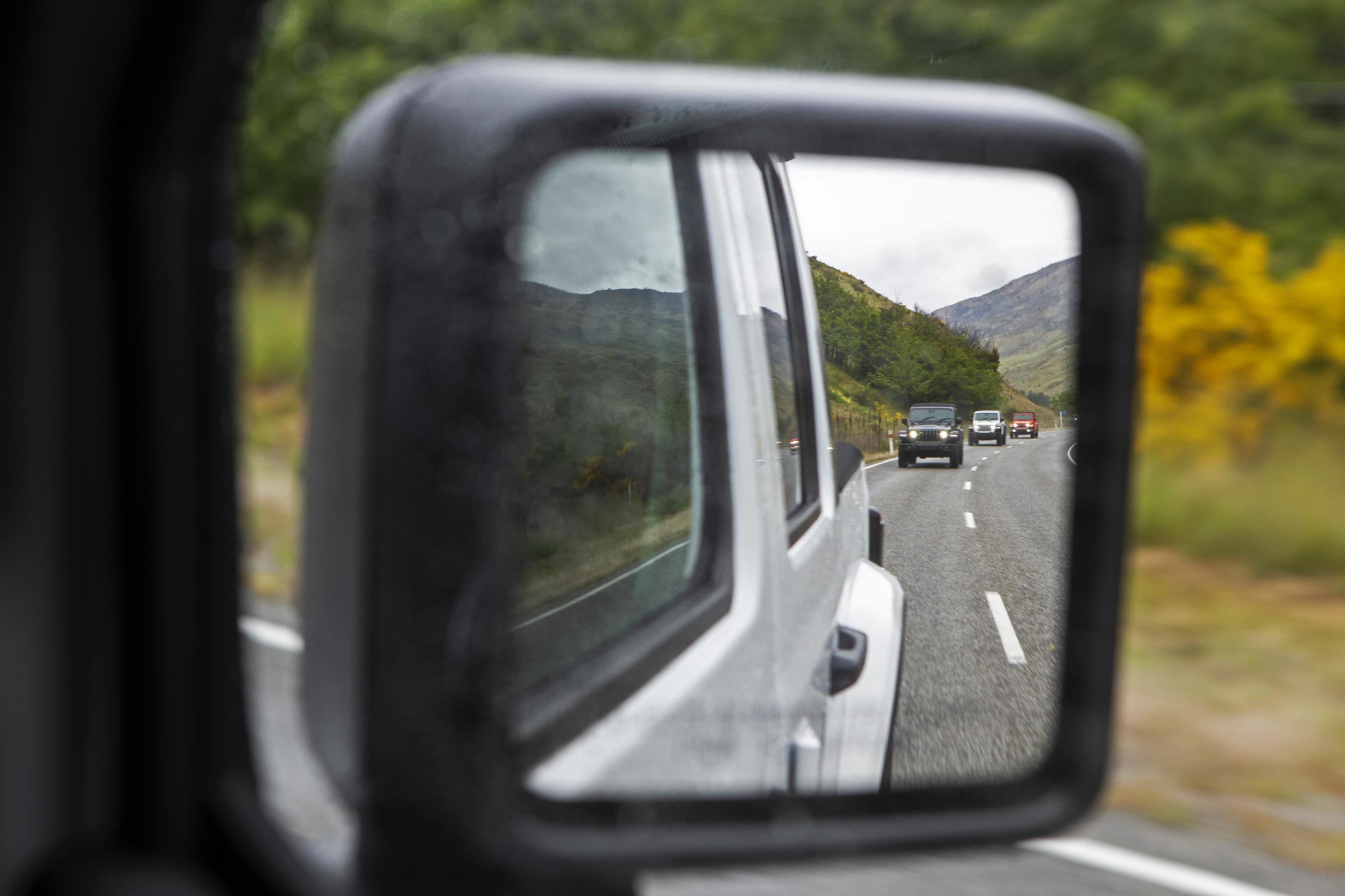 Conversely, diesel power is losing some of its shine with buyers, as ever more stringent emission controls add complexity and directly impact their reliability, while the comparative simplicity of the petrol engine is winning a new legion of fans. How many? Our West Australian correspondent Ray Cully recently wrote of the near 10,000,000 Pentastars that are doing service worldwide in a variety of Fiat Chrysler vehicles.
While the Wrangler Rubicon and the Wrangler Overland I'd driven recently in Australia were fitted with Jeep's Rock-Trac and Selec-Trac running a useful AWD/4WD transmission (similar to Mitsubishi's Super Select system) married up to an eight-speed auto gearbox, the NZ test Gladiator's auto trans was hooked up to a more basic part-time version of the Rock-Trac 4WD and the alternate Command-Trac systems. No biggie, but I do prefer the AWD mode of the full-time version on wet bitumen, dirt and pretty much everywhere else, as it feels more planted and predictable with the power going to both axles, rather than just the rear. Fingers-crossed the Aussie-spec ones have the AWD drivetrain.
As you'd expect, the Gladiator's interior is straight out of the JL Wrangler and we've had a couple of those on test now. Aside from the cramped driver's footwell, the RHD Wrangler's cockpit is a good one, offering plenty of comfort and surprisingly premium fit and finish. The Gladiator's we were driving in New Zealand were all LHD vehicles and I was surprised at how cramped I felt in the driver's seat, but that was just me not getting used to having no real estate to my left.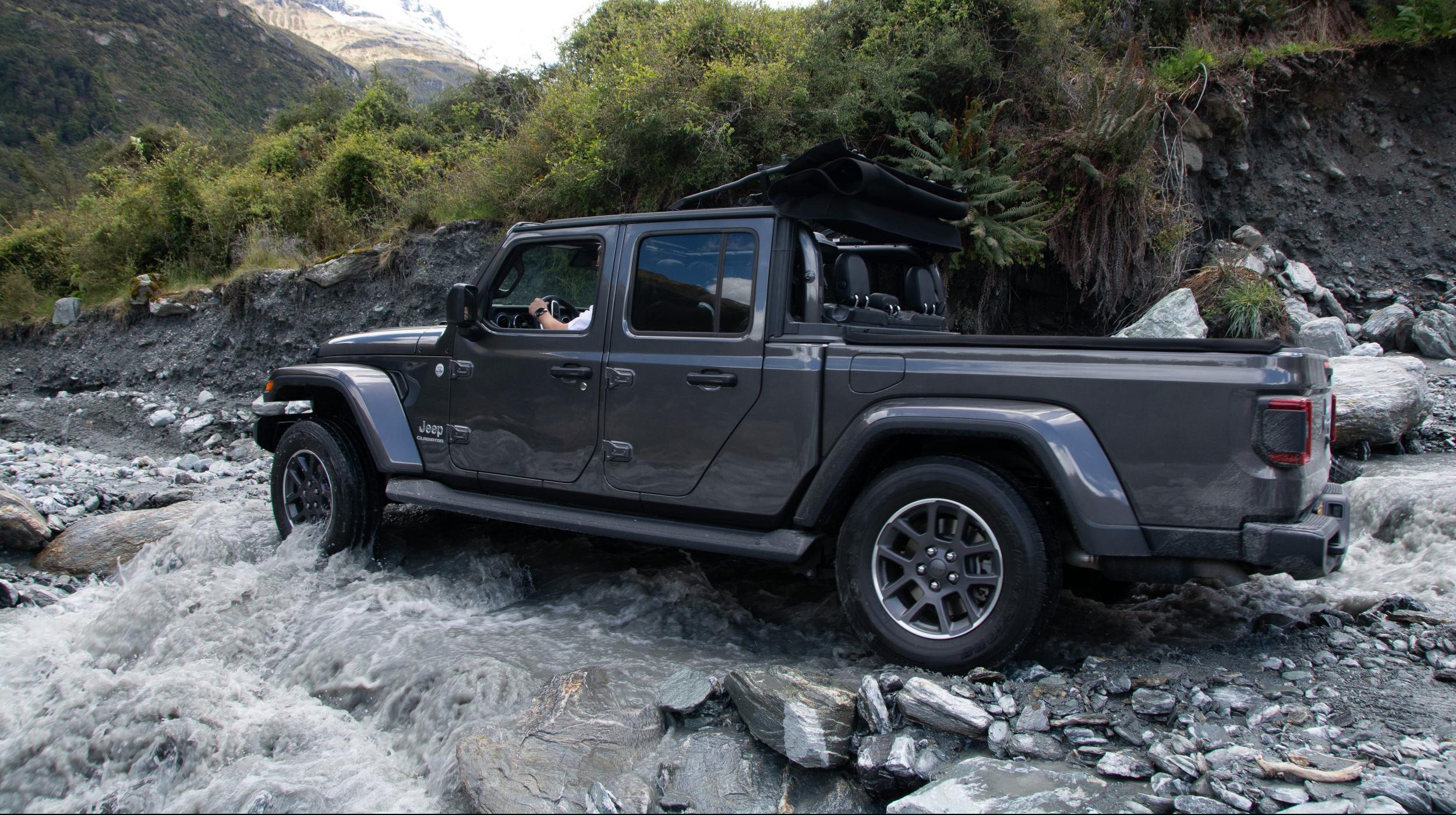 The test vehicles I drove featured a folding fabric convertible roof rather than the Wrangler's Freedom roof panels. The folding roof was easy to open and close but looked a bit ordinary with the arms and folded fabric bulked up at the rear of the roof space. Top-down it's a cool ride and appealing to the lifestyle Gladiator owners will likely entertain. We thumped it through some pretty deep standing water at speed, and I can report that with the roof closed it was tight as a drum, but with the roof open, expect to get a little damp. If I were buying a Gladiator, I'd go the front Freedom panels half-roof option and save on sunscreen.  
The Gladiator's tub is a bit special, as stock-standard it comes with a sprayed-on bed liner, a power-point and tie-downs. There isn't one of those pathetic and rust-creating drop-in plastic liners to be seen anywhere. The tub was designed by Taylor to be long enough, at just over two metres, to haul a pair of dirt bikes with the tailgate down. Taylor even ensured that the ribbing in the floor and at the back of the cab made it easy to roll or ride the bikes up into position to locate them and tie them down.
As nice as the tub is, there is one fly in the ointment, and that's its payload, which is just 620kgs against a total vehicle payload of 800-odd kilos, and that's well down on the payload ratings many of the current, mostly leaf-sprung, 4X4 utes boast. However, we all know that's mostly a crock of shit as the sub-standard stock suspension on most 4X4 utes will have sagged to the point of inverting when anything close to one-tonne is dumped in their trays.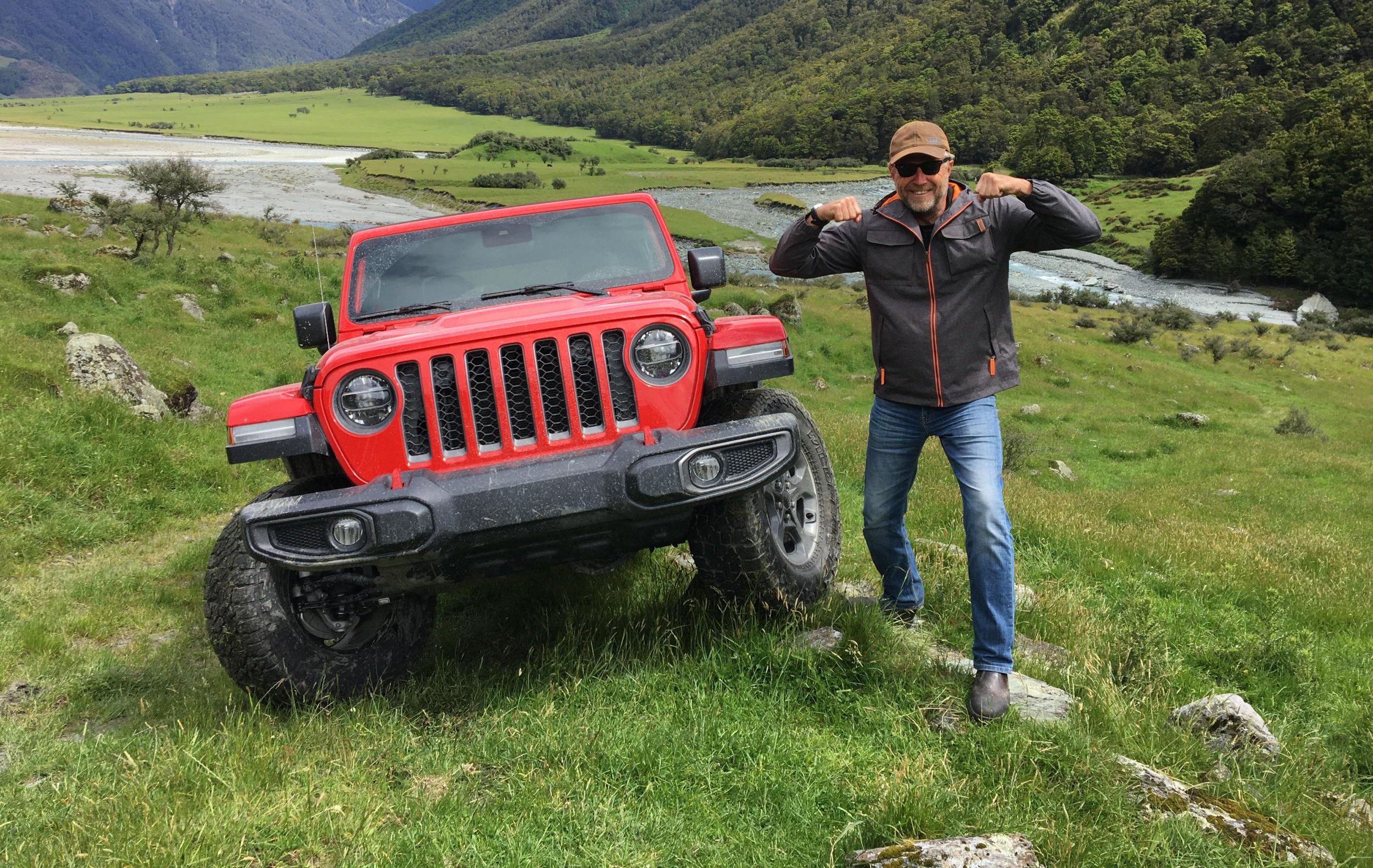 I pressed the Jeep folk on this and asked whether there might be a suspension upgrade in the offing to boost the Gladiator's payload but didn't get a quality answer. Perhaps MOPAR Bill will come to the rescue and if he doesn't, I'm sure the aftermarket will.
Towing capacity is a bit of an unconfirmed guess. Jeep's North American website suggests 3,400kgs, but we'll have to wait and see how that translates into Australian. 
Off-road the Gladiator is a demon, just like the Wrangler, and it comes with all the fruit that you expect to see in a real 4X4. Compared to Wrangler, both the ramp-over and departure angles have been compromised in creating the Gladiator, but Taylor made sure that there was enough strategically placed underbody protection built-in. I felt entirely comfortable that the inevitable scrapes encountered on the off-road circuit weren't going to do any damage to the Gladiator's drivetrain. The Gladiator's clearance when things are flat comes in at a whopping 280mm.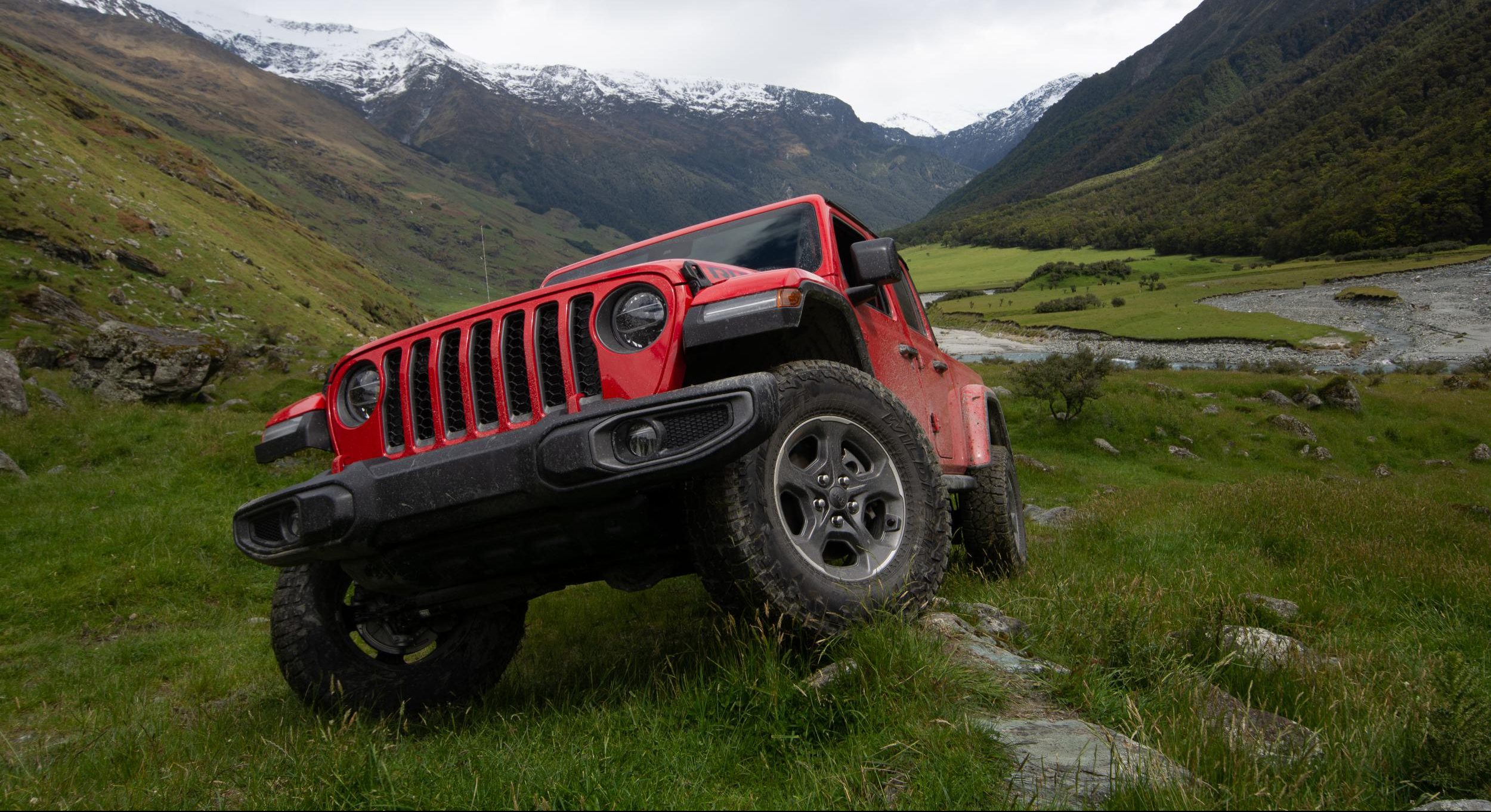 The Gladiator's stock suspension articulates nicely, thanks in part to the 2" lift that is included in Rubicon spec. The coils (front and rear) are nicely compliant and work in tandem with high-quality Fox shocks to smooth out rough tracks. In Rubicon spec, even more, flex is available from the front-axle by engaging the swaybar disconnect feature.
In low range the gear reduction is epic. When you've got a transfer case offering a 4:1 step, it's easy to end up with a 77.2 crawl ratio, so tippy-toeing over bumps is a piece-of-cake.
Get yourself into a bit of trouble? Likely no problem, because the traction control system is very well tuned, meaning it has a specific brake-traction-control tune for low range and it will engage at the first hint of wheel-slip. None of that holding higher revs than you want and waiting for the spinning wheels to be braked before rocketing ahead nonsense, the Gladiator's system is all 'deft-touch'. Now we all know that even the best traction control systems aren't as good as a couple of diff locks, and the Gladiator in Rubicon spec has a pair of those as well. There's a button with two settings, up for front and rear activation and down for rear only.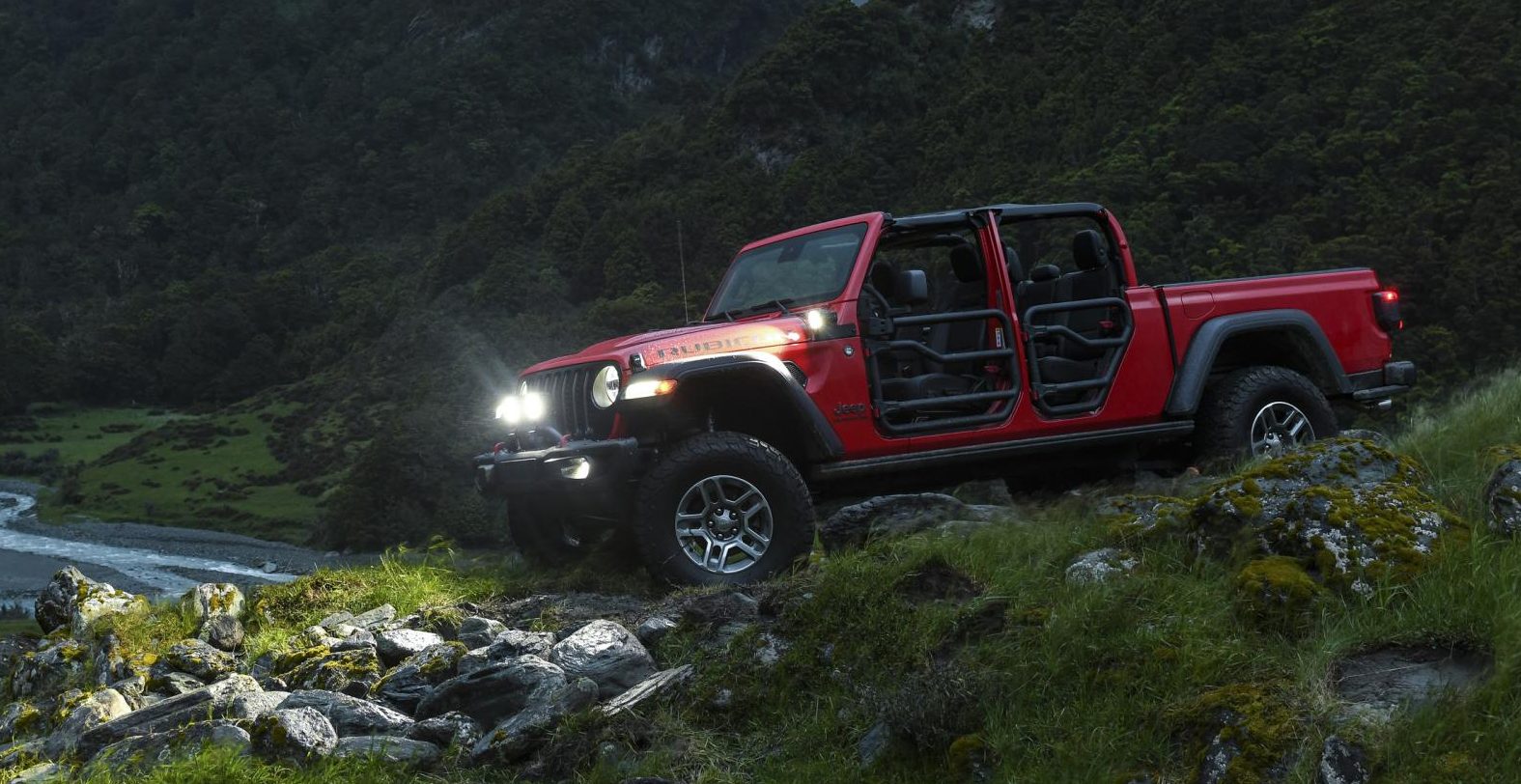 As we'd reported in Issue 009, the Wrangler Rubicon runs a 17" wheel fitment (because there's plenty of light-truck and off-road rubber in that size) whereas the Overland scores 18" wheels and junk passenger car tyres. The NZ Gladiator fleet was wearing Falken Wildpeaks in an LT285/70R17 (33") size on the Rubicons and Bridgestone 255/70R18 on the Overlands. 
The Gladiator is a vehicle that could lift Jeep's fortunes in Australia and there's a lot riding on it doing just that. The petrol-only option is going to hurt volume because Aussies love their diesels and I'll admit, the thought of a 3.0-litre V6 pumping out 660Nm is an extremely tempting one for me. I'll be watching future Jeep Gladiator announcements with a keen eye, just in case.
These days Editor Steane seems to prefer the simplicity and smoothness of petrol engines over diesels, so we've got a foot in both camps at Loaded 4X4 and look forward to seeing just what the Pentastar powered Gladiator will do on Aussie roads and tracks when we get one on test in the second half of this year.
I don't say this often, but after my New Zealand drive, I'd be prepared to put a Gladiator in my driveway. It's a good thing.