Second only to our love of 4X4s, is our interest in the innovative products that go with them and the adventure lifestyle they allow us to access. Aussie products in-particular get us fizzing, because we all know, buying cheap Chinese garbage, always, without fail, ends up being a waste of money.
There remains a small but vibrant aftermarket manufacturing industry in Australia, with companies like ARB, Milford and Pacemaker – we know because we've visited the factories – making top-notch gear right here in Oz and that should make us all proud.
Which brings me not so neatly, to one of ARB's recently released products, the BASE Rack. ARB's engineering team has put years into the design, development and testing of the BASE Rack and believes it's created a "revolutionary new roof rack that is sleeker, stronger, smarter and bound to impress".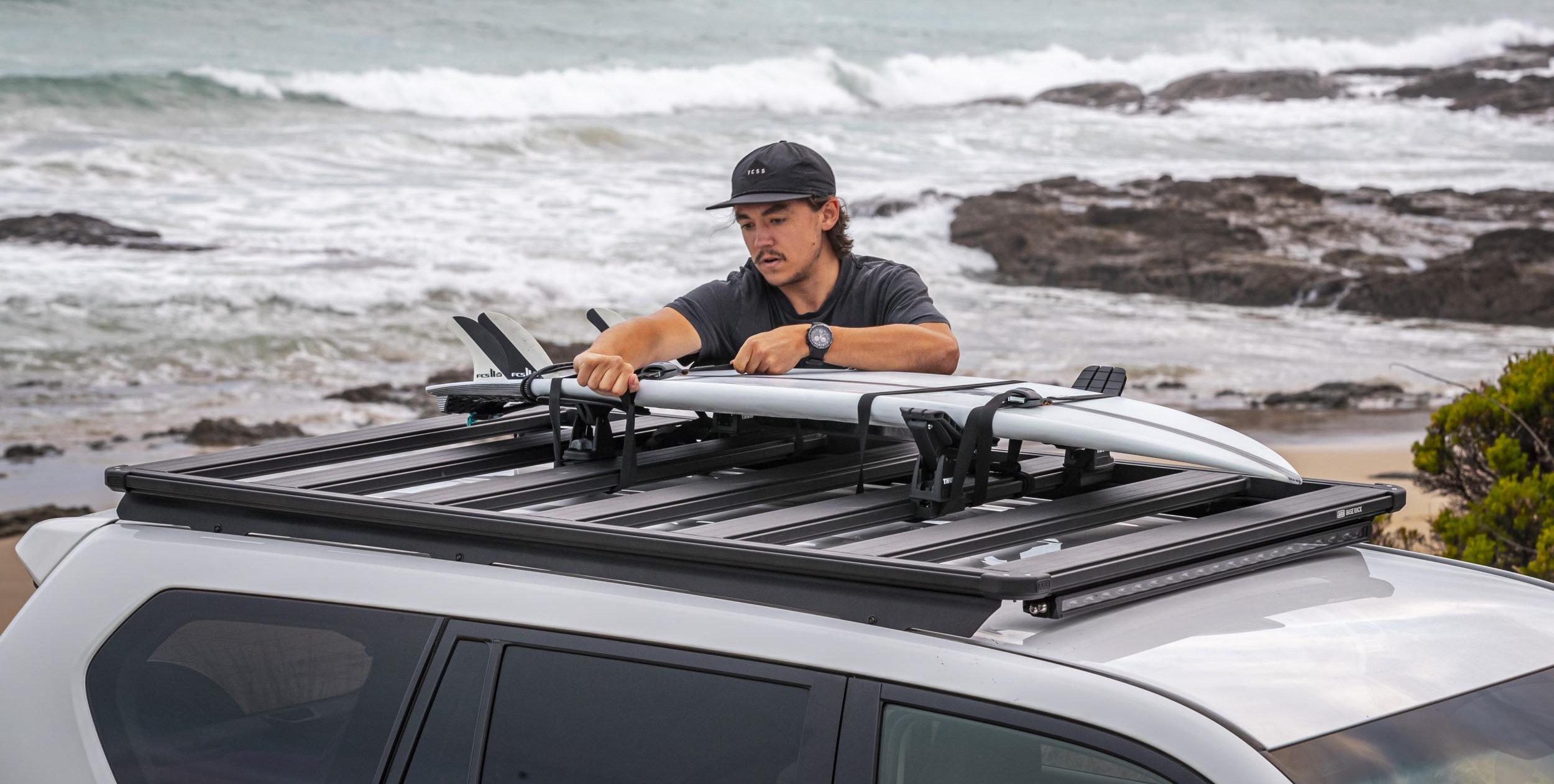 The Base Rack features a fully welded extruded aluminium design with beams that run the width of the vehicle. ARB claims it has the strength of the steel racks at a fraction of the weight. It's strong enough to avoid needing a sub-frame which has allowed the designers to sit it lower on the vehicle's roof, which means it looks nifty and no-doubt affects fuel economy less than a rack that sits higher.
A dovetail system features on both side profiles of the rack's internal beams and the external side of the perimeter beams, providing more flexibility to attach a range of accessories where you need them and without disturbing other cargo. The side mounting profile also provides full use of the beams' top surface and allows the beams to support cargo without worrying about protruding tie-down points.
The BASE Rack allows for quick and simple customisation, with options to keep it as a flat rack with no rails or purchase the kits to transform it into a rack with 1/4 rails, 3/4 rails, trade rails or full rails as you desire.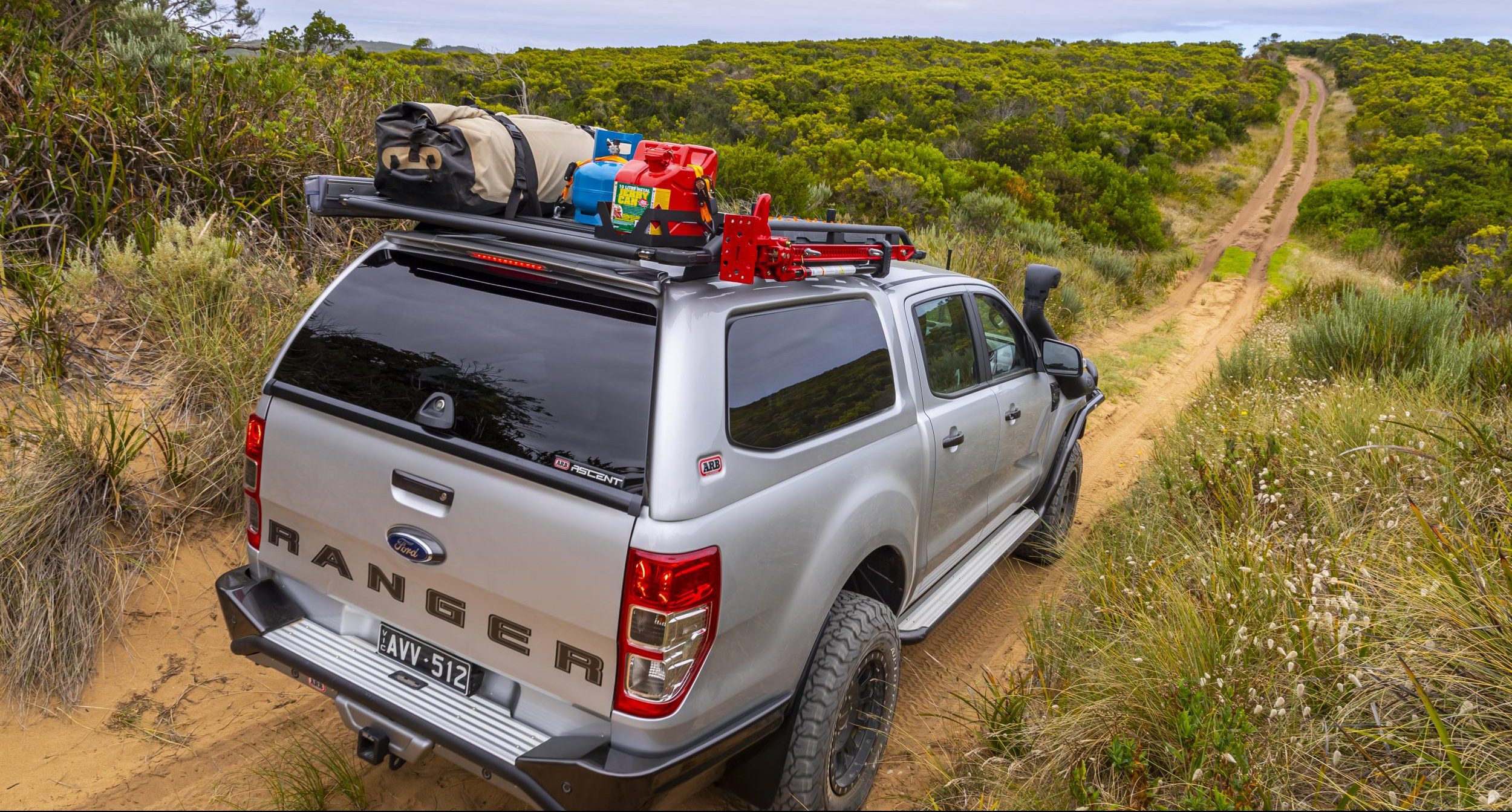 Here's what you can stack on your BASE Rack:
Wind deflector –  The wind deflector is available for a number of wagon models and works to keep exterior wind noise to a minimum. The only real fix for interior wind noise is reducing fibre in your diet.
Guard rail system – There's a full rail, 3/4 rail, trade rail or 1/4 rail available in a simple kit that you can attach and remove as required.
Eyebolt tie-down – A key accessory included in many BASE Rack accessory kits, the eye bolt tie-downs provide a secure lashing point for standard J-hook ratchet and cam buckle straps and can stay on the rack while not in use. Sold in a pack of four.
Spring-loaded tie-down – Featuring a simple one-handed operation, these are great for one-off needs and quick loading and unloading.
Ratchet strap – A simple ratchet strap but the common J-hook is replaced with a custom dovetail hook that will stay in place once it's on the rack, so you won't lose the connection when you walk around to the other side to tighten.
Spare wheel Y-strap – Sounds a bit like a pair of undies but it's so much more. These spare wheel straps are easy to use and secure in place. Simply weave the two adjuster straps through the Y plate and feed the third strap through the ratchet and tighten. The straps incorporate the unique dovetail hook, resulting in no requirement for additional tie-down points.
Awning bracket – Available in classic and quick-release versions, you can quickly mount your awning to the rack securely.
Hi-Lift jack holder – If you have your Hi-Lift jack on display, people know you are a bloody serious off-roader. Keep the dream alive by making sure yours is always where people can see it with either the classic jack attachment or the premium mount, which includes a quick-release function, jack cradle and security feature. Just don't drop it on your head.
Roller kit – Alleviate the struggle of loading long or heavy items such as timber by adding the roller kit to the rear or sides of the rack.
Roof rack light bar – Specifically made to suit the BASE Rack, the light bar also has an aluminium body with black powder-coat finish. It's slimline and has a strong performing combo beam with the option to mount in front of the rack or under the rack as desired.
Recovery track holder – Now we're getting serious. All 4WDers should have a set of these bolted to their 4X4. They scream 'I'm an adventurer' in much the same way as that surfboard you bolted to the Sandman back in 74, said 'Yes baby, I'm the dishevelled hobo for you'. Features a set of brackets that connect to the dovetail track at any point on the rack and allows the manufacturers' original mounting hardware to be added to hold the recovery tracks in place.
Gas bottle holder – Tossing your gas bottle in the back with the kids, isn't ideal. They'll turn it on or let go of it in an accident. Keep your gas bottle, and your kids, safe and secure when travelling with this handy holder. Capable of holding two-kilogram to nine-kilogram bottles, it incorporates a baseplate for the gas bottle to lock into and secures with eye bolts and strap.
Jerry can holder – There are four variations available with the option of double or single holders in either horizontal or vertical configuration. The brackets are fitted with beam guides to ensure even distribution of weight across the rack.
T-slot adaptor –  It can attach to the dovetail track at any point on the rack and allows fitment from a range of roof rack accessory manufacturers that use the T-slot system.
The ARB BASE Rack starts from $1140 and is available in-store now.
Vehicle fitments:
Below is a list of canopies and vehicles that BASE Rack mounting systems will be available for at the time of launch. Mount kits are not available for all rack sizes for all vehicles and canopies; customers are encouraged to contact their local ARB store or stockist for more details.
ARB Canopy
HiLux (2015+)
NP300 (2015+)
Ranger (2011+)
BT-50 (2011-2020)
Triton (2015+)
Colorado (2012+)
D-MAX (2012-2020)
Amarok (2010+)
X-Class (2018+)
Toyota:
200 Series
100 Series
80 Series
70 Series
60 Series
Prado 150
Prado 90
Nissan:
MQ Patrol
GQ Patrol
GU Patrol
Y62 Patrol
Ford:
Maverick
Mitsubishi:
Pajero (1991-2000)
Jeep:
JL Wrangler
XJ Cherokee
Land Rover:
Defender
Range Rover Classic
Suzuki:
Jimny (2019+)