If this isn't the best value 4X4 ute in Australia, then I'll stand rooted.
For those of you that like your performance cars and are old enough to remember, this is a take on a famous line penned by Bob Murray in the 80s when he described the Brock VH Group 3 SS Commodore as "the best sports sedan for the money in the world…".
That was back in the days when a 15 second quarter was considered bloody decent, and motoring journalists knew how to get an enthusiast's heart racing with words, rather than farting out, boring, spec-sheet-based, cookie-cutter blurbs as is the norm today. It's not all doom and gloom though. While the golden age of motoring journalism in Australia may be well behind us, we remain blessed by the existence of driving machines that make you feel glad to be alive, and the Raptor is one of them.
And don't worry, I'll explain why I'm paraphrasing Bob and making such a bold statement about a 4X4 ute that costs $74,990 before on-roads in a tick. It's also the best 4X4 ute in Australia, but I doubt that'll surprise any of you.
We were late getting our hands on a Raptor, partly because we are based in Adelaide, which could for all the world be a million miles away from the East Coast when it comes to press fleet access, and partly because the Raptor fleet had been decimated by accidents. Not bad accidents, thankfully, but accidents bad enough to sideline a brace of Raptors and when every reviewer in the country is trying to get the keys, that makes it, well, difficult.
To get our hands on this particular car I had to travel to Melbourne, drive it back to Adelaide and then return it to Melbourne, so it's fair to say that I put some serious wheel time in with the Raptor and it, in turn, made a profound impression on me. TREV our Project Triton is my litmus test when reviewing 4X4 utes. If I can jump back into TREV after a week in the latest and greatest 4X4 DC from another manufacturer, and not feel pangs of longing for the one that just got away, then I know the bar hasn't been raised too far above what a mildly modified MQ Triton has to offer. And that's pretty much been the case until the bloody Raptor came into my care. In the post Raptor world, TREV will only ever be, just another ute and that pisses me off just a little. I'd happily swap TREV for one of the crashed Raptors and take my chances with a couple of rolls of race tape and a packet of cable ties. It's just that bloody good.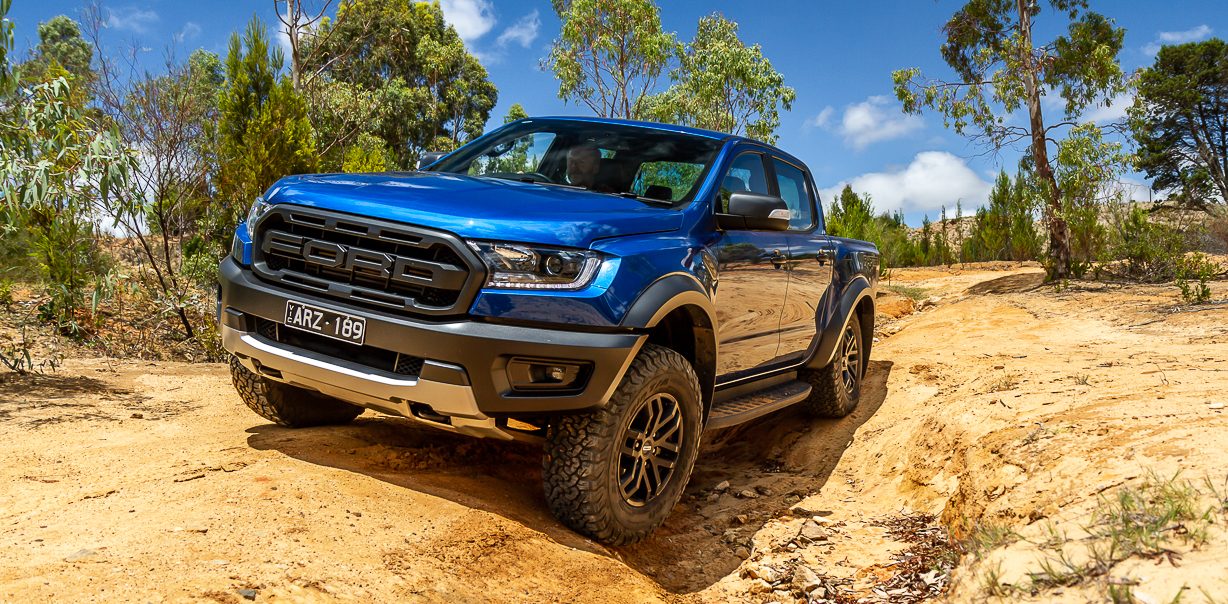 The first thing you notice about the Raptor is its size, or more accurately, its width. Ford use the Ranger as the starting point for the Raptor, but enough has been changed to make them two quite different vehicles. The Raptor's wheelbase is a massive 150mm wider than the Rangers, and its unique to Raptor bodywork has been pumped to house the factory fitted BFG LT 285/70/17 KO-2 All-Terrain tyres. Those shapely front guards are made from a 'durable composite material' and designed to accommodate the Raptor's wide stance and increased suspension travel. From the driver's seat, this is one wide Martha Focker, and there's an adjustment period when you first hit the road, as the Raptor lays claim to some serious lane real estate. That wide stance is just one key part of the Raptor handling recipe.
Another is the strengthened frame and Ford's claim that the Raptor 'can handle punishing drop-offs most other trucks wouldn't survive'. Now we didn't spend hours jumping our test vehicle over every mogul we could find, cos that would be stupid wouldn't it, but we did push it harder over one particular sand berm than we'd ever consider doing with any other vehicle, and the Raptor shrugged it off. That strengthened frame is seriously tough, and it would appear, a very solid platform from which to mount a weapons-grade suspension setup and coiler rear end.
Yep, that's right, coils. Have we ever mentioned we hate leaf springs? The Raptor's rear suspension is a Watts Link rear axle with coil-over 2.5-inch Fox Racing Twin-Tube shock absorbers with remote canisters. The front independent McPherson strut arrangement also uses 2.5-inch Fox Racing Twin Tube shocks. All up, there's a claimed 30 per cent increase in suspension travel and a massive 283mm of ground clearance. Stick your head under the Raptor, and the Fox Racing shocks dominate the scenery. It's gotta be what, $10k+ worth of hardware, by the time it's dialled in to work as well as it does in the Raptor?
And let's not forget the brakes, because there's none of that rear drum brake nonsense going on here HSV. Ford has equipped the Raptor with 332 x 32mm discs upfront and, 332mm x 24mm discs in the rear and they work a treat, offering a noticeably better braking experience than the Ranger and any other 4X4 ute I've driven. You might think your 4X4 ute with its crappy drum brakes does okay, but okay isn't good enough in the year of our Lord 2019.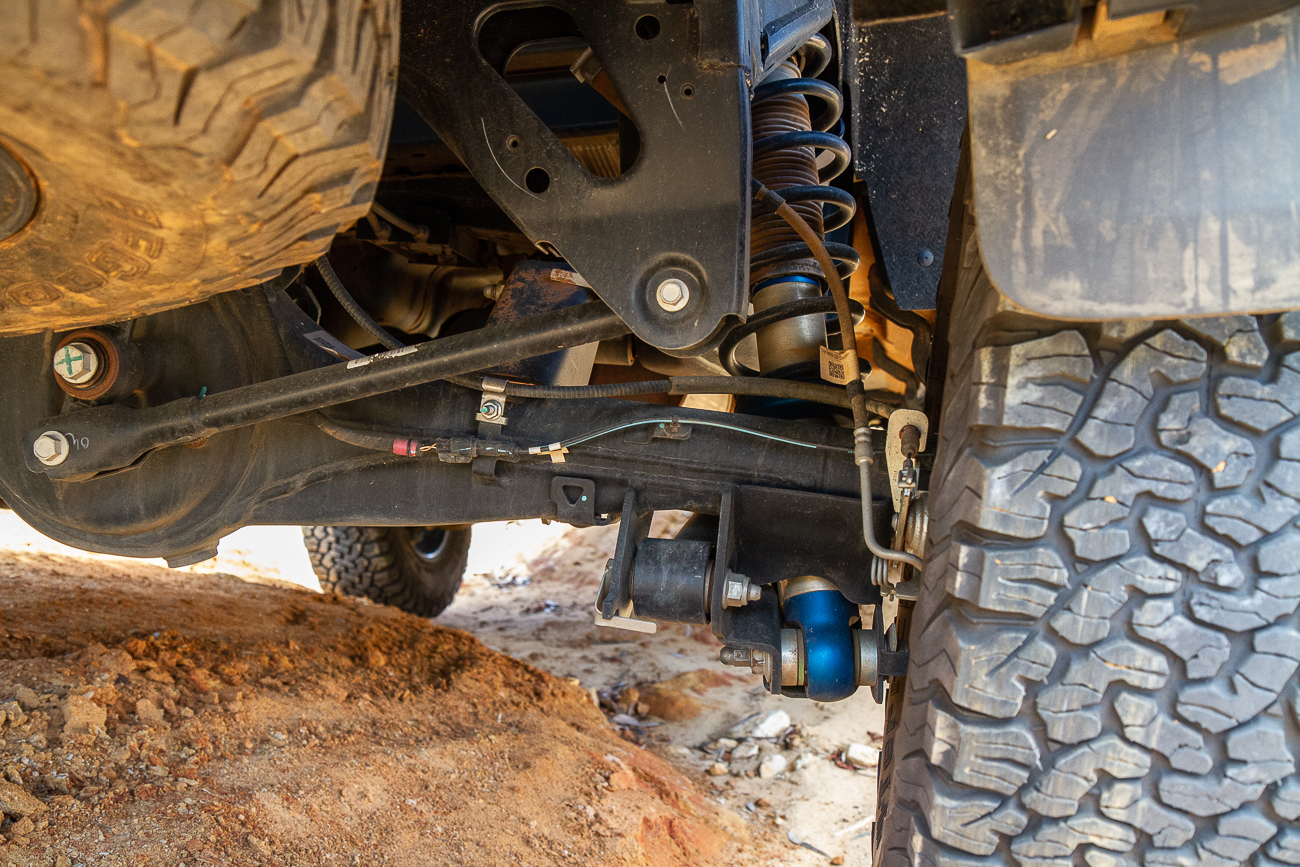 Out on the road or track, the Raptor is a revelation. Forget the Ranger, forget all the other utes, nothing rides or handles better than the Raptor. That wide stance, strengthened frame, coil rear-end and Fox Racing shock combination is killer. If you still think the Ranger and the Raptor are similar, you haven't driven them both. The Raptor's Fox suspension is telepathic in the way it deals with road irregularities, to the extent that you forget how bad your local area roads are until you step back into any other ute. As David commented during our Raptor v Ranger towing contest, the Raptor rides and handles so well, it makes the Ranger feel like a 'cock in a sock', and he's spot on. You might be wondering how either of us knows what a 'cock in a sock' feels like, and, well, we don't blame you.
The Raptor has been built to soak up the undulations of an Outback track at high speed, which is mostly a pointless goal – nearly wrote gaol which may be more appropriate – in this country, and that just serves to sharpen its on-road ability. Particularly rough sections of broken bitumen will still be felt, but for the most part, the Raptor smooths out what it's rolling over, with a softly sprung ride and extraordinary shock dampening and wheel control. It's reminiscent, albeit on another level – you'll have to work with me here – of how the old Land Rover 110 County used to ride, with their light coil springs and Bose rear load leveller arrangement. Their springs were just heavy enough to hold the body at the right height, and good quality shocks were used to control the springs. The result was a smooth ride over rough roads or even gutters, and a well set up 110 or Defender – one that isn't over-sprung – still provides one of the best off-road rides you can experience.
I clocked up more than 1,500km on the highway with the Raptor, and it offers a highway touring experience that no other ute that I've driven can match. Sure, there are a handful of utes with bigger engines and more grunt, and we'll get to that later, but from a holistic perspective, the Raptor out drives them all. David subjected the Raptor to his 'Wombat Test' and found that you could swerve at speed around the average-sized Hairy Nose and only cop one wriggle out of the Raptor's rear end before the electronics kicked in to keep you on the straight and narrow. That's par for the course with most of the other utes, HiLux being the famous slacker in this department.
Off-road the Raptor has everything going for it, except its wide stance. If you frequent tight High-Country fire trails, then you'll find the Raptor more than a handful. Width aside, it's easily the most capable new 4X4 we've put around our Adventure Playground in the Barossa. There's oodles of wheel travel, and plenty of clearance, that combined with a fast-acting and progressive traction control system, saw the Raptor clear our usual cross-axle tracks with consummate ease. A big bonus is the abundant front-end clearance afforded by the Raptor's factory front bar arrangement – it's steel, mounted to the chassis and features recovery points – and I'm guessing it offers similar clearance advantages to some aftermarket tube bars.
On the subject of barwork, the steel rear bar is also chassis mounted and equipped with recovery points and the wide – possibly too wide as they are easy to run a leg into – sidesteps have enough clearance to avoid touch-downs around our test track. There's adequate underbody protection, particularly up front, where the radiator, intercooler and sump are vulnerable.
Now, how many times have you read "two litres only comes in milk cartons" when following some commentary about the Raptor's 2.0-litre bi-turbo diesel engine on social media? Lot's I'm guessing, and we were there poking a bit of fun at the little four-pot just before the Raptor's launch in issue 003 of this magazine. Like everyone else, we were secretly hoping for a tuned version of the 3.2-litre five-cylinder that powers the Ranger, or better still, the 3.5-litre V6 turbo Ecoboost engine that powers the F150 Raptor in the States. Yeah, that'd be just the ticket.
But we were wrong. As I alluded to earlier, the Raptor is a holistic approach to a performance 4X4 ute. The spotlight isn't on any one aspect of the Raptor; each piece has its job. The track width increase, coil-sprung rear end, Fox shocks, and disc brakes all come together to make the Raptor the most planted feeling and best handling production vehicle of its type on the Australian market.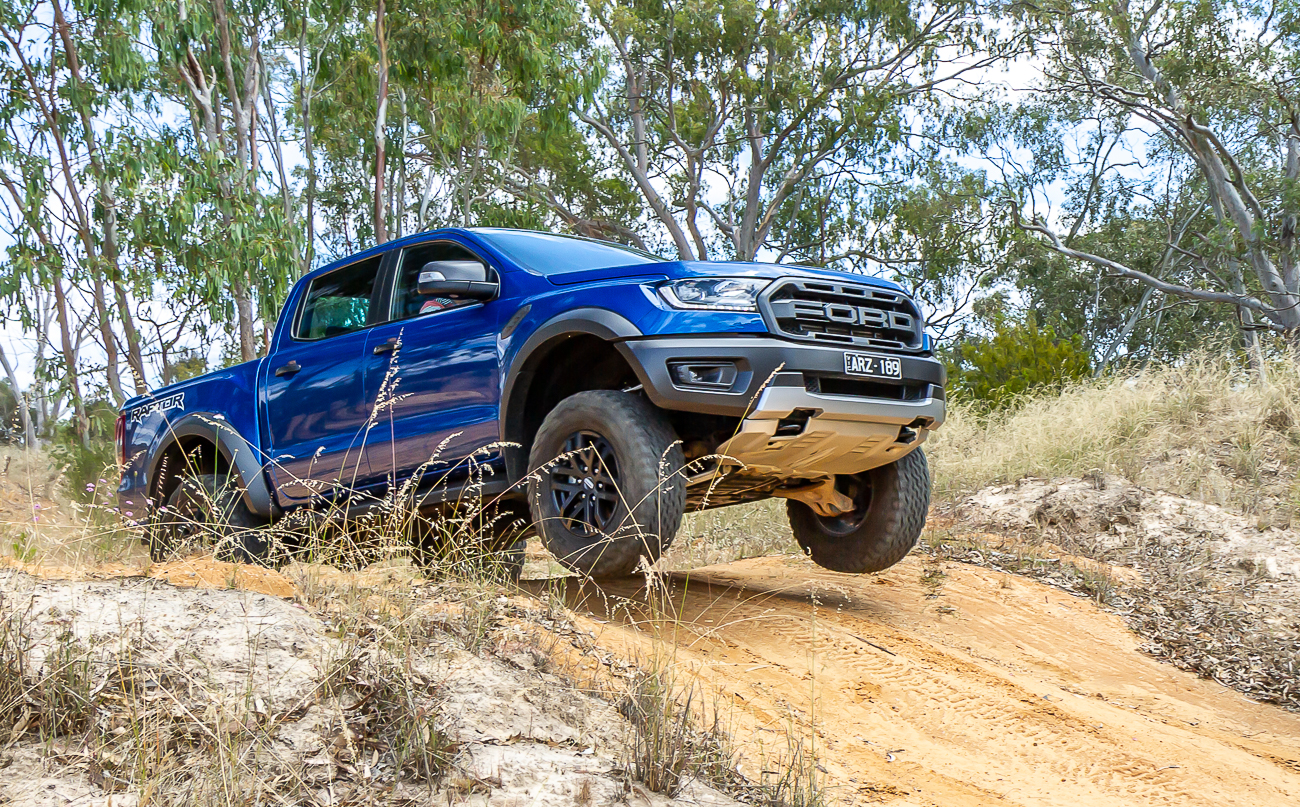 It's the same with the drivetrain. The 2.0-litre bi-turbo diesel produces 157kW and an even 500Nm, which is a smidge higher on both counts compared to the Ranger's 3.2-litre turbo-diesel. Interestingly, the Raptor's engine produces its peak torque figure in a narrow band between 1750 and 2000rpm, and that's often where you see the tacho needle hovering.
Hook this engine up to the six-speed from the Ranger – it's really a four-speed with two over-driven ratios – and yes, I'm guessing the 2.0-litre will be an uninspiring performer. Plonk it in front of the Raptor's ten-speed auto – seven gears up to direct drive and three overdriven gears – and the game changes, a lot.
The ten-speed auto works almost seamlessly to keep the Raptor's engine on the boil, to the point where it feels almost CVT-like in the way it works. There's none of that sense that the engine needs to work its way up through the rev range to find its sweet spot in each gear, it's just there, in the right rev band, tensed and ready to push on, or a split-second gear change away at worst. It's like comparing a semi-automatic and bolt action rifle. Both get the first shot off the same, but the semi-auto has the next bullet in the breach in the blink of an eye, ready to fire and that's how the Raptor's drivetrain feels.
The ten-speed auto is a very smart box, and to be honest, the only time the paddle shifters have any advantage is when you're punting the Raptor hard on a winding road and want direct control over the gear choice, even then, the electronics won't always grant you your wish. With a handful of exceptions, I left the auto to its own devices and found little wanting. I'll go so far as to say; it's my favourite 'piece' of the Raptor. I honestly don't understand why every other review I've read about the Raptor pays lip service to this gearbox and fails to mention the crucial role it plays in the Raptor's drivetrain. Maybe it's considered more appropriate to pander to the overwhelming feedback from the various peanut galleries claiming that the 2.0-litre engine just doesn't cut the mustard?
If you're a traffic light bandit, then the Raptor probably isn't for you. Full throttle take-offs from a standing start are brisk but not mind-blowing, with Ford claiming a 10.5 second time for the 0-100km/h sprint. You're going to lose at that childish game, to other lighter and one or two more powerful utes. The thing is, when you've eventually grown up, you will no longer care, as you'll come to realise that in the real-world, standing-start performance is an illogical yardstick. The Raptor's speciality is piling on the pace once its mass – it weighs in at a portly 2,404kgs or 115kgs more than a Wildtrack – is on the move and the ten-speed auto gets its groove on. In real-world situations, there's more than enough performance, with plenty in reserve for highway overtaking events. And it sounds sexy doing it! Ford has managed to extract a pleasing exhaust note from the 2.0-litre bi-turbo, a rarity in the diesel ute world.
Sure, Ford could bung a bigger engine in, but in my opinion, that's not what is missing. The only item possibly missing from the Raptor recipe is AWD. In the wet, it's very easy to spin up a rear wheel and the traction control can take its sweet time coming to grips with the situation. AWD just improves the wet weather driving experience in general. The F150 Raptor has it and adding a centre differential to our Raptor would, in my opinion, be a smart move, given the price point.
At this point, you'll be thinking that I've gone all gushy over the Raptor, and you'll be right, but that doesn't mean there isn't a let-down or two. The interior, for a ute with a big price tag, doesn't feel special enough. The Raptor's front seats are excellent, but from there it's a sea of 'taxi plastic'. Sorry…in my opinion the worst thing Ford ever did was sell Falcons into the taxi industry. Every Aussie Ford since has somehow managed to retain that taxi DNA in its interior design and surface treatments. In the Raptor/Ranger it's combined with some dubious, chunky, Fisher Price styling and cheap-looking lower centre dashboard section where the difficult to see and read HVAC controls are located. Oh, and the matt finish on the dash trim above the glovebox is dreadful. My style might not be your style, but the interior of the Raptor left me feeling underwhelmed for about as long as it took for the driving experience to overwhelm, which wasn't long.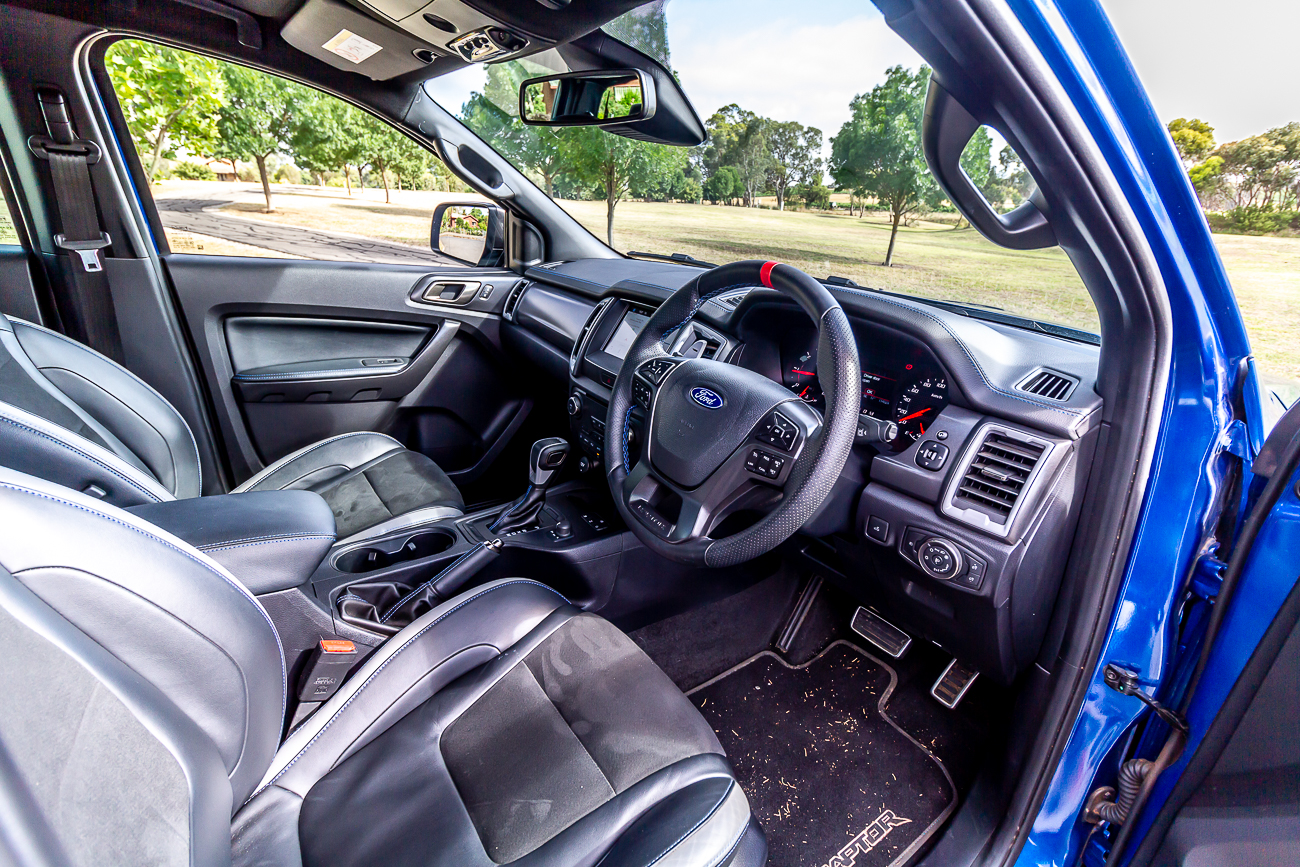 The sound system is average at best. The infotainment screen in the centre dash lacks the bright colours and crystal-clear resolution that can be found in other vehicles, the MQ Triton for example. The Raptor's Ford Sync3 infotainment system, on the other hand, works well and features both Apple CarPlay and Android Auto.
I'm not a huge fan of the main instrument panel, in fact, I don't really like the one in the Ranger either. I find the instruments difficult to read, with my less than perfect eyes, and the whole shebang just feels a bit too busy. Simple, clean and straightforward is the way to go here, and that's not the Raptor or Ranger.
A speedo that pretends to be close to accurate would be nice. Yeah, I know they all err on the side of caution, but the Raptors is more cautious with its under-reading than most. The inaccurate speedo is joined by what I'm confident is an out of whack fuel economy read-out, that was showing 8.9 L/100km on the trip from Melbourne to Tailem Bend, but the Raptor swallowed a fuel load that had it using around 10 L/100km according to my bush (in the head) calculations. You know, 600kms driven and 60 litres used, doesn't equal 8.9 L/100km.
As much as others bang on about the safety tech, I struggle to find some of it, lane keep assist, for example, anything more than just an annoyance. I've spent decades driving cars and somehow keeping them in the correct lane; it's not the bloody difficult, is it? I switched the wobbly steering wheel off pretty quickly.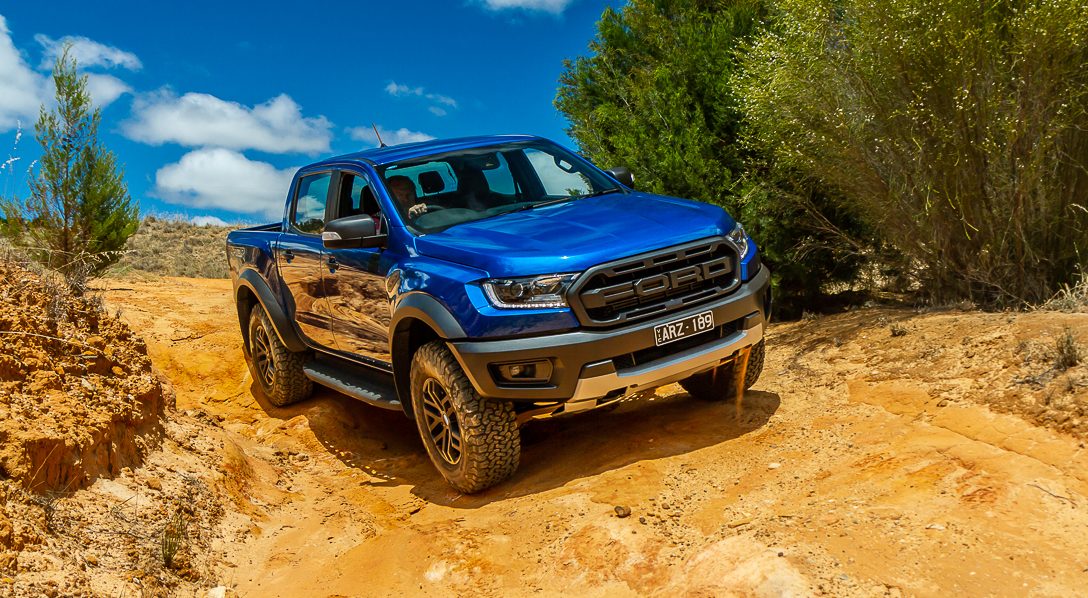 I won't argue with the obvious benefits of real life-saving tech, like autonomous emergency braking…if only the Raptor had it. These days it's required if you want a 5-Star ANCAP rating, and I read somewhere it will be making an appearance, at some stage, in future Raptors.
Speaking of turning things off, there is no way to turn off the Raptor's engine stop-start annoyance. I'm guessing it's there to help meet Euro 5 requirements, but what an arse of a technology that one is.
While the interior ambience didn't take my fancy, the Raptor's robustness did. Our car had clocked over 10,000 km, and if the red dirt stains on the front lower control arms and the fine layer of red dust across the interior plastics was any guide, this was one of the original launch cars that saw plenty of hard Outback miles with ham-fisted scribes at the wheel. We've recently seen photos that suggest it's been given a right royal spanking at the hands of the press since the launch, so factor in numerous high-speed drives over rough terrain and of course the requisite jumping they all feel they have to do with a Raptor. It'd required a wheel alignment before our loan, and we know this because it tracked perfectly, but the steering wheel was cocked clockwise a couple of hours. The fact that this car felt tight as a drum and there wasn't a single – not one – vibration or rattle inside or outside over the course of our loan and 2,500kms of driving speaks volumes.
Oh, and the Raptor tows a load noticeably better than the 3.2 equipped Ranger, and a two tonne plus trailer doesn't, in our experience, see it dragging its arse along the ground like Grannie's worm-ridden poodle or a Series 1 NP300 Navara.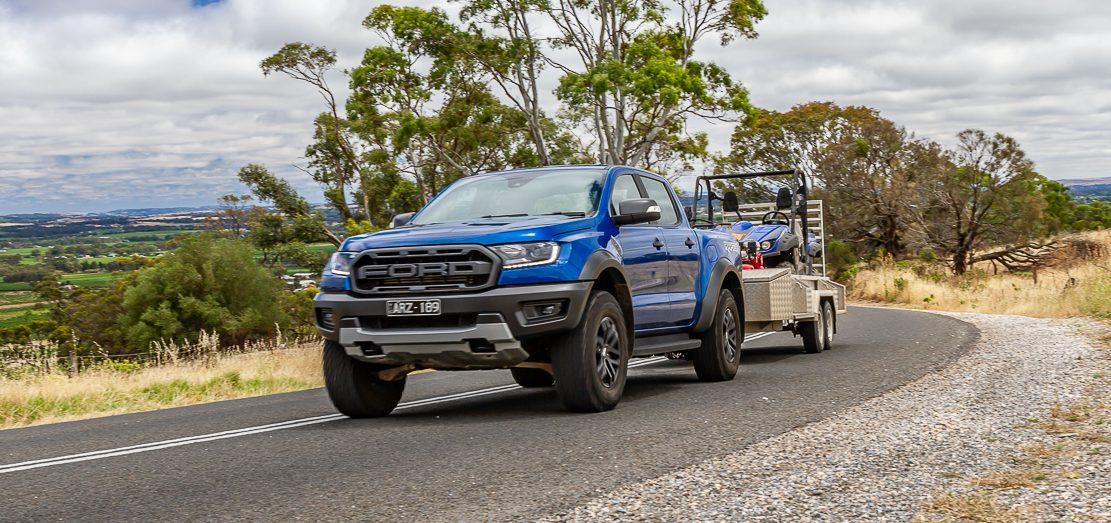 Here's how I see it. Wheels, tyres, suspension, bar work, underbody protection, clearance, capability, disc brakes and coils, the Raptor's got it all straight off the showroom floor, and it's all covered by a factory warranty. If you want a ute for off-roading, you can buy a Raptor and not need to spend another cent. Having been engineered to run as it is from the factory, there are no 'modification compromises' to live with, it just works, and works better on and off-road than any other new 4X4 ute ever has, by a country mile.
Sure, the Raptor 'only' has a 2,500kg braked towing capacity and a 758kg payload, but that's plenty for a whole lot of people. In fact, by the time you've finished adding all of the fruit to any of the other utes, that's around the payload you'll end up with, maybe less. You could spend $20,000, or considerably more, modifying the crap out of any of the other utes and still not end up with a ute that is as capable and well-rounded as the Raptor and that, as far as I'm concerned, makes the Raptor the best value 4X4 ute currently on the market. If you want to tour, then pack light, leave the coffee machine and the kids' bikes at home and enjoy the driving experience. You won't regret it.
What we haven't done is properly test the Raptor in low-range in steep country and our limited time with the Raptor off-road didn't allow us to fully explore its terrain management system, which is a great excuse to borrow one again! A Raptor v High Country review? Fatboy on a fire-trail? It needs to be done.