AFN 4X4 Australia is one of the distributing partners for AFN Portugal, the head office and manufacturer of AFN's range of 4WD accessories. AFN has developed 4WD products that will interest anyone looking to kit out their vehicle with a style that's a little different to what we've become used to. Diversity is always a good thing, engineering solutions tackled from another way of thinking, in this case, a European touch that adds some fundamentally different style.
Now in case you're thinking what would Europeans know about 4WDing, I think you better have a look at where Portugal sits on the world map. Not only is there a very healthy 4WD competition scene on the European continent, but that land mass of Africa sits just across the Strait of Gibraltar and Tangier in Morocco is just a 9-hour journey from AFN HQ near Porto.
Plenty of European 4WD folk go trekking into North Africa and the trails are every bit as difficult and diverse as those we get back here. That means their development and testing opportunities are a lot like ours. AFN has been in business since 1995.
Now, this Issue 007 of Loaded 4X4 Magazine is a bit of a Jimny-fest because we're celebrating the launch of new Jim in Australia. We were also naturally curious to see what the aftermarket has in store for the vehicle and Gavin from AFN 4X4 Australia dropped us a line with some detail on AFN's new bull-bar.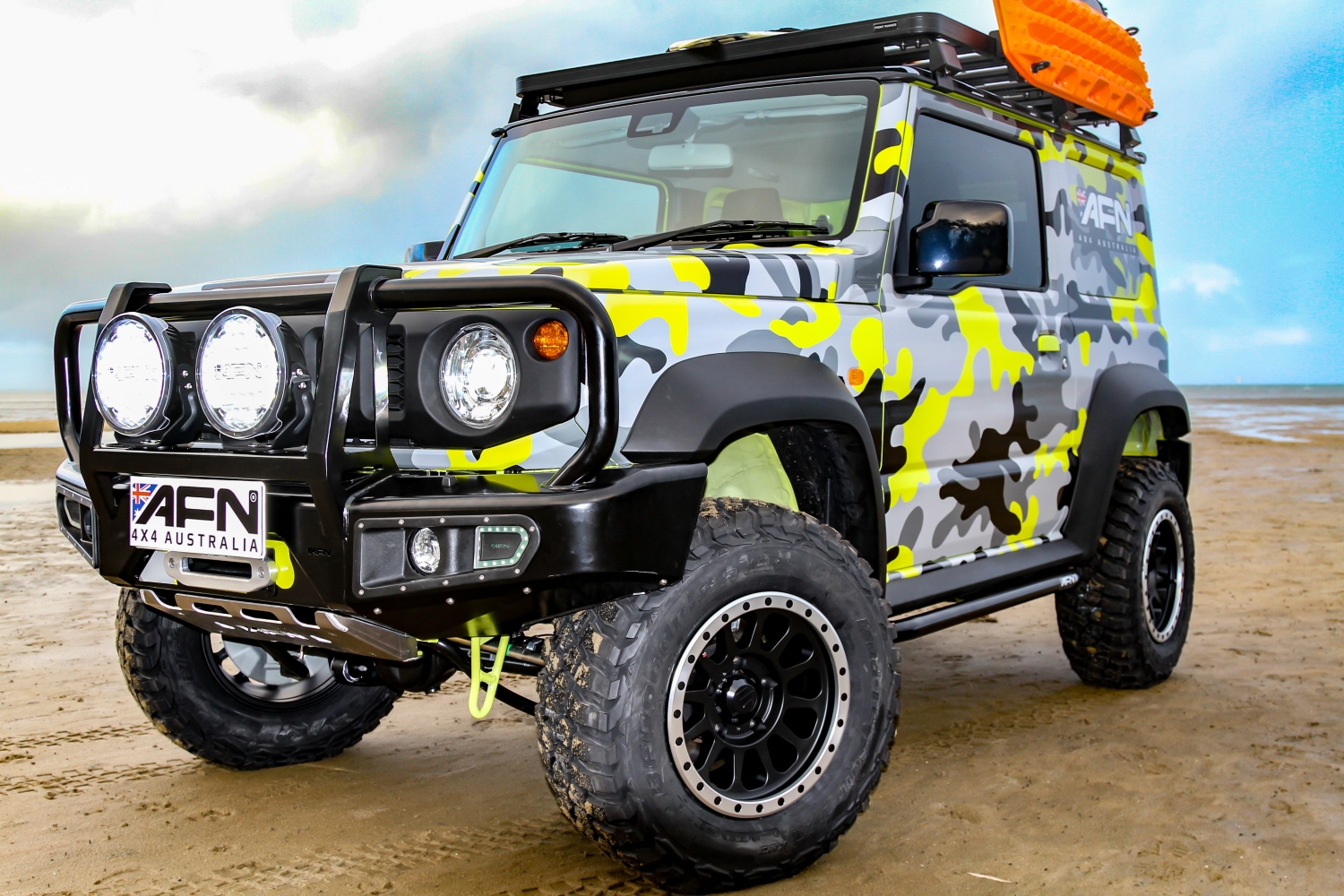 If you were at the Brisbane National 4X4 Show over the weekend just past, you would have seen AFN's Kinetic Yellow Camo Jimny on display and sporting AFN's newly released full replacement bull-bar. Finished in Satin Black (but able to be colour-coded to whatever your heart desires) it weighs in at 32kgs, replacing the plastic-capped lump that was the original fitment. If you want a pared-back look you can opt for a bull-bar that's just a bumper with no loop or risers.
The original bumper is awkward like they all are, designed for an urban environment and not an off-road one and sits too low for my liking. The beauty with the AFN bar is with the upswept wings and tapered infills you get a great roll-up height, not a chance of anything touching the deck and catching you on approach to a gully or a rise.
Now if you were to get yourself stuck, you'd simply play out your winch cable from the AFN fairlead and hook up on something sturdy and in a jiff, you and Jim will be back on the trail. The bar will accommodate winches up to 9,500Lbs capacity with a narrow motor design. There are also supplementary mounting holes for smaller capacity units and with those you'll be ordering the narrow fairlead option.
A unique feature of AFN bars is a replaceable aluminium bash-plate that'll extend from just under the centre of the bulbar to offer protection from a nudge and keep the bar looking nice and shiny. Ding it up a few too many times and you can send it for recycling, replace it with a new one and know that the bar itself will still be looking like new!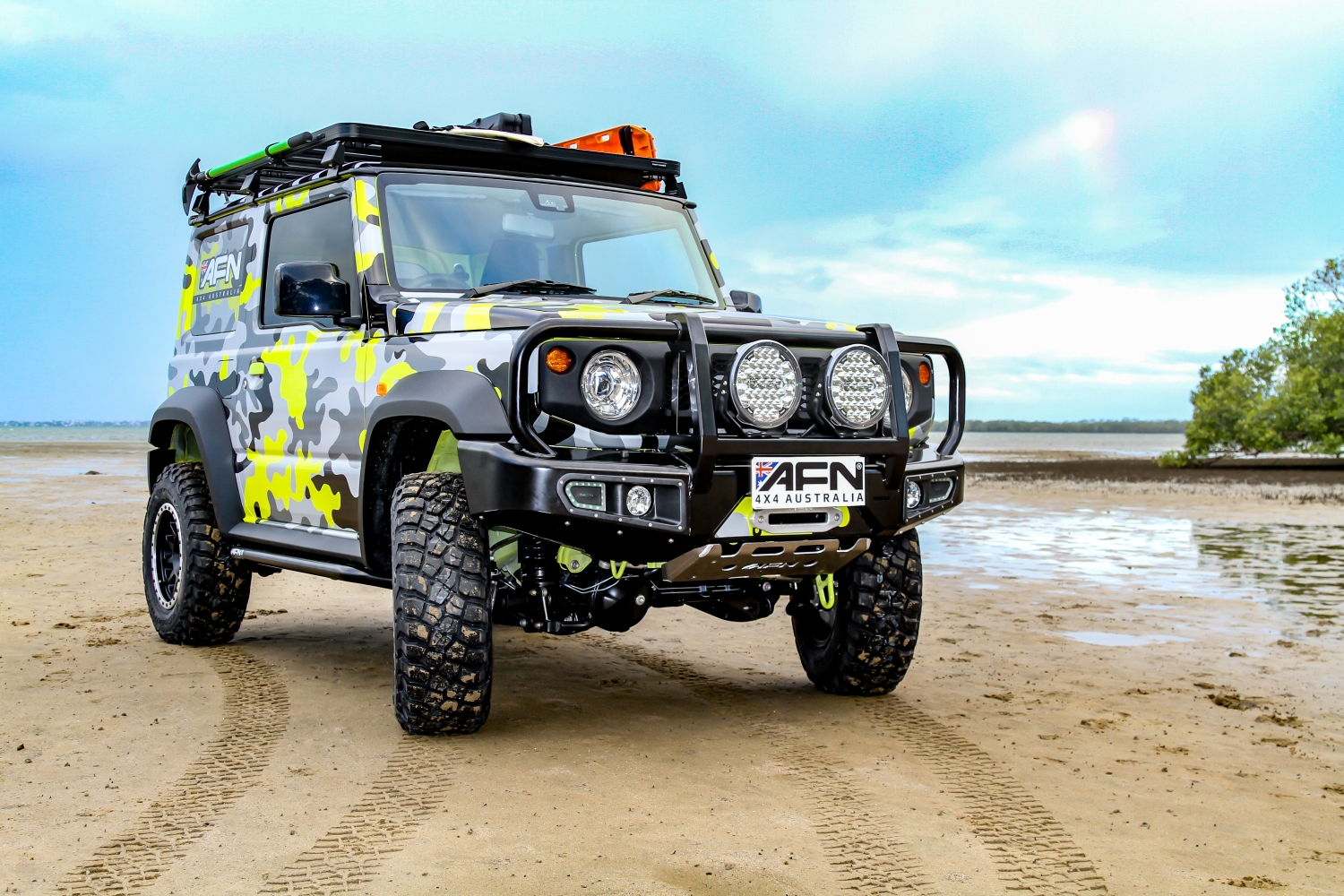 They've even thought of lighting, retaining the OEM fog lights and adding an integrated LED indicator and a DRL assembly, all with proper plugs and water submersible. If you want a light bar there's even a resting place for that up the front, where it can do its best work, without getting thumped.
For those of you who like your Hi-Lift jacks, you'll even find a mounting point for that and a couple of UHF antenna points on the top loops.
AFN have been beavering away creating a rear wheel carrier/jerry can holder combo as well, which is likely smart, because I doubt the rear door would cope too well with the weight or size of the inevitable alternative Light-Truck tyres you're about to fit and the standard fuel tank size is tiny.
Hooked up to the bull-bar you can also option in some side-protection bars and the under-gubbins can be covered up with protection/bash plates. When you put your suspension kit in there's also a chassis-brace available to cope with the extra torsional forces you'll likely apply to the ladder below.
AFN make a heap of different product for a heap of different vehicles including Isuzu D-Max and MU-X, Nissan Navara, Toyota Hilux, Toyota Prado, Toyota 200 LC, Toyota 79 LC, Ford Ranger, Mitsubishi Triton, Volkswagen Amarok and our old fave, the Land Rover Defender. We say Obrigado AFN for some great kit!
Visit the AFN 4X4 Australia website here http://www.afn4x4.com.au/