There are few more important pleasures in the life of a 4WDriver than being able to pull up atop a bright red dune in the Simpson Desert at around 4pm in the afternoon and watch the sun go down, with a glass of nicely chilled Pike's Clare Valley Riesling in hand. For some of you, you'll insert in that last line your own favourite beverage, but the contents had better be cold, and that's something that ARB's fridge range has been doing extremely well for ages.
ARB caught my attention this week when they announced the release of the next generation of their venerable ARB Classic Fridge and they're calling it an App-Solute Revamp. Now initially I was going to take them to task on their appalling spelling, but my Luddite brain finally got it, it's a fridge with its own app thingy, how cool is that! No pun intended.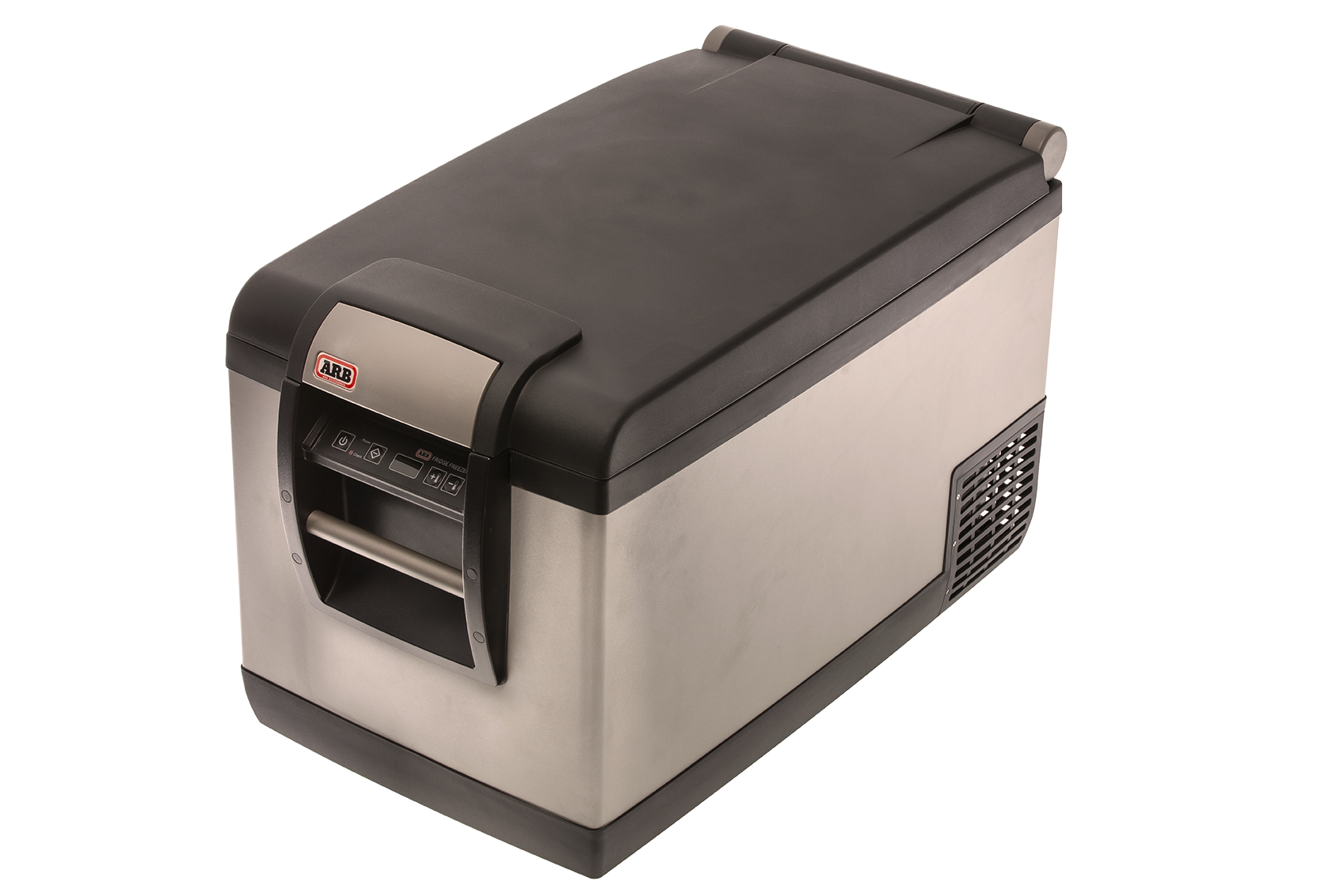 The first thing you'll notice is the colour has changed, the distinctive blue/grey combo of the original ARB Classic Fridge has been replaced with a charcoal/grey scheme, and that makes sense given the interior colours of most four-wheel-drives these days, a nice aesthetic touch.
That same cabinet remains as robust as ever with sturdy handles at each end that secure via the dedicated ARB adjustable strap system, to whatever you want to mount the fridge on – a slide, a drawer, or tie-down points.
Now if you, like me, have just endured one of the hottest summers ever, you'll appreciate that your kit deserves some help when God dials up stupid temperatures. ARB thought of that too. The new Transit Bag is similarly toned, using the charcoal/grey colour palette seen on the fridge. Its heavy-duty canvas cover provides valuable insulation thanks to the thermal padding woven into its walls, so the temperature creep is kept at bay.
The cabinet retains the plastic-coated wire basket/divider from before, and I must tell you that this has always been one of my favourite aspects of this fridge, apart from the cold bit that fridges do. It makes it easy-peasy to load and unload either in or out of the fridge.
Now the seriously big news is the app connection.
You might remember ARB released its LINX system in 2017 to great acclaim, a system where you can network all your ARB kit, your Intensity driving lights, your air-locker front or rear, your air compressor in single or twin-motor form with a pressure read-out, a battery monitor, even get an accurate speedometer (hallelujah) readout, fiddle with your air suspension, inclinometer, clock and of course the new fridge monitor.
With your iPhone or Android phone that magic Bluetooth stuff will connect you up to the fridge. You can turn it on or off remotely, check on the cabinet temperature and any pre-sets you've got going, how the compressor is feeling, hell even whether the lid is open or closed. I like it a lot, especially so because I've got five of the Old Blues and while you can't control them with the new app you can use the app to check on their status. Plug in the transmitter and any post-2014 ARB Classic fridge will let your phone know how it's performing. Clever kids those Kilsyth engineers.
Click here to find out more – https://www.arb.com.au/classic-fridge-freezer-series-ii/