ARB has expanded its Alloy bull bar range to include the 2016 200 Series LandCruiser GX and GXL.
One of the key benefits of an alloy bull bar is its light-weight when compared to a steel bull bar and ARB has set about achieving this without compromising on strength.
Three different alloys and tempers have been used, each chosen to provide high levels of corrosion resistance and high fatigue strength.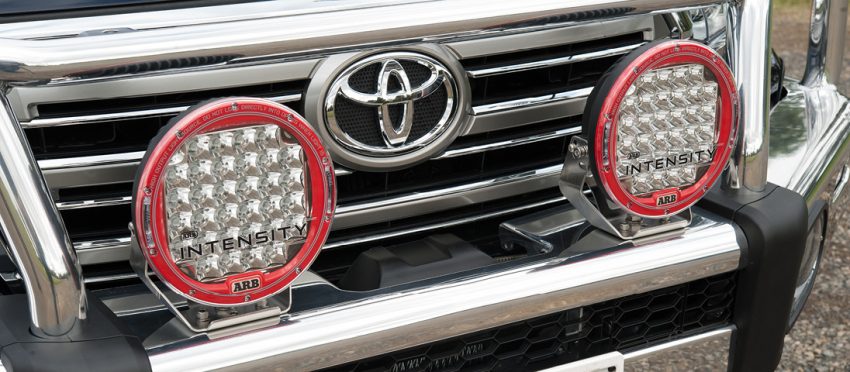 The weight of the LC200 dictates a 12,000lb capacity winch (if fitting a winch) and the ARB engineers have factored this into their design, with bar uprights and the winch cradle being specifically designed for the 200 Series.
Here is what you need to know:
Engineered, air bag compatible mounting system secures to the chassis via high tensile bolts
Extensive steel protection panels under the pan and wing panels
Built to suit Warn, Magnum, Bushranger and Smittybilt low mount model electric winches up to 12,000lb. A separate winch mount is required to fit a Warn M12,000
5mm alloy used for bar uprights
4mm alloy used for wings and pans
3mm wall thickness used in both 60mm and 48mm tubular outer frames and cross piece
Multi fold upswept and tapered wing design for optimum strength and approach angle
30mm radius on wings and centre section
Split pan design for maximum strength and airflow
2 piece grill design for split pan
Pressed form top pan and polished aluminium winch cover panel
Durable two piece buffers
Provision to accommodate ARB Intensity LEDs and a range of Bushranger and IPF lights
Provision for optional ARB fog light
Includes ARB LED indicator and clearance light
Two aerial brackets located on the top of the centre cross tube
Bar adds approximately 210mm to the overall length of the vehicle
Bar weighs approximately 50 percent less than a steel ARB Summit bar
It should be noted that this bar will not fit the LC200 VX or Sahara model vehicles due to the headlight washers, LED fog lights, parking sensors and the Multi Terrain View Camera that they are equipped with.