Steane called the D-MAX ute he recently tested the "working dog" of the ute world. The folk at Isuzu may have winced a little at reading that. Fact is, it's not a bad badge of honour because D-MAX are honest and reliable trucks… qualities you'd expect of a good working dog!
Some of you reading this may know me as the face of Isuzu's I-Venture Club national driver education program and might be about to call into question the independence of what I'm about to say in this article.
But let me say this: if I didn't believe in the product would I have stumped up my own money and bought one? I know plenty of my training industry peers have had gigs like this before, but did they ever commit to buying the product they were representing? Fuck no, they'd be rusted onto their Toyota staples and privately denigrating the brand that was really paying the bills.
No-siree, not my way of doing business, these are great utes because they're uncomplicated.
If you plan on going 4WDing on a regular basis about the last thing you need is frippery… you know, a thumping sound system and satnav designed for the city with connectivity (who cares), lashings of chrome and leather seats, idiot nudge bars and sidesteps and my pet hate – keyless push-button starting.
These things are designed to appeal to marketers who'll never grasp the 4WD KISS concept. The travesty is then perpetuated by salespeople on the showroom floor (likely because they too don't know) and we consumers accept it as gospel. All these things mentioned above will either fail or break in time. You don't need them.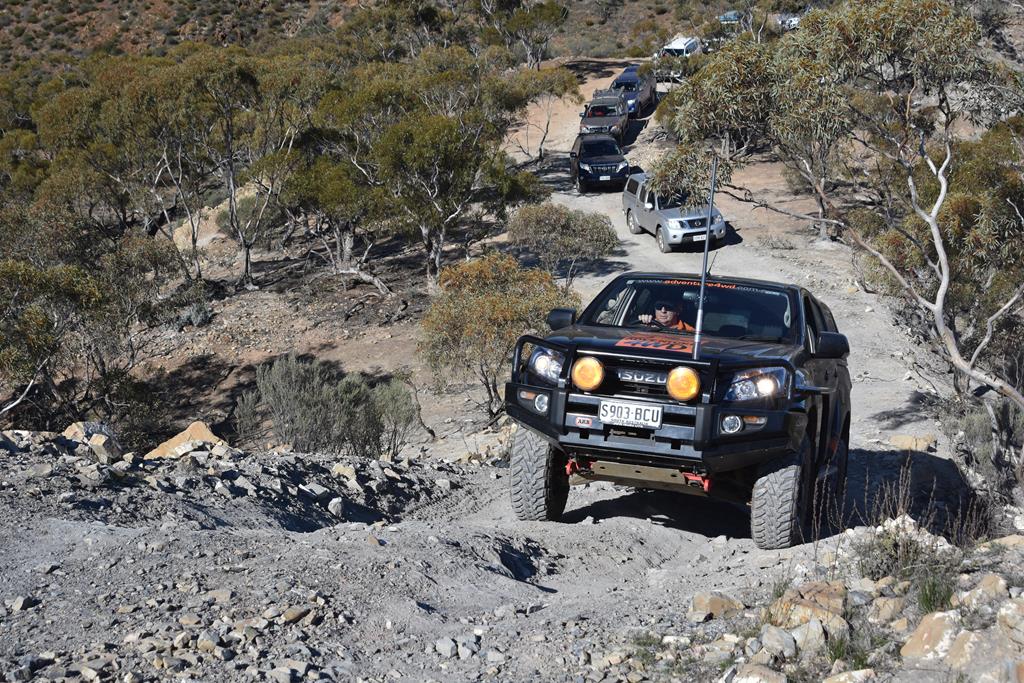 The Adventure 4WD D-MAX is an LS-M, a poverty pack 3.0 litre manual dual-cab with an ignition key and yes a manual gearbox. It's old-school being a 5-speeder, but the gears seem to be in the right places (truth be known the auto is the better transmission on all current Isuzu product and for the 2017 model revision there's plenty of talk about new 6 speed transmissions for manual and auto drivers).
I love the fact the seat fabrics are basic, so too the floor, a simple vinyl job that's a breeze to clean at day's end.
There are no sidesteps, a minimum of chrome, rear seats that fold up to offer more cargo space, an effective ABS braking system on dirt and bitumen and electronic stability control. Isuzu's traction control is on-road biased, works well on a wet bitumen road at speed, but is average off-road as many utes are in this category, with basic single channel thinking. Treat it as an old-fashioned "open-diff" 4WD and drive accordingly. You'll be fine. With a good cruise-control, excellent payload and a completely under-stressed truck-sourced engine, the D-MAX promise is durability.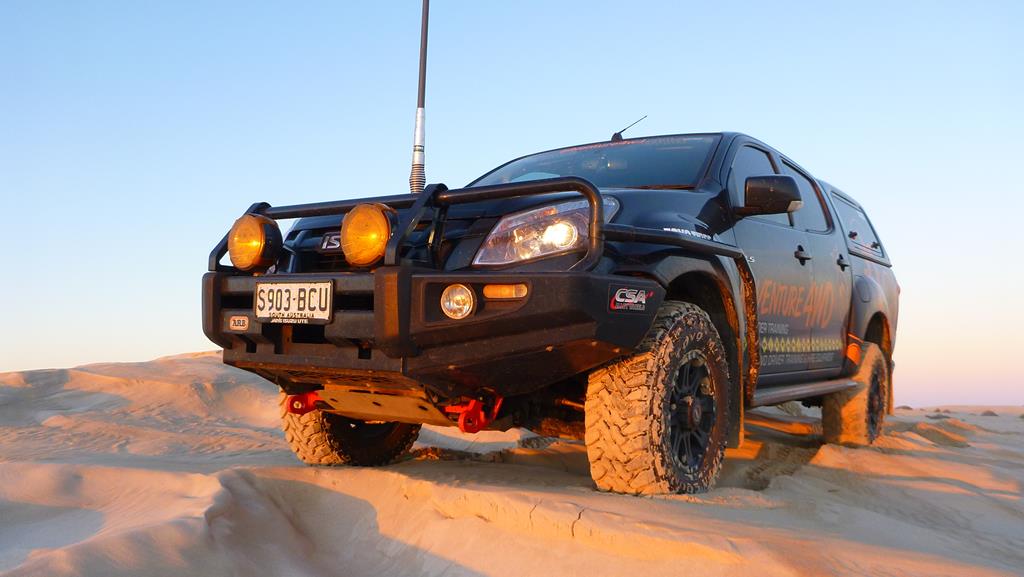 Unencumbered by the previously-mentioned frippery, the LS-M makes the best platform to build a great off-roader.
The first two things that should be given the flick on any new 4WD are tyres and suspension.
Now it doesn't matter who the 4WD-maker might be – Toyota, Ford, Nissan, Mazda, VW – everyone, and I mean everyone, dumbs-down their vehicles in these critical departments. They give us vague steering and under-sprung and under-damped vehicles that understeer like a pig and develop a pogo-like ride on anything other than perfect bitumen (and there's bugger all of that in my home State).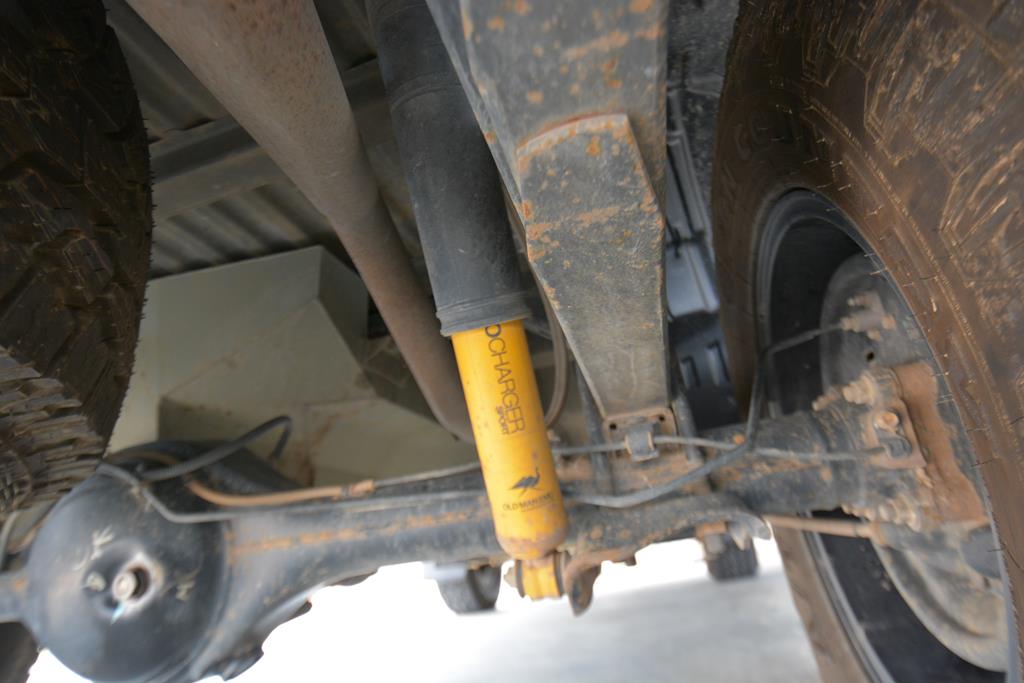 A trip down to ARB will fix the suspension in one fell swoop – Old Man Emu to the rescue. Now before any of you say ARB only offer lame lifts I'll call you out. Independent front suspension design of a coil spring and strut/shocker aren't very helpful or conducive to going nuts in increased front height, so conservative it has to be.
Depending on what you're driving, you'll get between 30-50mm extra clearance up front, preserving the driveshaft angle so those CVs (constant-velocity joints) don't spit the chewie. The problem with a 75mm (3 inch) increase or greater is you compromise the droop angle of the suspension, shortening its downward stroke whilst increasing its upward stroke. Driving vehicles like this off-road is farcical as the torque delivered to the front-end ends up translating into an evil bunny-hop on ascending gradients. CVs then are guaranteed to fail.
The back axle is easy, ARB OME leaf springs do the double-task of carrying a heavier load and more compliantly, whilst their shocks control the ride. The front and rear combination converts a vehicle that once cornered like a guesstimate, to one more like a sports car. An ARB OME equipped ute has no right to go around corners like it's on rails! But that they do.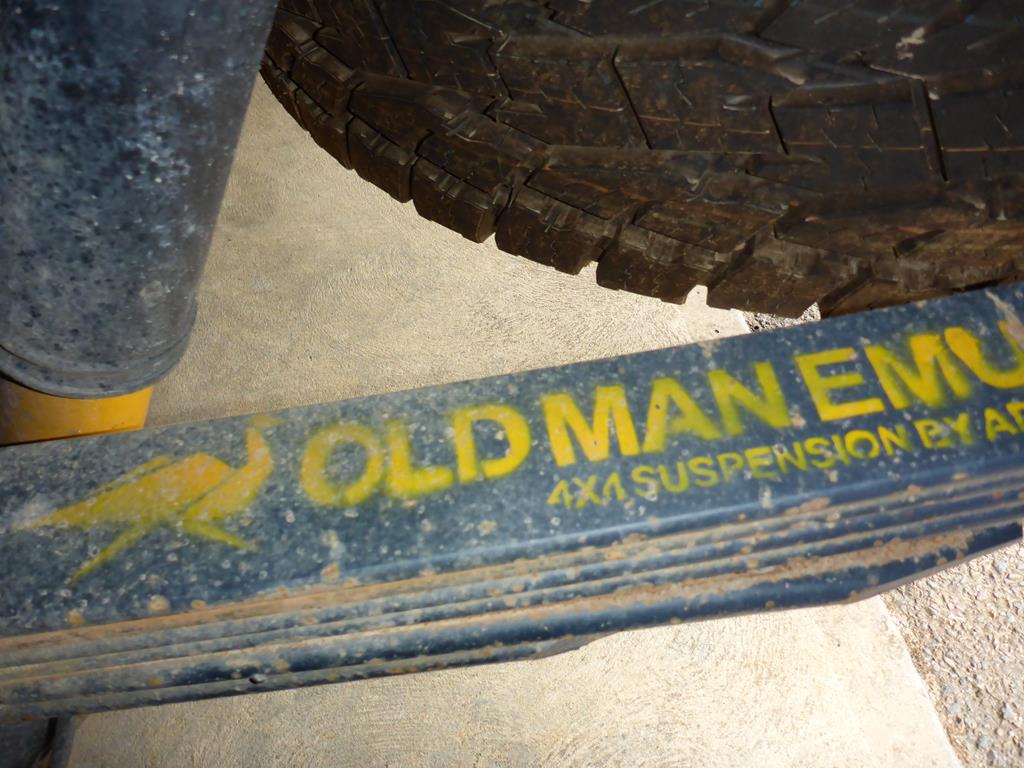 The other must-do is to change the tyres. Showroom issue passenger car tyres fitted to everyone's 4WD stock-standard are worse than pathetic, they're dangerous and off-road they're puncture magnets.
Manufacturers will tell you that for the majority of their buyers they'll be right (based on the premise that 90% of 4WD owners don't go bush). For we ten-percenters though (and really the rest of you too) changing to a quality light-truck tyre will complete the handling transformation.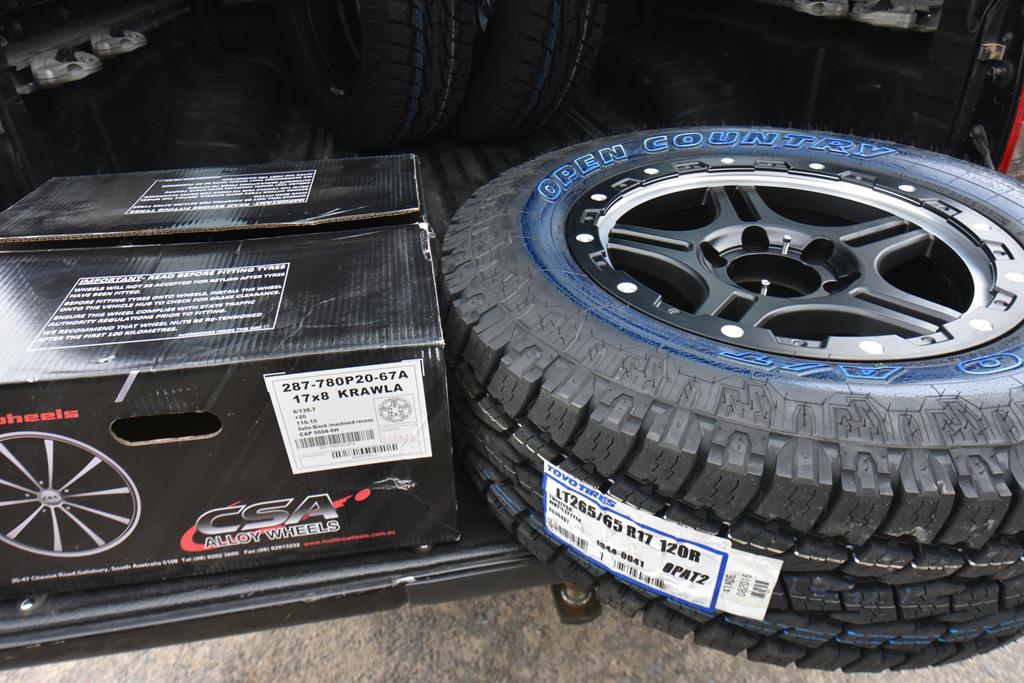 I'm using Toyo's OPAT2 range of light-truck all-terrains on my vehicles because they are a fabulous all-rounder. Incredible grip in all weathers and most surfaces (they're not a muddie though), great durability (no chipping/tearing, excellent puncture resistance and huge longevity), quiet as a mouse and priced competitively.
I've got a couple of sets, mounted on CSA Alloy wheels (Granite and Outlaw), the OPAT2s work for the majority of the year and Toyo's OPMT mud-terrains (fitted to CSA Raptor) are used for winter training duties. The muddies are louder, but not by much. Modern-muds are incredibly well engineered and despite the wind whistling through those big tread voids they still permit normal in-cabin conversation.
There's a whole bunch of tyre talk I'm going to introduce in subsequent articles that are mandatory reading and dispel all the popular 4WD tyre furphys, but I don't have the space here now. Be patient, its coming.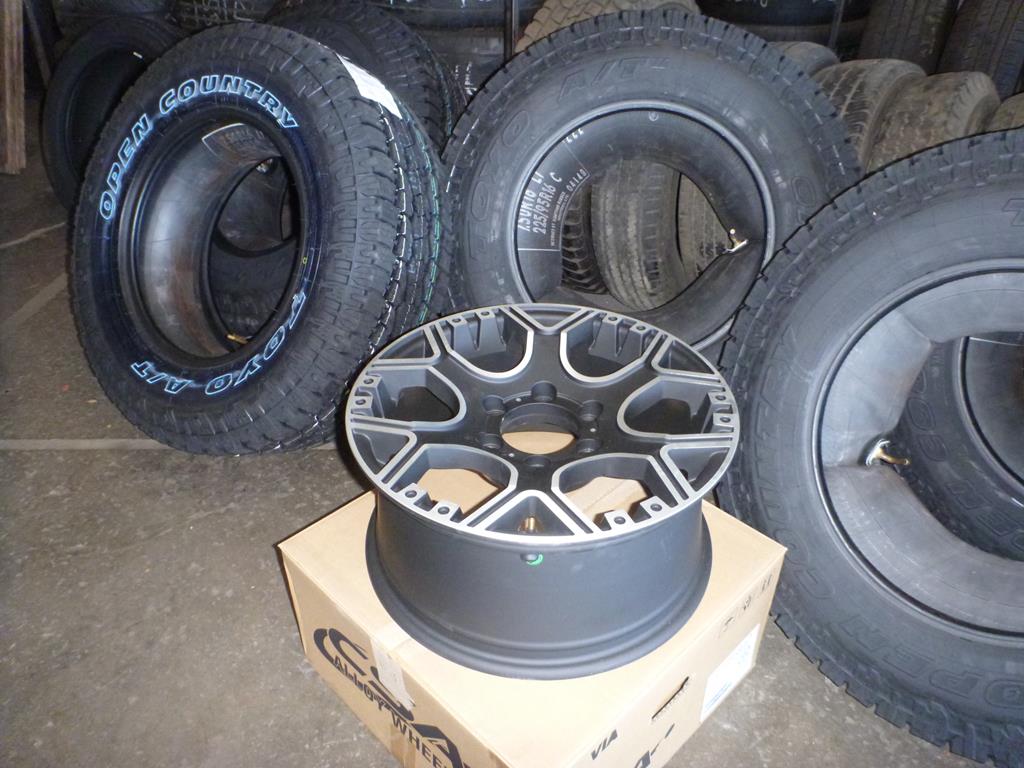 Because these tyres are heavier than their passenger cousins I need to offset that increase via my wheels. Now lots of folk will crow on about the need to run steel wheels when 4WDing. Pffft. I've been running alloys for nearly thirty years and have never damaged a rim.
The benefit of running an alloy wheel is two-fold. Firstly there's less unsprung mass. Think of it this way. You have a steel wheel and a tyre, the combined mass is likely 25-30kgs. That assembly is supported by the vehicle's suspension going up and down over the lumps and bumps. If there's a bunch of them like say on a corrugated section of track, the energy created at that moment has got to be dealt with and very quickly and a wheel that's too heavy is going to cause an average suspension system to fade. It simply won't be able to keep up with the oscillations. A lighter assembly means less wear-and-tear on the suspension and more grip. There's a lesson here too about over-inflation, but that discussion again is for another time.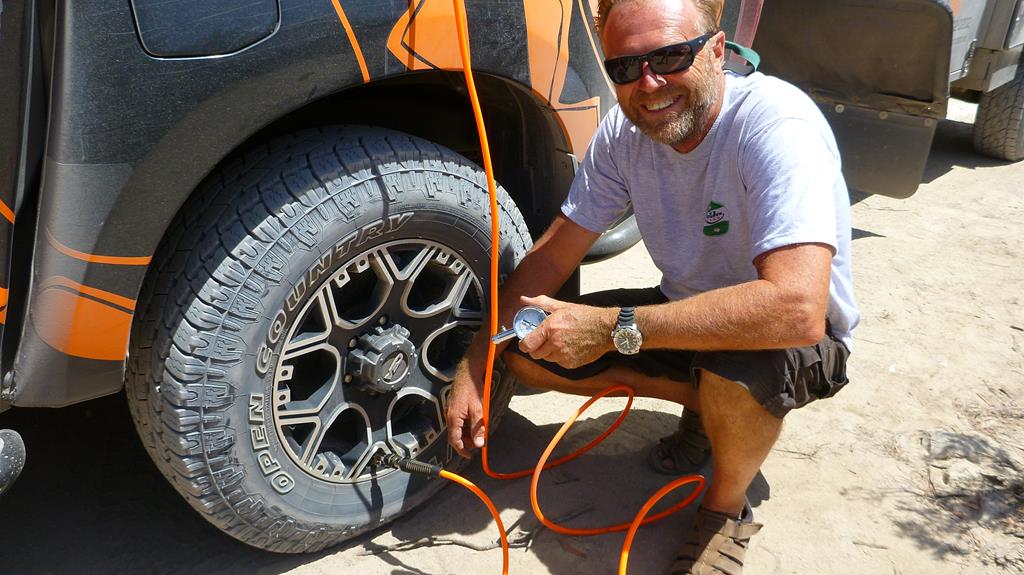 While we're still down at ground level, there's plenty of stuff going on underneath too.
ARB's under-vehicle protection plates cover the important bits up the front. When I'm in the Flinders Ranges and climbing up and down the Hungry Range in search of the Billy Goat trail, those big rock steps on occasion will be contacting the chassis and coming perilously close to sump and gearbox. The standard tin-foil items are inadequate in that environment, so they got binned early too.
I've had the whole weight of the D-MAX resting on the section protecting the transfer case and can report apart from the paint being scuffed, the plate did exactly what it was there for and with no flex.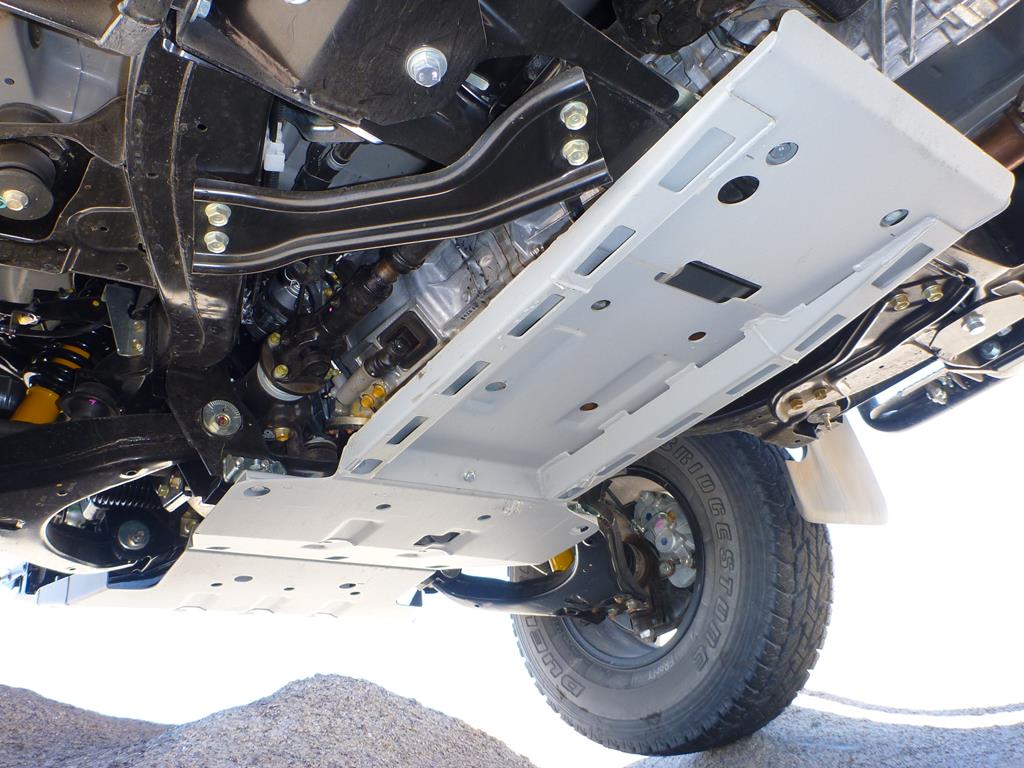 The other items of note are a pair of ARB's bright red recovery points. Located on the front chassis rails these things duplicate the job of the factory tow points, but on steroids. Now I can almost sense the "correction" emails being hammered out on computers around the nation and about to be sent to me just as I form these words in my head, but the tow points fitted to most modern 4WDs today make ample recovery points for most situations (I'm not talking about those screw-in types).
A vehicle manufacturer is reluctant to swear on a stack of bibles that the loops are recovery points because they can never bank on the fuckwit-factor.
A 4WD bogged to the windowsills in mud won't be coming out of its impediment via a snatch-strap attached to these loops, so yes they'll likely fail. But a common bog, on a beach, in sand, done right, will work every time. If that's all you've got then use them if you're staring down the barrel of a rising tide and the risk is losing the vehicle. Ignore the cries of the experts on the forums.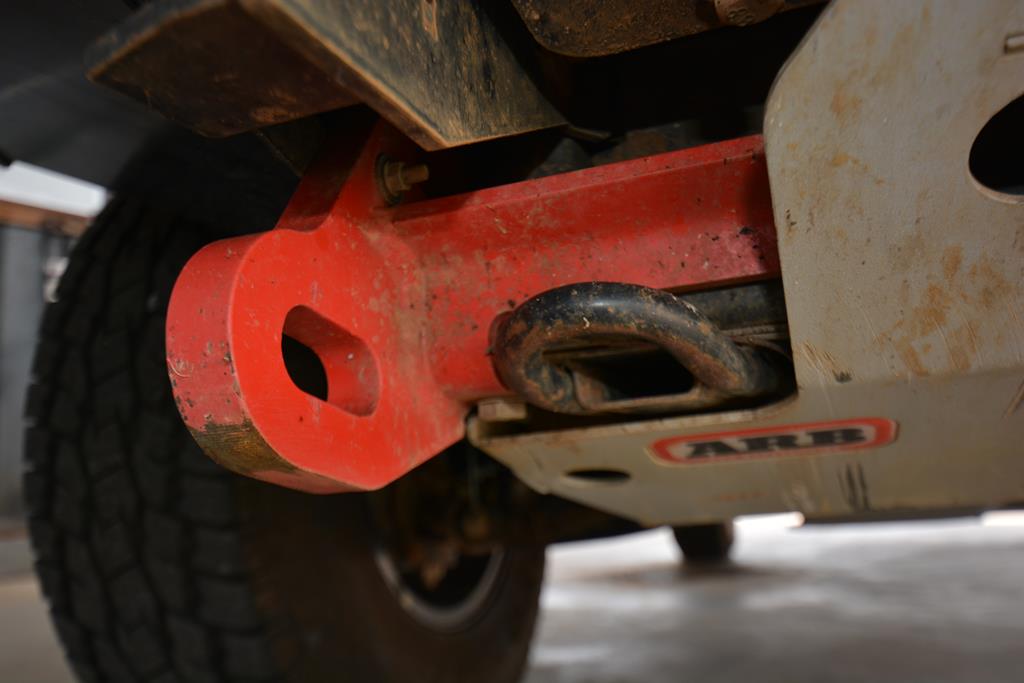 Anyway the engineers at ARB have done their usual (good) overkill with the design of these things and they'll never come adrift. Triangulated with their mounting, made vehicle-specific (and if you intend fitting a bullbar, will only work with an ARB version) and are made of 20mm thick steel, they are tough. Here's an opinion-piece I wrote recently about them – ARB Front Of Vehicle Recovery Points
Whilst we're on the subject of recovery, at the rear of the D-MAX is one of ARB's rear-step towbars designed to haul the maximum 3500kgs Isuzu rate for this vehicle. But with the tow hitch removed, the receiver makes a damn fine place to hook up your snatch strap to. Ignore the "rated" eyes at each end of the bar though (see the warning sticker) as they're there more for looks than substance.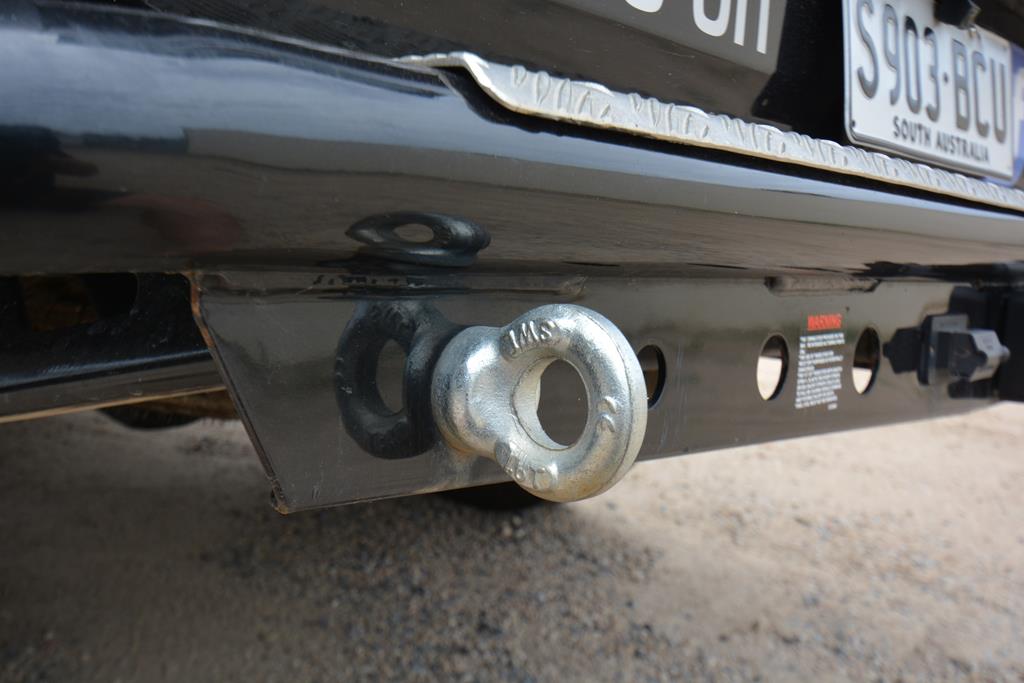 Range is always a contentious point here in Australia because we travel big distances. Now Isuzu's fuel efficiency is the stuff of legend, but the standard tank-size isn't, so my stock 76L tank was replaced with an ARB item with around 132L capacity. That's nearly 75% bigger and slotted into the same space. Sadly the D-MAX was fitted out just weeks before ARB released their new range of roto-formed plastic Frontier brand fuel tanks and I got the old traditional steel Long Ranger style. Which is better… the plastic Frontier!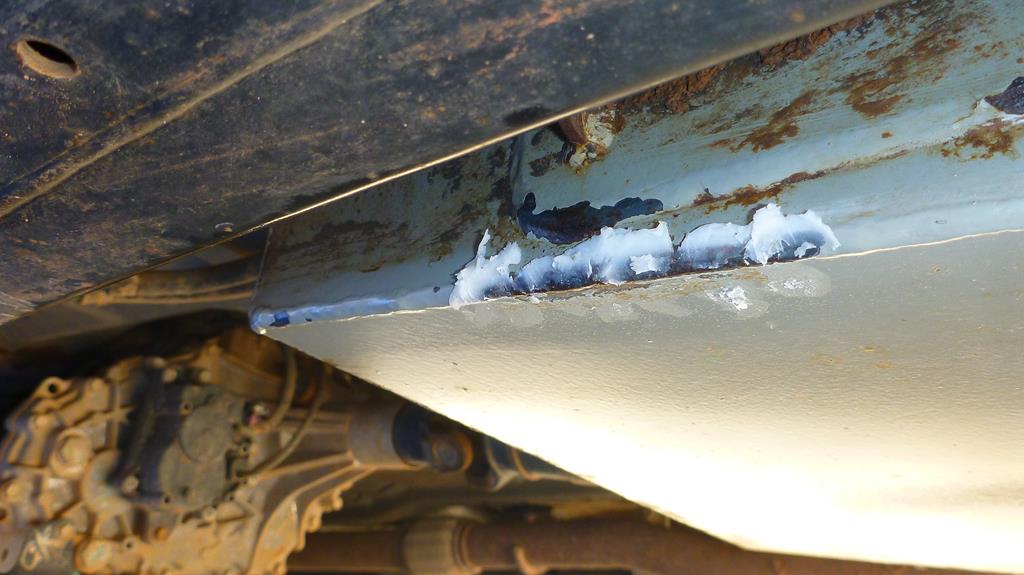 The original steel version developed a crack along a seam near a hanger and wept for ages until I could work out where it was coming from. Once identified (and here's a tip if you're looking for a roadside repair) I forced some surf wax into the fissure and that gummed it up nicely until it was replaced under warranty. Plastic tanks are near-indestructible so give them a try.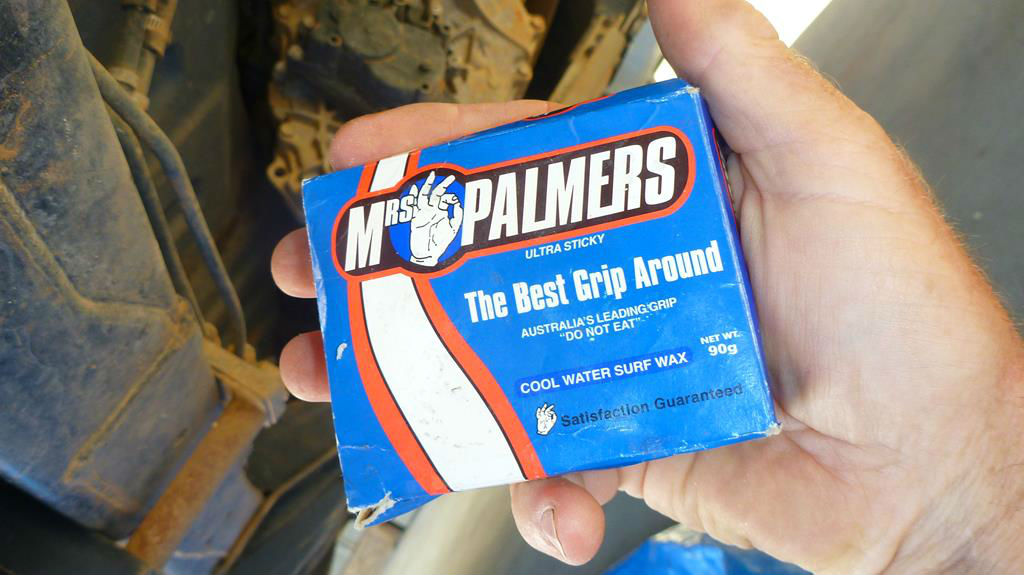 I mentioned earlier that the standard D-MAX traction control system isn't designed for off-road work. I fixed our back axle's limitations by installing an ARB Air-Locker. You can usually identify pretty quickly when you'll run out of grip and for us it's likely when crossing big yawning gullies where suspension stretches to the max and grip is compromised.
Crawling along in LOW and seeing one of these hurdles requires nothing more than flicking the compressor and diff-lock switches on, hearing the reassuring sound of the compressor burble away for a moment, negotiate the chasm and then turn it all off.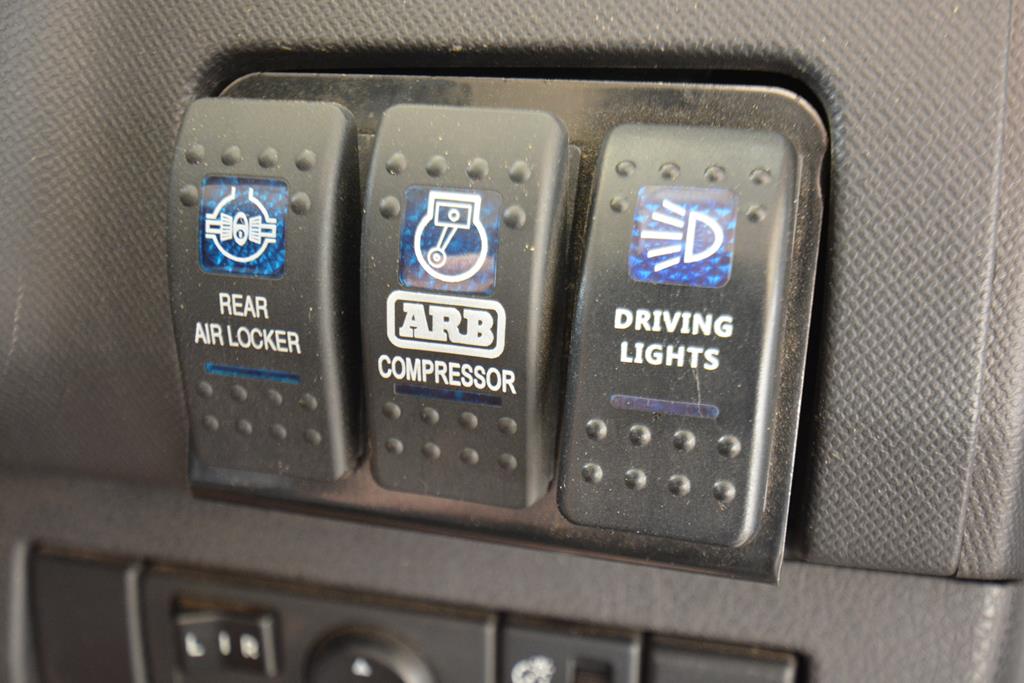 If that sounded simple, it was and is! By joining each rear axle half as one, both wheels have to rotate at the same speed even if one is a metre off the ground. Much better than being crossed up with diagonal wheel spin and going nowhere! It seems some international Isuzu regions get a rear diff-lock offering ex-factory, so fingers-crossed Australia might do too in the near future?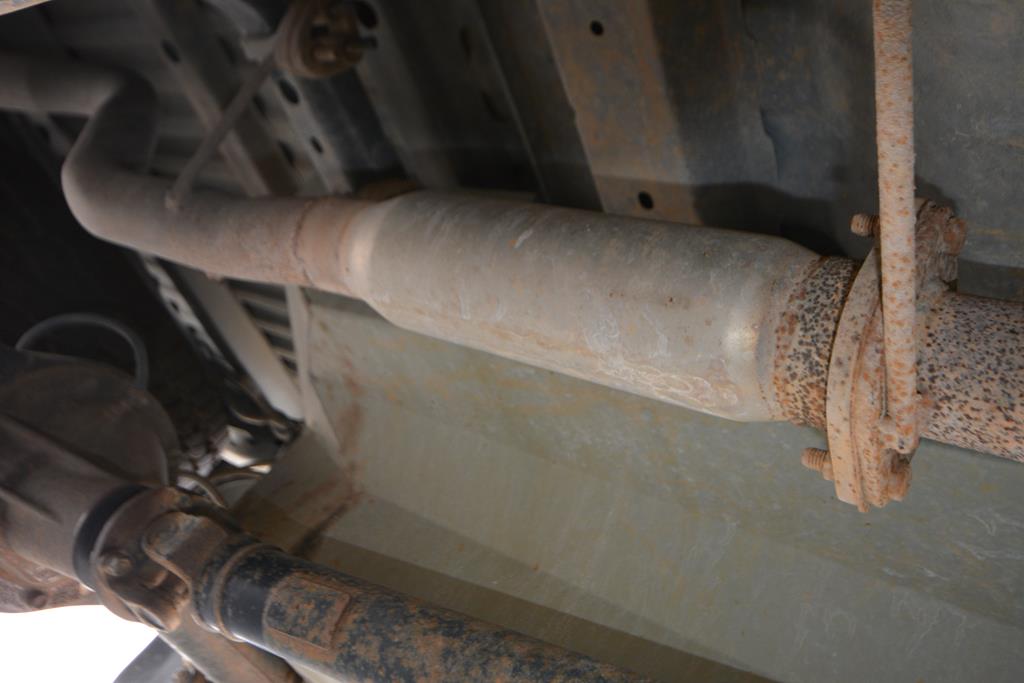 The D-MAX also has a deeper voice because from the exhaust's rear flange ahead of the back axle, the muffler and pipe have been replaced with a stainless "hotdog" and over-axle end pipe that offers a bit more pep. A similar and cheaper result is to source a "muffler delete" option off the internet. Money well spent here.
To complement that is one of HPD's (High Performance Diesel) intercooler kits. This Adelaide-based company makes intercoolers for heaps of different diesels and they really work. The unit is substantially bigger than the stock one and built to last. No plastic ends or fitting, just beautifully crafted alloy.
The combination of the exhaust and intercooler is more torque and when it is needed. I noticed an immediate improvement when lugging away in the Flinders up steep gradients. The engine speed previously would sink once below 1800rpm, but rather than fall away and stall, it just keeps chugging away. It's more like 4.5 litre Land Cruiser V8 in its behaviour rather than the "little" 3.0 litre tiddler it is. It's that good and I'm sure if you investigated a fuel management chip to go with it, the gains would be more than impressive.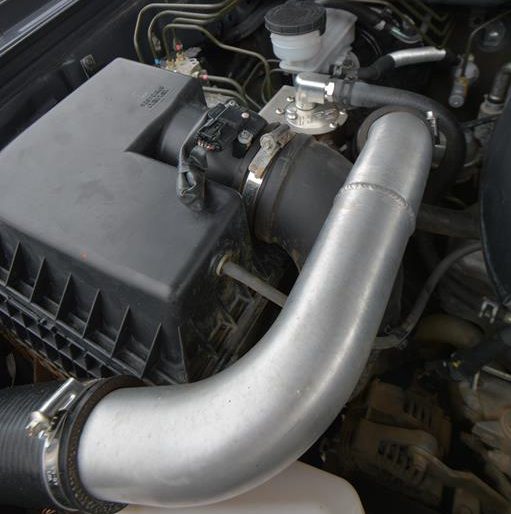 To keep the intercooler and the EGR (exhaust gas recirculation valve) gubbins clean I've also installed an HPD catch-can. This is an exquisitely crafted housing with spin-on cup that catches all that oil mist that circulates in the motor and gums up the works. After suffering an EGR failure on a past vehicle (not an Isuzu), this gadget is a priority on my must-have list.
On the front of the D-MAX and extending down its flanks are an ARB deluxe bullbar and side-protection kit. I've not used the side kit in the past, but this one has already earnt its keep judging by the paint scars. I've always believed in the value of steel as a bullbar material as I've seen aluminium fail in contact with minor impacts (ARB are now building aluminium bullbars and I've looked at the testing, which shows a properly designed alloy bar with the right thickness of material will work).
Similarly from my observations over the years I've seen that OEM bullbars are usually rubbish, with plastic trim pieces and over-riders and flimsy connections between top tube and bumper that collapse and break on impact rather than protect. ARB's bars aren't like that, they're the best in the business, and they're elegant, strong and designed with the best approach angle and roll-up height.
The driving lights currently are old-school, a pair of IPF Extreme 900s, inherited from our last training vehicles, dressed up with some orange bling courtesy IPF lens covers. Compared to ARB's Intensity LED bar or lamp they are dim, but once upon a time they were up there with the best. They'll be replaced one day.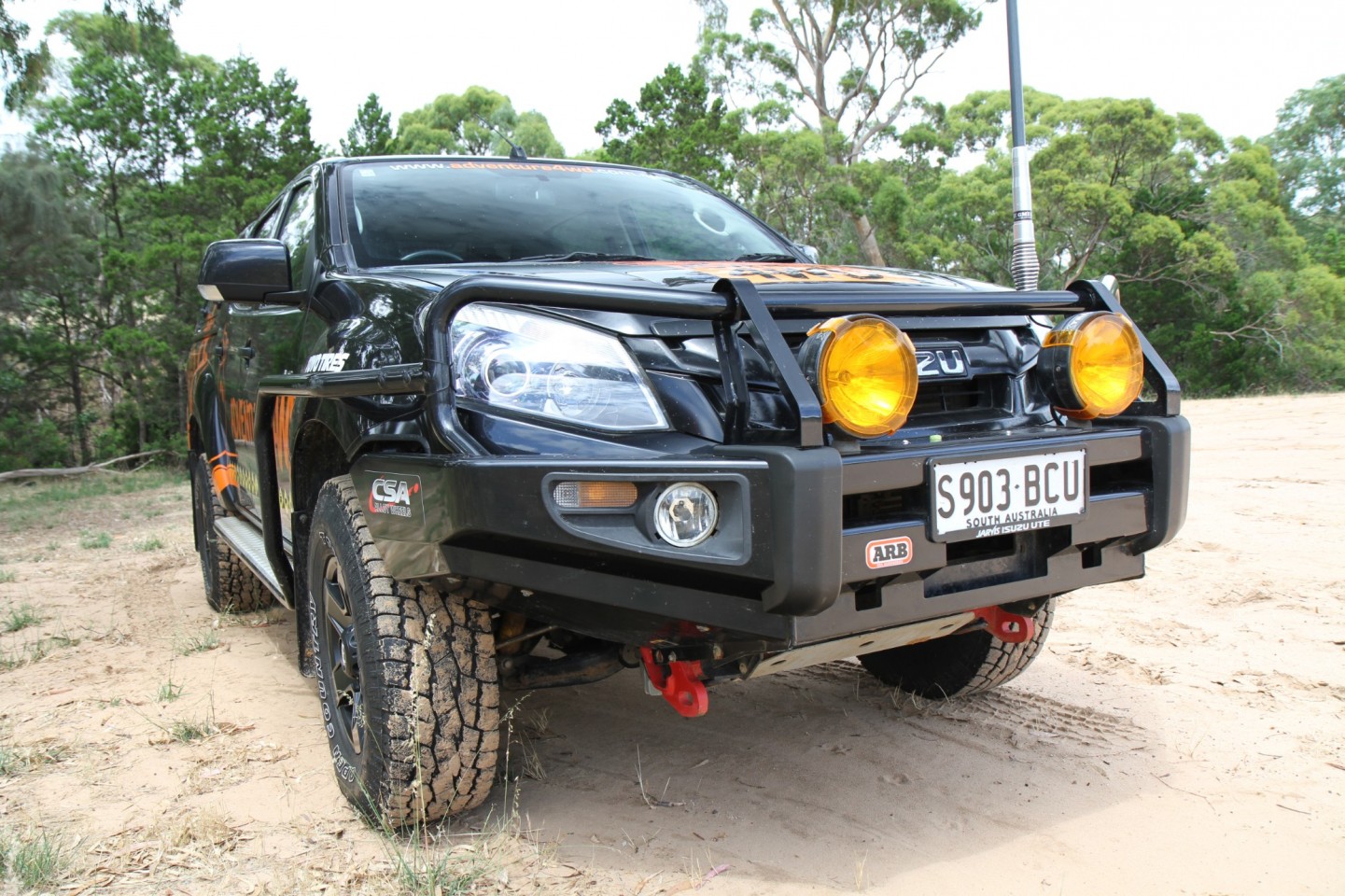 Turning our attention to things interior there's three main points of interest, power, monitoring and keeping it clean. In the quest to feed cameras, fridges and invertors we've installed a bunch of USB and regular 12V outlets throughout the cab, separately fuse-protected so the original loom isn't troubled.
Reversing made easy comes in the form of an ARB Reversing Camera Mirror. Whilst only half of the surface area of the mirror is devoted to the camera function it is still enough to tell you what's going on and I find it brilliant when hitching up a trailer, reversing straight over the top of the hitch every time.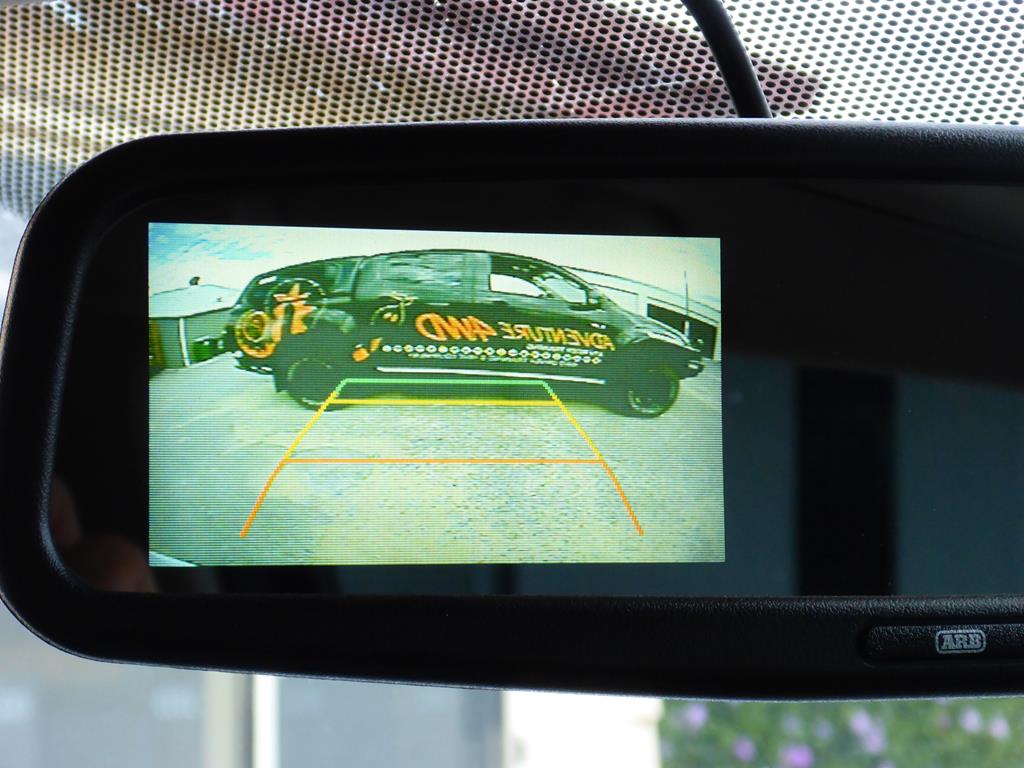 I'm anal about tyre pressures so I've opted for a TPMS (tyre pressure monitoring system). The unit is an Orange brand from Taiwan and seen on Ebay for not much money. With proper internally mounted valve sensors sending a message up to the head unit in the cab, I can tell at a glance what's going on.
This unit won't suit everyone because it only tracks four wheels, but coupled to temperature and voltage readouts it's enough information. I like its simplicity.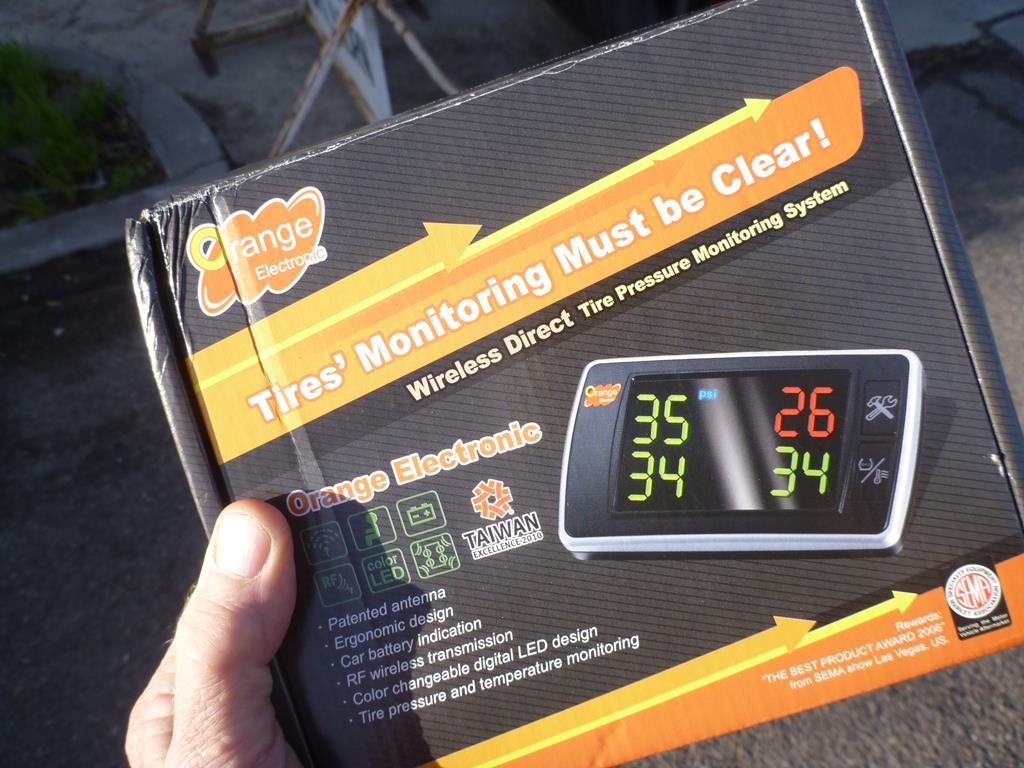 Our seats cop a hiding so to keep them fresh we've installed some canvas covers from Supa-Fit in WA. These airbag compliant covers fit like a glove and provide durability from spills and sharp objects too. A nice little additional service they provide is embroidery, so ours wear the Adventure 4WD logo proudly. Love these things to bits!
In the tub we've added a few things to enhance both durability and functionality.
I loathe plastic tub liners. If you want to promote rust in a vehicle, these are a pretty good way to get the process going. A drop-in liner allows grit and grot to get into the space between liner and tub, the paint worn away to bare metal. Add some moisture and that unprotected steel is going to rot. The other gripe is the surface is slippery, so any load you put in there will slide if unsecured. Cheap and nasty is what a drop-in is.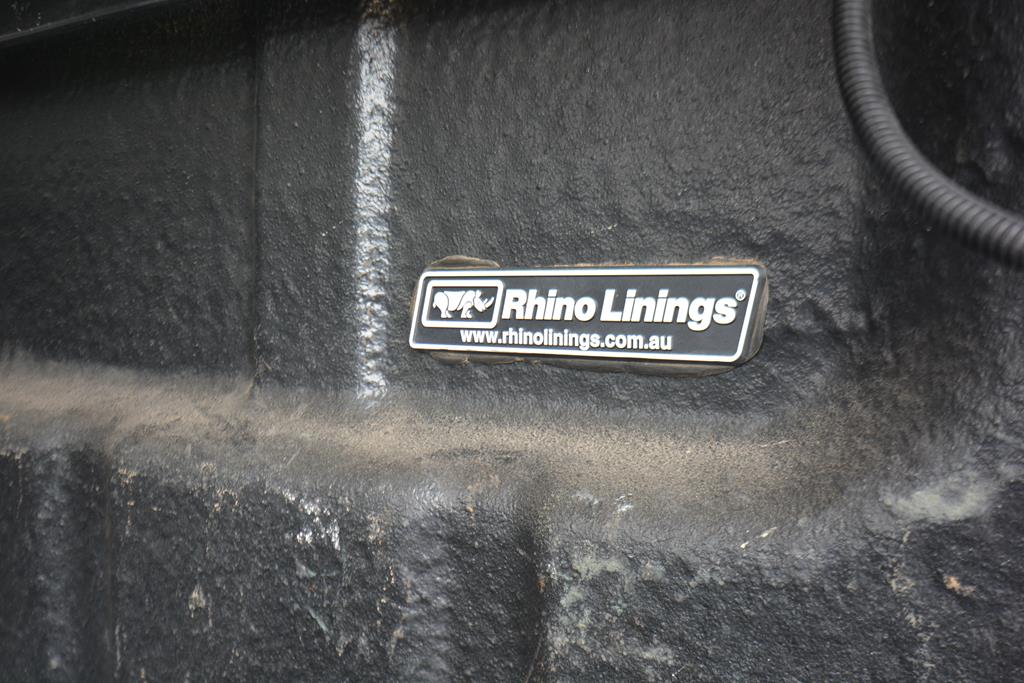 A much better way is the installation of a urethane coating, in our case a Rhino Lining. Leave your vehicle with Rhino for the day and they'll sand the paint on the tub to get a key for adhesion, mask the vehicle up and then spray-in their unique material, leaving behind and attractive wrinkle-finish rubber coating that's easy on the knees and stops stuff floating around because it's grippy.
I've carted all sorts of gear from 4WD stuff to building materials on these beds in the past and at the end of 3-5 years-service they still look great. Another little bonus is you can seal up all the little nooks and crannies to keep some of the dust at bay and there'll never be any rust.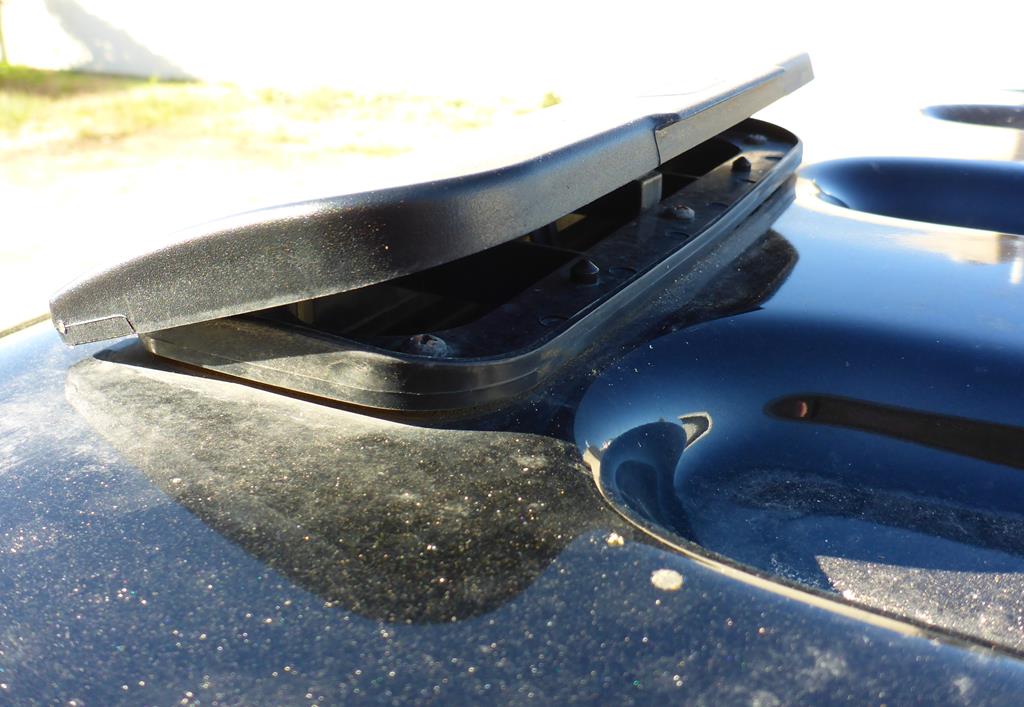 Speaking of dust, the vast majority comes in through the gaps around the tailgate. We've trialled a Brown-Davis Tailgate Kit for the last 18 months or so and it's helped, but the real benefit has come from the vent in the roof of the ARB Classic canopy fitted to the tub. The canopy is uber-practical (again we had this installed just months before the new Ascent version with central locking became available), providing lockable storage and weather-proof cargo carrying potential.
With the vent open while on the dirt it creates a positive pressure in the space to the exclusion of most of the dust coming in via the tailgate. Nowhere near perfect but a whole lot better.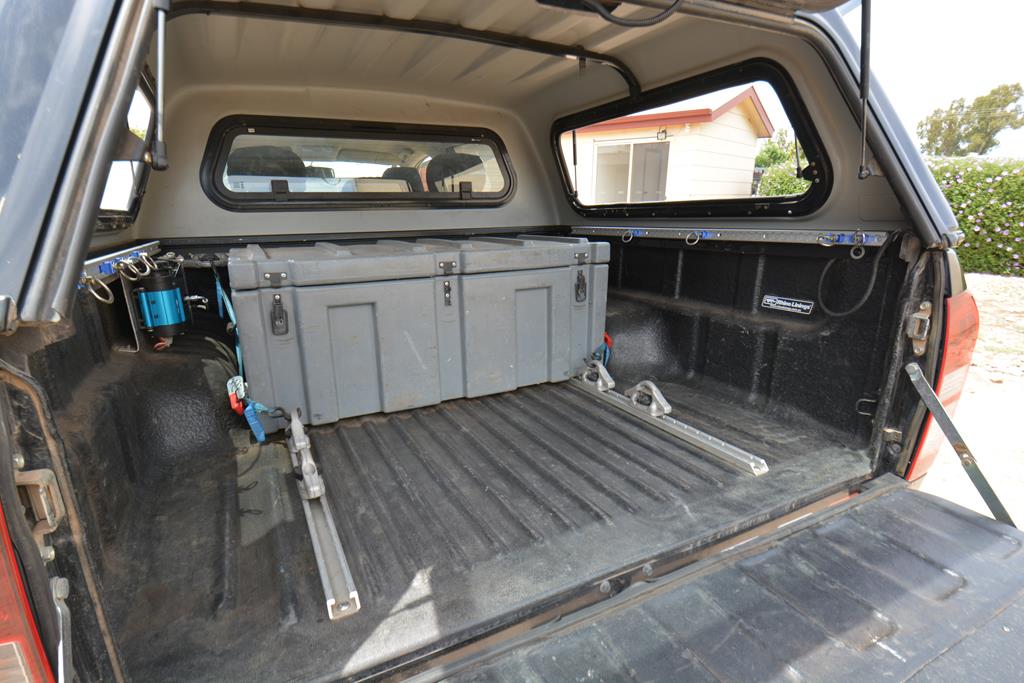 To secure gear in the tub we've utilised Nissan's ingenious Utili-Track system. After some past experience on our old D40 Navaras, we did some measuring up and found the floor rails fit a treat.
Out with the drill and in with some nutserts, we've been able to locate the rails securely for the heaviest of cargos. Because the vertical faces of the D-MAX tub are nothing like those in the D40 we couldn't use the side mounted Utili-Track, so in their place we opted for ARB's Cargo Gear tracks and rings to achieve a good fastening at the top of the tub.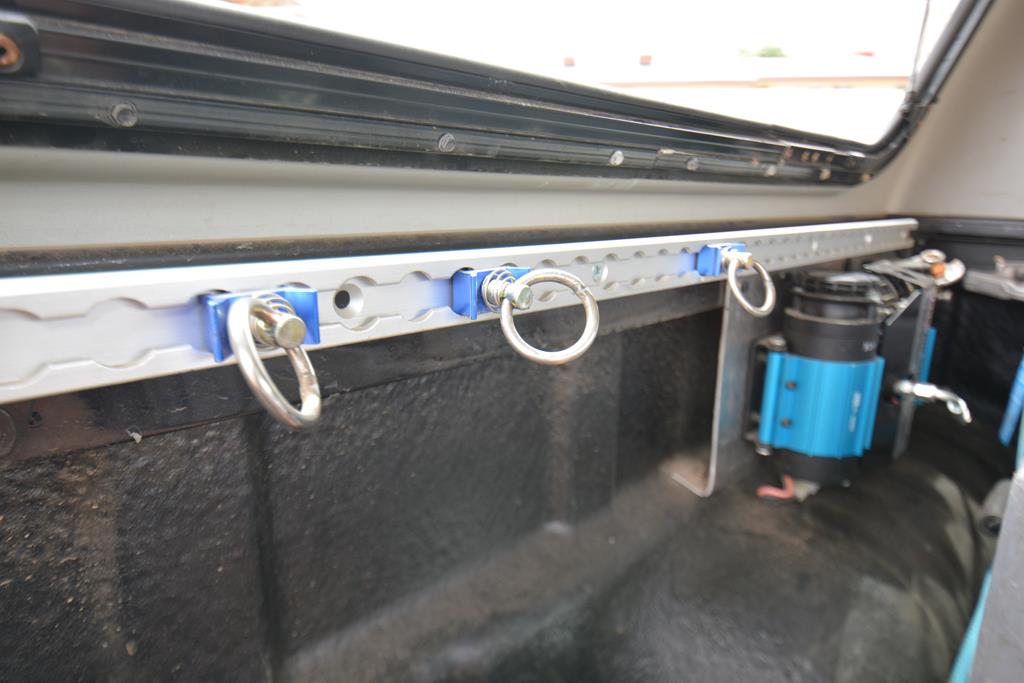 Usually the D-MAX carries a plastic space case with the tools of the trade safely stowed and on weekend events we might be running it can also house a couple of ARB's 78 litre fridges when the catering demands are large. Tied down its all snug and secure.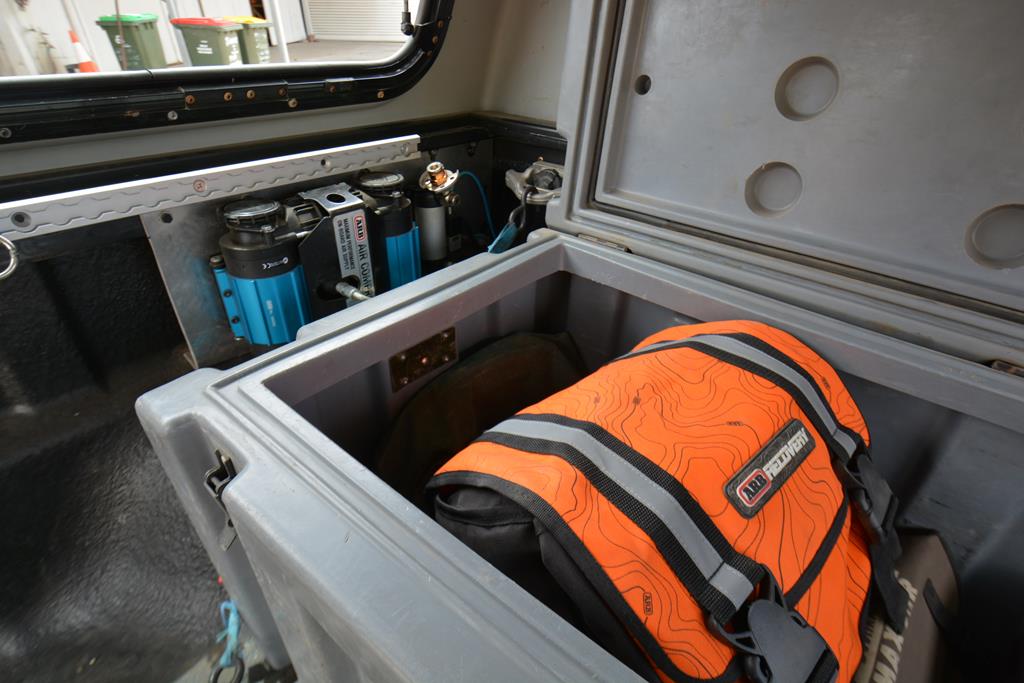 And lastly, for both the previously mentioned air-locker duty and (most importantly) airing back up those tyres, we installed ARB's mighty Twin Compressor, and like its name suggests it's got two motors. This thing is a beast pumping up four vehicles tyres (that's 16) in the same time I've seen another brand struggle to do a single vehicle (4). Flick the switch and it purrs away in the back.
Mounted vertically in the tub on a plate we built out of chequer plate alloy and sited above the left-hand rear wheel, it's easy to get to via the canopy window on that side. With a double length of hose it reaches all the way back to a trailer, or when training, vehicles parked alongside for re-inflation.
If you see the D-MAX out in the sticks give us a wave; you won't miss it in its dreamtime branding and we promise it won't bite you.