Review by DAVID WILSON
You know, because of my job I often don't get the same warm and fuzzy feeling that others might get when they drive a vehicle that has, apparently, "legend" status. I suppose familiarity breeds contempt and that's about how I'm weighing up the revised 70 Series range of Land Cruiser in writing this. My adult kids love the 70 wagon and I know why, because it looks like the Defender we owned years back. Square and boxy and basic are excellent 4WD qualities to retain, so to their credit Toyota have got the basic shape-formula right, but there's a bunch of stuff that's still crook.
I admit to being pleasantly surprised when I learnt that the big T took the plunge and added a raft of safety electronics to the vehicle. That'll disappoint plenty of cockies around the country who loathe and despise modern brakes and technology that will help them dodge a bullet when a situation turns to shit. I actually like the appearance of ETC (electronic traction control) and VSC (vehicle stability control) alongside ABS (anti-lock brakes) on this truck.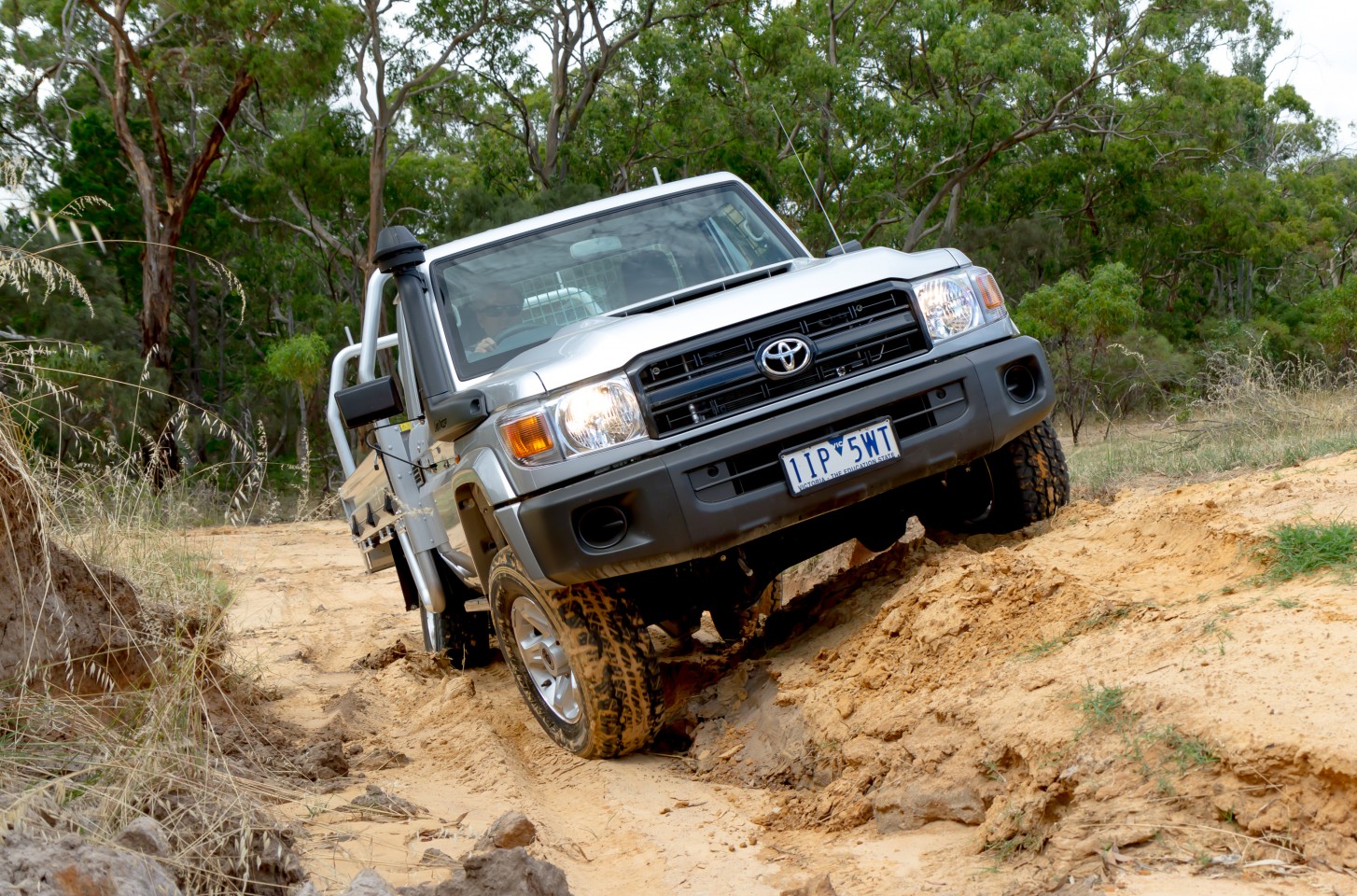 ABS has graced the 70 series range for only a couple of short years now and in that time has made a massive difference to the safety of its drivers. Plenty of my clients who used them in fleet situations said it made a marked improvement in their accident data. For inexperienced users unused to applying the "threshold" braking technique on the previous models it usually meant an uncontrolled lock-up on dirt and hitting the very thing you were trying to avoid. With ABS it's simple, mash that brake pedal to the floor and let the electronics regulate the brakes to a standstill. About the only place ABS will struggle is on a greasy, slick surface where grip is at a premium. If that's the case a reduction in speed and tyre pressure will certainly improve your chances.
So when you couple that ABS benefit to VSC, suddenly we've got a vehicle that'll give you half a chance (instead of precious little) when a camel steps out on the road, as I practised with Steane last week. Bowling along at 80km/h on the blacktop I got myself into my "Moose Test" mode.
Now you'll remember the other week I wasn't too complimentary about the Hilux's swerve and recover ability, taking three BIG steering inputs before the brakes were selectively and automatically applied to correct the oversteer I'd induced. It's there but it takes too long to intervene.
The Hilux algorithms must have found their way into the 70's VSC because it behaved in the same fashion, though this time complicated with the body roll you get from live-axle vehicles. Our ute got a bit roly-poly before things were guided straight. Sorry Steane! That's the problem with a vehicle with plenty of ground clearance and therefore a higher centre-of-gravity, coupled to long-travel suspension.
It's a subtle improvement in an area where 70's have been traditionally unsafe and I reckon it could be tweaked some more to extract a better result.
Off-road the ETC worked well on our firm surfaces at the track, braking spinning wheel in a jiff and sacrificing precious little momentum. It confirmed for me that 200/Prado/Hilux/70 are now using the same basic electronics, their ETC being dual-channelled, a mode for high-speed on-road work  in HIGH range and another for slow off-road circumstances in LOW range.
I went looking for gullies to push it and it worked reliably, big diagonal axle moments where wheels went light and grip was lost didn't seem to faze it. But its performance went off as the brakes got warm, something every ETC equipped buggy will suffer from in arduous conditions. In that case its FDL and RDL to the rescue (they're diff-locks for both front and rear axles).
Our demo truck had them (they are an option on the GX) and in one stuck moment where ETC couldn't assist any further the dial was spun, the lights lit on the dash to confirm their engagement and the clutch let out in first and up and over we went! Old-fashioned traction technology to the rescue again (note to every 4WD maker who has aspirations of off-road greatness – this is essential kit).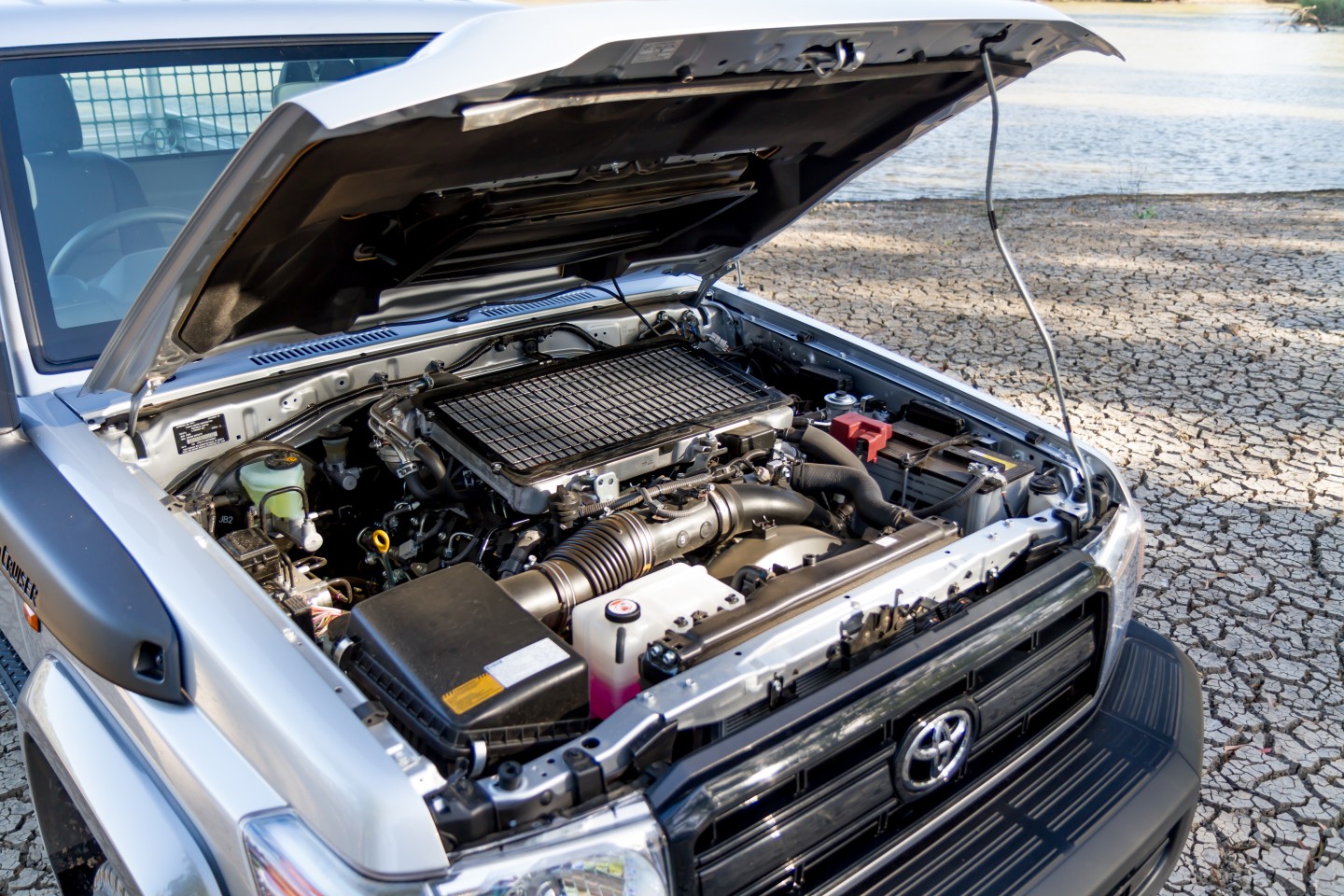 Steane told me the gear ratios had been changed and I think my reply was whoopee. Changing ratios won't fix a fundamental flaw with this vehicle and that is it's geared too short. There was always a big gulf between second and third and many a new-chum shifting down through the gears on a suburban corner would find that with too much entry speed, letting the clutch out in second would reward you with a lock-up. I didn't notice that on my brief drive of the vehicle, but what was still obvious was on the highway at 100km/h and beyond. It was way-too noisy.
A big lazy motor like that needs a six-speed gearbox, fifth and sixth are overdrives, first to fourth spread nice and evenly, a gear for EVERY occasion. I think the problem today is you mob out there in reader-land don't buy manuals anymore and Toyota won't build a strong enough manual gearbox for just one vehicle in their range, too big and heavy for a Corolla. OK then Toyota, make it trendy and put the auto in there instead from the 200! I dare you! That'll fix it.
But there's another problem that still remains… this is a gutless slug. Numbers don't lie and with only 430Nm this thing can't pull the skin off that rice pudding that Mum made you. I'm amazed at how underwhelming a Toyota 4.5L V8 turbo-diesel is in real-world conditions, yet the fans of the marque swear black and blue that this is a solid performer.
I drive a lot of them at work and I find that statement far-removed from my reality. Wasn't that long ago I was tasked with delivering an ATV course and my tow tug was the troop carrier variant. I had a pair of Yamaha 450 Grizzlies and my tandem alloy beaver-tail trailer, a weight I'd guess at around 1,800kgs with the tools. That's a pretty modest load, yet the troopie was flat knacker in third gear up Adelaide's SE Freeway through the tunnels at 80km/h, couldn't even hold the posted speed through there. It reminded me of the old days of the naturally aspirated 1HZ and never daring to overtake anything. The twin-turbo version of this motor in the 200 wagon is much better, obviously with a claimed 650Nm and a better gearbox, so it's no wonder owners of the single turbo version visit the tuners to extract some more gee-gees.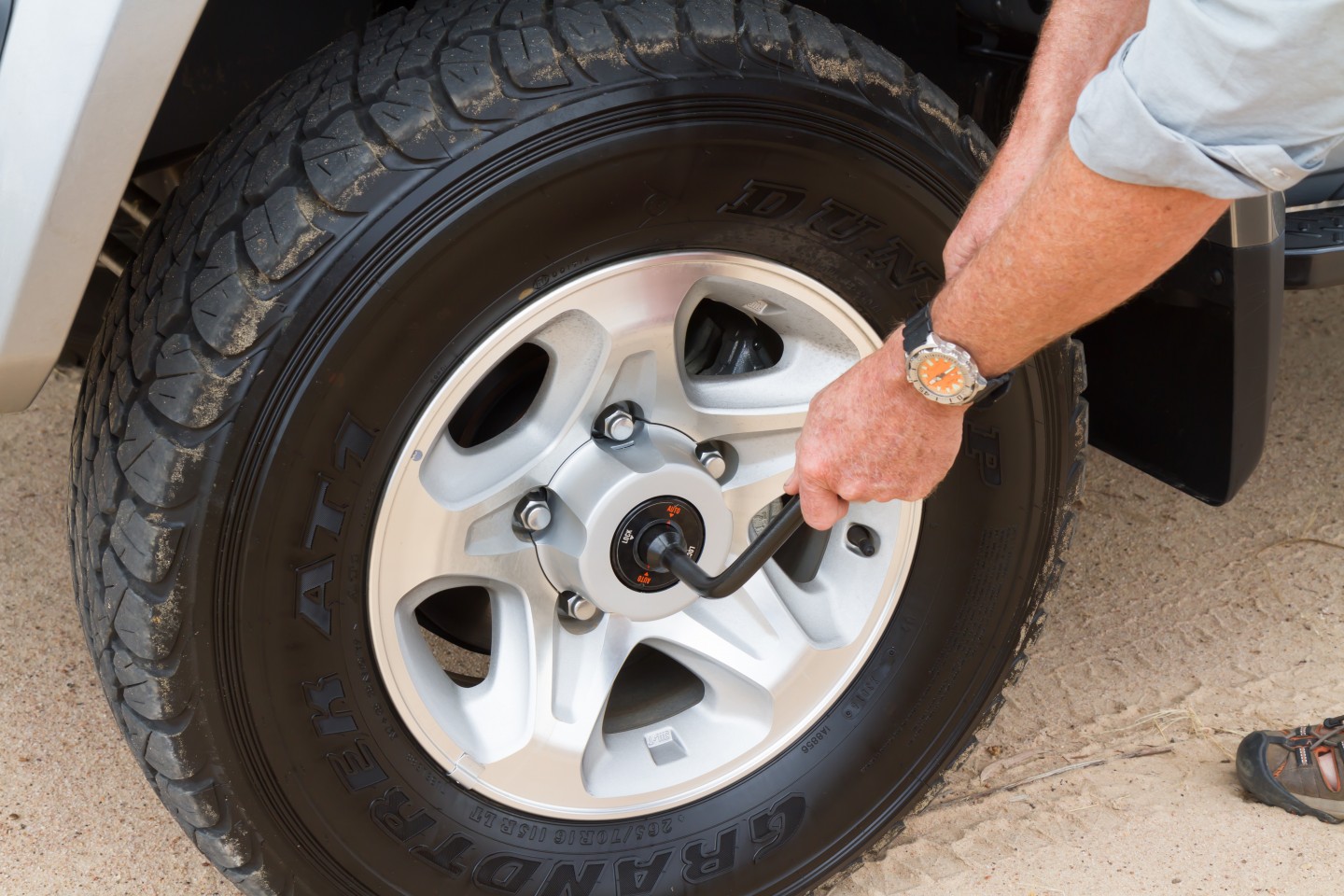 The 4WD transmission is still a part-time system but the big change is the deletion of manual free-wheeling hubs and replaced with auto hubs from a Patrol (guarantee you they're from the same supplier)! I don't like auto hubs at all, because in the auto position what should be a simple HIGH range (2H>4H>2H) shift on the move is complicated by a forced lower speed engagement, the potential for a momentary disengagement when reverse is selected and question marks from me about their durability in 4WD, because I've seen these fail on Patrols.
Let's knock an old 4WD furphy on the head. If you've got a hubbed part-timer you don't need to be locking/unlocking your hubs each time you move from bitumen to dirt and back again (saving you getting in and out of the car). It's far simpler to lock the hubs and leave them there, get up to speed and move in and out of HIGH range as the surface demands it. HIGH range engagement can be made at speeds up to 100km/h, but I'd recommend make your future dirt road ceiling 80km/h. After a day, a week, a month of dirt, or dirt/bitumen driving and you'll be driving exclusively on the blacktop again for a while, swing the hubs back into their FREE or in this case AUTO position for the bitumen running. In the case of this new-gen 70 you'll need to get the wheel-brace out to rotate the hex nut in the centre of the hub.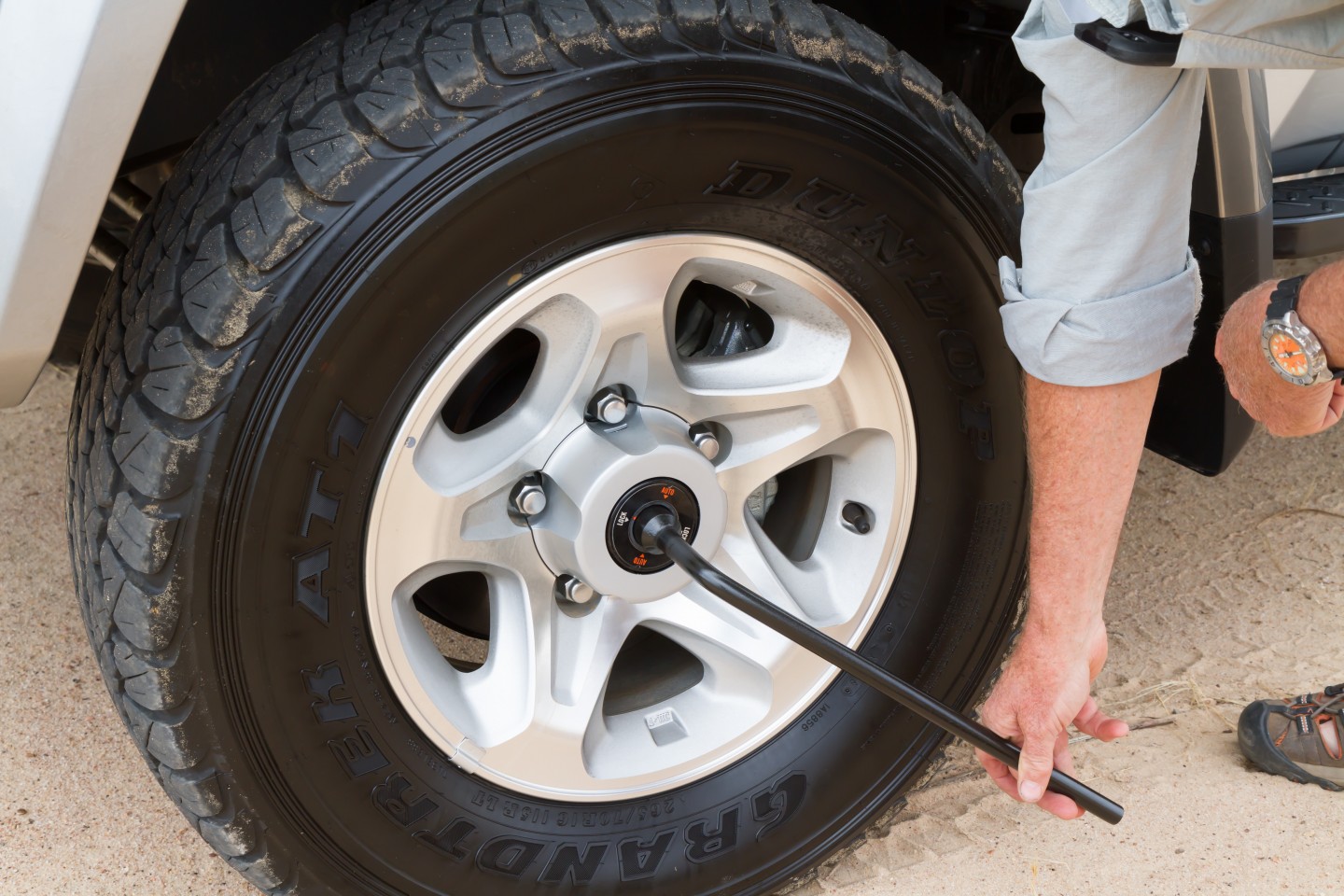 I'm a reasonably tall guy and the cab space on 70's has always been too tight for me, the seat never has had enough fore-aft travels on its rails. The same holds true on the 2017 model, however the steering wheel did do a nice rake and telescope adjustment on our demo GX, so that'll help the boys struggling with their waistlines I reckon. The other problem with 70's cabs is space to put things.
When you see 70's used by NPWS and stuffed full of firefighting PPE, notebooks and compliance pads until there are no more nooks and crannies left, inevitably dashboards get strewn with sharps – pens and other debris that in a rollover become lethal missiles.
Oh and then there's the back axle. Really? After how many years of now having the V8 with its widened front end we're still left with a significantly narrower back end. The net result is a vehicle that tracks awkwardly through sand, mud and ruts and with an increased rear puncture potential.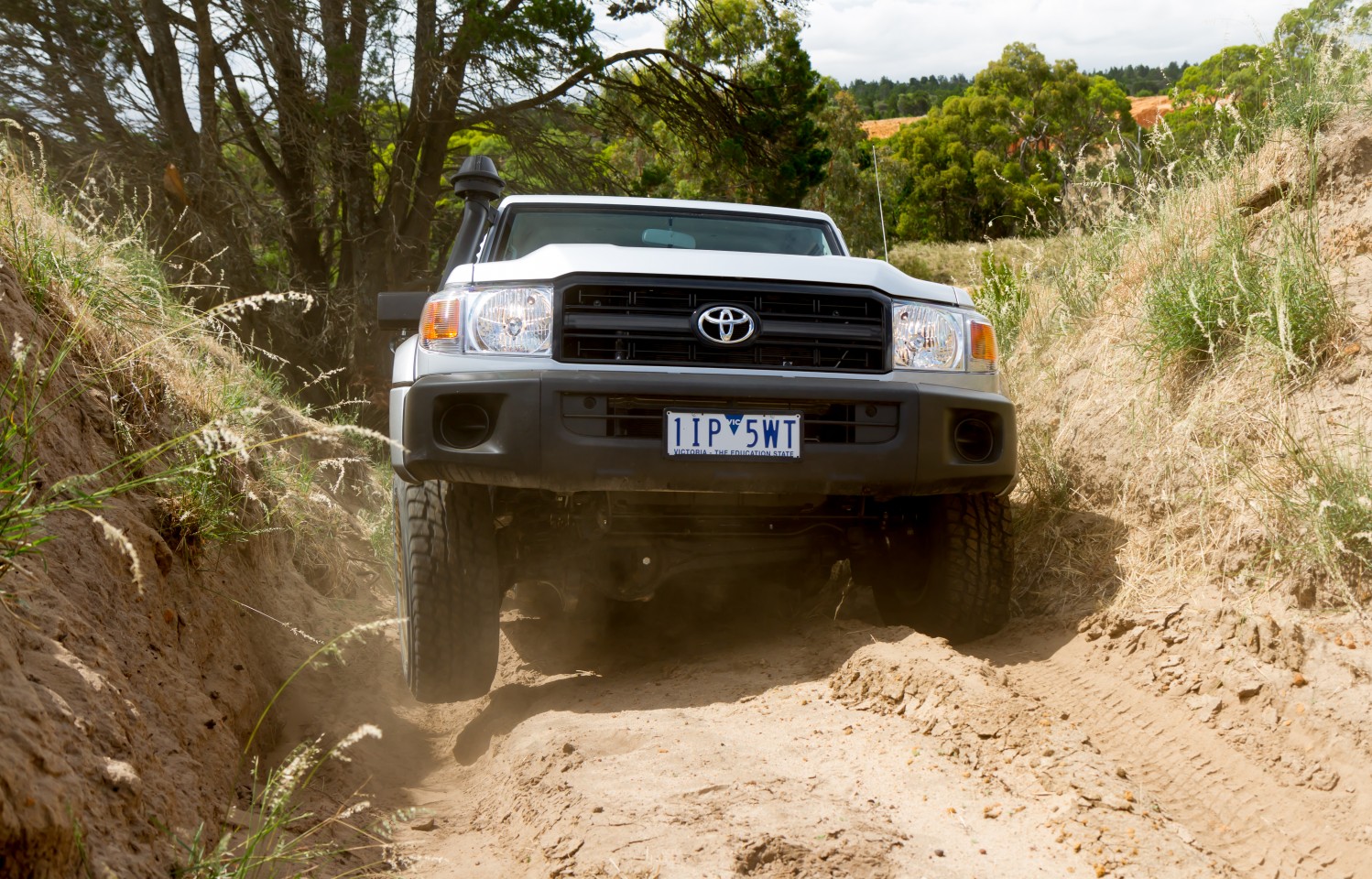 Whilst we're talking about tyres now there's great cause for jubilation, because the split-rim wheel seen on poverty-pack commercials since year-dot are no more! Thank you you-know-who for that. You get either a one-piece steel wheel now or an alloy on the luxo models.
Giveth with one hand, taketh away with another. The same commercial steel wheel comes with a 225/95R16… what the fuck is that size, a metric 7.50R16? 70's on 7.50's were always too nervous in the steering so this won't help one little bit and it's an especially dumb size tyre you'll never find in the bush. The alternative is screamingly obvious, an LT235/85R16 with a 120 load index, a tyre size you'll find anywhere in the bush and with an enhanced carrying capacity and strength and precise steering. Try a Toyo M55 or an OPAT2, or an old fave was Bridgestone's D661.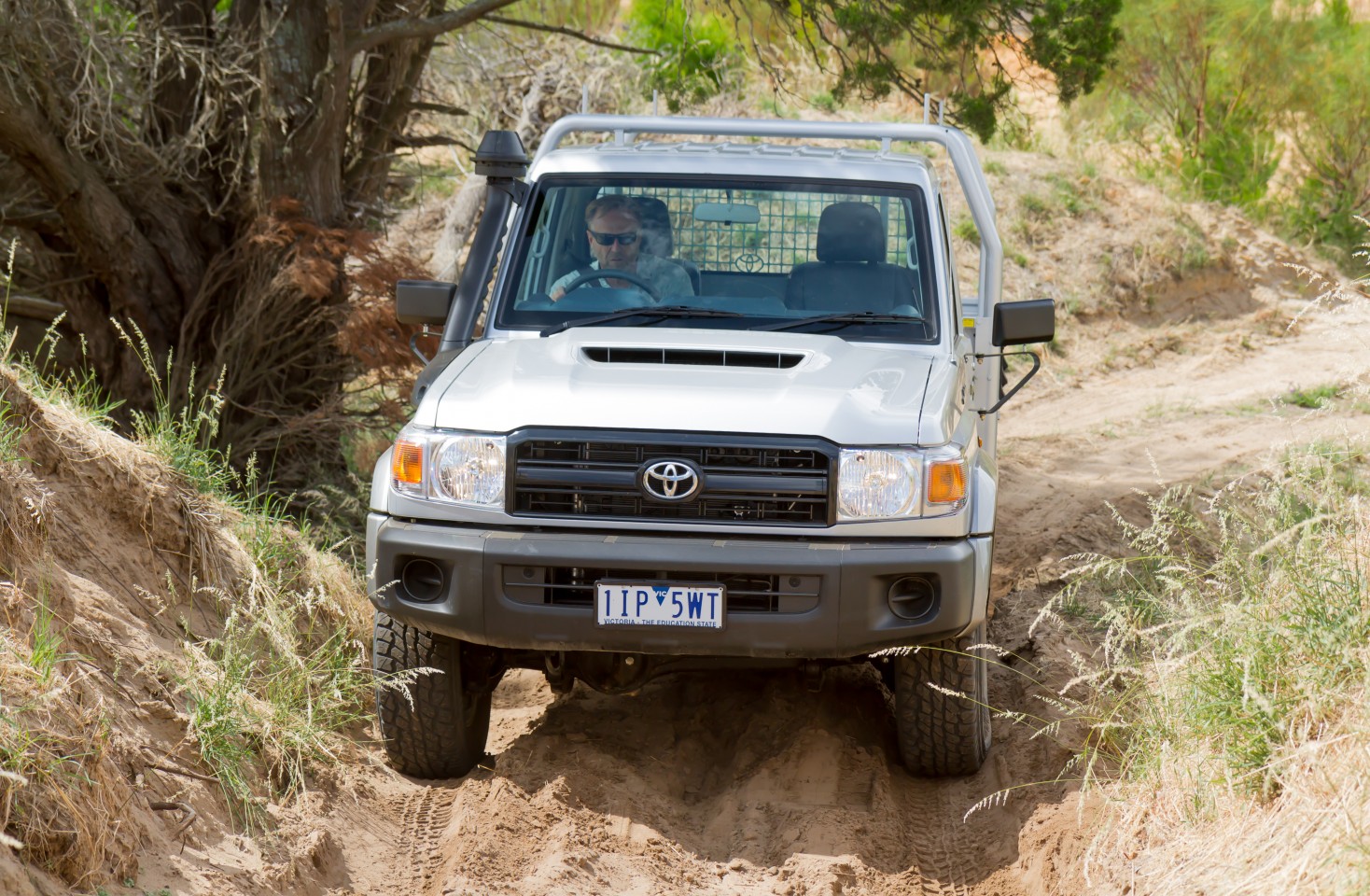 The alloy wheel/tyre fitment isn't as good as it could have been either, a 70 series tyre on a 70 series (pardon my feeble pun there), a 265/70R16 115R when it should have been an LT265/75R16 123R, a proper light-truck tyre instead of a pretender.
So there are some refinements in some areas, but still plenty of fundamentals ignored, which if ever changed, would make the 70 potentially a real legend. I've seen plenty of single cab 70's carrying obscenely overloaded trays in fire-fighting situations and marveled at their ability to lug up and down steep hills in LOW range at a snail's pace, but that is not enough to make a great vehicle and the price is rich for what you get. Sadly there's no competition anymore in this sector so there's no incentive to do better.
Respect… I dunno?