If ever there was any doubt (nope not ever) that Aussies thought 4WDs were the coolest form of vehicular transport, then this weekend's official reveal of Isuzu's new MU-X wagon will have put it beyond a shadow of doubt. Not only that, but it also confirms that we do have some sway internationally with vehicle makers when it comes to the design of a vehicle that'll grace our roads.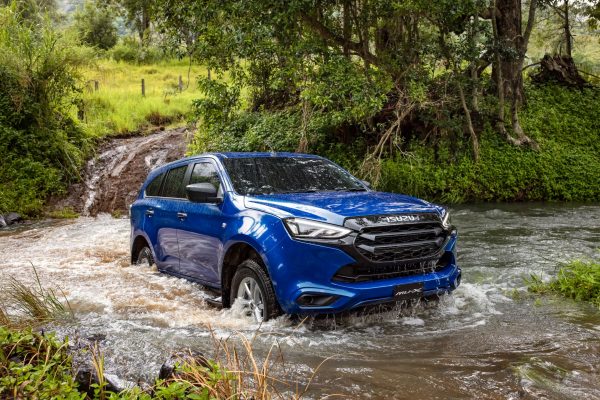 You see, Aussies have made the previous generation MU-X the best-selling ute-derived wagon in our local marketplace and we bought them in droves. Even I did. Because of that, we Aussies directly influenced the form of the new jigger because the feedback Isuzu gleaned told them where they were deficient.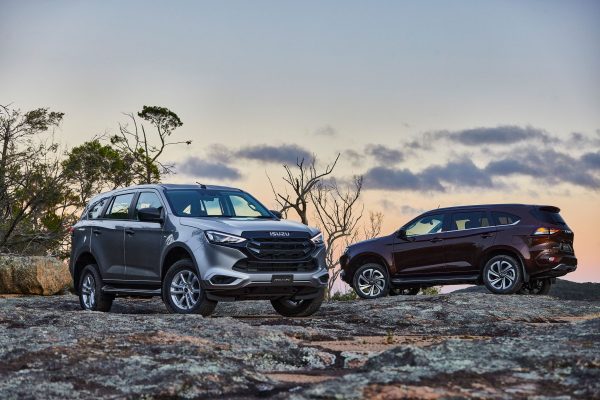 So often manufacturers miss their sales targets because they didn't listen; Volkswagen with the Amarok – no LOW range in auto, Jeep with the Gladiator – no diesel V6, Mercedes with the X-Class – clones seldom work and I might as well mention China. The Great Wall Cannon will never achieve sales greatness with that mish-mash of borrowed styling and an underwhelming 2.0 litre diesel – cue jokes about two litres only belonging in milk cartons. Duh!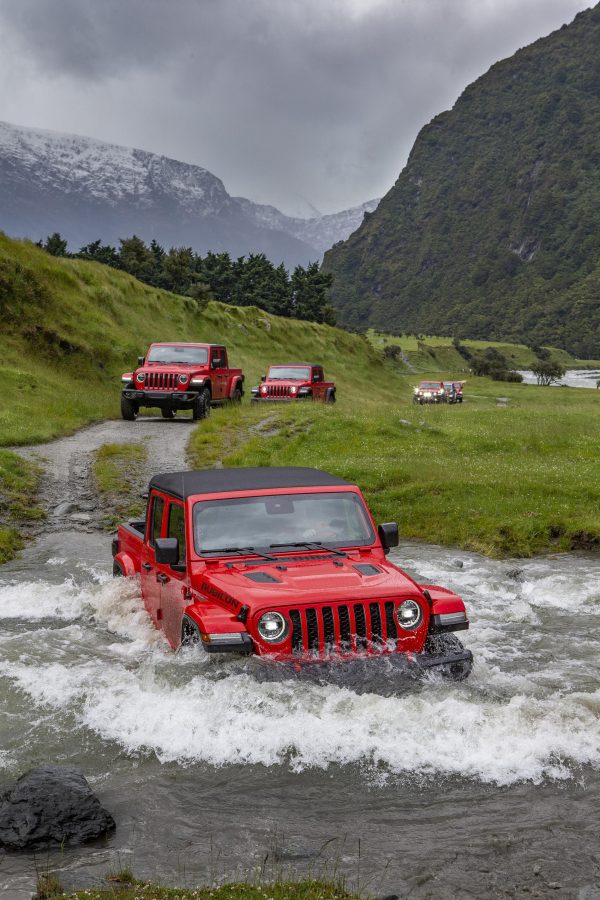 But back to the MU-X.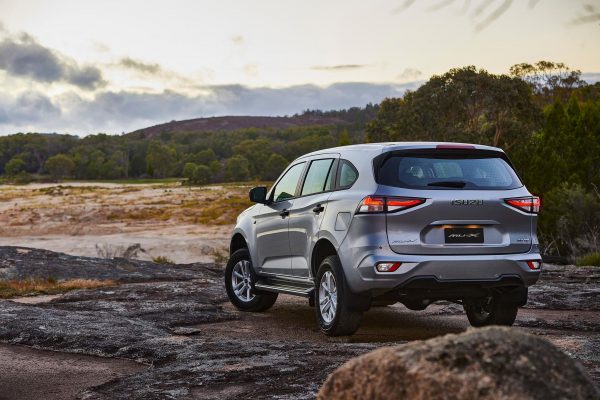 One of my 4WD Goddesses decided that a wagon to go with the ute would be a good idea so in 2016 we had his and hers Isuzus in the driveway. It's worked out pretty well as the ute does the heavy-lifting in the business and all the dirty jobs and the wagon does the travel and the funner (I made it up) stuff. Like in 2019, hauling one of our Kimberley campers all the way across the Nullabor and up to Ningaloo effortlessly in the days pre-Covid, remember them? We weren't the only MU-X owners doing some towing either, there were heaps of the buggers and to my trained eye, more than a few were overweight.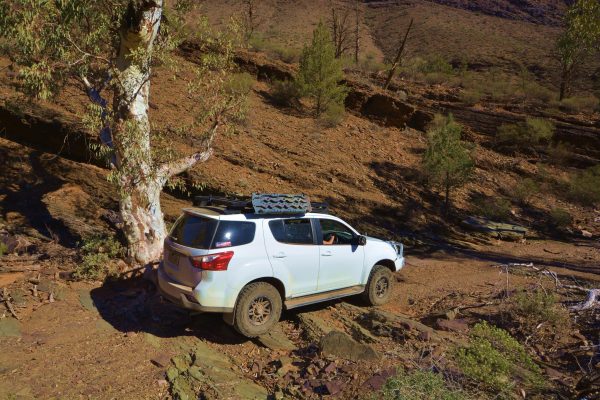 New MU-X is a completely different baby and the only connections with the original model found in its drivetrain and inside with the cupholders.
So, let's start with the important bits… the motor and the transmission.
The legend of the 4JJ1 intercooled turbo-diesel is now called 4JJ3-TCX and is a better engine than its predecessor with more usable power, torque and a silence that's most un-Isuzu-like. Both of the 4JJ1s we have at home were of the 130kW/380Nm variety. A mid-model iteration tweaked things in 2017 with a 50Nm bump in the torque to 430Nm and whilst it was useful it didn't feel a lot different.
The new 4JJ3-TCX has roots that go back past 4JJ1 and all the way to TF Rodeo days and the 4JB1T, its 2.8 litre turbo-diesel four was what started the reliability and fuel-efficiency fable in Australia. That history lesson is important because Isuzu is a company that doesn't throw babies out with the bathwater, ever. It's a company that believes in evolution rather than revolution. Yep, slow and steady wins the race for them.
But that's not what the TCX is about because in 450NM form and coupled to a six-speed Aisin auto, this engine fairly flies. I've clocked up 20,000kms in my new 2021 D-MAX and that uses the same motor. It's been a good experience. What else has been good is that the Aisin has been retuned. The last of the 4JJ1s had an earlier version of the same auto but it was horrible and couldn't hold a gear in the hills to save itself, up and down like a yo-yo. The new one is much more relaxed and that tune is due in part to feedback.
With more grunt and a better ability to use it comes the tantalising prospect of moving bigger things. In what is likely the biggest take-home on new MU-X is the 3,500kgs braked tow capacity. You read that right, this is a medium sized wagon that can tug the same load that the equivalent medium sized ute does or a 200 Series Land Cruiser. Doesn't mean that you should do it though and there's more on the loads than meets the eye.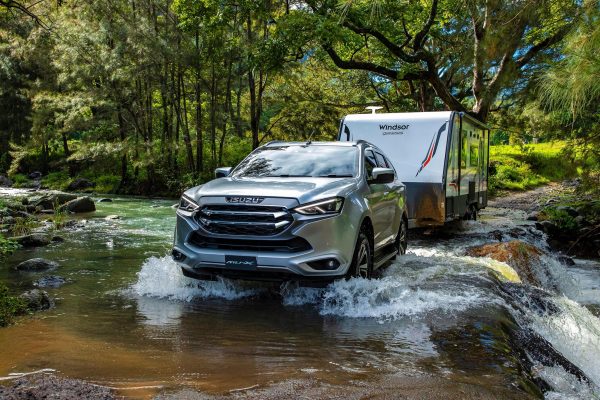 The basics on the weights read like this; kerb weight kicks off with 2,135kgs (LS-M), with a GVM of 2,800kgs leaving you a payload of 665kgs (for bullbar/fuel/passengers/fridge and that is 50kgs more than a 200 LC GXL), a GCM of 5,900kgs, towball downforce of 350kgs and for those of you wanting to put stuff on the roof you've now got 100kgs to play with, but don't forget to subtract the weight of your rack leaving likely enough surplus for a box of tissues rather than a rooftop tent.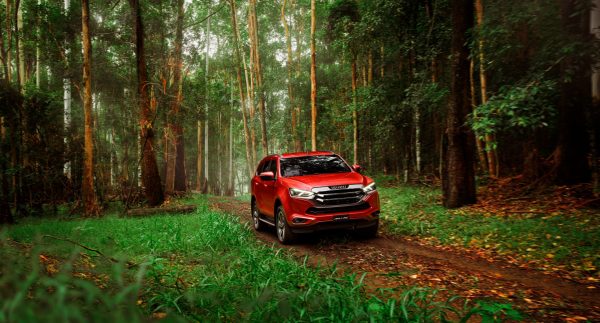 There's been something of an arms race in ute design of the last decade to have bragging rights in towing capacity and 3,500kgs is the magic number. Wagons have been a little different and that has peeved potential 4WD wagon buyers because with only 2,800-3,000kgs at their disposal it meant that they couldn't hook up one of those ridiculous tandem caravans that literally do have everything and the kitchen sink.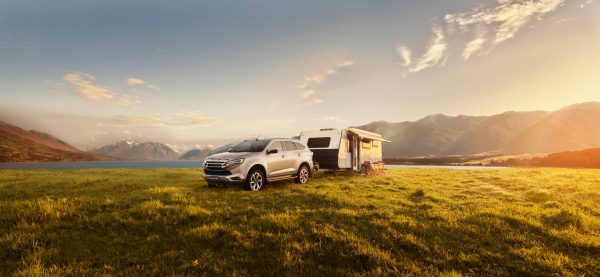 Expect a new arms race now because Isuzu has lobbed an ICBM at Toyota and they'll be pissed. This will white-ant Prado sales and for folk who can't afford the pending 300 series or a second hand 200, the new MU-X is a tantalising proposition because it's cheaper without the Toyota-Tax.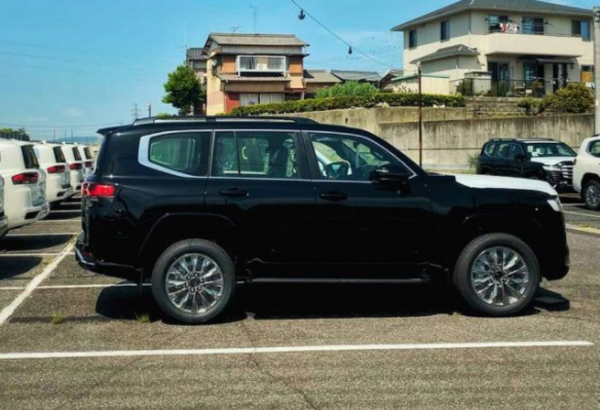 That GVM arms (or load) race, also started another dubious 4WD "improvement" and that is GVM upgrades.
There's a little bit of payload fat kept aside for insurance (read durability/longevity) between the combined capacity of the front and rear axles and the vehicle's GVM (that's Gross Vehicle Mass). It's around ten percent. Some bright spark came up with the idea of using up that fat so the punters could carry even more stuff they don't need. The big suspension makers signed off on the engineering and thus Second Stage Manufacturing (SSM) was born. Manufacturers aren't enamoured with this one little bit as the inevitable chassis and driveline failures caused through overloading are going to be knocking on the door of the various warranty departments.
Thankfully, the chassis on new MU-X is beefier than before. That extra torsional rigidity and a new stronger coil-spring multi-link suspension coupled to bigger brakes, gives Isuzu the confidence that it'll pick up that extra 500kgs with ease. Let's hope Isuzu had also considered the GVM upgrade brigade because you can bet this won't satisfy the caravanistas. There's customer feedback of importance number two, grizzle long enough about payload and one day you might get your wish.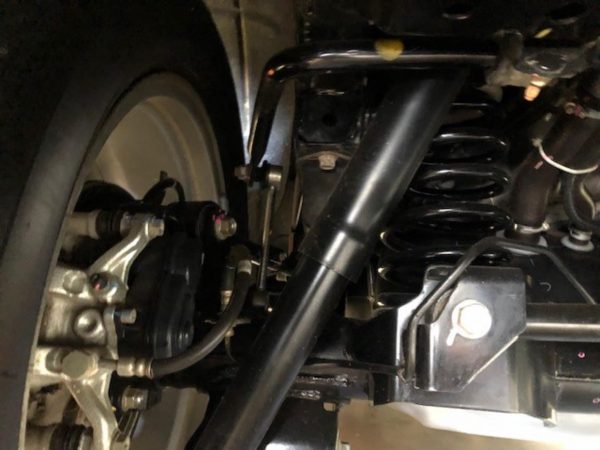 Another complaint from the punters was fuel capacity. Early MU-X was hampered in having only 65 litres. It was a pain for me too, so I opted for an ARB Frontier tank with 112 litres and it was an astute move with double the range. Isuzu have upped the ante with an 80-litre poly tank and struck a sensible balance with the payload conundrum that will again address that all-important feedback.
Interior refinements mirror those found in new D-MAX and they'll appeal to a whole new gaggle of potential buyers. There's big-screen TV, the infotainment setup is Apple CarPlay and Android Auto compatible and you can keep the kiddies entertained in the back when you're on those long jaunts to holiday land. And this time you'll get your phone hooked up quickly. That one was a constant source of complaint.
There's also his and hers air conditioning settings in the new model MU-X and that'll please a lot of couples, keen to keep their feet toasty at their preferred individual temperatures. That little inclusion has stopped plenty of arguments in the Wilson household in our new D-MAX which shares the same system.
The fabrics and plastics are positively svelte compared to the older model and the seats are comfy and there's more middle and rear seat room, even a bit more space behind the third row. Oh, and the cherished cupholders are still there, sitting up in the dashboard where they should be.
Another thing shared with new D-MAX is IDAS (Intelligent Driver Assistant System), a suite of driver safety aids delivered by a stereo camera system mounted up high in the middle of the windscreen that measures distances, movement and speed to calibrate the activation of brakes and stability control. I elaborated on the tech in this article last year.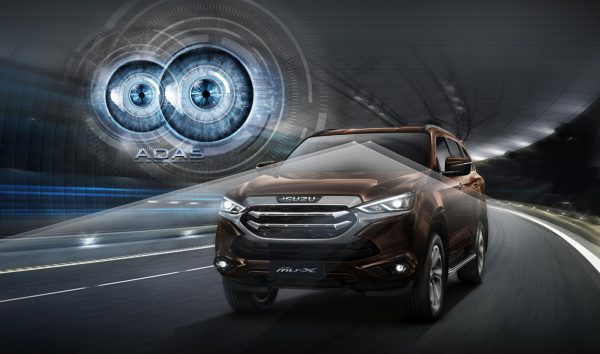 The system is the most sophisticated seen on Australian roads and gave the D-MAX the highest ANCAP safety rating ever awarded last year. Whilst that's good, what's not is the manner it does it. Plenty have commented on the intrusive nature of the technology, but that's the way the automotive world is going and we better get used to it. As a driver educator I can see that all these autonomous technologies are having an effect on modifying driver behaviour and that's positive, it just takes some getting used to.
Because we at Loaded 4X4 have a genuine interest in things 4WD we better explain the system that MU-X uses.
Like the D-MAX, new MU-X uses a part-time system and employs a traditional shift-on-the-fly engagement for HIGH range. The selector though, in what I thought was a strange deviation from new D-MAX, has been moved back down between the seats like on the previous model. What's the problem with that you ask? Taking your eyes off the road is the main problem and secondly accidental activation. Anyway, it's back down adjacent to the main gear lever which being an auto-only proposition features a semi-automatic sports-shift function. Whilst we're down there new MU-X also sports an electronic parking brake.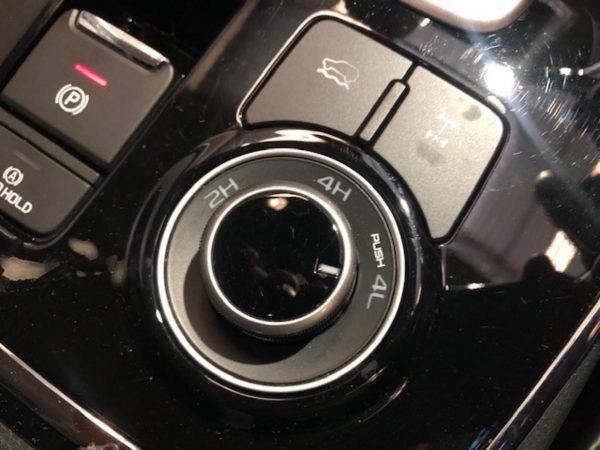 I noticed when the first pictures emerged from Thailand upon the vehicle's overseas release last year that there was a mysterious new button adjacent to the 4WD control. It's an off-road button and it connects "Rough Terrain Mode". Now, detail on this is pretty scant at the moment and I speculated in an earlier article that it might have been something like the terrain mode options you'll see on Pajero Sport, as the button is identical, but not so. With the Pajero you scroll through pictograms of gravel/snow/sand/mud/rocks and the electronics are tweaked to suit. I reckon on the MU-X that it's more of a torque-vectoring setup.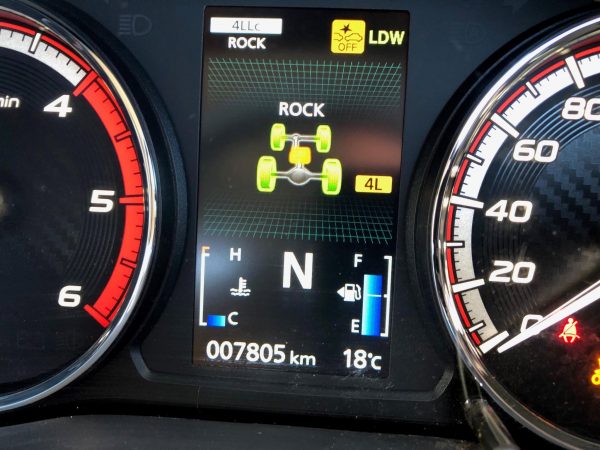 Torque vectoring might fix the bugbear I have with new D-MAX's traction electronics and that is that when you go into LOW range, vehicle stability control, brake traction and engine speed limiting devices are turned off, but once you hit a speed threshold of around 40km/h brake traction is enabled once more and autonomous braking on sand or mud is something you don't want. I'm hoping that the MU-X system is a little less of a blunt object, blending the electronics via torque redirection away from the problem and to the wheels that have got some grip sooner than was the case before.
If all else fails there is luckily the electrically operated LOW range-only rear diff-lock and that will hook up both wheels on the back axle to turn in unison instead of going their own way, following the typical norms of an open diff. Sadly operation of the rear diff-lock disables brake traction control and that means the front wheels are unable to assist if a front wheel loses grip.
I should also report on the tyre/wheel combination.
There are three models in the MU-X range, LS-M, LS-U and LS-T and the wheel/tyre combination runs to 17", 18" and 20" fitments. I can already hear the requests from new MU-X owners wanting a tougher tyre in a twenty. Good luck with that! It's hard enough with an eighteen let alone a race-car-inspired low-profile tyre designed for super-smooth bitumen and questionable aesthetics. If you've got aspirations for travel and heavy towing, you'll want out of those.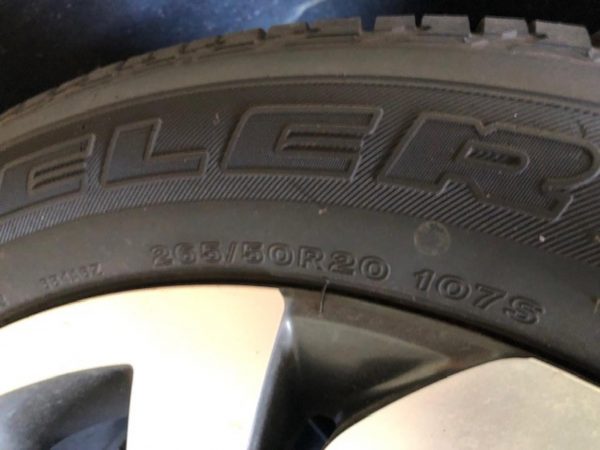 If the experience of new D-MAX is anything to go by new MU-X is going to be a runaway success, it'll be a belter in the sales charts and at Toyota's expense. Sadly the timing thanks to Covid is all off. There are initial stocks in the country that'll likely be exhausted in the blink of an eye, so sign up now and be prepared for the wait whilst Covid Delta works its crap through Thailand.
Prices for new Isuzu MU-X 4WD models start at $53,900 for the LS-M, $59,900 for the LS-U and $65,900 for the LS-T plus on-roads.