As fans of Mitsubishi's products over the years we're pleased to see that the new 2024 Triton has finally surfaced in Thailand and we now have details of what to expect in our local market, in the first half of next year. It's a bigger, bolder Triton, a new Triton that's not shaking the foundations of utedom to the core, instead, another stready-as-she-goes improvement over the previous generation and addressing the shortcomings.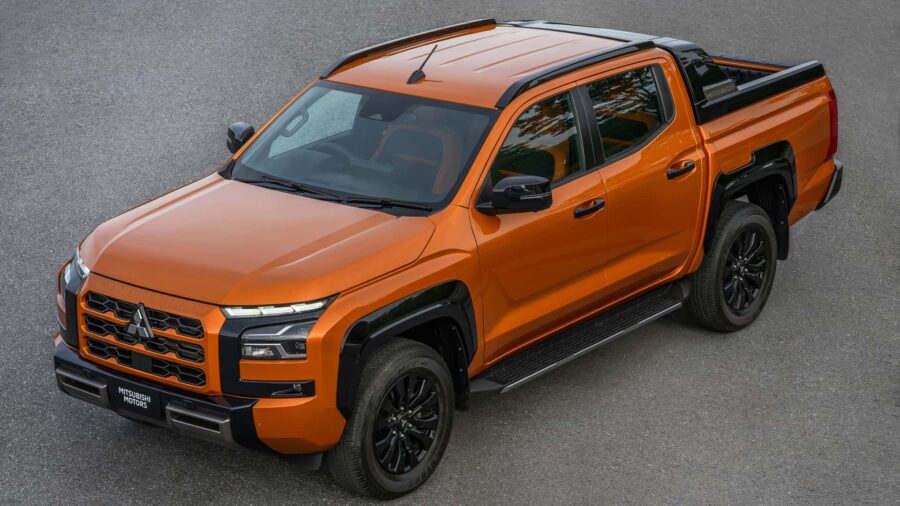 Because it's an all-new chassis it comes with some significant benefits over the previous generation with dimensions that now don't make it an outlier. Gone is the narrow body, whose proportions polarised some buyers and in is a roomier ute with a better payload.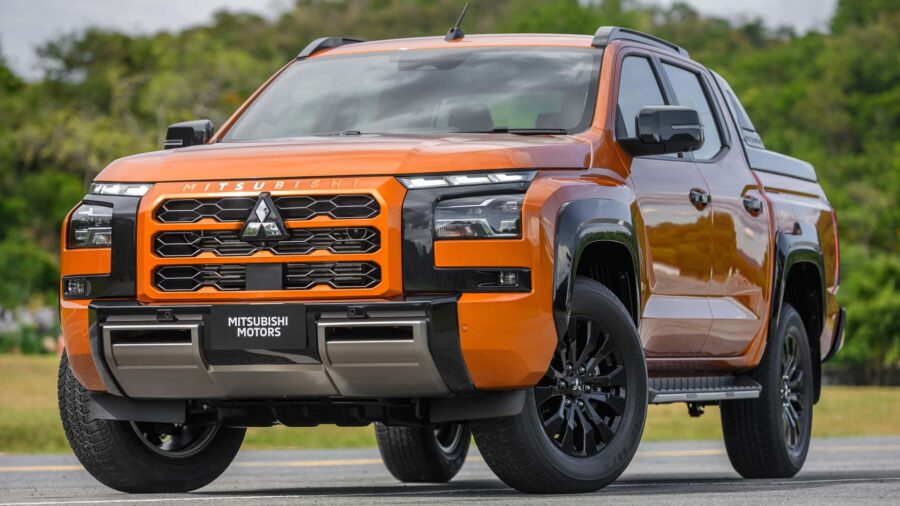 It's arguably a more handsome thing too, replacing the overly angular "Dynamic Shield" face from before with a blockier snout that'll pull in a legion of new buyers.
Motivation has been retained via the existing 2.4L alloy four-cylinder diesel being reworked for a modest increase in pep, courtesy of a twin-turbo makeover in the style of the current Navara. Likely that's no surprise, as the Alliance Group (that's Mitsubishi/Nissan/Renault) would have been sharing a lot of engineering on this, as the Triton will be the foundation of the next Navara and also Renault's ute, the Alaskan.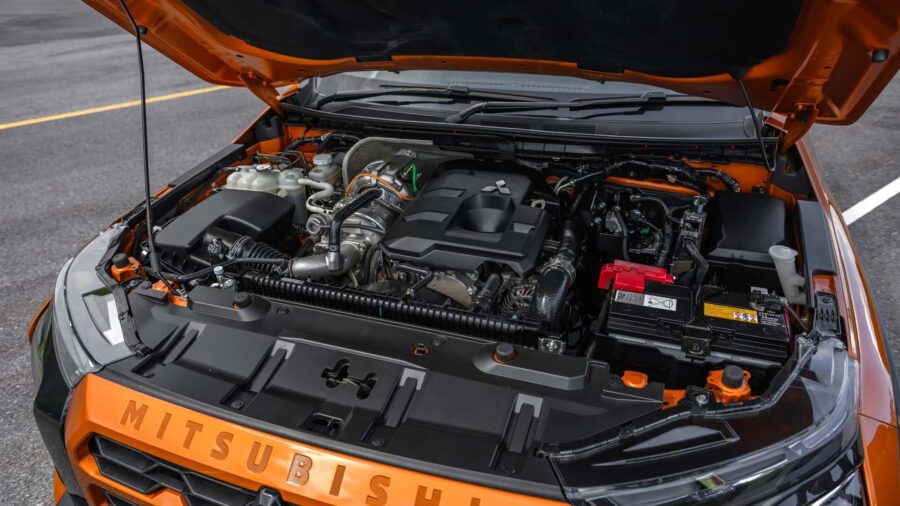 We like the engine, as it's been utterly reliable and being light, aids Triton in being one of the most balanced handling vehicles in its class. Less mass over the front axle translates into better steering and composure on the bends.
I was hoping we'd see a hybrid with a 48V battery pack, but alas that won't be, as there's been some talk about the Triton going full EV at the end of the decade and likely halfway through its lifecycle.
The body styles will range with single-cab, extra-cab and crew-cab variants per existing marketing and in 2WD and 4WD versions, along with variants of the 2.4L diesel in a single turbo guise in two states of tune for the poverty-pack models and the twin-turbo for the headline GSR Exceed. Expect 150kW and 470Nm for the twin-turbo version, nice, but not naughty. I still reckon if you're going to pitch a vehicle into this segment in this country the minimum gee-gees required is 500Nm if your want is to tow and go 4WDing. Progress will be efficient but not scintillating.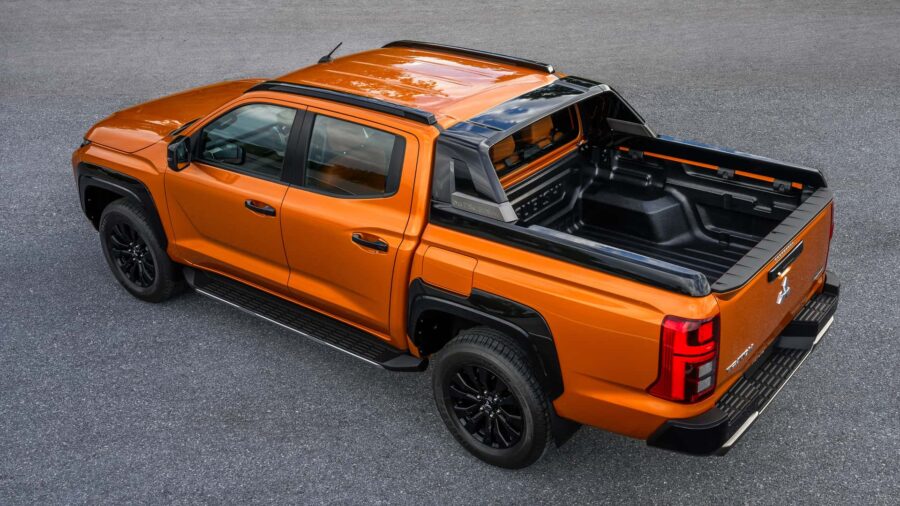 What we're really interested in here at Loaded 4X4 is the chassis design, with its new IFS front end boasting an extra 20mm of travel. The previous generation imposed some limits on changes because of its awkward geometry, whereas this one should allow greater flexibility for re-engineering and you can bet as soon as we get our hands on one, we'll have a lift-kit ready for sale with our famous "Dynamic" tune shocks!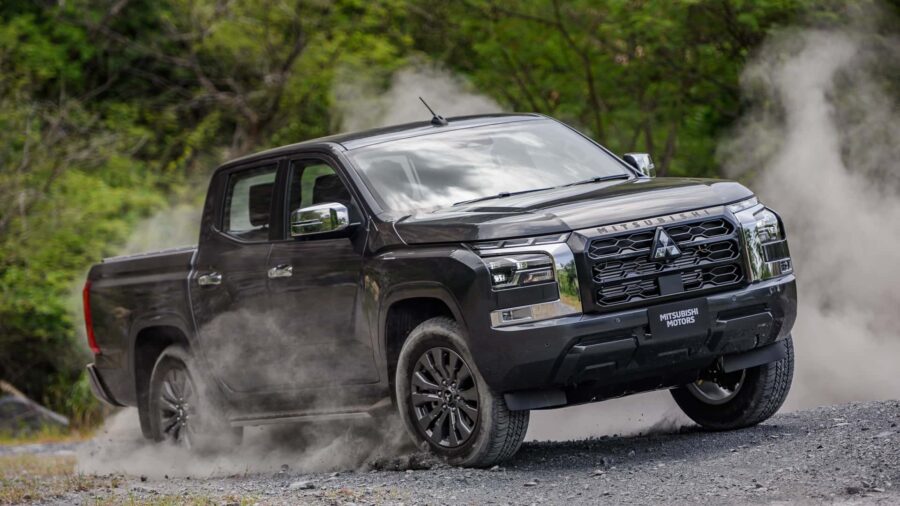 The rear end retains leaf springs and drum brakes and that's a bummer, because Mitsubishi could have really raised the bar on ride quality and created a point of difference by going down the path of coils and discs, at least in the premium GSR Exceed. Despite what the naysayers say, it is possible to carry heavy loads with a coil-sprung ute, Land Rover proved it way back in 1994 with the Defender 130. Nissan eventually got the Navara's coil back end right and it's a smooth riding thing.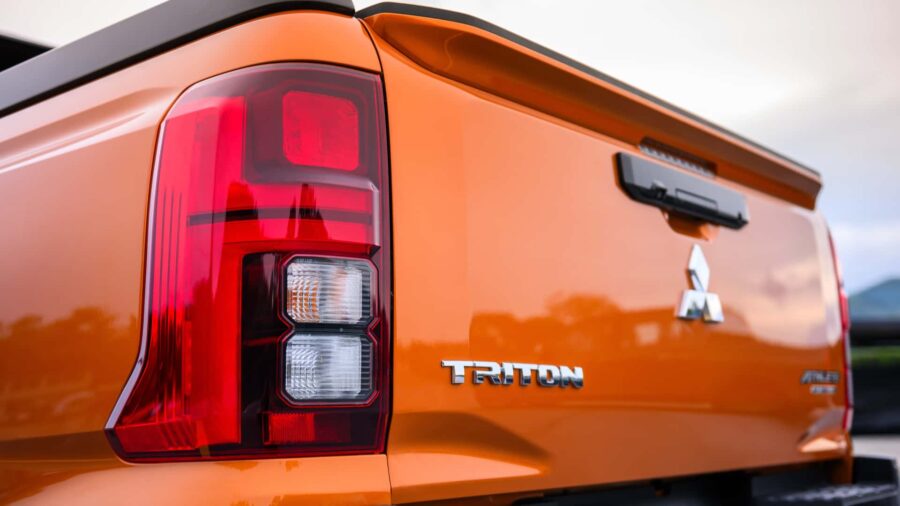 With the clever use of high-tensile steel the new body is lighter than its predecessor and that's a good thing, because the chassis is heavier and weight is the enemy. That chassis also boasts 60% more torsional rigidity than before (that's anti-flex), so you can expect a ride quality much improved than before with less jittery, more composed reactions on corrugations and the like.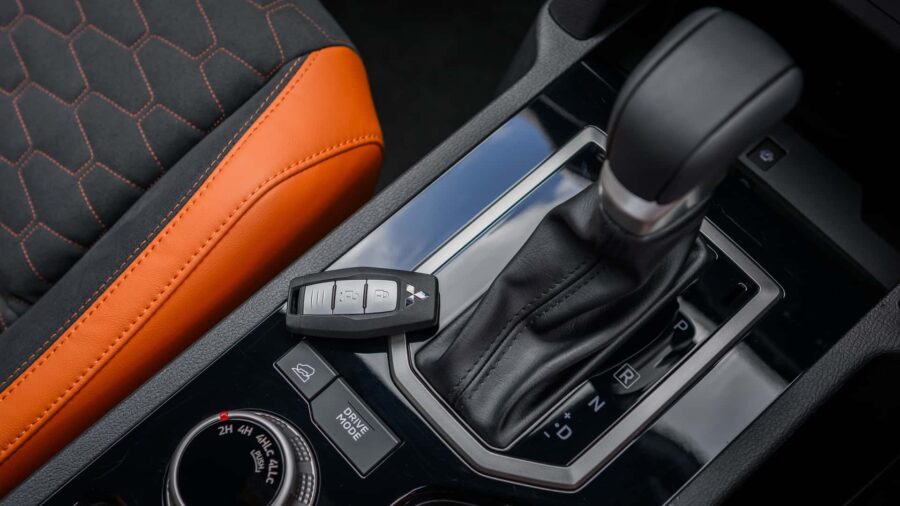 We were hoping in here to see the Pajero Sport's 8-speed Aisin auto adopted as the transmission of choice, but alas, not to be, retaining the same six-speeder from before. The manual gearbox, another six-speeder, apparently has done away with a mechanical connection between lever and gearbox and now uses a fly-by-wire setup. Makes me wonder about the longevity of that interface??? I await to be reporting on that in ten years time and be proven wrong.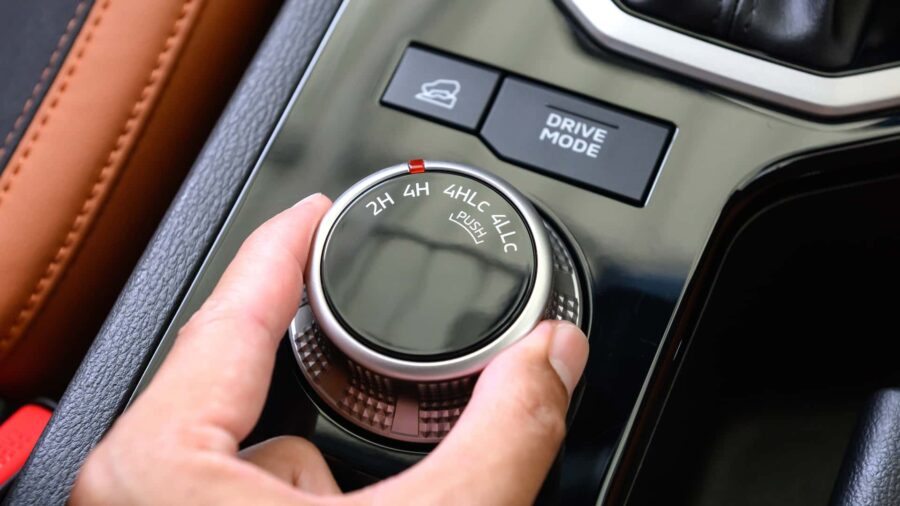 Talking things gearbox related, Mitsubishi has of course retained their superb Super-Select 4WD system and added AYC (that's Active Yaw Control), a method to enhance stability by vectoring torque and brake taps where they can do their best good in keeping you safely mobile.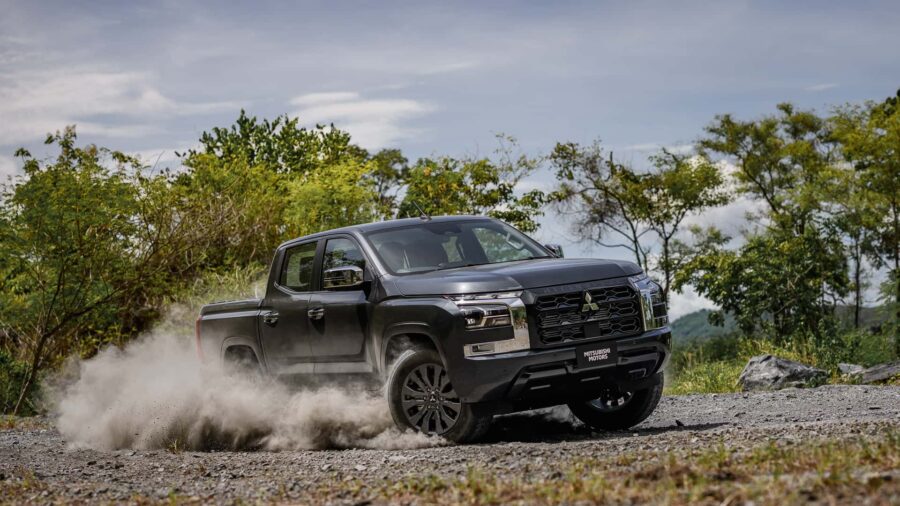 If you were in the dark on how good Super-Select is, you should read this. You'll quickly become a believer and it's been around in Mitsubishi's 4WD products since 1991.
Triton has also retained it's multi-mode terrain select system, something I was using just yesterday to great effect on a Pajero Sport. Push the button adjacent to the Super-Select dial and you can scroll from Normal (2WD/AWD/4WD High Range), Eco (2H), Gravel and Snow (AWD), Sand and Mud (4WD High Range), Rock (4WD Low Range). It works by tuning the engine's response to the anitcipated terrain load imposed on the driveline and finely tuning the traction system to react optimally. Less brake taps in Sand, more on Rock.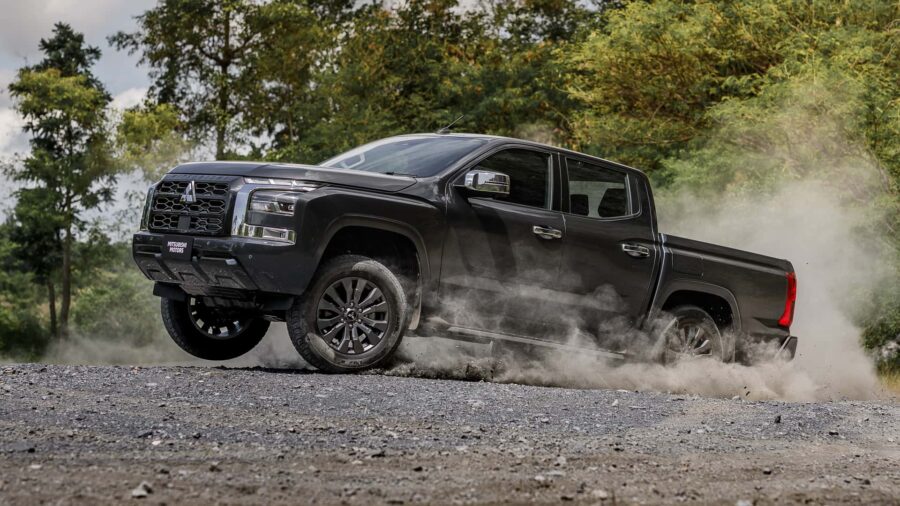 You'll also see a Rear Diff-Lock, Hill-Descent Control and Hill-Start Assist making for a well-rounded off-road warrior.
The new Triton has joined everyone else's great towing lie by being rated at 3,500kgs capacity and that's up by 400kgs on the old model. That sum will attract a lot of folk who reckon it's OK to hook up a caravan of over 3,000kgs mass and take it out on the road oblivious to the implications of drum brakes, underdone suspension and tyres, along with modest motivation. Buyer beware.
Wheel sizes are a bit of a mixed bag with a 16″ option quoted for Thailand. I find that really hard to believe in 4WD form, because I expect that as brake mass has increased, so too will the need be to increase the wheel diameter to swallow up the assembly. I think we should expect 17″ and 18″ sizes as being standard fare here in Australia on a new Triton fourbie.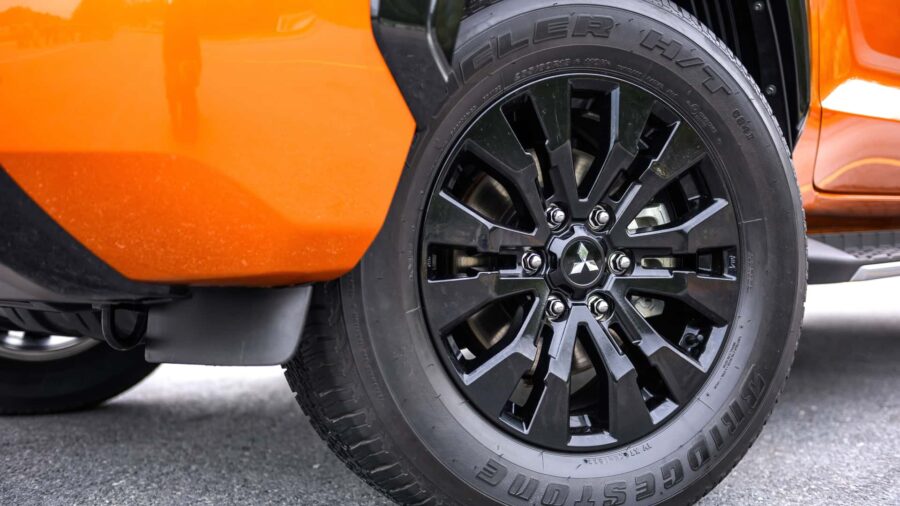 Something else that's worth talking about is the adoption of EPS (Electric Power Steering), at least on the up-spec GSR variants. EPS makes a massive difference to steering loads compared to hydraulic systems, so thanks Mitsubishi for doing that and saving the planet (less fuel consumed).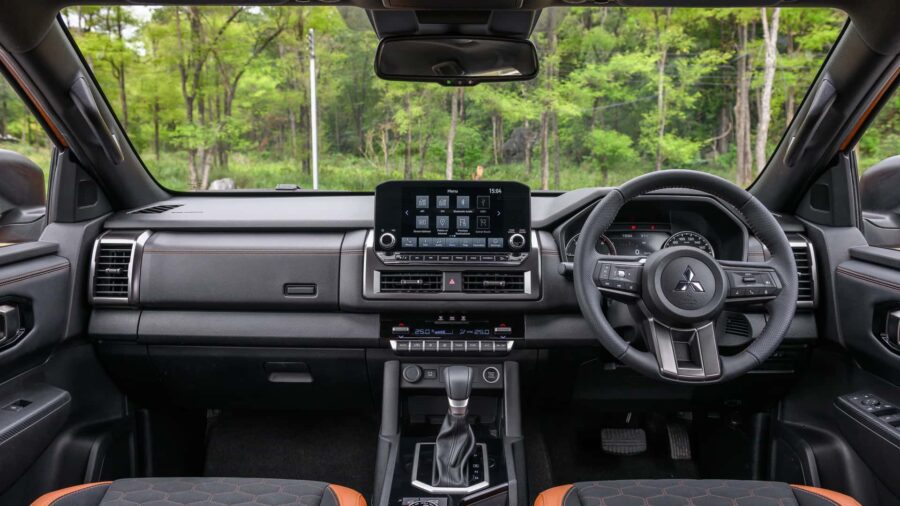 For those who fuss over their interiors, new Triton has gone bonkers for Outlander tech, so you can expect a 9 inch tablet in the top-centre of the dash with all your Apple CarPlay/Android Auto/SatNav fancy-schmancy.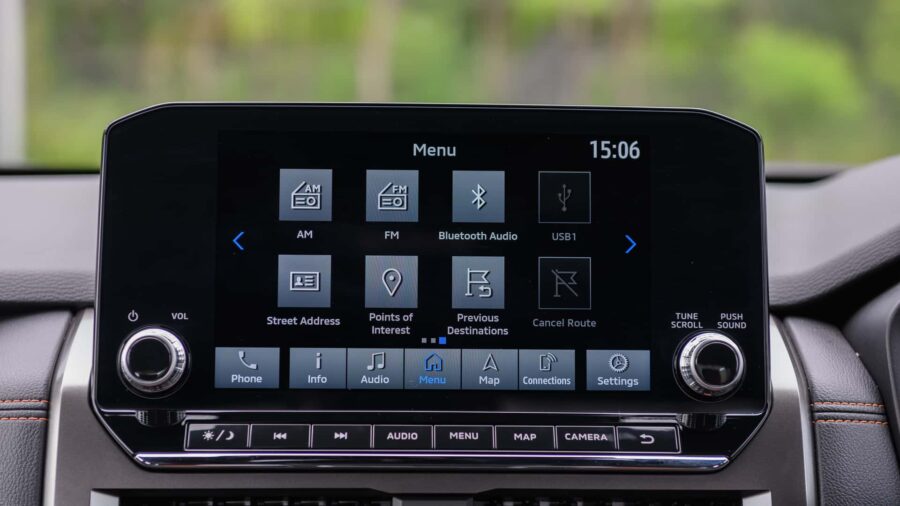 Thank God that Triton retains a proper handbrake instead of an electronic pox-on-mankind version. There are days when leaning on the handbrake for a bit of traction control trickery and a downhill tweak are desirable, and an electronic one won't allow that level of driver intervention finesse.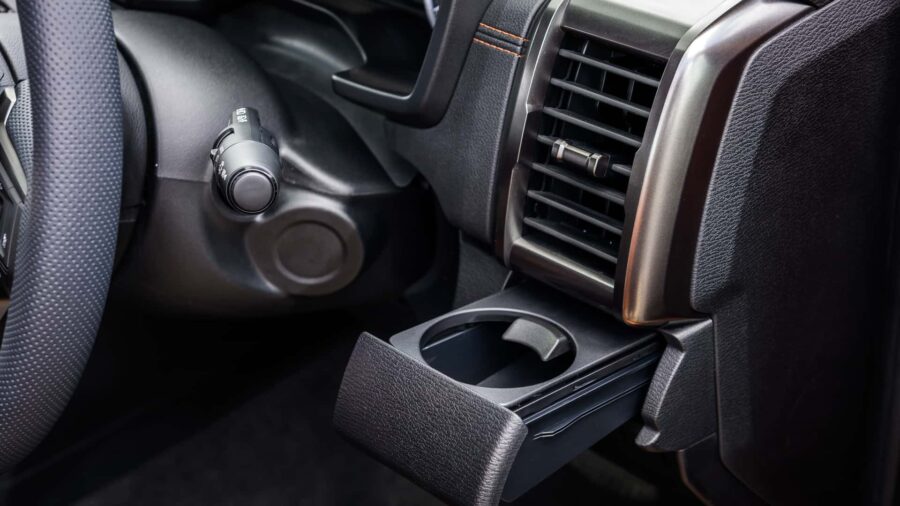 There are 12V outlets and USB ports and multiple cupholders including a pair under the wing vents a'la Isuzu's formula.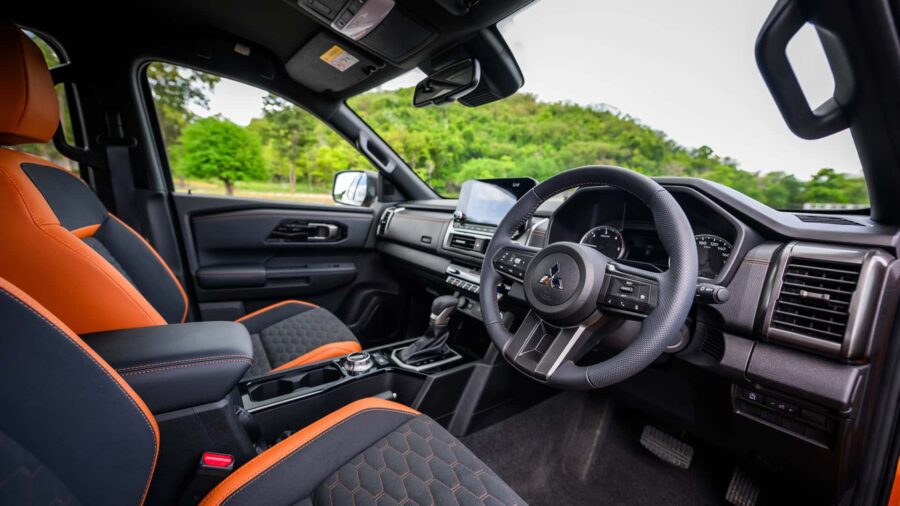 There's full adoption of the electronic safety gizmos with Adaptive Cruise Control and Lane-Keep being two first-time inclusions for new Triton (let's hope they learnt something from the sister company at Isuzu and dumbed those two down a bit).
Don't be surprised to see a halo model Triton in a short while and based on the Ralliart branding. There's been plenty of talk of resurrecting the rally history of Mitsubishi and applying it to the family to enhance its cred. A street version Ralliart Triton like the pics seen here, would give Mitsubishi a Raptor-esque competitor on MMAL showroom floors. That'll drag in the punters.
Will it be more expensive? Of course it will. Pricing will be revealed next year for Oz.