Because Issue 007 of Loaded 4X4 Magazine is pretty international and in this case, talking about product that hails from South Africa, I so wanted to start talking about 'bakkies' (the South African term for a ute). Bugger, I can't use it, because the vehicle in question here is our new number one fave wagon, the Jimny!
So that got me thinking about what the good folk at Front Runner call a 4X4 wagon (please don't call them an SUV)? I'll no doubt find that out and soon, but in the meantime let me tell you a little about the company and the kit they build for Jimny (and other makes as well).
Front Runner's roots are deep. The legend has it that there was a bunch of 4X4 buddies who used to go bush in Africa on a regular basis twenty years ago and one night sitting around a campfire, listening to the sounds of elephants, hippopotamus, lions and probably leopards, they thought how hard can it be to start up a vehicle accessory business and sell kit to the world?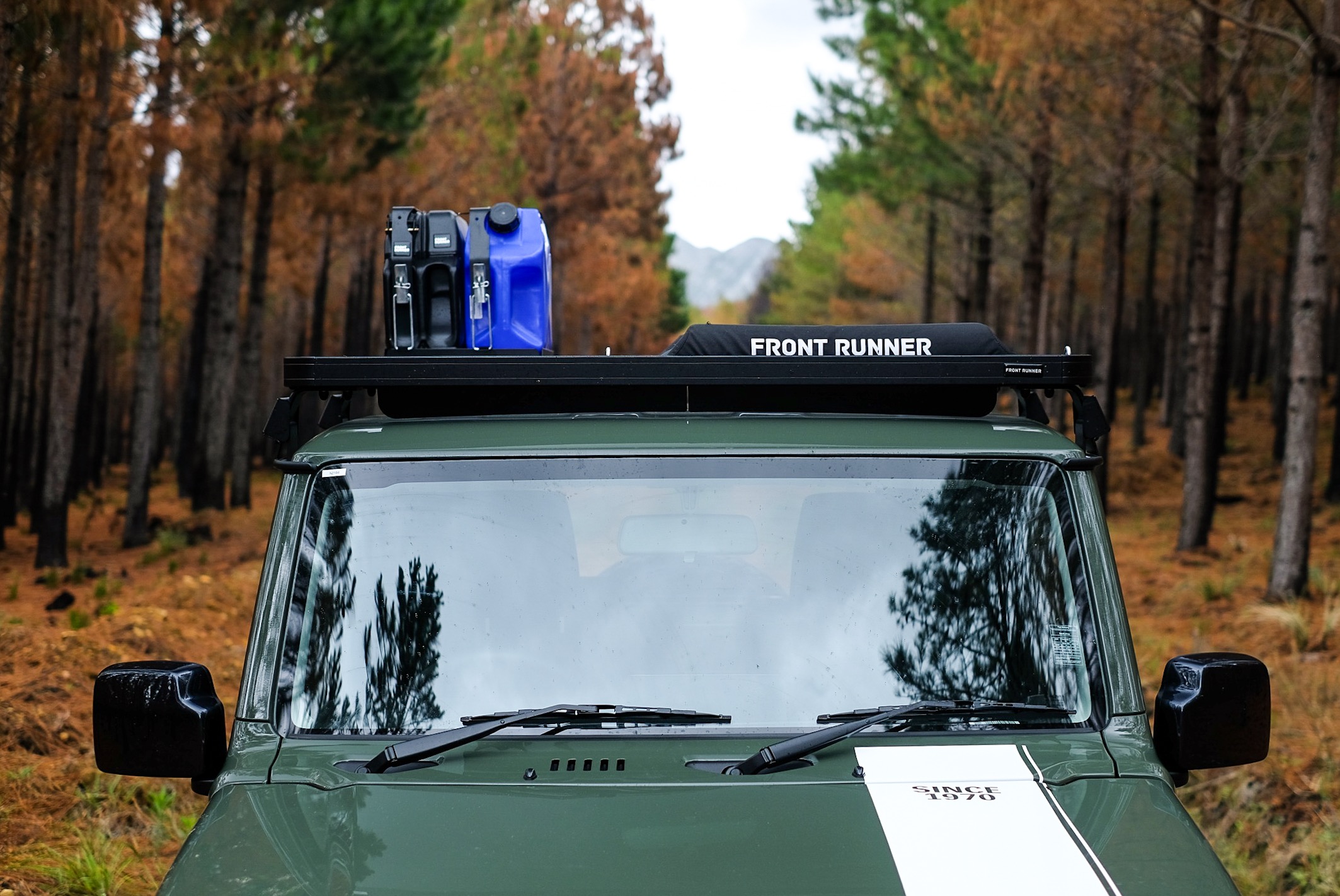 Well, obviously it wasn't very hard when the crew you've assembled are clever with their hands and their heads and they can design and build stuff. So on that fortunate night, emboldened I hope with some red wine (to lessen the fear of being consumed by the local fauna), Front Runner was created.
My new bakkie mates Daniel and Wayne from Front Runner Australia were tripping over themselves when they heard Loaded 4X4 was talking Jimny big. The reason they were keen is that hot off the African CAD, was their new roof rack for Jimny and that's a good thing because as I reported in my review, new Jim is bigger, but space is still not plentiful, so some stuff's got to go outside.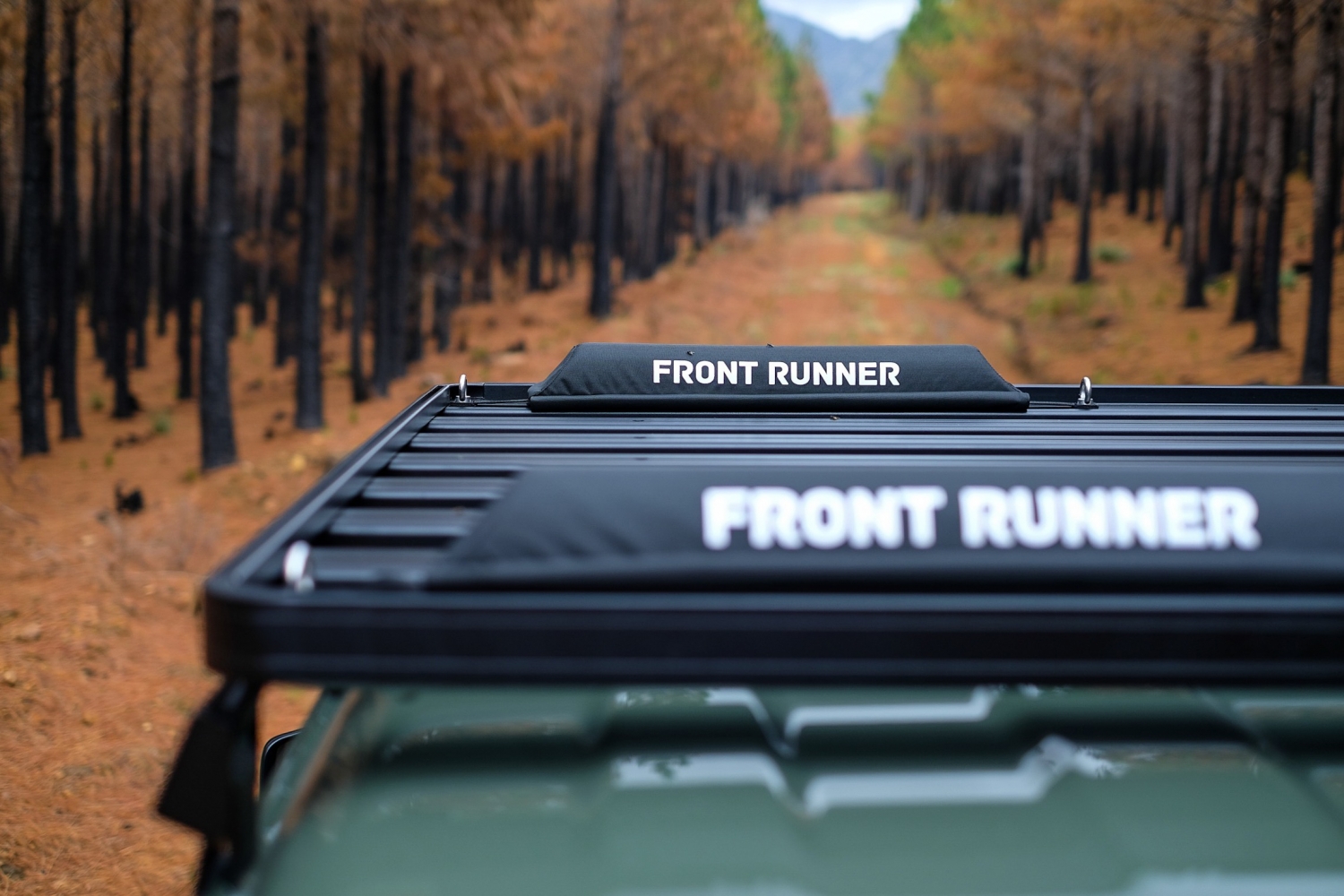 One of the single and most important aspects of the new truck is the fact that it has gutters. Now you millennials have likely never seen them before, but back in the day when vehicles had hair on their chests, gutters were the go and that makes rack fitment a piece-of-piss. No mounting kits and threading into recessed reveals. Pffft, so last-years! Front Runner capitalise on that and the six sturdy legs for their Slimline II roof rack clamp onto the gutters ready to accept the tray (the bit where you put all your stuff).
Now there are two heights for Jimny. One sits low and close to the roof. The other is taller and cleverly will accept one of Front Runner's 'Pro Stainless Steel Table Kits' in a recess under the rack's tray. When space is at a premium you wouldn't even know it's there. Having that table, of course, makes a campsite a campsite. Decent preparation means decent food at day's end.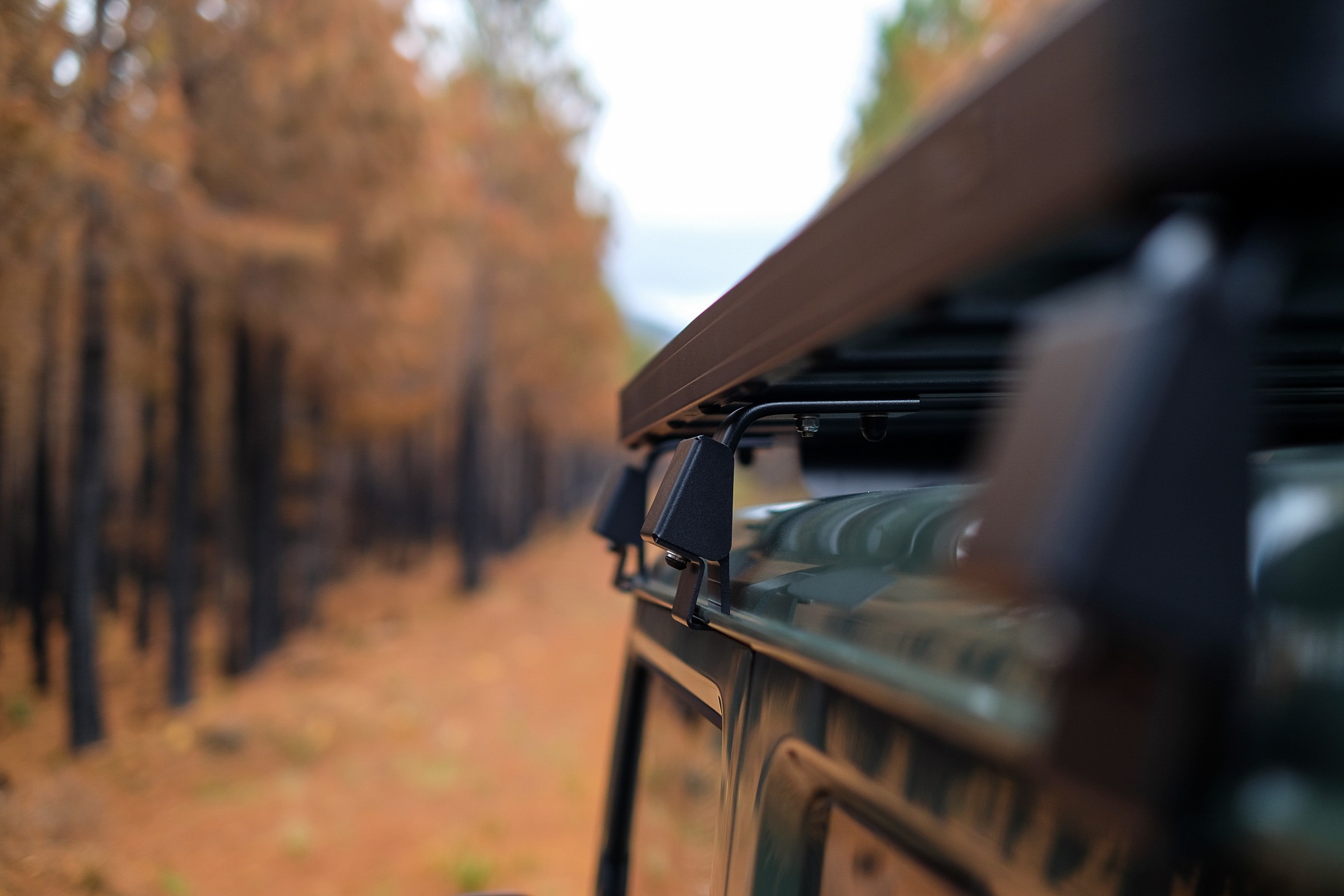 The Slimline II is a versatile thing being built out of aluminium (meaning it is light) yet it can carry up to 300kgs and that's nearly the entire payload of an MY19 Jimny. I should hasten to add that I don't want you putting me to the test on that. Having four of your friends sitting up there would be silly, wouldn't it?
The slats can be assembled to form the rack's floor (tray) however you like, because they engage in the side rails, slid into a channel and secured in place with locking nuts, bracing the structure in a way that Front Runner reckon is stronger than traditionally welded or CKD racks of the past.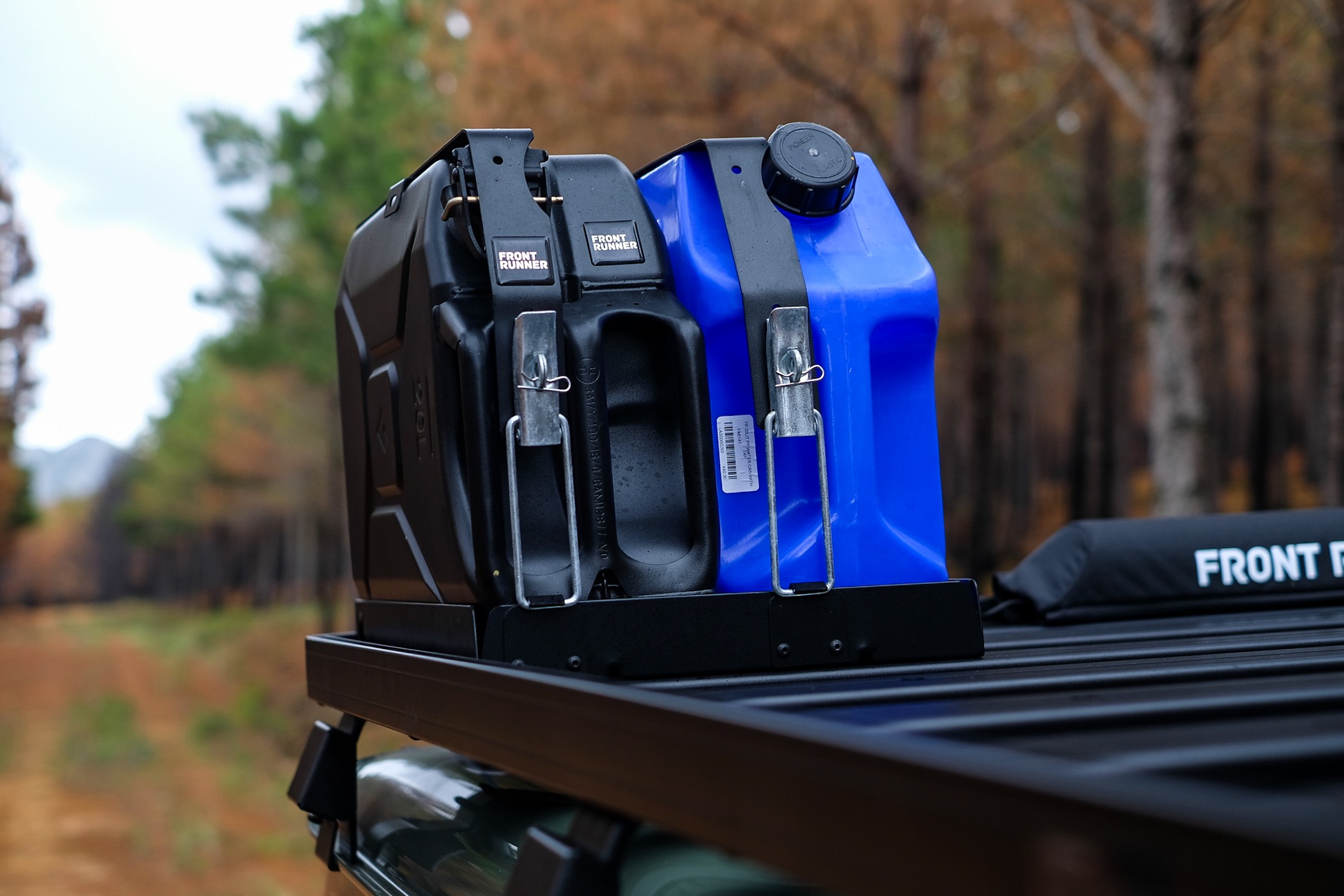 If you've used a roof rack previously you may have noted wind noise. Well, you won't be hearing it with this one as it has a wind deflector, not only to knock down the harmonics but also the drag. Drag increases fuel use and with Jimny's tiny 40L fuel tank you'll want to extract every single kilometre from each litre used.
The tray's dimensions are 1,345mm wide and 1,560mm long, occupying much of new-Jim's roof area. The heights are modest, the low line is 180mm from the gutter to the top, whilst the high line for the table install increases to 205mm. That'll mean you'll still get comfortably into that car park under-croft without decapitation.
This rack could also be the equivalent to the Swiss Army knife because Front Runner has around fifty different mounting/accessory solutions to carry everything including the kitchen sink. Think about that for a moment. If you're a keen fisho you'll know what I mean. Front Runner also have their own tie-down rings and a gadget they call a "Stratchit" which I want to see in the flesh one day because that's about the best name I've ever heard for a ratchet strap!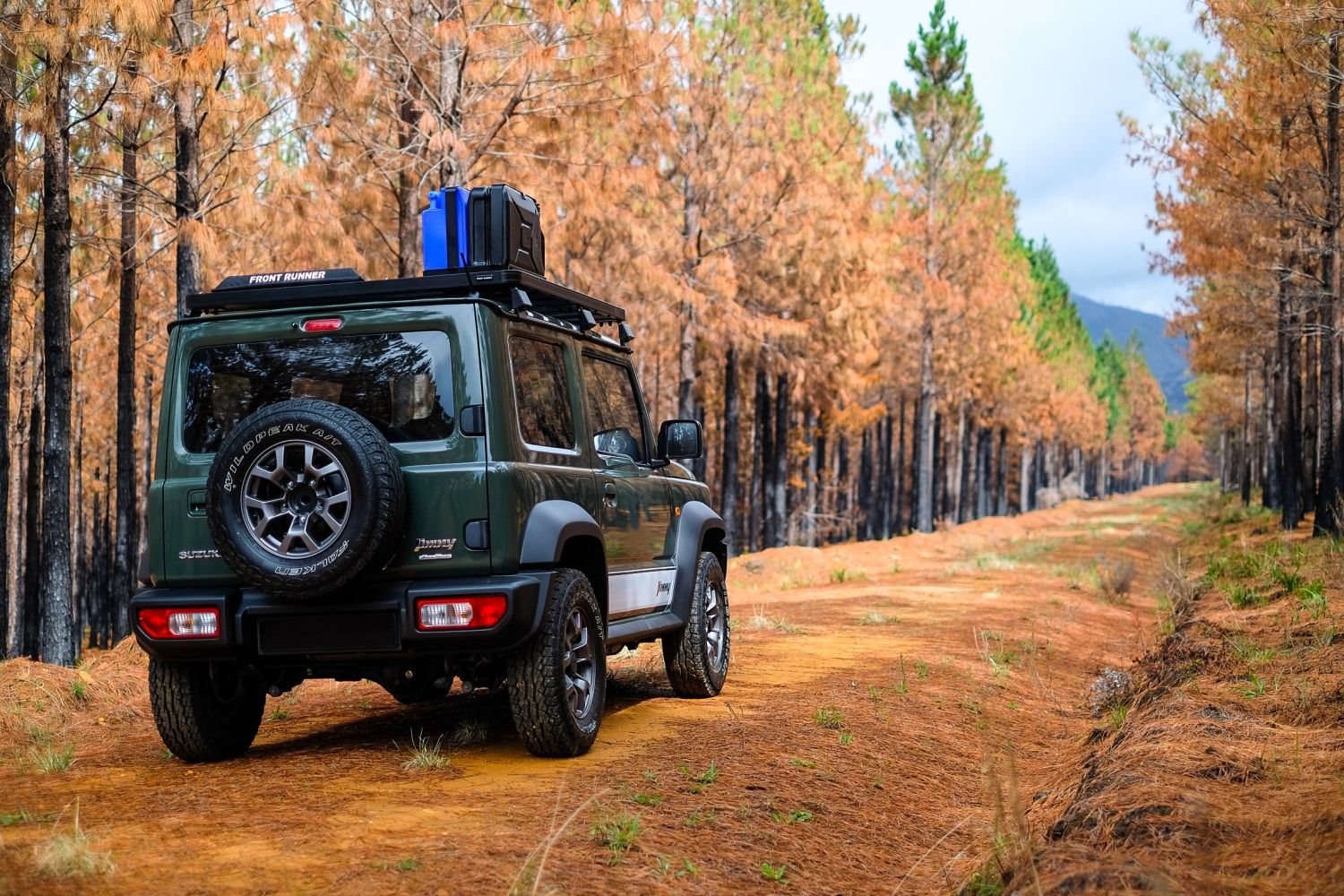 Slimline II for Jimny is made in South Africa with mounting solutions made from either aluminium (like the rack) or stainless steel and that makes corrosion a thing of the past. They even use a powder-coating finish called AkzoNobel Interpon 600, boasting the most durable and weather-resistant finish known to mankind and as tough as a rhino's hide!
Front Runner also have a couple of drawer kits listed for Jimny, one uncannily fits Land Rover Defender as well (see that connection keeps popping up). I have no doubt that Front Runner will have been working overtime to create additional gizmos for Jimny based on what they already produce for other makes and models. If you've got a 4X4, Front Runner likely will have something to tempt you with. Navigate here and have a go with the vehicle selector and start shopping, it'll likely be a clever bakkie experience! Prices for Slimline II for Jimny start at RRP $1,275 + shipping in Australia.
For Mate's Rates pricing on a swag of Front Runner gear, hit this link >>> Front [email protected]