You may have seen in recent days pics of the new LC300 that have emerged from the Middle East, where the locals, like us, seem to have a passion for big Toyotas. International shipping and release is well underway and Australia might have some sooner rather than later, going by a conversation I had with a SA Government employee last week, who said her Department was expecting its first delivery in early July.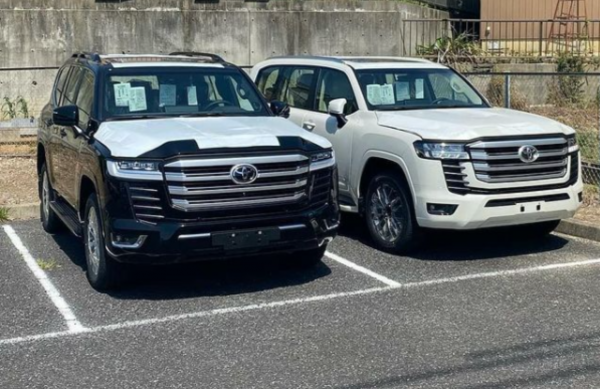 The shape of the new Cruiser isn't that dissimilar to the outgoing 200 series. It's an evolution rather than a revolution; a big, boofy melding of Japanese styling that takes in a bit of Pajero, a bit of Patrol and a chunk of Prado too and preserves its recent "double-bubble-bonnet" seen on LC200.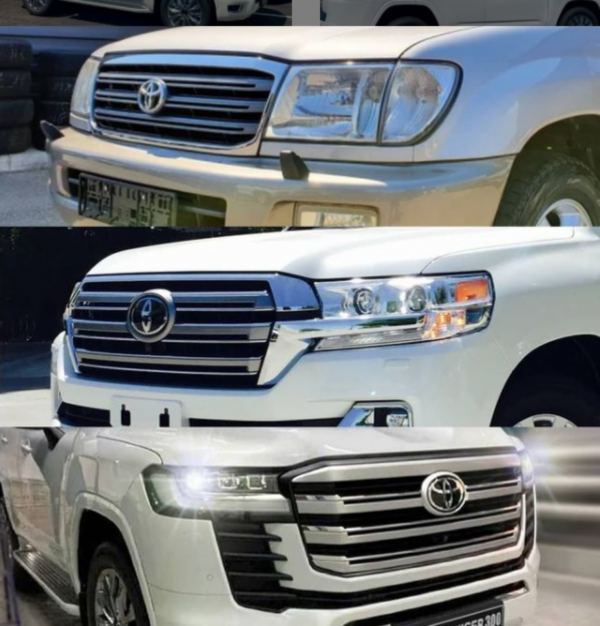 From the front, you can see that the rendering picture we were using on our LC300 scoops in the last couple of months was pretty bang-on, with the distinctive "U" vent around that huge chrome grille. It's Toyota's new and smiley Transforma face and a particularly big one.
Designers are caught in the cross-hairs of chasing fuel efficiency and those deep bumpers help prevent under-vehicle turbulence creating drag. Every time we consumers start fiddling and jack them up in the air with big tyres and suspension mods, we're undermining the work of a thousand engineers and their modelling in the wind tunnel.
Luckily for us, there's a horizontal split in the bumper that'll allow for some strategic dismembering to gain some more approach angle and hide that face a bit with some specialist bar work. When you look at it though you have to think how the hell is ARB and others going to get a bull-bar on that and make it work and with the inevitable safety sensors that the new model will feature??? There's a LOT of real estate and tech in that face.
Whilst the external dimensions are supposedly similar to the outgoing LC200, the 300 looks taller and thanks to that front end. It's nearly five metres long and a freckle under two metres wide so it'll still take some careful piloting in the rough stuff to avoid pinstripes or worse. To help your cause there's a phalanx of cameras giving both real-world and virtual views of what's around you and enough warning bells and whistles to either make you a nervous wreck or have you look like an Off-Road Pro!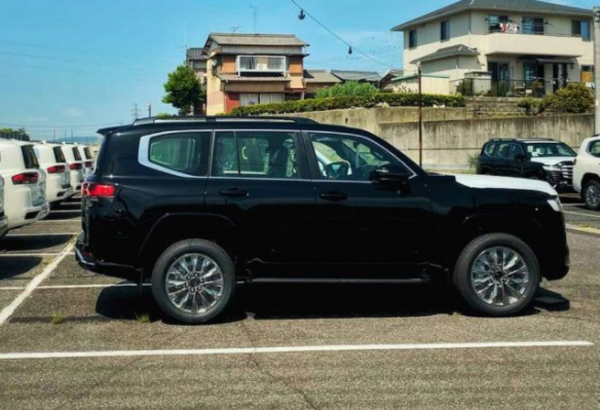 Now, we were taking some serious piss out of the LC200-loving fraternity on a certain Thursday a couple of weeks ago, about what we could expect with the new LC300. You can have a chuckle reading that here and before that article, we pondered what a 2.8L Prado engine might do in the 300 in some of the world's markets and that's here. But the real news appears to have been revealed now about the motivation that's being applied under that bonnet.
Even though diesel is on the nose and it seems the life expectancy of the ICE (that's Internal Combustion Engine) is imperilled at the moment, Japan soldiers on with gay abandon with their diesel love-affair and we cheer them on from the bleachers. LC300 will have a petrol engine in regions where the fuel is cheap, a 309kW/587Nm twin-turbo V6 and that should stir the loins of current Y62 Patrol-lovers in the Middle East and Russia, who might be looking for something new.
It might come to pass that Lexus will be the one to offer this motor locally based on experience with the shared 200 platforms. A petrol V6 fitted with a loud exhaust sounds every bit as good as a V8 but with more finesse. It'll happen.
Here in Oz, it looks increasingly like a 3.3L V6 diesel that seems to have bobbed up unannounced will be the engine of choice across the range instead of the Mazda straight-six that has been co-developed with Toyota.
With the V6's non-too-shabby outputs of 227kW/687Nm, better than the outgoing V8, it'll allay the fears of the Land Cruiser brethren that they might be going backwards, because big is always better… right? It's likely though the V6 will make much smarter use of its neddies than the old V8, via a new 10-speed auto that'll keep the engine in the zone all the time. In the same way, the local Ranger Raptor and its 2.0L four squeezes out 500Nm and dispelled any doubts about its lugging ability.
There will be a hybrid, there has to be, to fit in with Toyota's 2050 Zero CO2 Emissions Challenge. As Toyota is no stranger to hybrids, expect a mid-model release that will keep LC300 in lockstep with other manufacturers in bringing partial electrification to proper 4WDs. It'll remove the anxiety of range limitation in our Outback that a full EV will suffer until the poles and wires are more plentiful or a hydrogen solution exists.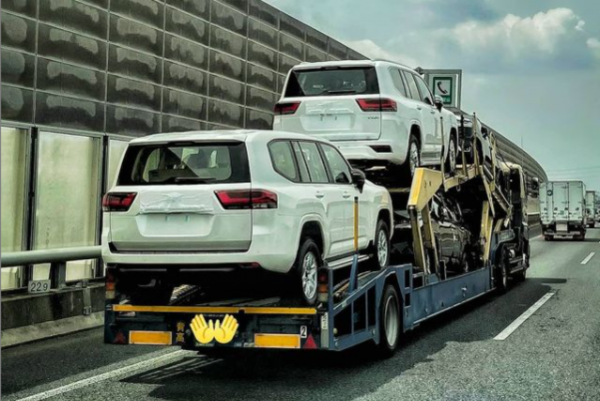 In Japan at least, there are five different models and price-points with the new LC300. The Japanese poverty pack, the GX, is like all of them, a seven-seater. As you progress up through the range, more luxuries and refinement are added, with the option or standard fitment of diff-lock(s), (front and rear in the GR-Sport). We found a chart with some basic points of difference in the range and you can read that below.
The wheel size seems to be 18" across the range except for the Luxo-limo, the ZX, which uses 20". That'll be the boulevard cruiser with a tyre fitment that'll be more pose than purpose. The ZX also gets some other body changes to set it apart from the others including a different grille treatment, door handles, indicators with a sequential strobe, lots of wood-grain inside and enough cow-hides on the seats and door cards to have you think you're wafting along in a Gentleman's Club, not a 4WD.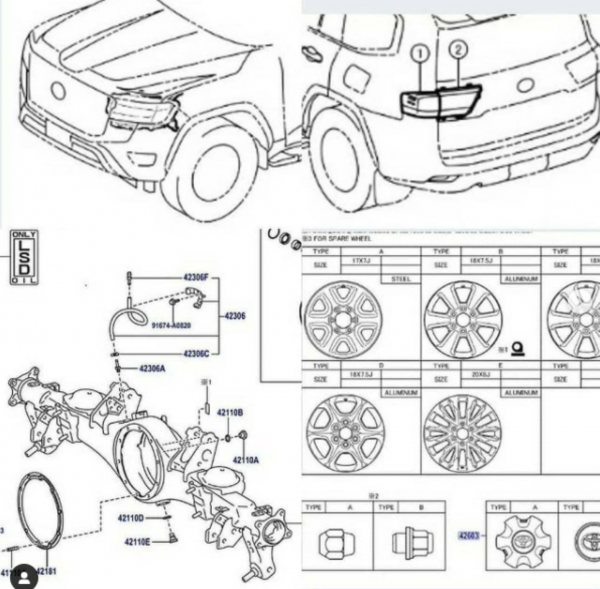 The GR-Sport (that's Gazoo Racing) is thin on detail at this stage but you'd have to bet that it'll be sporting the black-decal treatment, its own 18" wheel and off-road tyre fitment, along with a retuned suspension kit, a bumper replacement and bash-plate set-up like Rugged X Hilux and a light bar to show the way at night time. That and the ZX will put some fat profit in the hands of Toyota dealers with a premium RRP you'd think nudging $150K or more.
Suspension is interesting, the familiar IFS front end and live axle rear are retained until you reach the ZX which has a reference to a curious new LC feature called "Linear Solade AVS". Now whilst the GR-Sport retains the previously used KDSS set-up with its hydraulically controlled sway-bar set-up, AVS might well be air suspension front and rear, to go along with the pleated Chesterfields your bum-cheeks are nestled on, oh, and heated of course, in both front and rear pews for those frosty mornings on the way to the golf course.
Those opportunists who bought the last of the 200s and have them on sale at near $200K on the auto sales websites as new vehicles, better hope that the detail above has turned new buyers off rather than on, the LC300. Time will tell!
Credit: Thanks to @LandCruiserupdates for the pics and charts