In the game of 4WD accessory brinkmanship, you'd expect Toyota's new 300 Series Land Cruiser might promote some sabre-rattling and it sure hasn't disappointed, with the nation's two biggest accessory houses revealing a raft of new products just prior to Xmas festivities.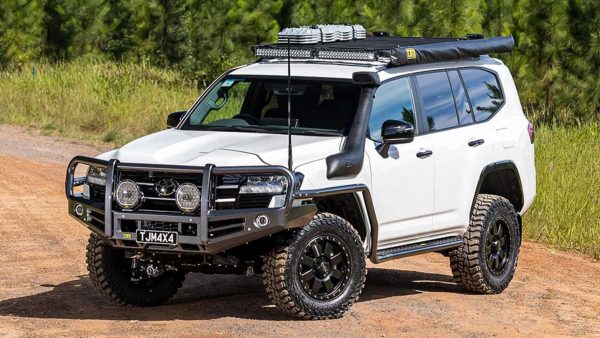 I thought I better have a bit of a look at what the mob up in Brisbane reckon is right for the new Cruiser and get a northern TJM perspective on things.
Bar work is going to be hugely important to plenty of 300 LC owners. In my part of the world a lot of Outback cockies insist on steel to do the frontal protection gig and saving contact from errant skippies, emus and even camels, rendering the vehicle inoperable.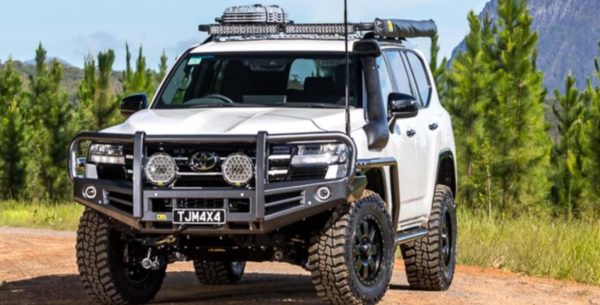 TJM have crafted a handsome bullbar, in the traditional form, with a bumper featuring up-swept wings, plenty of ventilation, a couple of solid upright posts supporting their top loops with antenna tabs located outboard on the top tube, so any fitted antennae don't intrude on the important job of the windscreen-mounted safety camera, in scouring the road ahead for peril. There's also some thought to lighting with location points for spotties or a light bar.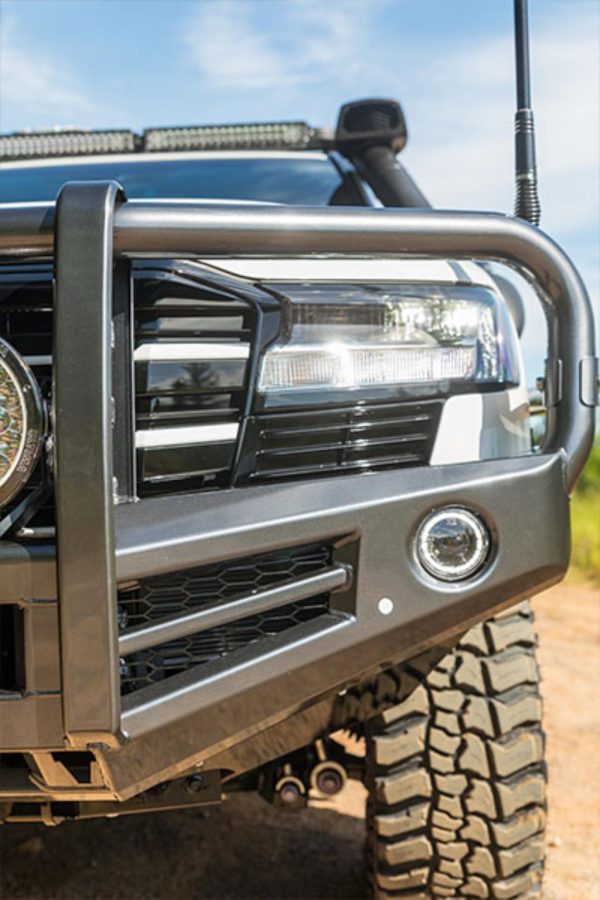 Being a twin-turbo V6 diesel, the motivation for the LC300 is going to lean pretty heavily on the twin intercoolers having an unobstructed access to clean and cool air. It could be argued that having a solid bumper section (as seen in current LC200 practice) with minimal ducting, might impede that airflow, so TJM's boffins concluded that providing additional venting in the area you'd typically expect to see fog lights (they're still there BTW, just out at the flanks) would offer the requisite breeze and ape the standard bumper's performance.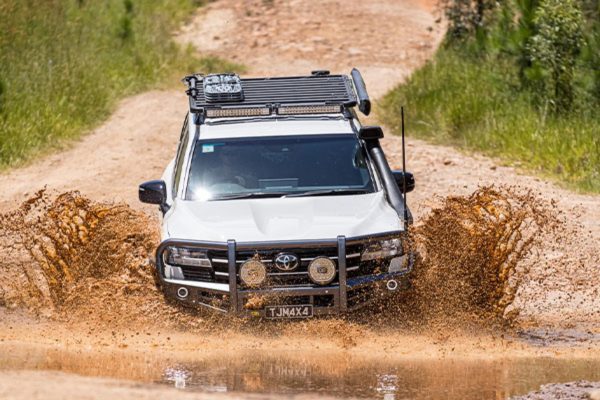 As a regular user of 4WDs in the field I can see one fly-in-the-ointment with Toyota's design of positioning the intercoolers up front and down low and that is that it won't take much of a splash to coat the fins with a nice film of mud and thus reduce their performance and possibly dramatically so. That poses a nice little conundrum for we users next time you take the truck for a mud-bath. Opening the frontal mass for increased airflow might increase undesirable penetration of the silty kind. Be warned.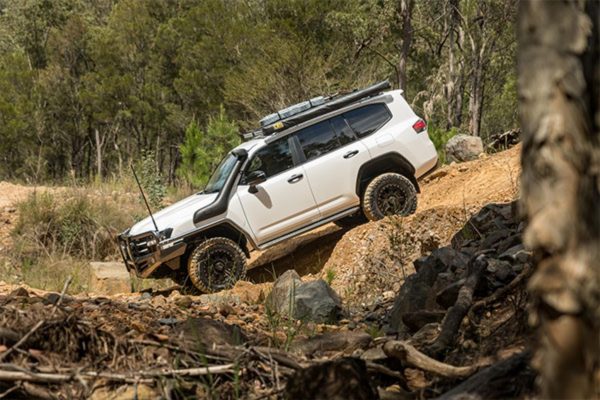 The bullbar they've designed also can be accessorised with side rails (essential for saving skippy impacts who've been collected on the corners and now want to leave their mark (dent) down the flanks of your new beast) and robust sidesteps instead of the typically flimsy dress-style steps that auto-makers like to fit for showroom floor use only.
TJM have also thought about frontal recovery as well, fitting a steel winch cradle, ready to accept your favourite reel and 8,000kg rated recovery points. Underneath there's also some UVP (that's Under Vehicle Protection) plates been installed for rocking and rolling.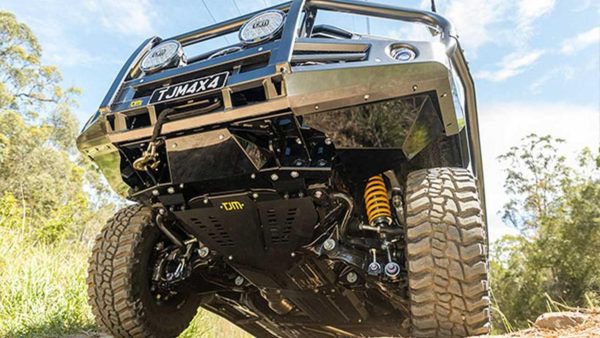 Now, we all know stock suspension usually doesn't have much merit, so TJM have engineered a lift kit with they claim an improved ride and I have no reason to doubt that. Begone wallowing ride and instead something with plenty of composure thanks to their custom-tuned XGS Suspension, in this case with twin-tube shockers with multi-stage valving to dampen those pesky corrugations. To achieve the best adjustability in that IFS front end, TJM have also designed their own UCA (that's Upper Control Arm) that looks plenty sturdy and should satisfy the curiosity of any wheel alignment specialist.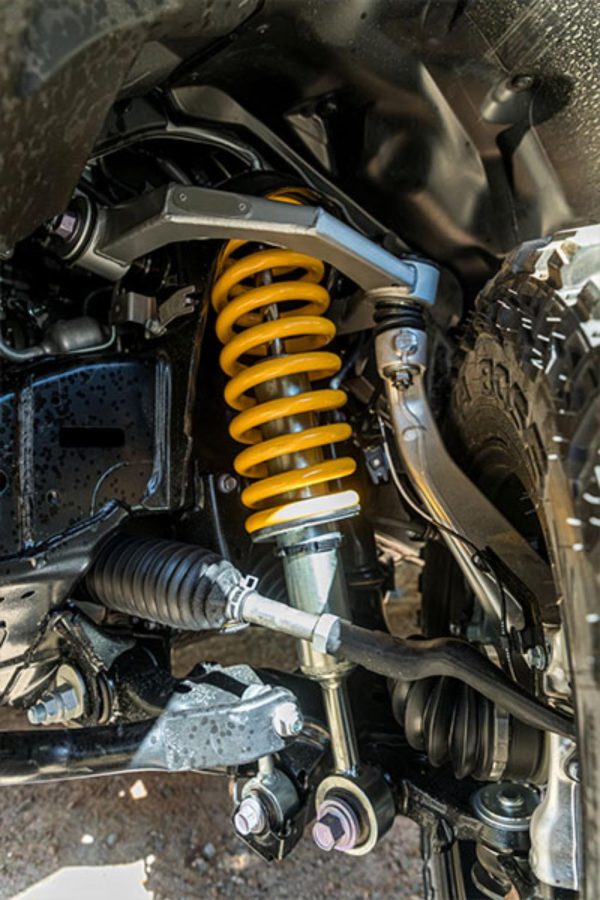 There'll be all the usual suspects as well, with their Airtec snorkel already revealed, roof platforms and lifestyle accessories for boating, camping, fishing and in time a GVM upgrade for those of you whose want is to tow the heavy stuff.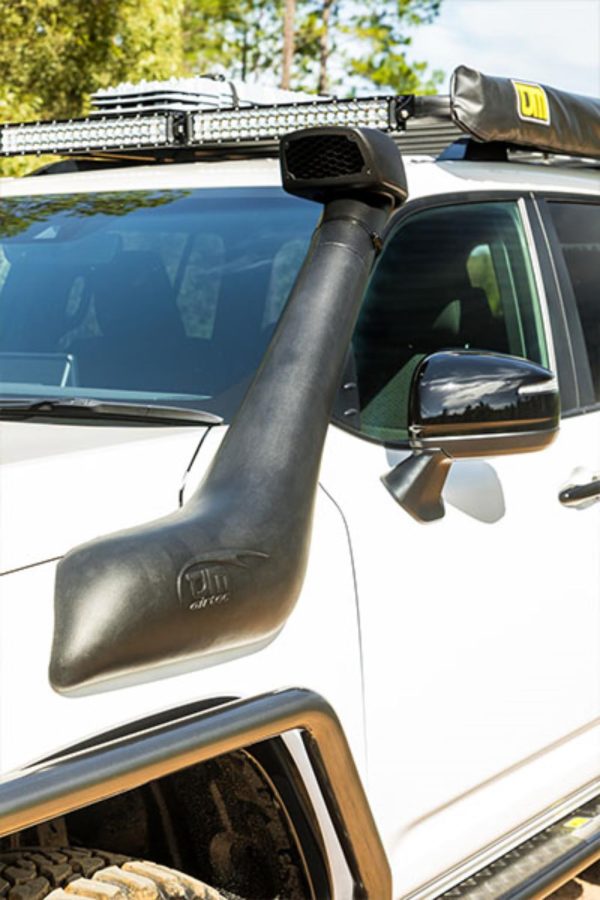 You'll find all this and more here https://www.tjm.com.au/