Both David and I have reviewed the current model (N80) HiLux in SR5 guise both in our magazine (issue 001) and on this website, and we liked it a lot. Yeah, it was a bit jittery around a moose, had a ride that is best described as unresolved and that Pinocchio nose is a grader blade off-road, but on the positive side of the scoresheet, it handled very nicely on-road, was even better off-road, has excellent traction control and had a billet-like feel to its construction. At the time I confessed to liking it enough to consider buying one, before turning around and buying a Triton. With that in mind, I'm not going to go into a full review of this version of the SR5, instead, I'll take a look at what the Rogue is all about and how it differs to the base car both in equipment and how it drives, because remarkably, it is quite a different on-road experience. I bet that's got you thinking WTF?
I wasn't expecting any surprises getting back into an SR5, which is what the Rogue is based on. For me, there is always an adjustment period when jumping into a different car. I don't miss corners and spear off into trees, but I take a few kilometres to tune out of the daily drive Triton before tuning into the new machine and the Rogue was no exception. What I recall about the SR5 we drove a while back was that on the smooth Adelaide Hills roads we first drove it on, it was hard to fault, but after a few days behind the wheel, on less than perfect bitumen, there was a little masochist gnome perched on the headrest, and he'd (he hit like a bloke so I'm assuming) smack you in the back of the head over every bump in the road.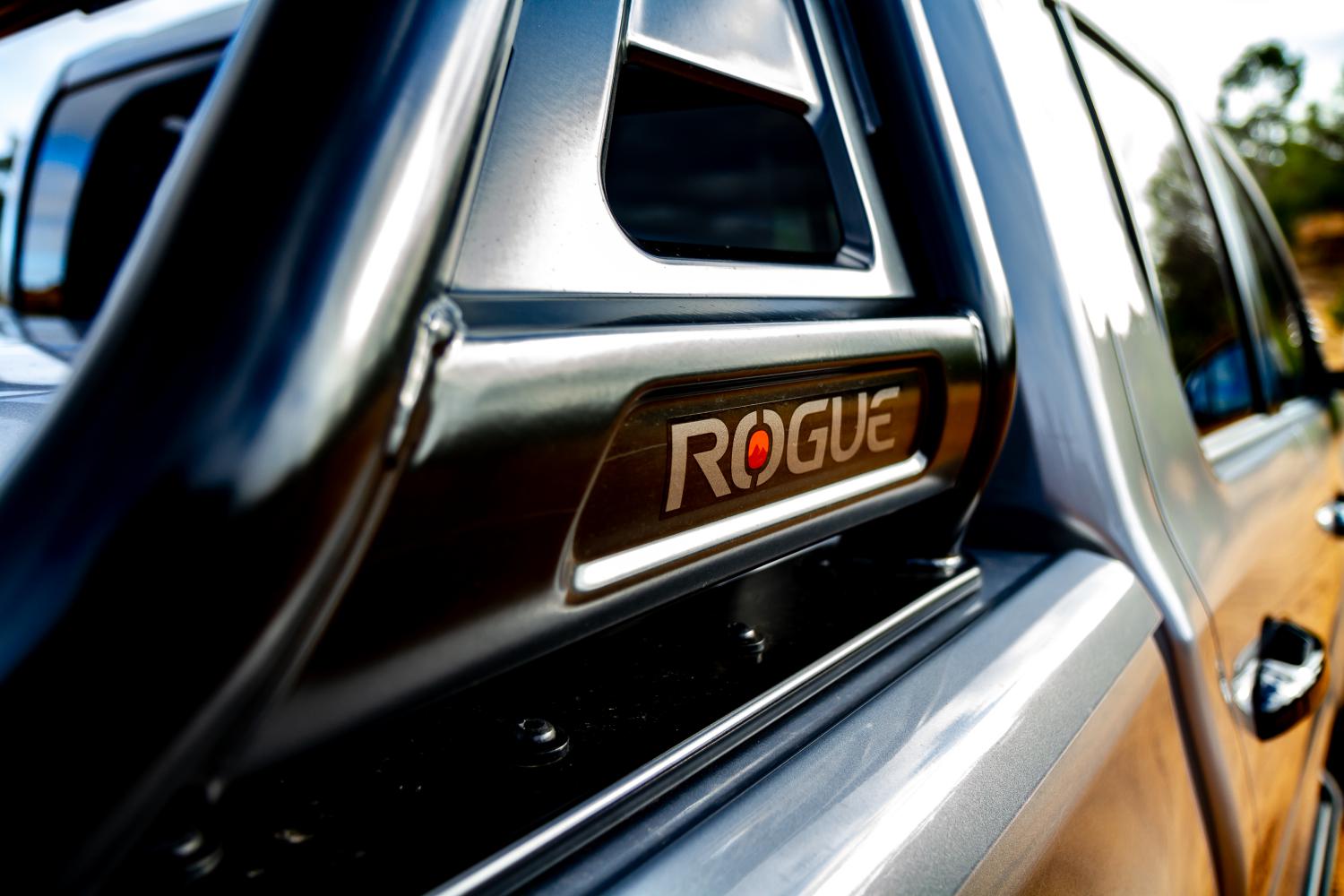 It was bad enough to give you a headache and was without question, the HiLux's most notable fault at the time. Well, that and the moose thing. But this Rogue was riding nice and smooth right from the get-go, unerringly so. A few days later and the story was still the same, so I checked the tyre pressures, thinking they may be too low. I'm guessing this was one of the launch cars that did some time in the Flinders, with journos that wrote about their surprise at the rock slider's ability to support the weight of the vehicle. Um yeah…that's what they do.
But I digress, on that launch, I'm sure they would have dropped pressures into the low 20s, they should have. Each tyre was bang on 29psi which is bang on the 200kpa recommended on the HiLux's tyre placard, and that was a first. Most press cars are prepared by people that subscribe to the old-fashioned, 'gotta have 40psi in the buggers, so you get decent wear, handling and economy'. It's a load of shit, but you'll find the people that do it aren't the type to be argued with. David and I religiously check tyre pressures. David can't drive past the first servo after picking the bugger up – without dropping them down to the pressures listed on the placard. If you don't then you aren't experiencing the drive characteristics that the vehicle manufacturer has spent millions engineering.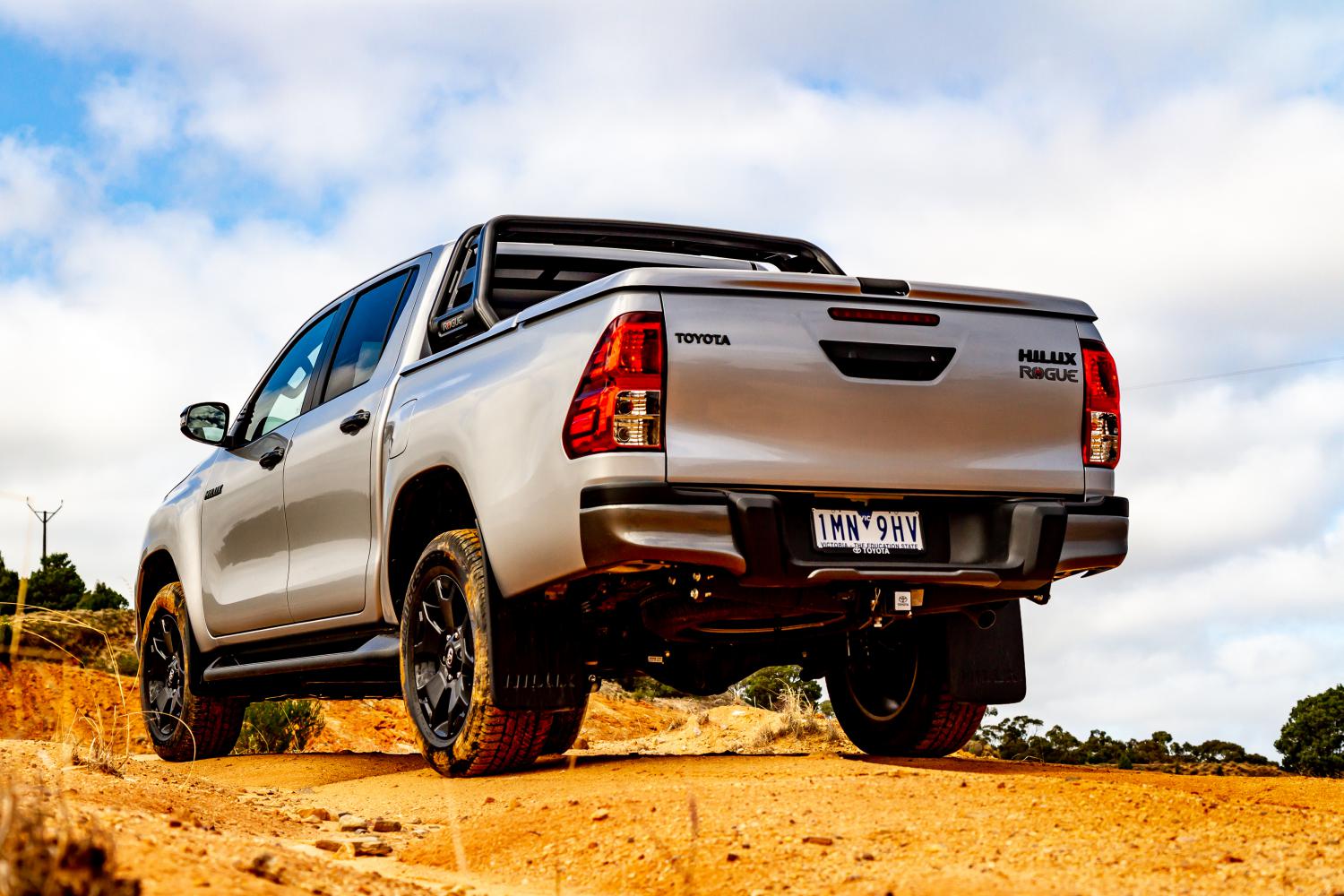 So, the Rogue's pressures were bang on spec. Toyota extended our loan by a weekend, so I took the time to fit my son's child seat and used the Rogue exclusively for nearly a week and a half and yes, that little masochistic gnome has been given a tongue lashing. The Rogue rides noticeably better than the MY17 SR5 we last drove. It's not perfect, it still gets flustered over broken bitumen at both ends, and it's not really comparable to the Series 3 Navara, X-Class or Ranger, but it's significantly better than it was.
There is still a little of that rear-spring rebound feeling in some circumstances, but 90 percent of the time it's great, so much so that I got onto Toyota and asked them what they've changed. Turns out, in the third quarter of 2017, Toyota refined and tightened up the tolerances it would accept from their shock absorber supplier, so while the valving hasn't changed, there's more chance that the shocks are on-spec and working as required. Throw in the weight of the hard-tonneau and that genuine steel sports bar that bolts into the floor of the tub, and it seems you're left with a nice riding Lux. Hallelujah. You might think I've wasted half of this review crapping on about the Rogue's ride and suspension, but if you know the N80 Lux, you'll know that up until now, the suspension has been its biggest fault, so my words haven't been wasted, yet.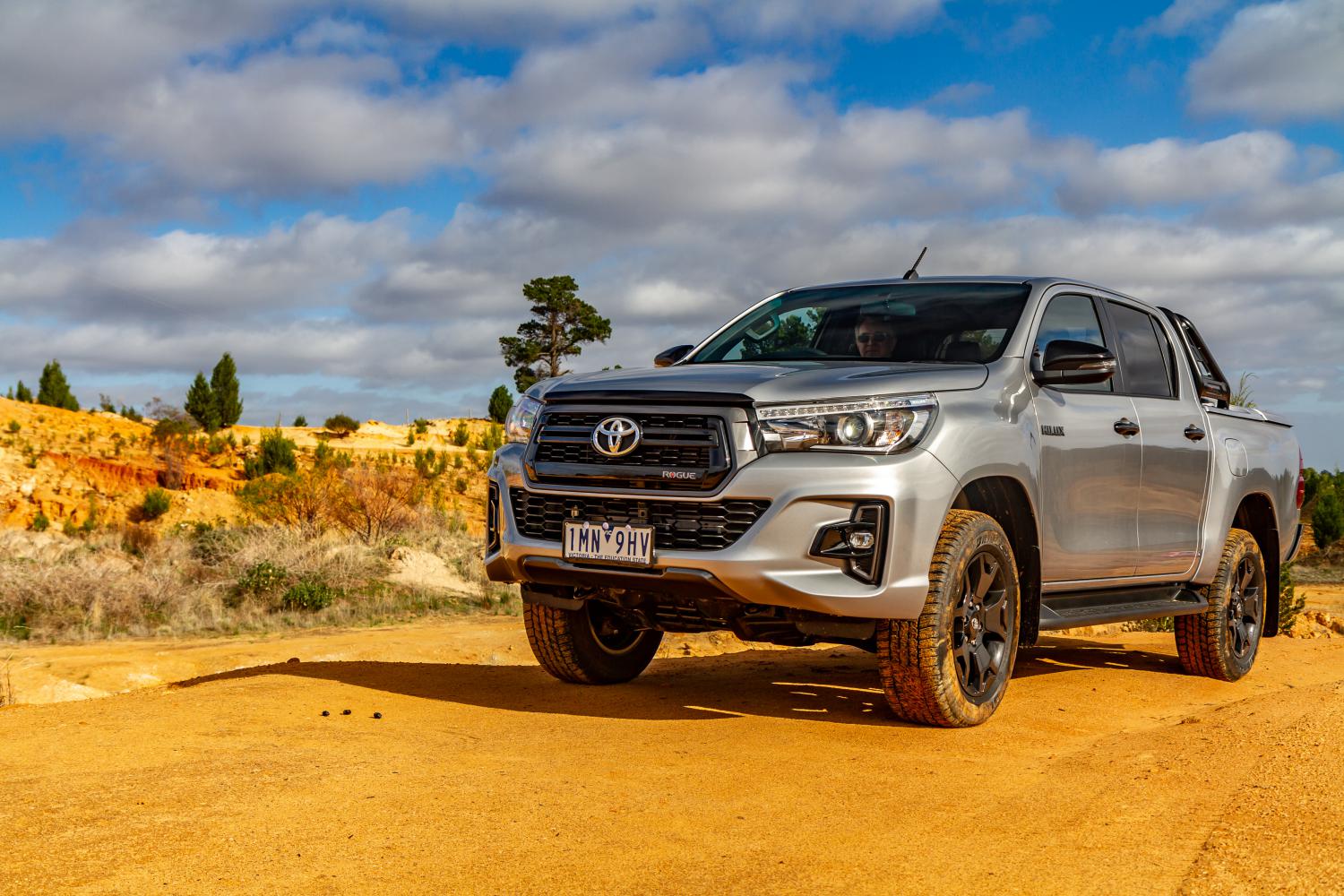 On dirt roads, the Rogue is in its element. It soaks up rough dirt roads beautifully and does it all with a sense of solidity. We didn't bother punting the Rogue around our off-road test track, we did that with the MY17 SR5, but rest assured, in our experience the N80 is a belter in the rough stuff.
If you're trying to get a handle on the thinking behind the Rogue, all you need to do is lift the hard tonneau and take a gander at the tub. Toyota has cleverly fitted it out with marine carpet. I'll confess to initially having a WTF moment when I spotted this development, but it makes a load of sense. Stay with me here. The other development is what must be the world's first real factory sports bar. This unit is made from steel, powder-coated black and it extends right down to the floor of the tray. It's nothing like the flimsy alloy bars that bolt onto the top of the tub. Sure, it impinges on load space a little, but that's okay, stay with me…
There's also a hard tonneau cover with an interior light, and the whole caboose, lid, tailgate and tub, is sealed, not quite dust-proof, but weather sealed. To make life that little bit easier, the hard tonneau is wired into the central locking system. And it's here that we get a handle on what the Rogue is all about, cos it's not a work ute. This is a family car with a big boot, one that'll keep your luggage dry on that road trip and swallow the mountain bikes on the weekend. Oh, and, if you're a business owner, it's a family car that is one great big tax deduction, but I bet you knew that already.
Besides the big carpet lined boot, upgrading to the Rogue from the SR5 gets you, what I'd argue, is the best looking N80 HiLux available. That jutting jaw has been restyled with a new bumper and hexagonal grille, and – yes, styling is subjective – but I think it's a quantum leap over the standard car. You wouldn't buy the Rogue to turn it into an off-road weapon or tourer, and I'm guessing it'll be a while – if ever – that you see aftermarket bull bars to suit its restyled front bar. If real 4WDing and bar work is your thing, then it'll be the Rugged or Rugged X for you, or of course, going your own way with a standard car and the seemingly endless options on offer from the 4X4 aftermarket industry.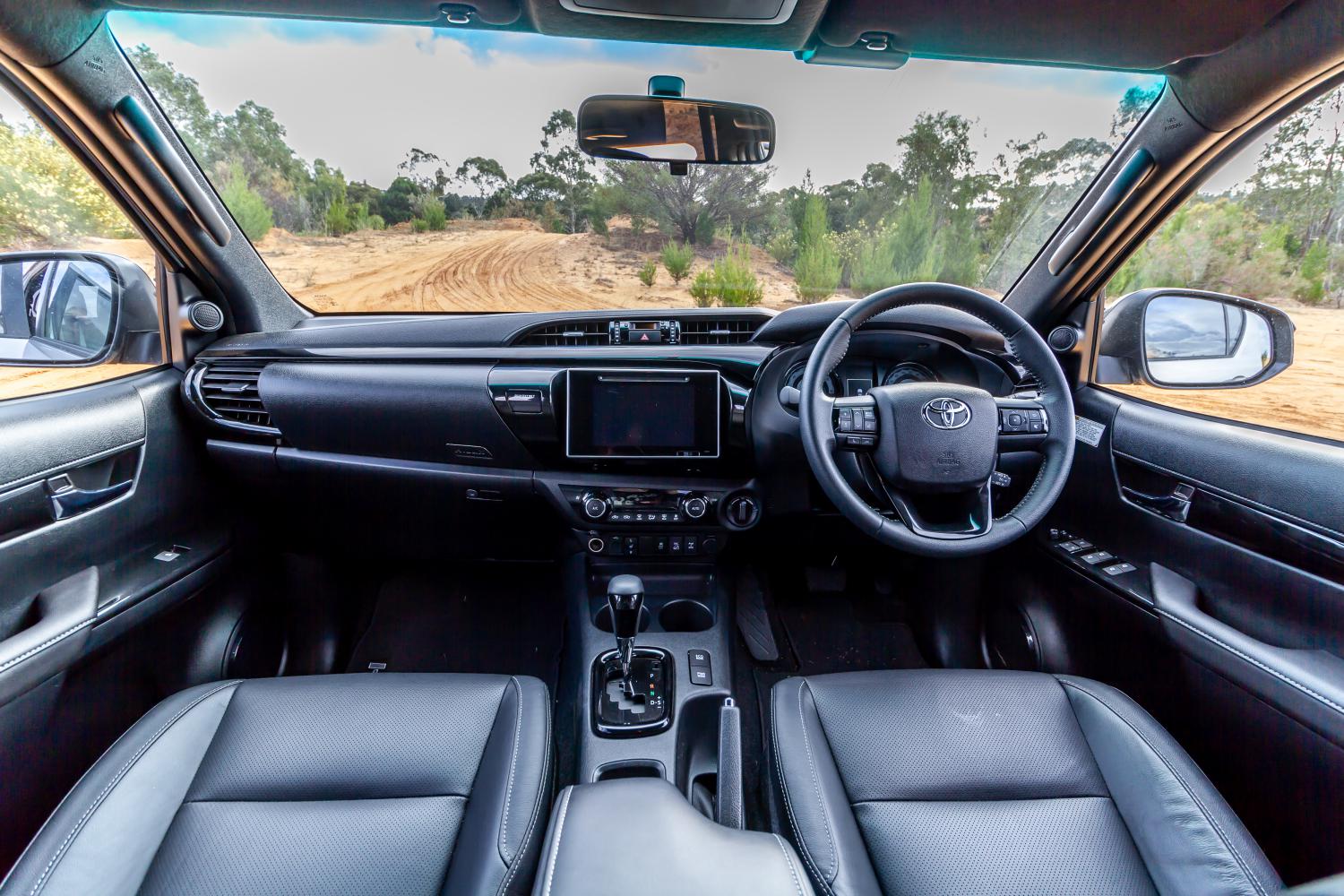 The Rogue's rear bumper has been given a styling makeover and features a larger step and grey-painted inserts to match the front end. A towbar and 7-pin wiring harness are standard, as are a set of black 18-inch alloy wheels fitted with 265/60 R18 tyres. Inside the Rogue, it's all SR5, with the addition of a perforated leather interior, a new instrument cluster and a black roof lining.
If you're looking for a stylish, urban-family-practical, version of a dual-cab ute, then the Rogue isn't bad value in my opinion. It's not a pointless sticker pack special; some real thought has gone into what the Rogue offers over and above a regular SR5, and Toyota is going to sell plenty of them, even if I think they could have done just a little better. Did you know that fitting leaf springs and drum brakes to a $60,000+ vehicle is an offence under the 'Anti taking the piss' act of 1984? Google it.