This is a story that's going to be tackled from a few angles because when Steane and I conceived of pairing the Ranger Wildtrak with its sibling, the then-new Ranger Raptor, it offered a glance at the past and also the future.
I'll let Steane's words enthuse you about the Raptor (I drove it and can confirm everything he said about it) as my task is to tell you about the passing of the baton. You see, the perennially popular 3.2-litre five-cylinder diesel that's been Ranger's staple engine in this current series, won't be with us too much longer. We believe that it will be yet another victim of those bastards at Volkswagen and their morally bankrupt fudge with 'Dieselgate'.
The big MY19 Ranger update news is that Ford now offers the Ranger with the Raptor's 2.0-litre 157kW/500Nm four-cylinder 10-speed drivetrain as an option, alongside the 3.2-litre five-cylinder 147kW/470Nm 6-speed that will soldier on until the next-gen Ranger comes out, and this next bit is hilarious, on a platform that will be jointly developed with Volkswagen. Maybe it's an admission that VW's predilection for fitting passenger car engines to their 4WD fleet isn't a hit here or elsewhere?
On the subject of joint ventures, Ford's current 4X4 ute partner, Mazda, has joined forces with Isuzu to develop the next generation of BT-50 and D-MAX. The Mazuzu DMAX50 will no doubt be sporting a drivetrain that reflects current and future emissions requirements, and that could very well mean we'll see another 2.0-litre turbo-diesel 4X4 enter the market. Like it or lump it, two-litres is going to be the capacity everyone will be offering before the arrival of EVs, and if Rivian's pair gets to see the light of day, that'll be something to celebrate.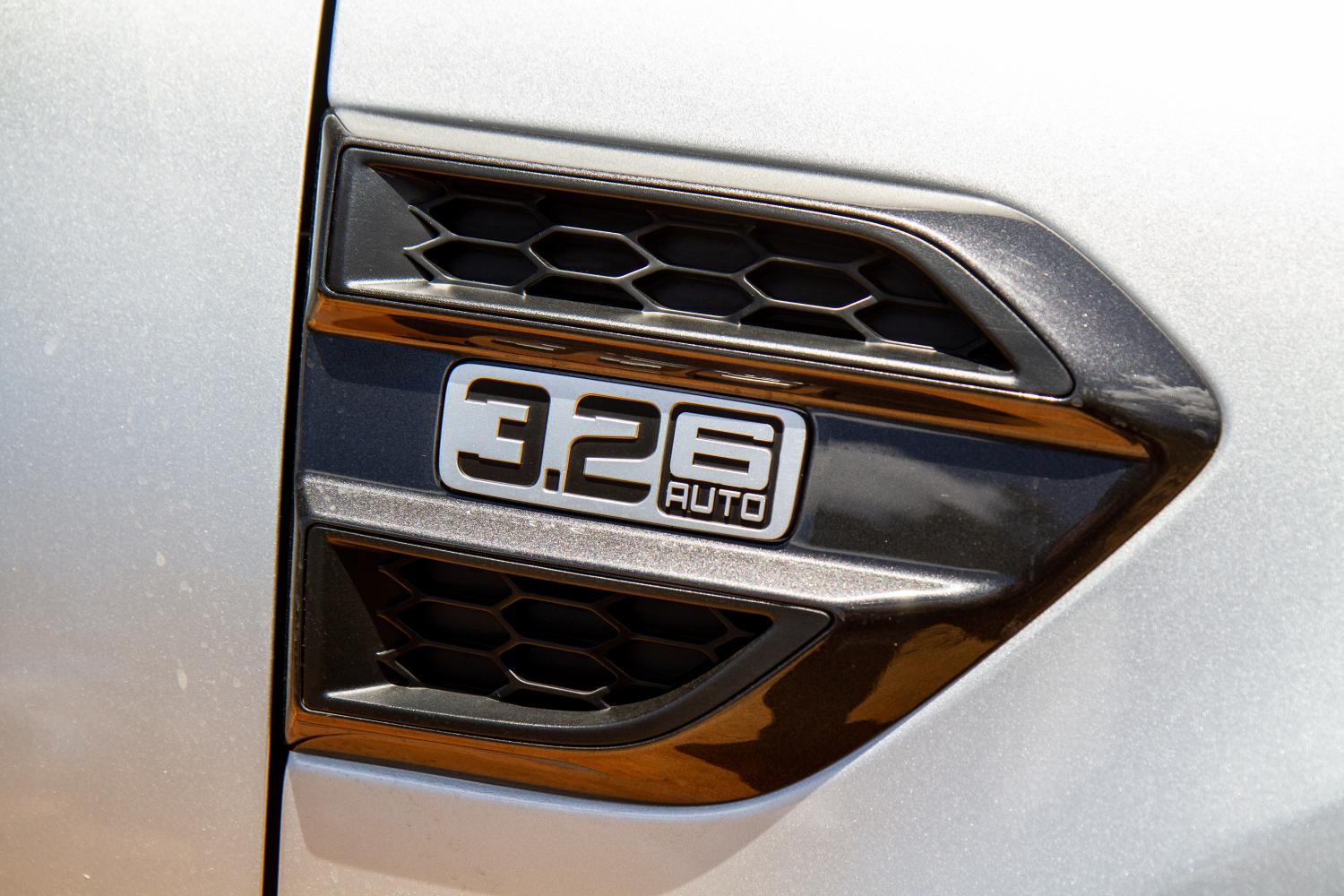 Now, I'm not going to bore you to tears looking in detail at the changes made to the MY19 Ranger range, there will be dozens of consumer-focused, 'spec-sheet' reviews available out there, and that's just not our style. Suffice to say that Ford has added some optional safety gear (including Autonomous Emergency Braking), changed the styling slightly and re-tuned the Ranger's suspension, with an emphasis on improving the towing experience.
As previously mentioned, the Raptor's 2.0-litre 10-speed auto drivetrain is now a $1,200 option, for XLT and Wildtrack buyers. With our hands on a Raptor, it made sense to add a 3.2-litre powered Wildtrack to the mix and compare how each performed, particularly with a load on the back. There's been a lot of 'no replacement for displacement' talk going on around the traps since the 2.0-litre engine was announced for the Raptor, so it was time to see if cubic inches or gears would win the day.
The venue chosen for our 'tow-off' was Mengler's Hill in the Barossa Valley, yep that place where they make the world's best Shiraz, just out the back of Tanunda and the sleepy village of Bethany. Menglers is a steep gradient with lots of bends and the perfect venue for a towing challenge.
We also had the perfect trailer for the challenge, a large alloy tandem unit that we use for carting ATVs, SSVs and a 400-litre water tank. Loaded as it was on the day, that's around 2,200kg all up. We had no intentions of hauling the Ranger's ridiculous 3,500kg braked towing capacity. The Raptor is limited to 2,500kg, and we just don't buy the manufacturers' claims that their utes are up to the job of towing 3.5-tonnes, it's just dangerous. Putting inadequate suspension, brakes and shitty tyres on a 4X4 and encouraging people to set off with obscene loads and often, no idea, is a recipe for disaster. Our 2,200kg load was indicative of a what you'd expect when you have the average camper hooked up and a tub filled with holiday accoutrements.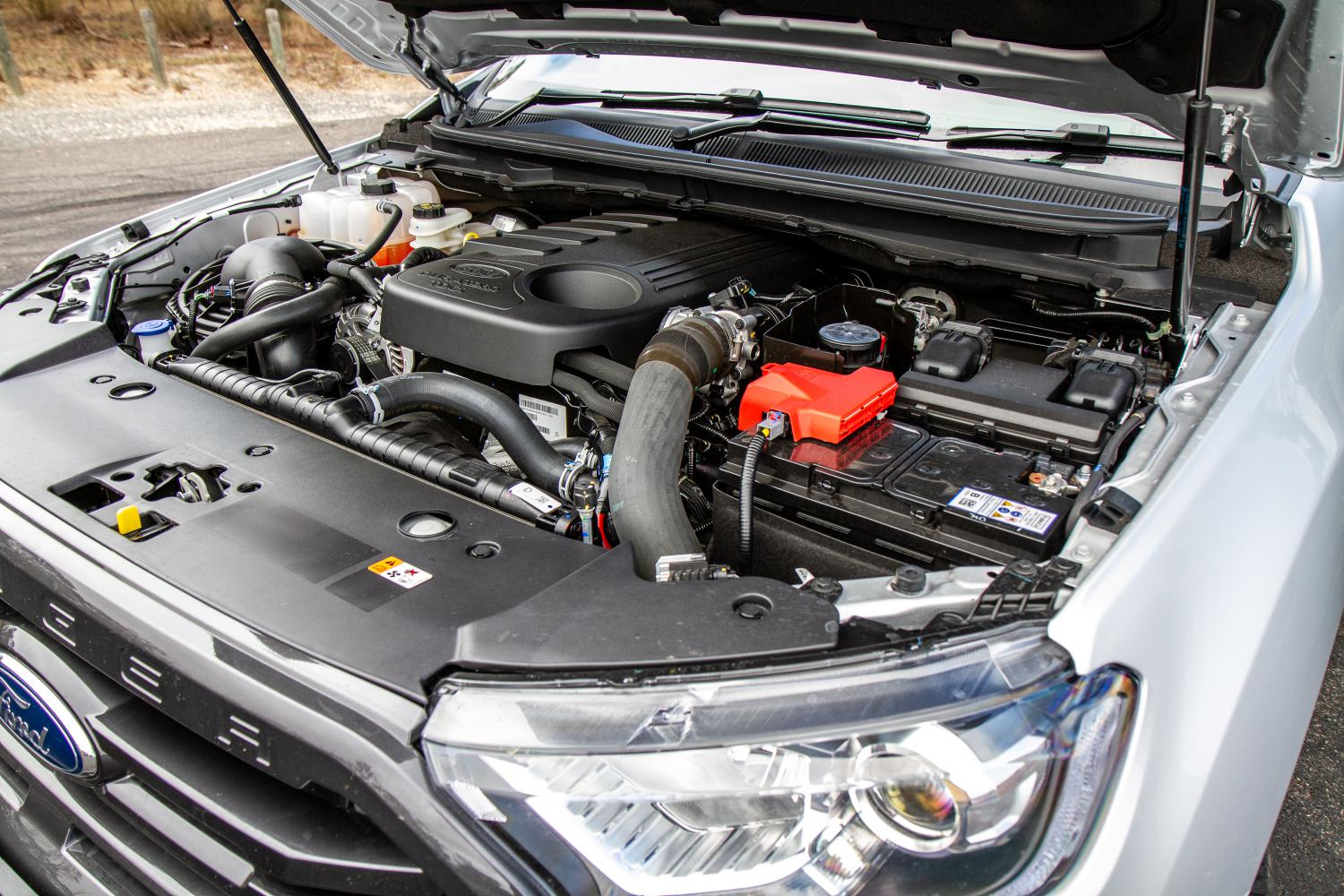 Now I claimed on our Facebook page just before Christmas that the Ranger's 3.2-litre diesel was the original 'torque master' and I got my bottom torn to shreds by commentators who know more than me. That comment was based on anything prior to this engine and seen in this class of dual-cab 4X4, being typically asthmatic and frankly underwhelming. Four hundred and seventy Nm of torque is still a great number, and it feels it when you drive it, but yes, the Colorado and Amarok V6 now out torque the Ranger, as does the Raptor.
So, we took turns to drive the Ranger and the Raptor up Mengler's Hill towing our trailer, and we did this a few times, just to be sure because you see, the Raptor smoked the Ranger. That's right, 2.0-litres and 10-gears out-towed 3.2-litres and 6-gears. All of the recent social media talk about 'two litres only coming in milk cartons', should be ceased immediately. Not only is it overused, in this case, but it's also a jibe that is not deserved.
How did the Raptor win this towing challenge? Yes, it has moderately higher power and torque outputs on-paper than the 3.2-litre, but max torque is produced across a narrow 250rpm band (from 1,750 to 2,000rpm), and it's lumbered with an additional 115kgs to haul around. What it has is a very smart ten-speed auto gearbox that provides the Raptor with an additional three gear ratios between first and direct-drive and that makes all the difference.
The Ranger's six-speed auto has four gear ratios up to direct drive and two overdrives, which are only useful at highway speeds. This means the four usable ratios are spread out and every time the transmission selects the next one, revs drop noticeably, and the 3.2-litre has to set about remaking its torque. The Raptor, in comparison, effortlessly slides from one to the next and keeps the engine on the boil, masking any real or perceived capacity deficit. The difference between these two similar but quite different vehicles when towing is the availability of gear ratios, and the Raptor just has more to make use of.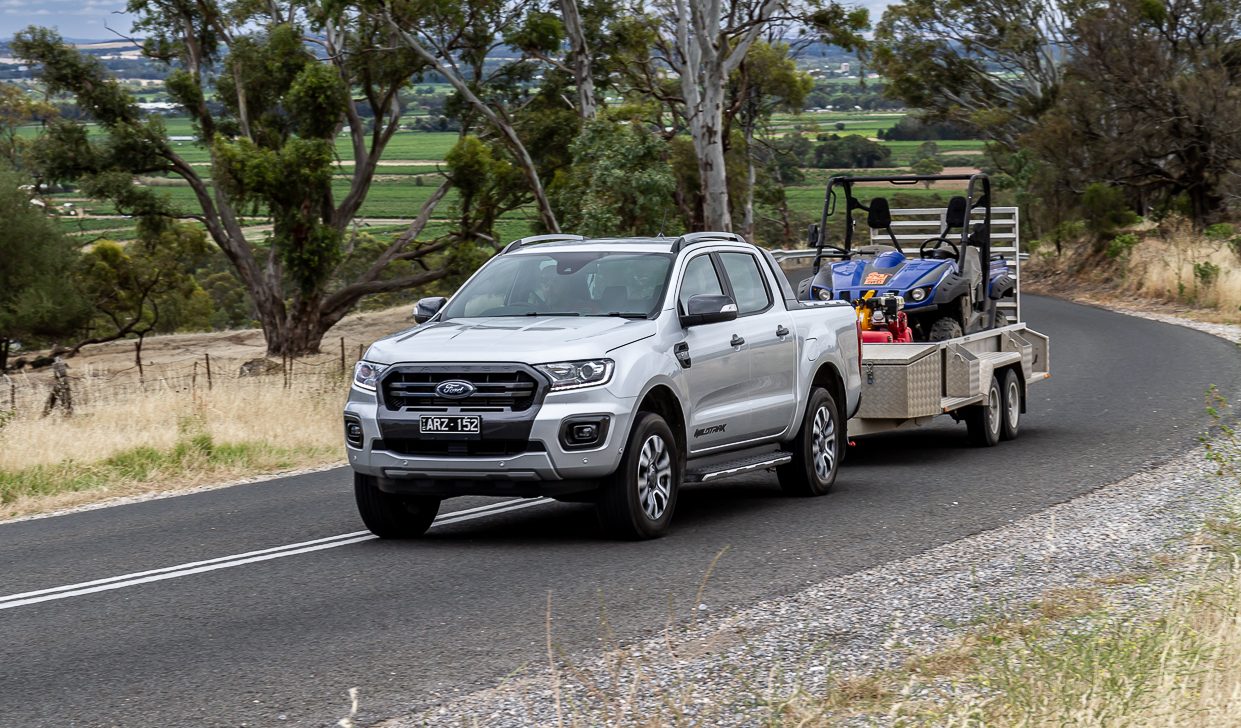 At the top of Mengler's Hill, the Raptor, despite weighing 115kg more, was still accelerating while the Ranger was flat-knacker and in struggle-street.
Sure, sans trailer, the Ranger feels more-sprightly getting off the mark, even if the official figures suggest the Raptor has the edge, but once on the move, the Raptor reels it in quickly and a 'see ya-later' moment is next as the 'old-school' six-speed makes way for the 'techno-ten' kid in metallic blue.
So what else did I discern on this test?
Well, the Ranger Wildtrak has had the acronym book thrown at it, and as optioned on test, features every electronic safety gizmo known to automotive mankind and that doesn't personally do much for me. I drive a D-MAX because it's the polar opposite, nice and simple. Having just stepped out of the latest Mazda BT-50 – the Ranger's brother from another mother – I much preferred Mazda's simpler version of what is essentially the same vehicle. It's just a shame about the BT-50's hideous arse; thankfully the front-end styling was improved somewhat in the last update.
That's not to say that all of the gizmos are worthless. There is value to be found with features like autonomous emergency braking; lane keep assist and driver impairment monitoring. It's also nice to know that the Ranger passed our 'Wombat Test'. When chucked sideways at 80km/h the Ranger's stability control acts swiftly to bring the situation under control rapidly. If only the HiLux was this good.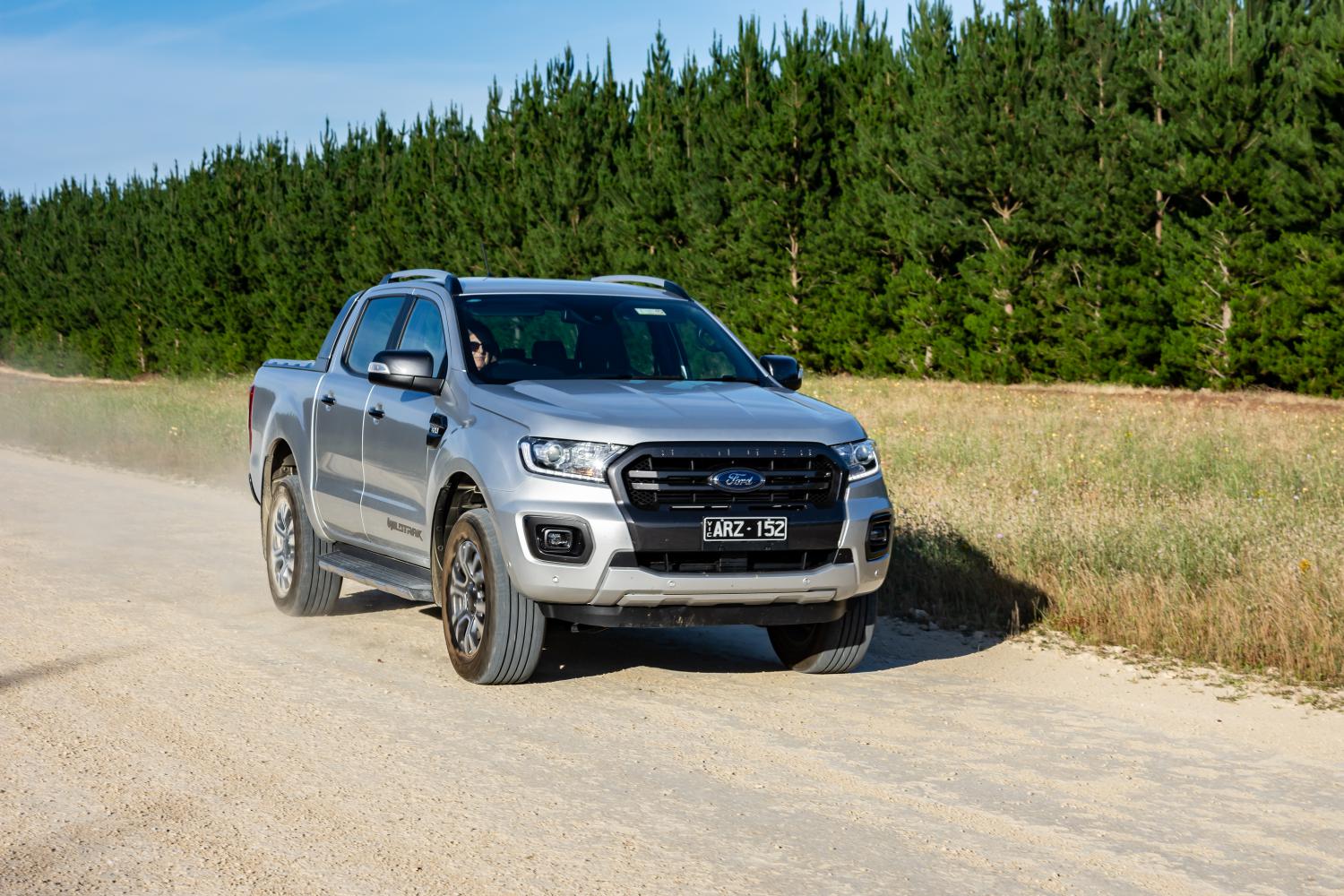 The techno-set will be pleased to know that Ford's Sync3 infotainment system is a good one. It sounded great to my admittedly low-fi ears, and my phone synced quickly with the included Apple Carplay; Android Auto is there for those folks with the other phones.
I like the Ranger's interior. Inside there's plenty of soft spots for my old elbows and our test car's leather with contrasting stitching was sexy, but, remember I don't like leather (especially in summer in Adelaide), so aesthetics and practicality, in my mind and in this case, are very divergent models of desire. The seats did serve me well on a journey from Melbourne to Adelaide via Mount Gambier and the bum only got numb after three hours or so.
The TFT (thin film transistor) dash was full of information, almost too much with the scrolling function activating or disarming various functions. One that caught my eye as I scrolled through was a tyre pressure read-out, and that is hugely useful.
The Ranger's on-road ride was firm, which is my preference, but lacked a little initial compliance. Letting a little air out of the tyres helped fine-tune the ride to just how I like it and the Ranger remains at the pointy end of on-road dynamics in the 4X4 ute world.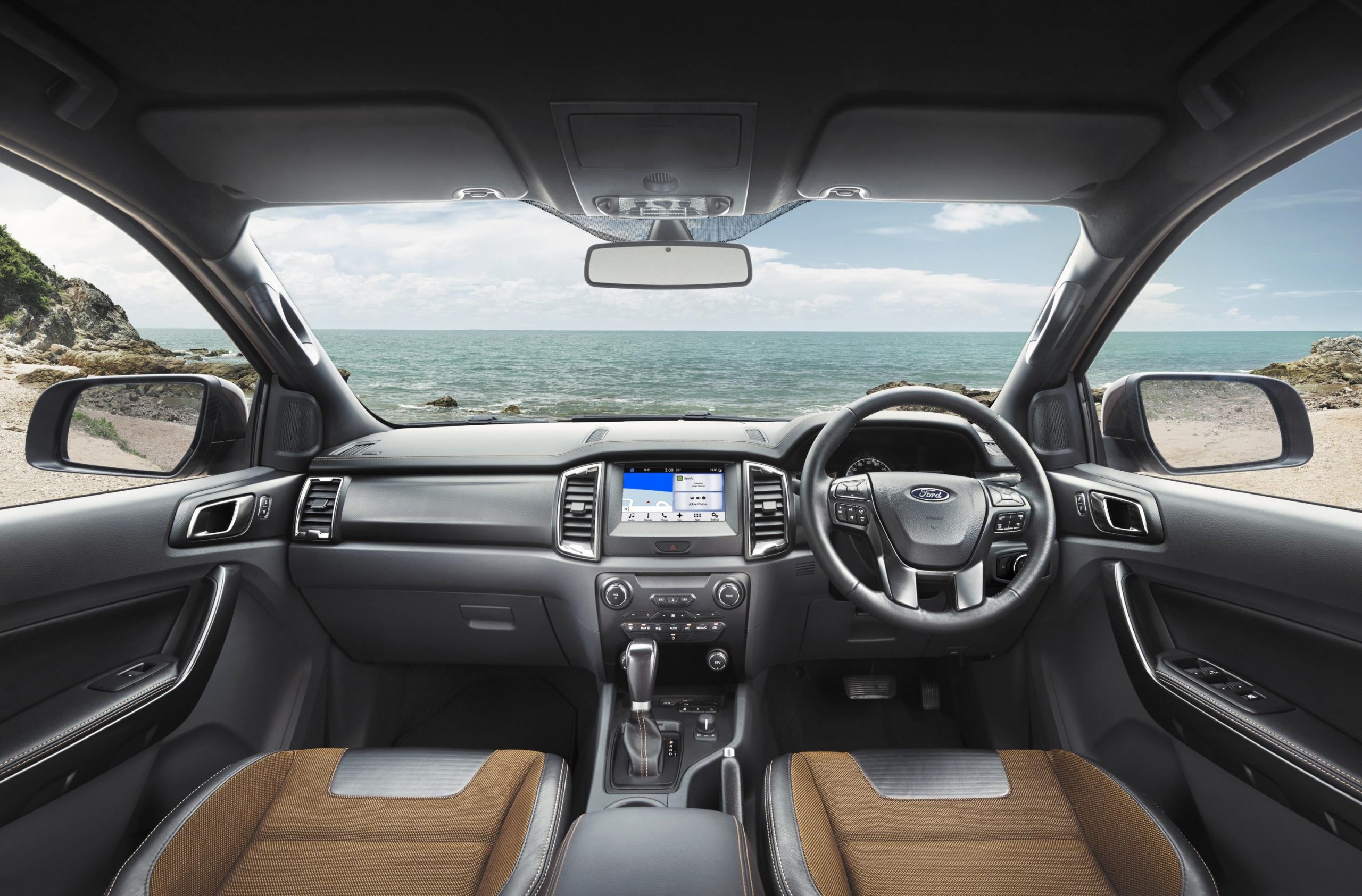 The Ranger Wildtrak uses a basic part-time 4WD system, and for the life of me I can't work out why the full-time system in the Everest (thanks Land Rover) doesn't find its way into a vehicle at this price point? Mitsubishi's brilliant Super-Select offers the best of both worlds with a 2WD, and AWD mode and part-time HIGH and LOW range, so you've got all bases covered.
So, there's 2WD for the bitumen, 4WD high range for high-speed dirt and firm beaches (which can be engaged at speeds up to 100km/h) and 4WD low range. Low range deactivates vehicle stability control, but traction control will still be lurking in the background, and on sand you'll want to turn that off.
Traction control on this gen Ranger works well in the harder stuff but nothing beats a rear axle diff-lock, and the Wildtrak has one. Beats me why there are some manufacturers of 4X4s who still don't supply one either as standard or offer it as an option. A rear-locker trumps traction control every time, as it allows you to drive more smoothly and use less throttle.
The Ranger walked through our off-road test track in the Barossa and offers more clearance out of the box than some of the other utes that we've recently tested, including HiLux, Colorado and Triton, although its physical size could be a hindrance on tight tracks. It certainly isn't as manoeuvrable as a Triton for example.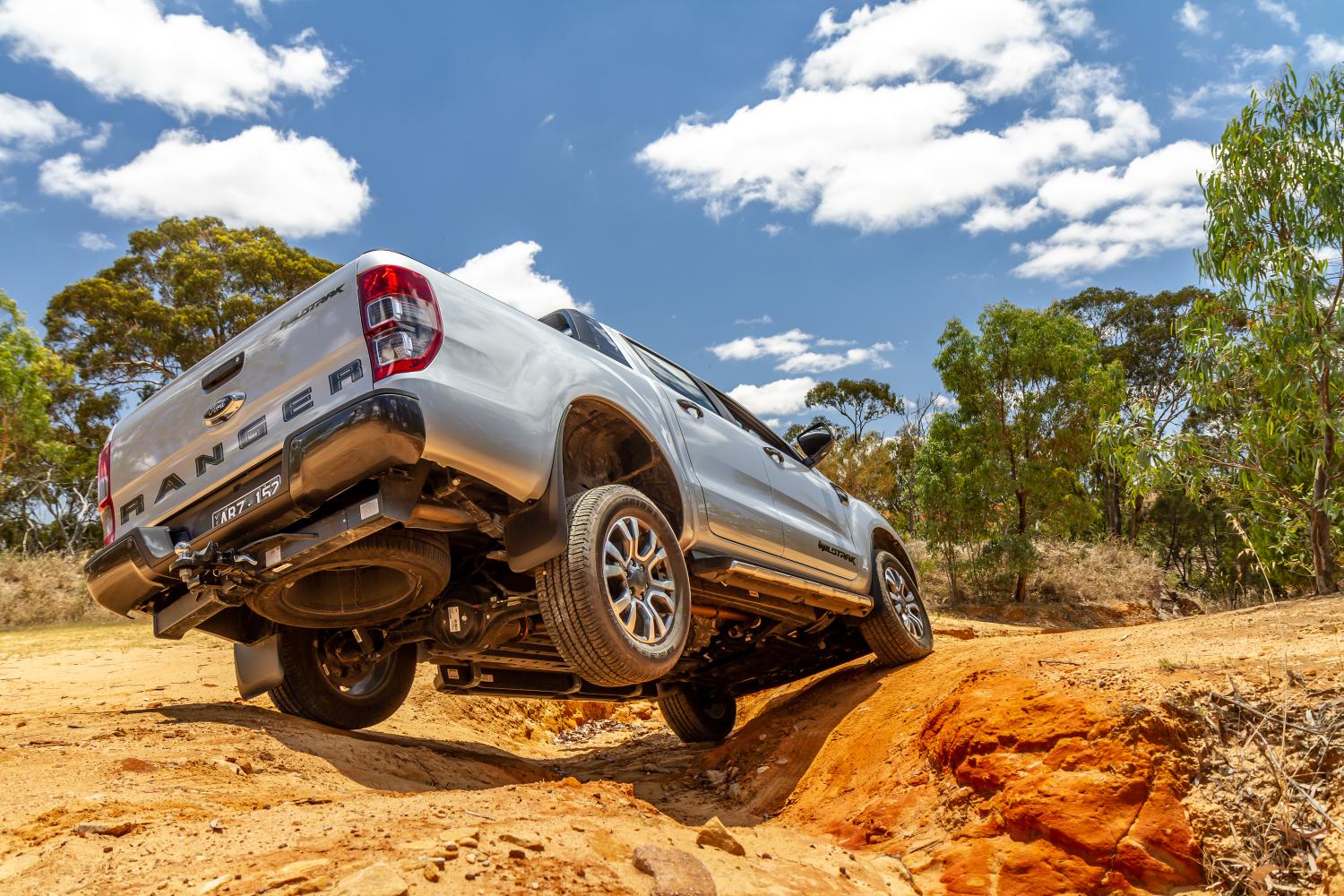 As is the case with every other 4X4 ute out there, it's just not in the same league as the Raptor on or off-road. Raptor's suspension and composure are so far ahead of anything I've driven modified or not it's not funny. You could spend a fortune modifying your Ranger and still not come close.
Ford has chosen the same numpty route as many other manufacturers and fitted 18" wheels to the Wildtrack. I'd understand that if the wheel had to fit around larger brakes, but the diameter of rotors and drums on your typical dual-cab isn't huge, and a 16" or 17" wheel will easily hide the stoppers and leave plenty of clearance. The far more hardcore Raptor, for example, runs smaller 17" wheels.
In the USA where utes are upsized compared to what we are used to, 18" wheels or larger are commonplace because you can source a tyre over there that'll give you the volume you need for off-road driving via a taller sidewall. The rubbish rubber fitted to the Ranger measures 265/60R18 and compromises the vehicle on and off-road in many ways. They lack sidewall height, won't elongate their footprint purposefully or provide the necessary flexibility to both smooth out the ride and help the suspension work. Most owners will overinflate their vehicle's tyres, and that'll only exacerbate the issue.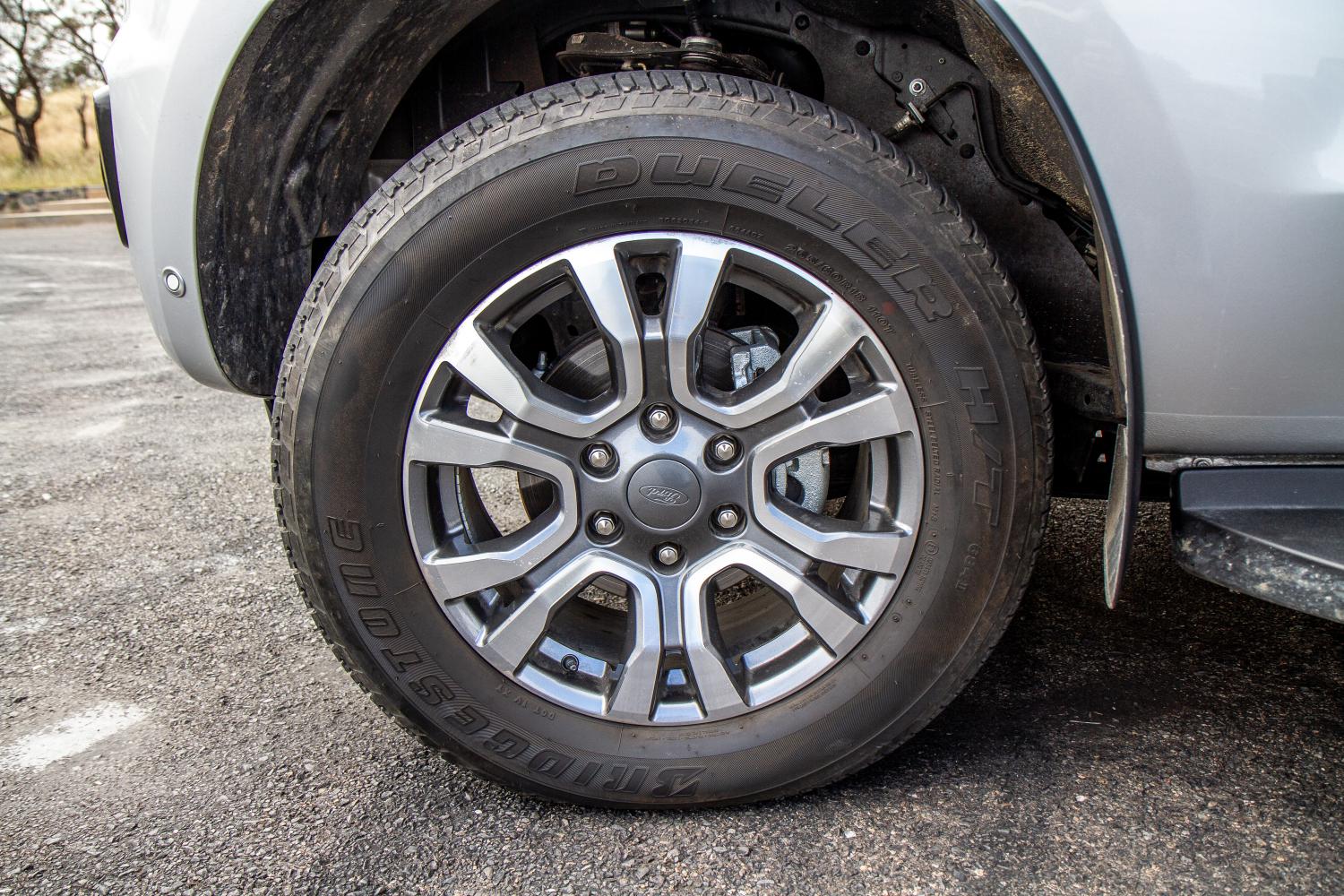 Over corrugations an inflexible sidewall can't soak up the initial bump like a 265/70/75 aspect ratio can so you pound the suspension into submission. An already inadequate suspension then fades and will do a merry old dance on that washboard surface.
There're some obscure brands offering LT (light truck) alternatives in the size, but the load indices aren't as great as those found in 16" and 17" wheel sizes. So, there's further compromise in the name of fashion, and I know when I'm bush, I want a puncture-free journey, not one where I'm constantly worried about the journey.
The Ranger still has a place in our local market, and I think it's a testament to the original design that as the current Ranger draws to a close in the coming years, it'll still be a worthy player in the dual-cab ute stakes. Contrast that statement to previous gen Hilux. Toyota soldiered on with that vehicle for too many years before putting it out to pasture, and that mistake allowed Ford a massive foot in the door, propelling them from an also-ran, to top or near top seller for years now.
There's a lot to like about the MY19 Ranger, including an appealing appearance, a grunty 3.2-litre five-cylinder diesel, a solid transmission, as well as reasonable fuel efficiency and a decent payload. With a few things changed, like tyres, it would be a solid off-roader. But you all knew that already, which is why more people are buying Rangers than ever before.
If I were buying a Ranger right now, I'd honestly spend the extra $1,200 and option the Raptor's 2.0-litre ten-speed drivetrain, because bigger isn't always better with engines, just gearboxes.