In issue 007 of our magazine we were wearing our hearts well and truly on our sleeves as we celebrated the arrival of the new Suzuki Jimny to Australian shores and it was something worth getting excited about at the time. In a world where dumbed-down, devolved and you-better-be-politically-correct is the standard state of affairs, Suzuki has said pretty bluntly you can stick that up your arse!
I reckon though that the business case mindset for going down this solo (proper) 4WD pathway might have been marginal. Suzuki has already yielded to the city-set, and the Vitara is now a shadow of its former self, going from a decent compact part-time 4WD to a full-time 4WD and now just another also-ran AWD SUV thing. Competition would have driven that decision because the SUV lovers of the world are herding in ever-increasing numbers and as a manufacturer, if you don't subscribe to their lame aspirations, you'll miss the profitability boat. There's a risk of alienating your customer base with this type of thinking, and that might be behind Suzuki's decision to evolve the Jimny, without losing its essence.
Land Rover is going through that pain right now. The buyer profile of Land Rover products is nothing like what it used to be. Once-upon-a-time knock-about guys and girls bought them for the farm. Nowadays it'll be a banker, a surgeon, or a developer, as the Land Rover fleet has moved fully upmarket, but rich or poor they'll all say what's missing is a true-to-its-core proper 4X4, the last of which disappeared when the Defender was killed off.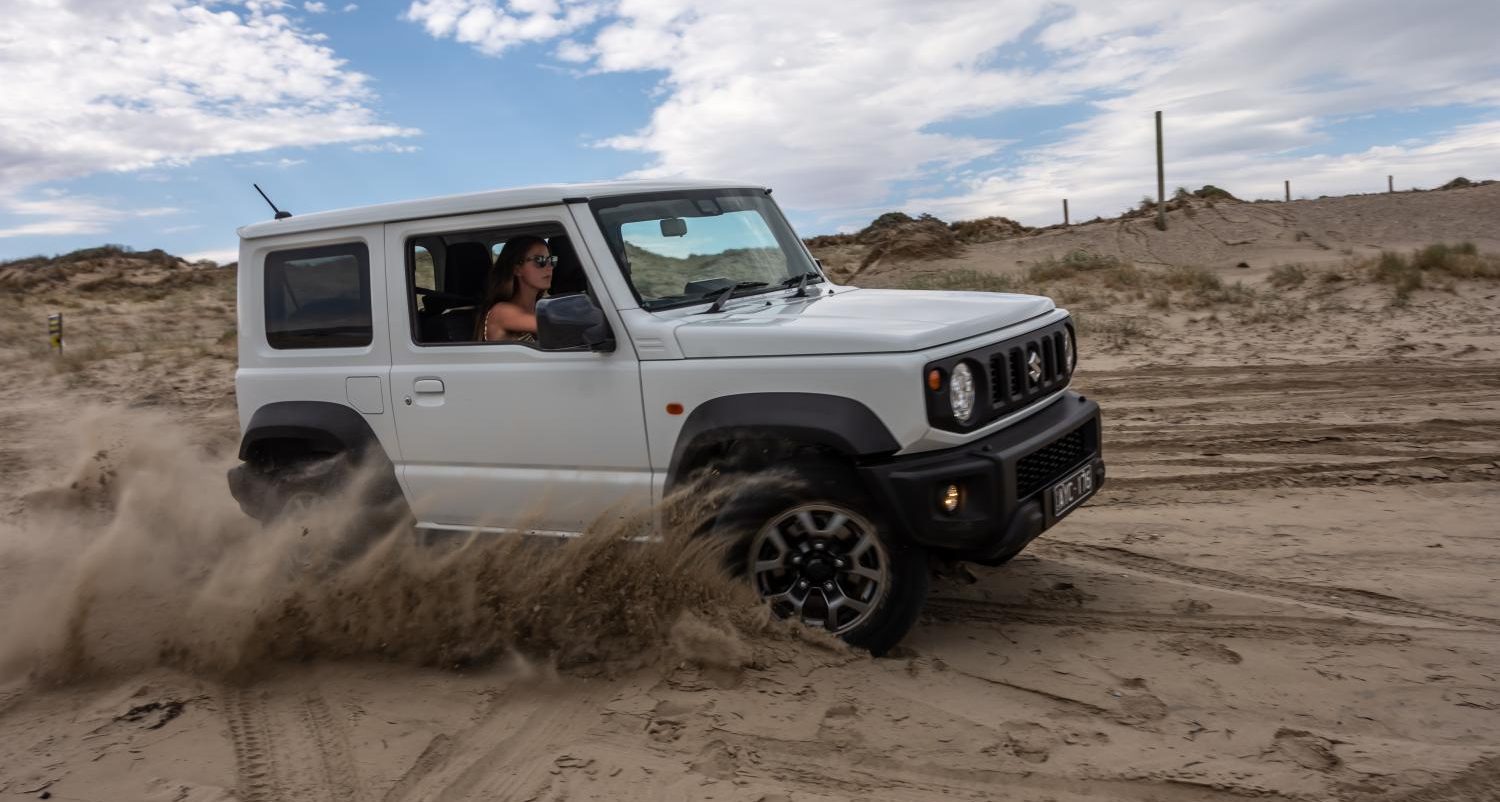 The Defender was expensive to build, being in-part hand-made, and didn't sell in volumes that justified the expense. JLR also failed to develop it beyond the Puma makeover it received under Ford ownership, so it never met even basic safety or NVH standards. However, it always remained charmingly different, and the prices for good ones took off when production ceased.
There's an all-new Defender due to arrive in 2020, that is expected to be based on the same independent suspension platform the Discovery uses, and if recent spy images are accurate, it will also share more than a passing resemblance to the Discovery, which I reckon body-wise is hideous.
Rover might have been pre-positioning the current Discovery's now universal SUV look, making a big change in readiness for the arrival of Grandad with the new haircut, so there's no confusion amongst the ranks. Perhaps it will defy the trend and come out all-rugged, square-jawed and proper? The cynic in me says no.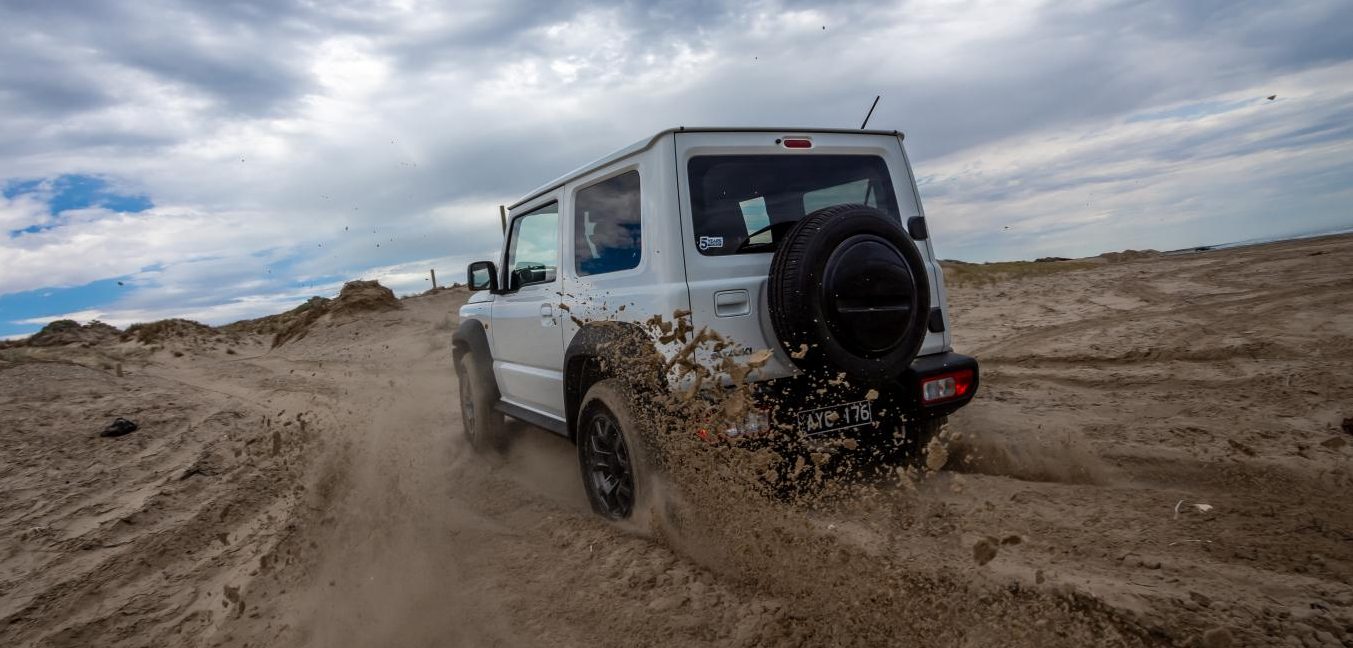 In the meantime, Suzuki now has its all-new Jimny on sale in Australia, and there are more than a few old-school Defender styling cues and a long waiting list to buy one. I wonder if Land Rover is taking note? Go on be brave 'Brummies' build it faithfully, just like the Japanese executive proposed when he/she took a major punt on a Kermit-green square box on wheels and succeeded.
Let's talk about that box.
The shape is perfect for a 4WD. Those slab sides equate to internal volume, with an absence of tapering roof lines to impinge on carrying capacity internally; incredibly important when it's a micro-4WD. Helping maximise useable space is a rear folding seat arrangement that'll lay flat. I had a look at the mounting system for the back seats, and it wouldn't take much to remove them and increase the depth of the cargo area even more if the seat/seatbelt sensors could be unplugged.
I found the driving position to be spot on, the seat base height okay and fore/aft movement enough to offer my six-foot frame a very comfy reach to the pedals and the steering wheel. The steering wheel is adjustable, so if you're carrying a bit of belly, you'll still be able to sneak it in under the wheel's rim. The seats were comfortable with decent support, and my bum remained numb-free after three hours.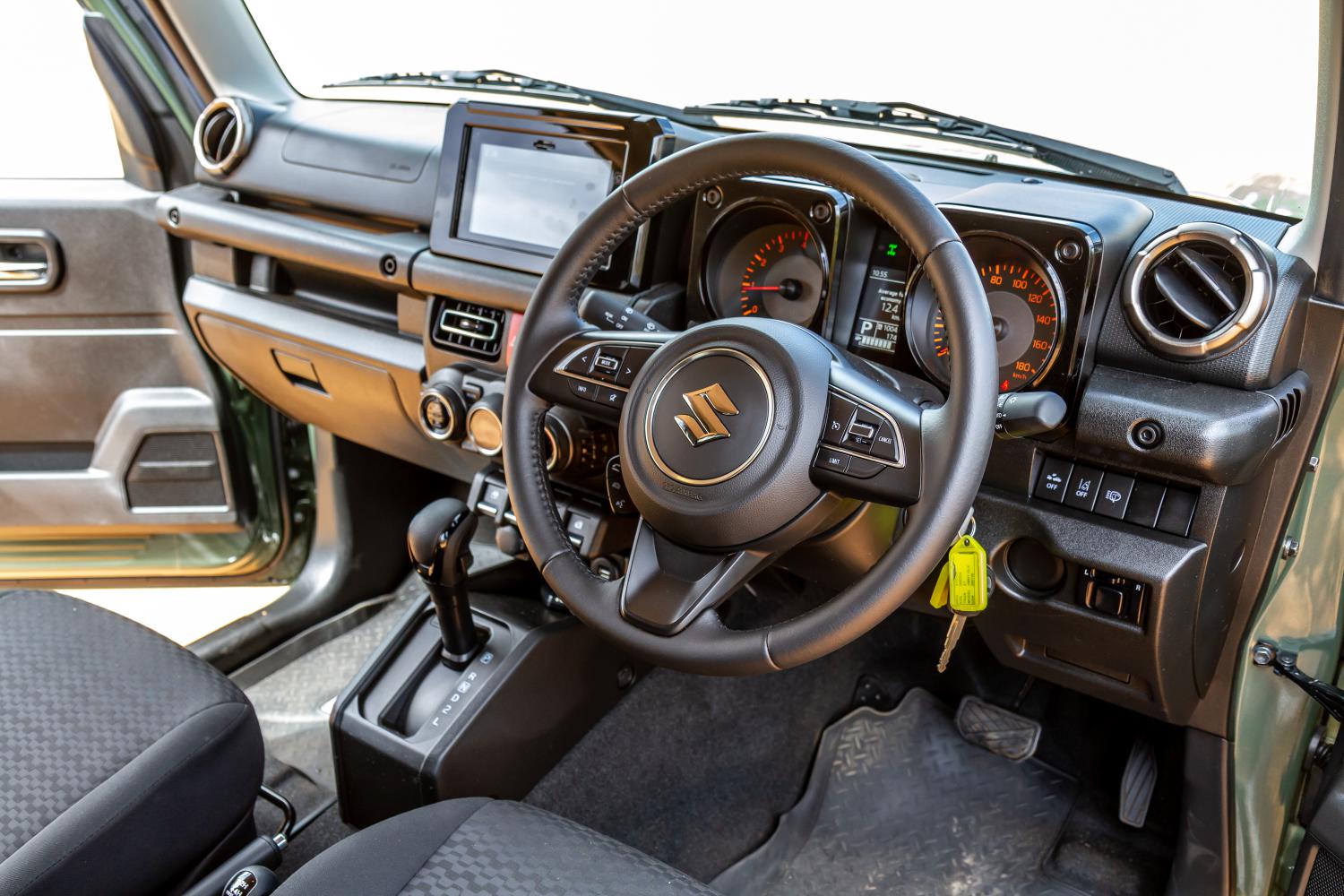 Two big blokes would be touching shoulders in the old Jimny's cab. This one's noticeably wider, but I reckon there's a market for one a little larger again and with four doors for a better payload.
The new two-door Jimny measures 3,645mm long and 1,645mm wide, which is compact. Combine that small footprint with the excellent visibility afforded by the Jimny's squared-off corners and upright windscreen, and you have the perfect 'around town' vehicle.
Throwbacks to days of old are everywhere. It has a key, not one of those idiotic push-button starts with a dopey transponder to go wrong. I love the fact that it has roof gutters and not the flimsy plastic roof rails seen on the old model. That will make a roof-rack an easy-peasy install. It's also got round, yes round, LED headlights and they work, because the lens isn't windswept, they have a nice deep reflector that projects a beam down the road. What I didn't like, was the oncoming or ambient light sensor that made switching to high beam impossible around town even when there was nobody around.
While the Jimny remains true to its roots, it's now packing a larger electronic arsenal and several concessions to modernity.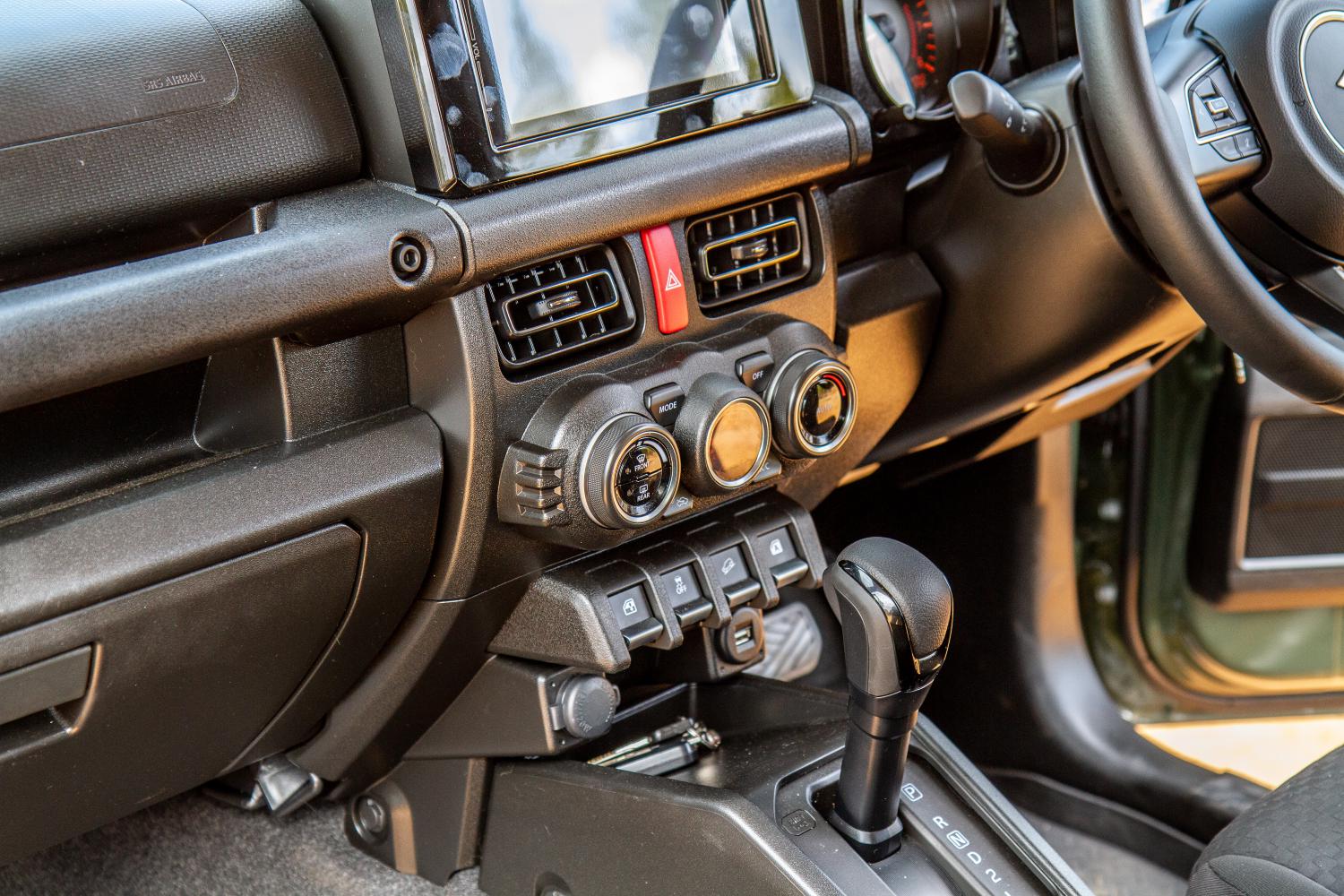 Right slap bang in the middle of the dash is a telly. Jimny has joined the touch screen infotainment revolution, and this one is a pretty good thing with hook-ups to Apple CarPlay and Android Auto via a USB outlet. Bluetooth was quick to capture my phone and get me chatting, or you can plug your phone in via a USB outlet and use The sound was fine for my analogue ears on the AM stations and Georgia our resident 'bright young thing' (BYT) and road tester thought the sound was good enough to satisfy most. There's a couple of 12V outlets, and the reversing camera was clear and easy to use.
Electric windows and mirrors you'll find, and an air conditioning system, that despite the glasshouse effect of the cab, managed to deal with a couple of stinking hot Adelaide days.
The interior is carpeted and likes to trap sand, making the clean-up a frustrating exercise. I'd like to see vinyl in there, but hey, it'd likely be fixed with some decent rubber mats. The carpet mats sitting atop the carpeted floor won't take long to wear through.
Additionally, the plastic surfaces, dash, door cards and rear seatbacks are a hard composition and will scratch easily. For the sake of my old right elbow, a door card with a hint of forgiveness would have been nice for windowsill resting, and the left one is left dangling as there's no centre console cubby-box, merely a couple of drink holders set low behind the handbrake.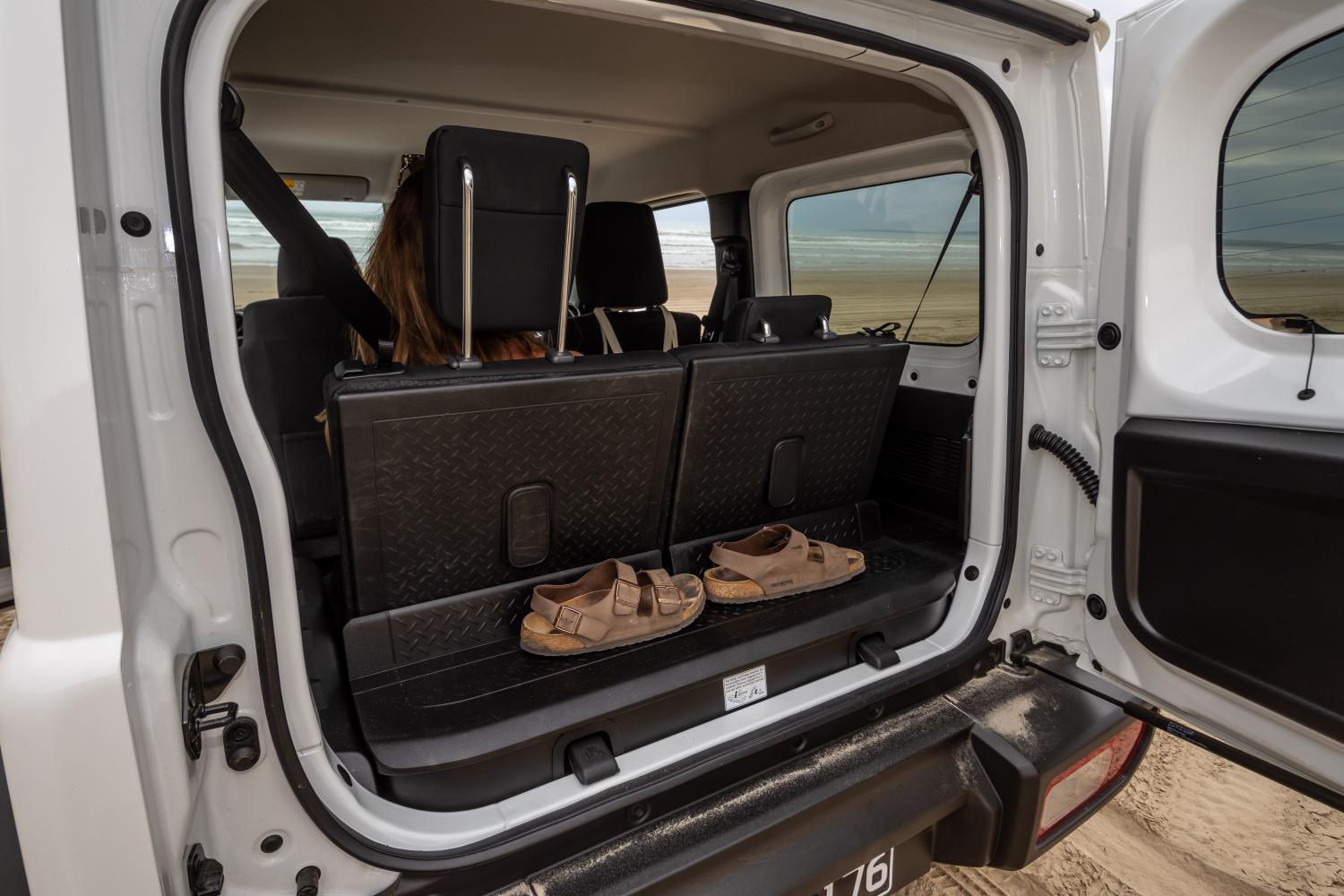 Below the central air vents and A/C controls are the buttons for some of the selectable driver aids and safety kit now standard in Jimny, including traction/vehicle stability control (TRC/VSC) and hill descent control (HDC). Suzuki calls its traction control system 'Brake LSD', which is a curious description because it bears no resemblance to a slippery diff in the way it works. That's bullshit (BS) advertising-speak, and I haven't found the button to turn that one off!
It's even got lane departure (LDW), lane weave (LW) and forward autonomous braking (FAB) hooked up to anti-lock brakes (ABS) and hill-hold (HH), all of which is a serious departure from what was found in previous Jimnys. Despite my indignation at these concessions I'll have to pull my safety hat on a little tighter, as they're necessary, not only to move with the times but also to mitigate the new Jimny's on-road flaw, which is safety at speed. Suzuki's solid axle Jimny isn't as safe at high speed as vehicles with independent suspension, either up-front or all round. It's one of the reasons most manufacturers have moved away from this type of suspension.
One of the most chilling 4WD moments that's burned into my brain was around a decade ago when I watched a bunch of youngsters in a solid axle Sierra teetering on two wheels as they took a corner too quickly in suburban Adelaide. It was only by pure luck that the driver steered right instead of left to put it back on its wheels. With no rollover protection (ROPS) the result for this ragtop would have been tragic. They were laughing after the event, but that's because they had no idea of the repercussions if it had gone tits-up.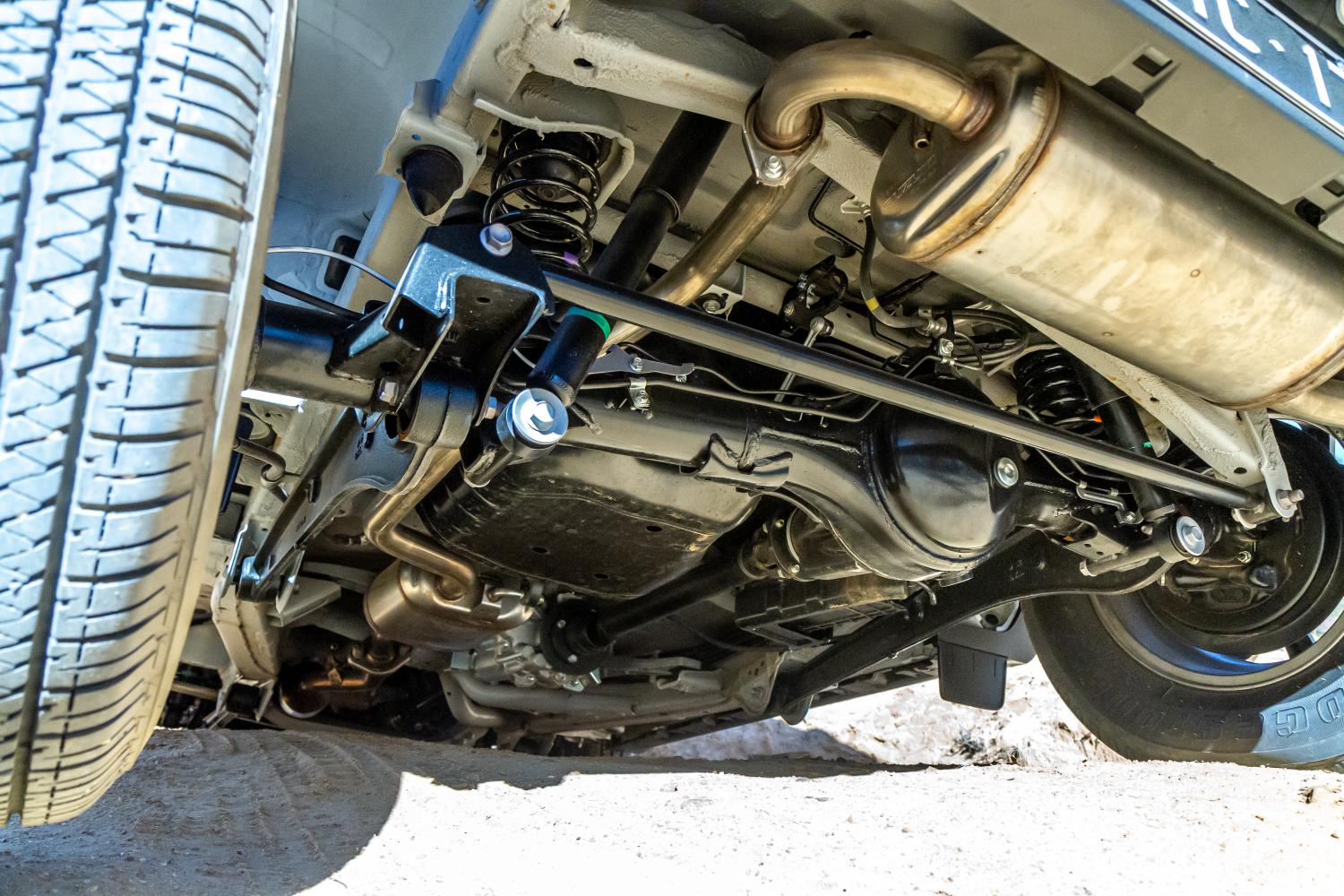 The new Jimny steers nicely on the straight and on gentle bends despite the crap highway tyres fitted, but push it hard into a corner, and it can be a bit of a pig, with plenty of understeer evident and the feeling that it will snap into an oversteer fishtail moment if you aren't on the ball. That's where VSC will help save the day.
My friends in the Sierra in that same death-defying moment would have firstly copped a decelerative moment as engine speed would have been trimmed, thus starting the slow-down process. Selective autonomous braking would have then tapped the right-hand front and then the left-hand rear as it transitioned from oversteer to understeer and forced it to steer straight to get the car back in shape.
Now my testing included both an auto and a manual Jimny and I managed to get a 'wombat test' done with the auto. On a decent bit of bitumen at 80km/h, I chucked it right, and stability started tickling the brakes and then left before I sensed the engine speed getting trimmed. Mind you this is all pretty hard to measure precisely because it's happening in fractions of a second, but there was a difference. Was it pretty? No. There was plenty of body roll, and the tyres were complaining, but it worked, so I suppose you can have your cake and eat it.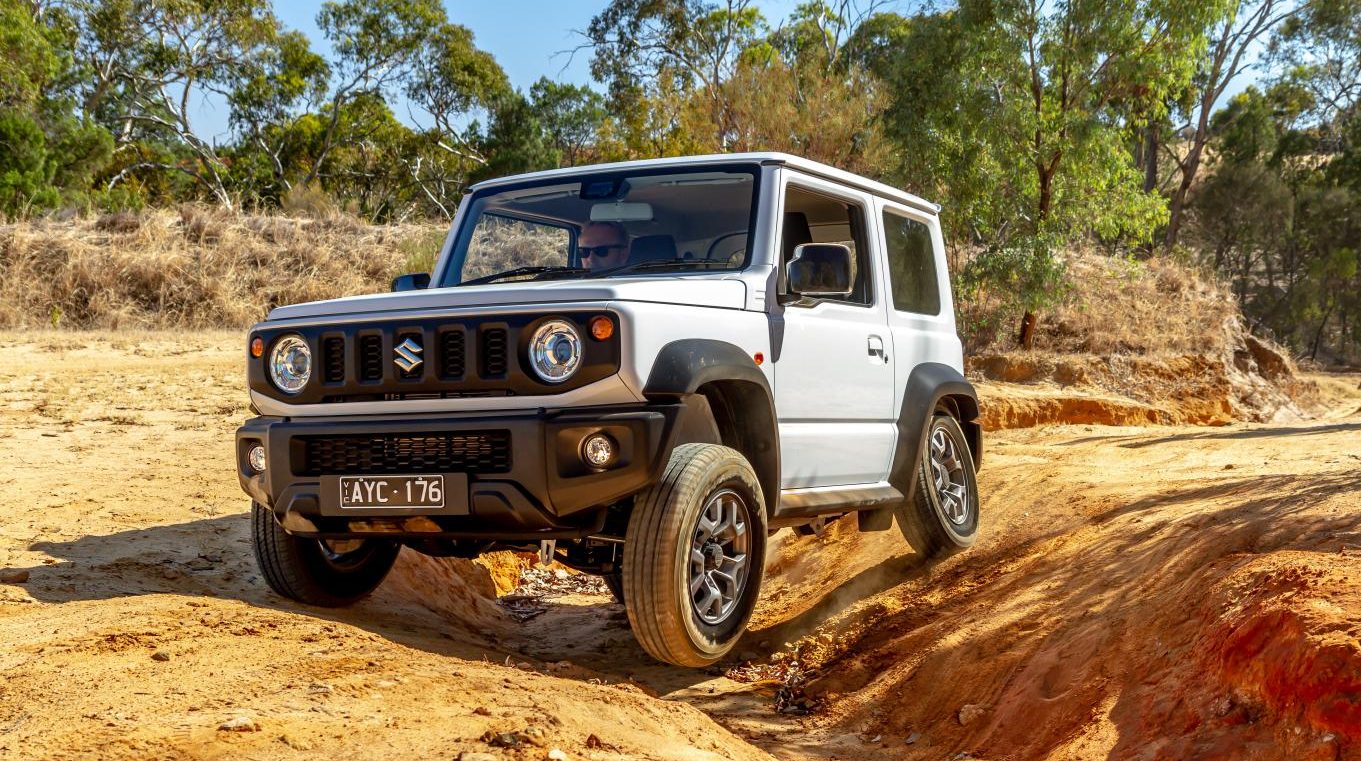 Having your cake means Jimny is an ace off-road, but an imperfect ace!
That same suspension set-up affords excellent articulation, but the spring rate is too soft. I had more than a few times where the front springs weren't able to control a suburban speed hump, let alone an erosion gutter up at Adventure HQ without crashing to the bump stops. With no passengers in the back, the back end didn't suffer the same malady, but with me sitting in there at 90kgs, it was a different story.
The 4WD driveline is a basic (and that's good) part-time system offering three modes, 2WD high range for the blacktop, 4WD high range for dirt roads and hard beaches and 4WD low range for the steep and boggy stuff. High range 2WD and 4WD can be engaged at speeds up to 100km/h (but don't do that thank you, 80km/h is safer on dirt) and low range can only be selected when the vehicle is stationary and in neutral.
Joy upon joy! A traditional transfer lever has made its return, as that was a sticking point with the old model, the push-button arrangement was crap. I also wouldn't mind betting plenty of new Jim owners will fit manually locking hubs because the vacuum hub arrangement of old got plenty of stick as well.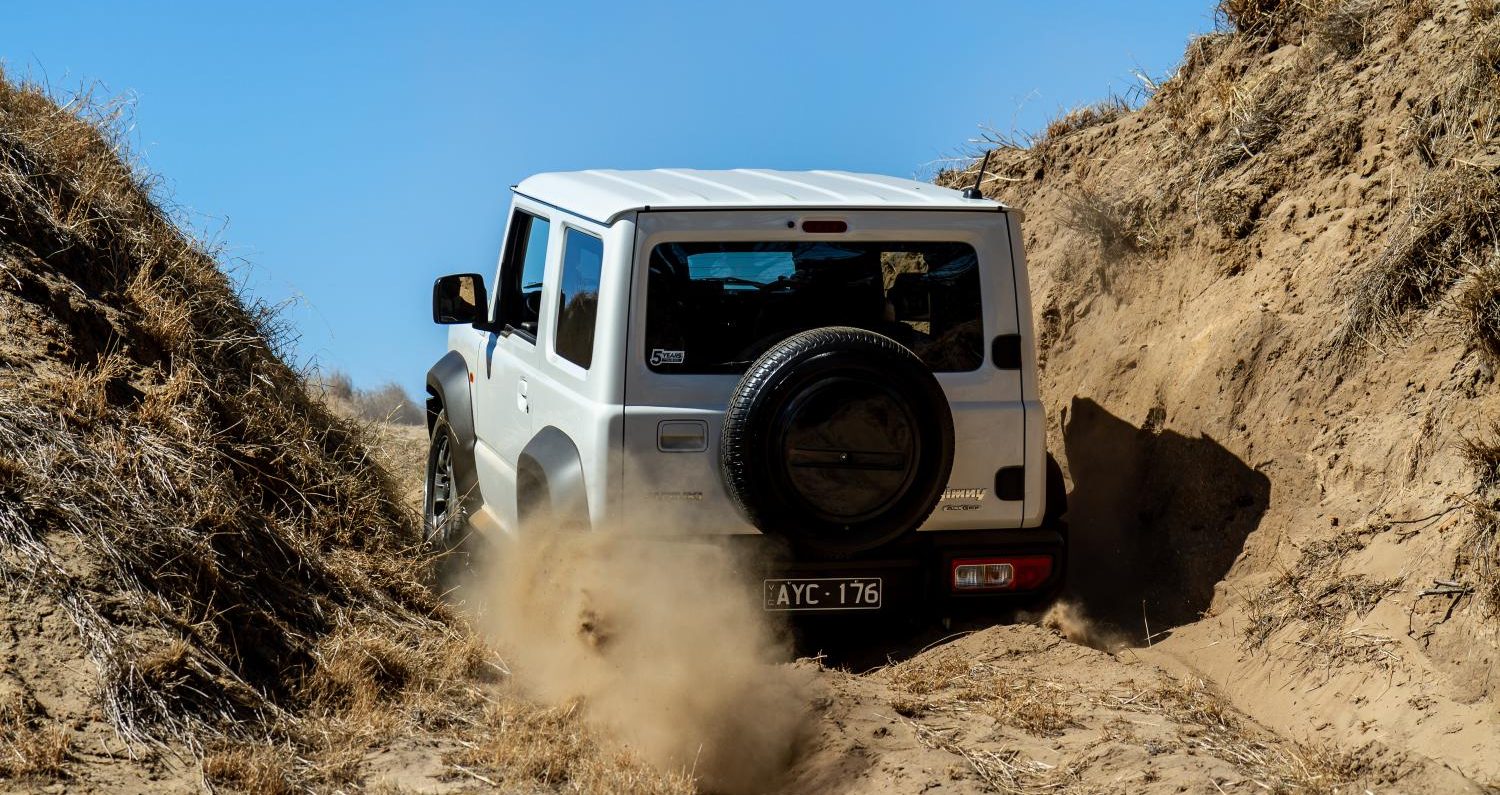 Watching the Jim clamber up and over the obstacles that we put in its way was revealing; man this car has some flex in it stock standard! We're used to seeing an inflexible front end on most 4X4s thanks to IFS, and it was great to see the Jimny walk through obstacles, instead of kicking up a wheel in the air.
The new Jim uses traction control as they all do, but at least this one is tuned for early action. I haven't asked the question of Suzuki, but I suspect their algorithm thingies are tuned in two ways, one to recognise high range usage and one for low. On hard surfaces in low range, the system worked pretty well and would put a few larger 4X4s I drive in the course of my local training business to shame. Not bad for a circa $25,000 vehicle, but traction control is still shite on sand, even in a Jimny.
We took both vehicles down along Goolwa Beach to the Murray Mouth to check their sand capability. The previous generation Jimny was a demon in the sand, and we wanted to know if the new one upheld the tradition and found that it would, if traction control didn't get in the way.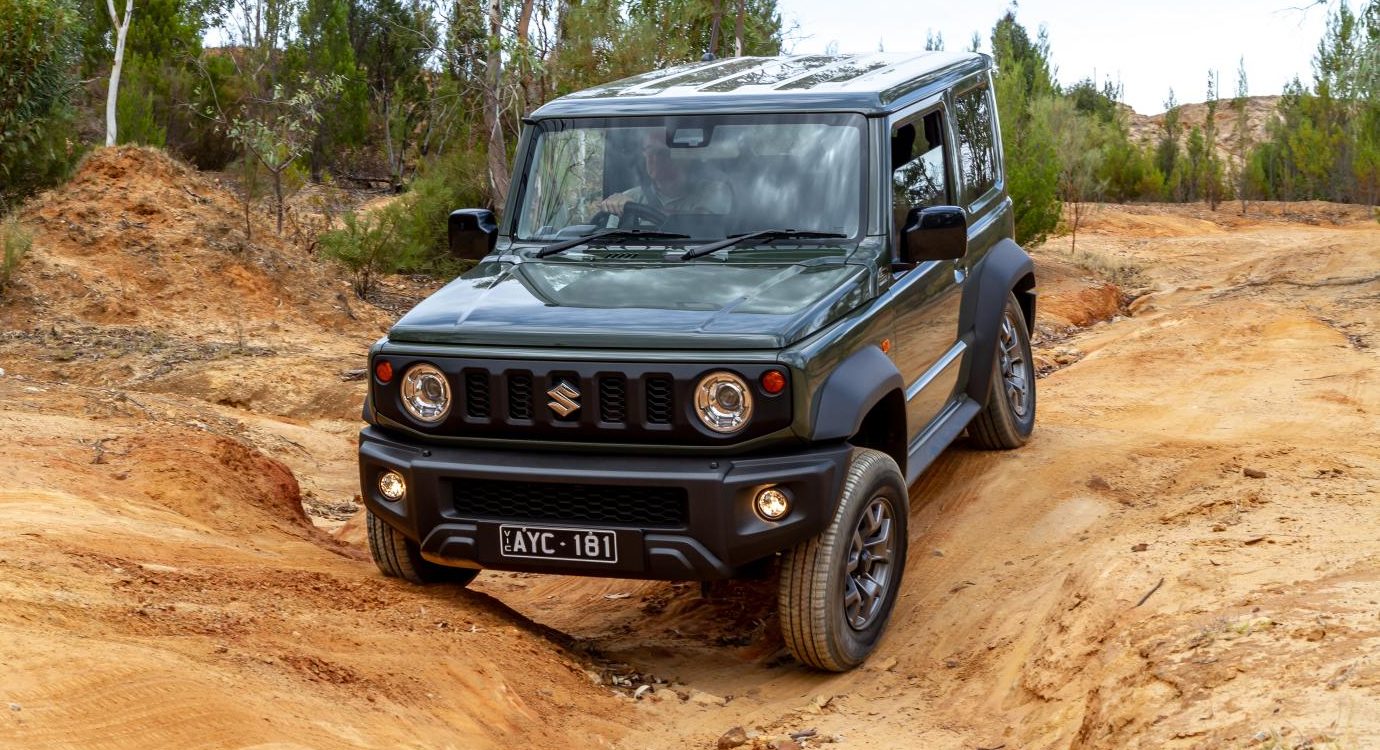 Having open diffs front and rear works provided you can maintain traction, but if a wheel goes light look out! That wheelspin sucks all of the torque going to that axle pairing out through the lifted wheel and stops the vehicle. If you keep pressing on the go-pedal, it will transition to diagonal wheelspin and dig a big hole. That's the open-diff effect. Get off the gas, and you'll keep mobile because wheelspin is your nemesis off-road.
Traction control on the Jimny can be turned off via the VSC button, but go any faster than 30km/h, and it'll go back to default and turn on again. The speed threshold is too low, and when I push a button to turn something off, I want it to stay off. That needs addressing, and I bet it's just a software tweak.
One way to address the grip levels would have been to have offered standard, or option-in a locking rear differential. With the back, axle locked it would mitigate most issues of imperfect grip and lessen the need for traction control to be bothered. ARB and others can sort that out for you, and it'll make the Jimny a whole lot more capable off-road.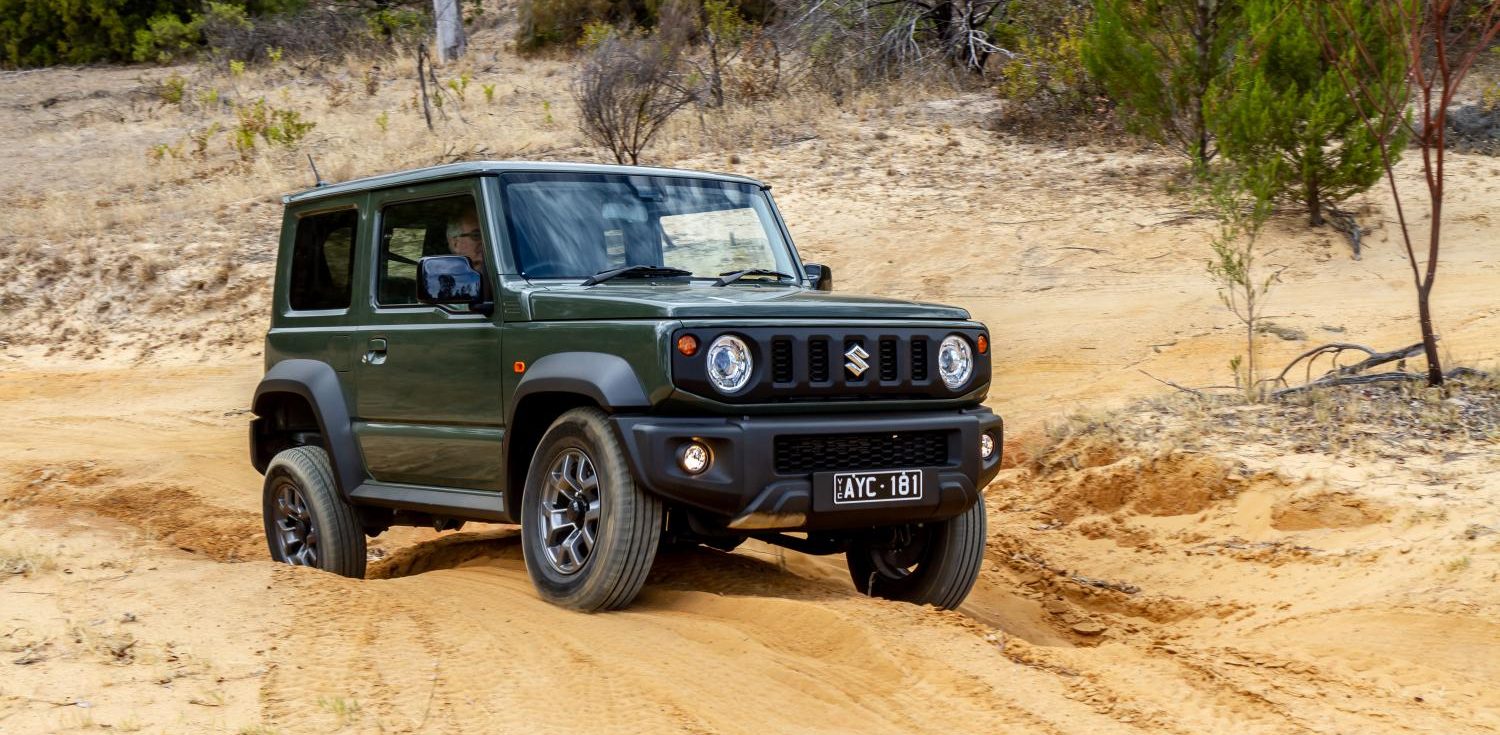 Which transmission is best? This is a super tricky question, and the best answer I can give you is this. The automatic is better off-road, no question on that. A manual with a petrol motor and only 130Nm of torque, delivered at a peaky 4,000rpm, means you have to flog it hard to keep moving. Being used to diesels, I stalled the Jimny more than a few times when trying to negotiate rugged country at slow engine speeds where finesse and torque were required. The auto, on the other hand, lets the torque converter do the slipping, saves the left foot and keeps the Jimny rolling.
The problem with the auto is that it's an old three-speed with an overdrive fourth, which is at least two gears short of what it needs. It also lacks a sports-shift to make a semi-automatic out of it. As it stands, the auto sucks the soul out of what is a zingy little motor with the manual behind it, whereas a six-speed auto would have helped mask the torque deficit and provide livelier performance.
The manual's not much better, five-speeds are uncommon now, and six was what was needed. At 110km/h the manual Jimny's engine is spinning at around 3,000rpm, and that could make light work of the little 40-litre fuel tank, pushing what is a little block of flats through the air. Fifth in the manual is direct drive, which is why the manual is such a hoot to drive around an urban environment, but it needs an overdrive sixth for highway running.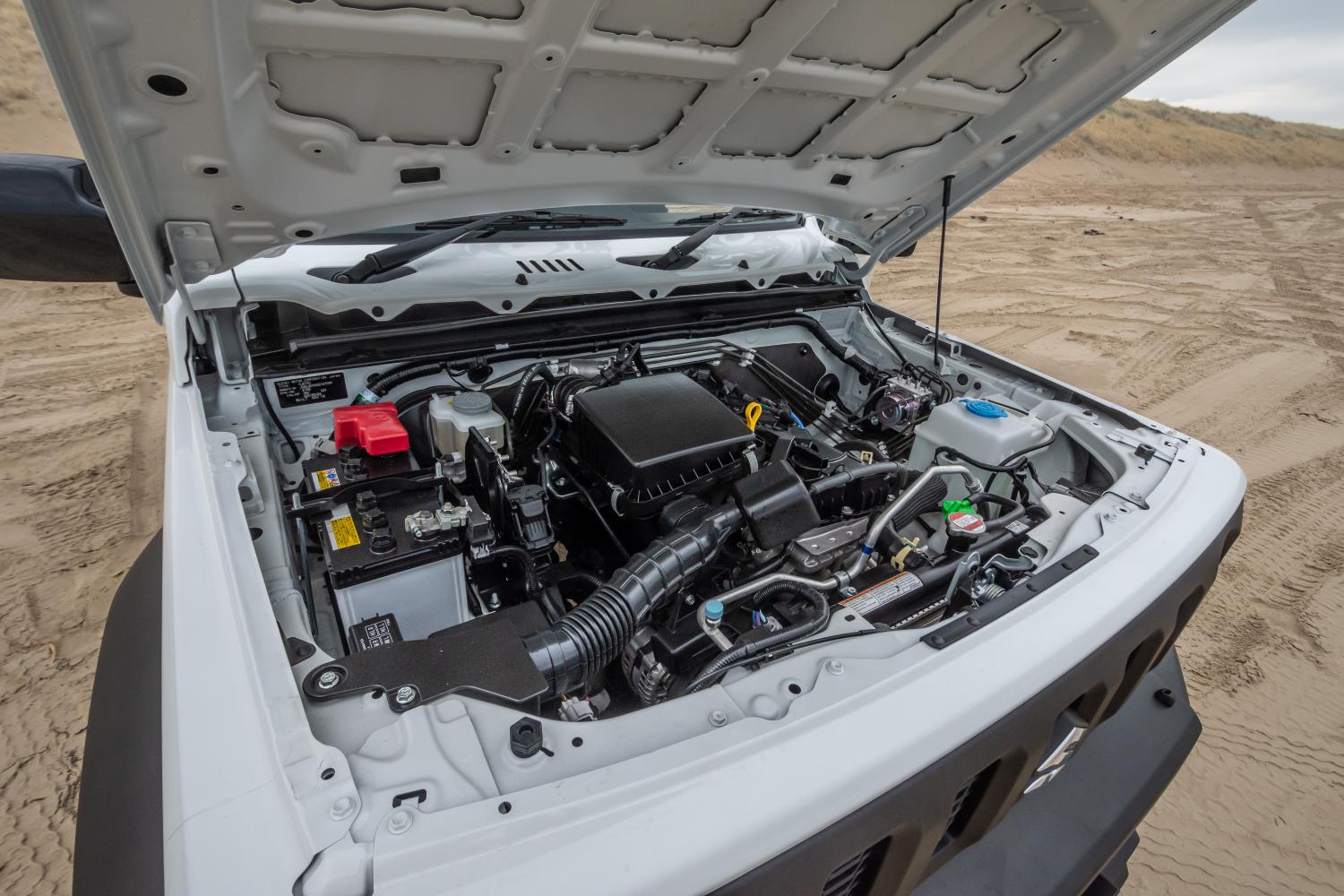 Is the new Jimny better than the old one? The answer is, of course, a resounding yes, but not without waving a red flag or two. The 1.5-litre petrol four has a lot more punch than the previous 1.3-litre. The ergonomics are better, and it's a comfy place to be with more elbow room even if you're approaching two metres tall. It's got everything I hold dear in a proper 4WD and more because it's got a chassis with coil springs, a perfect footprint, good clearance at 210mm, excellent off-roading angles and weighs bugger-all at 1,095kgs with the manual gearbox and 1,110kgs in auto guise. The addition of safety tech is always welcome.
The negatives are a payload that'll only accommodate a bum in each seat, 340kgs (manual) and 325kgs (auto).  That tells me that after you fit a bull bar, a larger fuel tank, some lights, a fridge and food, clothes and some recovery gear along with a set of decent Light Truck tyres you might be struggling to legally carry a passenger.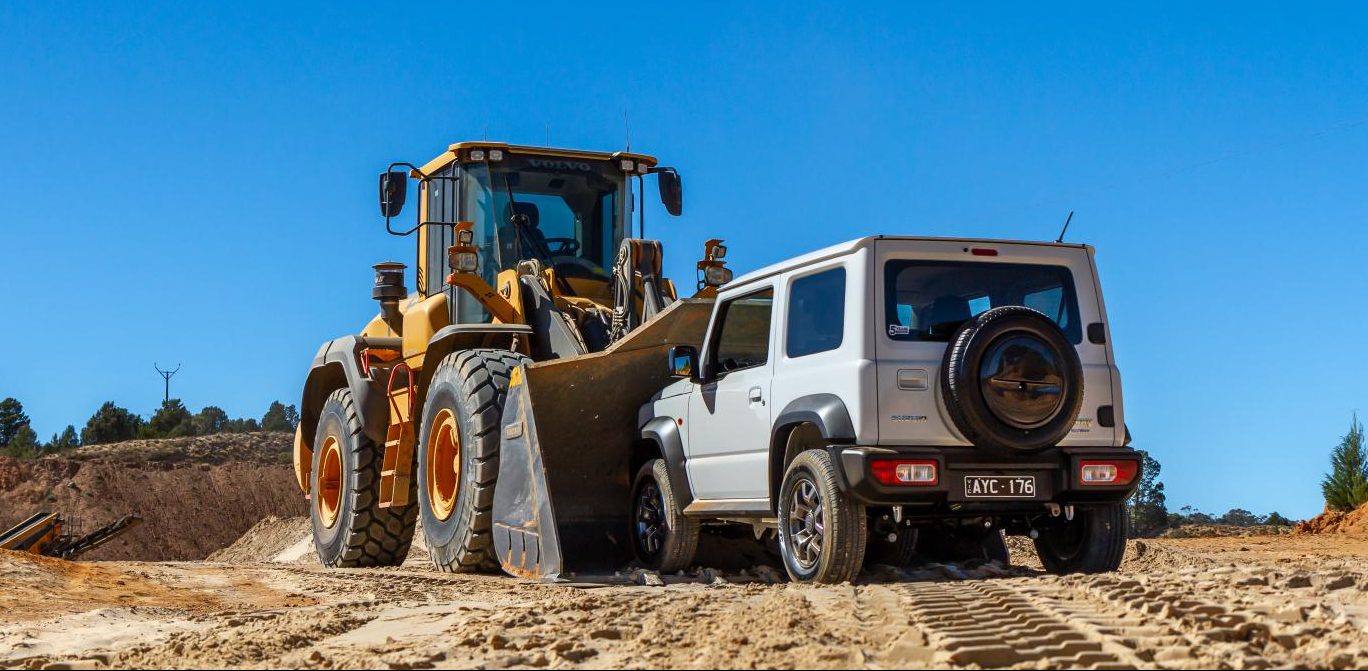 The rear brakes are drums when a drum-in-disc arrangement would have been better to get the best stopping/handbrake arrangement coupled to reduced servicing. Drums are junk. You should be able to switch the traction control off and have it stay off, and it needs more gears in both auto and manual form.
But those issues don't stop the Jimny being the most fun we've had on four wheels in a very long time. It's an endearing drive, one loaded with character and smile-inducing involvement. It's a 4X4 that you want to own, regardless of its shortcomings and one, once experienced, isn't easily forgotten. It's a real 4X4, in a way that the new Land Rover Defender should, but most likely won't, be. Imagine it upsized, with two more doors and a diesel drivetrain, and ponder what the new Defender could have been.
The new world of auto design is as boring as batshit, and the Jimny isn't. I haven't completely fallen for a new vehicle in ages, but this one has me smitten!