I always thought oysters grew on rocks, hence the title, but it turns out that in Coffin Bay, the oyster capital of Australia, they're racked and stacked in oyster leases, most of which are located around 15 kilometres from the township. The oysters farmed there aren't the native Angasi oysters that originally put Coffin Bay on the map; the Angasi is a slow-growing oyster that was overfished back in the late 1800s. Coffin Bay is now famous for the production of the Pacific Oyster, an oyster variety that is sourced from Tasmania and Japan.
Whatever the story, Coffin Bay oysters are bloody delicious, and the Coffin Bay area is a stunning part of the world that you'll want to see, in fact, in my opinion, it's got 'bucket-list-destination' written all over it.
And don't let the name put you off. Coffin Bay is no ghost town, the cemetery isn't any larger than it needs to be and there's no undertaker in the main street. Coffin Bay was named by English explorer Matthew Flinders in 1802, in honour of his friend Sir Isaac Coffin and that's it. If Matty Flinders hadn't been there when he was, we'd be calling the town Baie Delambre, as named by the, just a little late, French explorer, Nicolas Baudin. Matty and Nick were both charting the Australian coastline at the same time – it was actually a bit of a race – and encountered each other for the first time in the smooth waters of Encounter Bay, about an hour south of Adelaide. Naming locations, back in the day, was quite a literal profession.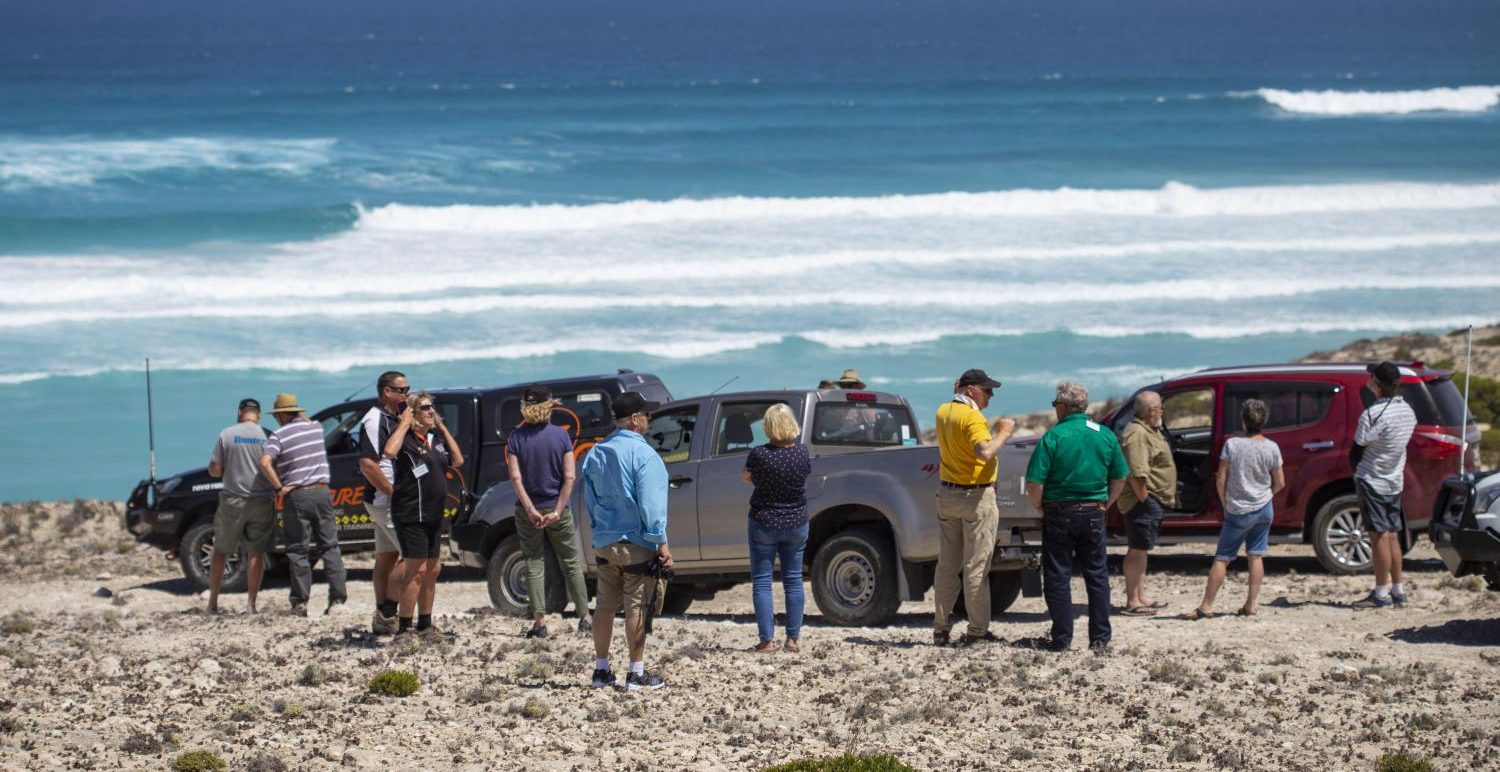 Getting to Coffin Bay is a bit of trek. If you're starting in Adelaide, you'll need to head North, swing left at Port Augusta and then kick back with some tunes for what is an easy drive along the edge of the great Outback. It'll take around seven hours to reach Port Lincoln, the deepwater port town that was in contention to be the location of South Australia's capital city. A lack of freshwater scuttled those plans, but tuna fishing and tuna farming have seen this port town thrive, regardless. Don't drive past, book a couple of nights' accommodation and spend the days 'tuna millionaire spotting', while enjoying the bay views from a local café. It was at Port Lincoln that this little adventure really began.
I was lucky enough to be part of a small media contingent invited to experience Isuzu Ute Australia's latest remote destination adventure, undertaken by its unique I-Venture Club. Isuzu's I-Venture Club runs regular day trips in various locations around Australia that offer Isuzu 4WD owners the opportunity to learn a range of off-road driving skills in some unique and beautiful locations. In addition to these single-day events, the I-Venture Club hosts a handful of extended trips to more remote locations, such as Coffin Bay, each year. These trips include all meals, accommodation a full itinerary and of course, David Wilson, the world's most entertaining and talented off-road driver trainer. David leads the way from the moment the wheels are turning and his days not over until everyone is safely back at their accommodation, most likely with a handful of memorable quotes.
Aside from being an absolute hoot, these IVC trips are unique in that Isuzu is the only 4WD vehicle manufacturer that actively encourages its customers to point the nose of their vehicles up a bush track to see what they can do. It's fair to say, Isuzu wears its faith in its product on its sleeve.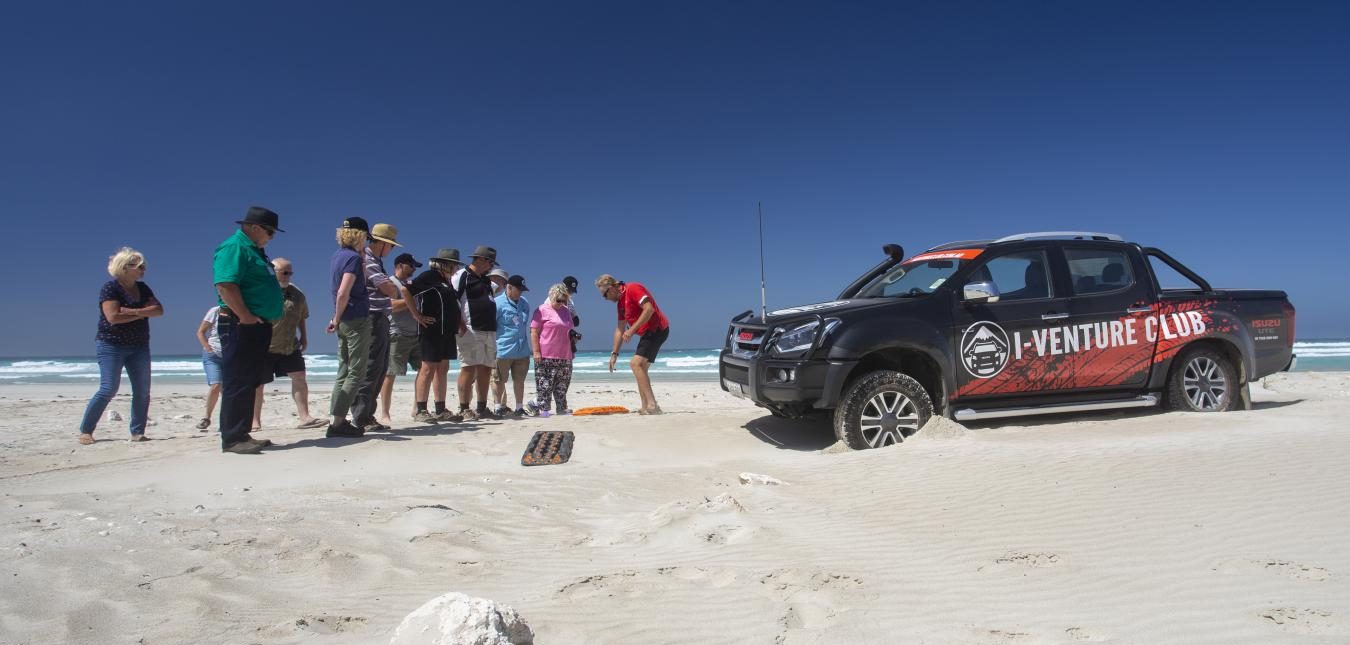 My ride for the trip was a Cobalt Blue LS-T D-MAX. That's the one with a full leather interior and push-button start, much to Mr Wilson's chagrin. Me, I like leather and give me push-button start over an old-fashioned key any day thanks! Ol' Blue proved to be a surprisingly comfortable companion and gave me the opportunity to experience the three-leaf pack rear spring, introduced for the MY18 model year, in action, over some decently rough terrain. It's a smooth-riding ute and in one section of seemingly endless mini-moguls on day three, may even have had a suspension control advantage over the coil-sprung MU-Xs.
Day one of this I-Venture extravaganza saw our convoy of Isuzu D-MAXs and MU-Xs leaving Port Lincoln and heading for the Lincoln National Park and the first stop of the day at Lone Pine Lookout. This was the air-down stop and it wasn't long before we were driving on sand, so ASC and TC were turned off when we entered the Wanna 4WD Trail. Bitumen transport stages aside, 18psi and no driver aids was how we rolled for the next three days
The Wanna 4WD Trail is a meandering track that runs through sandhills, around rocky headlands and eventually past the Sleaford Lookout, the world's most imminently dangerous vantage point. I saw the sign and stayed in the car.
The afternoon leg took us through a section of bushland dunes that put the vehicles and their drivers to the test. The weather was warm, the sun-beaten sand on the crests of the dunes was dry and soft and momentum was king, just not for that one guy from CarAdvice. It was the trip's first recovery.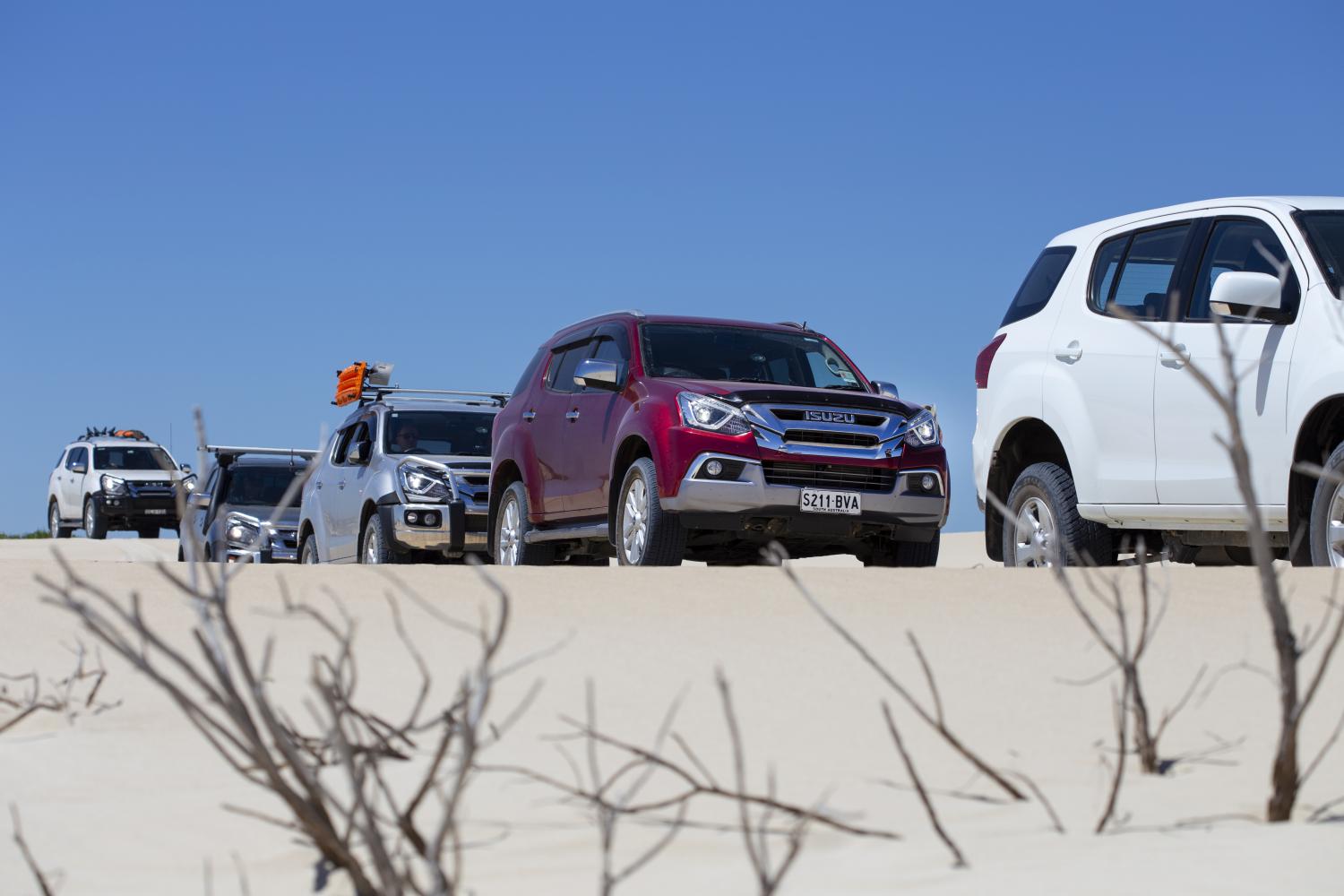 With the shadows growing long, we were soon back out onto the bitumen, aired up and convoying into Coffin Bay.
Having experienced a day chock full of stunning scenery, Coffin Bay didn't disappoint. This is one of those towns that you could roll into one day and never leave, which is kind of what happened to the Wilsons. The beach you can see here is about ten paces in front of their holiday rental property.
Day two dawned and this was the view. Well, it was if you climbed the sand dune at the end of our morning Oyster Trail walk. The Oyster Trail is a walking track that runs along the Coffin Bay coastline and eventually brings you out at the Long Beach sandhills.
Now, as I've mentioned, Coffin Bay is famous for its oysters and our next stop was Oyster Farm Tours. The promise of fresh oysters for eating was enough to get us all pressed and dressed into a variety of ungainly and unflattering rubber attire – it's hard to believe some people wear rubber for fun – for the short wade out to their old style oyster racks and presentation area. The history of oyster farming in the region is fascinating and if you're visiting, don't let the waders put you off this wonderful experience. The fact that it ends with oysters being eaten, is just the icing on the cake.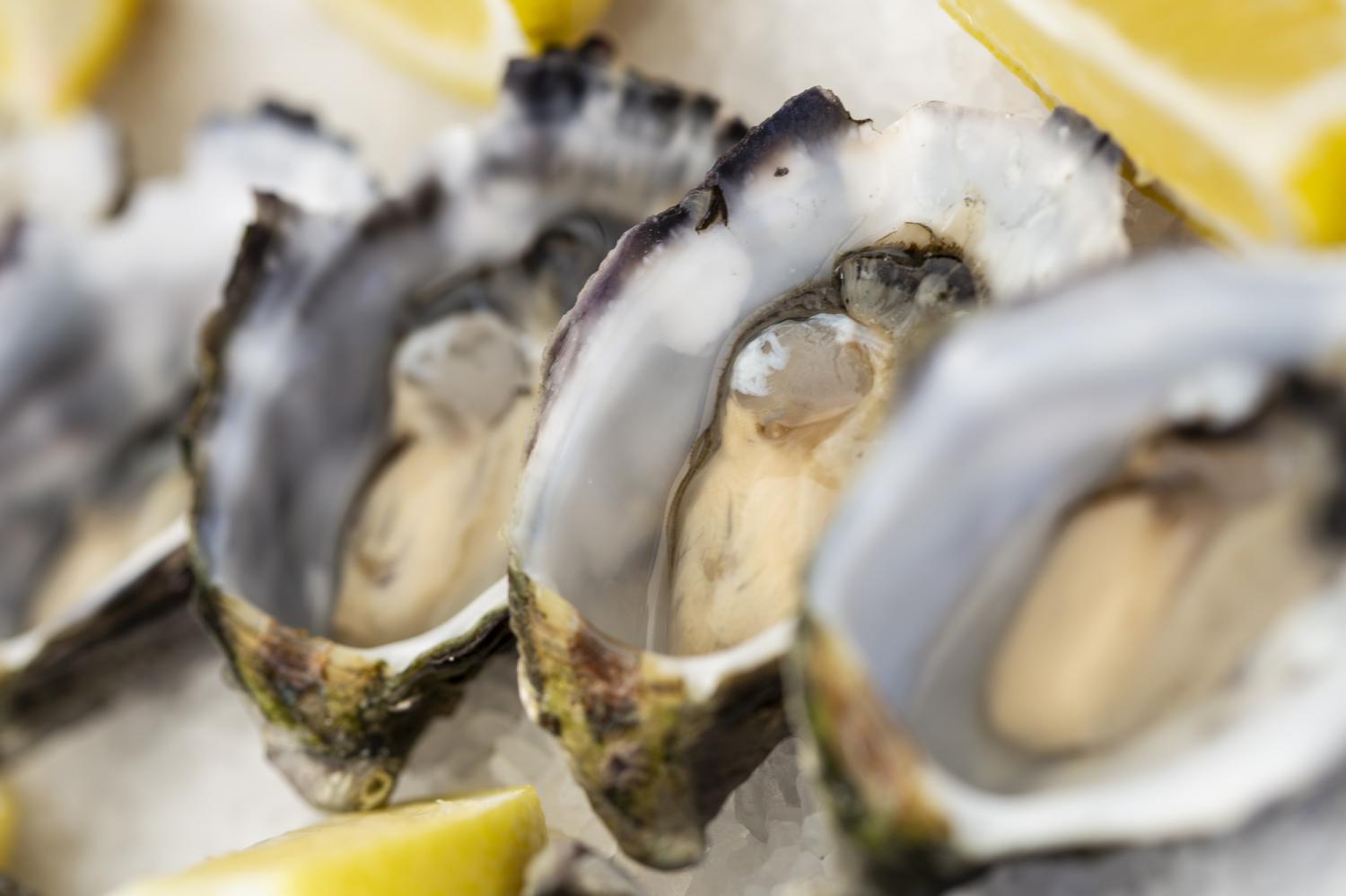 Enough of the lazing around, it's time to get back out on the sand! Check this beach out. It's called Gunyah Beach and it's home to the boggiest sand I've ever come across. Gunyah Beach was our day two afternoon destination and it's accessed via the Coffin Bay National Park, which is situated right alongside the township. It used to be a horse farm according to Mr  Wilson, and he mentioned the Light Horse Brigade and the famous 'Coffin Bay Brumbies' in his anecdote, but now it's a park and the dunes behind Gunyah are mind-blowing. They can also be a bit tricky if you take your foot off the gas at the wrong time. Just ask that guy in the white MU-X from Carsguide. Recovery number two.
Gunyah is beach driving amped to the max and you've got to stay focussed and maintain momentum to avoid bogging. Just moving one of the MU-Xs 50 metres for a video shoot, saw it bogged and needing recovery. From Gunyah it was a case of retracing our steps back through those magnificent dunes (you have to see them to believe them) and then a short bitumen run back into Coffin Bay for the evening.
Day three loomed large but it paled in comparison to Seven Mile Beach. Getting to this little slice of Paradise involved picking up a 4WD trail from Yangie Bay. There was a mix of challenging coastal and inland sand, beach driving and some scrubby and rocky sections to negotiate, before the quite literally perfect Seven Mile Beach vista greeted us. It was made even more spectacular by a surprise gourmet lunch that included local oysters, prawns and Tuna and Kingfish sashimi. Life's tough on the I-Venture highway.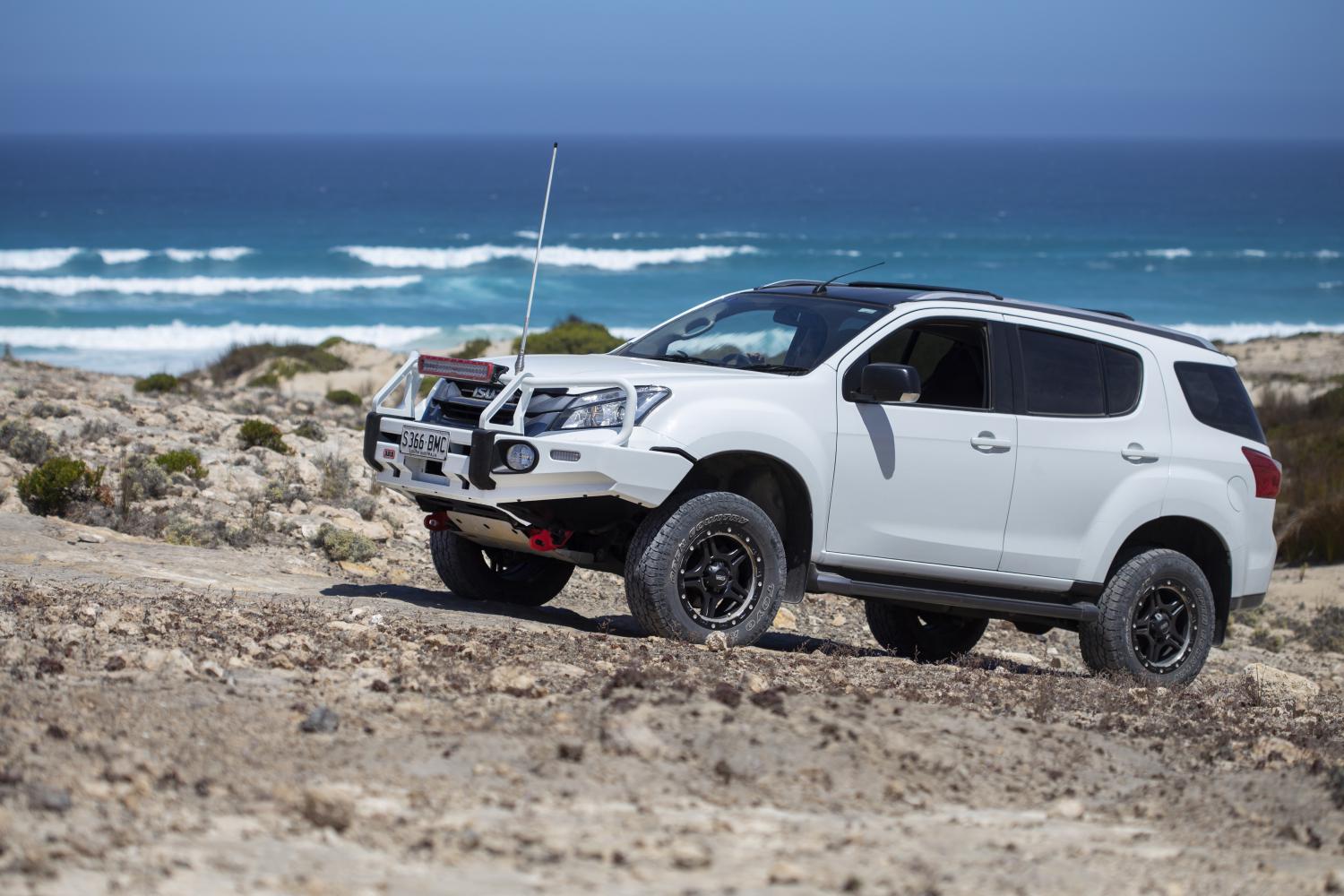 But you know what? This wasn't the best beach we'd see. The best beach that I've ever laid eyes on was where this day would finish up. In the meantime, we left Seven Mile and motored to Point Sir Isaac, and yes, it's named after Matty's mate Sir Isaac Coffin. Point Sir Isaac is the northernmost point on Eyre Peninsula.
Around a bend and up the track, well, it was more a case of negotiating some closed in tracks and one stonking dune, Sensation Beach. It's not as you'd expect named because it's sensational, and it truly is, it's named after a tuna fishing boat called 'The Sensation' that beached here back in 1969, to eventually be salvaged in 1972. I could think of worse places to run aground.
Sensation Beach was remarkable. The sand was pure white and was like walking on silk, and if this wasn't White Pointer country and I wasn't so shy, I'd have rolled naked in the sand and run out into the surf, and I consider that an opportunity lost!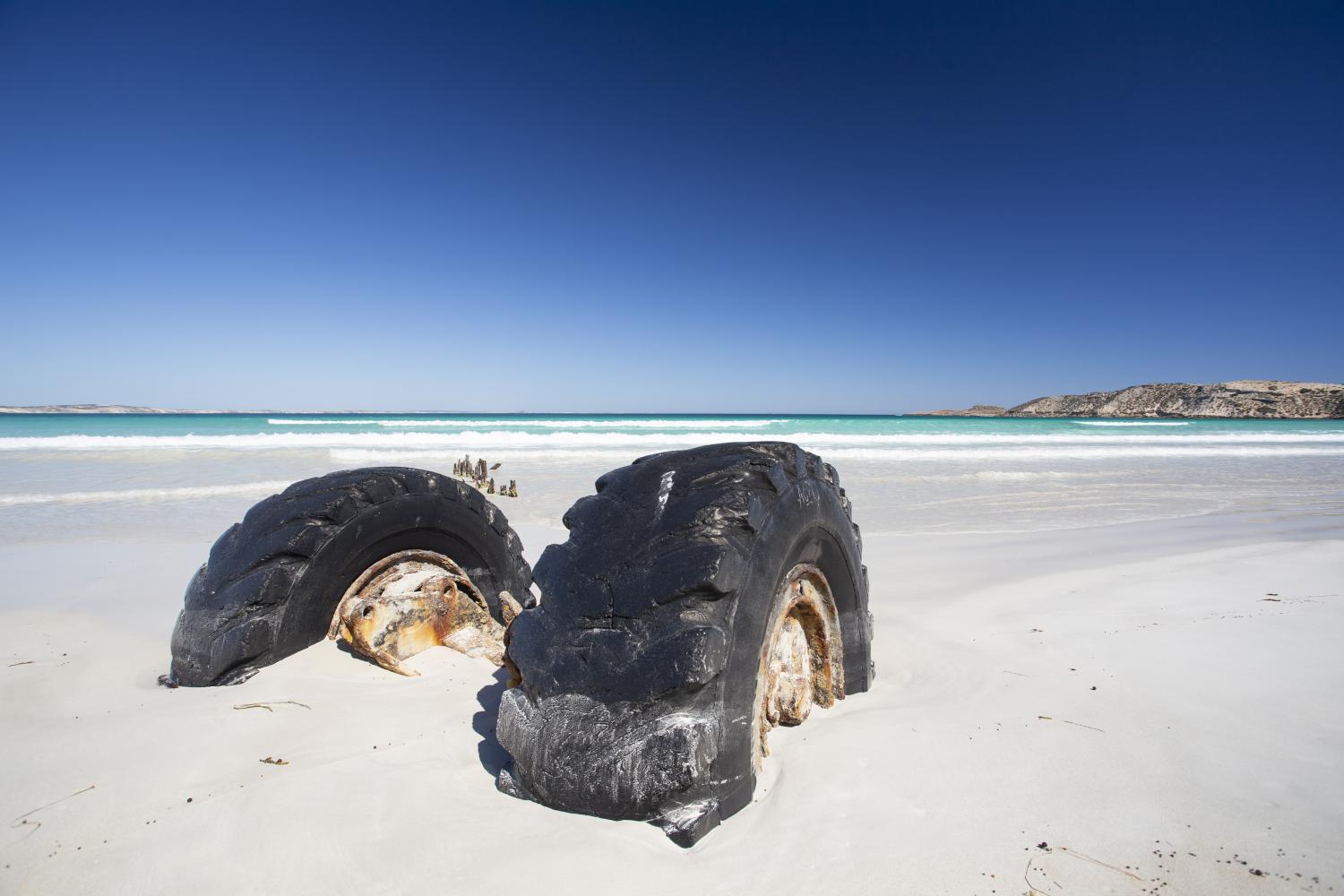 From Sensation, we back-tracked to Seven Mile Beach and out along the 4WD track we came in on, before hitting the bitumen and heading back to Coffin Bay. What a trip!
I've seen my fair share of Australia, yet had no clue that a region as amazing as this existed just up the road, so to speak, from my home city. The fact that it's also a paradise for 4WDers, makes it all the more remarkable.
As I said at the start, Coffin Bay is a bucket list destination, and you should add it to yours.
If you own an Isuzu and want to know more about the Isuzu I-Venture Club and their upcoming events, head over to their website – https://www.iventureclub.com.au/