I've recently been trying to get my head around just what it is that I find so appealing about road trips, both the on and off-road varieties, and my passion for the vehicles that make them possible. It's something I've pondered on many a long solo drive; you know those trips where the miles roll away as your thoughts settle into a mellow rhythm that turns hours into moments.
It turns out that the answer was provided in a Facebook chat with a new mate, one that I'd met on the Coffin Bay trip featured in our last issue. I was trying to explain to Bede how an imminent road trip, settles my mind and gives me a sense of purpose. He stated simply as if he'd known the answer for like forever, "it's because us blokes are 'wild at heart' and seeking adventure is baked into our souls".
In centuries past, adventure was a daily constant and tied closely to our survival, now it's a desire that is trapped, unused, inside of us, wanting an outlet.
Adventure. It's as simple as that.
The 4X4s, the kit we can buy to turn them into apocalypse survival machines that will take us anywhere and that feeling of 'wow' that you get when you walk into your local camping supplies store, exists because we're all, on some level, craving our next adventure. And that's exactly the feeling that washed over me every time I sat my butt in the new JL Wrangler Rubicon.
Forget the 4X4 utes, the comparatively unexciting Japanese wagons and the austere and largely characterless 79 Series that is so popular right now, when it comes to dropping you straight into the adventure zone, no new 4X4 does it for me like this new Wrangler.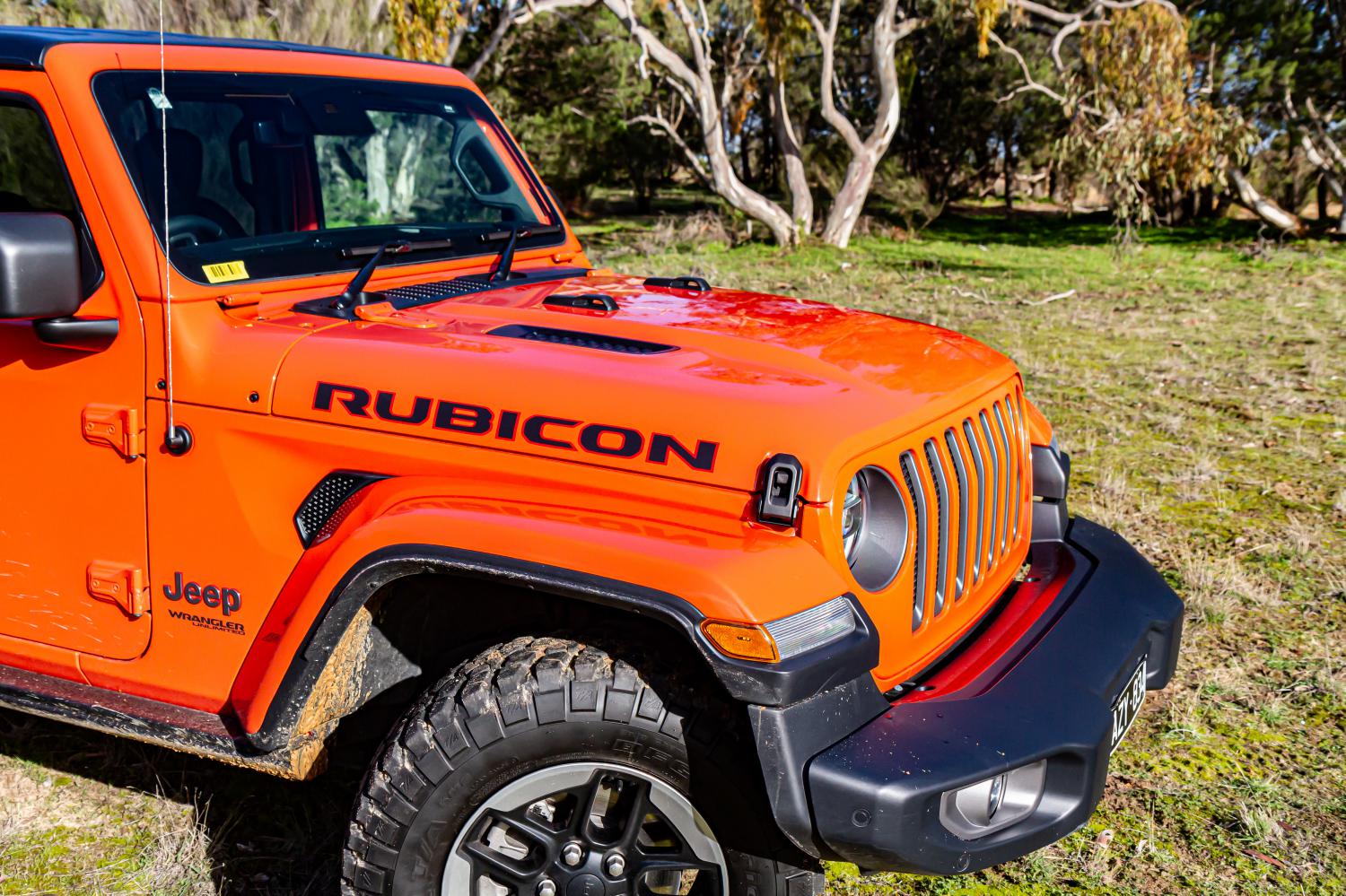 I'm so glad that Jeep kept the Wrangler's old-school essence, kept the live axles, the internal rollbar, the flat-faced dashboard and made it all rock. Land Rover has gone the other way with the all-new Defender, and while it's claiming that it will be a better vehicle in every way compared to the old one, it really means that the rawness and sense of adventure that owners relish about the old live-axle Defender will be missing. It would seem that we live in soft times, times that demand premium levels of comfort and convenience.
Certainly, if you're more interested in custom 4X4s built to tackle extreme off-road challenges than touring and towing, then the absence of live axles will keep the new Defender firmly posted in the mild, not wild, pigeonhole. I guess we'll find out when it arrives here next year.
Anyway, the fourth-generation of the Wrangler, the JL, is an extensive evolution of the species, one that shares just 5 percent in common with the superseded JK and is said to offer superior quality, capability, refinement and efficiency, all without throwing the genes out the window. In fact, if you weren't a Jeep enthusiast, you'd be hard-pressed to tell the new JL from the old JK at a glance.
The JL is also considerably more expensive than the JK, with the new petrol V6 Rubicon costing $10,500 more than the JK version. If you want a diesel-powered JL Rubicon, an option that wasn't available in Australia with the JK, then you add another $5000 to the sticker price.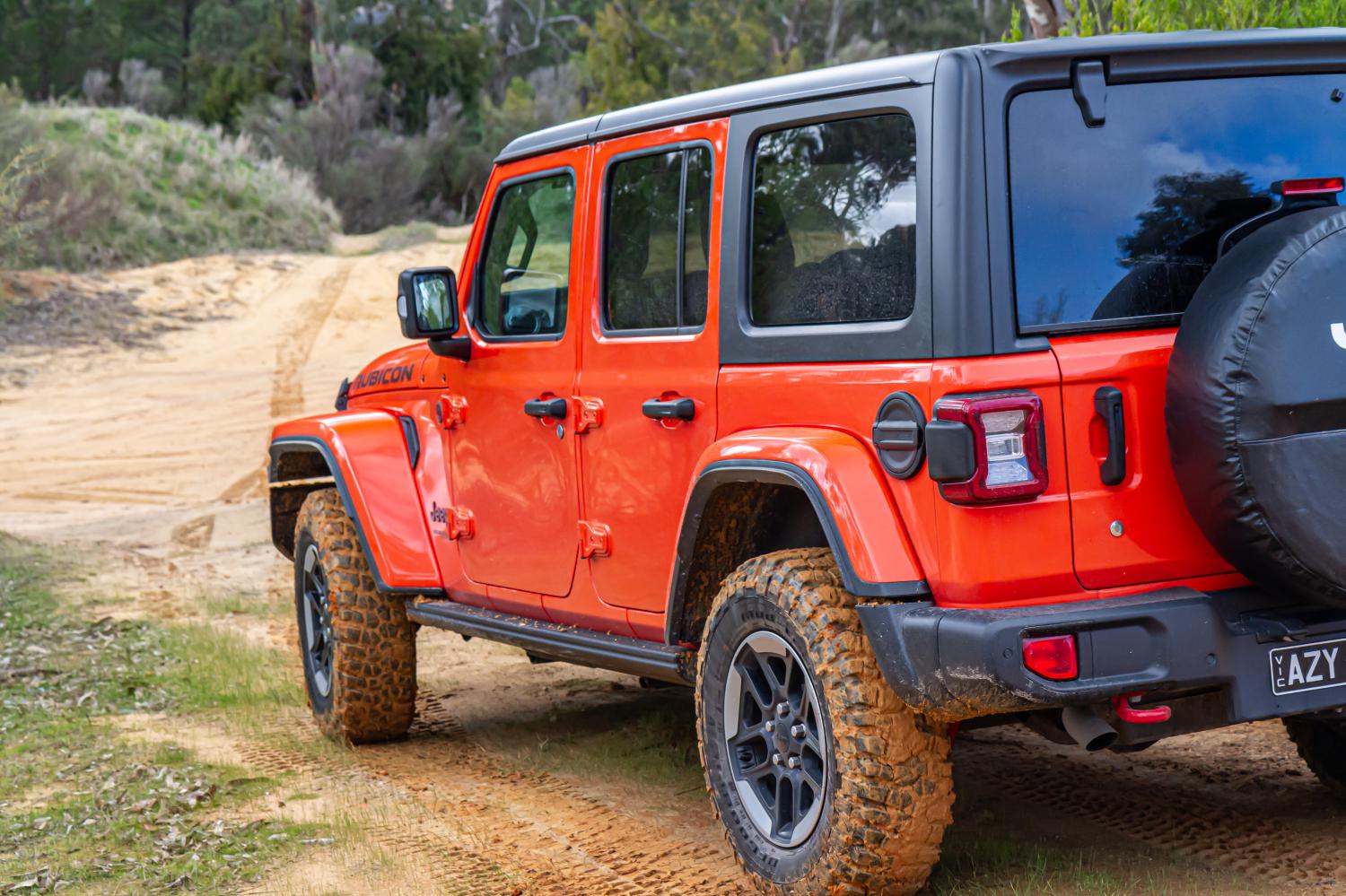 If you like your Wrangler with two-doors, then you're limited to petrol V6 power, and the Rubicon is only available as a four-door. None of which is that big a surprise, as Australians have never flocked in droves to two-door 4X4s.
Our test vehicle was a diesel Rubicon ($68,950) fitted with the Rubicon Luxury Package ($1,950), which adds leather, heated front seats and steering wheel plus premium door cards and the Trail Rail Management System ($450). That's a hefty $71,350 all up, which seems expensive until you compare what you're getting to something like a 79 Series, for example.
The turbo-diesel donk is a 2.2-litre Fiat sourced turbo-charged MultiJet II unit that produces a credible 147kW and 450Nm, and it's paired with an 8-speed ZF automatic gearbox. JL is an auto-only proposition, but only Mr Wilson would want a manual box after experiencing an auto JL.
That bucket of loot, and it's a sizeable bucket, buys you a lot. The Rubicon is arguably the most hardcore, straight off the showroom floor, 4X4 that money can buy in Australia. The front Dana M210 and rear Dana M220 differentials are considerable upgrades over the diffs found in the lessor Wrangler variants, and they're designed to deal with the stresses of rock-crawling, as are the upgraded half-shafts and axle housings.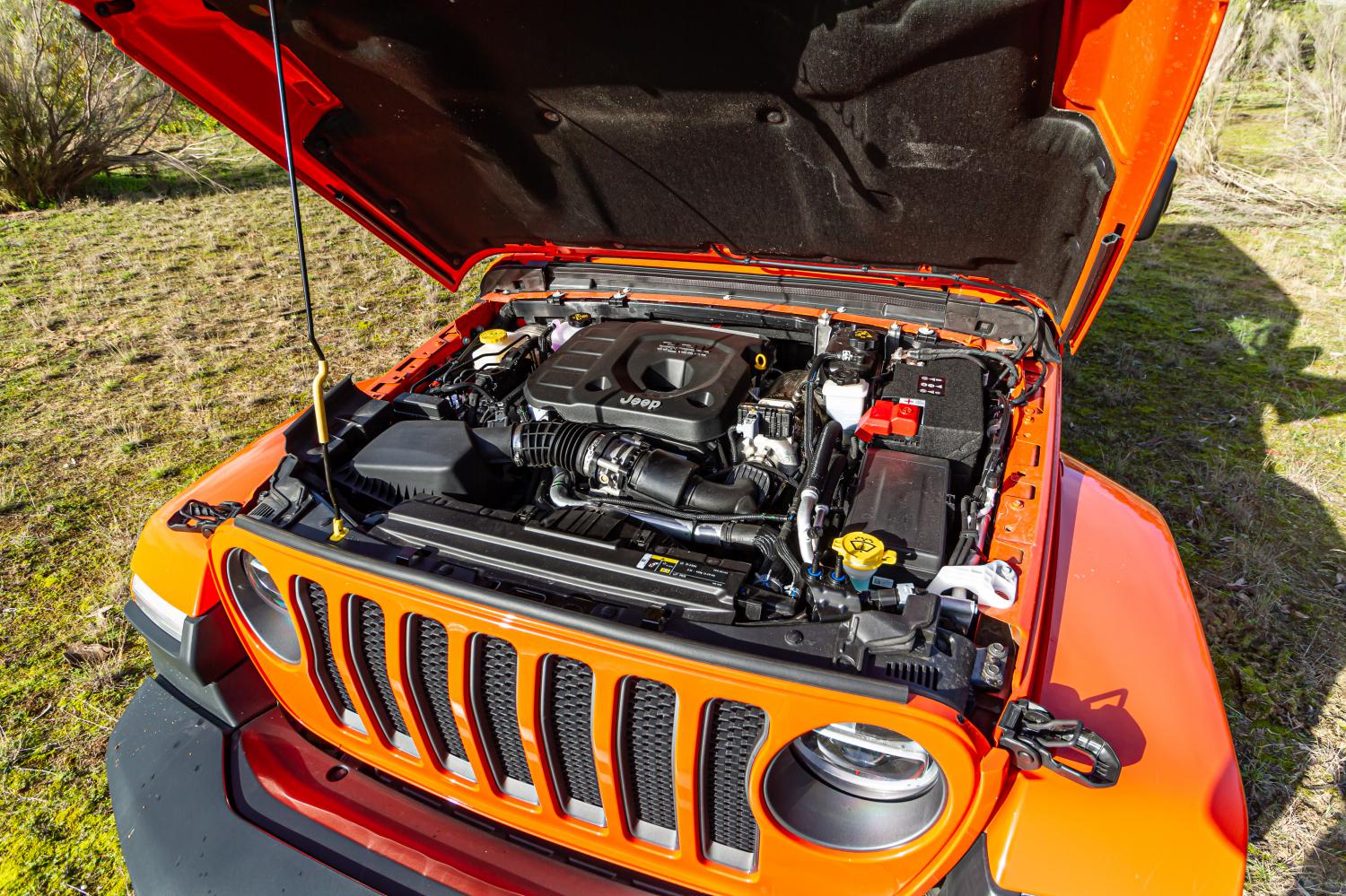 The differential gear sets are smaller than found in the JK Rubicon's Dana 44 diffs, but they carry the same 8200Nm torque rating. They also share the JK's 4.1:1 final drive ratio and are fitted with diff locks as standard.
The diff locks are activated via a chunky switch that allows rear diff lock activation, front and rear diff lock activation but no front only diff lock activation, which is the industry standard. In my experience, the front diff-lock is the most effective, but it impairs steering. Still, it would be nice to be able to select it in isolation.
Locker engagement, in my experience, was seamless. Unlike most new 4X4s which are only putting drive through to one wheel on each axle when 4WD high or low is dialled up, the Rubicon, when it's cross-axle diff-locks are engaged, drives all four wheels. Yep, it's a genuine four-wheel-drive, unlike most.
The Rubicon's Rock-Trac transfer case is equipped with 4:1 low-range gearing and first-gear low-range provides a crawl ratio of 77.2:1, which is LOW and gives the driver an elevated level of control in steep and/or rocky terrain.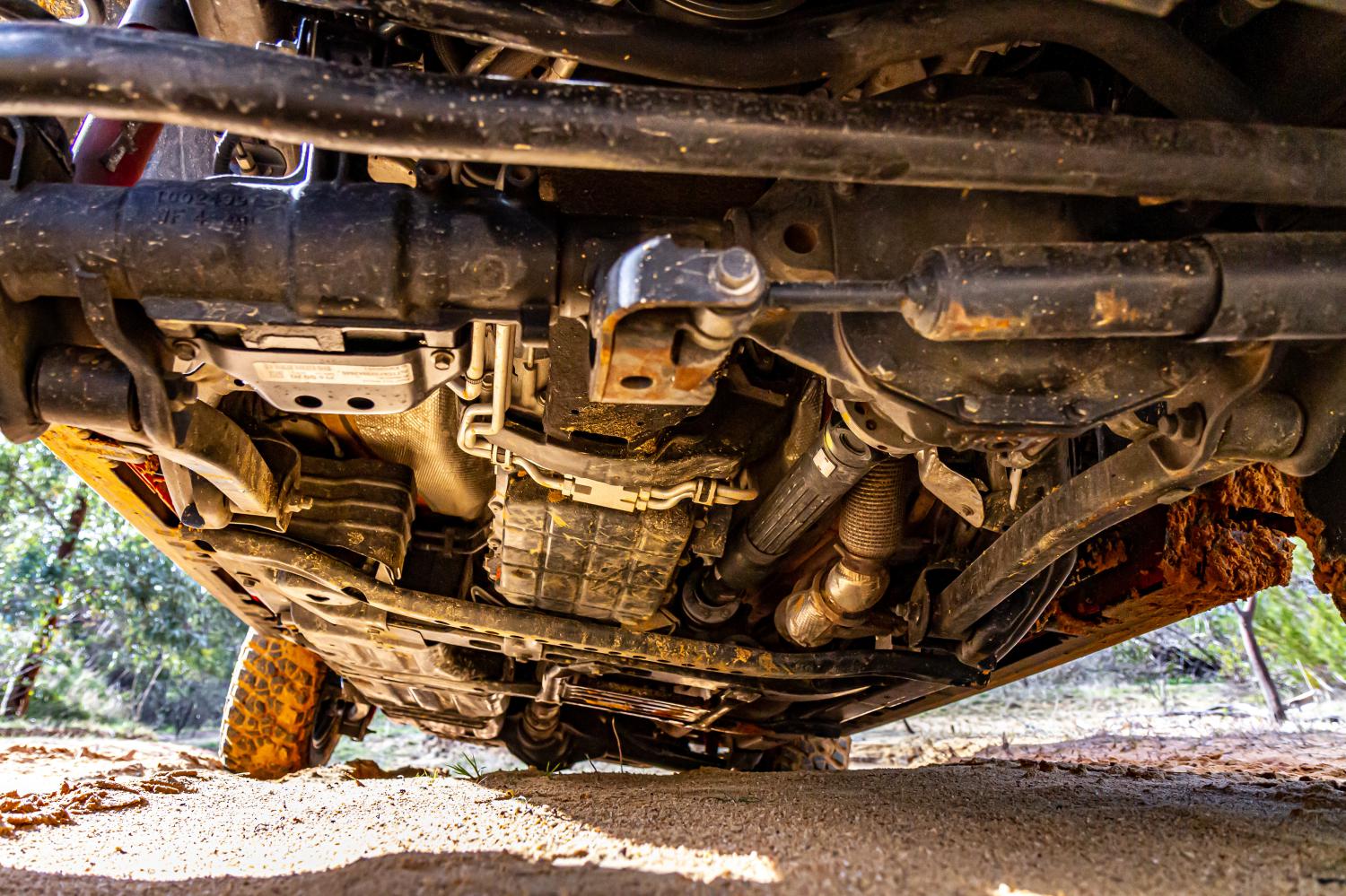 Further aiding the JL's off-road prowess is a front-axle swaybar disconnect, that helps keep the front wheels on the ground for longer in tough terrain. The underbody, is, for the most part, well protected by bash plates and a pair of steel rock sliders protect the Rubicon's sills better than any, largely useless, sidestep arrangement.
Tyres, well, they weren't my favourite feature. Sure, they're a set of BF Goodrich KM2 muddies, but they weren't great in the wet and were bloody noisy, noisier than other almost brand new muddies I've run in the past.
They're also 32s (255/75R/17) which in isolation is okay, but when you know that the US-spec Rubicon runs 285/70R17, which are close to being 33s, you have to ask what the brains trust at FCA was thinking when they specced an off-road weapon like the Rubicon, with smaller tyres for this market. Drew's review of the same vehicle in this issue delves into this a little deeper and laments the missing High Line guards, or fenders, or whatever you prefer to call them.
Remember my adventure-driven preamble? Well, the JL's interior is where the new Wrangler adventure starts for every new owner, and it's a ripper. Jeep's heritage shines through in the cabin where you look over an up-to-the-minute version of its old-school horizontally laid out, and upright dashboard, out to that narrow Wrangler bonnet that sits flat and dominates your forward view. There isn't a better view available from the front seat of any 4X4 currently on the market.
On the inside, it all looks and feels well thought out and put together, with chunky switchgear that's easy to grab hold of and feels robust, my favourite being the diff-lock switch that not only looks industrial but works brilliantly.
The 8.4-inch centre-mounted touchscreen that runs Jeep's Uconnect system is a quality piece of gear and is compatible with Apple Carplay and Android Auto, so it'll keep the vast majority happy, one way or another.
It ran Android Auto from my phone without a glitch. The quality of the materials used, and the attention to detail that Jeep has packed into the JL interior is impressive and a significant step up from previous generation Wranglers. It's this sort of attention to detail that makes the price hike start to seem justifiable. If you want a better Wrangler, maybe you should be prepared to pay more for it?
My only beef with the interior was a lack of room in the footwell, which makes a bit of an orphan of your left leg, in that there's no room for a footrest and the only place to stow it is under the brake pedal. It wasn't that big a deal for me, but then I don't notice the handbrake lever in my Defender that sticks up right about where the average person's left leg wants to be either. I'm clearly conditioned to accept compromise or just less than average.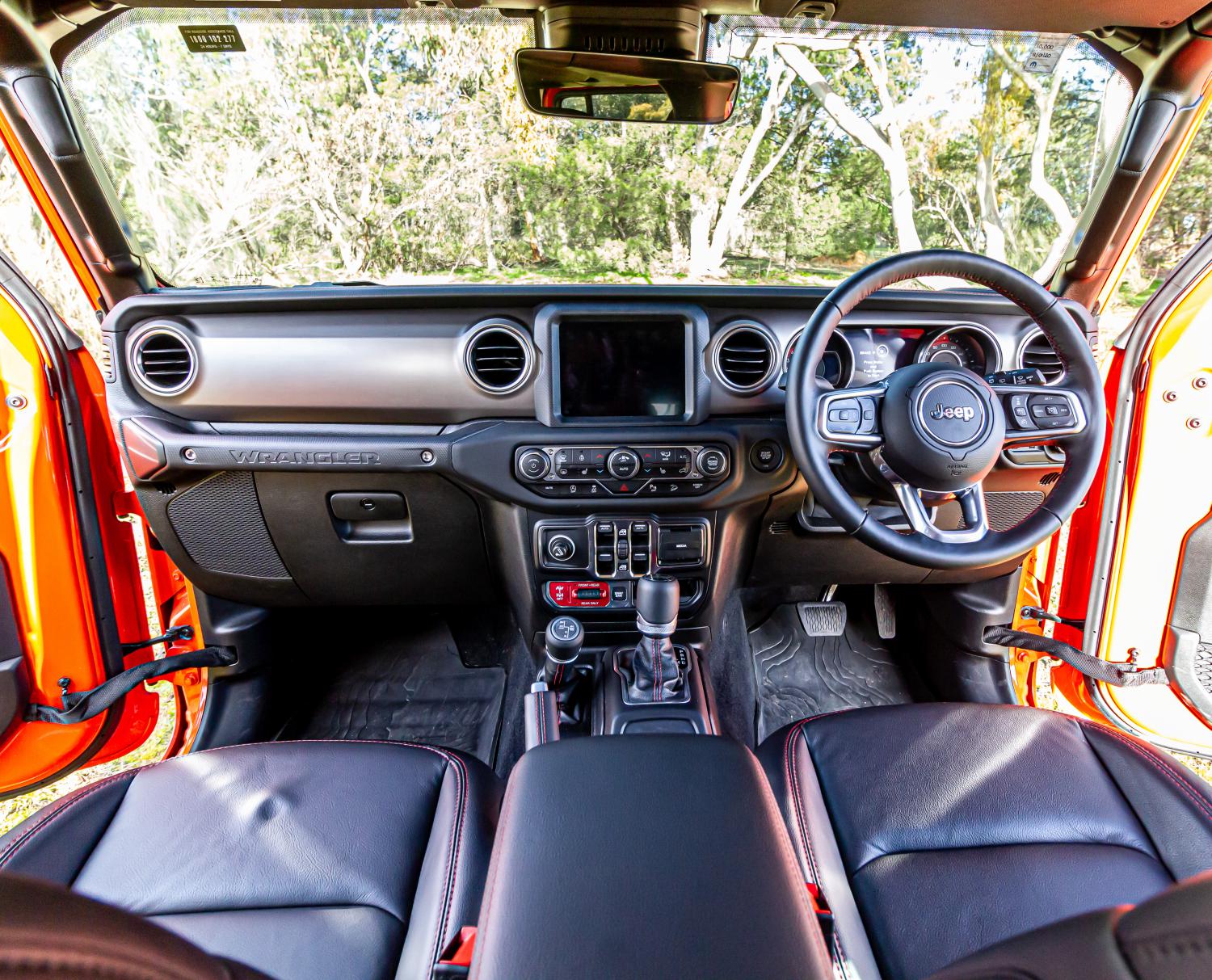 So how does it drive? The last Wrangler I drove was a short-wheel-base 2014 JK that we had on loan with a Defender 90, and the considerably more ancient 90 was the better on-road drive, so I wasn't expecting a lot from the JL. It turns out I was judging this book by its familiar-looking cover, and that was a mistake.
On-road, the JL Rubicon is surprise package, with nicely tuned suspension that soaks up road irregularities with a finesse that you won't find in many other stock, body on frame 4X4s, and it does it while sitting reasonably flat through corners, for what is a softly sprung, high-riding vehicle. Steering feel is improved, although still uniquely vague on the dead-ahead, a trait shared with other live-axle vehicles that don't use the more direct rack and pinion type of steering.
Now, I'll preface that by saying that the Wrangler's reaction to steering inputs in two-wheel drive on a very wet day-one of our loan, was at times a little odd, sort of like it'd think about what you wanted, then respond with a smidge of overreaction. Not an easy one to describe, so let's roll with, 'it felt a bit squidgy at times'.
The fix was to switch to 4H Auto mode (AWD) and leave it there. Can't tell you why exactly, but it made a noticeable difference. The Wranglers 4X4 system is a lot like Mitsubishi's Super-Select, and if I owned a JL Rubicon, I'd run it in 4H Auto on-road all the time, just as I do with the Super-Select system in my Triton. If there's a fuel efficiency penalty to pay, it's a very small, if non-existent one in my experience. So much so, that I don't understand retaining the 2H option in Jeep or Mitsubishi's AWD capable drivetrains.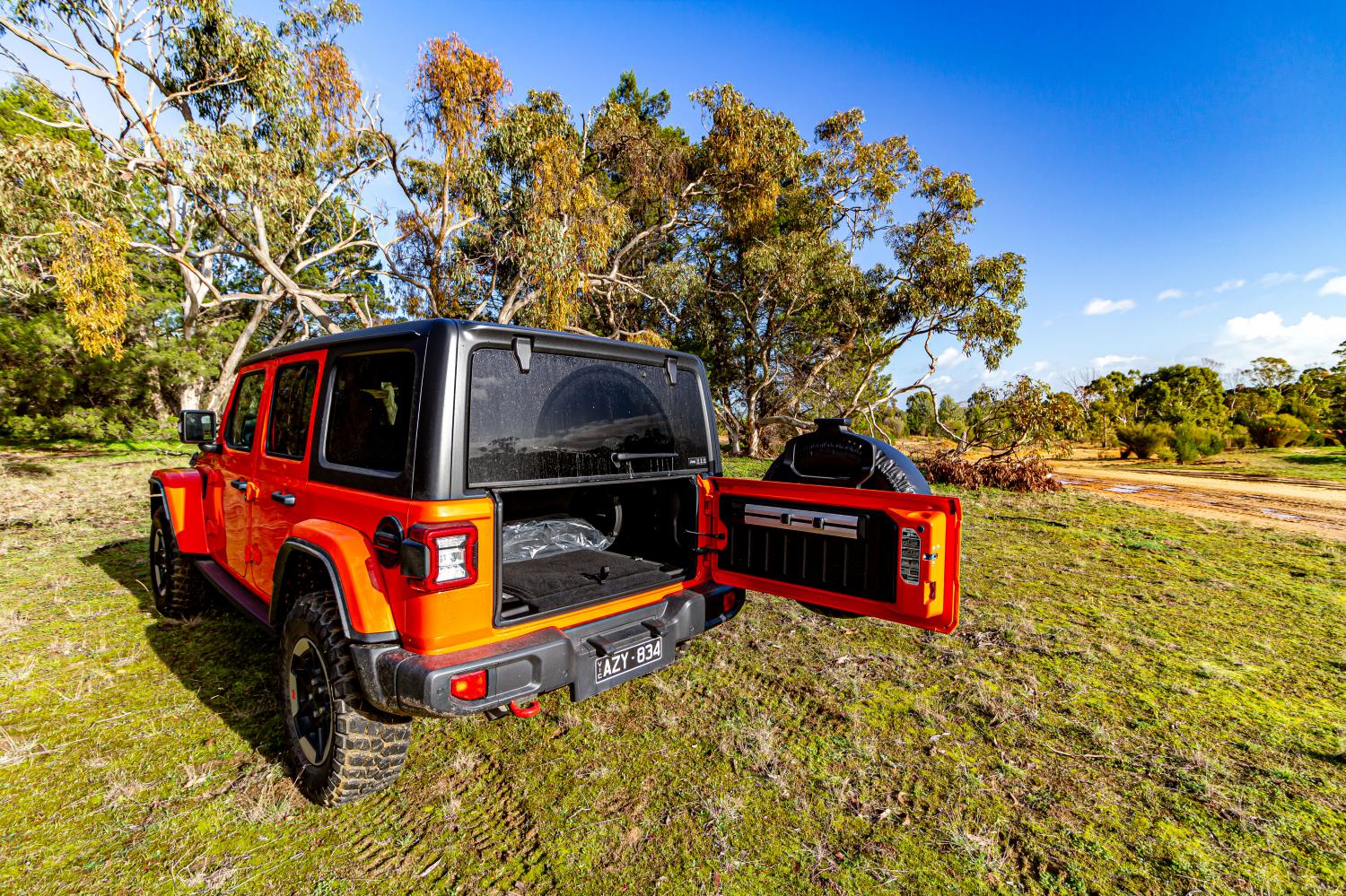 Yes, we were all hoping to see a V6 diesel option in the JL Wrangler, but it's not to be, and I can hear you all moaning from a mile away that the 2.2-litre four-cylinder turbo-diesel is too small, regardless of the fact that it produces more torque than your 70 Series LandCruiser's lazy ol' V8, albeit with more revs on board.
In this case, it's not the engine that is the star of this driveline, although it is a good thing, it's the built under licence by FCA, 8-speed ZF automatic transmission that really shines. It changed up and down through the gears as the terrain and your driving style required, with uncanny predictability and mostly imperceptible changes.
If you want transmission braking on a downhill slope, all you have to do is brake until the auto has dropped down into the gear that will do the job for you; it's almost like having fulltime downhill descent control.
Like the Ranger Raptor, the driving experience in the Wrangler is dominated by one well above average gear bag, one that manages to extract more than enough from an engine that is smaller than many of us would prefer. And yes, mash your foot to the firewall, and the Wrangler responds enthusiastically enough for most people.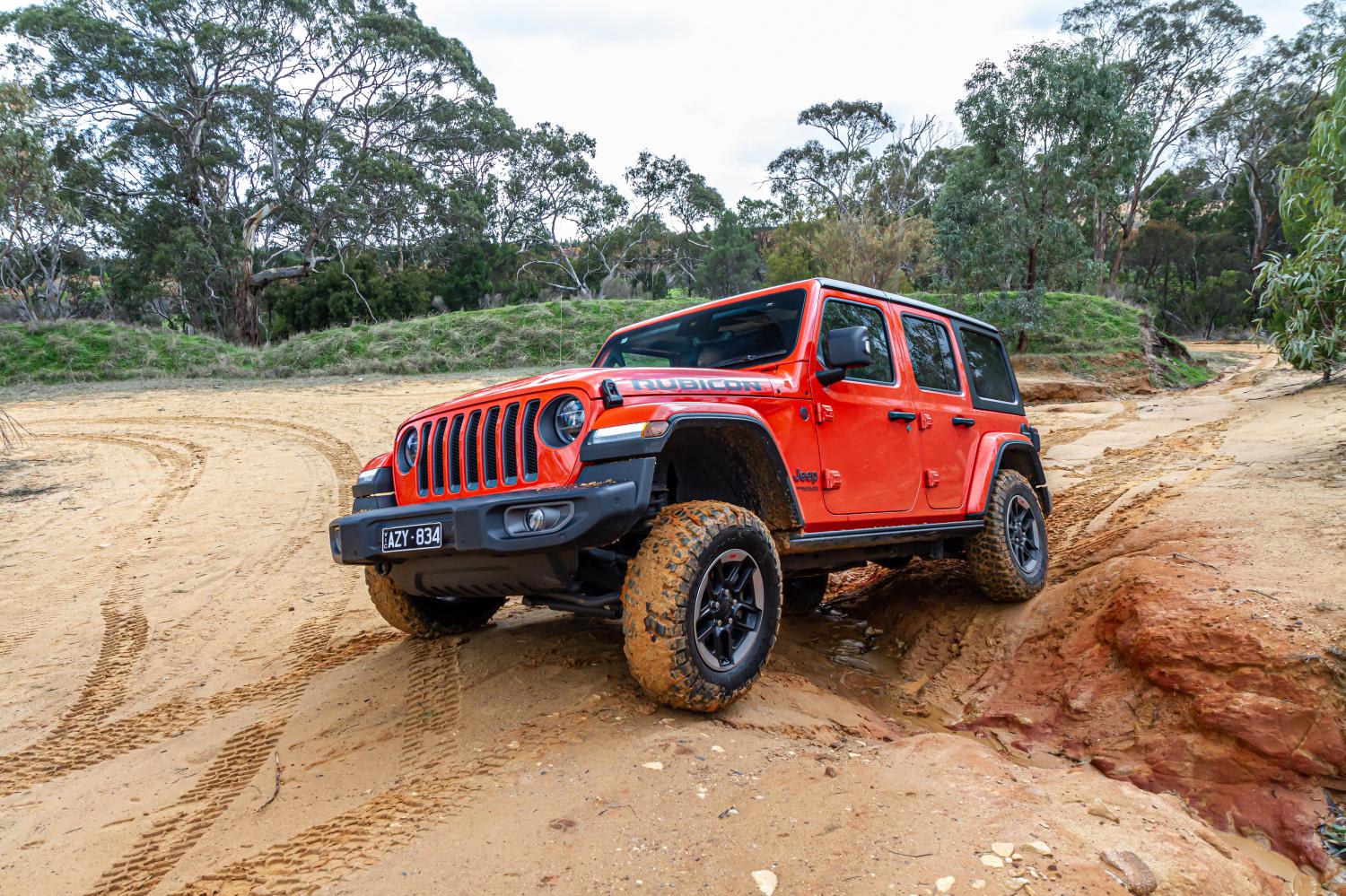 It might be a different experience if you were towing a decent load, but no-one should be buying a Wrangler as a tow tug, even if it has a new and somewhat fanciful, 2495kg tow rating. There are far less interesting 4X4s to wear out towing caravans from one desolate outback rest area to the next.
The cabin itself is best described as intimate but comfortable, and surprisingly quiet at highway speeds. I was sure that the removable roof and doors would compromise the Wrangler's NVH levels, but it appears not to be the case. Swap those muddies for something quieter, and it would be better again.
On fast dirt roads and corrugations, the Rubicon is a peach. It's relaxed, settled, immune to being bounced offline and soaks up corrugations like few other stock 4X4s, and we were running 39psi in the tyres as set by the dealer that prepared this press vehicle. If my memory serves me well enough, on rough roads, I'd say it has all of the ute-based wagons licked and would be challenging the Y62 Patrol and 200 Series Croozer's levels of bump absorption. Unless you're a hardcore trail fanatic, I'd leave the suspension stock until it eventually wears out.
In the rough stuff, I've not driven a stock 4X4 like it. With the swaybar disconnected and one or two cross-axle lockers engaged, we drove it around our test track, and it flinched at nothing. It idled through all of our washouts and cross-axle test sections and rolled up Sandy Drop with only a handful of revs on-board, and I was too lazy to drop the tyre pressures down from 39psi! Very few stock 4X4s get up Sandy Drop, without being aired-down and thrashed to within an inch of their lives, and even then, it's beyond the capability of some.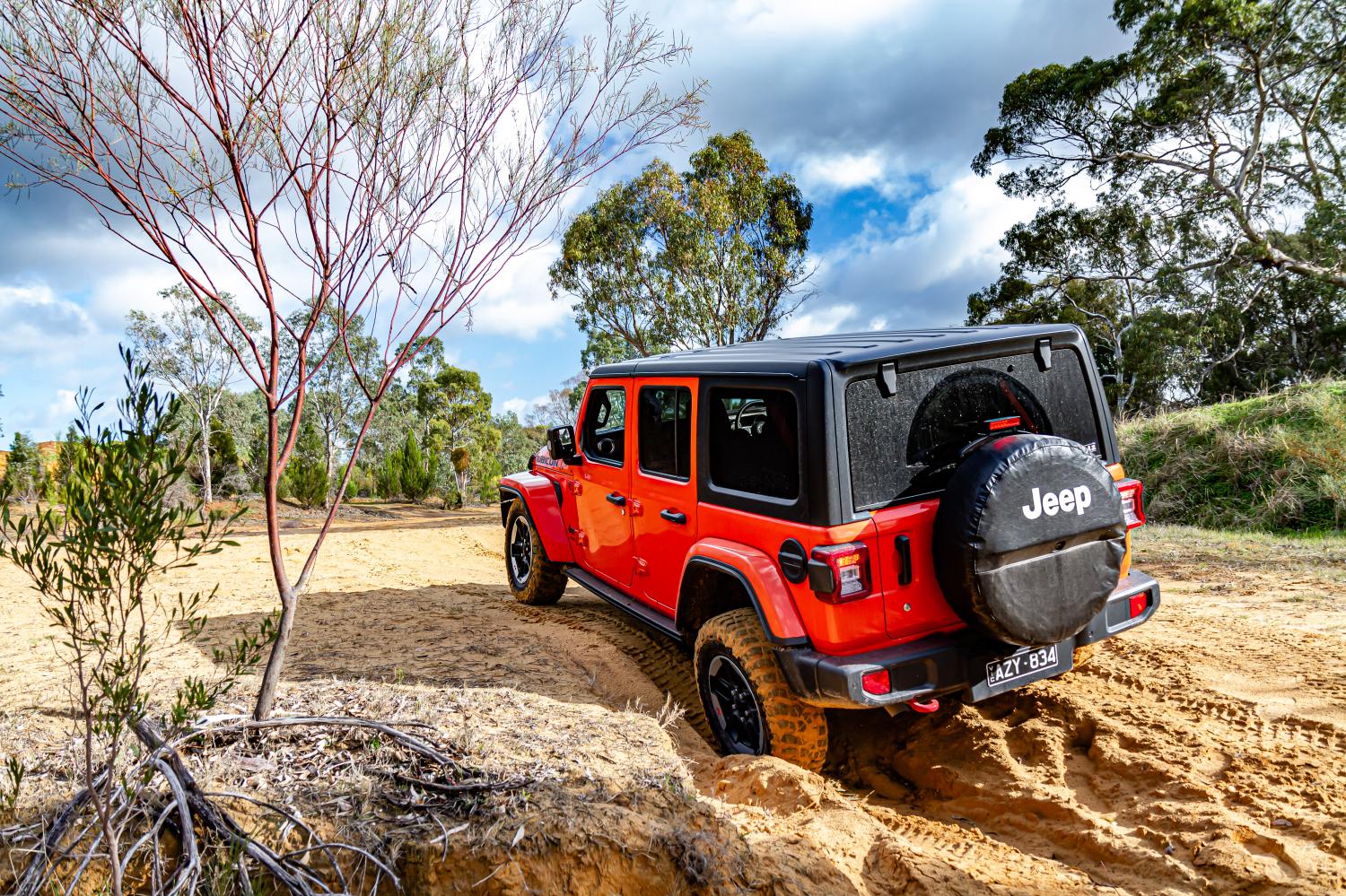 Yet again, the Rubicon highlighted the fact that when it comes to production vehicles, no traction control system is as good as locked diffs and no independent suspension system provides as much traction as a well-setup solid-axle arrangement, yet. Old-school still rules kids.
Safety. Well, by now you'll all have read about the JL's one-star ANCAP rating and gasped in horror at the result and let's face it, it's not a great result. ANCAP hasn't crash-tested the JL; it's elected to use data from EuroNCAP testing to compile its report and score. ANCAP score vehicles across four criteria, including Adult Occupant Protection, Child Occupant Protection, Vulnerable Road User Protection and Safety Assist.
The JL is designed and built for off-road driving and being extremely fit for purpose means that it's a high riding, boxy, wheel in each corner vehicle and unlikely ever to perform well in the Vulnerable Road User Protection stakes, where it achieved 49 percent. The same can be said of any vehicle fitted with a bull bar and my thoroughly non PC, and I'll admit, moderately flawed response, would be, "just drive responsibly". I've been driving for more than 30 years and haven't hit a single person yet. It's doable, with a modicum of care.
The lack of AEB (Autonomous Emergency Braking) on the JL tested in Europe impacted the Safety Assist score (32 percent), and it should be noted that AEB is standard on Overland and Rubicon JLs in Australia. The JL tested in Europe also lacked lane support systems and enough speed assistance systems, to keep ANCAP happy. You know, all that annoying shit you turn off if your vehicle happens to be fitted with it. Again, stick to your lane, don't use your mobile phone while driving, don't speed, don't fall asleep and don't drink and drive. We're all capable of managing the basics of driving, otherwise we wouldn't be driving, right?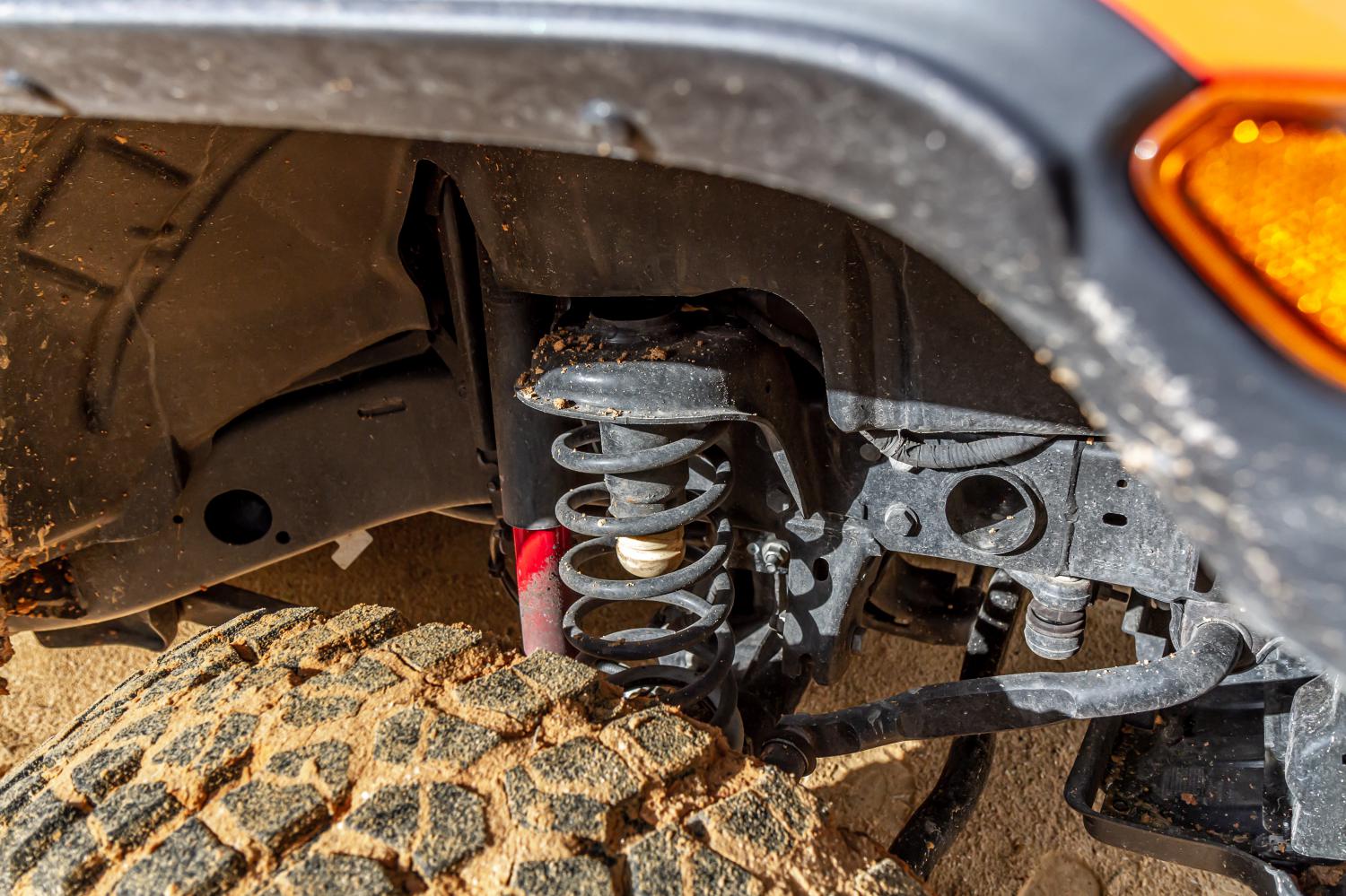 ANCAP even awards points for the inclusion of seat belt reminders, and that's we're I'll queue a big sigh. Really? Taking responsibility for your actions is all a bit 1980s, isn't it?
Child Occupant Protection is one area that does concern me, being a father and all, and the JL scored an acceptable 80 percent on this front.
Adult Occupant Protection (50 percent), was held back due to deformation of the cabin floor in the frontal offset test that is conducted at 64km/h. This resulted in the driver receiving weak to marginal protection for their legs. The driver's chest protection was a little underdone as well.
Interestingly, the JK Wrangler, which is still available in Jeep showrooms, was awarded a four-star safety rating by ANCAP back in 2012. I'm sure as heck no expert but take a look at the frontal offset test images for both vehicles and note how the JL's cabin area retains its shape noticeably better than the JK does.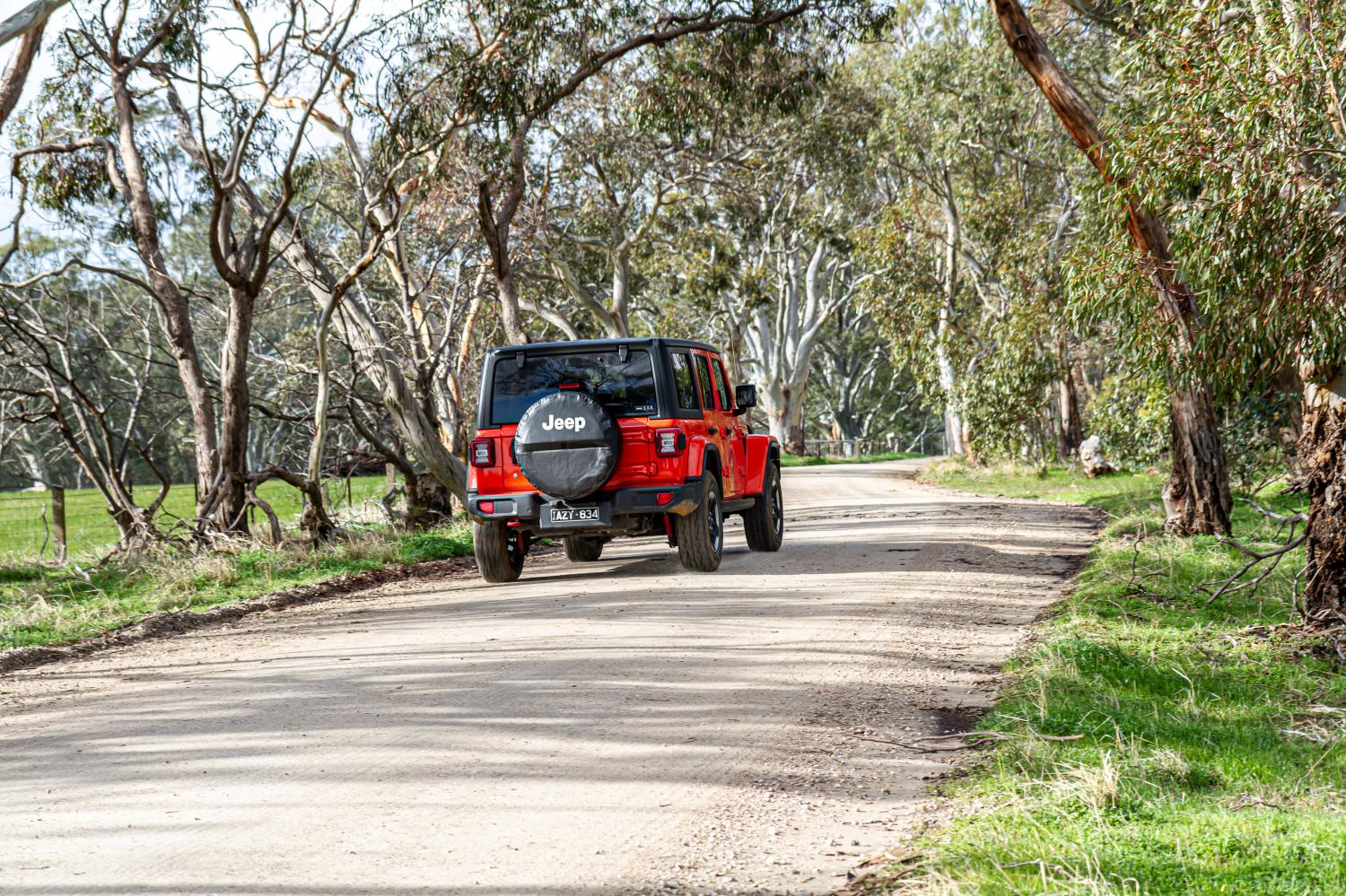 It doesn't make sense to me that an improved design, that uses superior materials, can have a safety rating three stars less than the vehicle it replaces. It seems to me that ANCAP's ratings are a bit like goal posts with wheels and that drawing parallels between models that are years apart, could be misleading. It's possibly just as misleading to assume that a low score in 2019, means that you are driving an unsafe vehicle, as perhaps ANCAP is trying to squeeze a square peg into its neat little round holes? If you're looking to Wrangle a JL, you'll ultimately have to make your own decision on what safe is and isn't, in the real world.
Regardless of the one-star safety rating, I'd happily buy a JL Wrangler, I'd feel quite safe driving it, and it'd be the Rubicon for me thanks. We haven't driven the petrol V6 version yet, but I'm guessing it would be my choice, simply because today's diesels are all a bit complicated. I always buy a new car thinking I'll keep it forever, before eventually selling it four years later. It's a not so smart habit that seems to be programmed into my hard drive.
And because I detest towing, loathe overloading, only have one child and like to keep my off-road trips as simple as possible, I'd rather spend $70k on a JL Rubicon than any other 4X4 wagon currently on the market. Yes, that puts me in the admittedly small buyer pool that won't bump up against the Wrangler's interior space, cargo space and towing capacity limitations, but that's just my good fortune, because right now, if I were asked to draw 'adventure' it'd be a really poorly executed sketch of a JL Wrangler Rubicon.