I vividly remember the first time I saw an ML Triton. It was summer in 2006, and the ML Triton in question was driving on Queens Road in Melbourne. I'm not exaggerating when I say; I honestly wanted to puke. Now, I have a shocking memory at the best of times but seeing that curvy cartoon caricature styling had an immediate and powerful effect on me. All I could do in the end was a laugh, point it out to my now ex-wife and wonder, WTF they [Mitsubishi] were thinking.
Then May 2007 rolled around, and I drove out of my local Mitsubishi dealership in my own MY07 GLX-R Triton in gunmetal grey. I bought the Triton because it had a 3.2-litre diesel, which at the time was the largest available in one of these utes. I didn't realise there was an update in the works and I missed out on the Super Select drivetrain by a handful of months; such is life.
Over the next five years I learnt that first impressions don't always count as I grew to appreciate the Triton's unique styling and that off-road and from a rear passenger's perspective, the Triton punched well above its weight. That car introduced me to a very special group of like-minded, Triton owning (at the time at least) friends that I still have and treasure to this day. It's also the reason I'm here, writing about 4X4s. I regularly think about my old ML with fondness and wonder why I was foolish enough to sell it.
That's the long way around saying, yep the ML was, for many people, as ugly as a hat full of bungholes. It was followed by the even uglier MN, with its larger tray and then the significantly revised MQ, which for many, was just a new kind of ugly. Less cartoon and more Jaws from James Bond. You could safely bet your last dollar, that there have been thousands of campfire chats about Triton that involve a lot of head shaking and a closing statement like, "…how hard can it be to design one that looks good?"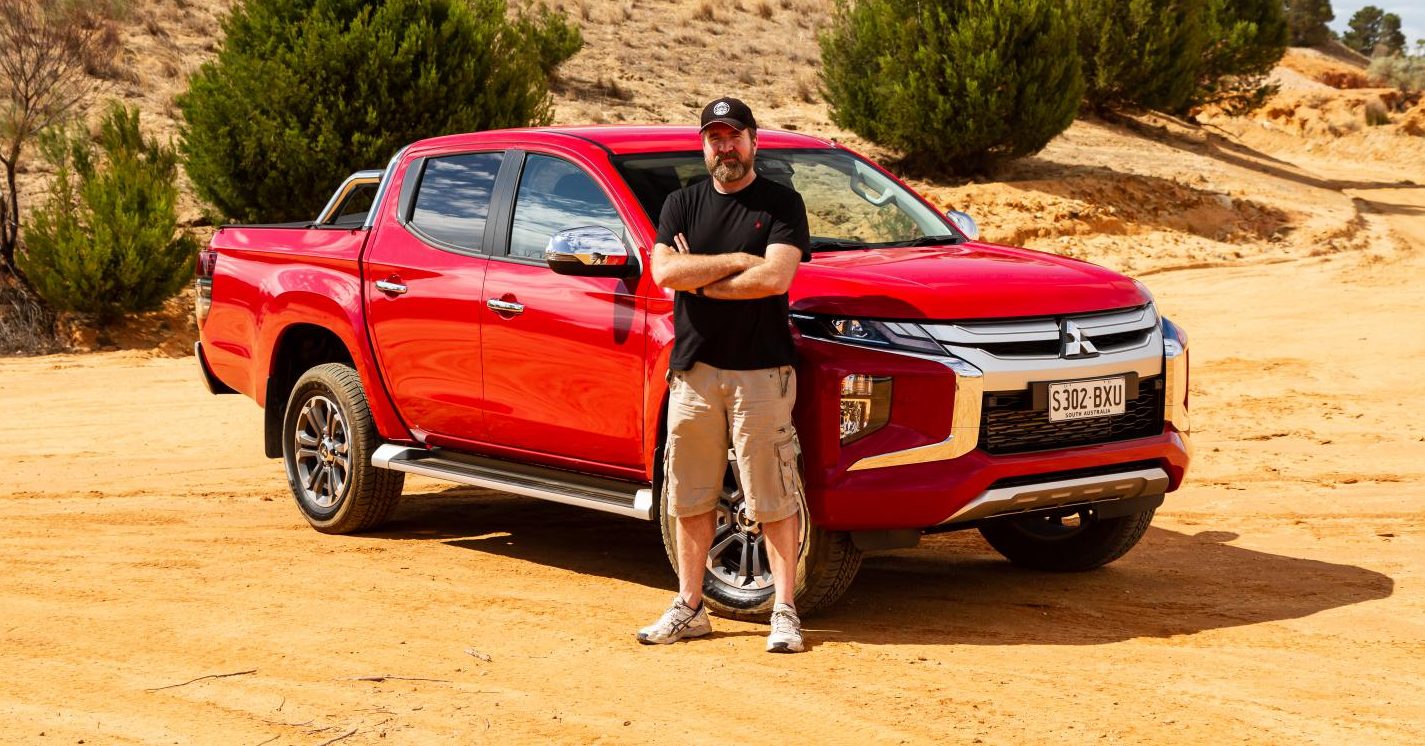 Well, I quite liked the ML's styling in the end, particularly with that squat style side tray. The proportions were lost when Mitsubishi introduced the MN with the longer tray, without extending the wheelbase I might add (more on that later) and that was all tidied up a bit, but not fully resolved, with the introduction of the MQ, one of which I now own.
I like the MQ so much; I won't be making the mistake of selling it. If you're a regular reader of these pages, you may recall that we did a nice little build on the MQ, and the results achieved from that build; you can click here to read about it, guarantee that this Triton will only be prised out of my cold dead hands.
Which brings me, not terribly neatly, to the recently released MR Triton. For many, this is the Triton that is the answer to those numerous campfire discussions from days past. This is the Triton that combines pleasing styling with everything Mitsubishi got right with the MQ and adds a raft of safety stuff to the equation.
The MR is a clever reimagining of the MQ and brings the Triton into line with the Pajero Sport, and other models that share Mitsubishi's 'Dynamic Shield' styling. The cabin and doors remain unchanged, but the front guards, bonnet and bumper are all new. Out the back, the tray has been restyled to match the new front, and it's interesting to note that an MQ canopy will fit straight up. Gone are the clip-on flairs that have been a Triton staple since forever, they've been replaced with integral, Pajero Sport styled, flat guard lips. I wasn't a fan of this straight-edged, Dynamic Shield makeover to begin with, but it makes the MQ look old, so I figured I just needed time to adjust. Seems I was right, and in my experience, most people who see the MR in the flesh, think it's a decent looking rig.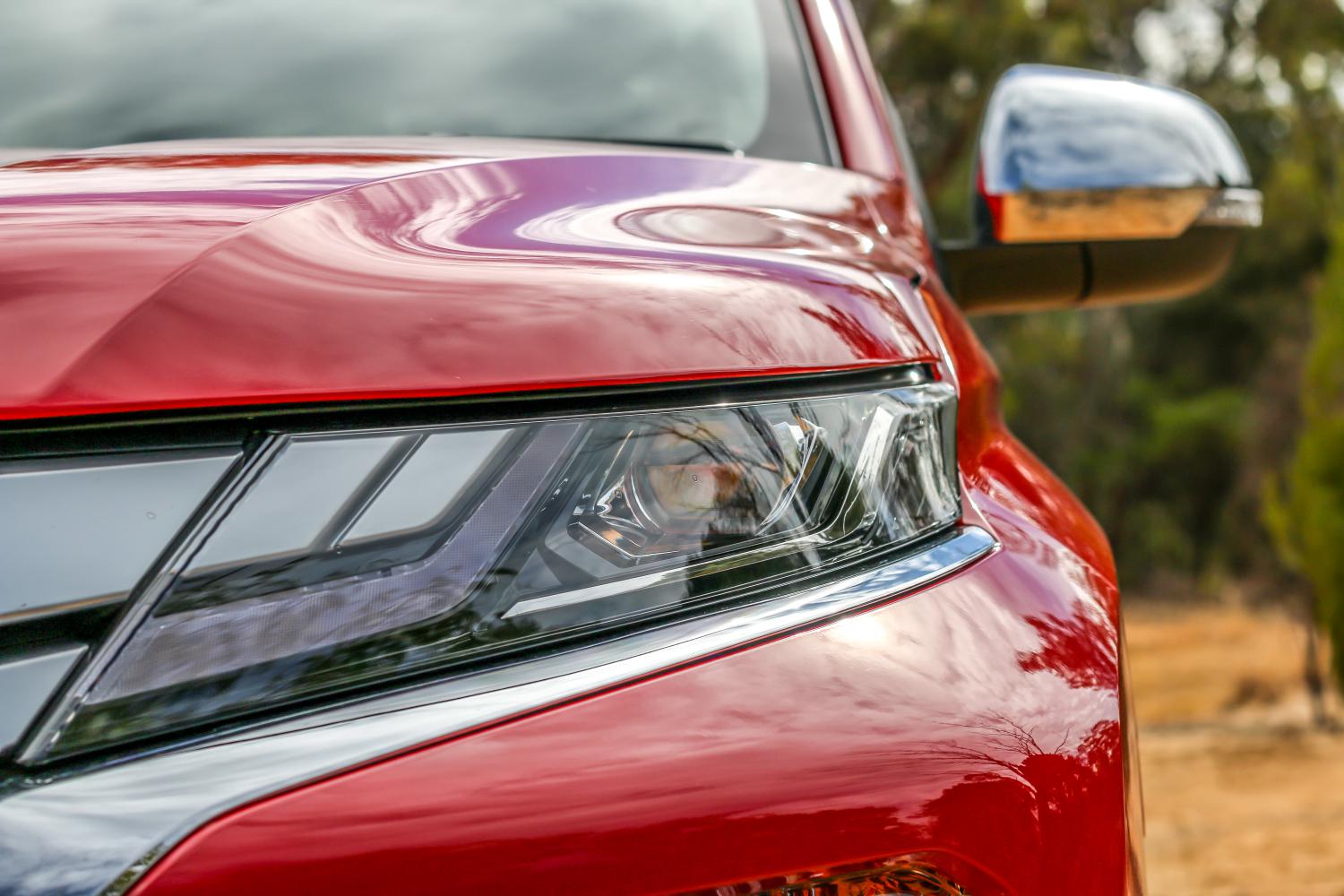 Underneath the restyled panels lurk what is essentially a tweaked MQ Triton. The rear shocks have been upsized, but are still piddly little things, and I reckon I could just pick the improvement in rear suspension control. The MR, much like the MQ, is a decent handling dual-cab ute with a slightly firmer suspension setup than most in this class. Like the HiLux – but nowhere near as bad as the early N80 HiLux – the rear end feels a little too firm when there isn't a load in the tray, making it a little jiggly at times, on the daily commute. The Ranger, X-Class, Navara and Amarok have a more composed ride than the Triton, but the MR points and shoots on a winding hills road, with the best of them. Except of course the Ranger Raptor and X-Class V6, which are in a league of their own, and priced accordingly.
The reality is that you'll still, at some stage, be replacing the MR's knackered stock suspension with something decent, and that's when you'll be able to dial out that mildly annoying rear-end jiggle. We've done it with the MQ, and while it's still a crappy leaf-sprung rear-end – yes, we think they suck – you can send that little fella that sits on your headrest and smacks the back of your head over every bump on a semi-permanent vacation. Of course, there's none of this nonsense to deal with in a coil-sprung Raptor, X-Class or Navara.
The Triton's brakes were only ever adequate in the MQ. The undersized front discs didn't get enough support from the crappy rear drum brakes, and they can cook and warp quicker than you can say "drum brakes suck". Mitsubishi upsized the front brakes in the MR, and the result can be felt through the pedal, with improved feel and performance. Besides the restyle, my favourite MR upgrade is those larger front discs.
Again, like the MQ, the MR is surprisingly quiet on the highway. The all-alloy 2.4-litre MIVEC diesel doesn't offer the same level of lazy willingness you'll find in the 3.2-litre Ranger, or the more frenetic, on-again-off-again peaky punch of Colorado, but it's surprisingly willing and considerably more refined than either. The all-alloy engine construction means less weight over the front wheels and a level of balance and agility that is missing from its nose-heavy peers.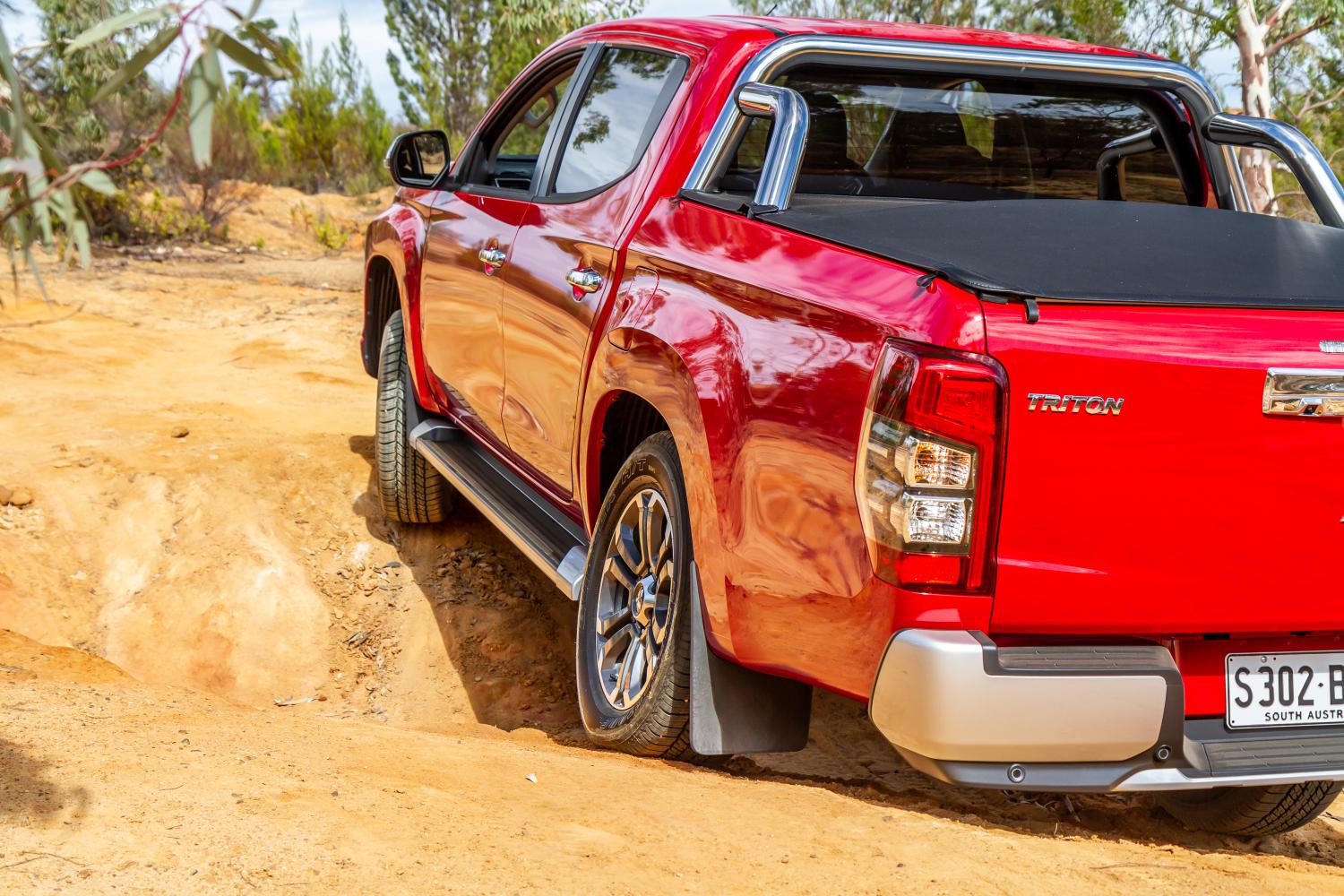 Our Red GLS press car was a manual and re-confirmed for me at least, why I wouldn't buy a manual 4X4 ute. As with the MQ before it, it's a six-speeder with a long(ish) throw to the clutch pedal and the gearshift, as well as a take-up point that takes some time to get used to. Once you're comfortable with it, it's a pleasant enough manual gear shifting experience, but I'm not sure why you'd bother, when the auto is a better driving experience in every way, especially if you opt for the GLS Premium and its paddle-shifters.
I know, I know, but what about the extra fuel the auto uses? Well, we drove the manual MR out to our test track and averaged 7.8 L/100 which is a fraction more than what the old five-speed auto MQ would use on the same trip before we upped the tyre size. That's relying on each vehicle's consumption readout of course, but in our experience, the Triton's is close to mirroring reality.
As with most six-speed boxes these days, unfortunately, the manual is just a four-speed with two additional overdrive ratios. Perhaps a smidgen better when it comes to fuel efficiency at highway speeds, but a genuine five-speed with a single additional overdrive ratio would be far more useful, both on and off-road like the six-speed manual Ford Ranger for example.
One of the more notable changes to the MR was the move from the excellent Aisin five-speed automatic to an Aisin six-speed automatic, again, it's just the addition of a second overdrive ratio that marks the move from five to six gears. The motoring world was disappointed when they found out that the MR wasn't getting the Pajero Sport's impressive 8-speed box, as were we. The additional cost and weight of the 8-speed, in a vehicle that is cost and payload sensitive, would be the culprits.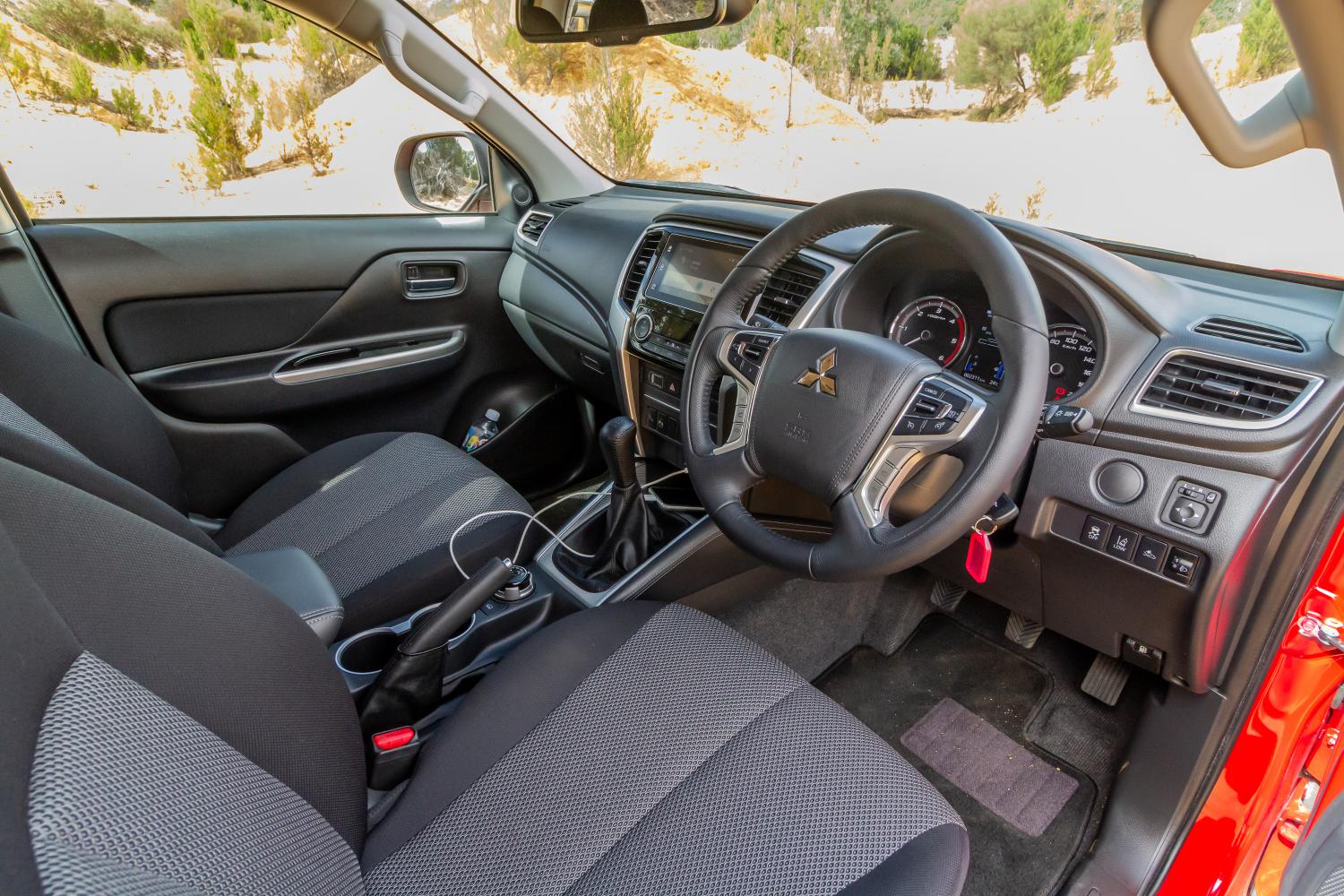 Interestingly, Mitsubishi's fuel consumption figures for the MR have increased over the MQ, so that squared-off front comes at a price. The official combined cycle fuel consumption figure for the manual MR GLS is 7.9 L/100, up from 7.2 L/100 in the MQ. It's a similar story for the auto, in spite of the extra gear it has received, with the MR managing 8.6 L/100 compared to the MQ's 7.6 L/100.
Regardless of which gearbox you opt for, the GLS and GLS Premium Tritons are equipped with Mitsubishi's Super Select II transfer case, which means you can choose between 2WD (2H), AWD (4H), 4WD (4HLC) high-range and 4WD (4LLC) low-range. The LC denotes 'locked centre differential', and these are for off-road use only.
Now, I've never really understood the inclusion of a 2WD option and have proven that in the MQ Triton at least, it saves you bugger all fuel. There are good reasons never to use the 2WD option, including avoiding the interference of traction control in situations where you don't want to be stranded in the path of oncoming traffic and taking some pressure of the two-piece rear tailshaft that in some Tritons can vibe a little when starting from a standstill.
Contrary to popular opinion, and there are some hilarious Facebook posts on this subject, you can put the Triton in 4H and leave it there forever, with no ill-effects or future warranty claims being created. It's no different to any of the many permanent AWD vehicles in that regard, aside from giving you the option of being able to engage 2WD or for real off-road work, locking the centre differential in high and low range.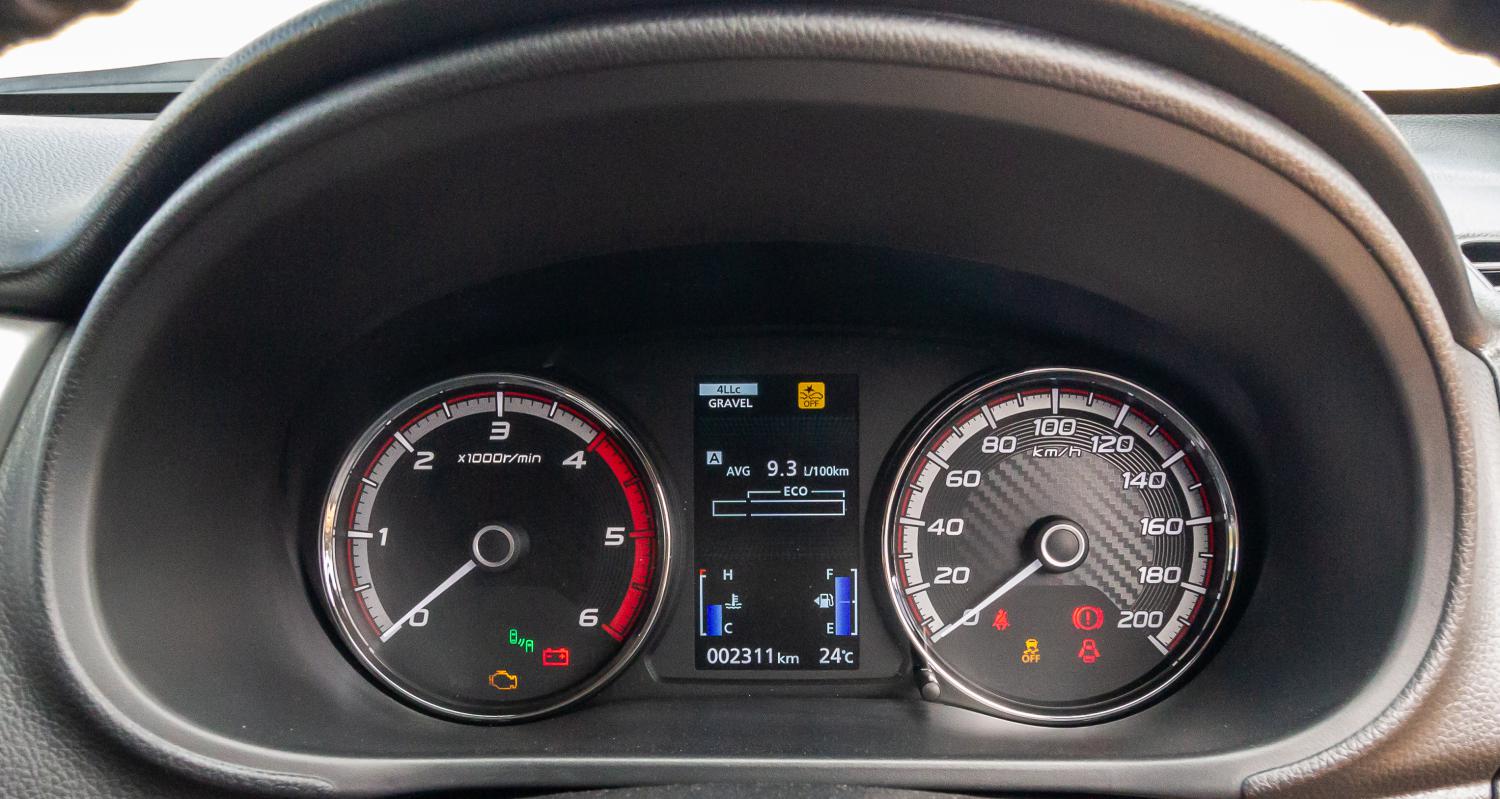 The dubious 2WD option aside, Super Select is one of the best drivetrains available in the 4X4 ute world. In GLS and GLS Premium trim, Super Select now includes a range of driver-selectable off-road modes as found in the Pajero Sport. These modes adjust traction control, engine output/throttle control and transmission settings to best deal with the chosen terrain type, be it gravel, mud/snow, sand or rock. Downhill descent control is now a standard feature in both GLS and GLS Premium. Our test track doesn't provide many opportunities for testing this feature, and to be honest, I'd much rather be in control on steep descents, but that's just a personal preference.
Off-road the MR carries over the MQ's tendency to get hung up on stuff. Tritons run a big strong rear diff, so we are never surprised when we hang one on a rear diff pumpkin, and the MR is no different in this regard. It's a situation not helped by the factory fitted 265/60/18 tyres.
We thought that the new front end was going to be a real issue, but surprisingly, it offered enough clearance to clear our erosion washout test with ease. Where the MR came unstuck was in the rear. Mitsubishi cheated a little when they fitted a larger tray to the MN Triton back in late 2009, as they fitted it without altering the chassis and moving the rear axle further back. Aside from looking awkward, the rear overhang was increased considerably. There were also some chassis issues experienced if the MN was overloaded, an issue that was 'engineered out of the MQ' according to Mitsubishi, and it seems to be the case. That aside, it's still a big bum, and the restyle appears to have reduced the rear departure angle in the real world. We couldn't find a line through the washout that wouldn't result in the rear bumpers plastic cover being peeled off or at best, badly damaged, and as such, we opted, for the first time ever, to back out the way we came in.
That was our choice, and you'd be correct in assuming that if we'd ploughed on through, the MR would have made it, but we weren't prepared to damage a vehicle in our care for no real reason.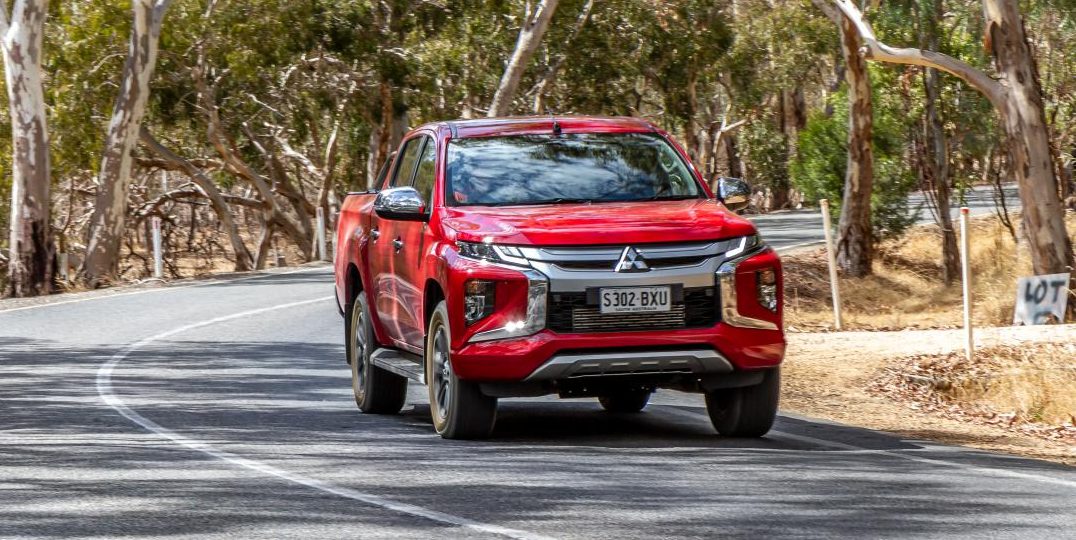 What this test did confirm for us, and this was especially obvious in the manual, was that the MR's traction control is right up there with the best of them. It engaged surprisingly quickly and allowed the obstacle to be tackled slowly and carefully. Still not as good as a diff-lock but bloody hell, it's getting close.
If you buy an MR and intend to play in the rough stuff, you'll want to upsize tyres and fit a suspension lift to improve clearance. One thing we know from our MQ build is that the front bash plates are decently robust items and for most touring applications won't need replacing with aftermarket gear.
The Triton has two distinct advantages off-road, width and manoeuvrability. It's now the narrowest of the Thai built 4X4 utes. For a family of five, with three strapping kids, that might be a disadvantage, for everyone else, there's still plenty of room, and Triton's rear seat accommodation, thanks to the controversial J-line styling of the rear cab, is relatively comfortable and spacious. Being narrower than most means that you can poke the Triton's nose up narrow and overgrown tracks with a degree of confidence you won't experience with most of the other utes.
That shorter wheelbase endows the Triton with a smaller turning circle and makes it noticeably easier to pilot on High Country tracks. Drive a Triton and Ranger back to back in such country, and the Ranger feels like a block of flats compared to the Triton.
I'm willing to bet that these advantages will disappear with the introduction of the next-gen Triton, which can't be more than a year of three away.
For more on how the MR Triton performs off-road, you can read David's review of the MQ Triton here as they are, as you know, not a whole lot different.
The same can be said of the cabin, with the MR receiving some mild interior restyling around the centre console area, along with a padded centre console lid (finally!) and some minor dashboard changes. The armrests in the GLS, sadly, remain uncomfortably unpadded, but the front seats are great, the dashboard is one of the simplest and most functional out there, the steering wheel and its embedded controls are hard to fault, and the infotainment system sports the Apple Carplay / Android Auto twins and is clear and easy to use. I prefer round dials to the pushbutton type used to adjust the climate control settings, but you get used to not having anything to hold onto as you make adjustments. I remain a big fan of the Triton interior and personally think it's one of the less fussy, more useable cockpits in the 4X4 ute kingdom.
Now for the safety stuff. It's got FCM, LDW, BSW, LCA, RCTA, AHB, ESS, EBA, HSA, HDC, ASC, TSA, ATC, ABS, EBD, BOS…and you've just fallen asleep haven't you? The MR Triton is now the Safety Works Burger of 4X4 utes, and if that's your shizzle, then it's the bargain buy of the century. If you want to know more about the three-letter acronyms above, look for the link at the end of this review and go nuts. This is the first Triton that will beep to remind you who's really in control.
The MR Triton is a good thing. Buy one, turf the stock suspension, give it a mild lift and some decent tyres, and it'll take you most places that you'll want to go, and it'll now do it with a sense of style and a beep or three. My MQ has crossed the Simpson, travelled thousands of hard kilometres off-road and Outback, and it's still tight as a drum and the MR will be no different. Triton has always sat in the shadow of HiLux and more recently the Ranger, but I'll be honest with you here. In MR guise, I'd buy it over either of its higher-priced main rivals and now that's it's a paragon of safety, here's a prediction. It's going to sell up a storm.