When your business partner, Adventure 4WD's David Wilson, is quite literally, the 'Isuzu Whisperer', that guy Isuzu I-Venture Club participants follow through creeks and over mountains, on trips like this one to Coffin Bay, then you invariably end up spending time, lots of time, with the Isuzu product.
I've driven D-MAXs up mountains, forded streams, followed rainbows and even run one into a mountain of seaweed, and they've proven themselves to be simple, dependable, reliable and remarkably fuel-efficient as well as delightfully behind the times.
Their bumpers also pop out with a gentle application of heat.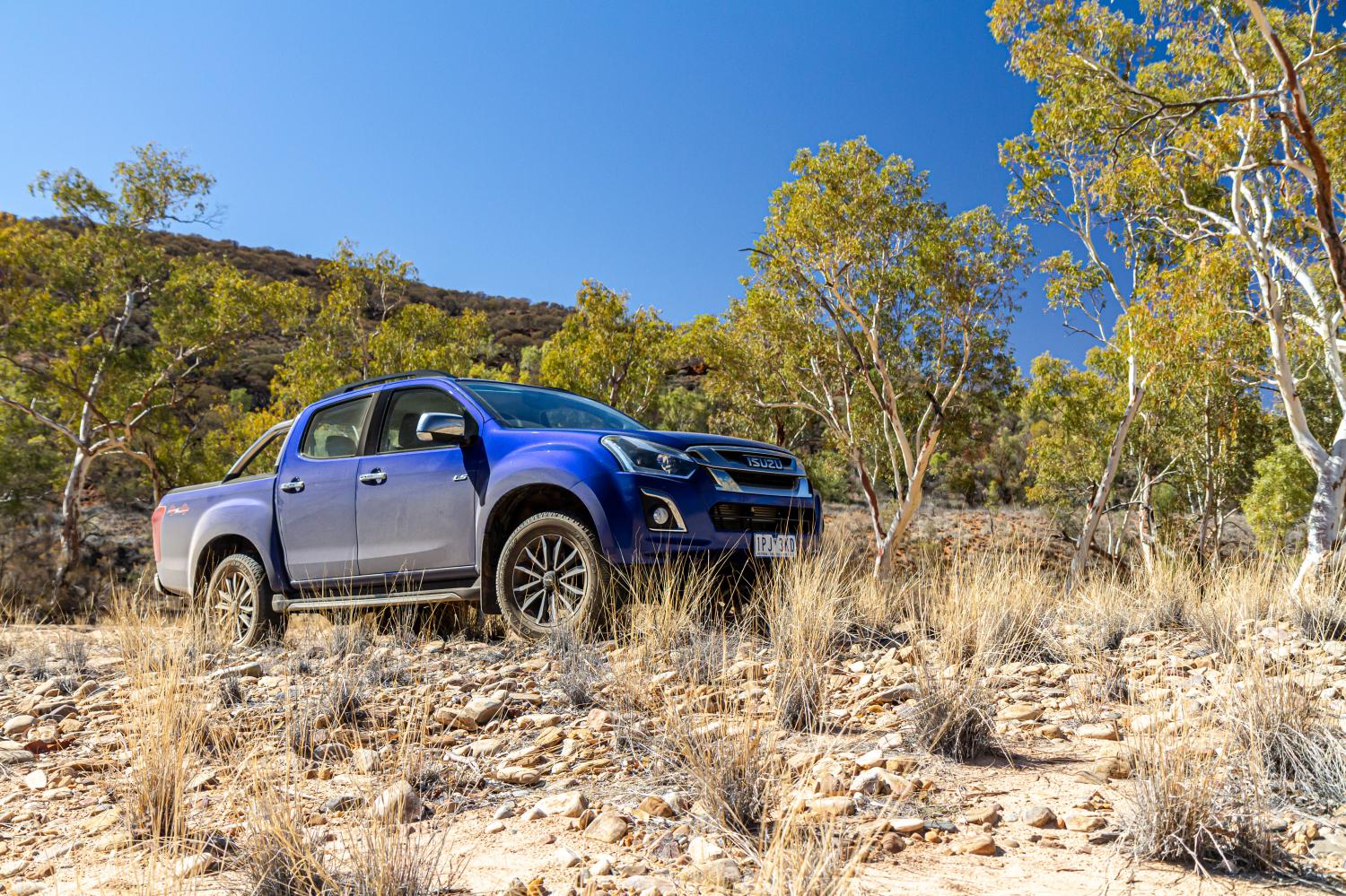 The Dance
I'm convinced that buying the old D-MAX was one of those life decisions, like choosing which girl to ask to dance with you at a Blue Light Disco, back in the olden days. Do you ask the flash looking one with the soft-touch dash, knowing that your heart will inevitably be broken and your wallet trashed, or do you ask the handsome but homely one in the corner, the one with the hard plastic bits, knowing that you'll still be together a decade later?
Many, many more people have been choosing the D-MAX over the Amarok, for example, at dances and it's because they've chosen reliability over literally everything else.
But now it appears you can have it all.
First Impressions
I need to be upfront here and confirm that my drive time was limited to around 6 hours and most of that was in low-range, but I know these 4X4 utes well enough by now, to know a good thing when I dance with it.
The exterior styling is more handsome and muscular than before, but the D-MAX has always been reasonably easy on the eye in this regard. The new car's exterior styling is an evolutionary step forward, with oodles of D-MAX DNA in the mix. The revolutionary styling leaps can be found on the inside.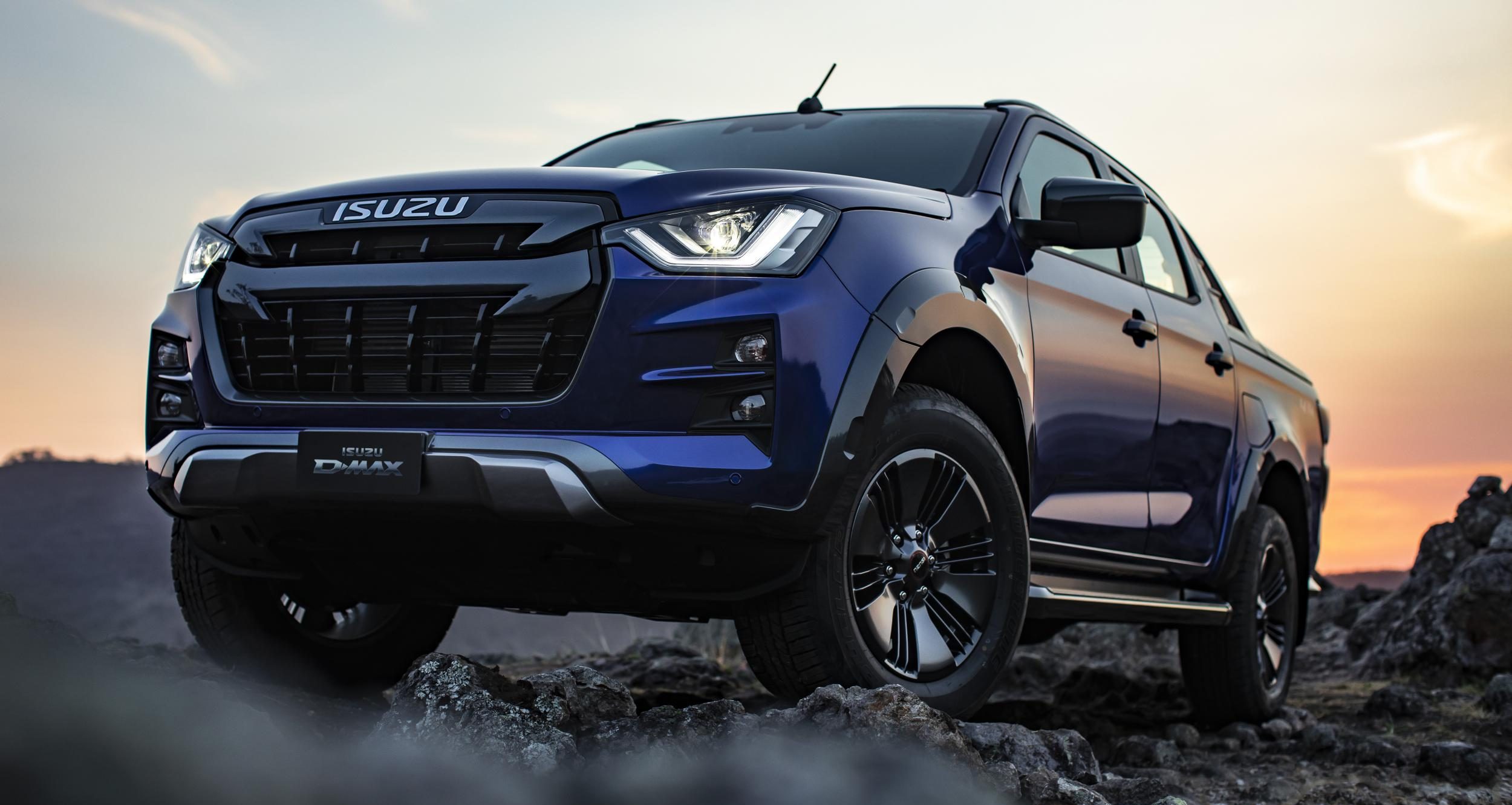 Where the old car had what was essentially a decades-old rehashed GM interior, and let's face it, even the latest (now defunct) Colorado interior was rubbish, the new car's interior is up to the minute. It looks sensational, is in my limited experience very comfortable and for the most part, appears to function as good as it looks. I love the climate control rocker switches, the dashboard is simple, attractive and functional and the steering wheel is a ripper. Steering wheels are important as it's our tactile link to the vehicle and the D-MAX has gone from last to first in this regard.
My only interior reservation is the massive 9" infotainment screen. I had little opportunity to interact with it so I can't comment on its functionality, suffice to say it is Apple CarPlay and Android Auto compatible, and that's all I'll ever want or need. That alone makes it a massive step up from the previous D-MAX, which had, well, nothing much going on in this department if we're being honest. But the huge screen jarred with what is a beautifully styled interior and sits at an angle that seemed to induce glare. What I do know is that this screen has the highest resolution of any available in this class of vehicle and I've since found out that screen brightness can be adjusted, so the glare issue may not even be an issue. 
The seats are super comfortable, and the steering can now be adjusted for height and reach, and finding the right driving position was a cinch. Now, about that steering. The first thing that you'll notice about this new D-MAX is how it steers. The previous-gen car used hydraulic power assistance, and there would be variations between otherwise identical vehicles in how they steered, some were definitely lighter and more lively than others.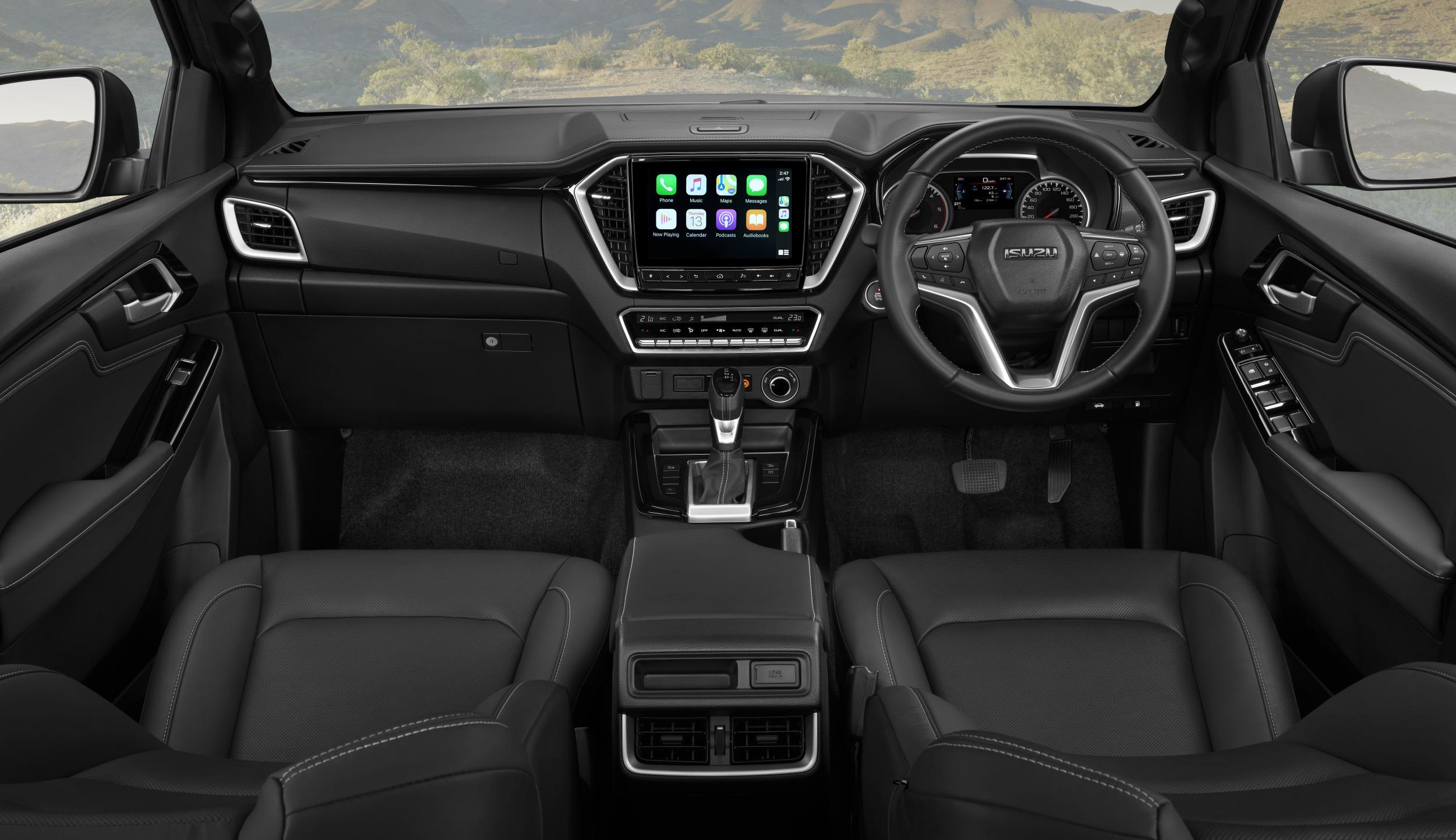 The new D-MAX uses electric power assistance, and Isuzu engineers deserve a pat on the back because this is the best steering 4X4 ute that I've ever driven off-road. The steering has just the right amount of weight and feel and there's no bump steer or unwanted feedback through the wheel over rough ground. It wasn't just me either, we put a few Isuzu D-MAX and MU-X owners behind the wheel and the first thing they commented on was how nice this new car was to steer. 
What you'll notice next is how quiet the new 4JJ3 version of the old 4JJ1 3.0-litre turbodiesel is and this combined with the new steering, smoother ride and quieter interior, have taken the D-MAX from truck to car in just one generation; Davo, you're going to have to stop calling them trucks now. In fact, the D-MAX is now one of the most 'car-like' of all of the 4X4 utes. 
Engine outputs are typically Isuzu conservative with 140kW and 450Nm on tap, just when the HiLux has moved to 150kW/500Nm, but the D-MAX isn't lacking grunt, and the 4JJ engines are loved by aftermarket tuners because they can turn the wick up easily and safely. Just sayin'.
The 4JJ3 will waft you along on a magic carpet of low rev torque, which sounds lame, but it's actually true. This is how the old 4JJ1 car would use just 7.8 L/100km on a highway run, I know because I drove one to Alice and back. You run them up to speed and let them plod along, eating up the miles and sipping bugger all diesel as they do it. The new car is officially a smidge less fuel-efficient than the old one due to an increase in equipment and thus weight.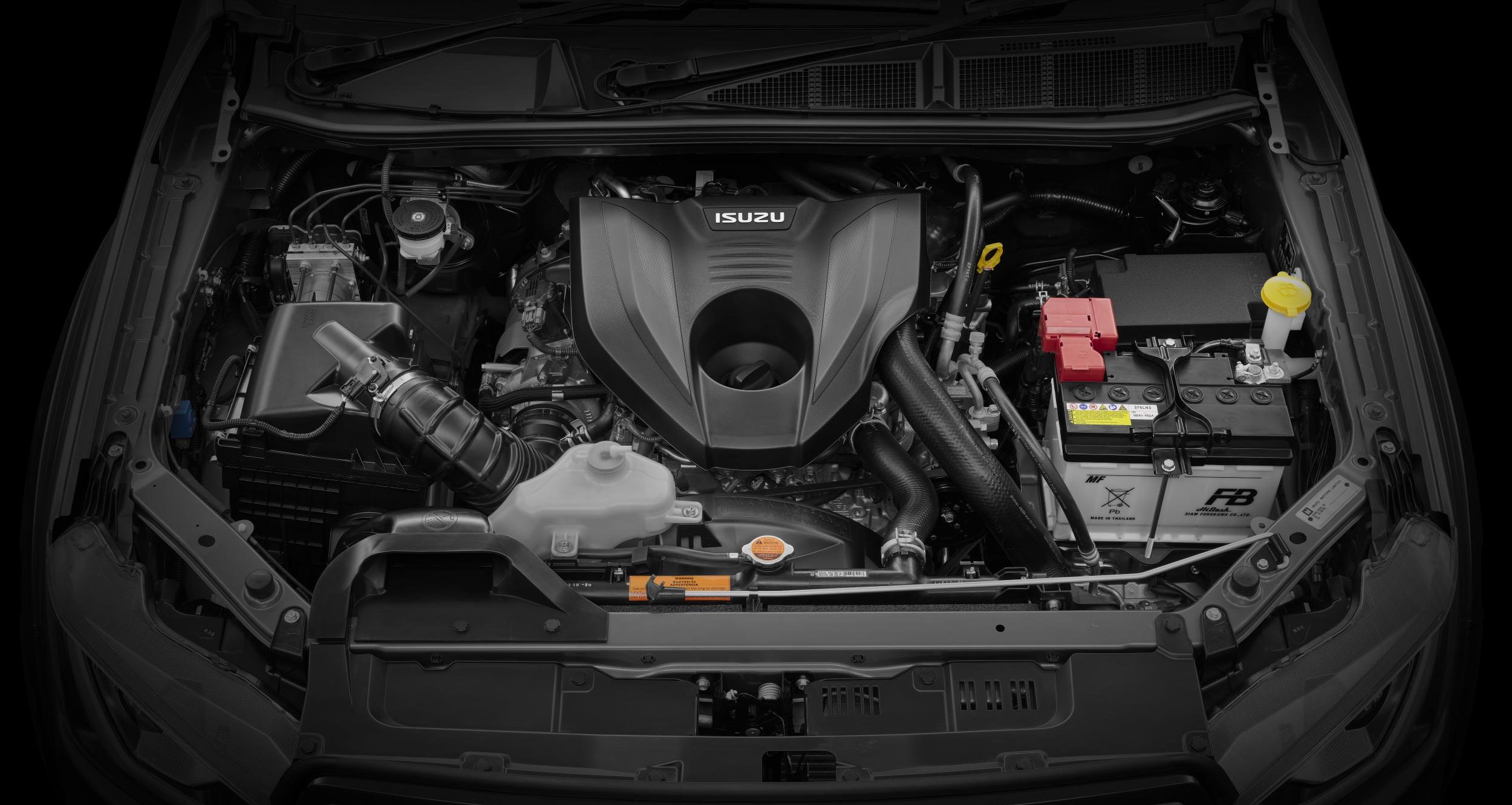 I had maybe half an hour driving the new car at speed on fast corrugated dirt roads, and it felt bloody good to be honest. It tracked straight, rode the corrugations with ease and transmitted little of the thrashing the suspension was taking, back through the body. It put our pet MQ Triton's modified (better than stock) suspension to shame and back to back with the Triton over the same roads, reveals the D-MAX to be a more refined riding and handling ute with higher levels of interior NVH suppression. That's impressive for stock factory suspension, although we doubt it will last, and one of the first mods for new owners will be upgrading to a 50mm lift. The trick here will be doing so without losing the D-MAX's newfound on and off-road manners.
Another area where the D-MAX now trounces the Triton is braking. Isuzu opted to go all out with a 320mm front disc brake package, and it works very nicely. Now I know these Thai built utes run rear drum brakes due to Thai tax laws that favour commercial vehicles, which by definition in Thailand, must have rear drum brakes, but these utes are getting expensive now, and rear discs is a missed opportunity. They should be standard and one day they will be.
Which segues nicely with the ancient rear suspension that these 4X4 utes run, for the same reason. Coil springs can be engineered to carry loads folks and that's a fact. Nissan just got it wrong with the Navara because Mercedes-Benz was interfering at the time. Right now the best driving and riding cars in this segment are the Navara, particularly the N-TREK Warrior and the Ranger Raptor, and both run coils. Having said that, I'm going to eat a bit of my hat and admit to the fact that the completely revised three-leaf spring arrangement in the new D-MAX, works rather nicely. More time at the wheel is needed but the D-MAX is up there with Ranger and Amarok in the ride department, both on and off-road, and makes the Triton feel oversprung and harsh. More on this when our X-Terrain test car arrives mid-September.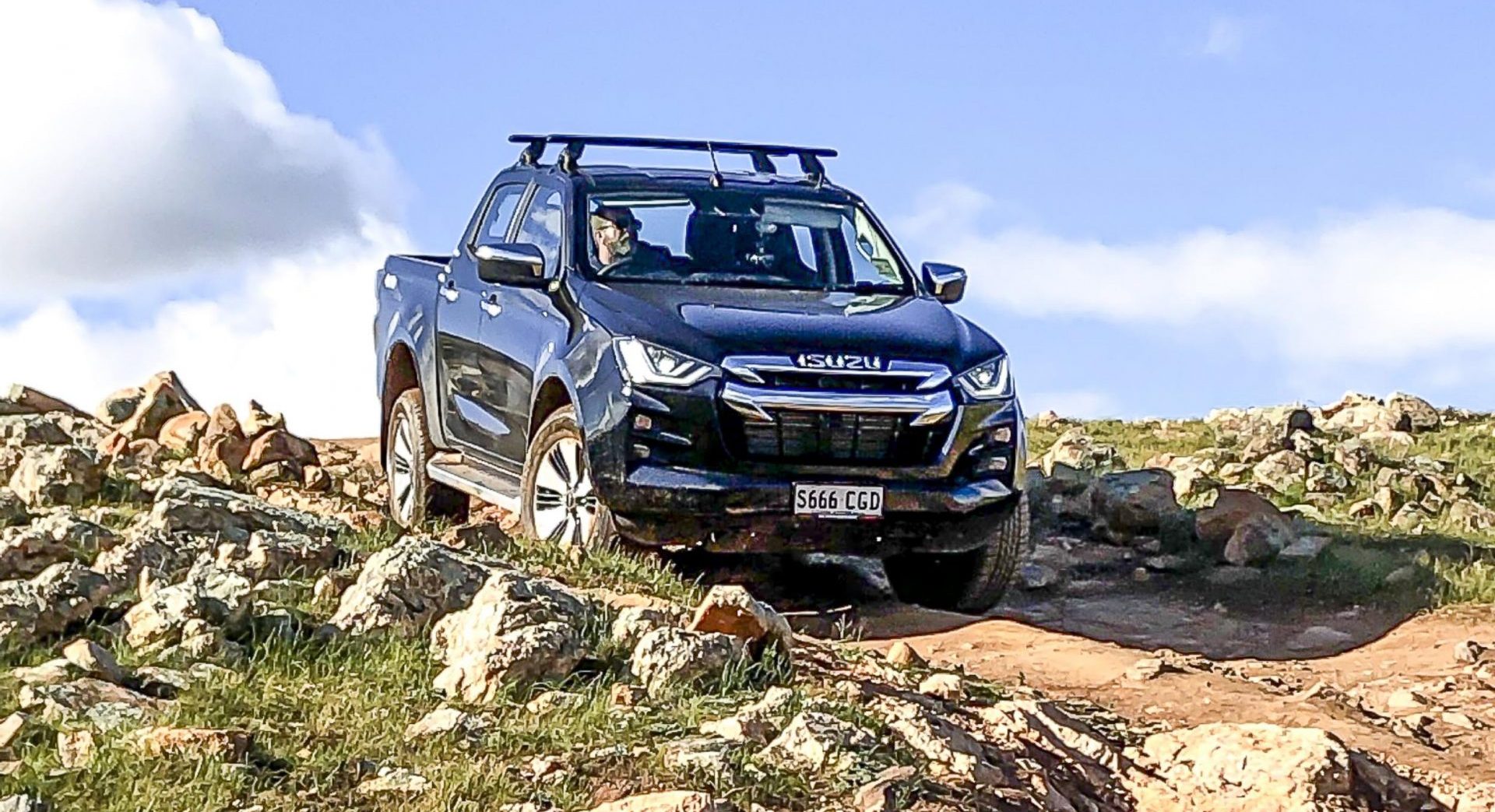 Off-road and in low range is where I spent the majority of my time and this is where the new D-MAX has made its quantum leap. Low range can be dialled up when in neutral and is noticeably quicker and quieter to engage. The gearbox is smoother and snappier to change gears in low range, the steering (as mentioned) bang on and the low range traction control is good enough to consider actually using. Unlike the old D-MAX you don't have to maintain 2,000rpm+ to wake up the traction control system, despite what Graham Cahill tells you.
In the 4X4 ute traction control stakes, HiLux and Triton still reign supreme, but the D-MAX is now running a solid third. In my experience on the day, it's a nice unobtrusive system and one that you can now rely on to get you through most situations in a controlled manner.
Then, of course, there is the rear cross axle differential lock, which is now standard across the 4X4 D-MAX range. For the most part, it engaged literally immediately, except for that one time, and our testing on a steep uneven ascent out of a dry creek bed, showed it to outperform traction control, in that no momentum was required at all.
In other news, we've had it confirmed that Isuzu has increased the strength of the D-MAX's CV shafts, and improved rear-wheel travel, via the revised three-leaf rear spring arrangement by 30mm, all of which is good news for owners looking to head off the bitumen.
The only area where the old D-MAX is better than the new is visibility. The new D-MAX's flatter bonnet reduces visibility to the front corners, but you get used to it quickly enough.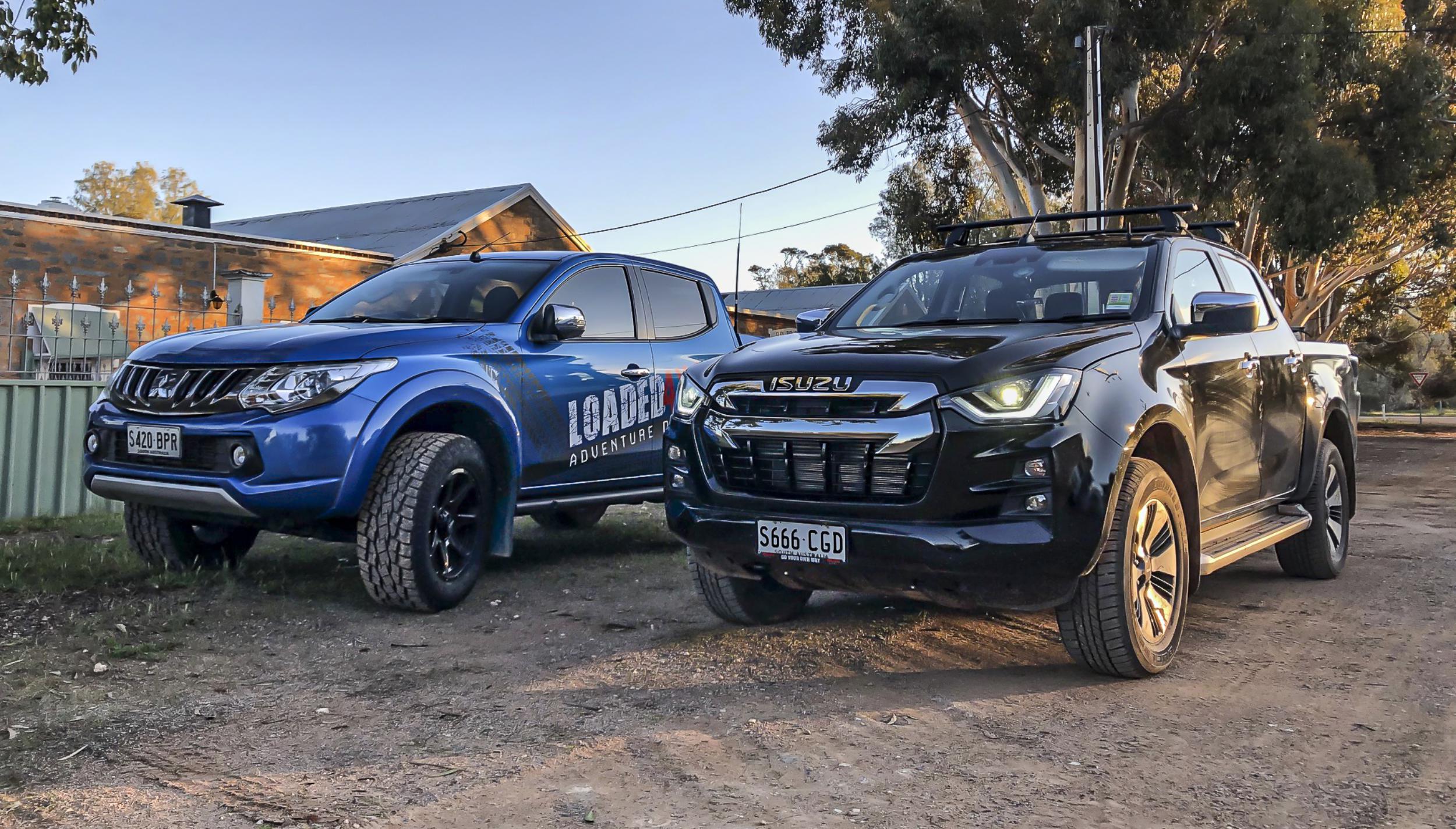 Summary
So this is what Isuzu can do when it isn't shackled by a partnership with the mediocrity that is GM. It's taken the previous generation's ultra-reliable drivetrain, upgraded it and wrapped it in an all-new everything, and the result is, to be frank, a very pleasant surprise. It's also very safe, with a full suite of electronic driver aids and airbags, now standard across the range, but we'll need longer with the car to see how that all works, aside from the airbags.
Many I suspect will see it as the belle of the ball, one they'll be able to rely on.
For me, when it comes to reviewing 4X4 utes, the acid test is what happens after I've handed the car back. I can usually return a press car and jump back in our much modified and improved MQ Triton and drive away feeling like I want to keep it for another year. Up until now, there have been one and a half cars that have challenged that notion, the Ranger Raptor which costs more than I want to spend, and well, it's a Ranger, and the Navara N-TREK Warrior, which I'd have in a flash if it just had a different drivetrain. 
Now there's the new D-MAX, and I've got a fever.
2021 D-MAX full review – There's an X-Terrain heading our way shortly and we'll have this one long enough to provide a full review. Look for the written review here in late September and for the video review in episode one of 'Loaded 4X4 The Series' on our Youtube channel at the end of September.