When I wrote my draft piece about the Front Runner Slimline II Roof Rack system that our suspension-mate Brendan so highly recommends and as seen on his remarkable VW Amarok, it spurred him into action to buy another piece of Front Runner kit, this time their equally flash load-bed racking system to accommodate, you guessed it, another kennel. It seems Mrs Maximus wasn't happy seeing Mr Maximus grabbing all the spoils of being the only search and rescue dog with a brandy keg, so now she demands that Brendan bring her along on any of their alpine adventures!
That posed a serious challenge in the space department because the Amarok was chock-a-block up on the roof with the alpine apparatus and as you will have read in the article, the tub had a drawer system fitted. The answer lay in getting a load-bed rack setup installed and based on the success of his Slimline II roof-rack system Front Runner got the gong for the new task.
Getting another platform suspended above the tub-level on a ute is pretty useful because while I love the canopy on my D-MAX most of the time, there are those odd jobs where a canopy roof gets in the way (like when carrying a kennel), and you need to stack beyond the ceiling.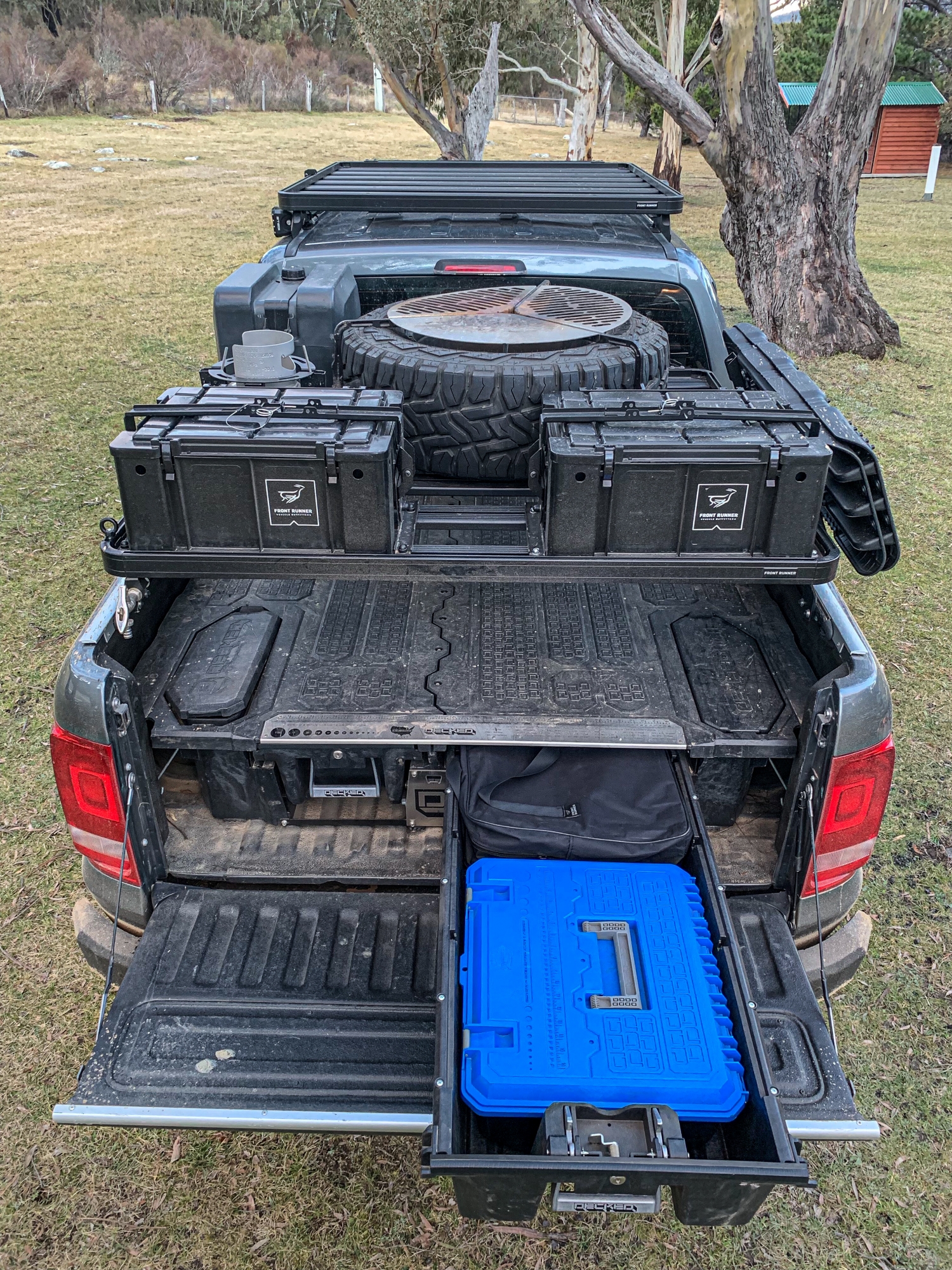 The rack kit has the same inherent strength as the Slimline II roof-rack, the legs that support it mount into the ute tub using a channel fastened to the bed walls and typically fixed via M8 bolts and button-head bolts, with either a 5mm Allen key or a 13mm spanner. It's all pretty easy, and in an afternoon you can have it assembled and ready to go. You can add as many slats into the floor as you reckon you need and the same locking mechanism secures all the components for a super-strong fit. Again aluminium is the material of choice for weight and durability in all weathers and powder-coated black, it looks great.
Now some of you I reckon will want to install one of those roof-top tent things, and I think the load-bed rack is a great location to house the tent at this lower level from a stability perspective and also from a fuel-saving standpoint. Having the tent and its apparatus tucked in behind the cab helps the aerodynamics of the vehicle enormously and lessens the risk of a rollover in country peppered with axle-twisting gullies. But there's greater potential than that when you read the Front Runner catalogue of goodies.
Brendan cleverly, before one of his recent trips, made good use of Front Runner's extensive accessory line, and his bed rack is now fitted with one of their Gas Bottle Holders, a pair of their Wolf Pack storage tubs and a 45-litre water tank with plumbing. There's also some Front Runner Tie Down Rings, a Recovery Device Holding Bracket for the TREDPros, plus a super arrangement for carrying a spare wheel. Front Runner's brilliant Spare Tyre Mount/BBQ Combo… yes, that's right a gadget that'll contain a spare or allow you to cook the side of an elephant (or St. Bernard) at your camp. I wouldn't mind betting that he's taken it only for the BBQ ability because he'll likely never get a flat with those Toyo Rugged-Terrains the Amarok is wearing!
Front Runner Slimline II Load-Bed Rack for Amarok is listed at $1,150 including GST plus shipping.
If you're looking for Front Runner or other quality gear at great prices, check out >>> Amarok @ Loaded4X4.Store