Last issue we reported on the new Suzuki Jimny. One of the most-read Jimny break-out stories, featured in the Good Gear section, was about Front Runner's roof rack kit for this cute little wagon. 'Little' is the critical word with Jimny, because space is tight, and it seems that little is also err, in abundance when you ask owners of just about any other 4X4 ute or wagon, there's simply not enough space!
That's something our illustrious suspension guru Brendan O'Keefe had in mind when building his Amarok recently, and help was at hand within the pages of the Front Runner catalogue. Brendan's roof rack salvation came in the form of the Front Runner Slimline II system which you can view in the pics in the feature article called 'Amarok Core Build', in this issue 008.
First impressions count, and it's beautifully integrated into the roofline, it looks like it was designed to be there in the first place. Another benefit of that look is the ease of installation because it uses existing mounting points pre-installed in the roof of the Rok.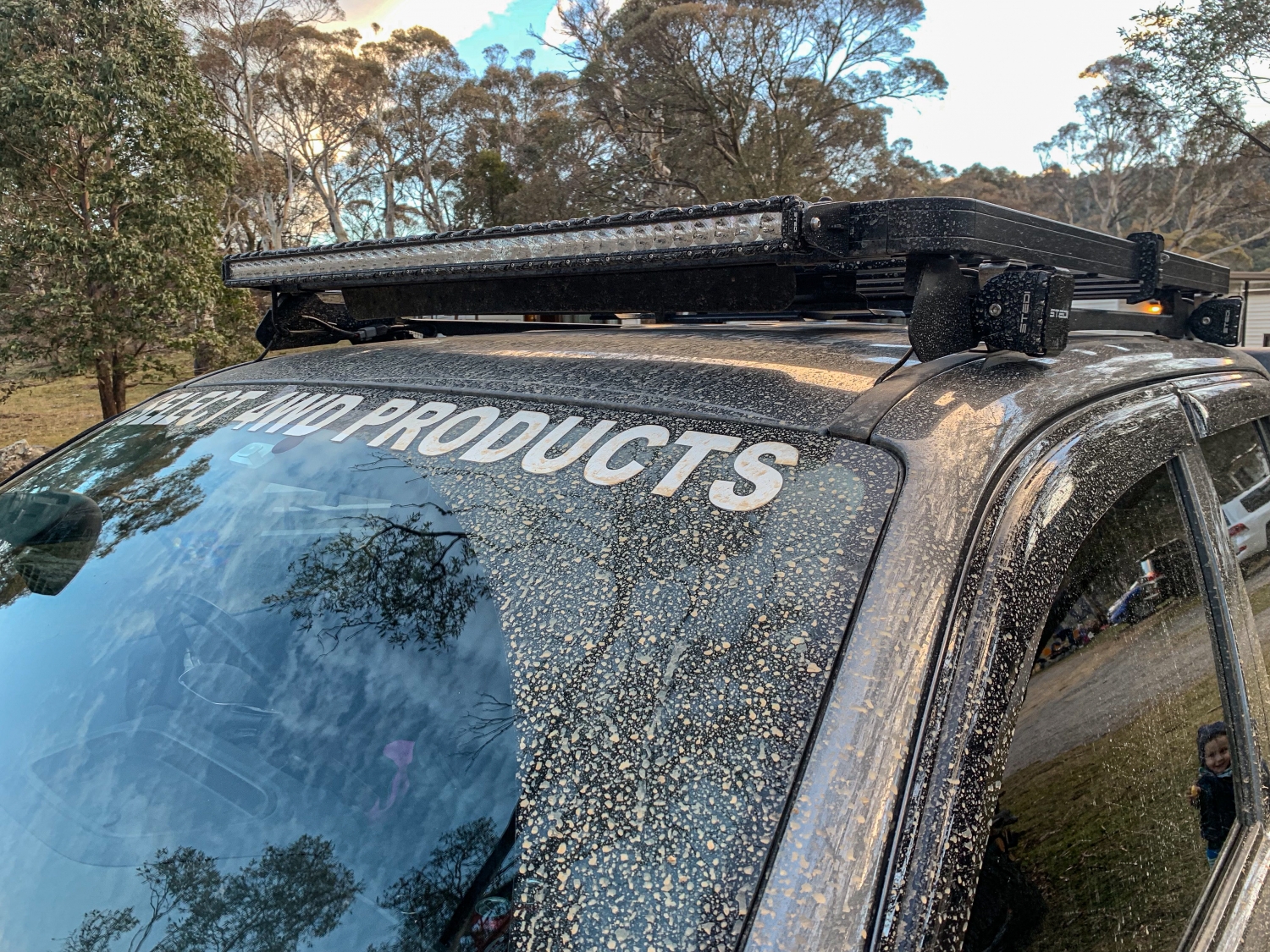 Now, this racking system works with other makes and models as well and is adapted to suit each roof, because as Sol once said, 'roofs ain't roofs'. If you're old enough to remember the Castrol ad, Sol was talking about oils, but in this case, no two vehicles' roofs are the same. Some vehicles have reveals ready to remove and take an install instantly, others you have to drill through the outer skin to find the mounts, and that is one of mankind's scariest jobs. But fear not as Front Runner can guide you through that process with full and detailed instructions in every kit sold, and they're also available on-line in PDF form.
One thing I learnt from the Jimny's Slimline II rack is just how adaptable the platform is. Being built out of aluminium is critical in the first instance because weight is the enemy. The side rails allow slats to be installed and secured in place with a unique lock nut system and that gives the rack its floor. You can add as many slats as you like, make it solid or allow gaps for whatever purpose suits your kit.
Front Runner tell me that the unit once assembled is incredibly strong, likely more so than a traditionally welded construction and that it is quiet, as it can be fitted with a wind deflector to keep the peace both aurally and with your fuel usage hip-pocket nerve in mind.
Now I've always found roof platforms like this, ideal places to take pictures from, such is the life of a travel writer, but it's more versatile than that. Brendan likes to put his cross-country skis and poles up there and a kennel for his pet St. Bernard rescue dog called Maximus and his collar-mounted keg of medicinal brandy for his trips to the Victorian Alps. You see the Slimline II can carry a huge load (up to 300kgs), but remember ultimately that that weight capacity is determined by the strength of the roof structure, so refer to your Amarok owner's manual before getting too carried away.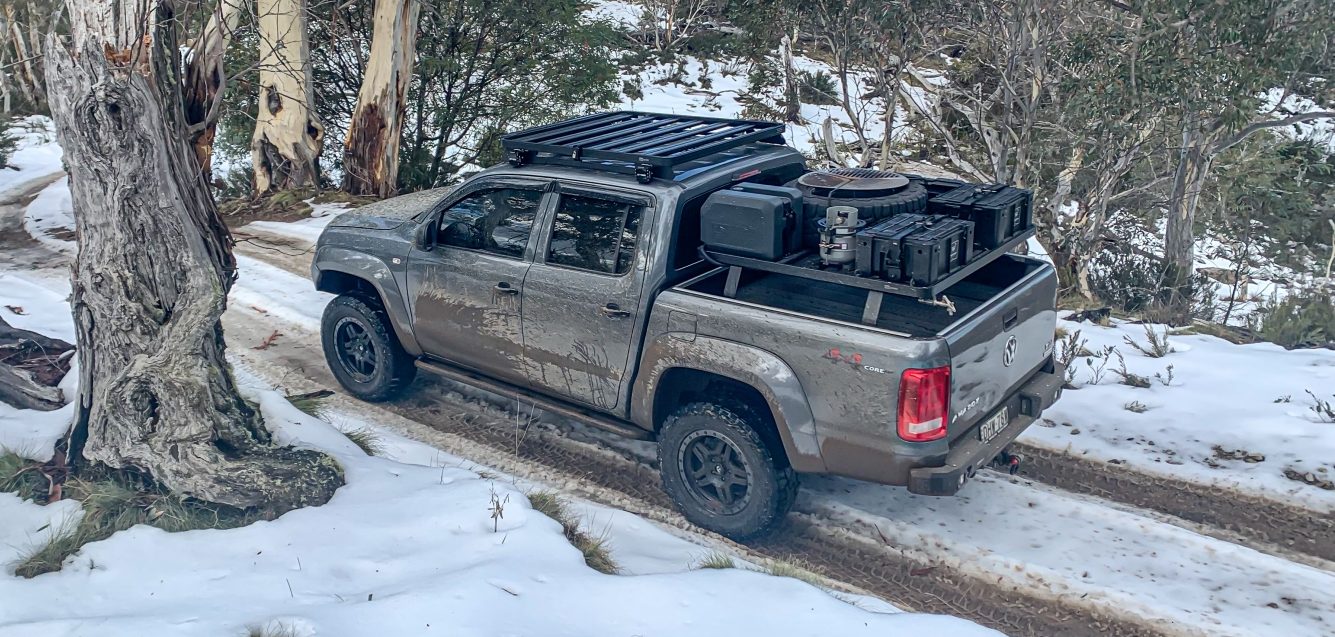 Slimline have a mountain of accessories to complement whatever load you might be carrying. Got a pushbike, no problem as there's a carrier that has a front wheel clamp with a securing rear wheel ratcheting strap and if that wasn't enough another version allows you to remove the front wheel and secure through the forks. Kayak and canoe lovers are catered for too with a kit that has padded V braces for hull protection and Front Runner's ingenious Stratchits, a strap that is incredibly strong and will hold your vessel on your Slimline II even in the wake of a Boeing 777.
I made mention last time about Front Runner's roof rack party-trick, and that is another accessory that permits a well-disguised picnic table to be slid up into a slot just under the rack's platform.
Everyone loves a decent feed when they're out exploring and having the ability to do some preparation on a flat and solid surface is essential to get that camp oven roast rubbed with olive oil and salt and sprinkled with rosemary before getting it onto the coals. The Pro Stainless Camp Table or Prep Table can be bought just as a table or as a table to accept a wash basin. When you're done it simply slides back up into its housing under the rack and is secured by a latch that'll prevent rattles and it parting company with the car even on the most challenging bump.
Look I could be here all day talking about the hundreds of other applications for the Slimline II and its accessory range, there's just so many, so best you have a look at Front Runner's website and online store for the full and unadulterated detail that'll have any avid 4WD'er pining for that next trip. I'm already dreaming of being trapped in deep snow and awakened from my near-death hypothermia-induced sleep by a massive warm lick across the face from Maximus, followed by a fortifying slurp of brandy from the keg! Now that's a 4WD tale and a half, thanks Front Runner for the inspiration!
Front Runner's Slimline II Roof Rack for Amarok is listed at $1,075 including GST and requires the bespoke Roof Load Bar Kit for an additional $485 including GST, plus shipping.
If you're looking for Front Runner or other quality gear at great prices, check out >>> Amarok @ Loaded4X4.Store